CapitalMarkets
Serving the finance market with news, analysis and investment opportunities.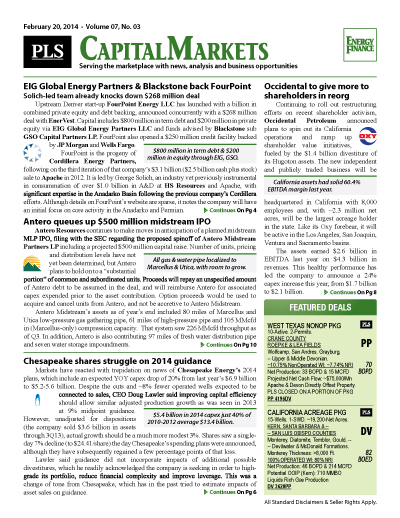 PLS publishes news and analysis in the energy finance sector through its capital markets module. The green banner report includes news and analysis on company budgets, capital spending, financial performance and interviews with leading capital providers.
Your access to energy finance
Single copy pricing; Incl hard copy & email version
Increase market insight & deal flow
Every 3 weeks; 17+ issues per year
Covers financings, capex, earnings, new companies
Includes market analysis and new trends
Access to capital market archives
Phone request for multiple listings published in reports
Includes discounts for other PLS products & events
Are you looking to subscribe to Capitalize? Click here for the latest Capital Markets Report
Search PLS' News Archive for complete oil & gas news for CapitalMarkets .
See what it is about before you buy. View a sample issue of CapitalMarkets.
Need more information? Click the button to recieve more details about the CapitalMarkets
Opportunity is a reflection of information.
Call 713-650-1212 For More Information
Search CapitalMarkets:

Headline
Publication
News Date
CM - Oxy gets Buffett's support & $10B to take over Anadarko - May 2019
Occidental Petroleum Corp. placed 100,000 Series A 8% cumulative perpetual preferred shares at $100,000 each with new investor Berkshire Hathaway Inc. for gross proceeds of $10 billion. The equity placement will be finalized upon Oxy entering and completing its proposed, sweetened takeover of Anadarko Petroleum Corp. for $38 billion in cash and stock and the assumption of about $17 billion in debt, now the bid to beat, which is on track towards a definitive agreement. Anadarko said on May 6 it...
May 09, 2019
CM - ConocoPhillips doubles Q1 earnings to over $1.8B - May 2019
Higher volumes from unconventional assets and higher gas realizations propelled ConocoPhillips' Q1 earnings 106% higher YOY to more than $1.8 billion. It's the third consecutive quarter the company has delivered profits in the $1.8-1.9 billion range, continuing to execute on a plan that chairman and CEO Ryan Lance calls "resilient to lower prices."Revenue grew 12% YOY to over $10 billion. All of the company's segments operated in the black during Q1. Asia Pacific and Middle East led the...
May 09, 2019
CM - EQT adjusts credit agreement to consider Rice gains on board - May 2019
Toby and Derek Rice, who have been engaged in an intensifying feud with EQT Corp. since last fall, announced that the company has removed its requirement that candidates to the board of directors nominated by the brothers consent to being named in EQT's proxy materials. More importantly, EQT added those nominees to its $2.5 billion credit facility's change of control provisions. The latter move would ensure that the nine such nominees, if elected to the board by shareholders at the July 10 EQT...
May 09, 2019
CM - Alta Mesa's Kingfisher sub pushes back default danger - May 2019
Alta Mesa Resources Inc. subsidiary Kingfisher Midstream LLC worked out a 45-day extension with lenders of its $300 million revolving credit facility that keeps it out of default for now. The company and its parent did not file a quarterly report for 4Q18 nor an annual report for FY18 with the Securities & Exchange Commission on time, thereby triggering a default event under the terms of the revolver without the agreement to extend the receipt of the filing. The April 29 agreement...
May 09, 2019
CM - Moss Creek Resources places $500MM in notes privately - May 2019
Moss Creek Resources Holdings, Inc. placed $500 million aggregate principal amount of 10.5% senior unsecured notes due 2027 privately with qualified institutional buyers in an April 26 sale under guidelines of Securities & Exchange Commission Rule 144A and Regulation S. The notes will initially be guaranteed by each of the company's two subsidiaries, Moss Creek Resources, LLC and Surge Operating, LLC. Dallasbased MCRH, which is currently drilling in the Permian Basin, is a wholly...
May 09, 2019
CM - PDC & Kimmeridge plead their cases to shareholders - May 2019
Kimmeridge Energy Management Co.'s proxy battle against PDC Energy, Inc. will go down to the wire at the Denver-based independent E&P company's annual meeting on May 29. Until then, the activist shareholder, which owned over 5.1% of the company at the end of Q1, will keep pushing its agenda and its three director nominees—James Adelson, Alice Gould and Ben Dell—to fellow shareholders in hopes of removing three existing PDC directors up for election this year. Kimmeridge said in an April 23...
May 09, 2019
CM - Anadarko reports small Q1 net loss, 11% production rise - May 2019
Anadarko Petroleum Corp., the center of the most high-profile energy bidding war in years and the first E&P takeover battle this century, reported its first quarterly net loss in six quarters even though its daily sales volume of 715,000 boe/d rose over 11% YOY, it beat costs down over 4% to about $2.4 billion and its operating income jumped 56% to $578 million. The Q1 loss was small at $15 million as earnings were downed by over $400 million in net interest expense on the company's...
May 09, 2019
CM - Centennial gets a $200MM borrowing base raise - May 2019
A spring redetermination put $200 million more borrowing capacity in the hands of Centennial Resource Production LLC, which increased its borrowing base to $1.2 billion. The facility, amended on April 26, also decreased the company's revolver interest rates to a 125-225 bps spread over LIBOR from 150-250 bps, and applicable margins to 25-125 bps from 50-150 bps for base rate loans.Lenders will keep the rate reductions as long as the company complies with a leverage ratio of total funded...
May 09, 2019
CM - WPX borrowing base up to $2.1B, Q1 net loss narrows - May 2019
WPX Energy, Inc. reported that its borrowing base was increased to $2.1 billion and total commitments remained at $1.5 billion. Each participant in the Wells Fargoled 20-bank syndicate has a $75 million allocation. The company will switch from a semi-annual borrowing base redetermination schedule to an annual one that will occur every April 1. Conditions include a 3.0:1.0 or under consolidated net leverage ratio and the aggregate elected commitment borrowing base percentage is equal to or...
May 09, 2019
CM - Cabot's base stays at $3.2B; lenders commit less - May 2019
Cabot Oil & Gas Corp. entered into a second amended and restated credit agreement on April 23 that left the borrowing base intact at $3.2 billion but pushed down available commitments to $1.5 billion from $1.8 billion. The maturity date was extended to April 2024. The facility's interest rate varies depending on whether the company has credit ratings in investment grade status. During those periods, the company would pay 12.5-75 bps over alternate base rate or 112.5-175 bps over...
May 09, 2019
Get more news for CapitalMarkets