CapitalMarkets
Serving the finance market with news, analysis and investment opportunities.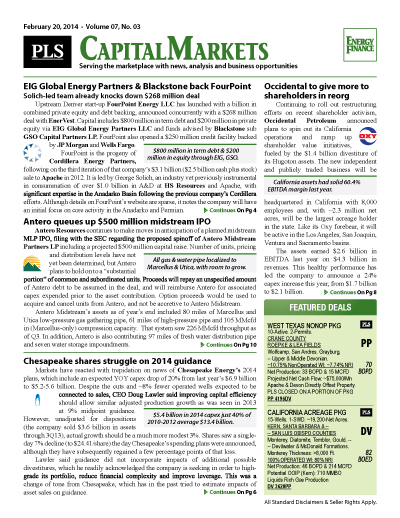 PLS publishes news and analysis in the energy finance sector through its capital markets module. The green banner report includes news and analysis on company budgets, capital spending, financial performance and interviews with leading capital providers.
Your access to energy finance
Single copy pricing; Incl hard copy & email version
Increase market insight & deal flow
Every 3 weeks; 17+ issues per year
Covers financings, capex, earnings, new companies
Includes market analysis and new trends
Access to capital market archives
Phone request for multiple listings published in reports
Includes discounts for other PLS products & events
Are you looking to subscribe to Capitalize? Click here for the latest Capital Markets Report
Search PLS' News Archive for complete oil & gas news for CapitalMarkets .
See what it is about before you buy. View a sample issue of CapitalMarkets.
Need more information? Click the button to recieve more details about the CapitalMarkets
Opportunity is a reflection of information.
Call 713-650-1212 For More Information
Search CapitalMarkets:

Headline
Publication
News Date
CM - NGP & former RSP Permian team set up Switchback IPO - August 2019
New special purpose acquisition company Switchback Energy Acquisition Corp. priced an initial public offering of 30 million units at $10 each on July 29. The blank check company was formed in May by reunited members of RSP Permian and its former private equity backer NGP to do it all again, this time through NGP Natural Resources II. Each unit consists of one Class A common share and one-third of a redeemable warrant to buy another common share at $11.50. The units will trade on NYSE...
Aug 02, 2019
CM - WildFire I becomes Warburg & Kayne's billion-dollar baby - August 2019
Warburg Pincus and Kayne Private Equity Income Funds are investing alongside management in a $1 billion equity round for E&P startup WildFire Energy I. The company will be led by former WildHorse Resource Development executives, with Anthony Bahr as CEO and Steve Habachy as president and COO. The combined commitments represent the largest disclosed private equity backing of a new US E&P entity in almost a year and a half. Bahr said WildFire's strategy is "designed to rapidly achieve scale...
Aug 02, 2019
CM - $1.37B in new senior bonds float in swirling CITGO chaos - August 2019
CITGO Holding, Inc. announced July 24 that it offered $1.37 billion aggregate principal amount of 9.25% senior secured notes due 2024. The notes are being offered to qualified institutional buyers under Securities and Exchange Commission's Rule 144A and Regulation S. Owned on paper by PDV Holding, Inc., a Houston-based unit of Venezuela's PDVSA, CITGO has been under the effective control of Venezuela's opposition government led by USrecognized Venezuelan President Juan Guaidó since...
Aug 02, 2019
CM - Industry's $16.9B in fresh capital is down but not out - August 2019
The energy industry raised $16.9 billion in aggregate funds through equity and debt offerings in 2Q19, according to Drillinginfo's Capitalize platform. That quarterly total is down 23% from 1Q19 and 36% from 2Q18. Energy industry stock offerings to the public brought in $3.4 billion in fresh capital, up 189% from Q1 but off 19% YOY. Debt issuers floated $13.5 billion in securities, off 36% sequentially and 39% YOY. Capitalize tracks securities and credit activity of energy companies...
Aug 02, 2019
CM - Blackstone Infrastructure Partners closes at $14B - August 2019
Blackstone closed the inaugural fundraising phase for namesake fund BlackStone Infrastructure Partners at $14 billion, the global investor announced July 18. The fund will invest in energy projects across the midstream, utilities and renewables sectors, as well as other areas. It was launched in 2017 and is backed by a $20 billion matching anchor commitment from Saudi Arabia's sovereign fund Public Investment Fund. Other sovereign funds, pension plans, foundations, family offices and...
Aug 02, 2019
CM - Carlyle finalizes $4.6B in new investment platforms - August 2019
Private equity giant The Carlyle Group closed its Global Infrastructure Opportunity Fund at $2.2 billion. The new fund will invest in energy and power infrastructure, transportation, logistics and agriculture. Managing director Andrew Marino said his group saw "tremendous opportunity to upgrade infrastructure, particularly in the US." The fund has committed to several US projects including Lone Star Ports' Harbor Island project for the first US onshore export terminal to service full...
Aug 02, 2019
CM - PE Kimmeridge & Desert Royalty form Desert Peak Minerals - August 2019
Energy investor and occasional activist shareholder Kimmeridge Energy Management Co. teamed up with Desert Royalty Co. to form Desert Peak Minerals, which will be the Delaware Basin's largest pure-play mineral and royalty company by net royalty acreage. The pair announced a definitive agreement July 18 to combine their respective oil and gas royalty assets in the basin. When complete, Desert Peak will have more than 70,000 net royalty acres on a 1/8 royalty-adjusted basis across eight...
Aug 02, 2019
CM - Callon to issue stock, assume Carrizo's $2B debt in takeover - August 2019
Shareholders of Carrizo Oil & Gas will receive 2.05 shares of Callon Petroleum for each of their shares, under terms of a July 15 definitive agreement for Callon to buy Carrizo for $3.2 billion, including the assumption of $1.99 billion in debt. The payout for Carrizo shareholders was equal to $13.12 a share, or 25% higher than the company's July 12 Nasdaq closing price. It also represented an 18% premium to the 60-day volume-weighted average of the stock, which has had a 52-week...
Aug 02, 2019
CM - Financial distress is buy opp for Fulcrum-backed EF startup - August 2019
New Eagle Ford driller and producer Pachira Oil & Gas bought nearly 10,000 net acres of leasehold in the play and 20 net horizontal wells with oil-weighted production, backed by Denver-based Fulcrum Energy Capital Funds. The assets have substantial upside potential through capital-light operations optimization. Fulcrum president Brad Morse said the assets were acquired "at an attractive valuation based only on existing production and current cash flow from a seller that was...
Aug 02, 2019
CM - Amplify amends revolver to account for Midstates merger - August 2019
Amplify Energy Corp. entered into a second amendment to its credit agreement in light of its pending combination with Midstates Petroleum expected in Q3. Lenders attached to the $425 million revolving credit facility, led by BMO, would have the right to redetermine the borrowing base on or after Sept. 1 and amend certain other provisions of the facility if the combination with Midstates does not transpire by that date. Pro forma for the combination, the company will have $295 million in...
Aug 02, 2019
Get more news for CapitalMarkets