MidContinent Scout
Serving the local market with drilling activities, permits & multiple listings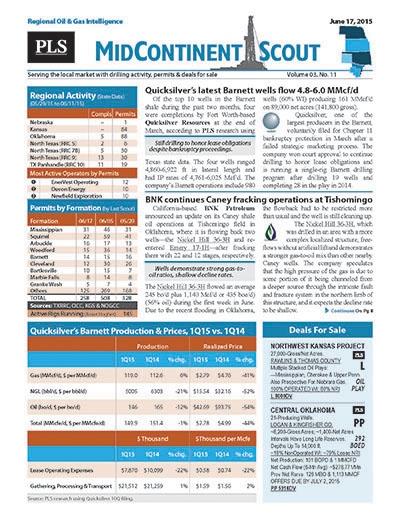 PLS's MidContinent Scout covers regional drilling, discoveries and developments in Oklahoma, Texas Panhandle, (RRC 10), North Texas (RRC 7B & 9), Kansas and Nebraska. The report also covers permit stats, completions and P&A activity, as well as describing business opportunities listed for sale in the Woodford, Mississippi Lime, Barnett, Granite Wash, Eastern Niobrara and the region's historically productive conventional plays
Stay in front of local prospects, plays & rigs!
Oklahoma, Kansas, Nebraska, TX Panhandle, North Texas
Hard Copy and Email For 1 Individual
Every 2 Weeks (22-25 issues per year)
Regional discoveries, drilling activity, permits, completions and summary drilling statistics, layered with regional listings and business opportunities
Web access to the MidContinent Scout archive
Does not include access to MLS
Search PLS' News Archive for complete oil & gas news for MidContinent Scout .
See what it is about before you buy. View a sample issue of MidContinent Scout.
Need more information? Click the button to recieve more details about the MidContinent Scout
Opportunity is a reflection of information.
Call 713-650-1212 For More Information
Search MidContinent Scout:

Headline
Publication
News Date
Chaparral boosts STACK reserves 49% during 2018
During 2018, Chaparral Energy increased its proved reserves 35% to 94.8 MMboe (34% oil, 27% NGLs, 57% PD), adjusting for divestitures. Its STACK proved reserves of 73.7 MMboe rose 49% from YE17 to...
Jan 16, 2019
XTO flows record Woodford well in Love County
In Love County, Oklahoma, XTO Energy completed an outstanding well targeting the Woodford that set a 24-hour IP record for an unconventional oil well in the county. The Turkey Ridge #1-12H13X24 was...
Jan 16, 2019
MCS - EOG Resources Highlights - January 16, 2019
In Ellis County, Oklahoma, EOG Resources' Miller 0334 #3H (8,8391- ft lateral) flowed a 24-hour IP of 1,193 bo/d and 961 Mcf/d, or 1,353 boe/d (88% oil; 153 boe/d per 1,000 lateral ft), from the...
Jan 16, 2019
MCS - Regional Highlights - January 16, 2019
As of Jan. 16, there are 136 rigs running in Oklahoma according to Drillinginfo data. Continental is the most active operator, running 23 rigs. Other top operators are Newfield (10 rigs), XTO (8),...
Jan 16, 2019
MCs - Eagle Energy Highlights - January 16, 2019
In Hardeman County, Texas, Eagle Energy Inc.'s Robinson 2H well (4,137-ft lateral) tested at an initial 30-day rate of 518 boe/d (80% oil), 96 boe/d higher than the first well the company drilled in...
Jan 16, 2019
MCS - Regional Highlights - January 03, 2019
The EIA projects Anadarko Basin production will sequentially rise 10,000 bo/d and 109 MMcf/d in January to totals of 599,000 bo/d and 7.644 Bcf/d. There are 1,135 DUCs in the Anadarko...
Jan 03, 2019
Get more news for MidContinent Scout