South Texas Scout
Serving the local market with drilling activities, permits & multiple listings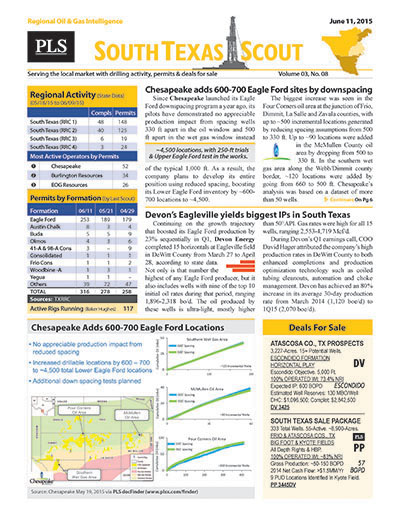 PLS publishes drilling activity in Railroad Districts 1,2,4 and select counties north of 3 through the South Texas Scout. Published every three (3) weeks, this local report covers lead stories on drilling activity, successes and new projects while also reporting on new permits, completions and P&A activity.
Stay in front of local prospects, plays & rigs!
South Texas RRC 1, 2, 4 and north of 3
Hard Copy and Email For 1 Individual
Every 3 Weeks (16-20 issues per year)
Regional discoveries, drilling activity, permits,
completions and summary drilling statistics, layered
with regional listings and business opportunities
Web access to the South Texas Scout archive
Does not include access to MLS
Search PLS' News Archive for complete oil & gas news for South Texas Scout .
See what it is about before you buy. View a sample issue of South Texas Scout.
Need more information? Click the button to recieve more details about the South Texas Scout
Opportunity is a reflection of information.
Call 713-650-1212 For More Information
Search South Texas Scout:

Headline
Publication
News Date
1776's Gonzales County HZs average 2,677 boe/d
During Q4, 1776 Energy Partners completed two high-quality Eagle Ford wells in southern Gonzales County. Completed at the end of October, the Maali #8H (5,085-ft lateral; 12.9 MMlb sand) tested at an...
Jan 17, 2019
STS - EOG Resources Highlights - January 17, 2019
EOG Resources completed the top well in this issue. Located in DeWitt County, the Dio Unit #23H (5,235-ft lateral) flowed an initial 24-hour rate of 4,429 bo/d and 5,967 Mcf/d, or 5,424 boe/d (82%...
Jan 17, 2019
STS - Chesapeake Highlights - January 17, 2019
In Dimmit County, Chesapeake's Faith Toro Dim B #3H (11,360-ft lateral) flowed an IP24 of 2,144 bo/d and 1,687 Mcf/d, or 2,425 boe/d (88% oil; 213 boe/d per 1,000 ft), from the Eagle Ford on a...
Jan 17, 2019
STS - Enbridge Highlights - January 17, 2019
Enbridge acquired a 26.25% stake in the Gray Oak Pipeline from Phillips 66 Partners. The line will transport crude from the Permian Basin and Eagle Ford to the Gulf Coast, with an in-service date of...
Jan 17, 2019
STS - Regional Highlights - December 20, 2018
The EIA projects that Eagle Ford production will sequentially rise 19,000 bo/d and 125 MMcf/d in January to totals of 1.427 MMbo/d and 7.331 Bcf/d. There are 1,563 DUCs in the Eagle Ford...
Dec 20, 2018
Get more news for South Texas Scout