Canadian Scout
Serving the Canadian E&P market with news, analysis and business opportunities.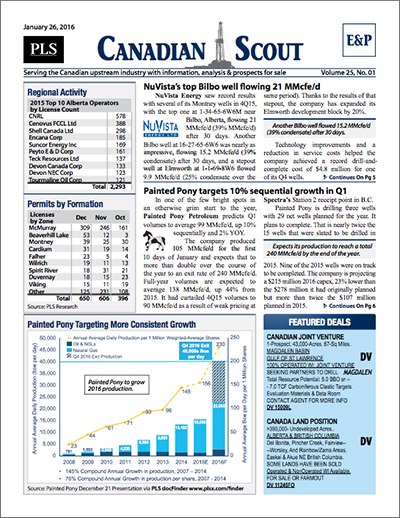 The Canadian Scout (blue banner report) covers news and analysis on the Canadian exploration and production (E&P) sector including new well discoveries, drilling activities, acreage sales, industry statistics (drilling results, activity permits & intents to drill) and technological updates. Besides composite E&P news, the Canadian Scout also carries market insight, analyst comments and respected featured interviews with leading E&P executives.
Covering exploration & production
Single copy pricing; Includes hard copy & email version
Increase market insight & deal flow
Every 3 weeks
Latest in exploration, discoveries, resource plans, land grabs, volumes, development projects & trends
Access to archives covering E&P
Phone request for prospects and lands listed for sale
Includes discounts for other PLS products & events
Search PLS' News Archive for complete oil & gas news for Canadian Scout .
See what it is about before you buy. View a sample issue of Canadian Scout.
Need more information? Click the button to recieve more details about the Canadian Scout
Opportunity is a reflection of information.
Call 713-650-1212 For More Information
Search Canadian Scout:

Headline
Publication
News Date
CS - Torc Oil & Gas spending $190MM in 2020, keeping output flat - January 2020
Torc Oil & Gas Ltd. plans on spending $190 million in 2020, with 70% directed towards drilling, completions and tie-ins at its core areas in southeast Saskatchewan and Alberta's Cardium. The remaining 30% will be spent on operational and facilities optimization, infrastructure expansion, gas conservation projects and inactive well retirements. The company anticipates maintaining 2019 exit production through 2020, resulting in a 2020 exit and average production rate of 28,300 boe/d (88% oil...
Jan 09, 2020
CS - Whitebark Energy consolidates Wizard Lake after Rex results - January 2020
Whitebark Energy is consolidating its ownership in Alberta's Wizard Lake oil field to 100% WI as part of an asset exchange agreement with JV partner Point Loma Resources. The Australian company is acquiring the remaining 50% WI it does not already own for $6.8 million in three stages, and partly in exchange for the assignment of 20-30% WI in non-Wizard lake assets to Point Loma. The two companies formed their west-central Alberta JV in April 2017. "We have been very focused on...
Jan 08, 2020
CS - BC Supreme Court rules against Coastal GasLink opposition - January 2020
British Columbia's Supreme Court granted Coastal GasLink Ltd. an interlocutory injunction against members of the Wet'suwet'en First Nation that are opposing the gas pipeline's construction. In the court's decision, Justice Marguerite Church said there is evidence to indicate protestors engaged in deliberate and unlawful conduct for the purpose of causing harm to Coastal GasLink and preventing it from constructing the pipeline. The justice also said it is an appropriate case to include...
Jan 08, 2020
CS - Brookfield sub closes purchase of Enbridge's Canadian G&P - January 2020
Enbridge and Brookfield Infrastructure subsidiary NorthRiver Midstream announced Dec. 31 the completion of the final stage of their $4.3 billion deal announced in July 2018 involving Enbridge's remaining midstream business in Canada. The pipeline giant sold six federally regulated gas gathering and processing plants in British Columbia to NorthRiver, bringing to completion the divestiture of its entire Canadian G&P business. The first part of the deal closed in October 2018 and...
Jan 08, 2020
CS - Keyera Corp. shutters Gilby plant as part of consolidation plan - January 2020
Keyera Corp. has suspended operations at its Gilby gas plant—part of the company's "South Region" in west central Alberta—and routed its volumes to the nearby Rimbey gas plant. Gilby was originally built in 1957 and has a capacity of 71 MMcf/d, while Rimbey was built in 1960 and has a capacity of 422 MMcf/d. During the company's Dec. 11 investor day, chief commercial officer Dean Setoguchi said the suspension at Gilby was part of a consolidation effort to reduce redundant costs by...
Jan 08, 2020
CS - TC Energy reaches six-year toll pact for Canadian Mainline - January 2020
TC Energy applied with the Canada Energy Regulator for approval of a six-year negotiated and unanimously supported settlement with its customers and other interested parties on Canadian Mainline tolls. The 8,800-mile Canadian Mainline system primarily transports Western Canadian gas for delivery across the Prairie provinces and to Eastern Canada and the US. The system sets tolls for separate segments of the Canadian Mainline, including a 20% reduction from Empress, Alberta, to Emerson,...
Jan 08, 2020
CS - Enbridge issues US$2B in notes, brings debt total to over US$63B - January 2020
Enbridge closed the offering of US$2 billion in senior notes over three tranches. The issue increased its long-term debt to US$63.5 billion, although the company intends to use the net proceeds of US$1.98 billion to refinance, redeem or repurchase existing indebtedness. The offering consisted of US$500 million of 2.5% senior notes due 2025, US$1 billion of 3.125% senior notes due 2029 and US$500 million in 4% senior notes due 2049. At US$2 billion, the offering is the third largest of...
Jan 08, 2020
CS - Pembina wraps up early on buy of KML, US Cochin for $4.4B - January 2020
Pembina Pipeline Corp. came in ahead of schedule on its $4.4 billion acquisition of Kinder Morgan Canada Ltd. and the US portion of the Cochin condensate pipeline from Kinder Morgan Inc., closing the deals Dec. 16. The transactions were announced Aug. 21, less than four months after KML concluded a strategic review with a decision to remain an independent company. "We are pleased to have closed the highly strategic Kinder Morgan transaction earlier than originally expected, which will...
Jan 08, 2020
CS - Inter Pipeline's capex focuses on Canadian Heartland chem plant - January 2020
Inter Pipeline Ltd. plans to spend $1.1 billion for organic growth projects and $100 million for sustaining capital projects next year. About $980 million of its 2020 capex will be earmarked for NGL processing, with the remainder split among conventional oil pipelines, oil sands transport and bulk liquid storage. Total projected 2020 capex of $1.2 billion is about 18% lower than the projected 2019 budget. The company will put $935 million toward the building of the Heartland...
Jan 08, 2020
CS - A&D Briefs - January 8, 2020
Alberta Foothills-focused Briko Energy is acquiring Cardium assets from Petrus Resources for $1.8 million. Petrus said the assets included 35,127 undeveloped net acres and Q3 net production of 2.34 MMcfe/d (64% gas), representing 5% of the company's total. The sale will also reduce its undiscounted decommissioning obligations by $7.5 million, or 18%. For Briko, the acquisition will boost its Foothills position to ~250,000 net acres and roughly double its anticipated 2020 output to 5.1-5.7...
Jan 08, 2020
Get more news for Canadian Scout