Canadian Scout
Serving the Canadian E&P market with news, analysis and business opportunities.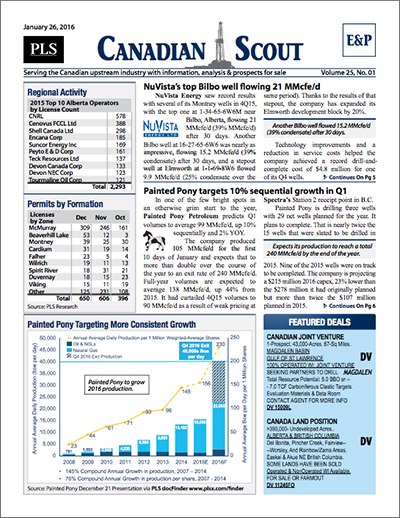 The Canadian Scout (blue banner report) covers news and analysis on the Canadian exploration and production (E&P) sector including new well discoveries, drilling activities, acreage sales, industry statistics (drilling results, activity permits & intents to drill) and technological updates. Besides composite E&P news, the Canadian Scout also carries market insight, analyst comments and respected featured interviews with leading E&P executives.
Covering exploration & production
Single copy pricing; Includes hard copy & email version
Increase market insight & deal flow
Every 3 weeks
Latest in exploration, discoveries, resource plans, land grabs, volumes, development projects & trends
Access to archives covering E&P
Phone request for prospects and lands listed for sale
Includes discounts for other PLS products & events
Search PLS' News Archive for complete oil & gas news for Canadian Scout .
See what it is about before you buy. View a sample issue of Canadian Scout.
Need more information? Click the button to recieve more details about the Canadian Scout
Opportunity is a reflection of information.
Call 713-650-1212 For More Information
Search Canadian Scout:

Headline
Publication
News Date
CS - Two projects off Eastern Canada delayed on market volatility - April 2020
Equinor and Husky Energy have postponed the development of the 300 MMbo Bay du Nord project in the Flemish Pass Basin off Newfoundland and Labrador because of the recent collapse of oil prices and the coronavirus pandemic. The Norwegian producer, which operates the project with 65% WI, said planning going forward will be based on a newbuild FPSO and that the company will develop an adjusted work program based on a new schedule. The project is expected to cost about $10.9 billion over the life...
Apr 01, 2020
CS - TC to buy Tidewater & TransAlta's Pioneer pipe for $255MM - April 2020
TC Energy subsidiary NOVA Gas Transmission Ltd. has executed an LOI with Tidewater Midstream and Infrastructure and TransAlta to purchase the Pioneer pipeline in Alberta for $255 million. The pipeline, in which Tidewater and TransAlta each own 50%, consists of 131 km of operating pipeline that will be integrated into the 25,000- km NGTL system. Pioneer runs from west of Drayton Valley to west of Edmonton, connecting Tidewater's Brazeau River Complex gas plant to TransAlta's generating units at...
Apr 01, 2020
CS - Keyera reaffirms 2020 capex plan despite price environment - April 2020
On March 16, a week after commodity prices began to plummet on news of the SaudiRussian oil price war, Keyera Corp. reaffirmed its 2020 capex plan of $700-800 million, saying it takes a long-term view of its business and remains committed to its strategy of steady, disciplined growth. The company plans to complete Phase 2 of the Wapiti gas plant and the Wildhorse terminal, and it will continue to progress the Pipestone gas plant and the Key Access pipeline system, which is slated to commence...
Apr 01, 2020
CS - CES Energy Solutions confident in ability to weather storm - April 2020
CES Energy Solutions, which supplies drilling fluids, production and specialty chemicals to the WCSB and major US basins, said it is reviewing planned expenditures and will adjust as necessary for current market conditions. It previously expected 2020 capex to be at or below 2019 levels of $45.25 million. An immediate change the company will make is reducing its dividend from an annualized $16 million to $4 million, or $0.015/share. The $12 million difference will be redeployed for...
Apr 01, 2020
CS - Crescent Point trims capex by 35% to stay within funds flow - April 2020
Crescent Point Energy reduced its capex budget for the year to $700-800 million, a 35% decrease from the original guidance of $1.1-1.2 billion issued in January. CEO Craig Bryksa said the company's focus is still on returns, capital discipline, cost savings initiatives and balance sheet strength. He added that the new budget should still be funded within cash flow assuming WTI prices in the low US$30/bbl range. Annual average production is expected to be 130,000-134,000 boe/d, down from...
Apr 01, 2020
CS - ARC reduces 2020 capital budget by 40% & dividends by 60% - April 2020
ARC Resources is cutting its 2020 capital budget from $500 million to no more than $300 million and reducing its March dividend from $0.05/share to $0.02/share in response to plummeting commodity prices. After the March dividend, it will change to a quarterly dividend of $0.06/share. CEO Terry Anderson said the company believes the moves will allow it to remain well positioned to deliver on its long-term strategy and emerge from the crisis in a position of financial strength. ARC...
Apr 01, 2020
CS - CNRL cutting capex by 27%, maintaining production guidance - April 2020
Canadian Natural Resources Ltd. is cutting its 2020 capex by 27%, or $1.09 billion, to $2.96 billion from its previous guidance of $4.05 billion. It is still forecasting annual production of 1.14-1.21 MMboe/d because of its long-life, low-decline asset base and ramping production at Kirby North, Primrose and Jackfish, which all incurred most of their capital costs in 2019 or before. Its 2P reserves base has a 36-year life span, and its oil sands mining and upgrading assets have operating costs...
Apr 01, 2020
CS - Canadian oil & gas industry battening down the hatches - April 2020
The entire oil and gas industry in Canada is fighting to stay afloat amid a perfect storm brought on by the coronavirus pandemic and the SaudiRussian price war, and most companies are pulling back wherever they can to protect their assets and balance sheets. Equinor and Husky Energy are suspending the Bay du Nord and West White Rose projects off Newfoundland and Labrador (PG.1). Canadian Natural Resources Ltd. (PG.3), Husky (PG.15), MEG Energy (PG.5), Crescent Point Energy (PG.3) and Baytex...
Apr 01, 2020
CS - Imperial Oil cutting $1B, with $500MM coming from capex - April 2020
Imperial Oil is cutting its 2020 capex by $500 million, from $1.6-1.7 billion to $1.1-1.2 billion, in response to falling commodity prices brought on by the coronavirus pandemic and Saudi-Russian price war. The company said it will cut an additional $500 million from operating expenses, for total savings of $1 billion. The company will reduce the scope of its planned Q2 turnaround of the Sarnia facility, and a planned coker turnaround at Syncrude (25% WI) has been delayed until Q3....
Apr 01, 2020
CS - News Briefs - April 1, 2020
Torc Oil & Gas Ltd. is reviewing spending plans for the year now that its Q1 capital spending is over. There may be limited capex during the spring breakup period, but the company expects to defer, reallocate and reduce capital in Q2 as conditions warrant. Torc also cut its monthly dividend to $0.005 per common share from $0.025 effective with the March dividend payable in April. The company said it will save $53 million on an annualized basis as a result of the dividend...
Apr 01, 2020
Get more news for Canadian Scout