Canadian Scout
Serving the Canadian E&P market with news, analysis and business opportunities.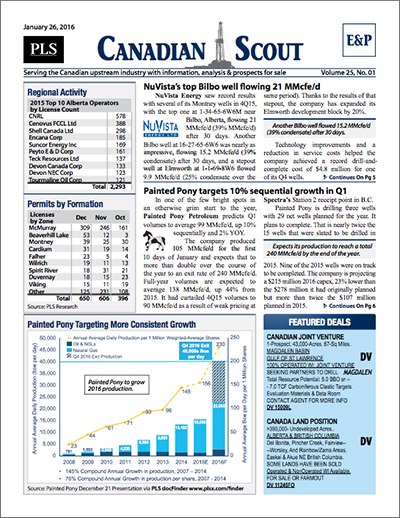 The Canadian Scout (blue banner report) covers news and analysis on the Canadian exploration and production (E&P) sector including new well discoveries, drilling activities, acreage sales, industry statistics (drilling results, activity permits & intents to drill) and technological updates. Besides composite E&P news, the Canadian Scout also carries market insight, analyst comments and respected featured interviews with leading E&P executives.
Covering exploration & production
Single copy pricing; Includes hard copy & email version
Increase market insight & deal flow
Every 3 weeks
Latest in exploration, discoveries, resource plans, land grabs, volumes, development projects & trends
Access to archives covering E&P
Phone request for prospects and lands listed for sale
Includes discounts for other PLS products & events
Search PLS' News Archive for complete oil & gas news for Canadian Scout .
See what it is about before you buy. View a sample issue of Canadian Scout.
Need more information? Click the button to recieve more details about the Canadian Scout
Opportunity is a reflection of information.
Call 713-650-1212 For More Information
Search Canadian Scout:

Headline
Publication
News Date
CS - Imperial Oil cutting $1B, with $500MM coming from capex - April 2020
Imperial Oil is cutting its 2020 capex by $500 million, from $1.6-1.7 billion to $1.1-1.2 billion, in response to falling commodity prices brought on by the coronavirus pandemic and Saudi-Russian price war. The company said it will cut an additional $500 million from operating expenses, for total savings of $1 billion. The company will reduce the scope of its planned Q2 turnaround of the Sarnia facility, and a planned coker turnaround at Syncrude (25% WI) has been delayed until Q3....
Apr 01, 2020
CS - Delphi assessing H2 plans after completing three wells in Q1 - April 2020
Delphi Energy Corp. spent $27 million in Q1, $6 million lower than budgeted as a result of improved drilling and completion costs on three Montney wells in the West Bigstone area of Alberta. The company plans to assess H2 spending through the spring breakup and will likely defer future drilling plans if commodity prices do not improve. The three West Bigstone wells were recently completed and are expected to be on production by the end of March. Two wells were drilled to a depth of...
Apr 01, 2020
CS - Athabasca cuts capex by $30MM, bringing 26 wells online in H1 - April 2020
Athabasca Oil Corp. originally planned to spend $125 million in 2020 in order to stay within projected funds flow, but it is now cutting planned spending by $30 million. The revised $95 million plan primarily includes the completion of its winter program, and it said it has low capital requirements to sustain its production base. The company has already completed the tie-in of 10 Placid Montney wells and intends to bring them onstream in Q2. It will also bring online 16 Kaybob Duvernay...
Apr 01, 2020
CS - Baytex suspends Canadian development & cuts capex 50% - April 2020
Baytex Energy Corp. is suspending all drilling operations in Canada in response to plummeting commodity prices and expects to forgo 43 heavy oil wells and 151 light oil wells this year. The company is also slowing down development in the US Eagle Ford and plans to bring onstream 16-18 wells this year compared with 22 in its initial 2020 guidance. Baytex is cutting its exploration and development budget to $260-290 million, a 50% reduction at midpoint from the previous guidance of $500-575...
Apr 01, 2020
CS - MEG cuts capex by $50MM, reducing Q3 turnaround scope - April 2020
MEG Energy has reduced its 2020 capex program by 20% to $200 million. The company said most of the $50 million cut is related to reducing the scope of a planned turnaround in Q3 and deferring the costs of well pairs that were targeted to come onstream in 2020. It now forecasts average 2020 production of 93,000-95,000 bo/d compared to previous guidance of 94,000- 97,000 bo/d. Non-energy operation costs and general costs are expected to remain within the previous guidance of $4.50- $4.90/bbl and...
Apr 01, 2020
CS - Cardinal cuts capex to $31MM; already spent $22MM in Q1 - April 2020
Cardinal Energy reduced its capex budget from $67 million to $31 million, of which $22 million had been spent as of March 17, leaving $9 million for the balance of the year. The capital spent so far accounted for the drilling and completion of most of the company's drilling program in southern Alberta for the year and resulted in current production of 21,500 boe/d. Several wells are not yet tied in, and one still requires completion. Cardinal said it expects 2020 production to stay relatively...
Apr 01, 2020
CS - Vermilion reduces capex 20% at midpoint, chops dividends - April 2020
Vermilion Energy's directors authorized an $80-100 million reduction to the company's 2020 capital budget down to the $350-370 million range in response to the drop in global commodity prices. The decrease, amounting to 20% at midpoint, will bring 2020 capex down by 32% from 2019's actual spending of $561 million. The board also decreased the company's monthly dividend to $0.02/ share from $0.115/share starting with the April dividend payable in May. The $0.115 payout was itself a 50% reduction...
Apr 01, 2020
CS - Kelt reduces capex by 36%, defers projects in three areas - April 2020
Montney-focused Kelt Exploration Ltd. reduced its capital budget to $145 million, down by 36% from the previous guidance of $225 million, and will have minimal activity in Q2. At Oak/Flatrock in British Columbia, the company is deferring an exploration well, completion of seven development wells and construction of pipeline tie-ins, gas compression and an oil battery. The company is also pushing back the drilling and completion of a fivewell pad at Fireweed in BC. At Wembley/Pipestone in...
Apr 01, 2020
CS - Whitecap slashes 2020 capex by 43% to $200-210MM - April 2020
Whitecap Resources' 2020 amended capital investment program will be limited to asset integrity, health and safety programs and CO2 purchases at its carbon sequestration project in Weyburn, Saskatchewan, the company announced March 17. The company's capital expenditures will decrease to $200- 210 million from $350-370 million, a reduction of 43% at midpoint. As a result, Whitecap's average production for the year is now expected to be 67,000-68,000 boe/d compared with previous guidance...
Apr 01, 2020
CS - News Briefs - April 1, 2020
Torc Oil & Gas Ltd. is reviewing spending plans for the year now that its Q1 capital spending is over. There may be limited capex during the spring breakup period, but the company expects to defer, reallocate and reduce capital in Q2 as conditions warrant. Torc also cut its monthly dividend to $0.005 per common share from $0.025 effective with the March dividend payable in April. The company said it will save $53 million on an annualized basis as a result of the dividend...
Apr 01, 2020
Get more news for Canadian Scout