Canadian Scout
Serving the Canadian E&P market with news, analysis and business opportunities.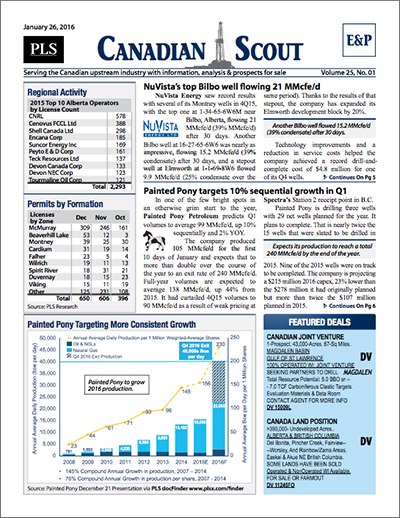 The Canadian Scout (blue banner report) covers news and analysis on the Canadian exploration and production (E&P) sector including new well discoveries, drilling activities, acreage sales, industry statistics (drilling results, activity permits & intents to drill) and technological updates. Besides composite E&P news, the Canadian Scout also carries market insight, analyst comments and respected featured interviews with leading E&P executives.
Covering exploration & production
Single copy pricing; Includes hard copy & email version
Increase market insight & deal flow
Every 3 weeks
Latest in exploration, discoveries, resource plans, land grabs, volumes, development projects & trends
Access to archives covering E&P
Phone request for prospects and lands listed for sale
Includes discounts for other PLS products & events
Search PLS' News Archive for complete oil & gas news for Canadian Scout .
See what it is about before you buy. View a sample issue of Canadian Scout.
Need more information? Click the button to recieve more details about the Canadian Scout
Opportunity is a reflection of information.
Call 713-650-1212 For More Information
Search Canadian Scout:

Headline
Publication
News Date
CS - Tidewater offers convertible debt for Pipestone buy - July 2019
Tidewater Midstream & infrastructure is offering $75 million principal amount of 5.5% unsecured subordinated convertible debentures due 2024 through a bought deal with underwriters led by CIBC and National Bank Financial. The company granted underwriters an overallotment option on up to $11.25 million of the debentures for 30 days. Tidewater will realize net proceeds amounting to 96% of the offering. The debentures will be convertible at $1.86 a share, the company said. Net proceeds...
Jul 31, 2019
CS - Cenovus' 1 Bbo from SAGD oil sands is a Q2 feather in its cap - July 2019
Cenovus Energy reached the 1 Bbo cumulative oil sands production milestone on July 10 from its Foster Creek and Christina Lake facilities in northern Alberta. The company said it is the first to reach this milestone using SAGD technology. Foster Creek began pilot production in 1997 and in 2001 became the first commercial oil sands project to use SAGD. Christina Lake began producing oil in 2002. Cenovus said the two facilities have contributed $25 billion in capital spending to the...
Jul 31, 2019
CS - Suncor net triples on one-time gains, operating income up 5% - July 2019
Focusing on higher-value Syncrude volumes and buying production allotments from other companies while Alberta imposes crude production cuts proved to be a useful pacekeeping strategy for Canada's biggest oil company in Q2. Suncor Energy reported net income of $2.73 billion on revenue of $10.1 billion, compared with $972 million in profits on $10.3 billion in revenue in 2Q18. Operating income of $1.25 billion came in 5% higher than the $1.19 billion reported a year earlier, as overall...
Jul 31, 2019
CS - TC Energy sells Ontario gas-fired power plants for $2.9B - July 2019
TC Energy Corp. struck a $2.87 billion deal to sell three combined-cycle gas-fired power plants in Ontario to Ontario Power Generation Inc., a Crown corporation wholly owned by the provincial government. The midstream giant will use the proceeds to fund its $30 billion capital program and further strengthen its financial position. This is the largest of several recent acquisitions for OPG, increasing the amount of natural gas in its power generation mix relative to nuclear,...
Jul 31, 2019
CS - Highwood Oil focusing on Clearwater drilling at Nipisi - July 2019
Ahead of a transformative Peace River acquisition announced in May, Highwood Oil provided a rare look at its existing operations and an overview of its plans for the new assets in a July investor presentation. Currently, Highwood's core assets in Alberta include 74,000 net acres in the main fairway targeting the Clearwater formation and 128,000 net acres at Red Earth in the Keg River light oil play. While 73% of Highwood's 1,700 bo/d net is currently produced at Red Earth, the company is...
Jul 31, 2019
CS - Kiwetinohk's Duvernay wells flow at high end of expectations - July 2019
Kiwetinohk Resources has now flow-tested three wells so far on its East Duvernay lands in central Alberta with promising initial results, JV partner Journey Energy reported. The two commitment wells, which initially came online in March, are producing at the high end of Journey's expectations with rates of 638 boe/d (72% oil, 8% NGLs) and 820 boe/d (77% oil, 7% NGLs) and watercuts of 39% and 43%. After 61 days online, cumulative output is 36,500 boe and 47,500 boe, and watercuts have declined...
Jul 31, 2019
CS - Alberta grants approval for Syncrude's Mildred Lake project - July 2019
The Alberta Energy Regulator granted Syncrude Canada Ltd. approval for an extension project at its Mildred Lake facility in the Athabasca oil sands, 40 km north of Fort McMurray. The extension is intended to sustain bitumen levels for another 14 years after the current Mildred Lake mine pit is depleted. The project includes two open-pit mining areas in and adjacent to existing Mildred Lake operations with 735 MMbbl of recoverable bitumen. Extension development will begin before YE19 and...
Jul 31, 2019
CS - Crescent Point allocates bulk of 2019 capital budget to H2 - July 2019
Crescent Point Energy spent $166.2 million on development capex in Q2, including $146.5 million on drilling and development to drill 52 wells, compared to $301.2 million spent in 2Q18. Q2 spending was also $60 million below plan because of weather conditions and efforts to operate in a more cost-efficient manner after spring breakup. That shortfall will now be part of the company's Q3 capex. Overall, 55% of the $1.2-1.3 billion 2019 capital budget will be spent in H2, weighted toward...
Jul 31, 2019
CS - Prairie Provident hikes output, completes new well in Q2 - July 2019
Prairie Provident Resources' latest well on its Princess acreage in southern Alberta averaged 700 boe/d (36% oil) in the first three weeks of production. The well was completed and brought onstream in June, contributing to current companywide production of ~6,500 boe/d based on field receipts. Throughout Q2, Prairie Provident averaged 6,380 boe/d (69% oil and liquids), which was a 7% increase over Q1.Within the Princess area, the company has identified nine Lithic Glauconite, eight...
Jul 31, 2019
CS - Alberta in situ oil sands production takes a tumble in May - July 2019
New production numbers released by the Alberta Energy Regulator showed in situ oil sands production falling to its lowest levels this year in May after remaining stable for three months. Total production from the top 15 producers in Alberta fell 100,000 bo/d to 1.36 MMbo/d in May from 1.46 MMbo/d in April. Average production for the top producers from January to May this year is down 5.8% from the 2018 average, due in part to production curtailments put in place by the Alberta...
Jul 31, 2019
Get more news for Canadian Scout