Canadian Scout
Serving the Canadian E&P market with news, analysis and business opportunities.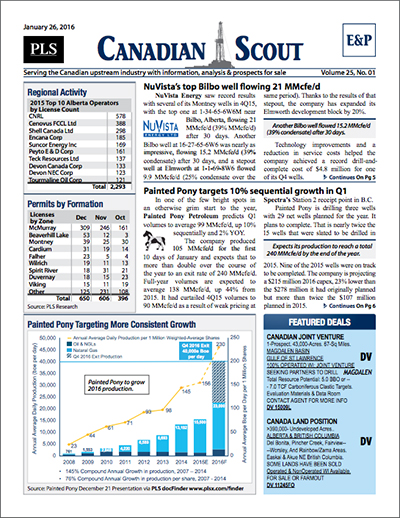 The Canadian Scout (blue banner report) covers news and analysis on the Canadian exploration and production (E&P) sector including new well discoveries, drilling activities, acreage sales, industry statistics (drilling results, activity permits & intents to drill) and technological updates. Besides composite E&P news, the Canadian Scout also carries market insight, analyst comments and respected featured interviews with leading E&P executives.
Covering exploration & production
Single copy pricing; Includes hard copy & email version
Increase market insight & deal flow
Every 3 weeks
Latest in exploration, discoveries, resource plans, land grabs, volumes, development projects & trends
Access to archives covering E&P
Phone request for prospects and lands listed for sale
Includes discounts for other PLS products & events
Search PLS' News Archive for complete oil & gas news for Canadian Scout .
See what it is about before you buy. View a sample issue of Canadian Scout.
Need more information? Click the button to recieve more details about the Canadian Scout
Opportunity is a reflection of information.
Call 713-650-1212 For More Information
Search Canadian Scout:

Headline
Publication
News Date
CS - Analyst Notes - January 02, 2019
Painted Pony Energy (TSX: PONY; $1.33-Dec, 17; Hold; PT-$2) PONY's 2019 budget out yesterday includes spending of C$95--110MM to deliver production of 54--56mboed; in-line with TPHe at...
Jan 02, 2019
CS - People & Companies - January 02, 2019
Birchcliff Energy named Stacey McDonald as a director, effective Dec. 14. Previously, she was managing director of institutional energy research at GMP FirstEnergy. She was named to the company's...
Jan 02, 2019
MEG reiterates opposition to Husky takeover bid
MEG Energy announced it will waive its shareholder rights plan as it fights Husky Energy's $6.4 billion hostile cash-and-share takeover offer. MEG noted the initial $3.3 billion value of the equity...
Jan 02, 2019
CS - Finance Briefs - January 02, 2018
Ripper Oil & Gas raised nearly $6 million through the private placement of 17 million subscription receipts for $0.35 each. Each subscription receipt included one common share. Proceeds from the...
Jan 02, 2019
CS - News Briefs - January 02, 2019
Sinopec's Canadian subsidiary launched a public process to solicit proposals for 10 conventional oil and natural gas properties across Alberta. The Chinese company holds an average 49% WI across...
Jan 02, 2019
Get more news for Canadian Scout