Canadian Scout
Serving the Canadian E&P market with news, analysis and business opportunities.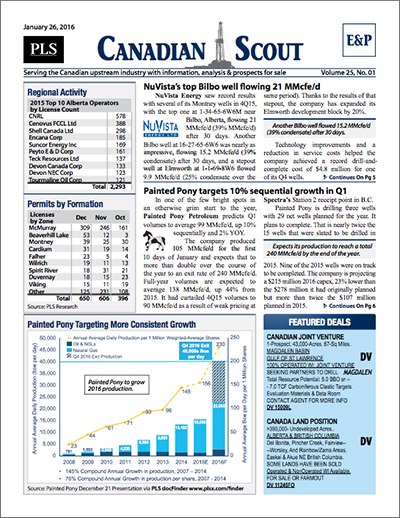 The Canadian Scout (blue banner report) covers news and analysis on the Canadian exploration and production (E&P) sector including new well discoveries, drilling activities, acreage sales, industry statistics (drilling results, activity permits & intents to drill) and technological updates. Besides composite E&P news, the Canadian Scout also carries market insight, analyst comments and respected featured interviews with leading E&P executives.
Covering exploration & production
Single copy pricing; Includes hard copy & email version
Increase market insight & deal flow
Every 3 weeks
Latest in exploration, discoveries, resource plans, land grabs, volumes, development projects & trends
Access to archives covering E&P
Phone request for prospects and lands listed for sale
Includes discounts for other PLS products & events
Search PLS' News Archive for complete oil & gas news for Canadian Scout .
See what it is about before you buy. View a sample issue of Canadian Scout.
Need more information? Click the button to recieve more details about the Canadian Scout
Opportunity is a reflection of information.
Call 713-650-1212 For More Information
Search Canadian Scout:

Headline
Publication
News Date
CS - TransGlobe plans $37MM capex for Canada & Egypt this year - February 2020
TransGlobe Energy Corp. said it will spend $37.1 million on capital expenditures in 2020. Of that amount, $23.7 million will be directed towards projects in Egypt, and $13.4 million will be spent in Canada. In Egypt, the company said it will spend $5.4 million for exploration and $18.3 million for development. It will drill three exploration wells in the Eastern Desert and one in the Western Desert. Most of TransGlobe's Egyptian development plan this year focused on the Eastern Desert...
Feb 19, 2020
CS - Murphy's spending in Canada continues yearly drop to $215MM - February 2020
Murphy Oil plans to spend $1.4-1.5 billion in capital this year, with 12% and 3% going to onshore and offshore Canadian assets, respectively. The total Canadian allocation of $215 million is down from $316 million in 2019 and $378 million in 2018, with the lion's share of capital continuing its march to the Eagle Ford and Gulf of Mexico. The company will spend $125 million at Kaybob to bring 16 operated Duvernay wells online and expects production will continue to remain essentially...
Feb 19, 2020
CS - ARC cutting capex by 28% in 2020, growing production by 14% - February 2020
ARC Resources Ltd. plans to spend $500 million on its 2020 capital program, down 28% from 2019's $692 million. It expects production this year to average 155,000- 161,000 boe/d, a 14% increase from last year's 139,000 boe/d. Besides drilling 65 wells, the company plans to complete two facility expansions at Dawson and Ante Creek. Dawson Phase IV will expand the Phase III plant, adding 90 MMcf/d to the facility's processing capacity and increasing liquids production by 4,500 bbl/d (67%...
Feb 19, 2020
CS - Hemisphere Energy planning waterflood in H1, drilling in Q3 - February 2020
Hemisphere Energy will seek regulatory approval and complete field operations in H1 to convert several existing wellbores at its Atlee Buffalo asset in southern Alberta into water injectors to expand the waterfloods in the Upper Mannville F and G heavy oil pools. The company said it is also taking steps to begin preparations for enhanced tertiary recovery of the two pools through polymer and surfactant flood. The majority of its 2020 capital program will be carried out during Q3, similar to...
Feb 19, 2020
CS - Birchcliff Energy beats 2018 record output by 1,000 boe/d - February 2020
Birchcliff Energy Ltd.'s annual production in 2019 was 78,000 boe/d, slightly beating its previous record in 2018 of 77,100 boe/d. Q4 output was 78,000 boe/d compared to 76,400 boe/d in 4Q18. The company's production growth was largely because of incremental additions from new horizontal oil wells brought onstream in Gordondale and condensate-rich horizontal gas wells in Pouce Coupe. Liquids production increased 14% YOY. Liquids as a percentage of overall production increased from 20%...
Feb 19, 2020
CS - PrairieSky Royalty keeps dividend payout consistent at $182MM - February 2020
PrairieSky Royalty Ltd. said its 2019 revenue totaled $268.4 million, off 2% YOY. Crude oil revenue was $188.7 million, up 2%, while gas and NGL revenue took respective 8% and 14% hits to $29.5 million and $26.7 million. Net income of $111.4 million was up 40% from the previous year, and the company paid out $182.1 million in dividends, which was consistent with 2018 and represented a payout ratio of 83%. Royalty production last year averaged 21,757 boe/d (52% liquids, up from 49% in...
Feb 19, 2020
CS - Jupiter realigns credit resources with new $225MM revolver - February 2020
Gas producer Jupiter Resources Ltd. signed a new $225 million, three-year senior secured reserve-based revolving credit facility with an eight-bank syndicate led by TD Securities. It also placed US$77.5 million of new notes privately with its four largest shareholders as the company announced its financial plans for 2020. The company issued the private placement notes to shareholders owning 93% of its shares outstanding. The notes, which are 13% second-priority senior secured and...
Feb 19, 2020
CS - Petrox shareholders in for a Good Time and O&G biz spinof - February 2020
Petrox Resources Ltd. announced Jan. 28 that it will spin off all of its oil and gas business into a new subsidiary. The new company will be owned by Petrox shareholders of record as of the date Petrox's reverse takeover with Hong Kong-based apparel company Good Time Mega International Trade Ltd. becomes effective. Petrox currently owns a production property in Fletwode, Saskatchewan, that produces 25 boe/d. The company signed an LOI with Good Time on Jan. 26 calling for its buyout...
Feb 19, 2020
CS - Cenovus and Imperial see boosts in rail shipments - February 2020
Cenovus Energy achieved its goal of increasing its crude-by-rail shipments by the end of December to 100,000 bo/d, EVP Drew Zieglgansberger said at a business conference. He attributed the increase to Alberta's decision to allow producers to surpass mandatory quotas if they transport more oil by rail. The comments followed a Jan. 28 report from Canadian National Railway Co. that it transported 20% more carloads in 2019 than in 2018 and that the company anticipates oil to be a "growth driver"...
Feb 19, 2020
CS - News Briefs - February 19, 2020
Baytex Energy Corp. closed its private placement of US$500 million aggregate principal amount of 8.75% senior unsecured notes due 2027 with qualified institutional holders. Proceeds will be used to redeem US$400 million of its 5.125% notes due 2021 and $300 million of its 6.625% debentures due 2022. Baytex said it issued redemption notices to holders of both issues. MEG Energy Corp. announced Jan. 31 that it had closed its offering of US$1.2 billion aggregate principal amount of...
Feb 19, 2020
Get more news for Canadian Scout