Canadian Scout
Serving the Canadian E&P market with news, analysis and business opportunities.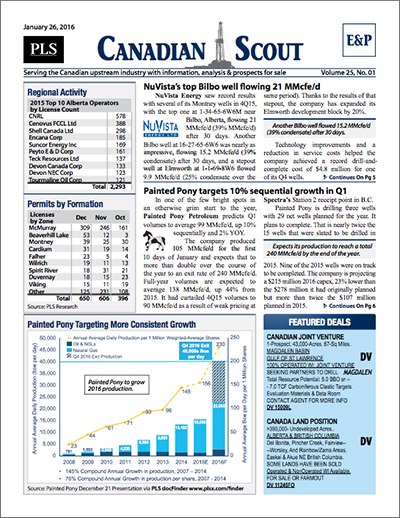 The Canadian Scout (blue banner report) covers news and analysis on the Canadian exploration and production (E&P) sector including new well discoveries, drilling activities, acreage sales, industry statistics (drilling results, activity permits & intents to drill) and technological updates. Besides composite E&P news, the Canadian Scout also carries market insight, analyst comments and respected featured interviews with leading E&P executives.
Covering exploration & production
Single copy pricing; Includes hard copy & email version
Increase market insight & deal flow
Every 3 weeks
Latest in exploration, discoveries, resource plans, land grabs, volumes, development projects & trends
Access to archives covering E&P
Phone request for prospects and lands listed for sale
Includes discounts for other PLS products & events
Search PLS' News Archive for complete oil & gas news for Canadian Scout .
See what it is about before you buy. View a sample issue of Canadian Scout.
Need more information? Click the button to recieve more details about the Canadian Scout
Opportunity is a reflection of information.
Call 713-650-1212 For More Information
Search Canadian Scout:

Headline
Publication
News Date
CS - AltaGas Canada taken private by PSP and ATRF for $1.7 billion - November 2019
A year after its public debut, energy infrastructure company AltaGas Canada Inc. is being taken private. The former AltaGas Ltd. subsidiary struck a $1.7 billion all-cash deal on Oct. 21 to be acquired by Canada's Public Sector Pension Investment Board and the Alberta Teachers' Retirement Fund Board. The two entities will acquire all of ACI's common shares for $33.50/share, representing a 31% premium to ACI's $25.50/share closing price on the TSX on Oct. 18. Based in Calgary, ACI owns natural...
Nov 13, 2019
CS - Teck's huge $20.6 billion oil sands mine making progress - November 2019
Teck Resources Ltd. is moving closer to getting final approval for its proposed $20.6 billion Frontier oil sands mining project 110 km north of Fort McMurray, Alberta. On Oct. 31, the province's Cabinet approved the project after a joint panel of the federal Environment and Climate Change Ministry and the Alberta Energy Regulator released on July 25 a report recommending approval. The panel determined Frontier was in the public interest, although it did not approve construction of a...
Nov 13, 2019
CS - Saturn Oil & Gas drilling four more Viking wells in Q4 - November 2019
Saturn Oil & Gas Inc. has started its Q4 drilling program, during which it will drill, complete, equip and tie-in four new extended-reach horizontal Viking light oil wells at its Prairiedale acreage. The four wells are expected to cost a total of $4.4 million, and the company anticipates all four wells will be onstream by the end of the year. Saturn's last four wells at Prairiedale came online in Q3 and cost $980,000 per well, 11% below the expected budget of $1.1 million per well....
Nov 13, 2019
CS - Alberta producers dodging limits with new wells & crude-by-rail - November 2019
As of Nov. 8, Alberta producers are able to drill new conventional oil wells unrestricted by the curtailment program, although existing wells will still be affected. The province made the change to drive investment, increase drilling activity and support economic growth. "Companies are currently making investment decisions and we want those dollars and jobs to be in Alberta," Energy Minster Sonya Savage said. Alberta produced 480,000 bo/d of conventional oil in September, of which...
Nov 13, 2019
CS - Viking takes two-thirds of Q3 spuds on PrairieSky acreage - November 2019
Drilling activity on PrairieSky Royalty's lands in Q3 was focused on the Viking play, particularly in Saskatchewan where 88 wells were spudded. Alberta Viking wells were a distant second, with only 38 wells during the quarter. Lessees have consistently drilled more wells on PrairieSky's Viking lands compared to other plays. Since at least 2Q18, 47-67% of wells spudded each quarter were in the Viking. The company also saw nine Duvernay wells, eight Clearwater wells, six Cardium wells and 36...
Nov 13, 2019
CS - Bonavista drills higher-condensate Glauconite wells at Strachan - November 2019
During Q3, Bonavista Energy focused operationally on its West Central core area in Alberta. The company drilled six wells, including its first Duvernay horizontal well. Three wells targeted the Strachan Glauconite trend and two wells targeted the Willesden Green Glauconite trend. Four Strachan wells were completed during the quarter, with two producing condensate at above-average rates of 40-60 bbl/MMcf during the first 30 days. Bonavista also installed additional compression to expand...
Nov 13, 2019
CS - Encana delivers significant blow in mid-earnings season - November 2019
The Canadian industry was shaken up on Oct. 31, when Encana announced it will redomicile in the US early next year and change its name to Ovintiv (PG.1). This was a sober backdrop to the ongoing earnings season, which has seen some of Canada's top producers coming in with mixed results. While Suncor Energy's profits were down 43% YOY, production was slightly up because of higher Syncrude output and the ramp-up of Fort Hills and Hebron production (PG.8). Canadian Natural Resources Ltd., buoyed...
Nov 13, 2019
CS - Athabasca looking at a busy winter across light & thermal assets - November 2019
Athabasca Oil Corp. started drilling a four-well development pad on its Montney Greater Placid acreage in September and rig released them in late October. Net drilling costs for the pad were $8.2 million. Completions will begin on 11 wells this winter with tie-in expected in 1H20. The Placid development has had good initial liquids yields of 200-300 bbl/MMcf. The company's activity in the Kaybob Duvernay is focused around delineation at Two Creeks, Kaybob East and Kaybob West. Athabasca...
Nov 13, 2019
CS - Tourmaline lowers 2020 E&P capex guidance on D&C efficiencies - November 2019
Tourmaline Oil Corp. has approved a 2020 E&P capital program of $900-925 million, which is expected to result in 2020 average production of 315,000-322,500 boe/d and is $100-125 million lower than previous guidance. Maintenance capital for 2020 is estimated to be $800-825 million. Full-year 2019 E&P capital is expected to reach $1.04 billion. The company spent $201 million in Q3, down 50% YOY. Capital efficiency improvements, primarily reduced drilling and completion costs, have helped...
Nov 13, 2019
CS - Kelt continues to see good results from 24-well Inga cube pad - November 2019
Kelt Exploration is nearly 75% done with its 24-well cube pad on the western flank of the Inga field in British Columbia's Montney. The second set of six wells had a combined initial 30-day rate of 7,732 boe/d (72% oil and NGLs), which was 18% higher than the IP30 rate of 6,568 boe/d from the first six wells. Like the first set, the second set consisted of two wells each in the Upper Montney; Upper-Middle Montney, also called the interbedded zone; and Middle Montney. The IBZ wells in the second...
Nov 13, 2019
Get more news for Canadian Scout