Canadian Scout
Serving the Canadian E&P market with news, analysis and business opportunities.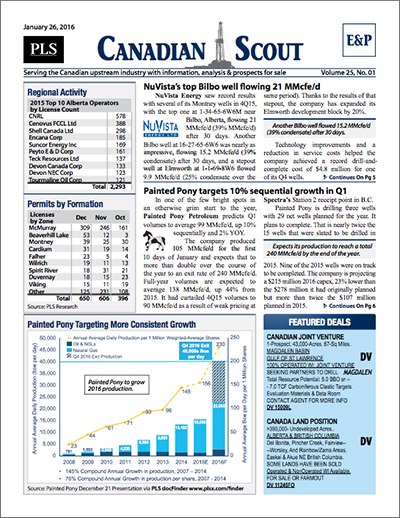 The Canadian Scout (blue banner report) covers news and analysis on the Canadian exploration and production (E&P) sector including new well discoveries, drilling activities, acreage sales, industry statistics (drilling results, activity permits & intents to drill) and technological updates. Besides composite E&P news, the Canadian Scout also carries market insight, analyst comments and respected featured interviews with leading E&P executives.
Covering exploration & production
Single copy pricing; Includes hard copy & email version
Increase market insight & deal flow
Every 3 weeks
Latest in exploration, discoveries, resource plans, land grabs, volumes, development projects & trends
Access to archives covering E&P
Phone request for prospects and lands listed for sale
Includes discounts for other PLS products & events
Search PLS' News Archive for complete oil & gas news for Canadian Scout .
See what it is about before you buy. View a sample issue of Canadian Scout.
Need more information? Click the button to recieve more details about the Canadian Scout
Opportunity is a reflection of information.
Call 713-650-1212 For More Information
Search Canadian Scout:

Headline
Publication
News Date
CS - Analyst Notes- March 05, 2019
Advantage Oil & Gas (TSX: AAV, $2.24-Feb. 28; Buy; PT:$3.50) Q4 production of 45.7mboepd was in-line with the Street/TPH and Q4 capital spending of $52MM was above expectations as AAV brought nearly $30MM of 2019 spending forward into 2018. This allowed AAV to commensurately drop 2019 spending and maintain 2019 production guidance of 43.5-46.5mboepd. Liquids initiatives continue to be the focus for 2019 and we expect the efforts to begin to bear fruit with TPHe liquids weight to be...
Mar 05, 2019
Clearview acquisition boosts undeveloped acreage 50%
Clearview Resources Ltd. acquired assets between its Wilson Creek and Windfall core properties in west-central Alberta for $9.5 million in cash and stock. The company believes the acquisition's development potential will "deliver significant, light oil weighted, growth and drive value creation for Clearview shareholders over the medium and long term."The acquired assets cover 40,420 acres (86% WI) along the light oil-prone Deep Basin trend of the Cardium and Bluesky formations including...
Mar 05, 2019
Devon seeks Canada exit via strategic alternatives process
Devon Energy is seeking strategic alternatives for its Canadian assets, including a sale or spin-off. The company retained JP Morgan Securities and Goldman Sachs to assist with the process, which is expected to be completed by year-end. Devon concurrently launched a strategic alternatives process for its Barnett shale assets in north Texas as it transitions to an exclusively US-focused company.The Canadian assets are comprised of thermal heavy oil operations in the Athabasca oil sands...
Mar 05, 2019
KNOC's Harvest shops Alberta non-core assets
Harvest Operations Corp., the Canadian subsidiary of Korea's KNOC, retained CB Securities to assist in the sale of 17 non-core properties in Alberta, with the northernmost area in Worsley and the southernmost at Crossfield. Production of 6,200 boe/d generated $17 million of annualized 2018 cash flow. Marketing materials noted there is considerable upside identified across the properties, as well as opportunities for production and operating cost improvement.Harvest's core assets are...
Mar 05, 2019
Alberta regulator approves new tailings plan at Fort Hills
The Alberta Energy Regulator has approved a new tailings management plan at Suncor Energy's Fort Hills mine. The approval includes authorization for a new technology for fluid tailings, the company's passive aquatic storage system. The mine started production in December 2017 with a permit that allowed Suncor to place tailings in an out-of-pit area.Tailings ponds store water used in the oil sands mining process that is difficult to reclaim because it has been contaminated with fine clay...
Mar 05, 2019
Advantage trims 2019 capex after accelerating work to 4Q18
Montney-focused Advantage Oil & Gas Ltd. revised its 2019 budget after accelerating a number of activities in December that had been planned for January. A total of $29 million was used on certain liquids-rich well operations and capital expenditures in order to capitalize on temporary service discounts and reinforce the company's production outlook. As a result, 2019 capex has been changed to $185-215 million from a prior target of $210-240 million. Production guidance is being...
Mar 05, 2019
Birchcliff cuts capex, to focus on Pouce Coupe & Gordondale
Birchcliff Energy announced plans to cut its finding and development capital budget nearly 32% to $204 million in 2019 as it focuses on its Pouce Coupe and Gordondale-area assets. The company approved a 2019 finding and development capital budget of $204 million which targets annual production of 456-468 MMcfe/d and which is expected to generate $330 million of adjusted funds flow. The F&D costs for 2018 were $299.7 million.Birchcliff produced ~462.6 MMcfe/d (80% gas) in 2018, up 13%...
Mar 05, 2019
Cequence Energy brings online two Dunvegan wells
Cequence Energy said it brought online two 100% WI Dunvegan oil wells just before YE18. Water production associated with the wells is still well below fracture treatment load recovery. The company expected the basic sediment and water volumes, at 30-32% in mid-February, to decrease to under 5% over time. The wells were set up with downhole pumps and tied to permanent facilities on Jan. 10. The first well, 10-04-62, produced ~266 bo/d in January while the second, 16-02-62, produced ~225...
Mar 05, 2019
CS - News Briefs - March 05, 2019
Calgary-based Emerald Bay Energy spudded a wildcat test well at its Bauer prospect in South Texas. The company said it will keep drilling data and geologic information confidential until it can assess the results and secure any additional mineral leases it needs to enhance the prospect. Bauer is the first prospect drilled in partnership with Cotulla Energy Resources, which will fund the well in return for 75% WI. Valeura Energy spudded a second well to appraise its 2017...
Mar 05, 2019
CS - People Briefs - March 05, 2019
Cequence Energy has hired Allan Mowbray as CFO, effective March 15. Mowbray is a CPA with more than 25 years of experience. Most recently, he was CFO at a publicly traded oil field services company. Kevin Nielsen was interim contract CFO during the company's financial restructuring in 2018. ClearStream Energy Services Inc. named Karl Johannson to the company's board. Johannson has extensive operational experience in upstream and midstream, including natural gas pipelines and in...
Mar 05, 2019
Get more news for Canadian Scout