CanadianAcquirer
Serving the Canadian E&P market with news, analysis and business opportunities.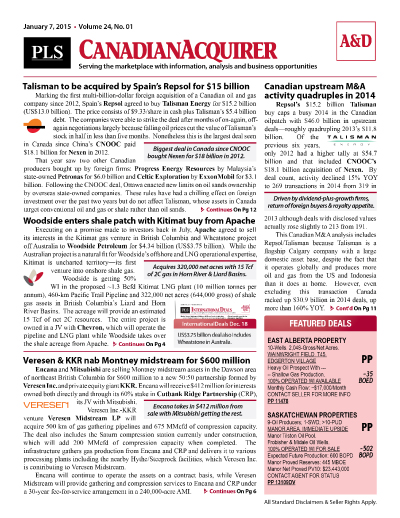 The CanadianAcquirer (red banner report) covers news and analysis on the Canadian acquisitions and divestitures (A&D) sector. This news report on the active Canadian asset marketplace features analysis of corporate mergers, property divestitures, completed transactions, deals in play and deal metrics.
PLS' most popular Canadian report
Single copy pricing; Includes hard copy & email version
Guaranteed to increase deal flow and market insight
Every 3 weeks
Latest in asset acquisitions, corporate M&A activity,
deals in play & industry buying trends
Access to archives editions of CanadianAcquirer
Phone request to multiple listing
Search PLS' News Archive for complete oil & gas news for CanadianAcquirer .
See what it is about before you buy. View a sample issue of CanadianAcquirer.
Need more information? Click the button to recieve more details about the CanadianAcquirer
Opportunity is a reflection of information.
Call 713-650-1212 For More Information
Search CanadianAcquirer:

Headline
Publication
News Date
CS - Active rigs in first two months of 2020 were up over 2019 - March 2020
Through the first two months of the year, Canada's rig count has shown a moderate improvement over 2019 in terms of the absolute number of active rigs. According to Baker Hughes data, the highest rig count in the two-month period was 257 compared to 243 in 2019. During the first week of January, 85 rigs were working compared to 76 at the same time last year. According to the Canadian Association of Oilwell Drilling Contractors, the January rig utilization percentage was 48.38% compared...
Mar 11, 2020
CS - Crew's ultra-condensate Montney wells outperform at 1,300 boe/d - February 2020
Crew Energy may need to revise its expectations for its "ultra-condensate-rich" Montney acreage at Greater Septimus after it again exceeded expectations in Q4, this time with its four-well 3-32 pad. The four wells had an average lateral length of 3,000 meters and incorporated completion design improvements that reduced completion costs by 26% to $3.8 million per well, or $1,278 per lateral meter. During the last six hours of a 19- day production test, the wells flowed at restricted rates and...
Feb 19, 2020
CS - Yangarra lowers capex to $105MM, focuses on Chedderville - February 2020
Thanks to accelerated spending that enabled Yangarra Resources Ltd. to drill and bring online three additional wells late last year, the company has lowered its 2020 capex budget to $105 million from $120 million. It is keeping production guidance in the 14,000-15,000 boe/d range, which at midpoint would represent 16% growth from 2019's 12,550 boe/d average. Spending in 2019 amounted to $121 million. The company said it had planned to drill and complete 24 wells last year, but it...
Feb 19, 2020
Amherst racks up 12,000 acres since 2017 formation
Privately held, Calgary-based Amherst Energy has acquired ~12,000 acres of mineral leases since its formation in February 2017. The position covers six oil prospect areas: Morgan, Lloydminster, Leo, Thorsby and Provost in Alberta and Lashburn in Saskatchewan. The prospects are targeting a combination of heavy and light oil.Amherst has identified 111 potential locations on its existing holdings and plans to begin development operations in Q4.An independent evaluation of the acquired...
Jul 25, 2018
People & Companies - July 25, 2018
AltaCorp Capital has named Jon Horsman as its new chairman and CEO. Horsman previously served as the co-head of parent ATB Financial's Corporate Financial Services team. He takes over from Paul Sarachman, who had been serving as co-CEO since late 2017. Sarachman remains president of AltaCorp. Drakkar Energy and Blacksteel Energy announced a change in management after the two companies complete their announced reverse merger. Keith Macdonald, Chairman and President of privately-held...
Jul 25, 2018
Baytex & Raging River file proxy statement for $2B deal
Baytex Energy and Raging River Exploration filed a joint management information circular and proxy statement for their respective Aug. 21 shareholder meetings regarding Baytex's $1.9 billion all-stock acquisition of Raging River. Both boards of directors unanimously recommend that shareholders greenlight the deal. Baytex expands its core portfolio from three areas to five through the deal, adding Viking and East Duvernay assets to its Peace River, Lloydminster and Eagle Ford assets....
Jul 25, 2018
Gear Energy acquires Steppe Resources for $70MM
Gear Energy ltd is adding to its core Lloydminster heavy oil and central Alberta light oil assets, acquiring privately held junior E&P Steppe Resources for $70.4 million in stock and debt. Focused on the Tableland area of southeast Saskatchewan with production from the Torquay formation, Steppe had 1,175 boe/d of June 2018 production and has projected 2H18 annualized funds from operations of $24 million assuming no drilling and strip pricing. Closing is expected in Q3.The assets...
Jul 25, 2018
Luminus boosts ownership of Montney pure-play Delphi
Montney pure-play Delphi Energy announced that New York-based equity hedge fund Luminus Energy Partners Master Fund Ltd. acquired additional common shares through exempt market purchases and that it now owns 21.23% of Delphi's outstanding shares. Luminus was the principal investor in the $65 million debt and equity financing by Delphi in June 2017 to fund an expanded capital program, through which Luminus acquired 16.72% of Delphi's shares.The $463 million Delphi is allocating to its...
Jul 25, 2018
Orca Exploration provides update to the Swala transaction
Toronto-listed Orca Exploration Group indefinitely extended the date by which Tanzanian company Swala Oil & Gas could make the second and third installments of its investment in Orca sub PAE PanAfrican Energy Corp.The move comes after Orca initially extended the closing of the two tranches to June 30, which had required a $130 million investment by that date. Per the July 16 update, the company retains the right to terminate the extension at any time. The first tranche comprised...
Jul 25, 2018
Petrolia Energy adds Canadian assets to global portfolio
U.S.-based Petrolia Energy Corp. (formerly Rockdale Resources) made its Canadian debut, acquiring a non-op 25% WI in the Luseland, Hearts Hill and Cuthbert fields in southwest Saskatchewan and eastern Alberta. The deal includes 10,382 net acres (41,526 gross) with working interest production for the last five months of 322 boe/d (95% oil, 1,290 boe/d gross) from 240 oil and 12 gas wells. There are also several idle wells with potential for reactivation and 5,440 net undeveloped acres...
Jul 25, 2018
Get more news for CanadianAcquirer