MidContinent Scout
Serving the local market with drilling activities, permits & multiple listings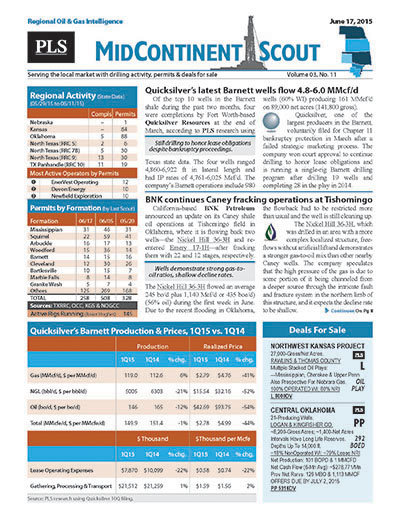 PLS's MidContinent Scout covers regional drilling, discoveries and developments in Oklahoma, Texas Panhandle, (RRC 10), North Texas (RRC 7B & 9), Kansas and Nebraska. The report also covers permit stats, completions and P&A activity, as well as describing business opportunities listed for sale in the Woodford, Mississippi Lime, Barnett, Granite Wash, Eastern Niobrara and the region's historically productive conventional plays
Stay in front of local prospects, plays & rigs!
Oklahoma, Kansas, Nebraska, TX Panhandle, North Texas
Hard Copy and Email For 1 Individual
Every 2 Weeks (22-25 issues per year)
Regional discoveries, drilling activity, permits, completions and summary drilling statistics, layered with regional listings and business opportunities
Web access to the MidContinent Scout archive
Does not include access to MLS
Search PLS' News Archive for complete oil & gas news for MidContinent Scout .
See what it is about before you buy. View a sample issue of MidContinent Scout.
Need more information? Click the button to recieve more details about the MidContinent Scout
Opportunity is a reflection of information.
Call 713-650-1212 For More Information
Search MidContinent Scout:

Headline
Publication
News Date
MCS - Encana's HQ move to US underscores STACK execution - November 6, 2019
EnCana Corp. is making some moves, literally and figuratively, to redefine itself. After 17 years in the Great White North, where at one point the company was the largest Canadian natural gas producer, Encana is changing its domicile to the US. The move will provide it with greater access to capital. With the HQ shift will come a name change to Ovintiv Inc. The acquisition of Newfield Exploration for $7.7 billion, which closed in February, made the Anadarko Basin a core investment area...
Nov 06, 2019
MCS - Two Continental STACK units flow a combined 57,292 boe/d - November 6, 2019
Continental Resources delivered exceptional well results in the STACK during Q3. The company's Reba Jo and Schulte development units in Blaine County, Oklahoma, delivered a combined 24-hour IP rate of 57,292 boe/d (67% oil) from a total of 14 wells. These results, equivalent to an average 4,092 boe/d per well, mark continued success in the overpressured window of the play, where the company has completed eight such units that have outperformed expectations and the type curve since the...
Nov 06, 2019
MCS - Regional Highlights - November 6, 2019
The EIA projects that Anadarko Basin production will fall by 13,000 bo/d and 131 MMcf/d sequentially in November to 541,000 bo/d and 7.336 Bcf/d. There are 826 DUCs in the Anadarko Basin as of September, down by 59 from...
Nov 06, 2019
MCS - Gulfport Energy Highlights - November 6, 2019
In the first nine months of 2019, Gulfport Energy drilled eight SCOOP wells with laterals averaging 8,400 ft. When normalized to 7,500 ft, drilling times from spud to rig release averaged 59 days, a 7% drop compared to 2018. Nine wells with 7,100-ft effective laterals were also turned to sales during the period. The company is running one rig in the...
Nov 06, 2019
MCS - TGS Highlights - November 6, 2019
Geoscience company TGS acquired 100% ownership of the Kingfisher 3D seismic survey in Oklahoma. The survey covers 714 sq km on the eastern flank of the Anadarko Basin in Kingfisher and Logan...
Nov 06, 2019
MCS - Rivercrest Royalties Holdings - November 6, 2019
Rivercrest Royalties Holdings II sold non-operated assets in the SCOOP and STACK plays of Oklahoma via EnergyNet. The assets consist of 0.76-9.15% WI (0.62- 7.44% NRI) in nine producing wells, according to marketing materials. Six-month average gross production of 3,790 boe/d (81% oil) has generated monthly average net income of $41,674. The wells are operated by Newfield Exploration, Territory Resources and XTO...
Nov 06, 2019
MCS - Midcontinent drilling reaches three-year low in Q3 - October 23, 2019
Midcontinent drilling activity in the first nine months of 2019 was down significantly compared to 2018, according to Enverus Rig Analytics. The number of well starts during the period fell 27% YOY to 1,521. Q3 drilling activity fell to the lowest level in three years at 447 well starts and 133 rigs running. In 3Q18, activity was at its highest level since the end of 2014 at 795 well starts and 223 rigs running. Activity appears to be slumping even further in Q4, with only 82 rigs running as of...
Oct 23, 2019
MCS - Aurex Energy Corp. Highlight - October 23, 2019
Aurex Energy Corp. inked an LOI to enter a JV with an undisclosed private arms-length capital provider to rework shut-in Barnett shale gas wells in Texas' Fort Worth Basin. The JV partner will contribute $2.5 million to bring 10 shut-in wells back to commercial production. The eight horizontal wells and two vertical wells are located on 1,400 acres that hold 2P reserves of 24.6 Bcf. The initial phase of work will focus on five of these 10 wells. Aurex expects $10.8 million peak of operating...
Oct 23, 2019
Get more news for MidContinent Scout