MidContinent Scout
Serving the local market with drilling activities, permits & multiple listings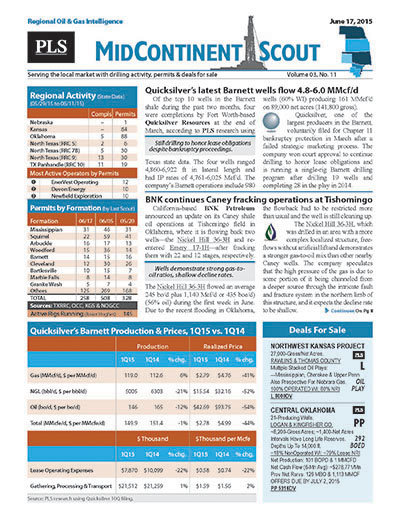 PLS's MidContinent Scout covers regional drilling, discoveries and developments in Oklahoma, Texas Panhandle, (RRC 10), North Texas (RRC 7B & 9), Kansas and Nebraska. The report also covers permit stats, completions and P&A activity, as well as describing business opportunities listed for sale in the Woodford, Mississippi Lime, Barnett, Granite Wash, Eastern Niobrara and the region's historically productive conventional plays
Stay in front of local prospects, plays & rigs!
Oklahoma, Kansas, Nebraska, TX Panhandle, North Texas
Hard Copy and Email For 1 Individual
Every 2 Weeks (22-25 issues per year)
Regional discoveries, drilling activity, permits, completions and summary drilling statistics, layered with regional listings and business opportunities
Web access to the MidContinent Scout archive
Does not include access to MLS
Search PLS' News Archive for complete oil & gas news for MidContinent Scout .
See what it is about before you buy. View a sample issue of MidContinent Scout.
Need more information? Click the button to recieve more details about the MidContinent Scout
Opportunity is a reflection of information.
Call 713-650-1212 For More Information
Search MidContinent Scout:

Headline
Publication
News Date
MCS - Marathon Q1 STACK infills outperform type curve by over 50% - May 08, 2019
Marathon Oil continued its optimized infill development in the overpressured window of the STACK during Q1. The wells on three Meramec infill projects are outperforming the type curve by more than 50%, and completed well costs per lateral ft for the infills were down 30% compared to parent wells. These infill projects—the three-wells-per-section Olive June, six-wells-per-section Ruthie and eight-wells-per-section Mike Stroud—had initial 30- day rates averaging 1,870 boe/d (53% oil) for the...
May 08, 2019
MCS - Devon STACK productivity tracking at or above type curve - May 08, 2019
Last year, Devon Energy finished its spacing tests in the STACK and determined that four to six wells per DSU to be optimal for development in the play. Having begun implementing that spacing, the company's Q1 wells are tracking at or above the 1.2-1.4 MMboe type curve. The five-wells-per-DSU Scott development averaged initial 30-day rates of 2,500 boe/d per well; the four-wells-per-DSU Pony Express development produced 1,600 boe/d per well; and the five-wells-per-DSU Northwood...
May 08, 2019
MCS - Camino Natural Highlights - May 08, 2019
In Grady County, Oklahoma, Camino Natural Resources' Michael 0607 11-2 #1WH well was completed with a 6,380-ft lateral and 17.9 MMlb of proppant. On test, the well delivered an initial 24-hour rate of 14,720 MMcfe/d (96% oil) from the Woodford on a 30/64-inch choke at 928 psi FTP. This is the company's top IP24 for a Woodford horizontal in Grady County and an overall top-quartile Woodford horizontal in the county. Other top operators in Grady are Continental Resources and Gulfport...
May 08, 2019
MCS - Tecolote Energy Highlights - May 08, 2019
Tecolote Energy achieved a solid IP24 for a Cleveland horizontal during Q1. Located in Hemphill County, the Mathers Ranch 26-159 CL WX #20H was completed with a 7,549-ft lateral and fracked with 7.2 MMlb of proppant. During a 24-hour initial test, the well produced 1,711 boe/d (42% oil) on a 56/64-inch choke at 1,238 psi...
May 08, 2019
MCS - EOG Resources Highlights - May 08, 2019
EOG Resources brought online four wells in the eastern Anadarko Basin targeting the Woodford oil window during Q1. The drilling program was focused on further delineating the play and testing additional...
May 08, 2019
MCS - Midstates Petroleum Highlights - May 08, 2019
Midstates Petroleum and Amplify Energy entered an agreement for the merge of equals. The deal, which is expected to close in Q3, is valued at $512.4 million based on the May 3 closing price of both companies. The combination would create a company with 218,050 net acres in the Mississippi Lime, East Texas and North Louisiana, Wyoming EOR projects, offshore California and the Eagle Ford. Pro forma 4Q18 production would be 40,100...
May 08, 2019
MCS - Mid-Con Energy Partners Highlights - May 08, 2019
At the end of March, Mid-Con Energy Partners completed the divestment of substantially all of its Texas assets for $60 million and the acquisition of producing properties in Caddo, Grady and Osage counties, Oklahoma, for $27.5 million. In Oklahoma, the company drilled two wells and returned nine wells to production in...
May 08, 2019
MCS - EOG tallies company bests in the Woodford & Marmaton - April 24, 2019
In the Eastern Anadarko Basin, EOG Resources completed a top-tier well targeting the Woodford formation at the end of February. The Nighthawk 0718 #1H in McClain County, Oklahoma, was drilled with a 10,281-ft lateral and completed with 24.9 MMlb of proppant. During a 24-hour test, the well produced 2,085 boe/d (80% oil) or 202 boe/d per 1,000 lateral ft on a 1-inch choke at 1,245 psi FTP. This is EOG's highest Midcontinent IP24 to date, the highest IP24 recorded in McClain County and a top 10...
Apr 24, 2019
MCS - Trinity & Canyon Creek complete Woodford dry gas wells - April 24,2019
Recent completion data shows some standout results for Woodford dry gas wells in Hughes County, Oklahoma. Trinity Operating recently reported the completion of 16 Woodford wells in the county, including one that is a company high for the county. The Glynell #1-31/30H has a 10,164-ft lateral and was completed with 10.8 MMlb of sand. During a 24-hour IP test, the well flowed 10.3 MMcf/d. Only Trinity's Belle #3- 20/29H (8,770-ft lateral; 9.8 MMlb sand) in neighboring Pittsburg County...
Apr 24, 2019
MCS - Regional Highlights - April 24, 2019
The EIA projects Anadarko Basin production will fall 6,000 bo/d and 18 MMcf/d sequentially in May to 567,000 bo/d and 7.489 Bcf/d. The Anadarko is the only major shale play expected to decline. There are 1,019 DUCs in the Anadarko Basin as of March, down by 29 compared to...
Apr 24, 2019
Get more news for MidContinent Scout