MidContinent Scout
Serving the local market with drilling activities, permits & multiple listings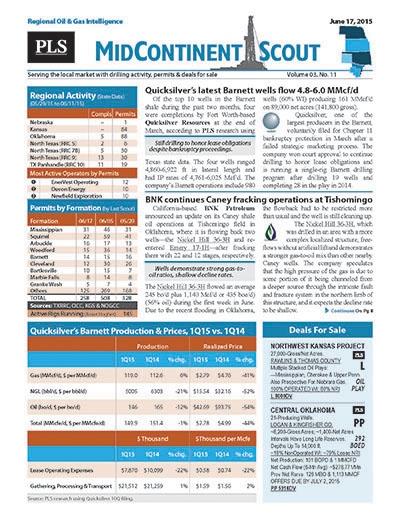 PLS's MidContinent Scout covers regional drilling, discoveries and developments in Oklahoma, Texas Panhandle, (RRC 10), North Texas (RRC 7B & 9), Kansas and Nebraska. The report also covers permit stats, completions and P&A activity, as well as describing business opportunities listed for sale in the Woodford, Mississippi Lime, Barnett, Granite Wash, Eastern Niobrara and the region's historically productive conventional plays
Stay in front of local prospects, plays & rigs!
Oklahoma, Kansas, Nebraska, TX Panhandle, North Texas
Hard Copy and Email For 1 Individual
Every 2 Weeks (22-25 issues per year)
Regional discoveries, drilling activity, permits, completions and summary drilling statistics, layered with regional listings and business opportunities
Web access to the MidContinent Scout archive
Does not include access to MLS
Search PLS' News Archive for complete oil & gas news for MidContinent Scout .
See what it is about before you buy. View a sample issue of MidContinent Scout.
Need more information? Click the button to recieve more details about the MidContinent Scout
Opportunity is a reflection of information.
Call 713-650-1212 For More Information
Search MidContinent Scout:

Headline
Publication
News Date
Roan tallies peer-leading results in the Merge
Midcontinent pure-play Roan Resources has brought online 58 wells YTD, evenly split between the Woodford and overlying Mayes formation. Of that total, 23 were selected, drilled and completed by Roan...
Nov 29, 2018
MCS - EOG Highlights - November 29, 2018
Late in Q2, EOG completed four Woodford wells spaced 660 ft apart with treated laterals averaging 10,000 ft. These wells, the Ted 2326 1H-4H, had 30-day rates averaging 800 boe/d (83% oil, 11% NGLs)...
Nov 29, 2018
MCS - BP Highlights - November 29, 2018
BP drilled and completed two wells in its Resh program targeting the Arkoma Woodford during Q3. Results from this program have exceeded type curve expectations with 30-day rates averaging 8.8...
Nov 29, 2018
Get more news for MidContinent Scout