MidContinent Scout
Serving the local market with drilling activities, permits & multiple listings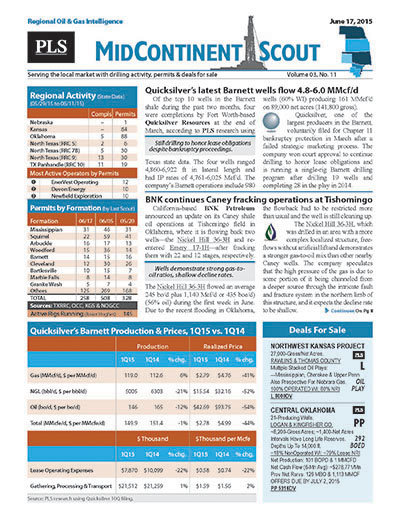 PLS's MidContinent Scout covers regional drilling, discoveries and developments in Oklahoma, Texas Panhandle, (RRC 10), North Texas (RRC 7B & 9), Kansas and Nebraska. The report also covers permit stats, completions and P&A activity, as well as describing business opportunities listed for sale in the Woodford, Mississippi Lime, Barnett, Granite Wash, Eastern Niobrara and the region's historically productive conventional plays
Stay in front of local prospects, plays & rigs!
Oklahoma, Kansas, Nebraska, TX Panhandle, North Texas
Hard Copy and Email For 1 Individual
Every 2 Weeks (22-25 issues per year)
Regional discoveries, drilling activity, permits, completions and summary drilling statistics, layered with regional listings and business opportunities
Web access to the MidContinent Scout archive
Does not include access to MLS
Search PLS' News Archive for complete oil & gas news for MidContinent Scout .
See what it is about before you buy. View a sample issue of MidContinent Scout.
Need more information? Click the button to recieve more details about the MidContinent Scout
Opportunity is a reflection of information.
Call 713-650-1212 For More Information
Search MidContinent Scout:

Headline
Publication
News Date
MCS - Cimarex Energy Highlights - March 13, 2019
Cimarex energy participated in bringing 46 Midcontinent wells online (13% WI) in Q4 and 220 (19% WI) in all of 2018. Production from its Midcon assets grew 6% sequentially and 17% YOY in Q4 to 103,432 boe/d. Full-year 2018 volumes averaged 95,307 boe/d, up 12%...
Mar 13, 2019
MCS - EOG Resources Highlights - March 13, 2019
In the Woodford oil window of the eastern Anadarko Basin, EOG Resources brought five wells online in Q4, with laterals averaging 9,200 ft, yielding initial 30-day rates averaging 750 boe/d (80% oil). The company made significant progress in reducing well costs during 2018 and, as a result, has lowered its 2019 well cost target to $7.6 million from $7.8...
Mar 13, 2019
MCS - Continental's STACK unit development model outperforms - March 13, 2019
Continental Resources completed an outstanding Meramec well in the overpressured condensate window of Oklahoma's STACK play. In Blaine County, the three-well Boden unit flowed an average initial 24-hour rate of 28.1 MMcfe/d (9% oil) per well from a single Meramec interval. The well outperformed the parent type curve by 40% in the first 60 days."This is the fourth unit we've completed during the second half of 2018 utilizing the unit development model we introduced last year,"...
Mar 13, 2019
MCS - Trinity Operating Highlights - March 13, 2019
Houston-based independent Trinity Operating completed a threewell Woodford pad in Pittsburg County, Oklahoma, that delivered record IP24s for the company in the Midcontinent. The best of the three, the Belle #3- 20/29H (8,770-ft lateral; 9.8 MMlb sand), produced an initial 24-hour rate of 10,674 Mcf/d. Also surpassing the previous IP24 high, the #2 (7,905-ft lateral; 8.5 MMlb sand) and #3 (8,932- ft lateral; 9.2 MMlb sand) flowed 8,380 Mcf/d and 8,325 Mcf/d, respectively. These were the best...
Mar 13, 2019
MCS - Unit expands Red Fork position following positive results - March 13, 2019
Unit Corp. achieved very encouraging Red Fork results in its Penn sand prospect area in western Oklahoma at the end of Q3 and in Q4. In Custer County, the Schrock 22/15 #1HX was the first Red Fork extended lateral drilled in Oklahoma, with a 9,947-ft lateral. The well delivered an initial 30-day rate 2,000 boe/d (80% oil). Unit followed up this excellent result with the Frymire 1-18H. Also in Custer County and sporting a 4,774-ft lateral, the well flowed an IP30 of 850 boe/d consisting...
Mar 13, 2019
MCS - SandRidge Highlights - March 13, 2019
During Q4, Sandridge Energy ran two rigs and drilled two Mississippian and five northwest STACK wells. The northwest STACK wells targeted the Meramec under a joint development agreement and averaged IP30s of 292 boe/d (67% oil). Three Mississippian wells were also brought...
Mar 13, 2019
MCS - Jones Energy Highlights - March 13, 2019
Jones Energy entered definitive agreements to sell non-core assets related to its western Anadarko Basin and other properties for up to $11 million. The transactions are expected to be completed in Q1. The sales are expected to impact Q1 production by 350...
Mar 13, 2019
Devon settles on 4-6 wells/DSU for 2019 STACK program
Infill spacing optimization in Devon Energy's STACK program drove 4Q18 oil volumes up 9% sequentially to 31,000 bo/d, the company reported. Based on early results from its Pony Express, Northwoods and Scott units, the company says pilots with lighter spacing are delivering better returns and the Upper Meramec is the best-performing interval on its acreage. Devon has also implemented a flowback approach designed to optimize oil recoveries. Normalized to 10,000-ft laterals, it reported...
Feb 27, 2019
Marathon 8-well pad outperforming type curve by over 60%
During Q4, Marathon Oil brought online 12 operated wells across the SCOOP and STACK plays. In the SCOOP Woodford, seven infill wells on the 3R pad flowed an average 30-day rate of 2,600 boe/d (69% liquids). On the same pad, a Springer delineation well produced an IP30 of 1,825 boe/d (81% oil). The wells were drilled at a density of eight wells per section. After 45 days, they were tracking more than 60% above the type curve. Marathon successfully transitioned its SCOOP/STACK program to...
Feb 27, 2019
Get more news for MidContinent Scout