MidContinent Scout
Serving the local market with drilling activities, permits & multiple listings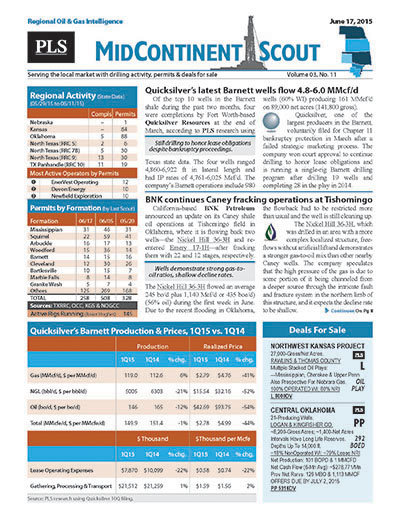 PLS's MidContinent Scout covers regional drilling, discoveries and developments in Oklahoma, Texas Panhandle, (RRC 10), North Texas (RRC 7B & 9), Kansas and Nebraska. The report also covers permit stats, completions and P&A activity, as well as describing business opportunities listed for sale in the Woodford, Mississippi Lime, Barnett, Granite Wash, Eastern Niobrara and the region's historically productive conventional plays
Stay in front of local prospects, plays & rigs!
Oklahoma, Kansas, Nebraska, TX Panhandle, North Texas
Hard Copy and Email For 1 Individual
Every 2 Weeks (22-25 issues per year)
Regional discoveries, drilling activity, permits, completions and summary drilling statistics, layered with regional listings and business opportunities
Web access to the MidContinent Scout archive
Does not include access to MLS
Search PLS' News Archive for complete oil & gas news for MidContinent Scout .
See what it is about before you buy. View a sample issue of MidContinent Scout.
Need more information? Click the button to recieve more details about the MidContinent Scout
Opportunity is a reflection of information.
Call 713-650-1212 For More Information
Search MidContinent Scout:

Headline
Publication
News Date
MCS - Mississippian initial productivity sees boost in 2019 - December 31, 2019
While drilling activity in Oklahoma has taken a dive in the last year—there are 60 active rigs in the state as of Dec. 30 compared with 149 a year ago—initial well productivity is improving. For example, new production per rig in the Anadarko Basin in January is expected to be 625 bo/d and 4.2 MMcf/d compared to 410 bo/d and 2.9 MMcf/d in January 2019, according to the US Energy Information Administration. In the first nine months of 2019 (data is not yet available for Q4), the Mississippian...
Dec 31, 2019
MCS - Thai miner to become top Barnett producer in $770MM Devon buy - December 31, 2019
Devon Energy announced the final stage of its transformation into what it calls a "New Devon" Dec. 18 with the $770 million sale of its remaining Barnett shale assets in North Texas. The buyer is BKV Oil & Gas Capital Partners LP, an investment vehicle of Thailand-based coal mining and power generating company Banpu Pcl set up through its Denver-based affiliate Kalnin Ventures to acquire US natural gas assets. This is BKV's seventh transaction since 2016 and marks its debut in the Barnett,...
Dec 31, 2019
MCS - Regional Highlights - December 31, 2019
The EIA projects that Anadarko Basin production will fall by 15,000 bo/d and 132 MMcf/d sequentially in December to 553,000 bo/d and 7.523 Bcf/d. There are 679 DUCs in the Anadarko Basin as of November, down by 58 from...
Dec 31, 2019
MCS - Raven Resources Highlights - December 31, 2019
Raven Resources retained The Oil & Gas Asset Clearinghouse to market 328 net acres of undeveloped leasehold in Dewey and Blaine counties, Oklahoma, with an additional 88 net acres available (Enverus Deal ID: 12102). There has been heavy offset permitting and drilling in the Mississippian and Woodford, with 170 horizontal wells drilled in these formation over the last five...
Dec 31, 2019
MCS - Triumph Energy Partners - December 31, 2019
Triumph Energy Partners has retained TPH to sell non-operated and mineral assets in the STACK play. The non-operated offering consists of 5,096 net acres (98% HBP) with an average 8.3% WI (76.8% NRI) and net production in June of 4,021 boe/d (38% liquids) generating annualized 2019 cash flow of $18.4 million (Enverus Deal ID: 12087). The mineral offering covers 1,816 net royalty acres with an average 0.52% royalty interest and net production in June of 70.3 boe/d (54% liquids) with estimated...
Dec 31, 2019
MCS - Devon partners with Dow to jumpstart STACK drilling - December 11,2019
After dropping to zero rigs in the STACK to focus on oilier projects, Devon Energy exploration and production EVP David Harris told investors on a Nov. 6 conference call that the company was "actively working to rejuvenate returns in the play to more competitive levels within our portfolio by lowering our D&C costs and through evaluation of partnership and Drillco structures." That process has now resulted in an agreement with chemical giant Dow to jointly develop 133 liquids-rich STACK...
Dec 11, 2019
Get more news for MidContinent Scout