A&D Transactions
Serving the asset marketplace with deals, analysis and business opportunities.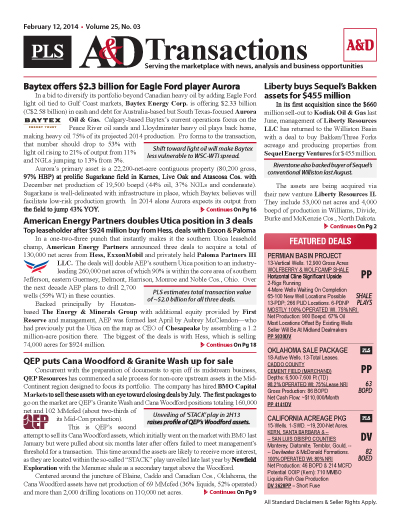 PLS publishes news and analysis on the acquisitions and divestitures (A&D) sector through its A&D module. The red banner report, published every 3 weeks, covers the active US asset marketplace and includes analysis of corporate mergers, property divestitures, completed transactions and deal metrics.
PLS' most popular report
Single copy pricing; Incl hard copy & email version
Guaranteed to increase deal flow & market insight
Every 2-3 weeks; 17+ issues per year
Latest in asset acquisitions, corporate M&A activity, deals in play & industry buying trends
Access to archives editions of A&D
Phone request to multiple listing
Search PLS' News Archive for complete oil & gas news for A&D Transactions .
See what it is about before you buy. View a sample issue of A&D Transactions.
Need more information? Click the button to recieve more details about the A&D Transactions
Opportunity is a reflection of information.
Call 713-650-1212 For More Information
Search A&D Transactions:

Headline
Publication
News Date
A&D - Parsley elevates S. Delaware position in $2.3B Jagged Peak buy - October 2019
Permian pure-play Parsley Energy struck a $2.27 billion stock-and-debt deal to acquire Quantum Energy Partners-backed Jagged Peak Energy. Expected to close in 1Q20, the transaction will substantially enhance Parsley's position in the Delaware basin and be immediately accretive to 2020 cash flow per share, free cash flow per share, cash return on capital invested and net asset value, according to the company. "Jagged Peak's oily, highmargin asset base slots in nicely to our...
Oct 31, 2019
A&D - BP accelerates divestments, expects to realize $10B a year early - October 2019
BP expects to achieve its $10 billion divestment goal a year early after it announced Oct. 11 that it had agreed to sell four packages of Lower 48 legacy gas assets. Including the $5.6 billion sale of its Alaskan business to Hilcorp announced in August, the British supermajor now expects to have deals totaling $10 billion in place by YE19 instead of its original YE20 goal. The divestment program was launched following BP's $10.5 billion acquisition of BHP's US onshore oil and gas business,...
Oct 31, 2019
A&D - Range sells additional SW Appalachia ORRI for $150MM - October 2019
Appalachia-focused Range Resources sold an additional 0.5% overriding royalty interest in its southwest Appalachian operations for $150 million. The ORRI covers 350,000 net surface acres with 1.94 Bcfe/d of Q3 production, equating to 1,750 net royalty acres with 9.79 MMcfe/d of royalty production. The deal, announced Oct. 21 after closing Sept. 30, brings Range's divestiture proceeds over the past year to $1.1 billion, reducing debt to $3.18 billion. Enverus field intelligence has...
Oct 31, 2019
A&D - Paulson holds Callon to the fire to nix $3.2B Carrizo buy - October 2019
Hedge fund Paulson & Co. intensified its call for Permian pure-play Callon Petroleum to back out of its $3.2 billion stock-and-debt acquisition of Carrizo Oil & Gas and consider selling itself instead. After initially voicing opposition to the deal in a Sept. 9 letter to Callon's board, the 9.5% stakeholder, owned by billionaire John Paulson, sent a follow-up missive on Oct. 22 further articulating reasons why it considers the transaction "destructive." For its part, Callon underscored...
Oct 31, 2019
A&D - Eagle buys bankrupt O'Benco's East Texas assets for $27MM - October 2019
Dallas and Wichita Falls, Texas-based Eagle Oil & Gas Co. acquired nearly all the assets of O'Benco IV LP, the company told Enverus. Eagle placed a successful bid of $26.95 million, which it called an extremely attractive valuation for the East Texas asset, at a live auction in Houston in mid-August. O'Benco IV, which filed for bankruptcy June 3, was the most recent partnership of Shreveport, Louisiana-based O'Brien Resources. Eagle said it picked up 62,220 net acres with...
Oct 31, 2019
A&D - Operators maintain cautious M&A stance as earnings roll in - October 2019
Earnings season is underway amid a highly uncertain outlook for the E&P industry. Investors are likely to be laserfocused on capex, with some companies trending towards maintenance spending as they pull all levers to reach positive free cash flow. Regarding deals, companies so far appear to be maintaining a waitand-see approach as the US-China trade war, tensions in the Middle East and price volatility continue to impact M&A strategies. With that said, two billion-dollar-plus...
Oct 31, 2019
A&D - Abraxas in talks with potential buyer Whiting Petroleum - October 2019
Whiting Petroleum is in discussions to acquire San Antonio-based Abraxas Petroleum, according to a Reuters report citing unnamed sources. A deal would increase Whiting's production from the Williston Basin with the addition of Abraxas' Q2 net output of 9,572 boe/d across 3,500 net acres in McKenzie County, North Dakota. Whiting already holds the basin's third-largest position with 474,000 net acres and is the third-largest producer with Q2 net production of 113,000 boe/d (65% oil). One of the...
Oct 31, 2019
A&D - Apache poised for Eastern Shelf exit, places waterflood on market - October 2019
Apache is preparing to make a full exit from the Eastern Shelf of the Permian Basin, retaining Detring Energy Advisors to assist in the sale of primarily operated waterflood assets. The assets for sale cover 35,826 net acres held with an average 96% WI across four operated areas—Greater Sharon Ridge, Round Top, Forbes and Cogdell—and the nonoperated Rhombochasm area. Current low-decline net production of 1,410 boe/d (89% oil) is estimated to generate annual operating cash flow this year of $11...
Oct 31, 2019
A&D - Pantheon buys out Halliburton at 900 MMbo Alaska oil project - October 2019
London-listed Pantheon Resources will boost its operated stake to 100% in the near-term Alkaid/Phecda oil project on Alaska's North Slope, having agreed to acquire oilfield services giant Halliburton's 25% WI in the six leases covering 22,804 acres that make up the project. The project holds an estimated 900 MMbo in place, and first production is expected as early as next year. Pantheon, which also owns 92% WI in two adjacent leases covering 11,367 acres, said it is taking full...
Oct 31, 2019
A&D - News Briefs - October 31,2019
Aurex Energy Corp. inked an LOI to enter a JV with an undisclosed private arms-length capital provider to rework shut-in Barnett shale gas wells in the Fort Worth Basin. The capital provider will contribute $2.5 million to bring 10 shutin wells back to commercial production. The eight horizontal wells and two vertical wells are located on 1,400 acres that hold 2P reserves of 24.6 Bcf. The initial phase of work will focus on five of these 10 wells. Aurex expects operating annual cash flow to...
Oct 31, 2019
Get more news for A&D Transactions