A&D Transactions
Serving the asset marketplace with deals, analysis and business opportunities.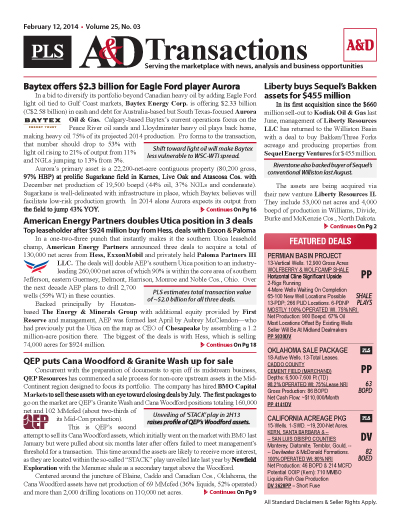 PLS publishes news and analysis on the acquisitions and divestitures (A&D) sector through its A&D module. The red banner report, published every 3 weeks, covers the active US asset marketplace and includes analysis of corporate mergers, property divestitures, completed transactions and deal metrics.
PLS' most popular report
Single copy pricing; Incl hard copy & email version
Guaranteed to increase deal flow & market insight
Every 2-3 weeks; 17+ issues per year
Latest in asset acquisitions, corporate M&A activity, deals in play & industry buying trends
Access to archives editions of A&D
Phone request to multiple listing
Search PLS' News Archive for complete oil & gas news for A&D Transactions .
See what it is about before you buy. View a sample issue of A&D Transactions.
Need more information? Click the button to recieve more details about the A&D Transactions
Opportunity is a reflection of information.
Call 713-650-1212 For More Information
Search A&D Transactions:

Headline
Publication
News Date
A&D - Analyst Notes - March 13, 2019
Chevron (CVX; $119.58-Feb. 28; Buy; PT-$133) While our deep-dive analysis into CVX's Permian basin does highlight a smaller core footprint than the headline ~1.7mm net acres and is dominated by lower working interest JVs (TPHe 600-650k net core acres), it still should be enough to continue accelerating rigs after the current period of pause (at 20 rigs until 2020), resulting in core inventory in the top-quartile of Permian E&Ps. The question, however, is will the company be able to...
Mar 13, 2019
A&D - BP US onshore assets reportedly attract interest of PE firms - March 2019
Private equity groups are among the most prominent potential bidders for BP's onshore US legacy assets. The impending sale of the British supermajor's assets has reportedly attracted the interest of Warburg Pincus and KKR. Warburg is reportedly interested in the Anadarko and Arkoma basins while KKR is evaluating multiple assets, people familiar with the matter told Bloomberg. BP's newly created US onshore business BPX Energy is selling the assets to pay down debt incurred from the $10.5...
Mar 13, 2019
A&D - Sempra sells wind assets to focus on core LNG growth - March 2019
Sempra energy struck a $1.05 billion deal to sell its remaining wind operating and development assets to American Electric Power, completing the sale of its US renewables business. The transaction will complete about ~$2.5 billion in Sempra divestments, enabling it to invest in growth projects such as its Cameron LNG export facility in Louisiana, the first train of which is being commissioned. The agreement to sell the remainder of Sempra Renewables includes the Black Oak Getty Wind...
Mar 13, 2019
A&D - Callon expands in Delaware & Midland for $88 million - March 2019
In its 2018 annual report, Permian pure-play Callon Petroleum announced West Texas acquisitions totaling $87.9 million within core areas of both the Midland and Delaware basins. The Midland assets are in Callon's WildHorse area in Howard County while the Delaware assets bolster its Spur footprint in Ward County. According to an investor presentation, the Spur acquisition consists of 3,158 net acres (100% HBP, 77% NRI) of incremental working interests and infill leases that will enhance the...
Mar 13, 2019
A&D - Falcon buys Karnes County mineral acres for $11MM - March 2019
In several transactions in 4Q18 and 1Q19, Eagle Ford E&P company Falcon Minerals Corp. acquired 60 net royalty acres (5,304 gross unit acres) for $10.7 million. The assets include 47 net royalty acres (3,394 gross acres) in eastern Karnes County, Texas, which are currently being developed by ConocoPhillips. The acquired Karnes County acreage has 14 producing wells with 50 additional undeveloped Lower Eagle Ford locations, as well as 13 line-of-sight wells in various stages of development....
Mar 13, 2019
A&D - Foothills Exploration acquires gas wells in Wyoming - March 2019
Foothills Exploration strengthened its position in one of its four core Rockies operational areas, acquiring 22 gas wells with net production of 907 Mcf/d on 18,214 gross acres (78% HBP) in Wyoming's Greater Green River Basin. The assets also hold behind-pipe opportunities both in the Fluvial and Marine sections of the Frontier formation. Foothills expects ~$1 million in projected gross revenue, before royalties and marketing, from the assets. The assets "include both stable, existing...
Mar 13, 2019
A&D - Lonestar divests Eagle Ford Pirate acreage for $12MM - March 2019
Eagle Ford pure-play Lonestar Resources struck a $12.3 million deal to sell its Pirate leasehold in Wilson County, Texas. The assets cover 3,400 net undeveloped acres, which held seven PUD Eagle Ford locations as of Dec. 31. Average sales volume during February was 219 boe/d (90% oil). The divestment is expected to close by the end of March.As of Feb. 26, Lonestar held ~57,000 net acres in the oil window of the Eagle Ford located across 11 counties divided into three regions: western...
Mar 13, 2019
A&D - Pin Oak acquires upstream and midstream Appalachian assets - March 2019
Appalachian pure-play Pin Oak Energy Partners acquired producing conventional assets in Elk County, Pennsylvania, on acreage targeting the Marcellus shale. From the same undisclosed seller, the company also acquired a 12-mile midstream gathering system with a 25 MMcf/d peak volume, which it will operate. Pin Oak also entered into an agreement with the seller covering the development of 20,000 net acres in Elk County prospective for the Marcellus and Utica formations. Pin Oak...
Mar 13, 2019
A&D - Viper adds Permian royalty acreage for $79 million - March 2019
Diamondback Energy subsidiary Viper Energy Partners has struck several deals since the start of 2019 for royalty acreage in the Permian Basin. The total acquisition price for 608 net royalty acres (6,162 gross) is $78.9 million. Of that total, $22.8 million in transactions had closed as of Feb. 26, with $56.1 million were pending and expected to close in the first six months of this year. Pro forma for these early 2019 purchases, Viper will hold mineral interests underlying 15,450 net...
Mar 13, 2019
A&D - What's On The Market Briefs - March 13, 2019
Midcontinent-focused Nexus BSP retained Meagher Energy Advisors to assist in the sale of non-operated assets in Custer and Dewey counties, Oklahoma. Projected 2019 net production of 2.6 Mcfe/d (73% gas) from 58 wells is expected to generate average monthly operating cash flow of $26,735, compared with $36,500 during 1H18. Nexus has an average 9% WI in the acreage or 896 net acres, with upside potential from 32 gross engineered PUD locations. Bids are due May 2. See PLS Listing No. PP 1690DV....
Mar 13, 2019
Get more news for A&D Transactions