A&D Transactions
Serving the asset marketplace with deals, analysis and business opportunities.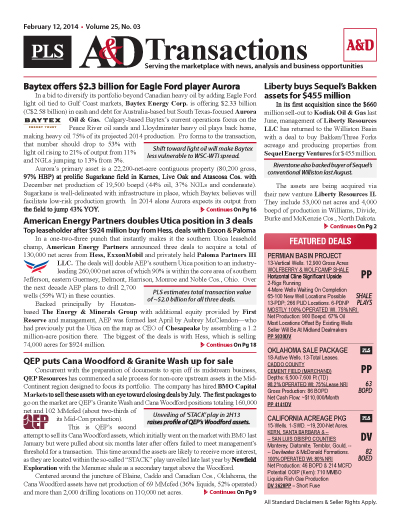 PLS publishes news and analysis on the acquisitions and divestitures (A&D) sector through its A&D module. The red banner report, published every 3 weeks, covers the active US asset marketplace and includes analysis of corporate mergers, property divestitures, completed transactions and deal metrics.
PLS' most popular report
Single copy pricing; Incl hard copy & email version
Guaranteed to increase deal flow & market insight
Every 2-3 weeks; 17+ issues per year
Latest in asset acquisitions, corporate M&A activity, deals in play & industry buying trends
Access to archives editions of A&D
Phone request to multiple listing
Search PLS' News Archive for complete oil & gas news for A&D Transactions .
See what it is about before you buy. View a sample issue of A&D Transactions.
Need more information? Click the button to recieve more details about the A&D Transactions
Opportunity is a reflection of information.
Call 713-650-1212 For More Information
Search A&D Transactions:

Headline
Publication
News Date
A&D - Freedom O&G gets $4.3MM stalking-horse Eagle Ford bid - June 2020
Eagle Ford producer Freedom Oil & Gas, the Houston-based operating arm of Australia-listed Freedom Oil & Gas Ltd., joined the ranks of E&P firms selling assets via Section 363 processes after filing for Chapter 11 bankruptcy. Plummeting revenue prevented the company from servicing its $10 million debt, which led to the May 11 filing. The company plans to sell all its assets, located in the Eagle Ford, to Australian environmental services company Sendero Resources, the...
Jun 12, 2020
A&D - Superior's US ops spinoff & merger with Forbes called of - June 2020
Superior Energy Services and Forbes Energy Services canceled their attempt to create a new US completions, production and water solutions firm, a casualty of declining crude prices. In addition to keeping Superior tied to the US land market, the collapse scuttles an attempt to whittle down $800 million in 7.125% senior notes maturing December 2021. The new company would have received Superior's service rig, coiled tubing, wireline, pressure control, flowback, fluid management and...
Jun 12, 2020
A&D - Market volatility contributes to recent uptick in bankruptcy sales - June 2020
Even before the oil price collapse in early March, market volatility contributed to an uptick in bankruptcies and associated Section 363 asset sales. As low oil prices hammer companies' bottom lines, such companies as Southland Royalty, Gavilan Resources, Freedom Oil & Gas, Yuma Energy and Templar Energy have either already struck deals or launched sales processes for their assets. They are not alone. In February, EdgeMarc Energy Holdings, which went bankrupt in May 2019, sold its...
Jun 12, 2020
A&D - Apergy turns into ChampionX as $4.4B merger completed - June 2020
Apergy Corp. completed its $4.39 billion merger with ChampionX Holding Inc., the upstream oil and gas spinoff from Ecolab Inc. The combined company is now named ChampionX Corp., and its CHX ticker symbol replaced APY on the NYSE on June 4. Ecolab equity holders own about 62% of ChampionX, and former Apergy equity holders own 38%. The companies' leadership stuck with the merger plan announced in December despite the downturn, arguing that the deal makes sense because their customers are...
Jun 12, 2020
A&D - Shaw exits McDermott as an independent pipe fabricator - June 2020
Shaw is back in business as an independent company, although with a more limited scope than it had in 2013 when it became part of Chicago Bridge & Iron Co. Ithaca Acquisitions Holdings completed the acquisition of the former pipe fabrication assets of The Shaw Group from McDermott International. Ithaca Acquisitions Holdings will rename itself as Shaw Acquisitions Holdings and operate the business as Shaw. Financial terms were not disclosed. Shaw's global footprint includes 2 million...
Jun 12, 2020
A&D - Delek Logistics buying trucking assets in $48MM dropdown - June 2020
Delek US Holdings will drop down trucking assets based in Tyler, Texas, and El Dorado, Arkansas, to its Delek Logistics Partners subsidiary for $48 million cash, the companies announced May 18. The assets and related services, part of Delek's refining operations, are projected to generate $8-9 million of EBITDA. Between 80% and 85% of the EBITDA guidance is supported by a minimum revenue commitment from Delek US. The trucking assets consist of nearly 150 leased tractors and 150...
Jun 12, 2020
A&D - Oxy reportedly mulls sale of Middle Eastern stakes to cut debt - June 2020
Occidental Petroleum is considering selling stakes in its Oman assets to help reduce its $40 billion debt load, most of which it took on last year through its $57 billion acquisition of Anadarko Petroleum, sources told Bloomberg. The value of the assts could be more than $1 billion, according to the June 8 report. The company is also open to selling stakes in its other Middle Eastern assets, located in the UAE and Qatar. Occidental, which has been active in Oman for more than three...
Jun 12, 2020
A&D - Energean reworking Edison buy after Neptune nixes North Sea - June 2020
Private equity-backed Neptune Energy dropped its proposed $250 million acquisition of Edison E&P's UK and Norwegian producing, development and exploration assets from Mediterranean-focused Energean Oil & Gas. The sale to Neptune was contingent on the completion of Energean's $850 million acquisition of Edison, an Italy-based upstream subsidiary of Electricite de France SA. Energean said that it is working to complete the transaction, announced last July, as soon as possible. Neptune...
Jun 12, 2020
A&D - Conoco clinches $1.46B northern Australia sale to Santos - June 2020
ConocoPhillips completed the $1.46 billion sale of its assets in northern Australia and Timor Leste on May 27 to Australia's Santos Ltd. The companies restructured payments so that $125 million of the originally announced $1.39 billion upfront cash will instead be due upon the recently deferred FID for the Barossa gas condensate development off Australia's Northern Territory. That brings the total due upon FID to $200 million. Conoco said it has received net cash proceeds of $765 million in Q2,...
Jun 12, 2020
A&D - BP looks for farm-in partner for Khazzan gas field in Oman - June 2020
BP is seeking to farm out a non-operated 10% WI in its operated Khazzan gas field in Oman, Bloomberg reported June 4. Covering 3,950 sq km in Block 61 within the Ad Dhahirah governorate, Khazzan holds recoverable reserves of 12.6 Tcfe (83% gas) and production net to the marketed working interest of 119 MMcfe/d (83% gas) (Enverus Deal ID: 12548). Full field development is divided into two phases and involves drilling 300 wells over 15 years to deliver gross plateau production of 1.8...
Jun 12, 2020
Get more news for A&D Transactions