A&D Transactions
Serving the asset marketplace with deals, analysis and business opportunities.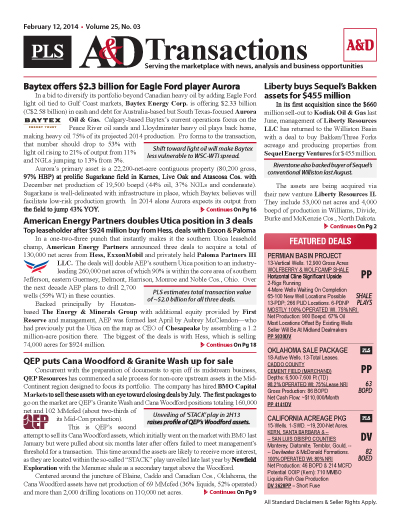 PLS publishes news and analysis on the acquisitions and divestitures (A&D) sector through its A&D module. The red banner report, published every 3 weeks, covers the active US asset marketplace and includes analysis of corporate mergers, property divestitures, completed transactions and deal metrics.
PLS' most popular report
Single copy pricing; Incl hard copy & email version
Guaranteed to increase deal flow & market insight
Every 2-3 weeks; 17+ issues per year
Latest in asset acquisitions, corporate M&A activity, deals in play & industry buying trends
Access to archives editions of A&D
Phone request to multiple listing
Search PLS' News Archive for complete oil & gas news for A&D Transactions .
See what it is about before you buy. View a sample issue of A&D Transactions.
Need more information? Click the button to recieve more details about the A&D Transactions
Opportunity is a reflection of information.
Call 713-650-1212 For More Information
Search A&D Transactions:

Headline
Publication
News Date
PS - Parsley narrows 2020 capital budget targets, lowers D&C costs - February 2020
Following the closing of its combination with fellow Permian pure-play Jagged Peak Energy, Parsley Energy narrowed its 2020 capex guidance to $1.6-1.8 billion from $1.6-1.9 billon. The company cited continued efficiency gains and savings on services following a comprehensive integrated budgeting process. Parsley will drop one rig to average 15 in 2020 and run four to five frac crews in order to turn 180-190 operated wells to sales. Production guidance was maintained at 200,000-210,000 boe/d,...
Feb 17, 2020
A&D - BCE-Mach III to buy Alta Mesa assets & Kingfisher for $320MM - February 2020
A federal judge approved the sale of the upstream assets of bankrupt Alta Mesa Resources and its midstream subsidiary, Kingfisher Midstream , to a JV of Bayou City Energy Management and Mach Resources in a Jan. 15 auction for a combined $320 million. The decision came after Judge Marvin Isgur earlier rejected BCEMach III's combined $310 million stalking-horse bid because he objected to a 3% breakup fee that was a term of that bid. Still, the final bid covers only a portion of Alta Mesa's...
Feb 06, 2020
A&D - Rockies-focused Southland goes bankrupt, shops portfolio - February 2020
Rockies-focused Southland Royalty Co. is marketing its entire portfolio as part of an in-court restructuring process after filing for Chapter 11 bankruptcy protection on Jan. 27, with PJT Partners assisting in the sales process. According to the court filing, the oil price downturn of the last few years created an extremely challenging environment for the Fort Worth, Texas-based natural gas producer, depressing revenues generated by production activities and reducing the value of its proven...
Feb 06, 2020
A&D - A look ahead to 2020 M&A strategies of public E&P firms - February 2020
The major public E&P companies have historically been the primary drivers of US upstream M&A activity, but a variety of factors has led to their partial eclipse by private equity-funded entities and investment firms. The shale revolution launched a massive land grab as E&Ps competed for positions in the premier resource plays. Then the crude price plunge in late 2014 brought the debt-laden industry to the brink of insolvency. Belying the naysayers, E&P companies responded with a transformation...
Feb 06, 2020
A&D - Acreage values fall toward 2015 levels as E&Ps focus on FCF - February 2020
In 2019, E&P companies took to heart Wall Street's emphatic push to refocus from growth to generating free cash flow. That has dampened demand for undeveloped leasehold and led to a decline in acreage values across unconventional plays from highs set in the 2016-2018 land buying boom. The Permian was the epicenter of land buying during that time and saw a rapid escalation in leasehold prices, particularly in the Delaware Basin. As public companies moved in and acquired private...
Feb 06, 2020
A&D - Camber and Viking combine operations in reverse merger - February 2020
Camber Energy and Viking Energy Group struck a deal to combine their businesses in a reverse merger. A newly formed subsidiary of Camber will merge with Viking, with Viking continuing as the surviving corporation and wholly owned subsidiary of Camber. Houston-based Camber will issue new shares to Viking's shareholders, who will own 80% of the combined company. Camber's share price was up ~13% to $1.92 as of midday trading on the Feb. 5 announcement date. The company targets the Cline...
Feb 06, 2020
A&D - Conoco exiting DJ Niobrara for $380MM after almost a decade - February 2020
ConocoPhillips announced Feb. 4 the pending sales of its entire Niobrara shale position in Colorado's DJ Basin for $380 million and its Waddell Ranch property on the Permian's Central Basin Platform for an undisclosed sum. The Niobrara sale, reportedly to DJ Basin pure-play Crestone Peak Resources , will end the company's near decade-long presence in the area. Between these deals and a $1.465 billion Australian divestment announced in October, Conoco expects to receive proceeds of $2 billion in...
Feb 06, 2020
A&D - Bankrupt EdgeMarc selling Marcellus to DIP lender KeyBank - February 2020
EdgeMarc Energy Holdings, which went bankrupt last year, will divest its Marcellus shale assets in Pennsylvania to KeyBank National Association, whose winning offer at auction consisted mostly of a credit bid. Keybank, which provided EdgeMarc a debtorin-possession bankruptcy loan, will apply at least $60 million of debt it is owed to the sales price and pay $9.68 million in cash, according to a Jan. 24 sales notice filed with the US Bankruptcy Court for the District of Delaware. The...
Feb 06, 2020
A&D - Oasis built Delaware position & trimmed non-core in 2019 - February 2020
Oasis Petroleum announced Jan. 30 that it acquired 1,800 net acres in the Delaware Basin last year for $20-22 million. Assuming no lease expiry during 2019, that would increase the company's Delaware position to nearly 25,200 net acres. At YE18, Oasis' acreage in the basin was ~67% HBP. It said the new acreage was highly complementary to its existing assets, which lie in Loving, Winkler and Ward counties, Texas. On the sell side, Oasis had announced back in November that it divested...
Feb 06, 2020
A&D - Bankruptcy sales lead early 2020 US upstream M&A - February 2020
US upstream dealmaking may have ended 2019 with a bang, but it is starting 2020 with a whimper. Kimbell Royalty Partners' $175 million acquisition of mineral and royalty assets from the first and second iterations of Springbok Energy Partners was the only major disclosed non-bankruptcy sale of January. Beyond that, bankruptcy sales have so far dominated M&A activity. The STACK play saw the largest Section 363 sale in the past few weeks, with BCEMach III's $320 million acquisition of the...
Feb 06, 2020
Get more news for A&D Transactions