A&D Transactions
Serving the asset marketplace with deals, analysis and business opportunities.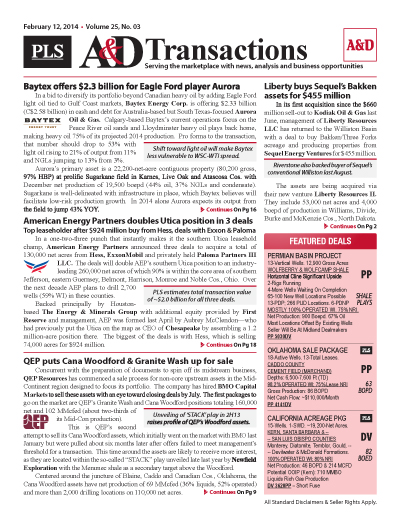 PLS publishes news and analysis on the acquisitions and divestitures (A&D) sector through its A&D module. The red banner report, published every 3 weeks, covers the active US asset marketplace and includes analysis of corporate mergers, property divestitures, completed transactions and deal metrics.
PLS' most popular report
Single copy pricing; Incl hard copy & email version
Guaranteed to increase deal flow & market insight
Every 2-3 weeks; 17+ issues per year
Latest in asset acquisitions, corporate M&A activity, deals in play & industry buying trends
Access to archives editions of A&D
Phone request to multiple listing
Search PLS' News Archive for complete oil & gas news for A&D Transactions .
See what it is about before you buy. View a sample issue of A&D Transactions.
Need more information? Click the button to recieve more details about the A&D Transactions
Opportunity is a reflection of information.
Call 713-650-1212 For More Information
Search A&D Transactions:

Headline
Publication
News Date
A&D - Analyst Notes - January 09, 2019
Diamondback Energy (FANG; $90.60-Dec. 20; Buy; PT-$137.00) One of the few names to end in the black (+3% vs. E&Ps -1%) following yesterday's about-face in the market, FANG stock was a clear...
Jan 09, 2019
Early 2019 M&A slows after a robust 2H18
After $84.3 billion in US upstream deals in 2018 led by a strong H2 (PG.1), dealmaking has dropped off since mid-Q4 and into early 2019, with only four announced deals so far this year. By far the...
Jan 09, 2019
Drillinginfo buys energy payment automator Cortex
Drillinginfo, Inc. announced Dec. 20 that it will acquire Cortex, developer of automated payment systems for accounts payable and receivable that specialize in the needs of the energy sector. Among...
Jan 09, 2019
Earthstone Energy terminates $976MM Sabalo buy
Earthstone Energy terminated its $976 million acquisition of EnCap Investments-backed Sabalo Holdings, which was initially announced in October. As part of the termination agreement, Earthstone...
Jan 09, 2019
A&D - News Briefs - January 09, 2019
Daybreak Oil and Gas is taking its operated stake in its Michigan Basin project to 70% WI after acquiring an additional 40% WI through a debt settlement agreement with its primary lender,...
Jan 09, 2019
Get more news for A&D Transactions