A&D Transactions
Serving the asset marketplace with deals, analysis and business opportunities.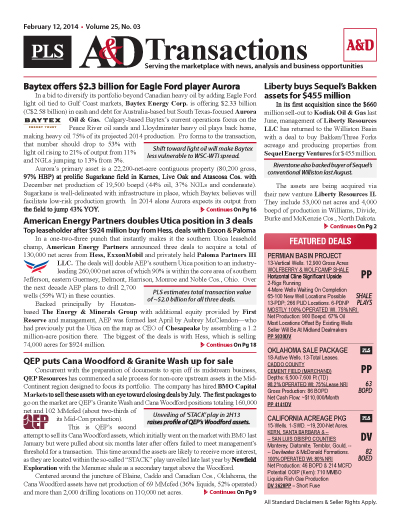 PLS publishes news and analysis on the acquisitions and divestitures (A&D) sector through its A&D module. The red banner report, published every 3 weeks, covers the active US asset marketplace and includes analysis of corporate mergers, property divestitures, completed transactions and deal metrics.
PLS' most popular report
Single copy pricing; Incl hard copy & email version
Guaranteed to increase deal flow & market insight
Every 2-3 weeks; 17+ issues per year
Latest in asset acquisitions, corporate M&A activity, deals in play & industry buying trends
Access to archives editions of A&D
Phone request to multiple listing
Search PLS' News Archive for complete oil & gas news for A&D Transactions .
See what it is about before you buy. View a sample issue of A&D Transactions.
Need more information? Click the button to recieve more details about the A&D Transactions
Opportunity is a reflection of information.
Call 713-650-1212 For More Information
Search A&D Transactions:

Headline
Publication
News Date
A&D - Callon buys Carrizo in $3.2B Permian/Eagle Ford combo - July 2019
Permian-focused Callon Petroleum agreed to acquire Eagle Ford and Delaware Basin producer Carrizo Oil & Gas in a stock-and-debt transaction valued at $3.2 billion based on the prior-day trading. The deal likely comes as good news to hedge fund and 6.3% Carrizo stakeholder Lion Point Capital, which has called the company undervalued and encouraged it to explore a sale or merger. For Callon, the acquisition boosts production, reserves and core Permian acreage, but it also increases...
Jul 18, 2019
A&D - Oil Search exercises $450MM option to double Alaska stake - July 2019
Papua New Guinea's Oil Search doubled its commitment to the Nanushuk trend on Alaska's North Slope. It exercised a $450 million option June 28 to acquire Armstrong and GMT Exploration's remaining 25.5% WI in the Pikka unit and adjacent exploration acreage, plus 37.5% WI in the Horseshoe discovery to the south and a separate tract targeting the Hue shale. This boosts Oil Search's stake to 51% in Pikka, where it estimates gross 2C contingent resources of 500 MMbo in the Nanushuk...
Jul 18, 2019
A&D - W&T acquires GOM gas assets from Exxon for $200MM - July 2019
W&T Offshore says it is poised to become the largest operator in the Mobile Bay area of the Gulf of Mexico after agreeing to acquire working interests in nine shallowwater gas-weighted properties offshore Alabama and an onshore treating facility from ExxonMobil for $200 million in cash. W&T said the deal, announced June 27 and expected to close by Aug. 30, will provide it with significant synergies and properties anticipated to generate considerable positive free cash slow. The purchase also...
Jul 18, 2019
A&D - Oxy-Anadarko dominates Q2 upstream M&A activity - July 2019
Occidental Petroleum's $57 billion acquisition of Anadarko, announced in late April, accounted for 88% of the entire quarterly disclosed deal value of $64.6 billion, rebounding from a Q1 historic low of $1.6 billion. The fourth-largest upstream deal ever and the largest since Shell's $82.7 billion purchase of BG Group in 2016, the acquisition was largely a play on US shale, particularly the Permian, which continues powering US production growth. Backing out that mega-deal, however, Q2 M&A...
Jul 18, 2019
A&D - Encana sells Oklahoma Arkoma assets for $165MM - July 2019
EnCana struck a $165 million deal to sell natural gas assets in Oklahoma's Arkoma Basin to an undisclosed buyer after picking them up in February as part of its $7.7 billion acquisition of Newfield Exploration. The assets cover 140,000 net acres with current production of ~77 MMcfe/d (98% gas). They are one of three non-core assets acquired in the Newfield deal, accounting for only 7% of the acquired production and 9% of reserves. The other two areas are in Utah's Uintah Basin and North...
Jul 18, 2019
A&D - Apache divests western Anadarko to Presidio for $365MM - July 2019
According to Drillinginfo field intelligence, Apache Corp. has agreed to sell western Anadarko Basin assets with net production in June 2018, per marketing materials, of 25,900 boe/d (50% gas) to Morgan Stanley-backed Presidio Petroleum for $365 million. Houston-based Apache said in marketing materials that the 85%-operated, 435,000-net-acre position is more than 90% HBP and targets the Cleveland, Granite Wash, Marmaton and Tonkawa formations across several counties in Oklahoma and...
Jul 18, 2019
A&D - Weatherly sheds Shelby Trough assets in bankruptcy sale - July 2019
Vortus Investments Advisors-backed Weatherly Oil & Gas, which filed for Chapter 11 bankruptcy protection on Feb. 28, agreed to sell Shelby Trough assets in East Texas to Dallas-based Shelby Oil & Gas for $26 million per a Section 363 sales process. The assets likely include those marketed by the company in December, when it retained TenOaks Energy Advisors to assist in the sale of certain East Texas assets.The assets marketed in December consist of 18,000 net acres (24,000...
Jul 18, 2019
A&D - PE-backed startup Pachira plants flag in the Eagle Ford - July 2019
Private equity firm Fulcrum Energy Capital Funds announced the formation of new portfolio company Pachira Oil & Gas, which made its debut acquisition of ~10,000 net acres of leasehold in the Eagle Ford from a seller that "was experiencing financial distress." The assets include 90%-oil weighted production from 20 net operated horizontal wells. Denver-based Fulcrum said the addition of Pachira to its portfolio gives it increased exposure to the premium-priced Gulf Coast crude...
Jul 18, 2019
A&D - Entransco acquires Oklahoma peer Gateway Resources - July 2019
Entransco expanded its Midcontinent asset base through the acquisition of its Oklahoma-based peer Gateway Resources USA. The deal adds net production of 250 boe/d from 475 wells on ~100,000 acres within the Anadarko and Cherokee basins between Tulsa and Independence, Kansas. The company also picks up 1,200 miles of gas gathering and processing pipelines. The assets are generating annual operating revenue of $3.3 million. "Gateway has some great assets just waiting to be fully exploited,...
Jul 18, 2019
A&D - BCE-Mach II acquires western Anadarko in debut buy - July 2019
The second partnership of private equity firm Bayou CIty Energy Management and E&P company Mach Resources made its first acquisition since being formed last October. Oklahoma City-based BCE-Mach II is acquiring producing assets in Beckham, Custer, Dewey, Roger Mills and Washita counties, Oklahoma, and Hemphill and Roberts counties, Texas, from an undisclosed seller. The partnership is concurrently acquiring producing properties across 32 counties in Oklahoma and seven counties in Texas...
Jul 18, 2019
Get more news for A&D Transactions