A&D Transactions
Serving the asset marketplace with deals, analysis and business opportunities.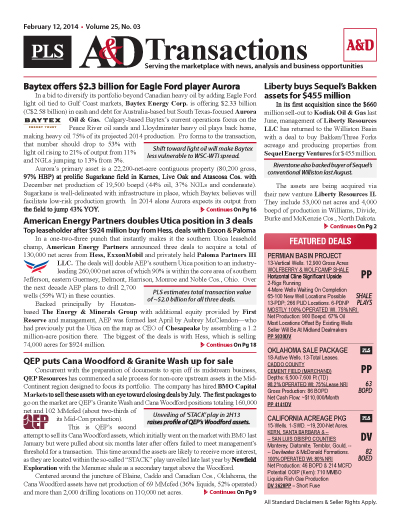 PLS publishes news and analysis on the acquisitions and divestitures (A&D) sector through its A&D module. The red banner report, published every 3 weeks, covers the active US asset marketplace and includes analysis of corporate mergers, property divestitures, completed transactions and deal metrics.
PLS' most popular report
Single copy pricing; Incl hard copy & email version
Guaranteed to increase deal flow & market insight
Every 2-3 weeks; 17+ issues per year
Latest in asset acquisitions, corporate M&A activity, deals in play & industry buying trends
Access to archives editions of A&D
Phone request to multiple listing
Search PLS' News Archive for complete oil & gas news for A&D Transactions .
See what it is about before you buy. View a sample issue of A&D Transactions.
Need more information? Click the button to recieve more details about the A&D Transactions
Opportunity is a reflection of information.
Call 713-650-1212 For More Information
Search A&D Transactions:

Headline
Publication
News Date
A&D - WPX closes $2.5B Felix Energy buy, building Delaware scale - March 2020
WPX Energy completed its $2.5 billion cash-and-stock acquisition of Permian producer Felix Energy on March 6, a month ahead of schedule. The purchase was approved by 99.6% of WPX shareholders at a March 5 special meeting. The company added 58,500 net acres and 1,500 undeveloped locations in the eastern Delaware Basin with current net production of 60,000 boe/d (70% oil). Including these assets, WPX now produces more than 150,000 boe/d from its combined operations in the Delaware and Williston...
Mar 19, 2020
A&D - Callon seeks buyers for some Carrizo Eagle Ford assets - March 2020
Callon Petroleum is marketing a portion of the new Eagle Ford position it picked up in the $2.7 billion acquisition of Carrizo Oil & Gas in December. The company retained Wells Fargo Securities to shop assets on the Atascosa-McMullen county line in South Texas, located mostly within the volatile oil window. The assets for sale represent 15% of the company's pro forma Eagle Ford production and 16% of its net acreage in the play. The assets consist of a highly contiguous 12,500 net...
Mar 19, 2020
A&D - EQT eyes divestments as debt reduction takes center stage - March 2020
EQT Corp. confirmed in its 2019 earnings presentation Feb. 27 that it is seeking to monetize some Appalachian Basin assets by mid-2020 as part of a plan to reduce its $5.2 billion debt by 30%. The company is marketing mineral assets covering 50,000 core fee acres with average 8/8ths NRI of 83% in Pennsylvania and 85% in West Virginia. It also aims to divest unspecified upstream properties producing 600 MMcfe/d as of Jan. 31, representing 15% of the company's overall volumes, with expected 2020...
Mar 19, 2020
A&D - Continental's minerals JV spent $130MM in 2019; more to come - March 2020
A minerals JV of Continental Resources and Canadian gold royalty owner Franco-Nevada Corp. spent $130 million in 2019 to acquire SCOOP and STACK mineral assets. The total, announced in Continental's 2019 annual report, came in below the $150 million ultimately allocated by the JV for 2019 acquisitions. In a filing last July, Continental said the partnership had already spent more than 75% of its initial $125 million allocation during 1H19, all in the SCOOP, prompting it to increase the...
Mar 19, 2020
A&D - HighPoint to divest non-core Rockies & Permian for $27MM - March 2020
DJ Basin-focused HighPoint Resources is in the process of selling non-core, nonoperated assets that together produced 2,000 boe/d (60-70% oil) during January. Proceeds from the three deals, expected to close in Q2, will be used to reduce debt. "We expect these accretive sales to bring in $27 million, which is approximately seven times the three-year average cash flow," COO Paul W. Geiger said during a Feb. 27 conference call. The divestments consist of DJ and Delaware Basin assets...
Mar 19, 2020
A&D - Whiting divests non-op Williston interests for $25MM - March 2020
Bakken-focused Whiting Petroleum announced in its 2019 annual report published Feb. 27 that it completed the divestiture of interests in 30 non-operated, producing oil and gas wells and related undeveloped acreage in McKenzie County, North Dakota, for $25 million on Jan. 9. The divested assets had December net production of 575 boe/d, representing less than 1% of both its overall 2019 output and its YE19 proved reserves of 485.4 MMboe. Proceeds from the sale were used to reduce debt....
Mar 19, 2020
A&D - New Tatanka gets $500MM backing from EnCap Flatrock - March 2020
Newly formed Tatanka Midstream, LLC announced it has received an initial capital commitment of $500 million from EnCap Flatrock Midstream to acquire and build midstream assets in North America. Based in San Antonio, Tatanka is led by CEO Keith Casey, who was an EVP of Andeavor Logistics LP, formerly Tesoro Corp., prior to its acquisition by MPLX LP last May. "We are excited to partner with EnCap Flatrock to create a company that provides innovative midstream solutions that are safe and...
Mar 19, 2020
A&D - Extraction extends non-core disposals in 2020 with $15MM sale - March 2020
DJ Basin pure-play Extraction Oil & Gas announced in its 2019 earnings release that it sold working interests in non-operated producing horizontal wellbores to an undisclosed buyer for $14.7 million in Q1. The company also revealed the completion of $56 million in asset sales in 2019. "In 2019, we had targeted leasehold expenditures being offset with asset sales, and we were successful in achieving this goal," president and CEO Matthew R. Owens said. "While the undeveloped acreage...
Mar 19, 2020
A&D - Oil market disruptions prompt companies to pause on M&A - March 2020
With the coronavirus outbreak here in the US, we wish our readers safety and health during this difficult time. After an already slow start to M&A for 2020, the fall of oil prices occasioned by the decline of demand because of the outbreak and a price war between Saudi Arabia and Russia has prompted companies to exercise even greater caution in executing deals. The most significant M&A developments over the last few weeks have been the completion of deals struck in late 2019 and a few...
Mar 19, 2020
A&D - Empire acquires Bakken assets from Ovintiv for $8.5MM - March 2020
Tulsa-based Empire Petroleum struck a $8.5 million deal with Ovintiv (formerly Encana) to acquire 94 gross wells and 26,000 net acres (35,900 gross) in Richland County, Montana, and McKenzie County, North Dakota. The assets produce from the Bakken and other conventional reservoirs. The deal is expected to close April 30. Last April, Empire acquired producing assets covering 20,700 acres and including 184 wells in North Dakota and Montana from EnergyQuest II. In addition to North Dakota...
Mar 19, 2020
Get more news for A&D Transactions