Eastern Scout
Serving the local market with drilling activities, permits & multiple listings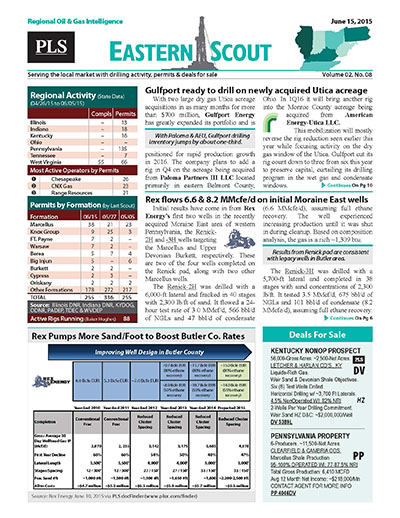 PLS's new Eastern Scout covers local drilling activity, permit data, rig activity and completions in the Eastern region (Pennsylvania, Ohio & West Virginia). Like all of PLS's Regionals this report includes a wealth of statistical analysis on activities and corporate performance. The reports also layer select advertising, business opportunities and multiple listings for sale.
Stay in front of local prospects, plays & rigs!
Pennsylvania, Ohio & West Virginia
Hard Copy and Email For 1 Individual
Every 3 to 4 Weeks (15 issues per year)
Regional discoveries, drilling activity, permits,
completions and summary drilling statistics, layered
with regional listings and business opportunities
Web access to the Eastern Scout archive
Does not include access to MLS
Search PLS' News Archive for complete oil & gas news for Eastern Scout .
See what it is about before you buy. View a sample issue of Eastern Scout.
Need more information? Click the button to recieve more details about the Eastern Scout
Opportunity is a reflection of information.
Call 713-650-1212 For More Information
Search Eastern Scout:

Headline
Publication
News Date
ES - Montage lowers capex, shifts toward Utica dry gas from Marcellus - March 31, 2020
Appalachian pure-play Montage Resources updated its 2020 operating plans in response to recent market challenges, lowering capital guidance 23% to $145-165 million from $190-210 million. Spending will be front-loaded, with 65% budgeted for H1, and 90% of the total will go to D&C with the rest directed toward land and other expenditures. Development will be concentrated in stacked-pay opportunities targeting the Marcellus and dry-gas Utica in Monroe County, Ohio. Montage plans to drill...
Mar 31, 2020
ES - EQT lowering 2020 capital expenditures again - March 31, 2020
Through schedule and well design optimization, EQT is able to lower its 2020 capex by $75 million while maintaining its prior production guidance, the company said March 16. Its capital budget has been lowered to $1.075-1.175 billion from the $1.15-1.25 billion guidance that was released Feb. 27. It is also $200 million lower than the preliminary 2020 capital guidance of $1.30-1.40 billion announced Oct. 31. The new plans call for running two to three tophole rigs, three to four horizontals rig...
Mar 31, 2020
ES - Regional Highlights - March 31, 2020
The EIA projects that Appalachian gas production will fall by 231 MMcf/d sequentially in April to 32.555 Bcf/d. There were 564 DUCs in Appalachia as of February, down by nine versus January.The Ohio Department of Natural Resources appointed Eric Vendel chief of the Division of Oil and Gas Resources Management. Vendel has served as the division's lead attorney since 2012. A federal judge temporarily blocked the leasing of more than 40,000 acres for oil and gas...
Mar 31, 2020
ES - Diversified Oil & Gas Highlights - March 31, 2020
Diversified Oil & Gas extended for another five years an agreement with the Ohio Department of Natural Resources to plug up to 20 wells per year as part of an asset retirement program. The extension comes after an initial five-year commitment to plug 18 wells per year. The company owns about 7,100 wells in the...
Mar 31, 2020
ES - CNX Midstream Partners Highlights - March 31, 2020
CNX Midstream Partners said it will remain flexible as it re-evaluates its capex opportunities. The Marcellus shale-focused company said in January it expected to spend $80- 100 million in 2020, down from $316 million in...
Mar 31, 2020
ES - Range Resources Highlights - March 31, 2020
Range Resources revealed during a Feb. 28 conference call that it has opened a data room for its Terryville field assets in northern Louisiana, which it entered via its $4.4 billion acquisition of Memorial Resource Development in 2016. Last April, the company had said it was pursuing multiple asset sales to reduce debt. A Terryville sale would make Range an Appalachian...
Mar 31, 2020
ES - Southwestern slashes well costs in 2-year quest for cash flow - March 10, 2020
Southwestern Energy beat its cost reduction targets in 2019, lowering well costs 27% to $824 per lateral foot across its acreage. Setting a company record, an 18,000-ft lateral was drilled and completed for $605/ft. Self-sourcing sand, use of a company-owned water pipeline system, increased lateral lengths and reduced cycle times contributed to the reductions. Lower costs are part of the company's two-year plan to become cash flow neutral following the divestment of its Fayetteville assets,...
Mar 10, 2020
ES - EQT continues cost reductions, signs new gathering agreement - March 10, 2020
EQT continues to make improvements in its cost structure. During Q4, well costs in the Pennsylvania Marcellus averaged $800 per lateral foot, down 6% sequentially and 18% compared to the $970/ft target set by the previous management team. EQT has set a 2H20 target of $730/ft. EQT improved its operational performance following its management and structural reshuffle in July. Top-hole drilling days have fallen 28% and horizontal drilling days are down 38%, resulting in total drilling days...
Mar 10, 2020
ES - Regional Highlights - March 10, 2020
The EIA projects that Appalachian production will fall by 220 MMcf/d sequentially in March to 33.13 Bcf/d. There were 537 DUCs in Appalachia as of January, down by six versus...
Mar 10, 2020
ES - Chesapeake Energy Highlights - March 10, 2020
Chesapeake Energy's Q4 production from the Marcellus averaged 980 MMcf/d, up 19% YOY. During 2019, the company ran two rigs and brought 44 wells online in the play. For 2020, plans are for two to three rigs running and 50-55 wells placed on production. Capex has been set at $175-215 million compared to expected 2019 spend of $190-210 million; overall company capex is down 30% YOY at $1.3-2.6 billion. Chesapeake refers to its Marcellus asset as a free cash flow machine, having delivered $320...
Mar 10, 2020
Get more news for Eastern Scout