Eastern Scout
Serving the local market with drilling activities, permits & multiple listings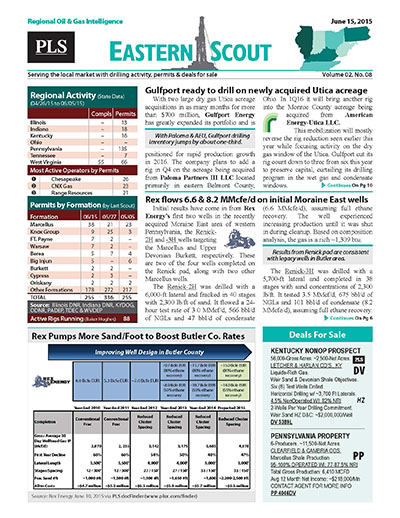 PLS's new Eastern Scout covers local drilling activity, permit data, rig activity and completions in the Eastern region (Pennsylvania, Ohio & West Virginia). Like all of PLS's Regionals this report includes a wealth of statistical analysis on activities and corporate performance. The reports also layer select advertising, business opportunities and multiple listings for sale.
Stay in front of local prospects, plays & rigs!
Pennsylvania, Ohio & West Virginia
Hard Copy and Email For 1 Individual
Every 3 to 4 Weeks (15 issues per year)
Regional discoveries, drilling activity, permits,
completions and summary drilling statistics, layered
with regional listings and business opportunities
Web access to the Eastern Scout archive
Does not include access to MLS
Search PLS' News Archive for complete oil & gas news for Eastern Scout .
See what it is about before you buy. View a sample issue of Eastern Scout.
Need more information? Click the button to recieve more details about the Eastern Scout
Opportunity is a reflection of information.
Call 713-650-1212 For More Information
Search Eastern Scout:

Headline
Publication
News Date
ES - Cabot's Upper Marcellus Gen 5 completions outperforming
Cabot Oil & Gas' long-term plan is to fully develop the Lower Marcellus before beginning development in the Upper Marcellus. During 2018, the company completed nine Generation 5 Upper Marcellus wells to reconfirm the potential of the interval. Current data shows that these wells are outperforming the 2.9 Bcfe type curve, although Cabot says it won't increase its type curve until more production history is gathered. Each year, the company plans to allocate a small amount of capital to Upper...
Mar 05, 2019
Range's production & lateral lengths to grow, capex to shrink
Range Resources plans to maintain similar activity levels in 2019 compared to 2018 but will spend 17% less to do so. Capex has been set at $756 million, with $685 million allocated for drilling and recompletions, $51 million for leasehold and $20 million for pipelines, facilities and other capital. At strip pricing, free cash flow is expected to exceed spending. Production guidance has been set at 2,325-2,345 MMcfe/d (30% liquids), which would be up 6% YOY at midpoint. Appalachia will attract...
Mar 05, 2019
ES - Chesapeake Energy Highlights - March 05, 2019
Chesapeake Energy's Marcellus output reached a record 2.5 Bcf/d during January and is currently averaging 2.4 Bcf/d. The company is running three rigs and plans to bring online 48 wells in the play during 2019, compared to 54 in 2018. Seven of the new 2019 producers will target the Upper Marcellus, where the company brought two wells online in Susquehanna County, Pennsylvania, during February at a combined rate of 60...
Mar 05, 2019
ES - Antero Resources Highlights - March 05, 2019
Antero Resources' Q4 production of 3.2 Bcf/d set a company record, up 18% sequentially and 37% YOY. For the full year, production averaged 2.7 Bcfe/d, up 20% from 2017. About 72% of Antero's production was gas, making it the fifth-largest US gas producer last year. A 51% YOY increase in liquids production to 162,077 bbl/d made Antero the largest NGL producer in the...
Mar 05, 2019
ES - EQT Corp Highlights - March 05, 2019
In late 2018, EQT Corp. moved to "stable operations" across its vast holdings in Appalachia, leading to operational improvements by early 2019. Drill times improved 25% from 1.17 days per 1,000 ft in 2H18 to 0.87 day per 1,000 ft in January. Additionally, frac stages per day in January were up 65% from a year...
Mar 05, 2019
ES - Eclipse Resources Highlights - March 05, 2019
Eclipse Resources increased proved reserves to 1.86 Tcfe (7% oil, 11% NGLs) at YE18, up 28% YOY. The increase was driven predominately by an increase in proved developed producing reserves, which jumped 68% to 665 Bcfe as new wells came into production, along with the addition of incremental proved undeveloped reserves. FY18 production grew 10% YOY to 343.2...
Mar 05, 2019
ES - Enerplus Highlights - March 05, 2019
Enerplus' Marcellus output was sequentially flat at 211 MMcf/d in Q4, while FY18 volumes grew 5% YOY. The company participated in the drilling of 15 and the turning to sales of 30 non-op wells during...
Mar 05, 2019
Southwestern looks to SW Appalachia for 2019 growth
Southwestern Energy will focus all of its capital on Appalachia in 2019 following the divestment of its Fayetteville assets to Flywheel Energy for ~$1.9 billion and its more recent sale of 100,000 acres in northern Louisiana and southern Arkansas to Velandera Energy Partners. The company plans to spend $1.08-1.18 billion during 2019, down by $120 million compared with 2018 and by $200 million compared with the initial 2019 plan announced in early September at the time of the Fayetteville sale....
Feb 12, 2019
EQT Corp lowers capex for 2019, will maintain output
EQT announced plans for 2019 that are expected to deliver production growth, free cash flow and considerable costs reductions. In the Marcellus, EQT plans to spud 106 net wells this year, with laterals averaging 12,250 ft. By state, 91 net wells with 13,200-ft laterals will be drilled in Pennsylvania, and 15 net wells with 6,500-ft laterals will be drilled in West Virginia. The company will also turn to sales 124 net Marcellus wells with 10,300-ft laterals. In the Utica, EQT plans to spud 20...
Feb 12, 2019
ES - Regional Highlights - February 12, 2019
The EIA projects that Appalachia production in February will average 31.569 Bcf/d and 159,000 bo/d, up by 232 MMcf/d and 3,000 bo/d compared to January. There are 529 DUCs in Appalachia as of December, down by 27...
Feb 12, 2019
Get more news for Eastern Scout