Eastern Scout
Serving the local market with drilling activities, permits & multiple listings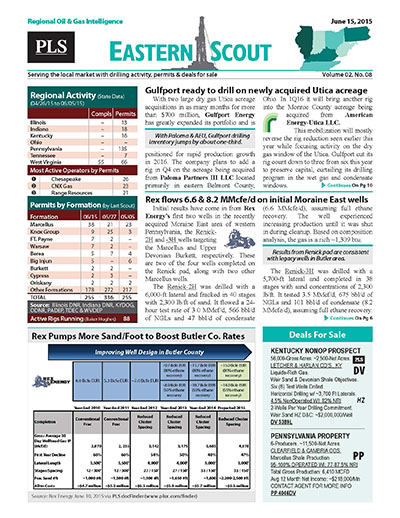 PLS's new Eastern Scout covers local drilling activity, permit data, rig activity and completions in the Eastern region (Pennsylvania, Ohio & West Virginia). Like all of PLS's Regionals this report includes a wealth of statistical analysis on activities and corporate performance. The reports also layer select advertising, business opportunities and multiple listings for sale.
Stay in front of local prospects, plays & rigs!
Pennsylvania, Ohio & West Virginia
Hard Copy and Email For 1 Individual
Every 3 to 4 Weeks (15 issues per year)
Regional discoveries, drilling activity, permits,
completions and summary drilling statistics, layered
with regional listings and business opportunities
Web access to the Eastern Scout archive
Does not include access to MLS
Search PLS' News Archive for complete oil & gas news for Eastern Scout .
See what it is about before you buy. View a sample issue of Eastern Scout.
Need more information? Click the button to recieve more details about the Eastern Scout
Opportunity is a reflection of information.
Call 713-650-1212 For More Information
Search Eastern Scout:

Headline
Publication
News Date
ES - Antero aims for 9% production growth, cash flow neutrality - February 18 2020
Antero Resources is charting a unique course among Appalachian gas producers in 2020 as it targets production growth and cash flow neutrality. It has set 2020 capex expectations at $1.15 billion, which is down 10% YOY, while aiming for 9% YOY production growth to 3.5 Bcfe/d, including 187,500 boe/d of liquids. In contrast, Cabot Oil & Gas plans to keep production flat from 4Q19 to 4Q20 in order to generate $275-300 million in free cash flow; CNX Resources is also keeping 2020 production...
Feb 18, 2020
ES - Montage to grow output despite 44% plunge in spending - February 18, 2020
Montage Resources plans to spend 44% less at midpoint in 2020 than it did last year, setting its capex target at $190-210 million. Despite the drastic reduction in spending, production is expected to grow 6% at midpoint to 570-590 MMcfe/d. The company reached cash flow neutrality ahead of schedule following its emergence last February from the merger of Eclipse Resources and Blue Mountain Resources. In 2020, Montage anticipates generating free cash flow. Drilling and completion has been...
Feb 18, 2020
ES - CNX Resources Highlights - February 18, 2020
CNX Resources plans to spend $530-610 million in 2020, down from a prior target of $570-650 million; 2019 spending was $876 million. D&C capex was revised to $360-410 million from $400-450 million. Production expectations for the year were lowered from 1.47-1.55 Bcfe/d to 1.44-1.52 Bcfe/d, which will keep volumes flat. CNX will run up to two rigs and one frac crew, maintaining the pace it operated in Q4. A total of $200 million in free cash flow will be...
Feb 18, 2020
ES - Seneca Resources Highlights - February 18, 2020
Seneca Resources is running two rigs after it dropped one in January, and has decided to reduce its activity to a single rig this summer because of the sustained decline in natural gas prices. The company also plans to defer some completion activity in its eastern development area to fiscal 2021. As a result, capex has been lowered by $42.5 million at midpoint to $375-410...
Feb 18, 2020
ES - Cabot Oil & Gas Highlights - February 18, 2020
Cabot Oil & Gas plans to spend $575 million in 2020 and produce an average of 2.4 Bcf/d, which keeps volumes flat from 4Q19 to 4Q20. The plan assumes "a moderate amount" of curtailments throughout the year based on an expectation of normal pipeline maintenance, higher line pressures and weaker spot market prices. The plan will generate an estimated $275- 300 million in free cash...
Feb 18, 2020
ES - Sunoco Pipeline Highlights - February 18, 2020
Energy Transfer subsidiary Sunoco Pipeline is conducting a binding open season to solicit shipper volume commitments for its Mariner West ethane pipeline. The open season is for service from origin points at Houston, Darlington, Bulger North and Bulger South, each in Pennsylvania, to Marysville, Michigan, and the international border near Sarnia, Ontario, for onward...
Feb 18, 2020
ES - Regional Highlights - February 18, 2020
The Federal Energy Regulatory Commission ruled that the proposed 1.1 Bcf/d PennEast pipeline should have the right to use eminent domain even on state-owned property. The decision does not restart the project but does give it more leverage as litigation surrounding it heads to the US Supreme...
Feb 18, 2020
ES - Gulfport's longer laterals maximize investment in Utica - January 28, 2020
Gulfport Energy sought to maximize its Utica lateral lengths in order to do more with less in its 2019 drilling program. Lateral lengths were up 18% compared to 2018 for the 13 wells drilled in the first nine months of the year; the company anticipated drilling three more wells in Q4 and exiting 2019 with three DUCs. When normalized to a 8,000-ft lateral, spud-to-rig-release times were down 5% compared to 2018 at 18.6 days. Gulfport drilled a 16,000-ft lateral in 3Q19, which is its longest yet...
Jan 28, 2020
ES - EQT takes 4.3 Tcfe negative revision in YE19 proved reserves - January 28, 2020
In the second half of 2019, EQT laid the groundwork to transition to a combo development focus that it says will transform the company into one of the lowest-cost natural gas operators in the US. The 100-day plan initiated in July was a significant success. It increased drilling efficiencies, as measured by horizontal feet drilled per hour, by 50% in the Pennsylvania Marcellus and by 20% in the Utica during 3Q19. The company expects organizational changes related to its transition plan to drive...
Jan 28, 2020
ES - Regional Highlights - January 28, 2020
The EIA projects that Appalachian production will fall by 56 MMcf/d sequentially in February to 166,000 bo/d and 33.346 Bcf/d. There were 427 DUCs in Appalachia as of December, down by 21 versus November.US gas production is expected to rise 2.9% in 2020 to an average of 94.7 Bcf/d before falling 0.7% in 2021, according to the Energy Information Administration's Short-Term Energy Outlook. Growth in 2020 will come primarily from improved drilling efficiency and cost reductions,...
Jan 28, 2020
Get more news for Eastern Scout