Eastern Scout
Serving the local market with drilling activities, permits & multiple listings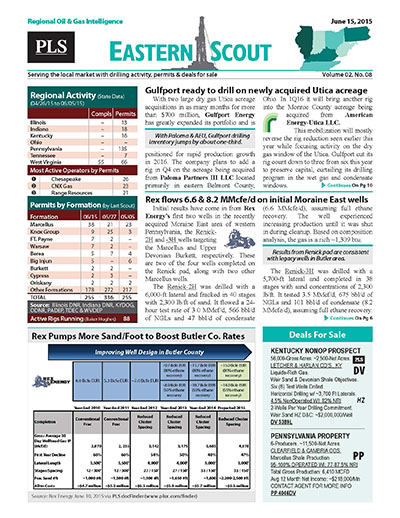 PLS's new Eastern Scout covers local drilling activity, permit data, rig activity and completions in the Eastern region (Pennsylvania, Ohio & West Virginia). Like all of PLS's Regionals this report includes a wealth of statistical analysis on activities and corporate performance. The reports also layer select advertising, business opportunities and multiple listings for sale.
Stay in front of local prospects, plays & rigs!
Pennsylvania, Ohio & West Virginia
Hard Copy and Email For 1 Individual
Every 3 to 4 Weeks (15 issues per year)
Regional discoveries, drilling activity, permits,
completions and summary drilling statistics, layered
with regional listings and business opportunities
Web access to the Eastern Scout archive
Does not include access to MLS
Search PLS' News Archive for complete oil & gas news for Eastern Scout .
See what it is about before you buy. View a sample issue of Eastern Scout.
Need more information? Click the button to recieve more details about the Eastern Scout
Opportunity is a reflection of information.
Call 713-650-1212 For More Information
Search Eastern Scout:

Headline
Publication
News Date
ES - THQ Appalachia unlocks the deep Utica in West Virginia - July 09, 2019
The management team behind Tug Hill, which helped pioneer the Marcellus shale more than a decade ago, now says it has cracked the code to economic development of the dry gas Utica in West Virginia. The Fort Worth-based company's upstream business, THQ Appalachia I LLC, has been quietly building a highly contiguous acreage position in the state's Panhandle region and deploying innovative technologies for co-development of the Marcellus and Utica. These advancements have made THQA the first...
Jul 09, 2019
ES - Regional Highlights - July 09, 2019
The EIA projects Appalachia production will rise 4 bo/d and 347 MMcf/d sequentially in July to 138,000 bo/d and 32.444 Bcf/d. There are 437 DUCs in Appalachia as of May, down by 24 versus...
Jul 09, 2019
ES - Montage Resources Highlights - July 09, 2019
Montage Resources is cutting a rig in Appalachia and will operate a one-rig program for the remainder of the year. The reduction is because of an anticipated lower commodity price environment in H2 and increased operational efficiencies. During Q2, the company continued to reduce cycle times. Accelerated turn-inlines during the quarter resulted in production that exceeded guidance and keeps the company on track for 20% production growth this year despite the reduction in activity. Guidance for...
Jul 09, 2019
ES - Antero Resources Highlights - July 09, 2019
At its annual shareholder meeting, Antero Resources announced a well cost and LOE reduction initiative. Drilling and completion costs are expected be 10% lower in 2020 compared to 2019 levels, assuming 2019 activity levels of ~120 completions. Marcellus well costs are projected to fall $1.2 million per well by 2020. In the next 12- 18 months, LOE costs are expected to fall 20% per...
Jul 09, 2019
ES - TC Energy Highlights - July 09, 2019
TC Energy will sell Columbia Midstream Group to UGI Energy Services for $1.275 billion. The sale involves 240 miles of pipeline; 100% of four gas gathering systems in southwestern Pennsylvania, eastern Ohio and the panhandle of West Virginia; and a 47% stake in the Pennant gathering system and processing...
Jul 09, 2019
ES - EQT Highlights - July 09, 2019
EQT is holding its annual meeting July 10. Shareholders will have to opportunity to vote for board candidates nominated by brothers Toby and Derek Rice or those nominated by EQT management. The highly anticipated meeting will conclude a nine-month battle between the two...
Jul 09, 2019
ES - EQT reports Q2 improvements ahead of quarter's end - June 18, 2019
EQT Corp. continues to tally operational efficiencies in Q2 to date as it pursues its "Target 10%" initiative. Target 10% aims to reduce cash costs by 10%, and the company says that it expects $25 million of additional annual capex savings as a result of the program. EQT's management has identified $175 million in annual cost savings to date and now expects adjusted free cash flow of over $3.0 billion through 2023, increasing to $3.4 billion if Target 10% is fully realized. EQT's recent...
Jun 18, 2019
ES - Appalachia continues 2019 streak of production records - June 18, 2019
The Appalachian basin is projected to reach a new production record in July after posting new highs every month this year. According to the EIA Drilling Productivity Report, Appalachian production is projected to rise 347 MMcf/d sequentially to 32.4 Bcf/d in July. Volumes have already climbed ~1.3 Bcf/d in the first six months of 2019. If the July projection is correct, output will be up ~4.5 Bcf/d YOY. Rig activity in the basin has been stable in the last year, according to...
Jun 18, 2019
ES - Range Resources Highlights - June 18, 2019
Range Resources has drilled three deep Utica wells to date, with the third appearing to be one of the best dry gas Utica wells in the basin. Sporting a 6,609-ft effective lateral, the Claysville S.C. 11H delivered an IP of 59 MMcf/d after coming online in January 2015. The Washington County, Pennsylvania, well was producing 2.5 MMcf/d as of March and has delivered cumulative production of more than 4...
Jun 18, 2019
ES - Kinder Morgan Highlights - June 18, 2019
Kinder Morgan's Elba Island LNG export terminal in Georgia continues to run behind schedule, as commercial operations have yet to start. KMI spokeswoman Katherine Hill did not give a new in-service schedule. Hill told S&P Global Platts that the delay was "due to additional common commissioning issues that are systematically being addressed on the first of the 10 liquefaction...
Jun 18, 2019
Get more news for Eastern Scout