Eastern Scout
Serving the local market with drilling activities, permits & multiple listings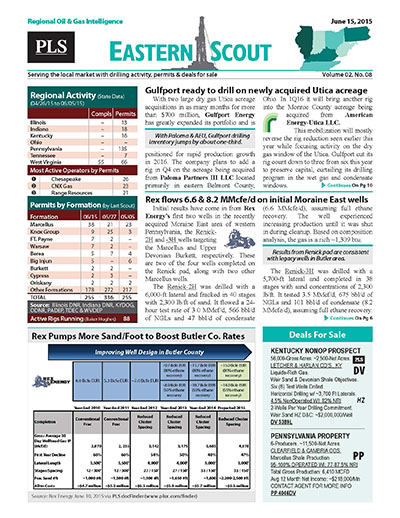 PLS's new Eastern Scout covers local drilling activity, permit data, rig activity and completions in the Eastern region (Pennsylvania, Ohio & West Virginia). Like all of PLS's Regionals this report includes a wealth of statistical analysis on activities and corporate performance. The reports also layer select advertising, business opportunities and multiple listings for sale.
Stay in front of local prospects, plays & rigs!
Pennsylvania, Ohio & West Virginia
Hard Copy and Email For 1 Individual
Every 3 to 4 Weeks (15 issues per year)
Regional discoveries, drilling activity, permits,
completions and summary drilling statistics, layered
with regional listings and business opportunities
Web access to the Eastern Scout archive
Does not include access to MLS
Search PLS' News Archive for complete oil & gas news for Eastern Scout .
See what it is about before you buy. View a sample issue of Eastern Scout.
Need more information? Click the button to recieve more details about the Eastern Scout
Opportunity is a reflection of information.
Call 713-650-1212 For More Information
Search Eastern Scout:

Headline
Publication
News Date
ES - Antero drills 9,184 ft in 24 hours, calls it a world record - May 07, 2019
Increasing drilling and completion efficiency were a highlight of Antero Resources' Q1 results as the company worked to drive well costs lower. The company drilled an average of 5,300 lateral ft per day, which was a quarterly record and a 14% improvement compared to 2018. Setting what it says is a world record, Antero drilled 9,184 lateral ft in 24 hours on the Hayhurst Unit #2H. In total, it drilled 36 wells during the quarter with laterals averaging 10,000 ft and...
May 07, 2019
ES - Southwestern drills company-record laterals in Appalachia - May 07, 2019
Southwestern Energy continues to make operational improvements in its postFayetteville era. During Q1, the company set a new pad completion time record of 8.3 stages per day in southwestern Appalachia. The company also drilled a record 8,300 lateral ft in 24 hours, 100% in the target zone. Lateral length records were achieved in West Virginia and Pennsylvania at 18,019 ft and 18,683 ft, respectively. With operational improvements came reductions in costs. Q1 well costs were down 10%...
May 07, 2019
ES - CNX Resources Highlights - May 07, 2019
In Q1, CNX Resources drilled nine wells, completed 14, and brought 18 online. Sales volumes averaged 1.48 Bcfe/d, up 3% YOY. In a move that sent its stock value down, CNX increased combined 2019 and 2020 capex to $885 million from $700 million in order to turn to sales 86 wells compared to prior plans for 72 wells. The additional D&C activity consists of 11 deep dry Utica and eight Marcellus wells, less five Utica wells in Monroe County, Ohio, that have been deferred as part of the updated...
May 07, 2019
ES - EQT Highlights - May 07, 2019
EQT is making a revision to its 2019 plans after negotiating an early reduction to its rig count. As a result, 30 fewer horizontal wells will be drilled and seven fewer wells will be turned to sales. However, the number of wells fracked will increase by 10 for...
May 07, 2019
ES - Range Resources Highlights - May 07, 2019
Range Resources generated strong cash flow and exceeded production guidance during Q1. Production averaged 2.26 Bcfe/d (31% liquids), up 3% YOY and up 5% compared to 4Q18. In southwest Pennsylvania, production increased 14% YOY to 1.92 Bcfe/d, and overall Appalachian output was up 12% YOY to 2.03 Bcfe/d. A total of 23 wells were turned to sales in Appalachia: 20 on its southwest Pennsylvania dry acreage and three in the southwest Pennsylvania super-rich...
May 07, 2019
ES - Gulfport Energy Highlights - May 07, 2019
Gulfport Energy spudded six operated Utica wells during Q1, with laterals averaging 10,600 ft. The company plans to drill longer laterals this year, with horizontals averaging 11,700 ft compared to an average of 10,300 ft in 2018. Normalizing to an 8,000-ft lateral, drilling days during the quarter averaged 17.7 days, which is down 9% compared to 2018. The company also completed 25 Utica wells and turned six to sales with laterals averaging 8,200 ft. Its Q1 production from the play averaged...
May 07, 2019
ES - Diversified acquires HG's Huckleberry assets for $400MM - April 2019
In the first major Appalachian transaction of 2019, London-listed Diversified Gas & Oil struck a $400 million deal to acquire operated assets near its existing operations in Pennsylvania and West Virginia from privately held HG Energy II. The so-called Huckleberry assets will boost the company's net production by 30% to ~540 MMcfe/d and its PDP reserves by 20% to 3.4 Bcfe. Diversified is picking up 100% WI (87% NRI) in 107 unconventional producing wells with 2018 net production of...
Apr 16, 2019
ES - Pin Oak Energy grows holdings 35% in Utica deal with Shell - April 2019
Pin Oak Energy Partners has acquired Utica assets from Shell subsidiary SWEPI, LP in northwest Pennsylvania. The assets cover 43,000 acres in Mercer, Crawford and Venango counties within the oil and wet gas windows of the Utica. The position includes drilled and completed wells that have not been turned online, as well as undrilled pads.The area has seen limited Utica activity, with only a handful of horizontal wells targeting the formation. Completions have been reported by players...
Apr 16, 2019
ES - Regional Highlights - April 16, 2019
The EIA projects Appalachian output will sequentially grow 353 MMcf/d and 4,000 bo/d in May to 32.215 Bcf/d and 135,000 bo/d. There are 501 DUCs in Appalachia as of March, down by eight compared to February. President Donald Trump issued two executive order that would make it harder to block new pipelines. One order calls for the Environmental Protection Agency to streamline its permitting process, while another gives the president the sole right to issue, deny or amend...
Apr 16, 2019
ES - EQT Midstream Partners Highlights - April 16, 2019
EQT Midstream Partners agreed to acquire a 60% interest in Eureka Midstream Holdings and a 100% interest in Hornet Midstream Holdings from Morgan Stanley Infrastructure Partners. The $1.03 billion transaction, consisting of $860 million in cash and $170 million in assumed debt, was expected to close by April 15. Eureka is a 190-mile gathering system serving the dry gas Utica and wet gas Marcellus shale in Ohio and West Virginia, and Hornet is a 15-mile gathering system feeding into...
Apr 16, 2019
Get more news for Eastern Scout