South Texas Scout
Serving the local market with drilling activities, permits & multiple listings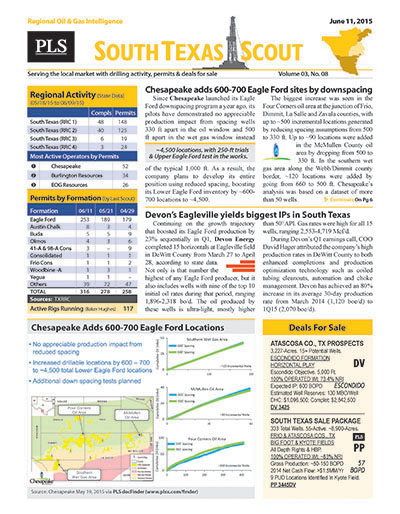 PLS publishes drilling activity in Railroad Districts 1,2,4 and select counties north of 3 through the South Texas Scout. Published every three (3) weeks, this local report covers lead stories on drilling activity, successes and new projects while also reporting on new permits, completions and P&A activity.
Stay in front of local prospects, plays & rigs!
South Texas RRC 1, 2, 4 and north of 3
Hard Copy and Email For 1 Individual
Every 3 Weeks (16-20 issues per year)
Regional discoveries, drilling activity, permits,
completions and summary drilling statistics, layered
with regional listings and business opportunities
Web access to the South Texas Scout archive
Does not include access to MLS
Search PLS' News Archive for complete oil & gas news for South Texas Scout .
See what it is about before you buy. View a sample issue of South Texas Scout.
Need more information? Click the button to recieve more details about the South Texas Scout
Opportunity is a reflection of information.
Call 713-650-1212 For More Information
Search South Texas Scout:

Headline
Publication
News Date
STS - Marathon's latest Atascosa wells validate SW play extension - May 2019
Results of a four-well pad completed and tested by Marathon Oil in the Guajillo area of Atascosa County, Texas, in April further confirm the quality of the company's southwestern Eagle Ford play extension into the county. The Guajillo Unit 16 North #1H to #4H were completed with laterals averaging 6,794 ft and tested at 24-hour initial rates of 3,813 boe/d (90% oil). The top performer, the #4H (6,832-ft lateral) delivered 4,541 boe/d (90% oil), or 665 boe/d per 1,000 lateral ft, on a...
May 02, 2019
STS - SM's second Austin Chalk HZ flowing more than 3,500 boe/d - May 2019
SM Energy completed its second Austin Chalk horizontal in South Texas during Q1. The company is encouraged by the Watson State 167H, which is now flowing at a threestream rate of 3,500 boe/d (55% liquids) from a 12,875-ft effective lateral. The well is located between two producing Eagle Ford wells and is on the same pad as a new Lower Eagle Ford horizontal that came online at the same time. Thus far, the company has not seen any interference. SM's first well targeting the...
May 02, 2019
STS - Regional Highlights - May 02, 2019
The EIA projects that Eagle Ford production will rise 7,000 bo/d and 30 MMcf/d sequentially in May to 1.429 MMbo/d and 6.883 Bcf/d. There are 1,509 DUCs in the Eagle Ford as of March, down by five compared to...
May 02, 2019
STS - Matador Resources Highlights - May 02, 2019
Matador Resources achieved its two highest 24-hour IP rates for wells in far northwest La Salle County, Texas, during Q1. The Lloyd Hurt C #12H and D #13H produced IP24s of 1,201 boe/d (85% oil; 138 boe/d per 1,000 lateral ft) and 968 boe/d (85% oil; 109 boe/d per 1,000 ft) from the Eagle Ford, respectively. In late March, the company also completed and turned to sales the Lloyd Hurt AC-C #26H well, its first Austin Chalk test in La Salle County. This well is still cleaning up and improving...
May 02, 2019
STS - Devon Energy Highlights - May 02, 2019
Devon Energy's Eagle Ford production grew 22% YOY to 50,000 boe/d in Q1. Nine of the Q1 completions averaged initial 30-day rates of 3,100 boe/d from the Lower Eagle Ford. The company also completed its first Austin Chalk well, which is currently in flowback, and launched an initial Eagle Ford refrac program with IP30s averaging 1,300 boe/d per well. The refracked wells are achieving an initial 12x increase in...
May 02, 2019
STS - Pioneer Natural Resources Highlights - May 02, 2019
Pioneer Natural Resources is reportedly in talk to sell its Eagle Ford JV assets to Ensign Natural Resources. The JV is with Reliance Industries, and the sale price, excluding earnout clauses, is projected to be less than $1 billion despite a valuation slightly below $2 billion in February...
May 02, 2019
STS - Penn Virginia grows output 110%, terminates merger - April 2019
Penn Virginia generated strong growth during 2018, with full-year volumes increasing 110% YOY to 21,765 boe/d. The company drilled and turned to sales 53 wells and finished the year with three DUCs. According to RRC data, 50 of the wells had reported IP24 rates that averaged 1,333 boe/d (85% oil), or 183 boe/d per 1,000 lateral ft. Its top performing wells were the Southern Hunter-Amber Unit 1 and 2 in Gonzales County, averaging 2,546 boe/d (87% oil), or 312 boe/d per 1,000 ft, from the Eagle...
Apr 11, 2019
STS - Sundance sets moderate development pace for low-cost growth April 21019
Having slowed drilling during 4Q18 in response to oil price reductions, Eagle Ford driller Sundance Energy Australia plans to maintain a moderate development pace this year.It expects to bring 25 wells online at a capital cost of $135-155 million and increase sales volumes more than 50% YOY at midpoint to a 2019 average of 14,000-15,000 boe/d while operating within cash flow. At this pace, the Australia-listed company says it has 429 drilling locations with full-cycle breakevens below...
Apr 11, 2019
Get more news for South Texas Scout