South Texas Scout
Serving the local market with drilling activities, permits & multiple listings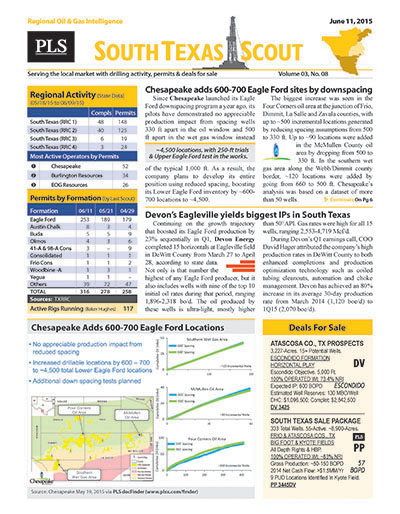 PLS publishes drilling activity in Railroad Districts 1,2,4 and select counties north of 3 through the South Texas Scout. Published every three (3) weeks, this local report covers lead stories on drilling activity, successes and new projects while also reporting on new permits, completions and P&A activity.
Stay in front of local prospects, plays & rigs!
South Texas RRC 1, 2, 4 and north of 3
Hard Copy and Email For 1 Individual
Every 3 Weeks (16-20 issues per year)
Regional discoveries, drilling activity, permits,
completions and summary drilling statistics, layered
with regional listings and business opportunities
Web access to the South Texas Scout archive
Does not include access to MLS
Search PLS' News Archive for complete oil & gas news for South Texas Scout .
See what it is about before you buy. View a sample issue of South Texas Scout.
Need more information? Click the button to recieve more details about the South Texas Scout
Opportunity is a reflection of information.
Call 713-650-1212 For More Information
Search South Texas Scout:

Headline
Publication
News Date
STS - Continuous learning keeps EOG at the top in Eagle Ford - March 2019
Rolling into its 10th year of Eagle Ford development, EOG Resources continues to learn new ways to improve well productivity, find efficiencies and lower costs. The company extended its average lateral length 7% YOY in 2018, primarily on its western acreage where there is less faulting. Wells on the western acreage tend to have lower IP rates but are more cost efficient and have slightly lower decline rates, E&P EVP Ken Boedeker said on the company's year-end conference call. The 82...
Mar 21, 2019
STS - Sanchez reverses production declines on new strategy - March 2019
Eagle Ford-focused Sanchez Energy's operational approach in 2018 sought to stem production declines and improve understanding of its assets, especially Comanche. Through incorporating the results of initial testing, the company reverted to a more conservative choke strategy, implemented a completion optimization strategy and increased artificial lift conversion and workover activity across the entire asset base. By Q4, the strategy began to bear fruit, with production increasing 6% sequentially...
Mar 21, 2019
STS - Regional Highlights - March 21, 2019
The EIA projects Eagle Ford production will sequentially rise 8,000 bo/d and 34 MMcf/d in April to 1.442 MMbo/d and 6.942 Bcf/d. There are 1,543 DUCs in the Eagle Ford as of February, up by 16 compared to...
Mar 21, 2019
STS - Sundance Energy Highlights - March 21, 2019
South Texas-focused Sundance Energy Australia Ltd. grew proves reserves 98% YOY at YE18 to 93.2 MMboe (63% oil; 29% PD). Sundance's all-source reserve replacement ratio for 2018 was ~1,725%, including acquisitions of proved reserves in...
Mar 21, 2019
STS - Lonestar Resources Highlights - March 21, 2019
Lonestar Resources grew its Q4 production 81% YOY to an average 13,152 boe/d (80% liquids), which also beat guidance of 12,600- 12,800 boe/d. The company has entered into an agreement to sell Eagle Ford assets in Wilson County for $12.3 million. The deal includes 3,400 net undeveloped acres, seven PUD locations as of YE18 and 219 boe/d (90% oil) of sales volumes as of February...
Mar 21, 2019
STS - SilverBow Resources Highlights - March 21, 2019
SilverBow Resources has set 2019 capex at $250-260 million, which is a 17% decrease from 2018. The company is targeting 25% production growth at midpoint, with guidance set at 225-239 MMcfe/d. By H2, SilverBow plans to be cash flow...
Mar 21, 2019
STS - Murphy Oil Highlights - March 21, 2019
Murphy Oil has entered an agreement to divest its two Malaysian subsidiaries for $2.1 billion. Of the proceeds, $750 million is earmarked for US oil-weighted opportunities through potential acquisitions and/ or the funding of both deepwater projects and onshore opportunities. The company is focused on the Eagle Ford and...
Mar 21, 2019
STS - Inpex Highlights - March 21, 2019
Japan's largest oil and gas producer, Inpex, has entered an agreement to acquire certain tight oil Eagle Ford assets from GulfTex Energy IV. The acquisition consists of 13,000 net acres with January net production of 7,600 boe/d. The deal marks Inpex's entry into US tight...
Mar 21, 2019
Chesapeake to run 4 rigs on new Brazos Valley position
With integration of WildHorse Energy Development's portfolio well underway, Chesapeake Energy says it is already seeing production stronger than expected and cash flow at lower than expected costs from its new core position, which it has dubbed Brazos Valley. It plans to operate four rigs and two frac crews this year targeting both the Eagle Ford and the Austin Chalk at Brazos Valley, which is centered on Giddings field, in addition to the four rigs and three frac crews it will continue to run...
Feb 28, 2019
Magnolia Oil & Gas dropping a rig at the end of Q1
Magnolia Oil & Gas plans to scale back its South Texas drilling activity because of the recent decline in prices. The company is currently running two rigs in Karnes County. and one in Giddings field, and will continue with those levels throughout Q1 before dropping a rig in Karnes at Q1's end. The reduction will allow the company to stay on track with its goal to keep 2019 D&C capital within 60% of EBITDAX. Activity levels this year are expected to generate modest...
Feb 28, 2019
Get more news for South Texas Scout