South Texas Scout
Serving the local market with drilling activities, permits & multiple listings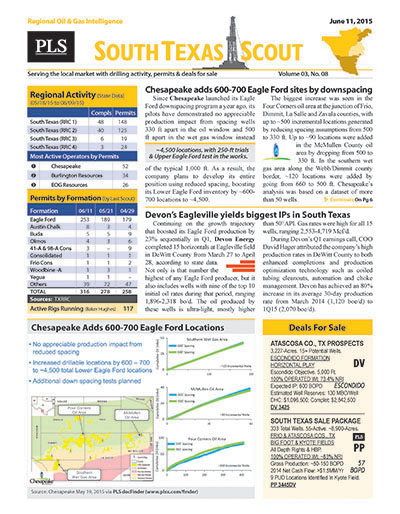 PLS publishes drilling activity in Railroad Districts 1,2,4 and select counties north of 3 through the South Texas Scout. Published every three (3) weeks, this local report covers lead stories on drilling activity, successes and new projects while also reporting on new permits, completions and P&A activity.
Stay in front of local prospects, plays & rigs!
South Texas RRC 1, 2, 4 and north of 3
Hard Copy and Email For 1 Individual
Every 3 Weeks (16-20 issues per year)
Regional discoveries, drilling activity, permits,
completions and summary drilling statistics, layered
with regional listings and business opportunities
Web access to the South Texas Scout archive
Does not include access to MLS
Search PLS' News Archive for complete oil & gas news for South Texas Scout .
See what it is about before you buy. View a sample issue of South Texas Scout.
Need more information? Click the button to recieve more details about the South Texas Scout
Opportunity is a reflection of information.
Call 713-650-1212 For More Information
Search South Texas Scout:

Headline
Publication
News Date
STS - BP scores its best IP24s in Austin Chalk and Eagle Ford - March 26, 2020
BP shale subsidiary BPX Operating completed some its oiliest and strongest producing wells to date in South Texas during 2019. The top performing wells also happen to be some of the company's first Austin Chalk producers in the play. In Karnes County, the A Banduch A Ac #1H was completed with a 5,779- ft effective lateral fracked with 17.2 MMlb of proppant (2,974 lb/ft). During an initial 24-hour test, the well produced 3,969 boe/d (88% oil), or 687 boe/d per 1,000 lateral ft, on a...
Mar 26, 2020
STS - Callon's large Brown Trust pad highlights ops enhancements - March 26, 2020
Even as it reduced its drilling plans in both South Texas and the Permian, Callon Petroleum on March 11 announced the results from a large-scale Eagle Ford project that highlighted the company's successful implementation of optimization of frac design, sequencing and flowback management. The 16-well Brown Trust pad in northern La Salle County came online in the second half of February, and the wells were producing 700 bo/d each from the Eagle Ford on restricted chokes as of mid-March....
Mar 26, 2020
STS- Regional Highlights - March 26, 2020
The US Energy Information Administration projects that Eagle Ford gas production will be flat while oil volumes will fall by 1,000 bo/d sequentially in April to 6.851 Bcf/d and 1.344 MMbo/d. There were 1,360 DUCs in the Eagle Ford as of February, down by 13 from...
Mar 26, 2020
STS - Murphy Oil Highlights - March 26, 2020
Murphy Oil cut its 2020 capex guidance by $500 million, or nearly 35%, to $950 million. The company is releasing its operated rigs and frac crews in the Eagle Ford, and no operated activity is planned in the play for H2. Deferrals will also occur in its Gulf of Mexico and Montney...
Mar 26, 2020
STS - ConocoPhillips Highlights - March 26, 2020
By slowing activity in the Eagle Ford and other Lower 48 plays and deferring drilling in Alaska, ConocoPhillips will reduce its 2020 capex by 10%, or $700 million. Guidance now stands at $5.8- 6.0 billion. Production guidance has been lowered by 20,000 boe/d from the prior target of 1.23-1.27...
Mar 26, 2020
STS - EOG Resources Hightlights - March 26, 2020
EOG Resources reduced its 2020 capital plans by 31% to $4.3-4.7 billion. The company is reducing activity across its portfolio and will focus drilling operations on the Delaware Basin and Eagle Ford. Oil production guidance has been lowered to 446,000-466,000 bo/d, which will be flat...
Mar 26, 2020
STS - Devon Energy Highlights - March 26, 2020
Devon Energy slashed $500 million from its 2020 capex plans and now has guidance set at $1.3 billion. While the $500 million reduction will be spread across its operational areas, the STACK in Oklahoma and the Powder River Basin will see the most substantial cuts. Development activity will be focused on the economic core of its top-tier Delaware Basin and Eagle Ford...
Mar 26, 2020
STS - Penn Virginia Highlights - March 26, 2020
Penn Virginia lowered 2020 capex guidance by 30% to $206.5 million at midpoint. The company's D&C contracts are flexible and generally required 30 days' notice for cancellation. Currently running three rigs, Penn Virginia expects to have one active rig beginning in April and running through...
Mar 26, 2020
STS - SilverBow's execution showing great progress on shift to liquids - March 5, 2020
SilverBow Resources is focused on a "pivot-to-liquids" strategy as the South Texas driller shifts emphasis away from its natural gas-heavy assets. Liquids production more than doubled YOY in 2019, with oil and NGLs accounting for 25% of its 234 MMcfe/d Q4 output compared to 16% of 4Q18's 227 MMcfe/d total. Q4 oil volumes rose 103% YOY to 4,760 bo/d, and SilverBow anticipates that its oil production will reach 10,000 bo/d in 2020. Key to SilverBow's liquids increases are its operations...
Mar 05, 2020
STS - Devon's H2 D&C pushes Eagle Ford volumes above 50,000 boe/d - March 5, 2020
Devon Energy delivered strong Eagle Ford wells during Q4, focusing its activity on western DeWitt County, Texas, within the prolific Karnes Trough. It brought online 21 new wells with initial 30-day flowrates averaging 2,900 boe/d from 6,600-ft laterals, or 439 boe/d per 1,000 lateral ft. Devon was able to bring these wells online following the resolution of a well control incident that impacted Q4 volumes by 9,000 boe/d. The new wells boosted the company's Eagle Ford production to a 2019 exit...
Mar 05, 2020
Get more news for South Texas Scout