South Texas Scout
Serving the local market with drilling activities, permits & multiple listings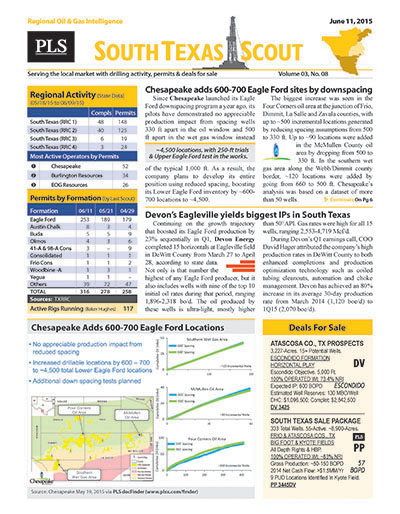 PLS publishes drilling activity in Railroad Districts 1,2,4 and select counties north of 3 through the South Texas Scout. Published every three (3) weeks, this local report covers lead stories on drilling activity, successes and new projects while also reporting on new permits, completions and P&A activity.
Stay in front of local prospects, plays & rigs!
South Texas RRC 1, 2, 4 and north of 3
Hard Copy and Email For 1 Individual
Every 3 Weeks (16-20 issues per year)
Regional discoveries, drilling activity, permits,
completions and summary drilling statistics, layered
with regional listings and business opportunities
Web access to the South Texas Scout archive
Does not include access to MLS
Search PLS' News Archive for complete oil & gas news for South Texas Scout .
See what it is about before you buy. View a sample issue of South Texas Scout.
Need more information? Click the button to recieve more details about the South Texas Scout
Opportunity is a reflection of information.
Call 713-650-1212 For More Information
Search South Texas Scout:

Headline
Publication
News Date
STS - Lonestar sees YOY improvement in Horned Frog completions - July 05, 2019
Lonestar Resources' 2019 wells in the Horned Frog area of La Salle County, Texas, are outperforming 2018 producers per lateral foot and pushing its production to company records each month. Most recently, the Horned Frog F #A1H flowed a three-stream IP rate of 2,387 boe/d (23% oil, 27% NGLs) along its 12,461-ft effective lateral, which was fracked in 42 stages with 2,312 lb of proppant per foot. Another Horned Frog well, the #B1H, flowed 2,607 boe/d (24% oil, 27% NGLs) from a 12,170-ft...
Jul 05, 2019
STS - Marathon 4-well pad in Live Oak County tops 12,000 boe/d - July 05, 2019
After focusing Q1 South Texas completions on Karnes and Atascosa counties, Marathon Oil has shifted some activity to Live Oak County. The company recently reported four completions on the 74 Ranch-Guajillo Unit A pad to the state, all targeting the Eagle Ford. The horizontals averaged 6,736-ft effective laterals and flowed initial 24- hour rates averaging 3,023 boe/d (91% oil), or 449 boe/d per 1,000 lateral ft. The top performer was the 74 Ranch-Guajillo Unit A #2H, which sports a 6,920-ft...
Jul 05, 2019
STS - Regional Highlights - July 05, 2019
The EIA projects that Eagle Ford production will fall by 3,000 bo/d and 17 MMcf/d sequentially in July to 1.39 MMbo/d and 6.801 Bcf/d. There are 1,455 DUCs in the Eagle Ford as of May, down by 24 from...
Jul 05, 2019
STS - NuStar Energy Highlights - July 03, 2018
NuStar Energy is looking to double the capacity of its Valley refined products pipeline system in South Texas to 90,000 bbl/d in an effort to supply northern Mexico. The San Antoniobased company said it has enough commitments to proceed with the project and launched an open season into July 12 for additional commitments. Valley is a 196- mile pipeline from the Corpus Christi area to delivery points in Brownsville, Edinburg and Harlingen. Expected in service durinng Q3, the expansion includes...
Jul 05, 2019
STS - Howard Energy Highlights- July 05, 2019
Howard Energy Partners announced a contract to expand its bulk liquids terminal in Corpus Christi. HEP's terminal in the Port of Corpus Christi currently consists of six tanks with 480,000 bbl of storage, an MR Class ship dock, a 12-inch pipeline with connectivity to six local refineries and unit train loading facilities capable of loading one unit train per day. The terminal is expandable up to 2.5 MMbbl of storage and is already permitted for immediate expansion up to 1.2...
Jul 05, 2019
STS - Archrock Inc Highlights - July 05, 2019
Archrock Inc. is buying substantially all assets of Elite Compression Services from JDH Capital for $410 million in cash and stock, acquiring 430,000 hp of predominantly large-horsepower compression, nearly all of which are under contract. Elite is based in Victoria, just outside the Eagle Ford, where most of its assets...
Jul 05, 2019
STS - Carrizo's multipads push Eagle Ford production upward - June 2019
Carrizo Oil & Gas brought two multipad projects online recently, one in the Pena area and one in the RPG area. Pena is located in La Salle County, Texas, and contains 12 wells, while RPG lies in Atascosa and McMullen counties and is comprised of 21 wells. The 33 wells are split between eight pads. Production from these two projects is exceeding 13,700 boe/d (90% oil) on restricted chokes, which is consistent with Carrizo's expectations. The multipads help to push Carrizo's Q1...
Jun 13, 2019
STS - Matador concludes Eagle Ford program, pleased by results - June 13, 2018
Matador Resources concluded its nine-well, 4Q18-2Q19 Eagle Ford program late in May and has turned all wells to sales. Seven of the nine wells have longer laterals measuring 7,800-10,000 ft. The rig has been released. In Atascosa County, Texas, the Haveriah B #1H and A #2H flowed 24-hour IPs of 1,140 boe/d (94% oil) and 1,310 boe/d (95% oil), respectively. To the west in La Salle County, five wells were completed on the Lloyd Hurts lease. Four of the wells had IP24 rates ranging 820-1,201 boe/d...
Jun 13, 2019
STS - Regional Highlights - June 13, 2019
The EIA projects that Eagle Ford production will fall 1,000 bo/d and 2 MMcf/d sequentially in June to 1.426 MMbo/d and 6.881 Bcf/d. There are 1,488 DUCs in the Eagle Ford as of April. The USGS confirmed four earthquakes in the Eagle Ford shale in late May. A 2.5 magnitude quake was confirmed east of Gonzales, a 3.1 magnitude northwest of Smiley, a 3.1 magnitude south of Westhoff and 3.0 magnitude east of...
Jun 13, 2019
STS - Penn Virginia Highlights - June 13, 2019
Eagle Ford-focused Penn Virginia turned to sales nine wells during Q1 and averaged production of 24,692 boe/d (74% oil), up 53% YOY. The company plans to grow 2019 production 25-30% YOY by utilizing a two-rig program to drill 40 wells, including 20 extended laterals. Guidance has been set at 27,100- 28,300 boe/d for production. Capex is expected to be $345-365 million, down 15% at...
Jun 13, 2019
Get more news for South Texas Scout