South Texas Scout
Serving the local market with drilling activities, permits & multiple listings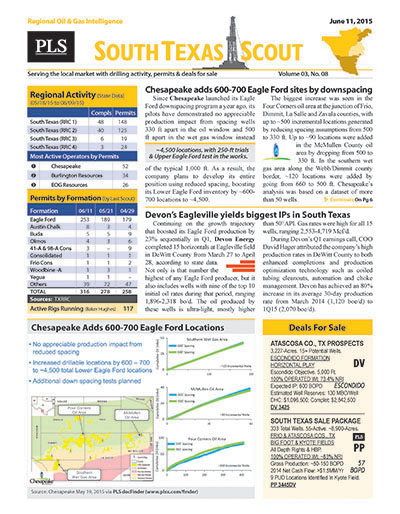 PLS publishes drilling activity in Railroad Districts 1,2,4 and select counties north of 3 through the South Texas Scout. Published every three (3) weeks, this local report covers lead stories on drilling activity, successes and new projects while also reporting on new permits, completions and P&A activity.
Stay in front of local prospects, plays & rigs!
South Texas RRC 1, 2, 4 and north of 3
Hard Copy and Email For 1 Individual
Every 3 Weeks (16-20 issues per year)
Regional discoveries, drilling activity, permits,
completions and summary drilling statistics, layered
with regional listings and business opportunities
Web access to the South Texas Scout archive
Does not include access to MLS
Search PLS' News Archive for complete oil & gas news for South Texas Scout .
See what it is about before you buy. View a sample issue of South Texas Scout.
Need more information? Click the button to recieve more details about the South Texas Scout
Opportunity is a reflection of information.
Call 713-650-1212 For More Information
Search South Texas Scout:

Headline
Publication
News Date
STS - Marathon increases productivity, lowers Eagle Ford costs - February 13, 2020
During 2019, Marathon Oil achieved record productivity and lower well costs in the Eagle Ford. Initial 180-day oil productivity was up 8% compared to 2018 and IP30 oil rates were the highest in company history during Q3 and Q4. With laterals averaging 6,400 ft, Q4 completed well costs came to $5.1 million or ~$800/ft, which was down 8% versus 2018. Marathon brought online 29 operated wells during Q4 in Karnes, Atascosa and Gonzales counties, Texas. Its Eagle Ford production during the quarter...
Feb 13, 2020
STS - Murphy lays out higher Eagle Ford spend in 2020 - February 13, 2020
In 2020, Murphy Oil plans to increase Eagle Ford spending 13% YOY to $680 million. Activity will include drilling 91 wells and turning to sales 97 operated wells, primarily in the Karnes and Catarina areas. The company will also participate in the drilling of 46 and bringing online of 59 non-operated Eagle Ford wells in the Karnes and Tilden areas, with working interests averaging 24%. Murphy plans to bring online 14 new wells in Q1. Eagle Ford volumes are expected to average 50,000 boe/d for...
Feb 13, 2020
STS - Regional Highlights - February 13, 2020
The EIA projects that Eagle Ford production will fall by 7,000 bo/d and 39 MMcf/d sequentially in February to 1.369 MMbo/d and 6.804 Bcf/d. There were 1,427 DUCs in the Eagle Ford as of December, down by 15 from...
Feb 13, 2020
STS - EnCap Flatrock Midstream Highlights - January 23, 2020
EnCap Flatrock Midstreambacked Ironwood Midstream Energy Partners II closed its acquisition of South Texas assets owned and operated by Twin Eagle Gardendale Pipeline. The assets consist of the Gardendale and Asherton crude gathering systems, with about 150 miles of active pipelines with connections to long-haul pipelines of Plains All American Pipeline, Harvest Pipeline Co., NuStar Logistics and...
Feb 13, 2020
STS - Chesapeake Energy Highlights - February 13, 2020
Chesapeake Energy's Q4 Eagle Ford production averaged 104,000 boe/d (58% oil), recovering from a Q3 low. Volumes were down 1,000 boe/d compared to 4Q18. A blowout and fire in late January at the company's Wendl and Daniel H1H wellsite in Burleson County killed three people and hospitalized another. The fire was put out a day...
Feb 13, 2020
STS - Noble Energy Highlights - February 13, 2020
Noble Energy laid out 2020 plans including no new D&C activity in the Eagle Ford. The company says its position in the play has limited inventory and there is likely only a couple of years of locations left. Production is on the decline, but the company benefits from the cash flow it generates. During Q4, Noble's Eagle Ford production averaged 52,000 boe/d (15% oil, 40% NGLs), down 5% YOY. The company took a $1.16 billion charge related to its Eagle Ford assets in...
Feb 13, 2020
STS - Earthstone Energy Highlights - February 13, 2020
Earthstone Energy drilled, completed and turned to sales 10 Eagle Ford wells (51% WI) in southern Gonzales County, Texas, during 2019. All of these wells came online in Q4. The company plans to direct its 2020 capex toward the Midland...
Feb 13, 2020
STS - Welder Reserve Fund I LP Highlights - February 13, 2020
Welder Reserve Fund I LP is marketing South Texas conventional assets in Live Oak County covering 1,117 acres held with 100% WI (76% NRI) and PDP reserves of 400,000 boe (75% oil). There are 19 wells, of which eight are producing and 11 are shut in. Net production in December was 137 boe/d (62% oil), which generated monthly net cash flow of $90,000. (Enverus Deal ID:...
Feb 13, 2020
STS - Ensign's first wells deliver 341 bo/d per 1,000 ft in gassy area - January 23, 2020
South Texas pure-play Ensign Natural Resources completed three Eagle Ford wells on the Metting Neutzler 01 pad in DeWitt County during Q4, marking its first operated activity in the play. The wells averaged 3,969-ft effective laterals fracked with varying proppant loads ranging 5.6-9.7 MMlb (1,404-2,452 lb per lateral ft). Initial 24- hour test rates ranged 15.9-17.3 MMcfe/d (49% oil) on ~20/64-inch chokes at an average 6,360 psi FTP. While the wells are classified as gas wells, they delivered...
Jan 23, 2020
STS - Marathon flows 715 boe/d per 1,000 ft from first 2020 completion - January 23, 2020
Marathon Oil kicked off the first day of 2020 by completing a strong well in Karnes County, Texas. The Wingnut Unit 'B' #6H tested at an initial 24-hour rate of 4,234 boe/d (87% oil) from the Eagle Ford on a 28/64-inch choke at 4,169 psi FTP. Given its 5,923-ft effective lateral, the well delivered 715 boe/d per 1,000 lateral ft. This is a top-tier result for the company in the Eagle Ford. Marathon also flow-tested five wells on the Carpenter-Thompson Unit, of which three were new and...
Jan 23, 2020
Get more news for South Texas Scout