South Texas Scout
Serving the local market with drilling activities, permits & multiple listings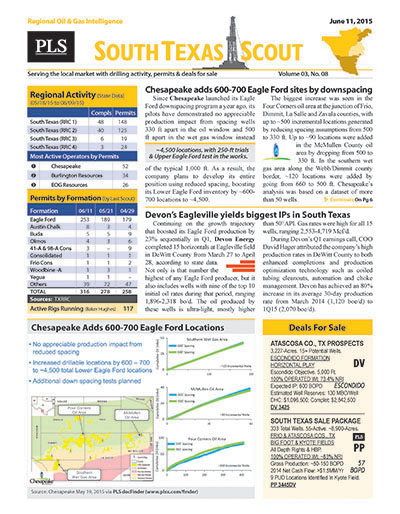 PLS publishes drilling activity in Railroad Districts 1,2,4 and select counties north of 3 through the South Texas Scout. Published every three (3) weeks, this local report covers lead stories on drilling activity, successes and new projects while also reporting on new permits, completions and P&A activity.
Stay in front of local prospects, plays & rigs!
South Texas RRC 1, 2, 4 and north of 3
Hard Copy and Email For 1 Individual
Every 3 Weeks (16-20 issues per year)
Regional discoveries, drilling activity, permits,
completions and summary drilling statistics, layered
with regional listings and business opportunities
Web access to the South Texas Scout archive
Does not include access to MLS
Search PLS' News Archive for complete oil & gas news for South Texas Scout .
See what it is about before you buy. View a sample issue of South Texas Scout.
Need more information? Click the button to recieve more details about the South Texas Scout
Opportunity is a reflection of information.
Call 713-650-1212 For More Information
Search South Texas Scout:

Headline
Publication
News Date
STS - Chesapeake reaches oil production record at Brazos Valley - November 7, 2019
Chesapeake Energy continues to make improvements in its Brazos Valley operations. Well costs are down 21% since the beginning of the year to $830 per ft, with lateral lengths averaging more than 9,000 ft. Through its well optimization and workover program, base field declines were improved, which helped to push October oil production to a record 40,000 bo/d. The previous high oil rate for Brazos Valley assets was set by prior operator WildHorse Resource Development in November 2018 when it was...
Nov 07, 2019
STS - Devon eyes Eagle Ford redevelopment & refrac spacing tests - November 7, 2019
Recent appraisal initiatives have Devon Energy seeing an expanding resource opportunity in the Eagle Ford. Initial redevelopment wells have averaged 30-day rates of 2,200 boe/d, and the company has identified more than 200 risked refrac locations that effectively compete for capital. Two 2019 refracs in DeWitt County, Texas, the Muir C 4H and Krause B 2H, delivered strong IP30 uplifts of 1,400 boe/d and 1,250 boe/d, respectively. Devon plans to conduct redevelopment and refrac spacing tests in...
Nov 07, 2019
STS - Regional Highlights - November 7, 2019
The EIA projects that Eagle Ford production will fall by 12,000 bo/d and 38 MMcf/d sequentially in November to 1.366 MMbo/d and 6.853 Bcf/d. There were 1,444 DUCs in the Eagle Ford as of September, down by 24 from...
Nov 07, 2019
STS - Murphy Oil Highlights - November 7, 2019
In Q3, Murphy Oil's Eagle Ford production averaged 51,000 boe/d (80% oil), up 16% sequentially. The company drilled and completed 10 Tilden wells and 15 Catarina wells during the quarter. The Tilden wells targeted the Lower Eagle Ford and had average initial 30-day rates of 1,300 boe/d. The Catarina wells were brought online late in the quarter with production continuing to ramp...
Nov 07, 2019
STS - SM Energy Highlights - November 7, 2019
SM Energy's efforts to drive South Texas value and inventory through more efficient well design and testing the higher-liquids, highermargin Austin Chalk are showing success. One Austin Chalk test, the Galvan Ranch B904H, produced a peak 24-hour three stream rate of 3,900 boe/d (28% oil) and initial 30-day rate of 3,599 boe/d from an 11,306- ft lateral. This is the company's best South Texas oil well drilled to date. The Briscoe C State 108H, also targeting the Austin Chalk, averaged an IP30 of...
Nov 07, 2019
STS - Sundance Energy Highlights - November 7, 2019
South Texas-focused Sundance Energy Australia Ltd. has completed its 2019 drilling program and will not activate a rig until January. Notable events in Q3 include spudding its first development pad, the Washburn Ranch, in La Salle County, Texas. In Atascosa County, the company drilled the two-well Justin Tom pad with 12,700-ft effective laterals, which the company says are among the longest in the county. Q3 production averaged 13,600 boe/d (64% oil), up 22%...
Nov 07, 2019
STS - Eagle Ford activity falls, but well productivity on the rise - October 17, 2019
Eagle Ford production is forecast to fall 11,540 bo/d and 38.1 MMcf/d sequentially in October to totals of 1.38 MMbo/d and 6.85 Bcf/d, according to the EIA Drilling Productivity Report. If correct, oil and gas volumes from the play will have fallen six out of 10 months in 2019. Oil volumes will be down 34,606 bo/d compared to December 2018, and gas volumes will have fallen 93.2 MMcf/d in the same period. Considering the 2018 and 2019 trend of shifting capex toward the Permian, volumes...
Oct 17, 2019
STS - Dallas Fed survey shows oil & gas activity declines in Q3 - October 17, 2019
Oil and gas sector activity in the 11th Federal Reserve District, which covers Texas, northern Louisiana and southern New Mexico, declined in Q3, according to a survey of 108 E&P companies and 55 service providers by the Dallas Fed. The business activity index fell to -7.4 in Q3 from -0.6 in Q2. Negative survey readings indicate contraction; those above zero suggest expansion. Oilfield services firms drove the decline, with their business activity index slumping to -21.8 from 6.6. Among...
Oct 17, 2019
STS - EP Energy Highlights - October 17, 2019
South Texas-focused EP Energy voluntarily filed petitions for Chapter 11 reorganization on Oct. 3. EP intends to use this process to reduce its debt significantly, strengthen its balance sheet and better position the company for the long...
Oct 17, 2019
STS - Enterprise Products Partners Highlights - October 17, 2019
Enterprise Products Partners secured enough long-term agreements to support a further expansion of the Midland-to-ECHO crude oil pipeline system. Enterprise will build a pipeline that connects its 6 MMbbl Midland, Texas, storage facility to its ECHO Terminal through its Eagle Ford system in South Texas. This pipeline will have an initial capacity of 450,000 bo/d, expandable to 540,000...
Oct 17, 2019
Get more news for South Texas Scout