Permian Scout
Serving the local market with drilling activities, permits & multiple listings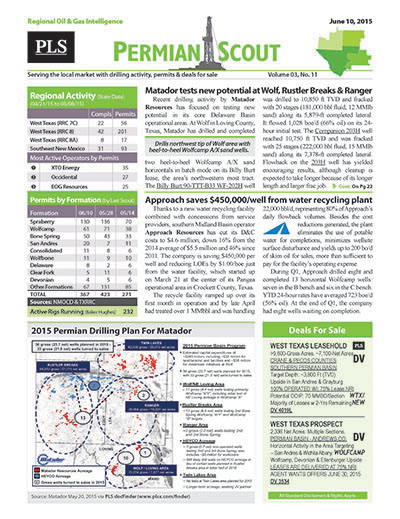 PLS publishes exploration news and drilling insights in West Texas and Southeast New Mexico through our Permian Scout.
Published every two (2) weeks, this regional report (RRC 7C, 8, & 8A) includes lead stories on drilling activity, successes and new projects while also reporting on drilling rigs, new permits, completions and P&A activity.
Stay in front of local prospects, plays & rigs!
West Texas, Southeast New Mexico
Hard Copy and Email For 1 Individual
Every 2 Weeks (22-25 issues per year)
Regional discoveries, drilling activity, permits,
completions and summary drilling statistics, layered
with regional listings and business opportunities.
Web access to the Permian Scout archive.
Does not include access to MLS
Search PLS' News Archive for complete oil & gas news for Permian Scout .
See what it is about before you buy. View a sample issue of Permian Scout.
Need more information? Click the button to recieve more details about the Permian Scout
Opportunity is a reflection of information.
Call 713-650-1212 For More Information
Search Permian Scout:

Headline
Publication
News Date
PS -Conoco delivers strong IP24 from 10,000-ft Wolfcamp lateral - April, 1, 2020
In Lea County, New Mexico, ConocoPhillips completed a Wolfcamp horizontal that delivered one of its best initial 24-hour rates in the Permian Basin to date, based on available state data. The Zia Hills 19 Federal Com #109H was completed with a 10,052-ft effective lateral and produced an IP24 of 3,205 boe/d (63% oil), or 319 boe/d per 1,000 lateral ft, on a 40/64-inch choke. On the same pad, the Zia Hills 19 Federal Com #110H flowed at a less impressive rate of 778 boe/d (57% oil) from a...
Apr 01, 2020
PS - Devon delivers 603 boe/d per kft from Wolfcamp at Tomb Raider - April 1, 2020
Devon Energy has brought another well online at its Tomb Raider development in the Todd area of Eddy County, New Mexico. Completed in late February, the Tomb Raider 12 1 Federal #611H delivered an initial 24-hour rate of 5,935 boe/d (68% oil) from a 9,843-ft effective lateral in the Wolfcamp, or 603 boe/d per 1,000 lateral ft. During 2019, Devon completed five wells at Tomb Raider with initial 30-day rates averaging 2,400 boe/d: one 4,700-ft lateral targeting the Bone Spring flowed an...
Apr 01, 2020
PS - Apache Corp. Highlights - April 1, 2020
Apache Corp. made additional cuts to its 2020 capital budget on March 27. The company has reduced total capex by a total of $1.3 billion, or 54%, compared to 2019, and will save $340 million annually by reducing its dividend to $0.025/share from $0.25/share. On March 30, Apache doubled its targeted G&A and LOE cost reduction to more than $300 million; $225 million of the identified savings, which include the impact of severance and reorganization costs, will be achieved in...
Apr 01, 2020
PS - Centennial Resource Highlights - April 1, 2020
Centennial Resource Development shifted from a fiverig program at the end of February to one rig currently. Previously, the company had planned to go to a fourrig program by April and maintain that through year's end. If the current onerig program is maintained through year's end, the reduction will reduce capex by 50% to around $320...
Apr 01, 2020
PS - Rosehill Resources Highlights - April 1, 2020
In light of deteriorating global markets and commodity prices, Rosehill Resources is withdrawing its 2020 capex guidance of $155- 175 million issued Dec. 16—90% of which was allocated to drilling and completions. The company has halted all D&C activity for the remainder of the year, leaving it with five DUCs in Loving County, Texas, and eight wells completed this...
Apr 01, 2020
PS - Diamondback Energy Highlights - April 1, 2020
Diamondback Energy expects to produce 295,000-310,000 boe/d in 2020, including 183,000-193,000 bo/d. Oil guidance is down from previous guidance of 205,000-215,000 bo/d. The company anticipates spending $1.5-1.9 billion, down $1.2 billion at midpoint compared to guidance set before the oil rout. Diamondback plans to exit Q3 operating eight drilling rigs and exit 2020 operating seven, compared to 19 currently. After returning from a one- to three-month frac holiday, the company plans to operate...
Apr 01, 2020
PS - Permian operators slash 2020 plans as oil market craters - March 18, 2020
The economic implications of the novel coronavirus and the oil price war initiated between Saudi Arabia and Russia have sent oil markets on a downward spiral. WTI settled at $20.37/bbl on March 18, dropping 24% on the day and 56% in the last two weeks. Shale operators across the US have acted swiftly to adjust 2020 plans and protect balance sheets. In the Permian, everyone is cutting back. Parsley Energy revised its baseline capex assumption from $50/bbl WTI to $30- $35/bbl for the...
Mar 18, 2020
PS - Chevron drives Delaware Basin productivity higher with latest pad - March 4, 2020
Chevron delivered some of its strongest initial well productivity to date in the Permian during Q4, particularly on a pad in Lea County, New Mexico. The SD EA 29 32 Federal Com P10 #18H, #19H and #20H were completed with effective laterals averaging 7,211 ft and produced IP24s of 3,695 boe/d (74% oil) from the Wolfcamp, or 512 boe/d per 1,000 lateral ft. The top-performing well, the #19H, set an IP24 record for the company, flowing 4,269 boe/d (76% oil) at 2,000 psi FCP from a 7,146-ft...
Mar 04, 2020
PS - Oxy drastically improves operations on Anadarko acreage - March 4, 2020
On the Texas Delaware Basin acreage it acquired as part of its purchase of Anadarko Petroleum last year, Occidental Petroleum is recovering more barrels per section with fewer wells and lowering costs utilizing its proprietary development approach. The Anadarko method used a higher density of wells with landing zones in the Wolfcamp X, Y and A. Oxy's method uses 14% fewer wells per section and targets the Third Bone Spring, Wolfcamp Y and Wolfcamp A. Recovery is estimated to be 7% higher....
Mar 04, 2020
PS - Regional Highlights - March 4, 2020
The EIA projects that Permian production will rise by 39,000 bo/d and 198 MMcf/d sequentially in March to 4.855 MMbo/d and 16.983 Bcf/d. There were 3,504 DUCs in the Permian as of January, up by 14 compared to...
Mar 04, 2020
Get more news for Permian Scout