Permian Scout
Serving the local market with drilling activities, permits & multiple listings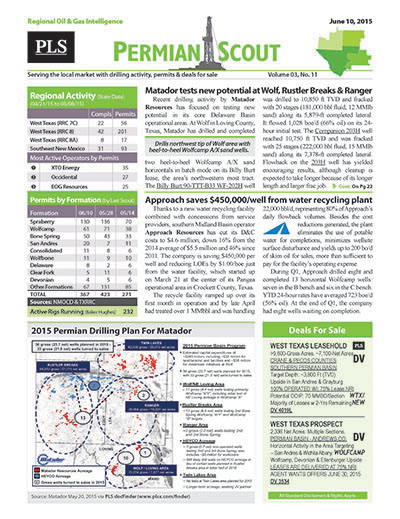 PLS publishes exploration news and drilling insights in West Texas and Southeast New Mexico through our Permian Scout.
Published every two (2) weeks, this regional report (RRC 7C, 8, & 8A) includes lead stories on drilling activity, successes and new projects while also reporting on drilling rigs, new permits, completions and P&A activity.
Stay in front of local prospects, plays & rigs!
West Texas, Southeast New Mexico
Hard Copy and Email For 1 Individual
Every 2 Weeks (22-25 issues per year)
Regional discoveries, drilling activity, permits,
completions and summary drilling statistics, layered
with regional listings and business opportunities.
Web access to the Permian Scout archive.
Does not include access to MLS
Search PLS' News Archive for complete oil & gas news for Permian Scout .
See what it is about before you buy. View a sample issue of Permian Scout.
Need more information? Click the button to recieve more details about the Permian Scout
Opportunity is a reflection of information.
Call 713-650-1212 For More Information
Search Permian Scout:

Headline
Publication
News Date
PS - Pioneer Wolfcamp D pad flows 511,000 boe in 180 days - September 4, 2019
Pioneer Natural Resources gave an update on its Wolfcamp D appraisal program, noting that a two-well pad completed in early Q1 in western Glasscock County continues to deliver strong results. Having come online at 24-hour rates averaging 4,100 boe/d apiece, the wells have cumulatively produced a total of 511,000 boe (66% oil) or 255,500 boe apiece in their first 180 days, outperforming four similar Wolfcamp D wells completed in the area since 2013 by 82%. Pioneer has completed three...
Sep 04, 2019
PS - Callon sees cost savings from simultaneous operations - September 4,2019
During Q2, Callon Petroleum brought online the first multi-zone mega-pad utilizing simultaneous operations in the Delaware basin. The Wolfcamp A and B co-development saw significant improvements in D&C costs, with total well costs of less than $1,100 per lateral ft. The operation used 1.6 MMbbl of recycled water, which provided significant savings in addition to the reductions achieved through the simultaneous D&C method. This technique will be the cornerstone of 2020 development. The...
Sep 04, 2019
PS - Regional Highlights - September 4, 2019
The EIA projects that Permian production will rise by 75,000 bo/d and 240 MMcf/d sequentially in September to 4.423 MMbo/d and 14.86 Bcf/d. There are 3,999 DUCs in the Permian as of July, up by nine compared to...
Sep 04, 2019
PS - ExxonMobil Highlights - September 4, 2019
In its Q2 Permian program, ExxonMobil increased production 20% sequentially and 90% YOY to 274,000 boe/d. The company brought 67 wells online in Q2 and is now running 51 rigs and 12 frac crews in the...
Sep 04, 2019
PS - Ring Energy Highlights - Septmber 4, 2019
In the first half of Q3, Ring Energy drilled six 1-mile laterals targeting the San Andres on the Northwest Shelf. Two of those wells are waiting on completion and four are in flowback at rates of 400-500 boe/d. Two other wells that were awaiting completion at the end of Q2 are now online and flowing 360 boe/d and 320 boe/d. Seven other wells that were at the initial stages of testing in Q2 have delivering 265-528 boe/d (averaging 400 boe/d) but have not achieved stabilized IP...
Sep 04, 2019
PS - Concho Resources Highlights - September 4, 2019
Concho Resources agreed to sell its assets on the Northwest Shelf to KKR-backed Spur Energy Partners for $925 million. The assets cover 70,000 net acres in Eddy and Lea counties, New Mexico, and produce 25,000 boe/d from 2,500 operated wells. Closing is expected in...
Sep 04, 2019
PS - Houston American Energy - September 4, 2019
Houston American Energy signed an agreement to participate in a new drilling program targeting the San Andres on the Northwest Shelf. The company will acquire 20% WI in an existing 5,871-gross-acre block by funding 26.667% of the costs of an initial test well. The agreement also defines an AMI on 20,367 acres. The JV partners will have the right to participate, at cost, in any interest acquired in the AMI over the following five...
Sep 04, 2019
PS - EOG Resources Highlights - August 22, 2019
In Reeves County, Texas, EOG Resources' State Mayfly Unit #10H was completed with a 10,237- ft lateral using 24.2 MMlb of proppant. During an initial test, the well flowed a 24-hour rate of 3,499 boe/d (49% oil), or 342 boe/d per 1,000 ft. This is a strong oil rate of the company in the...
Aug 22, 2019
PS - Targa Resources Highlights - August 22, 2019
Targa Resources started deliveries in August on the Grand Prix NGL pipeline. The line is consistently flowing 150,000-170,000 bbl/d to Mont Belvieu, Texas. Targa expects volumes to increase to 200,000 bbl/d in September, with further increases later in the year as shortterm third-party transportation arrangements continue to roll off and additional gathering and processing facilities come online. The pipeline's total capacity out of the Permian is 300,000...
Aug 22, 2019
PS - Viper Energy Partners Highlights - August 22, 2019
Viper Energy Partners struck a $700 million cash and stock dropdown transaction to acquire Permian mineral and royalty interests from sponsor Diamondback Energy. The deal solidifies Viper's growth profile by boosting from 38% to 52% the percentage of its acreage operated by Diamondback, which owns Viper's general partner and 59% of its limited partnership interests. Viper is acquiring an average 3.2% NRI on 150,000 gross acres, or 5,090 net royalty acres, in the Midland Basin and Delaware basin...
Aug 22, 2019
Get more news for Permian Scout