Permian Scout
Serving the local market with drilling activities, permits & multiple listings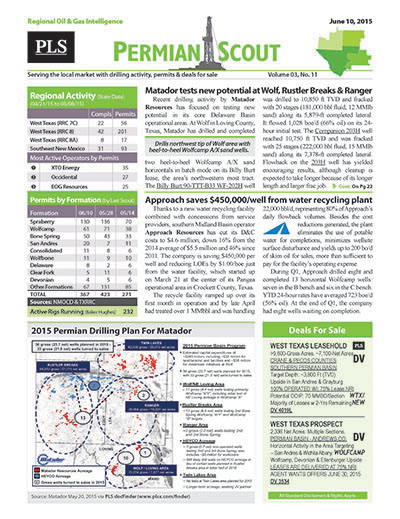 PLS publishes exploration news and drilling insights in West Texas and Southeast New Mexico through our Permian Scout.
Published every two (2) weeks, this regional report (RRC 7C, 8, & 8A) includes lead stories on drilling activity, successes and new projects while also reporting on drilling rigs, new permits, completions and P&A activity.
Stay in front of local prospects, plays & rigs!
West Texas, Southeast New Mexico
Hard Copy and Email For 1 Individual
Every 2 Weeks (22-25 issues per year)
Regional discoveries, drilling activity, permits,
completions and summary drilling statistics, layered
with regional listings and business opportunities.
Web access to the Permian Scout archive.
Does not include access to MLS
Search PLS' News Archive for complete oil & gas news for Permian Scout .
See what it is about before you buy. View a sample issue of Permian Scout.
Need more information? Click the button to recieve more details about the Permian Scout
Opportunity is a reflection of information.
Call 713-650-1212 For More Information
Search Permian Scout:

Headline
Publication
News Date
PS - Marathon advances Delaware Basin development & delineation - February 19, 2020
Early development of the Upper Wolfcamp in Marathon Oil's Malaga area in Eddy County, New Mexico, yielded strong results last year. Twenty-two wells in the 2019 program achieved a 30% improvement in initial 30-day rates compared with 2018, flowing an average 1,780 boe/d (63% oil), or 370 boe/d per 1,000 ft. These increases were achieved at D&C costs that were 15% lower than for the 2018 wells. The company also has completed three Bone Spring wells at Malaga with 30-day rates averaging 2,090...
Feb 19, 2020
PS - Noble drastically improves Delaware operations and economics - February 19, 2020
Noble Energy made notable improvements in cost structure and well productivity on its Delaware Basin acreage in 2019. Q4 well costs continued to decrease, with savings of more than $3 million per well, normalizing to 7,500-ft laterals, compared to 4Q18. During the same period, LOEs per boe saw a 31% decrease. Contributing to the falling costs was a boost in efficiencies. Q4 drilling times averaged 15 days for 8,430-ft laterals, which is more than a 45% improvement compared to 1Q19. Completion...
Feb 19, 2020
PS - Regional Highlights - February 19, 2020
The EIA projects that Permian production will rise by 39,000 bo/d and 198 MMcf/d sequentially in March to 4.855 MMbo/d and 16.983 Bcf/d. There were 3,504 DUCs in the Permian as of January, up by 14 compared to...
Feb 19, 2020
PS - Earthstone Energy Highlights - February 19, 2020
Earthstone Energy set 2020 capex 21% lower YOY at $160-170 million, with $145-155 million allocated to drilling and completions. The plan assumes a one-rig program in the Midland Basin and the turning to sales of 19 operated wells (85% WI) and 3.1 net non-operated wells. Production is forecast to grow by 20% YOY to 15,500-16,500 boe/d (64%...
Feb 19, 2020
PS - Laredo Petroleum Highlights - February 19, 2020
Laredo Petroleum bolted on 1,100 net acres in Howard County, Texas, for $22.5 million. The package includes 24 net (10 gross) locations across the Lower Spraberry, Upper Wolfcamp and Middle Wolfcamp. The move increased Laredo's working interest on its operated acreage to a pro forma...
Feb 19, 2020
PS - Enterprise Products Partners Highlights - February 19, 2020
Enterprise Products Partners will own a 29% undivided joint interest in the 1.5 MMbo/d Wink to Webster pipeline, a Permian crude long-haul being built by a JV that includes Plains All American Pipeline and ExxonMobil. As part of the agreement, the Midlandto-ECHO 3 project, Enterprise's planned pipeline to its Enterprise Crude Houston (ECHO) terminal, will be folded into the system. The combination cuts takeaway planned for 2020 by 450,000 bo/d as some worry about slowing crude production growth...
Feb 19, 2020
PS - Alpine Energy Capital Highlights - February 19, 2020
Alpine Energy Capital entered a stalking-horse agreement to acquire the assets of Approach Resources via a bankruptcy sale. Approach holds 113,000 net acres primarily in Crockett and Schleicher counties, Texas. Q3 production was 9,380 boe/d (22% oil, 36% NGLs) from 792 producing wells (100% operated). Proved reserves as of YE18 were 180.1 MMboe (37%...
Feb 19, 2020
PS - EOG Wolfcamp well gushes 15,073 boe/d from 2-mile lateral - February 5, 2020
EOG Resources brought online a trio of stellar Wolfcamp producers in Loving County, Texas, at the end of 3Q19, according to the latest state data. Located on the McGregor D Unit, the #5H well produced an initial 24-hour rate of 15,073 boe/d (76% oil) on a very large 1.6-inch choke at 1,740 psi FCP. Based on this well's 9,997-ft effective lateral, that IP rate amounts to 1,508 boe/d per 1,000 lateral ft. This is a record rate for not only the Texas part of the Delaware Basin, but the entire...
Feb 05, 2020
PS - Devon Energy turns in some purr-suasive Lea County IPs - February 5, 2020
In the Delaware Basin, Devon Energy expected to bring online a number of highimpact projects in 4Q19, including Cat Scratch Fever Phase II in the Todd area of Lea County, New Mexico. This project is comprised of 10 wells targeting the Second Bone Spring that directly offset Phase I to the southeast. Despite geologic mapping indicating a thinning of pay to the east of Phase I, Devon expects Phase II to be "more special" and "more prolific." For reference, Phase I consisted of 10 wells averaging...
Feb 05, 2020
Get more news for Permian Scout