Ark-La-Tex Scout
Serving the local market with drilling activities, permits & multiple listings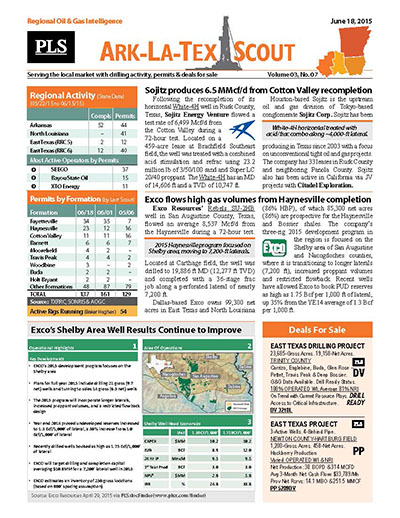 PLS publishes exploration news and drilling insights in Arkansas, Louisiana and East Texas through our Ark-La-Tex Scout. A famed area with significant of oil and gas history- this Region- known for East Texas stacked pays (Smackover, Bossier Sand, Cotton Valley, Travis Peak, Woodbine, Glen Rose, Rodessa, Pettit, James Lime, Edwards, Georgetown); Arkansas's shales (Brown Dense & Fayetteville) and North Louisiana's gas (Hosston & Haynesville) is still a core area for many operators from Dallas to Shreveport.
Stay in front of local prospects, plays & rigs!
Arkansas, Louisiana, East Texas
Hard Copy and Email For 1 Individual
Every 3 to 4 Weeks (12-16 issues per year)
Regional discoveries, drilling activity, permits,
completions and summary drilling statistics, layered
with regional listings and business opportunities
Web access to the Ark-La-Tex Scout archive
Does not include access to MLS
Search PLS' News Archive for complete oil & gas news for Ark-La-Tex Scout .
See what it is about before you buy. View a sample issue of Ark-La-Tex Scout.
Need more information? Click the button to recieve more details about the Ark-La-Tex Scout
Opportunity is a reflection of information.
Call 713-650-1212 For More Information
Search Ark-La-Tex Scout:

Headline
Publication
News Date
ALT - Indigo crosses 1 Bcfe/d threshold, leading N. Louisiana pack - April 18, 2019
Private Houston driller Indigo Natural Resources says it reached a milestone of 1 Bcfe/d net production in March (1.4 Bcfe/d gross), making it the largest gas producer in North Louisiana. Throughput on the M5 Louisiana gathering system, which is 50% owned by Indigo and runs through the core of its acreage, increased to 1.0 Bcf/d in April. The company also announced that it increased proved reserves to 4.7 Tcfe at YE18 while maintaining 3P reserves at 16.0 Tcfe. Founder and executive...
Apr 18, 2019
ALT - EXCO gets back in the game, scores a company best - April 18, 2019
Exco Resources took a hiatus from completing Haynesville wells at the end of 1Q18. The company had filed for bankruptcy in January of that year and considered selling substantially all of its assets. EXCO has continued as a going concern and resumed completing wells again at YE18. Since then, the company has reported five completions to the state, including one well that delivered an initial 24-hour rate that is a company best in the Ark-La-Tex region. Located in DeSoto Parish, the...
Apr 18, 2019
ALT - Regional Highlights - April 18, 2019
The EIA projects Haynesville production will sequentially rise 232 MMcf/d in May to 10.754 Bcf/d. There are 212 DUCs in the Haynesville as of March, up by one compared to February. Five upstream deals were announced in the Ark-La-Tex region during Q1. Four had disclosed values totaling $29.6...
Apr 18, 2019
ALT - Chesapeake Energy Highlights - April 18, 2019
In Caddo Parish, Chesapeake Energy's Sentell 2&11-14-16HC #001- ALT was completed with a 9,955-ft effective lateral and tested at an initial 24-hour rate of 36.2 MMcf/d from the Haynesville in Bethany Longstreet field on a 33/64-inch choke at 7,366 psi FCP. This is a top-tier well for the...
Apr 18, 2019
ALT - Indigo Natural Highlights - April 18, 2019
In DeSoto Parish, Indigo Natural Resources' Hesser 23&14- 11-11 HC #003-ALT flowed an IP24 of 31.5 MMcf/d from a 7,297-ft lateral in the Haynesville on a 28/64-inch choke at 8,362 psi FCP. This is an IP24 record for the...
Apr 18, 2019
ALT - EIG Global Highlights - April 18, 2019
EIG Global Energy Partnersbacked Maverick Natural Resources has acquired an additional 50% nonoperated working interest in certain East Texas assets. Post-transaction, Maverick holds 100% WI in these assets. The package covers 7,600 net acres and has 2,700 boe/d (28% liquids) net production from the Cotton...
Apr 17, 2019
ALT - O'Ryan Oil and Gas Highlights - April 18, 2019
O'Ryan Oil and Gas has retained Detring Energy Advisors to assist in the sale of certain oil and gas leasehold, midstream and related Smackover assets in East Texas. O'Ryan will give preference to cash offers but will also consider alternative structures, including joint venture and farm-in proposals. The package covers 9,190 net acres (100% WI) in Navarro and Henderson counties and includes 32 identified locations, 1P reserves of 8 MMboe as of April 1 and net PDP production of 750...
Apr 17, 2019
ALT - Haynesville on track to reach record output in May - March 2019
The Haynesville shale region is set to reach record output in Q2. According to the EIA Drilling Productivity Report, Haynesville production is projected to rise 182 MMcf/d sequentially to 10.523 Bcf/d in April. The region's output peaked in November 2011 at 10.561 Bcf/d and, if the trend over the last 12 months holds, production will likely surpass that this May. Over the last year, average monthly volume increases have averaged 178 MMcf/d. If the April estimate is correct, production...
Mar 28, 2019
ALT - Sabine tallies its top performers in Panola County - March 2019
Sabine Oil & Gas' Carthage field assets in Panola County, Texas, are delivering its best IP rates with horizontal wells targeting the Haynesville. In early February, the company tallied its second- and third-best IP24s to date. Completed with a 9,361-ft lateral, the Jester Gas Unit #1H tested at an initial 24- hour rate of 26,494 Mcf/d on a 30/64-inch choke at 6,367 psi FCP. And the Jester Gas Unit #2H, with a longer 10,601-ft lateral, flowed 23,180 Mcf/d on a 28/64-inch choke at...
Mar 28, 2019
Get more news for Ark-La-Tex Scout