Ark-La-Tex Scout
Serving the local market with drilling activities, permits & multiple listings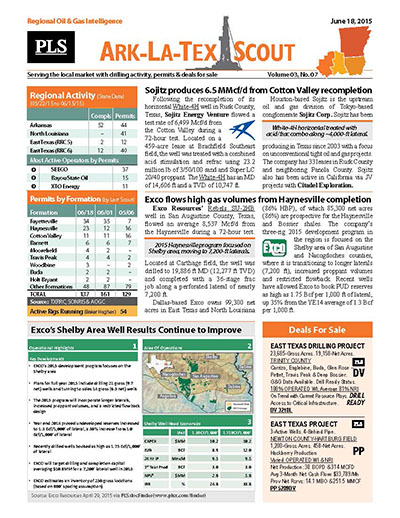 PLS publishes exploration news and drilling insights in Arkansas, Louisiana and East Texas through our Ark-La-Tex Scout. A famed area with significant of oil and gas history- this Region- known for East Texas stacked pays (Smackover, Bossier Sand, Cotton Valley, Travis Peak, Woodbine, Glen Rose, Rodessa, Pettit, James Lime, Edwards, Georgetown); Arkansas's shales (Brown Dense & Fayetteville) and North Louisiana's gas (Hosston & Haynesville) is still a core area for many operators from Dallas to Shreveport.
Stay in front of local prospects, plays & rigs!
Arkansas, Louisiana, East Texas
Hard Copy and Email For 1 Individual
Every 3 to 4 Weeks (12-16 issues per year)
Regional discoveries, drilling activity, permits,
completions and summary drilling statistics, layered
with regional listings and business opportunities
Web access to the Ark-La-Tex Scout archive
Does not include access to MLS
Search PLS' News Archive for complete oil & gas news for Ark-La-Tex Scout .
See what it is about before you buy. View a sample issue of Ark-La-Tex Scout.
Need more information? Click the button to recieve more details about the Ark-La-Tex Scout
Opportunity is a reflection of information.
Call 713-650-1212 For More Information
Search Ark-La-Tex Scout:

Headline
Publication
News Date
ALT - Trio scores Haynesville 30+ MMcf/d IP24s with ~10,000 ft HZs - August 01, 2019
Three Haynesville operators brought nearly 10,000-ft laterals online at initial 24- hour rates of more than 30 MMcf/d in recent state data. In DeSoto Parish, Louisiana, Chesapeake Energy's NP 29&20-13-11HC #2-ALT was completed with a 9,543-ft effective lateral and flowed an IP24 of 33.1 MMcf/d on a 31-inch choke at 8,256 psi FCP. Its NP 29&20-13-11HC #1-ALT, with a 9,996-ft effective lateral, delivered 32.8 MMcf/d on a 30/64-inch choke at 7,023 psi FCP. Also in DeSoto Parish, Covey Park...
Aug 01, 2019
ALT - Vine Jurassic program continues to deliver strong rates - August 01, 2019
The latest well in Vine Oil & Gas' Jurassic D&C program continues a string of consistently strong results. Located in Red River Parish, Louisiana, the Martin Timb 10- 3HC #2-ALT was completed with a 7,826-ft effective lateral and tested at an initial 24-hour rate of 20 MMcf/d. Vine has reported six Jurassic completions to the state so far in 2019, five of which are on the Martin Timb lease. All but one of the 2019 wells delivered IP24s of 20 MMcf/d or more. Vine's first Jurassic well of the...
Aug 01, 2019
ALT - Haynesville 2019 deal: Osaka buys Sabine for $610MM - August 01, 2019
One of Japan's largest LNG importers is making a bet on US gas in the Ark-LaTex region. Osaka Gas Co. Ltd. agreed to acquire private E&P firm Sabine Oil & Gas for $610 million. This is the second major transaction focused on the Haynesville in the last two months, following June's $2.2 billion merger of Comstock Resources and Covey Park Energy, both of which have East Texas development programs offsetting the Sabine acreage. Sabine's main asset is 175,000 net acres (90% operated,...
Aug 01, 2019
ALT - Chesapeake flows high rate Haynesville HZ, improves IP24s YOY - July 2019
In Caddo Parish, Louisiana, Chesapeake Energy completed yet another highquality Haynesville horizontal. The JPIL22-15-10-16-15HC #2-ALT was completed with a 10,135-ft effective lateral using 32.8 MMlb of proppant. During a 24-hour test, the well flowed 36.5 MMcf/d on a 32/64-inch choke at 7,552 psi FCP. This is a top-10 Haynesville IP24 for the company. It is one of two wells the company highlighted in its Q1 presentation that delivered an initial combined rate of 80 MMcf/d. Chesapeake...
Jul 11, 2019
ALT - EXCO gets back on track in Haynesville, exits Chapter 11 - July 2019
After more than a year and a half under Chapter 11 protection, long-time Haynesville operator EXCO Resources is emerging from bankruptcy. CEO and president Hal Hickey said the company is "better positioned to capitalize" on its asset base and that its operations continued uninterrupted throughout the bankruptcy process. It resumed completing wells in the Haynesville at YE18 after a nearly nine-month hiatus. EXCO has reported eight Haynesville completions to the state of Louisiana this...
Jul 11, 2019
ALT - Regional Highlights - July 11, 2019
The EIA projects that Haynesville production will rise by 218 MMcf/d sequentially in July to 11.519 Bcf/d. There are 220 DUCs in the Haynesville as of May, down by two compared to...
Jul 11, 2019
ALT -Vine Oil & Gas Highlights - July 11, 2019
Vine Oil & Gas flowed the highest IP24 this year for a Haynesville well in Sabine Parish, Louisiana. The Salley 29-20-HC #1-ALT was completed with a 7,951-ft effective lateral and flowed an initial 24-hour IP of 24 MMcf/d on a 16/64-inch choke at 9,486 psi FCP. The well also falls in the top 10 all time for Sabine Parish's Haynesville...
Jul 11, 2019
ALT - Shelby O&G Co Highlights - July 11, 2019
Shelby O&G Co LLC entered into a $26 million, "stalking horse" agreement to acquire certain Shelby Trough assets from Weatherly Oil & Gas LLC under Section 363 of Chapter 11 of the US Bankruptcy Code. The assets cover 18,000 net acres in Shelby, San Augustine, Nacogdoches and Sabine counties, Texas. Production is 6,689 boe/d net as of last...
Jul 11, 2019
ALT -Empire Petroleum Highlights- July 11, 2019
Tulsa-based Empire Petroleum Corp. purchased a package of oil and gas producing assets in South Louisiana from Warhorse Oil & Gas for $450,000. The assets in St. Landry Parish consist of operated interests of 48.2% and 45% in a pair of wells with total production of 31 bbl/d (100% liquids). Empire, known as Americomm Resources Corp. before August 2001, focuses on exploration and development in...
Jul 11, 2019
ALT - Prime Rock Resources Highlights- July 11, 2019
Two private E&P firms are combining part of their acreage positions in the Louisiana portion of the Austin Chalk trend into a JV covering 120,000 net acres in Allen, Avoyelles, Beauregard, Rapides and Vernon parishes, primarily in the legacy Masters Creek field. Prime Rock Resources and New Dawn Energy also established an area of mutual interest in which to jointly pursue additional acquisitions targeting the fledgling oil and gas play. The partners plan to begin drilling the JV acreage in...
Jul 11, 2019
Get more news for Ark-La-Tex Scout