Ark-La-Tex Scout
Serving the local market with drilling activities, permits & multiple listings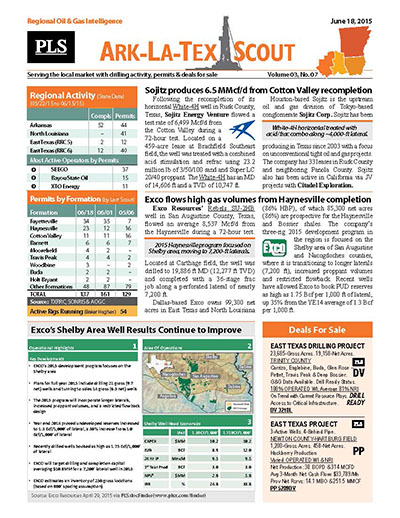 PLS publishes exploration news and drilling insights in Arkansas, Louisiana and East Texas through our Ark-La-Tex Scout. A famed area with significant of oil and gas history- this Region- known for East Texas stacked pays (Smackover, Bossier Sand, Cotton Valley, Travis Peak, Woodbine, Glen Rose, Rodessa, Pettit, James Lime, Edwards, Georgetown); Arkansas's shales (Brown Dense & Fayetteville) and North Louisiana's gas (Hosston & Haynesville) is still a core area for many operators from Dallas to Shreveport.
Stay in front of local prospects, plays & rigs!
Arkansas, Louisiana, East Texas
Hard Copy and Email For 1 Individual
Every 3 to 4 Weeks (12-16 issues per year)
Regional discoveries, drilling activity, permits,
completions and summary drilling statistics, layered
with regional listings and business opportunities
Web access to the Ark-La-Tex Scout archive
Does not include access to MLS
Search PLS' News Archive for complete oil & gas news for Ark-La-Tex Scout .
See what it is about before you buy. View a sample issue of Ark-La-Tex Scout.
Need more information? Click the button to recieve more details about the Ark-La-Tex Scout
Opportunity is a reflection of information.
Call 713-650-1212 For More Information
Search Ark-La-Tex Scout:

Headline
Publication
News Date
ALT - Comstock eyes 6-8% YOY output growth, Chesapeake's Haynesville - November 14, 2019
Comstock Resources is prioritizing free cash flow generation in 2020 over production growth. The company plans to reduce its operating rig count from nine to six in order to drill 62 wells (72% WI) and complete 44 (75% WI), essentially on par with the anticipated 2019 totals of 62 wells drilled and 47 completed. This program is expected to support 6-8% pro forma production growth to 1.25-1.45 Bcfe/d for the full year and substantial free cash flow. Capital expenditures are projected to be...
Nov 14, 2019
ALT - Marathon to test first La. Austin Chalk well in H1, brings on Equinor - Novemebr 14, 2019
Marathon Oil is progressing its exploration program in the Louisiana Austin Chalk. The company is acquiring 3D seismic and has drilled its first well targeting the play in southern Rapides Parish with results expected in early 2020. A second well in the same area is scheduled to spud by YE19. Marathon also has secured Norway's Equinor as a non-op 25% WI partner on its Louisiana Austin Chalk acreage, which lies within the overpressured volatile and condensate windows in the play's...
Nov 14, 2019
ALT - Regional Highlights - November 14, 2019
The EIA projects that Haynesville production will rise by 110 MMcf/d sequentially in November to 11.815 Bcf/d. There are 180 DUCs in the Haynesville as of September, down by five compared to...
Nov 14, 2019
ALT - Matador Resources Highlights - November 14, 2019
Matador Resources participated in 11 non-operated Haynesville wells (10% WI) during Q3. Two Chesapeake operated 2-mile laterals exceeded expectations and helped push Matador's companywide gas output to a record 179.2 MMcf/d—up 22% sequentially. Located in Red River Parish, Louisiana, the LDW&F 15&10- 14-12 HC001-ALT and HC002-Alt came online at...
Nov 14, 2019
ALT - Tellurian Inc Highlights - November 14, 2019
Aspiring LNG exporter Tellurian Inc. drilled and completed its first operated Haynesville wells this year. First, the NRG 29-12-10 H 002-ALT in DeSoto Parish, Louisiana, was completed in March with 16.2 MMlb of proppant across a 4,589-ft effective lateral and tested an initial 24-hour rate of 15.0 MMcf/d on a 17/64-inch choke at 9,104 psi FCP. After five months online, it was still producing 14.4 MMcf/d. In July, the company completed two more Haynesville wells, also in DeSoto Parish. The...
Nov 14, 2019
ALT - Indigo continues Haynesville momentum, monetizes assets October 24, 2019
Indigo Natural Resources' Haynesville operations have been delivering consistently strong results. Initial 24-hour rates for wells drilled in 2018 and 2019 have averaged 22.5 MMcf/d, according to state data. The company has flowed the highest IP24s in its portfolio this year, with four wells delivering rates exceeding 30 MMcf/d. Two of those wells are located in DeSoto Parish, Louisiana. The Hesser 23&14-11-11HC 004-Alt was completed with a 7,938-ft effective lateral using 27.7 MMlb of...
Oct 24, 2019
ALT - Haynesville continues growth trend, but drilling falls - October 24, 2019
The US Energy Information Administration projects that Haynesville gas production will increase by 110 MMcf/d in November to a total of ~11.8 Bcf/d. If correct, volumes will have increased in the play every month this year except July and will be 1.76 Bcf/d (~18%) higher than in December 2018. Through the first nine months of 2019, the drilled but uncompleted well count in the Haynesville has fallen by 27 to a September total of 180, down by five from August. According to the EIA, 463...
Oct 24, 2019
ALT - Regional Highlights Highlights - October 24, 2019
For the first time in two years, US natural gas inventories surpassed the five-year average the week ending Oct. 11, according to the Energy Information Administration. The trend continued the following week, with an 87 Bcf/d build that brought the total to 3.6 Tcf, which is 0.8% above the five-year average and 16.8% above this time last...
Oct 24, 2019
Get more news for Ark-La-Tex Scout