Ark-La-Tex Scout
Serving the local market with drilling activities, permits & multiple listings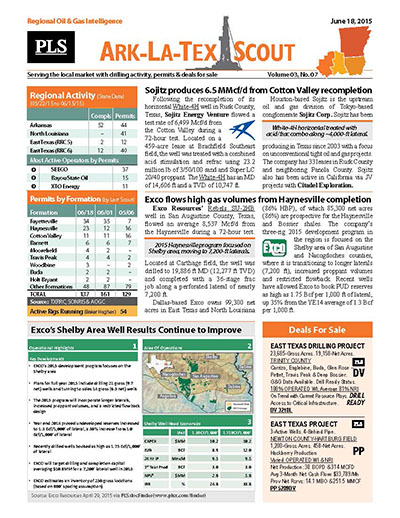 PLS publishes exploration news and drilling insights in Arkansas, Louisiana and East Texas through our Ark-La-Tex Scout. A famed area with significant of oil and gas history- this Region- known for East Texas stacked pays (Smackover, Bossier Sand, Cotton Valley, Travis Peak, Woodbine, Glen Rose, Rodessa, Pettit, James Lime, Edwards, Georgetown); Arkansas's shales (Brown Dense & Fayetteville) and North Louisiana's gas (Hosston & Haynesville) is still a core area for many operators from Dallas to Shreveport.
Stay in front of local prospects, plays & rigs!
Arkansas, Louisiana, East Texas
Hard Copy and Email For 1 Individual
Every 3 to 4 Weeks (12-16 issues per year)
Regional discoveries, drilling activity, permits,
completions and summary drilling statistics, layered
with regional listings and business opportunities
Web access to the Ark-La-Tex Scout archive
Does not include access to MLS
Search PLS' News Archive for complete oil & gas news for Ark-La-Tex Scout .
See what it is about before you buy. View a sample issue of Ark-La-Tex Scout.
Need more information? Click the button to recieve more details about the Ark-La-Tex Scout
Opportunity is a reflection of information.
Call 713-650-1212 For More Information
Search Ark-La-Tex Scout:

Headline
Publication
News Date
EnSight launches Haynesville program in DeSoto Parish
EnSight IV Energy Partners began completing its first Haynesville horizontals in 2H18.The company has reported four completions to the state of Louisiana through Oct. 21, all located in DeSoto Parish with laterals ranging 4,350-7,314 ft. The top performer, the CTF LLC 33H #1 (4,323-ft lateral), is located in Bethany Longstreet field and flowed an initial 24-hour rate of 21,764 Mcf/d, or 4,523 Mcf/d per 1,000 lateral ft, on a 24/64-in. choke at 7,760 psi FTP. The other three wells lie in...
Jan 04, 2019
Goodrich's Haynesville to drive 90-105% growth
In light of reduced oil and gas prices, Goodrich Petroleum reduced its 2019 capex 31% at midpoint to $90-100 million from an initial $125-150 million plan to keep its YE19 debt-to-EBITDA target at 1.0x. The company will start 2019 with one rig running and plans to add a second in Q2 to drill 11 total operated horizontal wells next year with laterals averaging 7,000 ft, primarily targeting the Haynesville in its core 14,500-net-acre Bethany-Longstreet and 1,300-net-acre Thorn Lakes project areas...
Jan 04, 2019
ALTS - Regional Highlights - Janaury 04, 2019
The EIA projects Haynesville production will grow 142 MMcf/d sequentially in January to 9.863 Bcf/d. If correct, volumes from the play would be up 30% YOY. There are 210 DUCs in the Haynesville as of November, up by nine since October and up 80 in the last...
Jan 04, 2019
ALTS - Indigo Natural Highlights - January 04, 2019
At Bethany Longstreet field in DeSoto Parish, Indigo Natural Resources' TMSN 30&31&6-13-15H #001 well (7,528-ft lateral) tested at an initial 24-hour rate of 28,116 Mcf/d, or 3,734 Mcf/d per 1,000 lateral ft, from the Haynesville on a 28/64-in. choke at 7,900 psi FTP. This is the top completion of this issue and Indigo's second highest IP24 in the play to...
Jan 04, 2019
ALTS - Merit Energy Highlights - January 04, 2019
Merit Energy closed its $300 million acquisition of BHP's Fayetteville assets Sept. 29 and immediately launched a workover program at B-43 field in Van Buren, White and Cleburne counties, Arkansas. According to the latest state data, the company worked over 16 Fayetteville wells from Oct. 11 to Nov. 9. Active in Wyoming (12 completions, 10 recompletions, 11 workovers), South Texas (6 completions), and the Midcontinent (16 completions in Kansas, 5 recompletions in Oklahoma) this year, the...
Jan 04, 2019
ALTS - Chesapeake Energy Highlights - January 04, 2019
Chesapeake Energy sees potential to drill five 15,000-ft laterals in 2019. The company's first lateral over 15,000 ft, the GEPH 1HC, flowed a record-shattering initial 24-hour rate of 48 MMcf/d and went on to produce 5.8 Bcf in 170...
Jan 04, 2019
ALTS - Comstock Resources Highlights - January 04, 2018
Comstock Resources agreed to acquire 88% WI in 6,124 gross Haynesville acres in Harrison and Panola counties, Texas, from Shelby Shale LLC for $20.5 million. Comstock will pay the purchase price over four years by granting Shelby a 12% interest in each well it drills on the acreage, with carried costs up to $20.5 million. The company has identified 33 potential drilling locations on the acreage, which lies near assets it acquired from Enduro Resource Partners for $31 million during...
Jan 04, 2019
QEP sells Haynesville/Cotton Valley assets to Aethon
After announcing at the end of February that it would divest its Haynesville and Cotton Valley assets as part an initiative to become a Permian pure player, QEP Resources signed a definitive agreement to sell its northwest Louisiana position on Nov. 19. Aethon Energy affiliate Aethon III has agreed to buy the assets for $735 million and will assume all related firm gas transportation agreements. QEP will novate natural gas derivative contracts covering ~40 Bcf for the last 11 months of 2019...
Dec 07, 2018
Sabine completing its best wells in Carthage field
The top three Carthage field well IPs reported to the Texas RRC this year are Haynesville wells operated by, and personal gas IP records for, Sabine Oil & Gas. At the top of the list is the Centennial GU #1H, drilled with a 11,247-ft lateral in Panola County and completed in April. On a 29/64-in. choke at 6,934 psi FTP, the well flowed an initial 24-hour rate of 28,047 Mcf/d. Not only is this the top unconventional IP24 rate in Carthage field to date, it compares well with top-quartile...
Dec 07, 2018
ALTS - Regional Highlights - December 07, 2018
The EIA projects Haynesville production will rise 105 MMcf/d sequentially in December to a total of 9.667 Bcf/d. There are 203 DUCs in the Haynesville as of October, up by seven compared to September. According to the EIA Annual Report of Domestic Oil and Gas Reserves, Haynesville/Bossier proved reserves increased 22.9 Tcf in 2017 compared to 35.9 Tcf in 2016. Production during 2017 totaled 1.8...
Dec 07, 2018
Get more news for Ark-La-Tex Scout