Ark-La-Tex Scout
Serving the local market with drilling activities, permits & multiple listings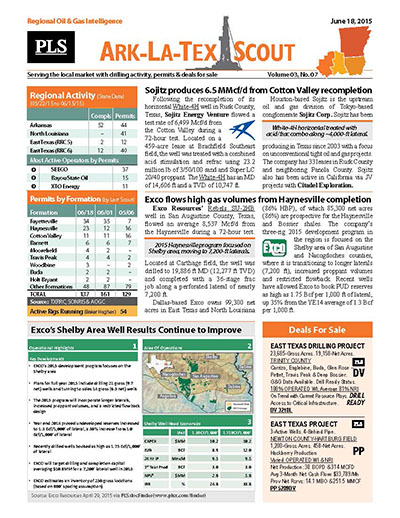 PLS publishes exploration news and drilling insights in Arkansas, Louisiana and East Texas through our Ark-La-Tex Scout. A famed area with significant of oil and gas history- this Region- known for East Texas stacked pays (Smackover, Bossier Sand, Cotton Valley, Travis Peak, Woodbine, Glen Rose, Rodessa, Pettit, James Lime, Edwards, Georgetown); Arkansas's shales (Brown Dense & Fayetteville) and North Louisiana's gas (Hosston & Haynesville) is still a core area for many operators from Dallas to Shreveport.
Stay in front of local prospects, plays & rigs!
Arkansas, Louisiana, East Texas
Hard Copy and Email For 1 Individual
Every 3 to 4 Weeks (12-16 issues per year)
Regional discoveries, drilling activity, permits,
completions and summary drilling statistics, layered
with regional listings and business opportunities
Web access to the Ark-La-Tex Scout archive
Does not include access to MLS
Search PLS' News Archive for complete oil & gas news for Ark-La-Tex Scout .
See what it is about before you buy. View a sample issue of Ark-La-Tex Scout.
Need more information? Click the button to recieve more details about the Ark-La-Tex Scout
Opportunity is a reflection of information.
Call 713-650-1212 For More Information
Search Ark-La-Tex Scout:

Headline
Publication
News Date
ALT - Rockcliff turns in high quality Haynesville HZs in Panola Co - May 31, 2019
Privately held Rockcliff Energy has focused its drilling campaign on the Haynesville in Panola County, Texas. Wells completed in the last two quarters have been consistent and high quality, with initial 24-hour rates averaging 20.6 MMcf/d. Laterals averaged 8,480 ft and total proppant loads have averaged 30.4 MMlb. During the period, Rockcliff's top two wells were on the Herndon HV Unit in Carthage field. The #3H was completed with a 7,373-ft effective lateral and 26.5 MMlb of proppant....
May 31, 2019
ALT - Vine flows 20 MMcf/d from Jurassic A formation - May 31, 2019
Vine Oil & Gas completed two horizontals targeting the Jurassic A formation at the end of Q1. In Red River Parish, Louisiana, the Martin Timb 10-3HC #3-ALT and #4-ALT were completed with effective laterals averaging 7,617 ft and tested at an initial 24-hour rate of 20 MMcf/d each on a 16/64-inch choke at an average 8,555 psi FTP. The company historically has been successful in the formation, with IPs averaging 15.5 MMcf/d. This year, Vine has reported one other completion in the formation,...
May 31, 2019
ALT - Regional Highlights - May 31, 2019
The EIA projects Haynesville production will rise 287 MMcf/d sequentially in June to 11.358 Bcf/d. There are 221 DUCs in the Haynesville as of April, up by two compared to...
May 31, 2019
ALT - EXCO Resources Highlights- May 31, 2019
Exco Resources' Nabors 12-1 HC #1-ALT well in DeSoto Parish, Louisiana, was completed with a 9,137- ft effective lateral and tested at an initial 24-hour rate of 30.1 MMcf/d from the Haynesville on a 33/64-inch choke at 8,180 psi FTP. This is a company best for Exco. On the same pad, the #2-ALT flowed 22.2 MMcf/d from a 9,316-ft lateral in the Haynesville on a 27/64- inch choke at 8,268 psi...
May 31, 2019
ALT - Black Stone Minerals Highlights - May 15, 2019
Black Stone Minerals had 15 rigs running on its Haynesville/ Bossier mineral acreage as of March 31. The position includes 450,000 mineral and royalty acres. The company believes its Shelby Trough position contains the most productive part of the play, with recent results demonstrating EURs of 2.5-3.0 Bcf per 1,000 ft of...
May 31, 2019
ALT - Tristate Midstream Highlights - May 31, 2019
Tristate Midstream, a portfolio company of Energy Spectrum Capital, closed on the first phase of a multi-part acquisition of a Haynesville gas pipeline from Gulf South Pipeline Co. The newly acquired pipeline spans 102 miles across Bossier, Webster and Caddo parishes, Louisiana, into Harrison and Panola counties, Texas, and consists of mainly 16- inch pipe. Gulf South is an indirect subsidiary of Loews...
May 31, 2019
ALT - Comstock's consistent Haynesville results driving growth - May 2019
Comstock Resources' Haynesville/Bossier program in North Louisiana has been delivering consistent results for the company for more than four years, and Q1 was no different. The 76 operated wells the company has drilled and completed since 2015 have averaged initial production rates of 25 MMcf/d and new wells during Q1 averaged 26 MMcf/d. Since its last update at the end of February, Comstock has completed six Haynesville wells with laterals averaging 9,799 ft and IPs coming in at 26 MMcf/d....
May 09, 2019
Get more news for Ark-La-Tex Scout