Bakken Scout
Serving the local market with drilling activities, permits & multiple listings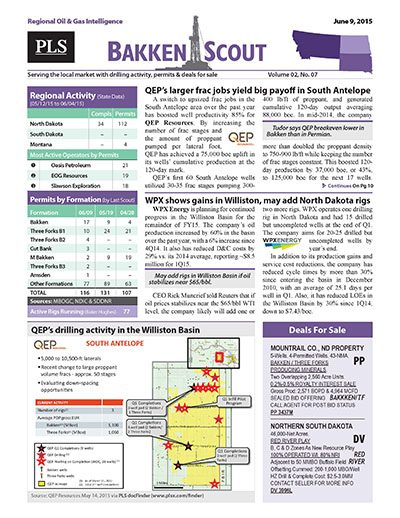 PLS's Bakken Scout covers oil and gas permitting, rig activity and completions in the Dakotas and Montana. The report is available by subscription and is delivered by hard copy and email every 3 weeks. Like other Regionals, the Bakken is packed full of local statistical analysis covering permits, rigs and completions while also covering top stories, fun facts, quick stats and production anomalies.
Stay in front of local prospects, plays & rigs!
North Dakota, South Dakota and Montana
Hard Copy and Email For 1 Individual
Every 3 Weeks (16-20 issues per year)
Regional discoveries, drilling activity, permits,
completions and summary drilling statistics, layered
with regional listings and business opportunities.
Web access to the Bakken Scout archive.
Does not include access to MLS
Search PLS' News Archive for complete oil & gas news for Bakken Scout .
See what it is about before you buy. View a sample issue of Bakken Scout.
Need more information? Click the button to recieve more details about the Bakken Scout
Opportunity is a reflection of information.
Call 713-650-1212 For More Information
Search Bakken Scout:

Headline
Publication
News Date
BS - QEP to develop remaining resources at South Antelope with refracs - September 24, 2019
While it continues to evaluate the performance of its Williston Basin refrac program, QEP Resources has already concluded that refracking existing wells is the most economical way to develop its remaining resources in the South Antelope area while a combination of new wells and refracs will be the optimal approach at Fort Berthold. The company has 100 drilling locations remaining in the basin, mostly at Fort Berthold, and 100 refrac candidates split evenly between South Antelope and Fort...
Sep 24, 2019
BS - Petro-Hunt flows its highest IP24 of 2019 in McKenzie County - September 24, 2019
Petro-Hunt LLC's 2019 activity has focused on Charlson field in McKenzie County, North Dakota. During Q3, the company's USA #153-95-3B-10-1H was completed in 43 stages using 7.4 MMlb of proppant across a 9,562-ft effective lateral. During a 24-hour test, the flowed 2,186 boe/d (80% oil), or 228 boe/d per 1,000 lateral ft, from the Middle Bakken on a 22/64-inch choke at 2,450 psi FTP. This a top 10 Williston Basin IP24 for the company, along with six other wells at Charlson field....
Sep 24, 2019
BS - Regional Highlights - September 24, 2019
The EIA projects that Bakken production will rise by 2,000 bo/d and 3 MMcf/d sequentially in October to 1.471 MMbo/d and 3.003 Bcf/d. There are 652 DUCs in the Bakken as of August, down by 22 compared to...
Sep 24, 2019
BS - Encana Highlights - September 24, 2019
EnCana is marketing mostly operated assets in Montana and North Dakota representing almost half of its Williston Basin acreage and nearly a third of its production from the basin. The assets cover 38,700 acres with 2H18 net production of 612 boe/d from 200 wells and generated 2018 operating cash flow of $6.6 million. Most of the leasehold being offered, 26,600 net acres (35,900 gross), is at Elm Coulee Field in Richland County, Montana, and McKenzie County, North Dakota, with net production of...
Sep 24, 2019
BS - Enerplus Highlights - September 24, 2019
Enerplus' Q2 Williston Basin production rose 11% sequentially to 46,920 boe/d (83% oil). In the North Dakota portion, volumes were up 22% at 43,822 boe/d (83% oil). North Dakota production is expected to meaningfully build in Q3 because of the timing of several well completions late in Q2 and continued completion activity, with volumes moderating into Q4. In Q2, Enerplus drilled 11 operated wells and brought 26 online in the basin. The company has lowered spud-to-rig release times on its Fort...
Sep 24, 2019
BS - Additional data highlights validity of Marathon's core extensions - September 3, 2019
Marathon Oil's Bakken activity in Q2 was evenly split between the Hector and Myrmidon areas, where the company turned a total of 30 operated wells to sales. It continues to see success with its South Hector delineation program, which has delivered four wells with initial 30-day rates averaging 2,450 boe/d (80% oil). In addition, extended production data from 2018 delineation tests are validating Marathon's core extensions. Four wells at Hector have averaged cumulative volumes of more than...
Sep 03, 2019
BS - Whiting's Foreman Butte wells outperform predecessors by 117% - September 3, 2019
During Q2, Whiting Petroleum brought online its first 11 wells in the Foreman Butte area of McKenzie County, North Dakota. These wells showed significant 30-day IP improvements compared with historical results in the area. Whiting's IP30s averaged 910 bbl/d compared to the historical average of 420 bbl/d. Whiting bought its 58,833-net-acre Foreman Butte position from Oasis Petroleum for $130 million in June 2018. The company credits its initial success in the area with its Gen 5...
Sep 03, 2019
BS - Regional Highlights - September 3, 2019
The EIA projects that Bakken production will rise by 3,000 bo/d and 12 MMcf/d sequentially in September to 1.436 MMbo/d and 2.954 Bcf/d. There are 675 DUCs in the Bakken as of July, down by 18 compared to June.According to the North Dakota Department of Mineral Resources, June oil production averaged a record 1.42 MMbo/d, up by 29,977 bo/d compared to May. Natural gas output also reached a new high of ~2.88 Bcf/d, up 57.2 MMcf/d...
Sep 03, 2019
BS - Continental Resources Highlights - September 3, 2019
Sixty miles from Continental Resources' core acreage lies the company's first completion in Richland County, Montana, since 2015. The Baird Federal #2-34H flowed an initial 24-hour rate of 1,680 boe/d (90% oil) from the Middle Bakken, according to the company. The stepout well is outperforming legacy offsets by 100% at 120 days. The Baird well was one of three strategic stepouts (along with a well apiece in Williams and Billings counties, North Dakota) announced in Q1 that have outperformed...
Sep 03, 2019
BS - Encana Highlights - September 3, 2019
While EnCana's three core growth plays are the Montney in Canada and the STACK and Permian in the US, the company has other highquality assets to which it continues to deploy capital. CEO Doug Suttles said this about the Bakken, Eagle Ford and to some extent the Duvernay: "These are areas which are not growth assets because of the size of them, but they're very high quality. They're very oily. They have very high margins and, where we do deploy capital, very high returns. And they play an...
Sep 03, 2019
Get more news for Bakken Scout