Bakken Scout
Serving the local market with drilling activities, permits & multiple listings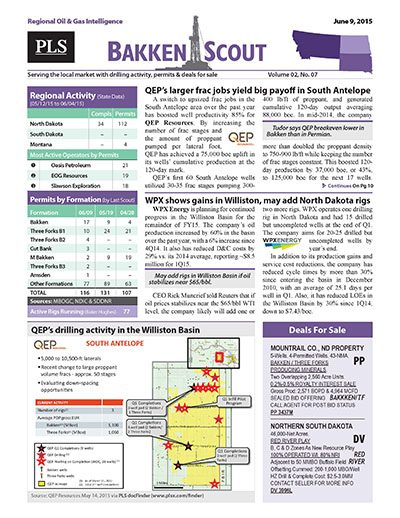 PLS's Bakken Scout covers oil and gas permitting, rig activity and completions in the Dakotas and Montana. The report is available by subscription and is delivered by hard copy and email every 3 weeks. Like other Regionals, the Bakken is packed full of local statistical analysis covering permits, rigs and completions while also covering top stories, fun facts, quick stats and production anomalies.
Stay in front of local prospects, plays & rigs!
North Dakota, South Dakota and Montana
Hard Copy and Email For 1 Individual
Every 3 Weeks (16-20 issues per year)
Regional discoveries, drilling activity, permits,
completions and summary drilling statistics, layered
with regional listings and business opportunities.
Web access to the Bakken Scout archive.
Does not include access to MLS
Search PLS' News Archive for complete oil & gas news for Bakken Scout .
See what it is about before you buy. View a sample issue of Bakken Scout.
Need more information? Click the button to recieve more details about the Bakken Scout
Opportunity is a reflection of information.
Call 713-650-1212 For More Information
Search Bakken Scout:

Headline
Publication
News Date
BS - Marathon to focus H2 Bakken completions on Myrmidon area - May 26, 2020
During Q1, Marathon Oil produced 110,000 boe/d (80% oil) from the Bakken, up 2% sequentially and 20% YOY. The company ran four rigs and one frac crew, bringing 25 operated wells online during the quarter. After completing eight wells during Q2, Marathon has suspended completion activity in the play and plans to transition to one Bakken rig and one completion crew during H2. Of the remaining 25 wells that will be completed and turned to sales in 2020, activity will be concentrated in the...
May 26, 2020
BS - Hess forgoes curtailments, charters three VLCCs instead - May 26, 2020
Hess Corp. lowered its 2019 E&P capex guidance to $1.9 billion, down 37% from the original budget of $3.0 billion. This reduction will be achieved primarily by shifting from six rigs to one rig in the Bakken and deferring discretionary spending across the portfolio. Based on expectations that US storage would reach capacity in Q2, Hess announced May 7 that it had chartered three very large crude carriers to store 2 MMbo of Bakken crude each in May, June and July. The stored volumes will be sold...
May 26, 2020
BS - Regional Highlights - May 26, 2020
The EIA projects that Bakken production will fall by 21,000 bo/d and 26 MMcf/d sequentially in June to 1.114 MMbo/d and 2.744 Bcf/d.There were 898 DUCs in the Bakken as of April, up by 10 compared to...
May 26, 2020
BS - WPX Energy Highlights - May 26, 2020
WPX Energy's Q1 Williston Basin activity consisted of 17 well completions: 11 in the Three Forks and six in the Bakken. Delivering the highest IP24s, the Blue Racer 14-11HG well flowed 3,918 boe/d (86% oil) and the Mandaree Warrior 14-11HA produced 3,477 boe/d (82% oil). The company curtailed 15,000 boe/d gross (10,000 boe/d net) in April and slashed production by 45,000 boe/d gross (30,000 boe/d net) in May. Similar curtailments to May are possible in June. The company is maintaining...
May 26, 2020
BS - Continental Resources Highlights - May 26, 2020
Continental Resources' Bakken completions have been suspended, and the company's target of four active rigs companywide by YE20 is an 80% drop from January levels. In May, Continental is curtailing 60% of its production, including 70% of oil volumes. Total company volumes in Q1 rose 9% YOY but fell 1% sequentially to 360,841 boe/d, including 201,502 boe/d from the Bakken. May curtailments will exceed 200,000...
May 26, 2020
BS - Denbury Resources Highlights - May 26, 2020
Denbury Resources curtailed 2,000 boe/d of uneconomic production in April and as of May 18 has 8,500 boe/d curtailed. Management plans to continue to assess levels of uneconomic production based on its expectations for wellhead oil prices and variable production costs, and will actively make decisions to either shut in additional volumes or bring production back online as conditions...
May 26, 2020
BS - New Emerald Energy Highlights - May 26, 2020
Bakken E&P firm New Emerald Energy filed for Chapter 11 bankruptcy protection on May 14. The company was formed out of the remaining asset of Emerald Oil, which went bankrupt in 2016 and was liquidated in...
May 26, 2020
BS - Continental said to shut in Bakken wells, call force majeure - May 5, 2020
Continental Resources has reportedly halted all drilling activity in North Dakota and is shutting in the majority of its production, people familiar with the matter told Reuters. As of Jan. 30, the company operated 2,287 active horizontal and 111 vertical wells in the Williston Basin, according to Enverus Operator Intelligence. Production from the play averaged a net 194,156 boe/d in Q4. On April 23, Bloomberg reported that it had seen a document which Continental declared force majeure...
May 05, 2020
BS - North Dakota drops 300,000 bo/d in weeks as prices deteriorate - May 5, 2020
North Dakota is feeling the effects of the dramatic drop in oil prices. On April 21, state Mineral Resources Director Lynn Helms told the North Dakota Industrial Commission that an estimated 5,000 wells had been shut down in just a few weeks, impacting oil volumes by nearly 300,000 bo/d. The state's February output averaged 1.45 MMbo/d. On the day WTI went negative, Helms said the state lost 60,000 bo/d of output in just 24 hours. The situation is creating a crisis for the state's...
May 05, 2020
BS - Regional Highlights - May 5, 2020
The US Energy Information Administration projects that Bakken production will fall by 28,000 bo/d and 35 MMcf/d sequentially in May to 1.361 MMbo/d and 2.973 Bcf/d. There were 882 DUCs in the Bakken as of March, up by 12 compared to NovemberDistrict Court Judge Brian Morris vacated oil and gas leases on 145,000 acres of US Bureau of Land Management land in Montana where operators were planning about 300 wells. He ruled that the BLM had not considered the impact fracking would...
May 05, 2020
Get more news for Bakken Scout