Bakken Scout
Serving the local market with drilling activities, permits & multiple listings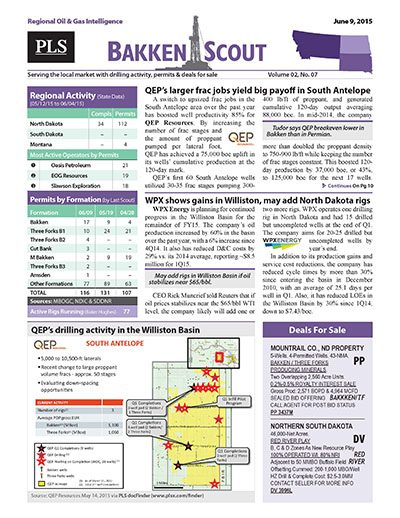 PLS's Bakken Scout covers oil and gas permitting, rig activity and completions in the Dakotas and Montana. The report is available by subscription and is delivered by hard copy and email every 3 weeks. Like other Regionals, the Bakken is packed full of local statistical analysis covering permits, rigs and completions while also covering top stories, fun facts, quick stats and production anomalies.
Stay in front of local prospects, plays & rigs!
North Dakota, South Dakota and Montana
Hard Copy and Email For 1 Individual
Every 3 Weeks (16-20 issues per year)
Regional discoveries, drilling activity, permits,
completions and summary drilling statistics, layered
with regional listings and business opportunities.
Web access to the Bakken Scout archive.
Does not include access to MLS
Search PLS' News Archive for complete oil & gas news for Bakken Scout .
See what it is about before you buy. View a sample issue of Bakken Scout.
Need more information? Click the button to recieve more details about the Bakken Scout
Opportunity is a reflection of information.
Call 713-650-1212 For More Information
Search Bakken Scout:

Headline
Publication
News Date
BS - WPX lowers Bakken well costs to $6.7MM, outperforming 2018 - November 5, 2019
WPX Energy believes its Williston Basin economics are the best in the basin. Its current well costs are $6.7 million for 2-mile laterals, including drilling, completions, facilities and artificial lift. The company pointed to its Bird Bear pad as demonstrating the quality of its results. The Bird Bear 35-26HB well delivered the highest initial 24-hour rate of Q3 for the company at 5,664 boe/d (81% oil). The well was one of six on the pad with IP24s averaging 4,600 boe/d and IP30s averaging...
Nov 05, 2019
BS - QEP adds new wells at South Antelope, looks to 2020 - November 5, 2019
During Q3, QEP Resources completed the seven-well Vegas pad in the South Antelope area of eastern McKenzie County, North Dakota. By the quarter's end, three of the seven wells had been brought online and early performance was very encouraging, CEO Timothy Cutt said on an Oct. 24 earnings call. The wells averaged 10,023-ft effective laterals and were fracked with an average 12 MMlb of proppant. Initial 24-hour rates averaged 2,347 boe/d (82% oil), or 234 boe/d per 1,000 lateral ft. The top...
Nov 05, 2019
BS - Regional Highlights - November 5, 2019
The EIA projects that Bakken production will rise by 11,000 bo/d and 12 MMcf/d sequentially in November to 1.488 MMbo/d and 3.054 Bcf/d. There are 675 DUCs in the Bakken as of September, down by 21 compared to...
Nov 05, 2019
BS - Continental Resources Highlights - November 5, 2019
After nearly three years of being in multi-zone unit development mode in the Bakken, Continental Resources continues to turn in consistent initial well rates. The company brought online 57 operated wells (37 net) during Q3, with initial 24-hour rates averaging 2,313 boe/d. Since the company began development in the play in 2017, IP24s from 440 wells have averaged 2,300 boe/d (80% oil). The 2017 and 2018 development program paid out in a year and the company anticipates the same will be true of...
Nov 05, 2019
BS - Hess Highlights - November 5, 2019
Hess' Bakken operations are meeting and in some cases exceeding its expectations. Production in Q3 averaged 163,000 boe/d, up 38% YOY, and the company is raising its full-year 2019 guidance for the play to 150,000 boe/d from 140,000- 145,000 boe/d. The shift to plugand-perf completions is proving very successful, generating an "expected uplift in initial production rates, in estimated ultimate recovery, and most importantly, in value," CEO John Hess said during an Oct. 31 earnings...
Nov 05, 2019
BS - Oneok Highlight - November 5,2019
Oneok's 200 MMcf/d Demicks Lake I gas processing plant in the Williston Basin was completed in October, and its Demicks Lake II plant will be completed in...
Nov 05, 2019
BS - ExxonMobil Highlight - November 5, 2019
ExxonMobil is seeking a buyer for its refinery in Billings, Montana, according to a Reuters report citing unnamed sources. Marathon Petroleum and Valero Energy are among the large refiners that have reportedly sent representatives to tour the facility, but one source said a smaller refiner could be a more likely...
Nov 05, 2019
BS - WPX's 5-well pad in Spotted Horn delivers 18,144 boe/d IP24 - October 15, 2019
WPX Energy completed five wells on the Bird Bear #35-26 pad on the Spotted Horn field in McKenzie County, North Dakota, at the beginning of September. Initial 24-hour rates were in the top quartile for the company, with IP24s ranging 3,320-4,197 boe/d (93% oil). The pad delivered a total IP24 of 18,144 boe/d. The wells averaged 9,558-ft effective laterals and were fracked with an average of 6.3 MMlb of proppant. The top performer was the Bird Bear #35-26HB. This Bakken producer was completed...
Oct 15, 2019
BS - PetroShale flows company best in Dunn County, hits milestone - October 15. 2019
North Dakota Bakken pure-play PetroShale initiated production from four wells at Helen and Primus East in September. Results recently became available for two Helen wells on Eagle Nest Field in Dunn County, North Dakota. The Helen #1MBH was completed with a 4,137-ft effective lateral and was fracked in 23 stages using 4.9 MMlb of proppant. During an initial 24-hour test, the well produced 1,793 boe/d (86% oil), or 433 boe/d per 1,000 ft, from the Middle Bakken on a 18/64-inch choke at...
Oct 15, 2019
Get more news for Bakken Scout