Bakken Scout
Serving the local market with drilling activities, permits & multiple listings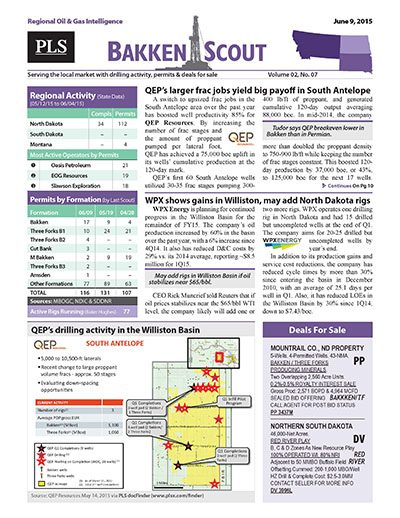 PLS's Bakken Scout covers oil and gas permitting, rig activity and completions in the Dakotas and Montana. The report is available by subscription and is delivered by hard copy and email every 3 weeks. Like other Regionals, the Bakken is packed full of local statistical analysis covering permits, rigs and completions while also covering top stories, fun facts, quick stats and production anomalies.
Stay in front of local prospects, plays & rigs!
North Dakota, South Dakota and Montana
Hard Copy and Email For 1 Individual
Every 3 Weeks (16-20 issues per year)
Regional discoveries, drilling activity, permits,
completions and summary drilling statistics, layered
with regional listings and business opportunities.
Web access to the Bakken Scout archive.
Does not include access to MLS
Search PLS' News Archive for complete oil & gas news for Bakken Scout .
See what it is about before you buy. View a sample issue of Bakken Scout.
Need more information? Click the button to recieve more details about the Bakken Scout
Opportunity is a reflection of information.
Call 713-650-1212 For More Information
Search Bakken Scout:

Headline
Publication
News Date
Hess five-well pad flows 27,200 boe/d IP24 in Mountrail
During December, Hess completed five high-impact wells in Mountrail County, North Dakota. All located on the same pad, the EN-Thompson Trust #154-94-1930H-7 through 11 targeted the Bakken, Three Forks 1st bench and Three Forks 2nd bench, with IPs ranging 3,783-5,205 boe/d (80% oil) from average 10,300-ft laterals, or an average 440 boe/d per 1,000 lateral ft. The top performer was the #11 (10,221-ft lateral), which delivered an initial 24-hour rate of 4,180 bo/d and 6,147 Mcf/d, or 5,205 boe/d...
Feb 05, 2019
BS - Regional Highlights - February 05, 2019
The EIA projects Bakken output will sequentially rise 9,000 bo/d and 12 MMcf/d in February to totals of 1.418 MMbo/d and 2.606 Bcf/d. There are 731 DUCs in the Bakken as of December 2018, down 11 from November, according to the EIA.During November, North Dakota's oil production fell 17,000 bo/d sequentially to 1.376 MMbo/d, according to the North Dakota Industrial...
Feb 05, 2019
Slawson Exploration scores some of its best HZs at YE18
Slawson Exploration finished 2018 strong in the Bakken, with six of its completions delivering an IP24 within the company's top 10 rates, including its best IP24 to date. Producing a company best, the Torpedo Federal #10H (15,071-ft lateral) tested at 4,862 bo/d and 1,998 Mcf/d, or 5,195 boe/d (94% oil; 345 boe/d per 1,000 lateral ft), from the Bakken.The 10-well Torpedo pad is located in Big Bend field and came online during Q4. Laterals ranged 6,748-15,071 ft (10,672 ft average) and...
Feb 05, 2019
BS - WPX Energy Highlights - February 05, 2019
WPX Energy will average three wells in the Bakken during 2019. The company recently cut company-wide capex from $1.45-1.65 billion to $1.1- 1.28 billion in order to keep spending within cash flow. Guidance has been set at 149,000-161,000 boe/d (63% oil), down from a prior projection of 159,000-171,000 boe/d. FY18 output was projected to be in the 123,000- 130,000 boe/d...
Feb 05, 2019
BS - Enerplus Highlights - February 05, 2019
Enerplus laid out its plans for 2019, with a focus on North Dakota. The state has been allocated 80% of the company's $565-635 million capex; 2018 spending is projected to be $594 million. Development plans for the play include the drilling of 42 net wells and the completion of 30-38...
Feb 05, 2019
BS - Abraxas Petroleum Highlights - February 05, 2019
Abraxas Petroleum lowered its 2019 capex guidance to $95 million from $108 million because of current prices. This budget is designed to produce free cash flow in the current commodity price environment, with limited impact on future production growth. Bakken activity will consist of drilling six wells and completing...
Feb 05, 2019
BS - Northern Oil & Gas Highlights - February 05, 2019
Bakken non-op Northern Oil & Gas' Q4 production is expected to come in at the upper half of its 35,000- 36,000 boe/d guidance, despite negative impacts from curtailments and shut-ins because of poor in-basin realized prices. The company projects that Q4 differentials averaged $9- $10/bbl. During the quarter, Northern participated in 7.7 net wells, bringing the total for the year to 30.8...
Feb 05, 2019
Abraxas restricts flow of Bakken wells on $21/bbl differentials
Because of an "aberration in the North Dakota crude oil market," Abraxas Petroleum has restricted rates on a number of new wells in the Williston Basin. Differentials jumped to $21/bbl in December, but the company was able to successfully lock in January differentials of less than $9/bbl. In McKenzie County, the four-well Ravin NE pad has been online for 25 days at restricted rates. Production per well has averaged 1,532 boe/d (77% oil). The 2.1 MMcf/d of gas production is being flared until a...
Jan 15, 2019
RimRock tallies personal best in Dunn County
In this issue's completions data, RimRock Oil & Gas tested seven horizontals in Dunn County, North Dakota, targeting the Middle Bakken and Three Forks first bench. Laterals averaged 9,660 ft and 24-hour IPs averaged 1,512 boe/d (87% oil). The top performer was the MC MHA #14-11-2TFH (9,514-ft lateral) in Moccasin Creek field, which flowed an IP24 of 2,041 bo/d and 2,969 Mcf/d, or 3,436 boe/d (87% oil; 361 boe/d per 1,000 lateral ft) from the Three Forks first bench. This is by far RimRock's...
Jan 15, 2019
BS - Regional Highlights - January 15, 2019
The EIA projects that Bakken production will average 1.461 MMbo/d and 2.682 Bcf/d in January, up by 18,000 bo/d and 25 MMcf/d sequentially. There are 767 DUCs in the Bakken as of November, which is a decline of eight compared to OctoberAccording to EIA monthly production data, North Dakota oil production averaged 1.37 MMbo/d in October, which is up 16% YOY. Montana output during the month was 60,000 bo/d, up 9% YOY. The report pegged US output during October at 11.54...
Jan 15, 2019
Get more news for Bakken Scout