Bakken Scout
Serving the local market with drilling activities, permits & multiple listings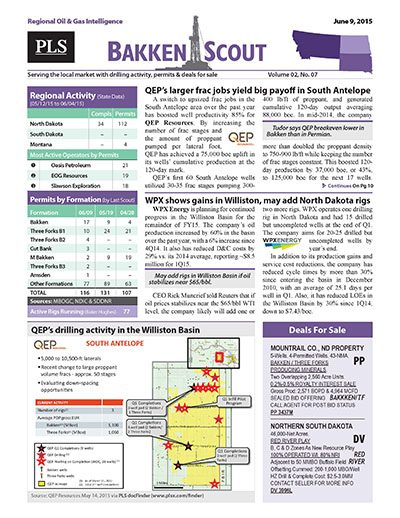 PLS's Bakken Scout covers oil and gas permitting, rig activity and completions in the Dakotas and Montana. The report is available by subscription and is delivered by hard copy and email every 3 weeks. Like other Regionals, the Bakken is packed full of local statistical analysis covering permits, rigs and completions while also covering top stories, fun facts, quick stats and production anomalies.
Stay in front of local prospects, plays & rigs!
North Dakota, South Dakota and Montana
Hard Copy and Email For 1 Individual
Every 3 Weeks (16-20 issues per year)
Regional discoveries, drilling activity, permits,
completions and summary drilling statistics, layered
with regional listings and business opportunities.
Web access to the Bakken Scout archive.
Does not include access to MLS
Search PLS' News Archive for complete oil & gas news for Bakken Scout .
See what it is about before you buy. View a sample issue of Bakken Scout.
Need more information? Click the button to recieve more details about the Bakken Scout
Opportunity is a reflection of information.
Call 713-650-1212 For More Information
Search Bakken Scout:

Headline
Publication
News Date
BS - Hess opts for more capex in 2020, but less in Bakken - February 11, 2020
During 2020, Hess Corp. plans to grow production 15% YOY at midpoint to 330,000- 335,000 boe/d and spend $3 billion on E&P, up from $2.9 billion in 2019. Of the total, 80% will be allocated to growth assets in the Bakken and Guyana. In the Bakken $1.375 billion—down $100 million versus 2019—will fund a sixrig program to drill 170 wells and bring 175 wells online; production is expected to reach 200,000 boe/d by YE20 and average 180,000 boe/d for the year. In 4Q19, Hess produced 174,000...
Feb 11, 2020
BS - Equinor tallies its best Bakken wells of 2019 in a familiar place - February 11, 2020
Equinor's top-performing Williston Basin wells have always been in McKenzie County, North Dakota, and that continued to be the case in 2019. Well results are available for the Norwegian producer's horizontals completed in the first nine months of 2019, and the three-well Broderson #30-31F pad in Banks field delivered three of the company's top four IP24s for that period. Targeting the Middle Bakken, the 5H and 7H wells averaged 9,330-ft effective laterals fracked with 9.8 MMlb of proppant...
Feb 11, 2020
BS - Regional Highlights - February 11, 2020
The US Energy Information Administration projects that Bakken production will rise by 5,000 bo/d and 4 MMcf/d sequentially in February to 1.526 MMbo/d and 3.178 Bcf/d. There were 813 DUCs in the Bakken as of December, up by 18 compared to...
Feb 11, 2020
BS - Whiting Petroleum Highlights - February 11, 2020
Whiting Petroleum is seeking approval from the North Dakota Public Service Commission to expand its Robinson Lake oil conditioning facility in Mountrail County. The expansion would take capacity to 65,000 bo/d from 45,000 bo/d. The facility processes volumes from the company's Sanish...
Feb 11, 2020
BS - Henry Hill Oil Services Co. Highlights - February 11, 2020
The North Dakota Industrial Commission is taking enforcement action against Henry Hill Oil Services Co. and Samson Oil & Gas USA in Williams County. Henry Hill allegedly failed to report a blowout on the Ellis Federal #1-5 SWD in late August and did not properly test blowout prevention equipment. The incident resulted in a production fluid spill that the state says was underreported by the company. In total, 20 infractions are cited. Samson had a spill at the Kermit 1-13H in early August,...
Feb 11, 2020
BS - Eagle Mountain Energy Partners Highlights - February 11, 2020
Newly formed E&P firm Eagle Mountain Energy Partners has entered a partnership with Pearl Energy Investments and Natural Gas Partners, through NGP Natural Resources XIII. Energy Mountain will pursue acquisition and development opportunities focused primarily in the Williston Basin and other select Rockies...
Feb 11, 2020
BS - Ovintiv's strong infill performance boosting Bakken inventory - January 21, 2020
Recent infill spacing results are giving Ovintiv confidence that its Williston Basin inventory is much larger than initially estimated at the time of its Newfield Exploration purchase in early 2019. Legacy parent wells were drilled on 1,320-ft spacing but the company formerly known as Encana now believes 660-ft or even tighter spacing may be advantageous. Additionally, Ovintiv is using larger frac jobs of up to 700 lb of proppant per lateral ft and has seen improved well performance from these...
Jan 21, 2020
BS - ExxonMobil targets Bakken growth through 2024 - January 21, 2020
ExxonMobil plans to bring its US unconventional production to 1 MMboe/d by 2024. While essentially all of the emphasis is on the Permian, the Bakken is growing in the background and will be in its growth phase through 2024. The supermajor is the second-most-active operator in the Bakken, with six rigs running. Only Continental Resources is running more at seven, according to Enverus Rig Analytics. In the first nine months of 2019, Exxon completed 102 wells in North Dakota: 64 in Dunn...
Jan 21, 2020
BS - Regional Highlights - January 21, 2020
The EIA projects that Bakken production will rise by 3,000 bo/d and 3 MMcf/d sequentially in January to 1.526 MMbo/d and 3.118 Bcf/d. There are 760 DUCs in the Bakken as of November, down by two compared to October.According to the Enverus M&A Database, there were 14 deals with disclosed values in the Bakken during...
Jan 21, 2020
BS - Hess Highlights - January 21, 2020
During Q4, Hess completed six wells on the BB-Olson #150-95- 09H pad in McKenzie County, North Dakota, that delivered high IP24s per 1,000 ft. The wells target the Three Forks and Bakken with effective laterals averaging 4,926 ft fracked with 5.0 MMlb of proppant (1,011 lb per lateral ft). During a 24-hour test, the average production rate was 3,900 boe/d (78% oil), or 793 boe/d per 1,000 lateral...
Jan 21, 2020
Get more news for Bakken Scout