InternationalCapital
Serving the global finance market with news, analysis and business opportunities.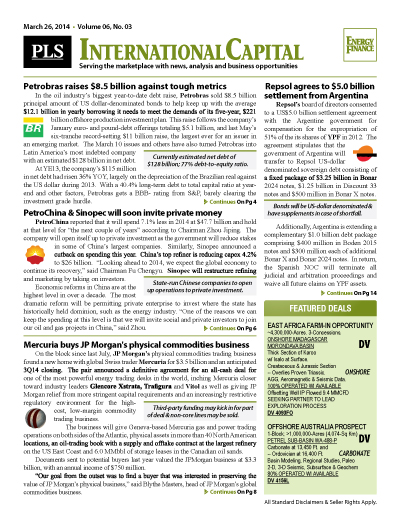 PLS publishes news and analysis in the energy finance sector through its InternationalCapital module. The green banner report includes news and analysis on company budgets, capital spending, financial performance and interviews with leading capital providers
Your access to energy finance
Single copy pricing; Incl hard copy & email version
Increase market insight & deal flow
Every 3 weeks
Covers financings, capex, earnings, new companies
Includes market analysis and new trends
Access to InternationalCapital archives
Phone request for multiple listings for sale
Includes discounts for other PLS products & events
Search PLS' News Archive for complete oil & gas news for InternationalCapital .
See what it is about before you buy. View a sample issue of InternationalCapital.
Need more information? Click the button to recieve more details about the InternationalCapital
Opportunity is a reflection of information.
Call 713-650-1212 For More Information
Search InternationalCapital:

Headline
Publication
News Date
Impact Oil & Gas completes $35MM subscription
Privately owned said that its recently transacted $10 million financing tranche had effectively closed out its $35 million subscription agreement with the Deepkloof Ltd. subsidiary of South African...
Nov 29, 2018
Mozambique will settle with $500MM to bondholders
Mozambique will pay up to $500 million in future offshore gas to bondholders as part of a proposed settlement of a dispute over controversial debts that triggered a financial crisis. The country's...
Nov 29, 2018
Prized Citgo business staying with PDVSA for now
Venezuela reached a deal with Canadian miner Crystallex to settle a $1.4 billion arbitration case, safeguarding its valuable US refining company Citgo within the PDVSA family for now. Crystallex has...
Nov 29, 2018
Warburg sells more than half of Kosmos stake
Funds managed by Warburg Pincus are selling off up to 17.25 million common shares of Bermuda-based Kosmos Energy Ltd. to the public in an offering underwritten by Barclays. The private equity...
Nov 29, 2018
Big oil capital spending will need to rise
BlackRock Inc., which manages $542.79 billion in assets under management and is among the world's biggest investors in energy companies, said oil companies will need to start spending more after 2020...
Nov 29, 2018
IC- Europe Briefs - November 29, 2018
The French government wants state-controlled power company EDF to make structural changes to become more efficient. These may lead to moving some of the group's assets into subsidiaries and the...
Nov 29, 2018
Get more news for InternationalCapital