InternationalCapital
Serving the global finance market with news, analysis and business opportunities.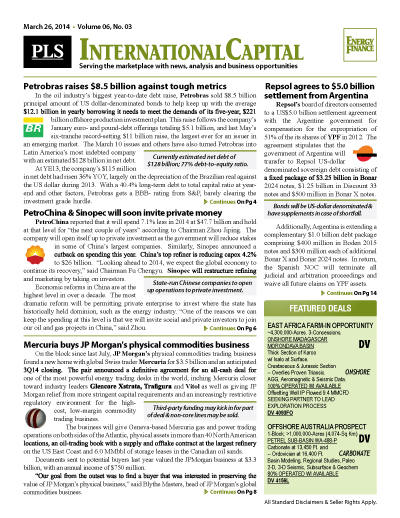 PLS publishes news and analysis in the energy finance sector through its InternationalCapital module. The green banner report includes news and analysis on company budgets, capital spending, financial performance and interviews with leading capital providers
Your access to energy finance
Single copy pricing; Incl hard copy & email version
Increase market insight & deal flow
Every 3 weeks
Covers financings, capex, earnings, new companies
Includes market analysis and new trends
Access to InternationalCapital archives
Phone request for multiple listings for sale
Includes discounts for other PLS products & events
Search PLS' News Archive for complete oil & gas news for InternationalCapital .
See what it is about before you buy. View a sample issue of InternationalCapital.
Need more information? Click the button to recieve more details about the InternationalCapital
Opportunity is a reflection of information.
Call 713-650-1212 For More Information
Search InternationalCapital:

Headline
Publication
News Date
IC - Petrobras issues $3B in notes to finance debt repurchases - March 2019
Petrobras priced two tranches of notes totaling $3 billion in its first global offerings of 2019—$2.25 billion aggregate principal amount of new 6.9% global notes due 2049 and $750 million aggregate principal amount of 5.75% global notes due 2029. The 2029 notes are an add-on to the $1.9 billion of the 2029 notes that the company issued in January 2018. Both US dollar-denominated bonds were sold at 100. The new 2029s will be consolidated with the earlier issued ones to form a single...
Mar 20, 2019
IC - Norway's $1T wealth fund to reduce energy stock holdings - March 2019
Norway's $1 trillion Government Pension Fund Global, the country's sovereign wealth fund fed by oil revenue, intends to divest certain holdings in E&P companies, reducing its overall $37 billion in oil and gas shares by about 20%. The government's report, which is the product of a yearlong study, presented the move as a way to derisk the fund from crude prices. The shift fell far short of environmentalist demands that the fund completely exit energy stocks. The fund, the richest of its...
Mar 20, 2019
IC - Citgo seeking $1.2B loan to continue operations - March 2019
Citgo Petroleum Corp. is shopping a $1.2 billion loan for working capital as US sanctions bear down on parent company PDVSA. The Venezuelan NOC could possibly default on an upcoming $70 million interest payment on its 2020 notes, for which it used 50.1% of Citgo as collateral. The Houston-based refining company engaged Houlihan Lokey to help refinance its credit lines that come due this year, according to Bloomberg. The deal launched midMarch and is expected to close March 22, according...
Mar 20, 2019
IC - Lukoil working out $600MM debt with Uzbek gas firms - March 2019
Two of the projects Lukoil runs in Uzbekistan are owed about $600 million by gas transport companies in the country. In turn, the Russian independent integrated company is rescheduling debt payments and will make a provision for a discount on future sales, according to VP Azat Shamsuarov. The deficit stems from an agreement Lukoil had made to deliver gas from the two fields—Kandym and Gissar— to Uzbek distributors, though the company has the right to export all of its share...
Mar 20, 2019
IC - UK capex to rise this year before resuming downward slide - March 2019
After four years of falling aggregate oil and gas capital expenditure in the UK, the country's Oil and Gas Authority forecasts a 4% increase in capital spending this year. Last year's £5.01 billion in spending, down from over £12 billion in 2015, will rise to £5.2 billion this year, but the growth will not portend a trend: The OGA expects capex to fall below 2018 levels in 2020 to £5 billion, then drop off sharply to £2.55 billion by 2024. Exploration and appraisal spending will peak this year...
Mar 20, 2019
IC - Cairn spending $300 million to develop global projects - March 2019
Cairn Energy PLC plans to bring 2019 capital expenditures up an estimated 19% to $300 million after spending $252 million last year. The company said it would focus on the first phase of development at the SNE field in Senegal and the Nova field in Norway, drill up to four exploration wells in the UK and Norway, and three in Mexico. The company estimates net production of 19,000-22,000 boe/d this year, with a $20/bbl average production cost. Last year Cairn produced an average of nearly...
Mar 20, 2019
IC - North Sea's i3 closes equity sale, awaiting debt proceeds - March 2019
UK independent E&P company i3 Energy Ltd. grossed £16 million in proceeds through an accelerated bookbuild of over 43.2 million ordinary shares at 37p each. These funds, along with those obtained through an anticipated £24 million junior secured loan note facility, will be put to work on i3's three-well appraisal and development drilling program at its Liberator oil field and Serenity prospect in the North Sea. The first tranche of over 11 million shares began AIM trading March 18 and...
Mar 20, 2019
IC - Saipem grew losses last year, prepares for May trial - March 2019
Saipem announced bigger net losses for 2018 at €472 million ($536.8 million), a 44% YOY jump as the company wrote down $497 million worth of assets and reorganization expenses. Its adjusted net profit of €25 million was off 46% YOY, and 2018 revenue fell 5% to about €8.53 billion on lower onshore engineering and construction activity. CEO Stefano Cao said the company "redefined the objectives of company repositioning, which are already demonstrating the appropriateness and timeliness of...
Mar 20, 2019
IC - India seeking second dividends from IOC & ONGC - March 2019
The Indian government wants its energy companies to pay it more rupees through a second interim dividend for the current fiscal year. The country's goods and services tax collections are off by an estimated INR 300-400 billion ($4.3-5.8 billion) this fiscal year and a shortfall in direct tax collections is expected to be at a similar level, so India wants Indian Oil Corp. and Oil & Natural Gas Corp. to help make up the loss. ONGC declined, saying it does not have the available cash...
Mar 20, 2019
IC - India asked to help Venezuelans by halting oil purchases - March 2019
The US has asked India to stop buying Venezuelan crude as a means to help dry up cash flow for the current regime led by Nicolas Maduro, who obtained a second term as the country's president in an election deemed fraudulent by several countries. India is the second-largest buyer of Venezuelan crude after the US, which has set up an alternate payment system for the crude it buys. US payment for Venezuelan oil now flows through an account that would be available to the head of Venezuela's...
Mar 20, 2019
Get more news for InternationalCapital