InternationalDeals
Serving the global asset marketplace with deals, analysis and business opportunities.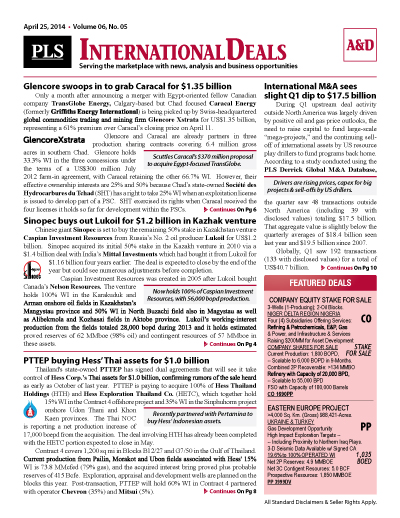 PLS publishes specialized international research and analysis under the InternationalDeals masthead. InternationalDeals includes market analysis and aggregated news on global m&a activities, acquisitions, divestitures, international exploration, new discoveries, lease concessions, farmouts, capital markets, midstream and downstream news.
PLS' most popular International report
Single copy pricing; Incl hard copy & email version
Guaranteed to increase deal flow and market insight
Every 3 weeks
Latest in asset acquisitions, corporate M&A activity, deals in play & industry buying trends
Access to InternationalDeals archives
Phone request to multiple listings
Search PLS' News Archive for complete oil & gas news for InternationalDeals .
See what it is about before you buy. View a sample issue of InternationalDeals.
Need more information? Click the button to recieve more details about the InternationalDeals
Opportunity is a reflection of information.
Call 713-650-1212 For More Information
Search InternationalDeals:

Headline
Publication
News Date
IS - Eni sets out new strategy with oil & gas decline after 2025 - March 2020
Eni released its long-term strategic plan to 2050 at the end of February, targeting a 3.5% annual growth rate in upstream production through 2025, followed by a flexible decline of primarily oil. Production in 2019 averaged 1.87 MMboe/d (48% liquids), indicating a 2025 target of 2.3 MMboe/d. The company expects gas production to make up 60% of total output by 2030 and 85% by 2050. Eni is also targeting a renewables portfolio with an installed capacity of 3 GW by 2023, 5 GW by 2025 and...
Mar 03, 2020
IS - Shell's upstream production up 8%, but profits fall to $16.5B - February 2020
Shell attributed its 23% YOY profit drop last year to lower prices combined with tough economic conditions. The supermajor reported $16.5 billion of net income to shareholders on a current cost of supply basis, its proxy for net profit, for 2019 compared with $21.4 billion for 2018. Revenue of $345 billion for the year was off 11% from the previous year. Cash flow from operations of $42.2 billion, down 21% YOY, was well above Shell's $23 billion of capital spending for the year, which...
Feb 11, 2020
ID - Soco closes purchase of El Fayum concession - April 2019
London-listed Soco International closed its previously announced $237 million acquisition of Merlon Petroleum El Fayum from Merlon International. The deal added the El Fayum concession to Soco's Vietnam-focused portfolio. El Fayum has 11 producing fields across 451,200 acres in Egypt's Gindi Basin and net 2P reserves of 24 MMbbl. The transaction was for $136 million in cash and the issue of 65.6 million new shares, making Merlon International a 16.5% owner of Soco. In addition, Soco...
Apr 17, 2019
ID - ShaMaran announces new plan to boost assets in Atrush - April 2019
ShaMaran Petroleum Corp. will attempt for the third time in less than a year to boost its stake in the Atrush production sharing contract in the Kurdistan region of Iraq. The latest effort may succeed as it has tentative approval from the operator and the Kurdistan Regional Government. The company announced plans in June to boost its stake in Atrush from 20.1% to 35% by acquiring an additional 15% WI from Marathon Oil, which is exiting the region to focus on the US. ShaMaran offered $60...
Apr 17, 2019
ID - Inpector Capital takes over Issaran field with Scimitar buy - April 2019
The Netherlands' Inpector Capital Holding BV bought Scimitar Production Egypt Ltd. for an undisclosed sum. Scimitar is a private exploration and production company that has a 100% operated interest in the 72-sq-km Issaran concession, which contains the 2,200 bo/d Issaran field. Inpector named Erik Vollebregt, who was the commercial and finance director of Shell Nigeria, as executive chairperson of Scimitar after the deal closed. Inpector Capital spokesperson Corné Melissen aid the...
Apr 17, 2019
ID - Chariot obtains operatorship of offshore Morocco license - April 2019
London-listed Chariot Oil & Gas was awarded 75% WI and operatorship of the Lixus offshore license in Morocco. Its partner, the National Office of Hydrocarbons and Mines, holds a 25% carried interest. The license includes the Ancois-1 well, which led to a gas discovery that contains 307 Bcf of 2C resources offering near-term development opportunity. The license includes a deeper potential not penetrated by the Anchois-1 well of 116 Bcf 2U prospective resources. Multiple tie-back...
Apr 17, 2019
ID - Premier closes $66MM sale of Pakistan assets - April 2019
Premier Oil closed the sale of its Pakistan assets to privately held AlHaj Energy Ltd. for $65.6 million. The transaction was announced nearly two years ago, in April 2017, when Premier said the sale was part of its strategy to sell noncore assets and cut debt. Al-Haj paid a deposit to Premier of $15 million in April 2017 and was scheduled to pay an additional deposit of $10 million in the next 60 days. The economic date of the transaction is Jan. 1, 2017, with Premier retaining 2016...
Apr 17, 2019
ID - BP seeking to increase its stake in Azerbaijan's ACG project - April 2019
BP, the operator of the Azeri-Chirag-Gunashli project in Azerbaijan with 30.4% WI, is considering increasing its stake, with the possible acquisition of interests held by ExxonMobil (6.8%) and Chevron (9.6%). The two companies are evaluating their packages and have not announced an intention to sell, Russian news agency Interfax reported. ACG was discovered in the early 1970s and is the largest oil field in the Azerbaijan sector of the Caspian Basin. BP signed a production sharing agreement in...
Apr 17, 2019
ID - Kazakhstan's PetroRetail buys gas stations for $159 million - April 2019
Kazakhstan gasoline retailer PetroRetail agreed to buy rival KMG-Retail LLP from Kazakhstan state-held KazMunayGas for ~$159 million (KZT60.5 billion). KMG Retail operates a chain of gas stations in Kazakhstan and is now a subsidiary of PetroRetail. The transaction was agreed in December and the parties involved signed a purchase and sale contract on Feb. 8. The effective date of the transaction was April 1 and the deal itself was announced the following day. Under terms of the...
Apr 17, 2019
ID - Diamond sells stake in Western Australia's Fitzroy block - April 2019
Mitsubishi Corp.'s Diamond Resources Barbwire sold its 37.5% WI in the Fitzroy block in Western Australia to its partners for $856,000 (A$1.2 million). Buru Energy has 60% WI in the block which includes two exploration permits: EP457 and EP458. Its partner, Australia-listed Rey Resources, holds the balance. Perth-based Buru paid A$720,000 for an additional 22.5% WI in the two permits, a transaction which boosts its stake in the two permits to 60%. Buru will continue to be the operator for...
Apr 17, 2019
Get more news for InternationalDeals