InternationalDeals
Serving the global asset marketplace with deals, analysis and business opportunities.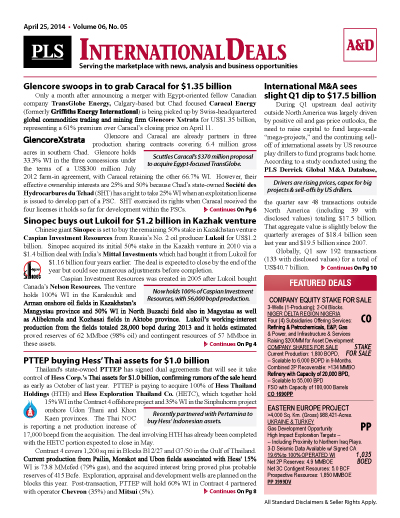 PLS publishes specialized international research and analysis under the InternationalDeals masthead. InternationalDeals includes market analysis and aggregated news on global m&a activities, acquisitions, divestitures, international exploration, new discoveries, lease concessions, farmouts, capital markets, midstream and downstream news.
PLS' most popular International report
Single copy pricing; Incl hard copy & email version
Guaranteed to increase deal flow and market insight
Every 3 weeks
Latest in asset acquisitions, corporate M&A activity, deals in play & industry buying trends
Access to InternationalDeals archives
Phone request to multiple listings
Search PLS' News Archive for complete oil & gas news for InternationalDeals .
See what it is about before you buy. View a sample issue of InternationalDeals.
Need more information? Click the button to recieve more details about the InternationalDeals
Opportunity is a reflection of information.
Call 713-650-1212 For More Information
Search InternationalDeals:

Headline
Publication
News Date
ID - People & Companies - January 03, 2018
Argentina's Energy Secretary Javier Iguacel resigned Dec. 28 and was replaced by presidential advisor Gustavo Lopetegui. The announcement of the resignation came less than a day after news that...
Jan 03, 2019
Australia and Middle East lead YE18 dealmaking
Initial results from the Global M&A Database indicate 274 international deals with total disclosed value of $40.5 billion in 2018, down 5% and 11%, respectively, from 2017 (PG.1). After a strong...
Jan 03, 2019
QP expands offshore Mozambique and offshore Mexico
Qatar Petroleum was a particularly active acquirer as 2018 drew to a close, picking up assets offshore Mozambique from ExxonMobil and offshore Mexico from Eni.Exxon is divesting non-operated 10% WI...
Jan 03, 2019
PTTEP consolidates ownership of domestic fields
Thailand's PTT Exploration and Production will continue as operator of the Bongkot gas field and will take over operatorship of Erawan gas field from Chevron, which has operated the asset since 1981....
Jan 03, 2019
Get more news for InternationalDeals