InternationalDeals
Serving the global asset marketplace with deals, analysis and business opportunities.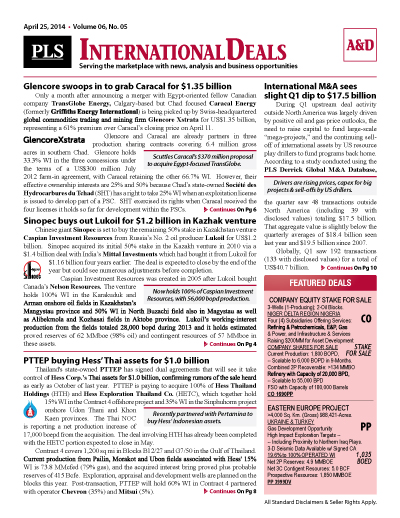 PLS publishes specialized international research and analysis under the InternationalDeals masthead. InternationalDeals includes market analysis and aggregated news on global m&a activities, acquisitions, divestitures, international exploration, new discoveries, lease concessions, farmouts, capital markets, midstream and downstream news.
PLS' most popular International report
Single copy pricing; Incl hard copy & email version
Guaranteed to increase deal flow and market insight
Every 3 weeks
Latest in asset acquisitions, corporate M&A activity, deals in play & industry buying trends
Access to InternationalDeals archives
Phone request to multiple listings
Search PLS' News Archive for complete oil & gas news for InternationalDeals .
See what it is about before you buy. View a sample issue of InternationalDeals.
Need more information? Click the button to recieve more details about the InternationalDeals
Opportunity is a reflection of information.
Call 713-650-1212 For More Information
Search InternationalDeals:

Headline
Publication
News Date
IS - npex set to begin Ichthys Phase 2 development in March - February 2020
Inpex awarded seven contracts to Halliburton for drilling and completion services for Ichthys Phase 2 development. Work for the LNG project is scheduled to begin in March and continue for at least three years. Australia's National Offshore Petroleum Safety and Environmental Management Authority approved the project's environment plan in December. Phase 2 involves drilling, completing and tying in 12-15 development wells. There is also a potential for workovers and interventions of existing and...
Feb 11, 2020
IS - Equinor's 2019 net income and total revenue down YOY - February 2020
Equinor reported 2019 net income of $1.85 billion on total revenue of $64.3 billion, compared with over $7.5 billion in profits on $79 billion of total revenue for the prior year. At over $13 billion, the company's depreciation and amortization expenses were roughly a third above the previous three-year average, ultimately bringing down operating income to $9.3 billion. With an 80% income tax rate, the company paid out over $7.4 billion to the Norwegian government. Cash flows...
Feb 11, 2020
IS - GeoPark makes near-field gas discovery in southern Chile - February 2020
Latin American E&P firm GeoPark Ltd. made a near-field discovery on its onshore Fell block in Chile on Argentina's southern border. The Jauke Oeste 1 exploration well was drilled to 9,596 ft and 1 km north of the Jauke gas field, which is currently producing 8.4 MMcf/d from two wells. The Jauke Oeste discovery was tested from the Tobifera formation and averaged 4.7 MMcfe/d (7% condensate). Jauke Oeste is already in production, and gas and condensate are being sold to offtakers. Both...
Feb 11, 2020
IS - Shell's upstream production up 8%, but profits fall to $16.5B - February 2020
Shell attributed its 23% YOY profit drop last year to lower prices combined with tough economic conditions. The supermajor reported $16.5 billion of net income to shareholders on a current cost of supply basis, its proxy for net profit, for 2019 compared with $21.4 billion for 2018. Revenue of $345 billion for the year was off 11% from the previous year. Cash flow from operations of $42.2 billion, down 21% YOY, was well above Shell's $23 billion of capital spending for the year, which...
Feb 11, 2020
ID - Chevron buys Anadarko for $50B; 6th-largest upstream deal - April 2019
Breaking the logjam that has blocked global deal flow since late 2018, Chevron agreed to acquire Anadarko Petroleum for $50 billion. The deal expands Chevron's US onshore portfolio, primarily in the Permian Basin, adds deepwater Gulf of Mexico assets, and enhances its global LNG portfolio with the addition of Anadarko's gas discoveries off Mozambique and proposed liquefaction project. "It creates attractive growth opportunities in areas that play to Chevron's operational strengths and...
Apr 17, 2019
ID - Petrobras sells off most of gas transporter TAG for $8.6B - April 2019
French power producer Engie and the Canadian pension fund Caisse de dépôt et placement du Québec will buy a 90% stake in the Transportadora Associada de Gas SA from Brazil's Petrobras for $8.6 billion. The new owners will issue new debt to allow TAG, Brazil's largest storage and transportation network, to repay its current debt holders and to maintain a 70:30 debt-to-equity ratio. TAG has operated as a Petrobras subsidiary since June 2014. Engie will take over operations and maintenance...
Apr 17, 2019
ID - Saudi Aramco to take over SABIC in $69B transaction - April 2019
Saudi Aramco agreed to buy a 70% stake in SABIC, Saudi Arabia's petrochemical giant, for $69.1 billion, merging the country's two largest companies and giving Crown Prince Mohammed bin Salman's plans to diversify the country a significant boost. The transaction is one of the biggest in the global chemical industry and formalizes a process that has been under discussion for more than a year. SABIC employs 34,000 people globally, lists 30% of its shares on the Saudi stock exchange and has a...
Apr 17, 2019
ID - International M&A in Q1 fares better than US or Canada - April 2019
The international upstream deal market fared significantly better than the US and Canada in the wake of the late2018 oil price decline. That may seem strange since disclosed international deal values dropped 60% from $8.84 billion in 4Q18 to $3.56 billion in 1Q19, the lowest level since 2Q12, according to the Global M&A Database. However, compare that to US M&A's 78% drop to a 10-year low of $4.17 billion and the 93% plummet to $52 million seen in Canada. Looking at the number of...
Apr 17, 2019
ID - Carlyle to buy 30-40% of Cepsa from Mubadala for $3.6-4.8B - April 2019
The Carlyle Group has agreed to buy 30-40% of Madrid-based Cepsa from Abu Dhabi's sovereign fund Mubadala Investment Co. The investment group said the transaction assigned Cepsa an enterprise value of $12 billion, implying payment of $3.6- 4.8 billion for the minority stake. Founded in 1929 and acquired by Mubadala in 2011, Cepsa is Europe's largest privately held integrated oil and gas company. The transaction is expected to be completed by YE19. The transaction comes after Mubadala...
Apr 17, 2019
ID - Vopak sells 3 Euro terminals to Aussie investor for $812MM - April 2019
Australian wealth manager Colonial First State Investments Ltd. will buy three terminals in Algeciras, Spain; Amsterdam; and Hamburg, Germany from Dutch storage company Vopak for $812 million (~€723 million). The sale, which Vopak said has an implied multiple of more than 10x EBITDA, is expected to close in H2. Vopak is working to shift its portfolio towards industrial, chemicals and LNG. In particular, it wants to expand chemical and bunker fuel terminals in Antwerp, Rotterdam, Singapore and...
Apr 17, 2019
Get more news for InternationalDeals