InternationalCapital
Serving the global finance market with news, analysis and business opportunities.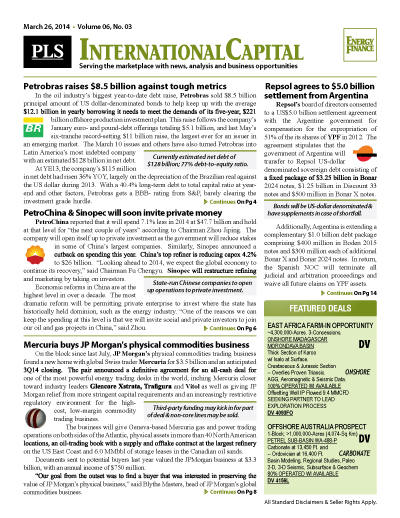 PLS publishes news and analysis in the energy finance sector through its InternationalCapital module. The green banner report includes news and analysis on company budgets, capital spending, financial performance and interviews with leading capital providers
Your access to energy finance
Single copy pricing; Incl hard copy & email version
Increase market insight & deal flow
Every 3 weeks
Covers financings, capex, earnings, new companies
Includes market analysis and new trends
Access to InternationalCapital archives
Phone request for multiple listings for sale
Includes discounts for other PLS products & events
Search PLS' News Archive for complete oil & gas news for InternationalCapital .
See what it is about before you buy. View a sample issue of InternationalCapital.
Need more information? Click the button to recieve more details about the InternationalCapital
Opportunity is a reflection of information.
Call 713-650-1212 For More Information
Search InternationalCapital:

Headline
Publication
News Date
IC - First-quarter supermajor earnings disappoint some investors - May 2019
BPX EnergyExxon Mobil Corp. and Chevron Corp., the largest and third-largest publicly traded supermajors, reported 50% and 27% lower earnings in Q1 on anemic refining and chemical margins and a volatile price environment. It's a theme investors are likely to hear among US companies with refining operations, more so than those outside the country, as they are not seeing the discounts of US crude prices compared to global prices. In Exxon's case, the weaker environment generated its first...
May 01, 2019
IC - Equinor moves climate higher into business model - May 2019
Shareholder activism has pushed Equinor ASA to further align its business model with steps believed to be necessary to address climate change. Some of the moves include becoming compliant with the goals of the 2015 Paris climate accord, reviewing its corporate lobbying policy and reviewing and reporting the carbon content in its products. At the same time, the Oslo Børs- and NYSEtraded company is also encouraging its shareholders to vote against three climate-related proposals that were...
May 01, 2019
IC - Zero exemptions across the board on Iran sanctions - May 2019
The US will not renew waivers for Iranian oil buyers that were granted sixmonth reprieves from sanctions in November. The waivers were issued to eight countries and will expire May 2. The decision primarily affects five remaining importers: China, India, Japan, South Korea and Turkey, which have all lobbied the Trump administration to extend the waivers. The other three countries that were granted waivers—Greece, Italy and Taiwan—have already reduced their purchases of Iranian crude to...
May 01, 2019
IC - Saudi wealth fund considering bonds, but in no hurry - May 2019
Inspired by Saudi Aramco's more than 8x oversubscribed, $12 billion bond sale a few weeks ago, Saudi Arabia's sovereign wealth fund is looking at raising money the same way or through a syndicated bank loan. The Public Investment Fund may tap the global debt market for the billions it will need to invest in businesses that will diversify and overhaul the Saudi economy, per Crown Prince Mohammed bin Salman's ambitious Vision 2030 plan. PIF is in the early stages of discussion on a...
May 01, 2019
IC - BP & partners spending $6B on Azeri oilfield complex - May 2019
BP and partners approved a $6 billion plan for the Azeri Central East project. The project will be one of several in the giant Azeri-Chirag-Gunashli deepwater complex in the Azerbaijani part of the Caspian Sea. The investment is the first major decision since the ACG production sharing agreement was extended to 2049 two years ago.The partners have invested over $36 billion into the development of the ACG area since BP signed the original PSA in 1994. The development will include a...
May 01, 2019
IC - KazMunayGas paying down debt but still making more - May 2019
Kazakhstan's state-owned KazMunayGas announced an early redemption of $1 billion in 6% bonds in April and redemptions of $1.6 billion in eurobonds and paydown of $400 million in long-term debt to Russia's Sberbank. During 2018 it issued $3.25 billion in eurobonds and partially restructured and extended the maturity of its debt. It ended 2018 with over $5 billion in cash and equivalents, its smallest year-end total in three years, and increased its net debt 61% to $5.8...
May 01, 2019
IC - Gazprom doubles net profit to over $22B in 2018 - May 2019
Russia's gas colossus Gazprom reported a doubling of its profits to RUB1.46 trillion ($22.6 billion) as the company sold record amounts of gas to Europe and Turkey last year. It sold over 7.1 Tcf to those markets, and also reported growth in oil and gas processing, crude and gas condensate. The combination of higher gas prices and a weak ruble resulted in the record profits. Its Gazprom's highest net income since 2013. Revenue for 2018 was RUB8.4 trillion ($119 billion). In rubles,...
May 01, 2019
IC - European Union investing in Poland-led Baltic pipeline - May 2019
Poland, opposed to the construction of the 5.3 Bcf/d Gazprom-led NordStream 2 pipeline to Germany, won €215 million ($243 million) in support from the European Union for its €1.7 billion, 967 MMcf/d Baltic pipeline to Denmark. Polish pipeline operator Gaz-System said the investment would cover some of the costs of the pipeline itself and improvements to Poland's natural gas transmission system. Polish Prime Minister Mateusz Morawiecki alleged that NordStream 2 threatens security in Central...
May 01, 2019
IC - OMV Petrom spending $978MM in Romania this year - May 2019
OMV Petrom announced that its shareholders on April 19 approved a capital expenditures budget of RON4.17 billion ($978 million) for 2019. The majority of the investment planned for this year, around $804 million, will be in upstream while about $129 million will be dedicated toward downstream. The company worked the budget around an average Brent price of $70. Upstream investment will partly mitigate the natural production decline because of field maturity, the company said. Production...
May 01, 2019
IC - Ukraine's Naftogaz signs $1B deal with Chinese insurer - May 2019
China's state-owned credit firm Sinosure signed a deal in April to provide Ukraine's state energy company Naftogaz with $1 billion in insurance coverage, which would enable the company to raise debt financing. In the first step under the new policy, Naftogaz will borrow about $160 million to fund current contracts with Chinese companies, with an additional $800 million waiting for the company for future projects. "This insurance coverage from Sinosure does not require a...
May 01, 2019
Get more news for InternationalCapital