QuickPrice
Serving the marketplace with prices, metrics and analysis.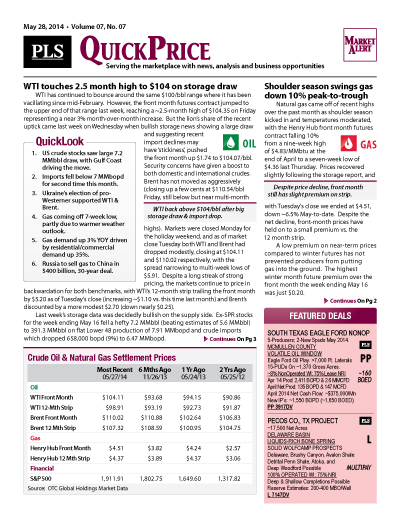 PLS publishes news and analysis impacting oil and gas pricing through its QPi (Pricing) Module. The maroon report is designed to provide active operators, acquirers, explorationists, capital providers and investors the key market and price information they need to be successful.
Your access to energy commodity pricing
Single copy pricing; Only email version
Increase understanding of oil and gas pricing
Published every 2 weeks
Stay abreast of current price dynamics and future outlook.
Includes discounts for other PLS products & events
Search PLS' News Archive for complete oil & gas news for QuickPrice .
See what it is about before you buy. View a sample issue of QuickPrice.
Need more information? Click the button to recieve more details about the QuickPrice
Opportunity is a reflection of information.
Call 713-650-1212 For More Information
Search QuickPrice:

Headline
Publication
News Date
QP - Crude stocks draw as production cuts meet rising demand - May 19, 2020
Continued crude storage stability is supporting near-term oil pricing along with a narrowing contango in front-month/second-month Nymex crude, which shrank by $1.10/ bbl last week. According to the EIA, commercial crude inventories fell by 745,000 bbl/d the week that ended May 8. Stocks at Cushing dropped by 3 MMbbl, the hub's first draw since the last week in February. Meanwhile, EIA data indicated a 300,000 bbl/d contraction in Lower 48 field production to 11.2 MMbbl/d. US gasoline...
May 18, 2020
QP - The Week in Crude Oil Markets - May 11, 2020
WTI for June delivery ended last week settling at $24.74/bbl, up 29.5% from Monday's open. Prices continued to increase on news of deeper production cuts in the United States as well as green shoots emerging in gasoline demand. Still, one can't help but get the sense that futures markets are getting a bit ahead of the recovery, especially when one considers the ominous signs emerging in distillates, difficult export arbs for US light sweet crude, and the rising longto-short ratio in Nymex WTI...
May 11, 2020
QP - The Week in Crude Oil Markets - May 4, 2020
June WTI settled at $19.78/bbl last Friday, up 17.5% from last Monday's open. Prices were supported by smaller-than-expected US inventory builds as well as early indications that production cuts are beginning to take effect globally. Despite the recent easing in the rate of inventory builds, physical markets still remain oversupplied. Supply pressures persist even as refined product demand begins to come out of its vegetative state, and it is likely to take some time before demand recovers to...
May 04, 2020
QP - The Week in Crude Oil Markets - April 27, 2020
Crude oil futures started the week off on poor footing, with May WTI falling into unprecedented negative territory Monday, two days before contract rollover, and June WTI trading in the low teens that morning. The US Oil Fund, a large exchangetraded fund that invests in crude oil futures, announced that it would be exiting its long position in the June WTI contract because of "evolving market conditions." While it is yet to be seen whether the June contract will come under the same pressures...
Apr 27, 2020
QP - The Week in Crude Oil Markets - April 20, 2020
Front-month WTI futures settled at $18.27/bbl on Friday, an 18-year low. Since then, WTI has fallen to uncharted negative territory as futures converge with spot prices close to expiry. The unprecedented contraction in global oil demand threatens to fill all available storage capacity in the US, and shut-ins are already beginning to materialize. Last week the North Dakota Industrial Commission reported that 4,600 wells in the state have stopped producing since the beginning of March, equating...
Apr 20, 2020
QP - The Week in Crude Oil Markets - April 13, 2020
Front-month WTI futures ended last week on a low note, with the May contract settling on Thursday at $22.76/bbl compared to last Monday's open of $26.09/bbl. This weekend's historic OPEC+ agreement to take 9.7 MMbbl/d off the market starting May 1 was largely in line with market expectations, prompting a fairly muted price response this morning. Although any cuts to production are certainly better than none, the magnitude of global inventory builds projected for April and May is still likely to...
Apr 13, 2020
QP - The Week in Crude Oil Markets - April 6, 2020
Front-month WTI futures ended last week on a high note, settling at $28.34/bbl on renewed talk of a globally coordinated production cut. However, renewed bullish sentiment was dealt a blow over the weekend due to a spat between Saudi Arabia and Russia over whom is to blame for last month's failed OPEC+ meeting. Initial talks were planned to begin today, but have been moved to Thursday, April 9. The goal of the negotiations is to reduce oil production by 10%, which is going to require broader...
Apr 06, 2020
QP - The Week in Crude Oil Markets - March 30, 2020
May WTI settled at $21.51/bbl on Friday, down from last Wednesday's high of $25.24/ bbl. As of this morning's trading, front-month WTI was testing support at $20/bbl and the front spread has continued deeper into contango at $3.81/bbl. The last time the front spread was this far in contango was in February 2011, when Cushing storage was approaching full capacity. Prompt crude oil prices in the field are approaching single digits in many locations. Shut-ins are likely to emerge in the coming...
Mar 30, 2020
QP - The Week in Crude Oil Markets - March 23, 2020
Talk of $10-$15/bbl crude oil is permeating conversations among traders and market analysts as prompt WTI treads water just below $22.50/bbl. Given the inability of nonOPEC production to respond quickly to the precipitous drop in global oil demand just as Saudi Arabia and others ramp up production, inventory builds in April and May are expected to be historically unrivaled in both the size and the speed at which they develop. Stepped-up quantitative easing announced by the Federal...
Mar 23, 2020
QP - The Week in Crude Oil Markets - March 16, 2020
Despite President Donald Trump's pledge on Friday to fill the Strategic Petroleum Reserve "to the top," crude oil futures continued to slide Monday morning amid growing fears of an outright contraction in global oil demand this year. A number of countries around the globe are going into lockdown in an effort to slow the coronavirus pandemic. Even without a contraction in world oil demand, the SPR fill proposed by the White House would only partly offset the volumes going into commercial...
Mar 16, 2020
Get more news for QuickPrice