Western Scout
Serving the local market with drilling activities, permits & multiple listings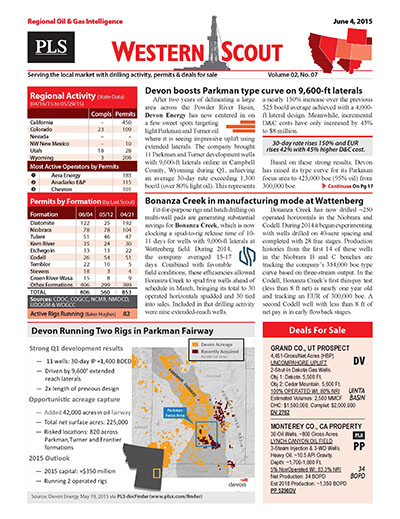 PLS's Western Scout covers local drilling activity, permit data, rig activity and completions in the Southern Rockies, (Colorado, Wyoming, NW Nebraska, Utah, Four Corners) and Western US, (California, Nevada, Oregon, Washington). Like all of PLS's Regionals this report includes a wealth of statistical analysis on activities and corporate performance. The reports also layer select advertising, business opportunities and multiple listings for sale.
Stay in front of local prospects, plays & rigs!
Southern Rockies, Colorado, NW Nebraska, Wyoming, Utah, Four Corners and the Western U.S., California, Nevada, Oregon and Washington
Hard Copy and Email For 1 Individual
Every 3 Weeks (16-20 issues per year)
Regional drilling activity, permits, completions and statistics layered with regional listings and business opportunities
Does not include access to MLS
Search PLS' News Archive for complete oil & gas news for Western Scout .
See what it is about before you buy. View a sample issue of Western Scout.
Need more information? Click the button to recieve more details about the Western Scout
Opportunity is a reflection of information.
Call 713-650-1212 For More Information
Search Western Scout:

Headline
Publication
News Date
WS - HighPoint's Hereford optimization program fully online - Auguat 27, 2019
HighPoint Resources has reached a milestone at its large-scale Hereford optimization program in northern Weld County, Colorado. All 23 wells on two DSUs have been completed and placed on controlled flowback, which has pushed output to a record high of more than 10,000 boe/d for the project—40% higher than the Q2 average. The company has successfully completed its extensive reservoir and geologic technical study within DSU 11-63-16 and DSU 11-63-17 with an emphasis on immediately advancing...
Aug 27, 2019
WS - Wattenberg-focused PDC and SRC to unite in $1.7 billion deal - August 27, 2019
PDC Energy entered an agreement to acquire SRC Energy for $1.7 billion, with consideration in the form of $1.015 billion in stock and the assumption of $685 million in debt. The addition of SRC's assets will increase PDC's Wattenberg field acreage by 90% to 182,000 net acres (100% in Weld County, Colorado) and Wattenberg production by 58% to 166,000 boe/d, catapulting it above Noble Energy to become the second-largest DJ Basin producer behind Occidental Petroleum. The combined companies would...
Aug 27, 2019
WS - Regional Highlights - August 27, 2019
The EIA projects that Niobrara production will rise by 12,000 bo/d and 54 MMcf/d sequentially in September to 758,000 bo/d and 5.62 Bcf/d. There are 422 DUCs in the Niobrara as of July, down by 23 from...
Aug 27, 2019
WS - Bonanza Creek Energy Highlights - August 27, 2019
Bonanza Creek Energy's Q2 production averaged 24,400 boe/d (62% oil, 16% NGLs), up 62% YOY. The company drilled 17 operated wells, including seven extended-reach laterals, and completed 19 operated wells. No wells were turned to sales in Q2, but 23 will be brought online in...
Aug 27, 2019
WS - PDC Energy Highlights - August 27, 2019
PDC Energy is lowering its 2019 capital spending guidance by $15 million to a range of $810-840 million, primarily due to dropping from three rigs to two in Wattenberg field in September. This will enable the company to generate $160-190 million in free cash flow in...
Aug 27, 2019
WS - Devon Energy Highlights - August 27, 2019
Devon Energy brought six wells online in the Powder River Basin during Q2, with initial 30-day rates averaging 1,500 boe/d (80% oil). Five of those wells targeted the Turner in the Super Mario area of Converse County, Wyoming, and delivered IP30s ranging 1,100-2,300 boe/d. The top performer was the RU PRCC 36- 2XLTH, which flowed 2,300...
Aug 27, 2019
WS - DCP Midstream Highlights - August 27, 2019
DCP Midstream signed a longterm agreement that will provide it with up to 225 MMcf/d of incremental processing capacity at Western Midstream Partners's DJ Basin gas processing complex, which includes the Latham II plant currently under construction. The deal means DCP will call off its 200-300 MMcf/d Bighorn processing facility in Colorado, which had been scheduled for startup in mid-2020. DCP, which intended to spend $325 million next year to build the Bighorn facility, instead will spend $125...
Aug 27, 2019
WS - Peak tests 224 boe/d per 1,000 ft in Parkman & Turner-Frontier - August 06, 2019
Durango, Colorado-based independent Peak Powder River's first completions of 2019 were recently released by the state of Wyoming, and the results showed high rates per 1,000 lateral ft. A four-well Parkman pad and a separate horizontal well targeting the Frontier-Turner had initial 24-hour rates averaging 224 boe/d per 1,000 lateral ft, all in Campbell County. The highest rate among the five completions was from the Frontier-Turner well, the Leavitt Fed #1-9-4TH. It was completed with...
Aug 06, 2019
WS - EOG delineating PRB at moderate pace to incorporate learnings - August 06, 2019
At the beginning of the year, EOG Resources kicked off delineation and completion technology tests in Wyoming's Powder River Basin to better understand its premium inventory of more than 1,500 locations. Despite the significant potential of this position, the company is operating at a modest pace to incorporate data and knowledge from the delineation wells and build out infrastructure. During Q2, EOG completed wells targeting the Niobrara, Mowry and Turner. Five Niobrara wells with...
Aug 06, 2019
WS - Chesapeake Energy Highlights - August 06, 2019
Chesapeake Energy has drilled its first wine-rack test on the western portion of its Turner acreage in Converse County, Wyoming, as the company seeks to better access stacked pays. It also completed its first new Niobrara well since 2014, with production testing planned for August. Two more Niobrara appraisals are planned this year, along with the company's first test of the Mowry volatile oil...
Aug 06, 2019
Get more news for Western Scout