Western Scout
Serving the local market with drilling activities, permits & multiple listings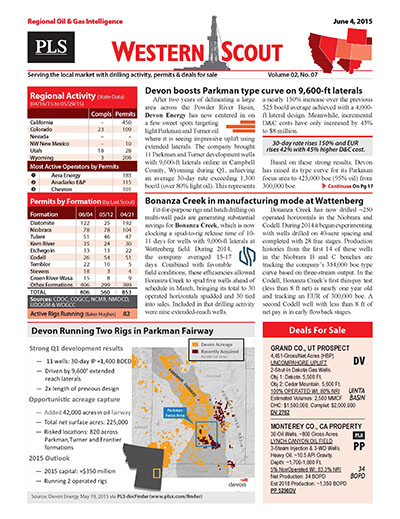 PLS's Western Scout covers local drilling activity, permit data, rig activity and completions in the Southern Rockies, (Colorado, Wyoming, NW Nebraska, Utah, Four Corners) and Western US, (California, Nevada, Oregon, Washington). Like all of PLS's Regionals this report includes a wealth of statistical analysis on activities and corporate performance. The reports also layer select advertising, business opportunities and multiple listings for sale.
Stay in front of local prospects, plays & rigs!
Southern Rockies, Colorado, NW Nebraska, Wyoming, Utah, Four Corners and the Western U.S., California, Nevada, Oregon and Washington
Hard Copy and Email For 1 Individual
Every 3 Weeks (16-20 issues per year)
Regional drilling activity, permits, completions and statistics layered with regional listings and business opportunities
Does not include access to MLS
Search PLS' News Archive for complete oil & gas news for Western Scout .
See what it is about before you buy. View a sample issue of Western Scout.
Need more information? Click the button to recieve more details about the Western Scout
Opportunity is a reflection of information.
Call 713-650-1212 For More Information
Search Western Scout:

Headline
Publication
News Date
WS - EOG continues Mowry drilling success in Q4 - March 12, 2019
During Q4, EOG Resources brought online two Mowry wells (9,200-ft laterals) averaging initial 30-day rates of 2,050 boe/d (56% liquids) each, or 223 boe/d per 1,000 lateral ft, in the Powder River Basin. Two prior Mowry wells completed in Q2 averaged 2,190 boe/d IP30s, or 240 boe/d per 1,000 ft. In the company's Turner program, four wells completed during Q4 averaged IP30s of 1,400 boe/d (72% liquids), or 144 boe/d per 1,000 ft. EOG's Turner delineation has included testing various...
Mar 12, 2019
WS - Regional Highlights - March 12, 2019
The EIA projects Niobrara production will sequentially rise 16,000 bo/d and 63 MMcf/d in March to 713,000 bo/d and 5.319 Bcf/d. There are 519 DUCs in the Niobrara as of January, up by three compared to...
Mar 12, 2019
WS - SandRidge's North Park Basin spacing tests exceeding curve - March 12, 2019
During 2018, Sandridge Energy drilled two spacing tests in the North Park Basin of northwest Colorado. The eight-well spacing tests on the eastern part of its position exceeded the type curve by 14% on an average per-well basis and confirmed minimum spacing of 12 wells per section, or 1,230 ft between wells in a bench, in the area. The wells produced more than 1 MMbo cumulatively in 320 days with no impactful communication between wellbores. A six-well pilot on the western portion of...
Mar 12, 2019
WS - Crescent Point Highlights - March 12, 2019
During 2018, Crescent Point Energy completed 11 2-mile laterals in the Wasatch and Uteland Butte zones of the Uinta Basin. IP30 rates averaged 900 boe/d. The company improved drilling days and optimized drilling design last year, which led to a ~10% reduction in capital costs. While the results were strong, the company reduced 2019 capital allocation to the play due to market access issues. A total of 12 net 2-mile laterals are...
Mar 12, 2019
WS - Berry Petroleum Highlights - March 12, 2019
In Q4, Berry Petroleum grew output in California, 11% sequentially to 21,700 boe/d. The company's Rockies production fell 19% to 5,800 boe/d due to marketing issues in Utah. In 2019, Berry expects output of 28,000-31,000 boe/d (86% oil). Capex has been set at $195-225 million. In comparison, capex for 2018 was $148 million, with 88% directed toward California where 224 wells were...
Mar 12, 2019
WS - Ultra Petroleum Highlights - March 12, 2019
Despite a horizontal Lower Lance program that discovered five intervals of potential and yielded two IPs of nearly 50 MMcfe/d per well, Ultra Petroleum placed its horizontal drilling program on pause in 3Q18 and plans to keep that program idle throughout 2019. The company went from a seven-rig program at the beginning of 2018 to a three-rig vertical-only program in 3Q18 due to a tight natural gas price environment. The vertical-only approach will continue this...
Mar 12, 2019
WS - Amplify Energy Highlights - March 12, 2019
Amplify Energy announced 2019 capex of $60 million. Approximately $34 million of this capital will fund the expansion of its Bairoil plant in Wyoming, which will allow the company to bring currently shut-in wells back online and increase oil production by 900...
Mar 12, 2019
Anadarko adds rig & completion crews in the DJ
Anadarko Petroleum recently increased activity in the DJ Basin, adding a fourth drilling rig in December and two additional completion crews in January. The company plans to average four rigs and three completion crews in the play during 2019 to bring more than 250 operated wells online.During Q4, Anadarko achieved record production from its DJ assets, with output averaging 272,000 boe/d (38% oil), up 6% sequentially and YOY. The company brought 278 DJ wells online last year, including 50 in...
Feb 19, 2019
Chesapeake tallies internal IP24 record in Turner
Chesapeake Energy achieved a personal-best IP24 in the Turner formation at the beginning of December with its Clausen 11-34-71 USAA TR #21H well in Converse County, Wyoming. Sporting an 8,824-ft lateral, the well was completed in 25 stages with 9.8 MMlb proppant. During a 24-hour test, it produced 2,504 boe/d (80% oil; 284 boe/d per 1,000 lateral ft) on a 20/64-inch choke at 1,852 psi FTP. Besides being Chesapeake's highest Turner rate to date, it is also the third-highest industrywide from a...
Feb 19, 2019
WS - Devon Energy Highlights - February 19, 2019
Devon Energy scored an internal IP24 high in the Teapot formation in the Powder River Basin. Located in Converse County, Wyoming, the CU Downs Fed #15- 223769-2XTPH (10,566-ft lateral; 5.5 MMlb proppant) flowed an initial 24-hour rate of 2,455 boe/d (92% oil; 232 boe/d per 1,000 lateral ft) at 300 psi FTP. The company's next best rate in the formation was 1,845 boe/d (96% oil; 217 boe/d per 1,000 ft), which was delivered by the Werner Fed #13- 123669-1XTPH in January...
Feb 19, 2019
Get more news for Western Scout