Western Scout
Serving the local market with drilling activities, permits & multiple listings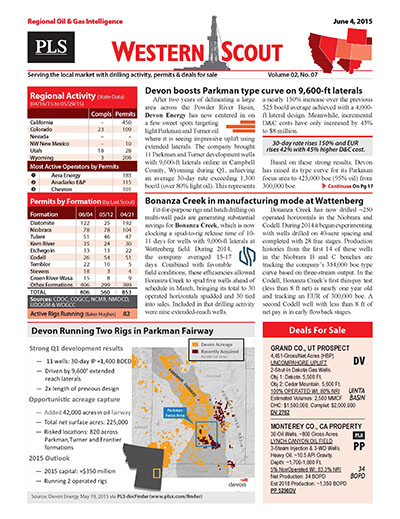 PLS's Western Scout covers local drilling activity, permit data, rig activity and completions in the Southern Rockies, (Colorado, Wyoming, NW Nebraska, Utah, Four Corners) and Western US, (California, Nevada, Oregon, Washington). Like all of PLS's Regionals this report includes a wealth of statistical analysis on activities and corporate performance. The reports also layer select advertising, business opportunities and multiple listings for sale.
Stay in front of local prospects, plays & rigs!
Southern Rockies, Colorado, NW Nebraska, Wyoming, Utah, Four Corners and the Western U.S., California, Nevada, Oregon and Washington
Hard Copy and Email For 1 Individual
Every 3 Weeks (16-20 issues per year)
Regional drilling activity, permits, completions and statistics layered with regional listings and business opportunities
Does not include access to MLS
Search PLS' News Archive for complete oil & gas news for Western Scout .
See what it is about before you buy. View a sample issue of Western Scout.
Need more information? Click the button to recieve more details about the Western Scout
Opportunity is a reflection of information.
Call 713-650-1212 For More Information
Search Western Scout:

Headline
Publication
News Date
WS - Axia's Duchesne Co. HZs show high oil cuts, repeatable results - July 16, 2019
Axia Energy II continues to amass high-quality results on the Butcher Butte lease in Duchesne County, Utah. Most recently, the Butcher Butte #19-94H-22 was completed with a 9,237-ft effective lateral and flowed an initial 24-hour rate of 1,413 boe/d (89% oil). The Butcher Butte #30-71H-22 produced 1,221 boe/d (90% oil) from a 9,534-ft effective lateral. The target formation was not listed for either well. Axia has drilled 21 horizontal wells on the lease since it began drilling there...
Jul 16, 2019
WS - BLM raises more than $22 million in Q2 Rockies lease sales - July 16, 2019
The US Bureau of Land Management has completed its Q2 lease sales oil and gas rights in Wyoming, Colorado and Utah. Bonus bids totaled more than $22 million, the overwhelming majority of which came from the sale in Wyoming. The BLM raised $22 million in its June sale of oil and gas leases in Campbell, Converse, Crook, Fremont, Goshen, Hot Springs, Johnson, Natrona, Niobrara, Park, Platte, Sweetwater and Weston counties, Wyoming. Bids were received on 151 parcels covering 186,000 acres...
Jul 16, 2019
WS - Regional Highlights - July 16, 2019
The EIA projects that Niobrara production will rise by 10,000 bo/d and 56 MMcf/d sequentially in August to 746,000 bo/d and 5.634 Bcf/d. There are 473 DUCs in the Niobrara as of June, down by 22 from...
Jul 16, 2019
WS - DJR Operating Highlights - July 16, 2019
Privately held DJR Operating has amassed a 350,000-net-acre position in the San Juan Basin, most recently buying 182,000 net acres from Encana for $480 million. On those assets was an outstanding Mancos shale well drilled by Encana in 2H18. Located in San Juan County, New Mexico, the Nageezi Unit #502H was drilled with a 6,429-ft lateral using 6.2 MMlb of proppant. The well flowed an initial 24-hour rate of 4,736 boe/d, which was nearly 100%...
Jul 16, 2019
WS - Avad Energy Partners Highlights - July 16, 2019
AVAD Energy Partners divested assets in Carbon and Emery counties, Utah, to an undisclosed buyer. The assets included ~40,000 acres, ~30 MMcf/d of gas production from 230 coalbed methane wells and associated midstream and saltwater...
Jul 16, 2019
WS - Occidental Petroleum Highlights - July 16, 2019
Occidental Petroleum is reportedly looking for a buyer to take majority control of Western Midstream Partners, which the company is acquiring as part of its broader $57 billion acquisition of Anadarko. Unnamed sources told Bloomberg that Oxy has retained a financial advisor to solicit bids for half of Anadarko's 55.5% stake in the Delaware and DJ Basin midstream operator and its general...
Jul 16, 2019
WS - Morrison Estate Highlights - July 16, 2019
Morrison Estate is marketing royalty assets in the Delaware and Powder River basins via Meagher Energy Advisors. The assets are 100% HBP and consist of 571 net royalty acres (1-5% ORRI) primarily targeting the Bone Spring and Wolfcamp formations in Lea County, New Mexico, and 190 net royalty acres in Converse County, Wyoming, with the Turner, Niobrara and Teapot formations as primary targets. The package of assets includes mineral rights in nine Texas counties. Bids are due by July 25. See...
Jul 16, 2019
WS - Chesapeake flows pad record in the Turner, lowering costs - June 2019
Chesapeake Energy completed a high-rate Turner well on a per-lateral-ft basis at the beginning of Q2. Located in Converse County, Wyoming, the BB 2-35-71 #A TR 15H was completed with a 4,833-ft effective lateral and tested at an initial 24-hour rate of 2,209 boe/d (86% oil), or 457 boe/d per 1,000 ft. This is top IP24 per 1,000 ft for Chesapeake in the Turner. It is part of a five-well pad that Chesapeake says has delivered record pad production of more than 9,000 boe/d (87% oil). Also during...
Jun 25, 2019
WS - Ultra lowers drilling cycle times, trims 2019 capex by $15MM - June 25, 2019
In May, Ultra Petroleum drilled three wells in less than six days, spud to TD, down from 8.05 days in Q1. As a result of the improved drilling cycle times, the company will be able to achieve its 2019 plans with two rigs instead of three. This will reduce capex needs by $15 million, and the company has consequently lowered its guidance to $305-335 million. Improved cycle times and higher working interests in wells drilled through the remainder of the year enable production guidance to stay...
Jun 25, 2019
WS - Regional Highlights - June 25, 2019
The EIA projects that Niobrara production will rise 10,000 bo/d and 50 MMcf/d sequentially in July to 730,000 bo/d and 5.547 Bcf/d. There are 538 DUCs in the Niobrara as of May, down by 18 from April.Wyoming oil production rose to a 25-year high in 2018, according to the Wyoming State Geological Survey. The state produced 88 MMbo during the year, or 242,000 bo/d, with 21% of that output coming from new wells. New wells accounted for 8% of the state's gas production of 1.81...
Jun 25, 2019
Get more news for Western Scout