Western Scout
Serving the local market with drilling activities, permits & multiple listings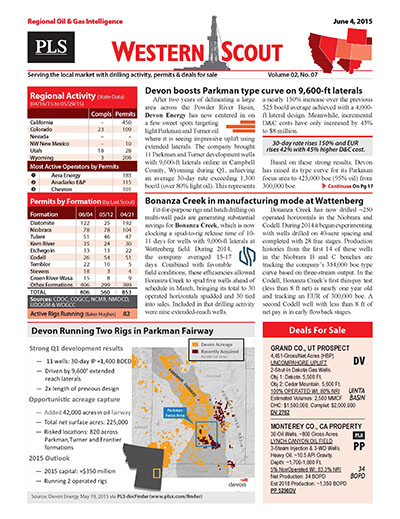 PLS's Western Scout covers local drilling activity, permit data, rig activity and completions in the Southern Rockies, (Colorado, Wyoming, NW Nebraska, Utah, Four Corners) and Western US, (California, Nevada, Oregon, Washington). Like all of PLS's Regionals this report includes a wealth of statistical analysis on activities and corporate performance. The reports also layer select advertising, business opportunities and multiple listings for sale.
Stay in front of local prospects, plays & rigs!
Southern Rockies, Colorado, NW Nebraska, Wyoming, Utah, Four Corners and the Western U.S., California, Nevada, Oregon and Washington
Hard Copy and Email For 1 Individual
Every 3 Weeks (16-20 issues per year)
Regional drilling activity, permits, completions and statistics layered with regional listings and business opportunities
Does not include access to MLS
Search PLS' News Archive for complete oil & gas news for Western Scout .
See what it is about before you buy. View a sample issue of Western Scout.
Need more information? Click the button to recieve more details about the Western Scout
Opportunity is a reflection of information.
Call 713-650-1212 For More Information
Search Western Scout:

Headline
Publication
News Date
WS - Noble accelerates completion tempo in the DJ Basin - May 14, 2019
Noble Energy is focusing on execution and operational efficiencies this year, and the DJ Basin is serving as its most important test ground. The company's acreage in the core of the basin is positioned for optimal development, and successes here will be translated to other projects in the Delaware Basin and beyond. In order to meet its objectives, Noble is streamlining costs, creating more efficient well designs and increasing the pace of execution. The company has been able to...
May 14, 2019
WS - HighPoint uses high-fluid intensity to boost well efficiency - May 14, 2019
HighPoint Resources is achieving improved well performance through high-fluidintensity completions on its Northeast Wattenberg position in the DJ Basin. Analysis has determined that completion fluid volume is more indicative of well performance than larger proppant loadings. The company said it is so highly encouraged by the results that the completion design will be used as the new standard for future development. HighPoint's high-fluid-intensity completions utilized 31 bbl of fluid per ft...
May 14, 2019
WS - Axia Energy Highlights - May 14, 2019
Axia Energy II completed the Butcher Butte #24-144H-22 well with an 8,319-ft effective lateral at Bluebell field in Duchesne County, Utah. The well tested at an initial 24-hour rate of 1,362 boe/d (89% oil) from the Wasatch. This is a top-tier well for the company and another consistent result in the Butcher Butte...
May 14, 2019
WS - Chesapeake Energy Highlights - May 14, 2019
Chesapeake Energy's Q1 Turner drilling program delivered a record-setting well, according to the company. The RRC 5-34-70 USA B TR 21H produced a peak rate of 4,000 boe/d (75% oil) on a 48/64-inch choke at 2,000 psi. The company turned 13 wells to sales during the quarter. Production from the play has doubled in the last year to 36,000 boe/d (44% oil) in Q1 and volumes have reached 42,000 boe/d as of May...
May 14, 2019
WS - Hilcorp Highlights - May 14, 2019
hilcorp has revised its 2019 plans associated with its assets held under the San Juan Basin Royalty Trust. Capex has been raised from ~$2.7 million to $12.6 million. The company plans to recomplete 17 wells, primarily in the Mesaverde formation, and complete one new horizontal in the Mancos and one in the Fruitland coal. Original plans only called for five recompletions and one new Mancos...
May 14, 2019
WS - Devon Energy Highlights - May 14, 2019
In its Q1 operations report, Devon Energy highlighted two wells it completed in the Super Mario area in Converse County, Wyoming, during the quarter. The Madsen FED 36-1 was drilled with a 9,600-ft lateral and tested at an initial 30-day rate of 1,300 boe/d (~80% oil) from the Turner. Sporting a 12,500-ft lateral, the SDU Tillard 1XPH produced an IP30 of 1,800 boe/d (95% oil) from the...
May 14, 2019
WS - California Resources Highlights - May 14, 2019
Bringing in $203 million, California Resources Corp. sold 50% WI and transferred operatorship in certain zones at its Lost Hills field in the San Joaquin Basin to an undisclosed buyer and entered a JV for further development. CRC will be carried 100% on 200 new wells drilled through...
May 14, 2019
WS - Devon's Teapot & Parkman 'filler' drilling delivers high oil cuts - April 23, 2019
As Devon Energy works through its Turner appraisal program this year in order to pursue full development as soon as 2020, it is also pursuing what it calls "filler" activity in shallower Teapot and Parkman formations. The company delivered solid results from several wells it brought online in these formations in late 2018 and early 2019 in Converse County, Wyoming. Targeting the Teapot on the CU Downs Fed lease, the 15-2 (10,500-ft lateral; 5.5 MMlb proppant) and 35-1 (10,200-ft...
Apr 23, 2019
WS - Peak E&P's Campbell County Turner program yields strong wells - April 23, 2019
Peak Powder River Resources delivered some of the strongest results for the Turner formation in Campbell County, Wyoming, during 2018. Recently reported to the state and completed in Q4, the Roush Fed #2-27-22TH (8,501-ft lateral; 4.3 MMlb sand) tested at an initial 24-hour rate of 1,709 boe/d (96% oil) from the Turner on a 32/64-inch choke at 1,350 psi FTP. Earlier in the year, the Atwood-Laur State #1-36TH (3,861-ft lateral; 20 stages) flowed an IP24 of 2,228 boe/d (85% oil) from the...
Apr 23, 2019
WS - Chesapeake Energy Highlights - April 23, 2019
In Converse County, Wyoming, Chesapeake Energy's Clausen #11- 34-71 USA A TR 20H was completed with a 7,163-ft lateral and 7.5 MMlb proppant. On test, the well flowed an initial 24-hour rate of 2,277 boe/d (83% oil) from the Turner on a 20/64-inch at 1,742 psi FTP. On the same pad, the previously reported 11-34-71 USAA TR #21H (8,824-ft lateral; 9.8 MMlb proppant) produced an IP24 of 2,504 boe/d (80% oil) on a 20/64-inch choke at 1,852 psi FTP. These are the two highest Turner IP24s for the...
Apr 23, 2019
Get more news for Western Scout