Western Scout
Serving the local market with drilling activities, permits & multiple listings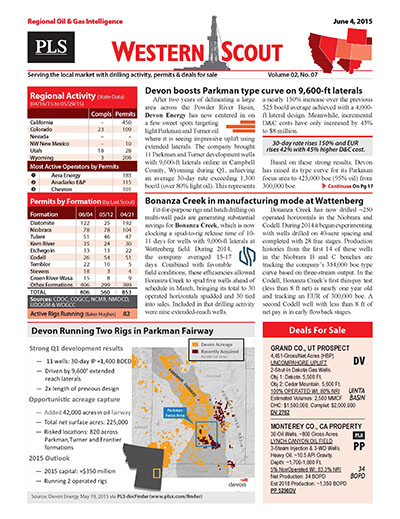 PLS's Western Scout covers local drilling activity, permit data, rig activity and completions in the Southern Rockies, (Colorado, Wyoming, NW Nebraska, Utah, Four Corners) and Western US, (California, Nevada, Oregon, Washington). Like all of PLS's Regionals this report includes a wealth of statistical analysis on activities and corporate performance. The reports also layer select advertising, business opportunities and multiple listings for sale.
Stay in front of local prospects, plays & rigs!
Southern Rockies, Colorado, NW Nebraska, Wyoming, Utah, Four Corners and the Western U.S., California, Nevada, Oregon and Washington
Hard Copy and Email For 1 Individual
Every 3 Weeks (16-20 issues per year)
Regional drilling activity, permits, completions and statistics layered with regional listings and business opportunities
Does not include access to MLS
Search PLS' News Archive for complete oil & gas news for Western Scout .
See what it is about before you buy. View a sample issue of Western Scout.
Need more information? Click the button to recieve more details about the Western Scout
Opportunity is a reflection of information.
Call 713-650-1212 For More Information
Search Western Scout:

Headline
Publication
News Date
WS - Oxy's first Turner well delivers on legacy Anadarko acreage - March 17, 2020
Five days after the closing of its acquisition of Anadarko Petroleum early last August, Occidental spudded its first well on the legacy Anadarko acreage in the Powder River Basin. This well, the Dora Fed #3570-8-T4XH, was completed in January and delivered a strong test rate. Located in Converse County, Wyoming, the well was completed with a 10,506-ft effective lateral fracked with 53 stages using 15.7 MMlb of proppant (1,498 lb/ft). During a 24-hour test, the Dora Fed produced 2,575 boe/d (83%...
Mar 17, 2020
WS - Chesapeake loses Turner locations, expects to add Frontier - March 17, 2020
During 2019, Chesapeake Energy brought online 72 wells in the Powder River Basin. The appraisal process resulted in some interesting conclusions about well spacing. While its peers are looking at developing the Turner at four wells per section, Chesapeake had been more conservative at two to three. But on its Feb. 26 earnings call, exploration and production EVP Frank Patterson ruled out development of more than two Turner wells per section on the company's acreage and suggested that even...
Mar 17, 2020
WS - Regional Highlights - March 17, 2020
The EIA projects that Niobrara production from the DJ Basin will fall by 8,000 bo/d and 19 MMcf/d sequentially in April to 766,000 bo/d and 5.692 Bcf/d. There were 445 Niobrara DUCs in the DJ Basin as of February, down by 12 from...
Mar 17, 2020
WS - EOG Resources Highlights - March 17, 2020
EOG Resources has lowered its 2020 capex 31% to $4.3-4.7 billion and has elected to reduce activity across its operating areas. The company plans to focus its drilling operations in the Delaware Basin and Eagle Ford. This likely means cutbacks in Wyoming's DJ and Powder River...
Mar 17, 2020
WS - Noble Energy Highlights - March 17, 2020
Noble Energy has lowered 2020 capex by $500 million to $1.1-1.3 billion. Noble's US onshore business will account for 80% of the cuts due to significant flexibility in its drilling and completion activity, with the majority of contractual arrangements on a wellto-well basis. Of its two US focus areas, the Delaware Basin will account for 50% of the US reductions, with smaller cuts in the DJ Basin. Previously, Noble had allocated $800 million for the DJ and $500 million for the...
Mar 17, 2020
WS - Devon Energy Highlights - March 17, 2020
Devon Energy cut its 2020 capex by $500 million to $1.3 billion. The Powder River Basin and STACK will receive the most substantial cuts, with development activity being focused on the Delaware Basin and Eagle...
Mar 17, 2020
WS - PDC Energy Highlights - March 17, 2020
PDC Energy plans to reduce its Wattenberg field activity in Q2 from three drilling rigs and two completion crews to two and one, respectively. The company is dropping its completion crew in the Delaware Basin and running one rig for the remainder of the year. Capex was cut 20-25% from the initial $1.0-1.1...
Mar 17, 2020
WS - Devon doubling Niobrara activity as it targets development in 2021 - February 25, 2020
Encouraged by its early-stage Niobrara appraisal program in Wyoming's Powder River Basin, Devon Energy will double its activity in the play during 2020, bringing online 15 new operated wells. This year's objective is to derisk the Atlas West area in Converse County ahead of a shift to full development in 2021. Over the last two years, Devon has brought 11 operated Niobrara wells online with initial 30-day average rates reaching as high as 1,500 boe/d. Thus far, initial spacing tests are...
Feb 25, 2020
WS - Ballard flows 300 boe/d per 1,000 ft from Turner in Campbell Co. - February 25, 2020
Ballard Petroleum completed three strong Turner producers in Campbell County, Wyoming, at the end of November, according to the latest state data. Two were outstanding in terms of productivity per perforated ft. The Dilts Fed #34-19 TH was completed with a 4,430-ft effective lateral fracked in 21 stages and delivered an initial 24-hour rate of 1,630 boe/d (63% oil), or 368 boe/d per 1,000 ft, on a 27/64-inch choke at 1,370 psi FTP. The Dilts Fed #41- 30 TH, sporting a 4,501-ft effective lateral...
Feb 25, 2020
Get more news for Western Scout