CapitalMarkets
Serving the finance market with news, analysis and investment opportunities.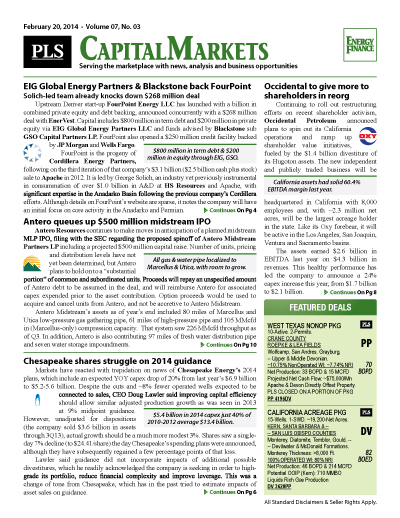 PLS publishes news and analysis in the energy finance sector through its capital markets module. The green banner report includes news and analysis on company budgets, capital spending, financial performance and interviews with leading capital providers.
Your access to energy finance
Single copy pricing; Incl hard copy & email version
Increase market insight & deal flow
Every 3 weeks; 17+ issues per year
Covers financings, capex, earnings, new companies
Includes market analysis and new trends
Access to capital market archives
Phone request for multiple listings published in reports
Includes discounts for other PLS products & events
Are you looking to subscribe to Capitalize? Click here for the latest Capital Markets Report
Search PLS' News Archive for complete oil & gas news for CapitalMarkets .
See what it is about before you buy. View a sample issue of CapitalMarkets.
Need more information? Click the button to recieve more details about the CapitalMarkets
Opportunity is a reflection of information.
Call 713-650-1212 For More Information
Search CapitalMarkets:

Headline
Publication
News Date
CM - Continental will pay maiden dividend, earns $158MM in Q3 - November 2019
Shareholders of Continental Resources, Inc. can get used to regular quarterly payouts with the company set to deliver its first-ever common stock dividend, payable Nov. 21 to holders of record as of Nov. 7. The $0.05 a share dividend, or $0.20 a year annualized, amounts to a 0.6% yield based on the company's $30.79 closing price at the end of Q3. According to chairman and CEO Harold Hamm, the new dividend, along with a recently announced $1 billion share buyback plan, "demonstrates the...
Nov 15, 2019
CM - Encana doesn't want to be Canadian anymore, moving to Denver - November 2019
Citing easier access to capital and closer alignment to US peers, EnCana Corp. said it will redomicile in the US in early 2020. The move requires consent by its two stock exchanges— TSX and NYSE—as well as two-thirds of Encana's shareholders, and regulatory approval. The move will also involve a name change to Ovintiv, Inc. In a preliminary proxy issued Nov. 6, the company said shareholders will be asked to approve measures at a special meeting in Calgary after the new year. "A domicile...
Nov 15, 2019
CM - Icahn cuts Occidental stake, files lawsuit after $912MM net loss - November 2019
Activist investor Carl Icahn reduced his stake in Occidental Petroleum by a third and announced that his Icahn Capital filed a lawsuit against the company over its purchase of Anadarko Petroleum. Icahn unloaded 10 million Oxy shares worth $400 million on Nov. 8, leaving him with 23 million shares valued at $900 million. As of May, Icahn held a $1.6 billion stake, or 4.4% of Oxy. He said he "draws the line at exposing more than $1 billion to a CEO and board who have gambled the company." In the...
Nov 15, 2019
CM - A mild upset for upstream, but Chevron pumps $2.58B profit - November 2019
Chevron Corp. reported $2.58 billion in Q3 profits on $34.8 billion in revenue, compared with over $4 billion on $42.1 billion of revenue a year ago. It took a $430 million tax charge related to a cash repatriation, and chairman and CEO Michael Wirth said, "Lower crude oil and natural gas prices more than offset a 3% increase in net oil equivalent production from last year's third quarter." The company produced 3.03 MMboe/d in the quarter. US upstream earned $727 million in Q3, 12% less...
Nov 15, 2019
CM - Murphy selling $550MM in bonds to repurchase older notes - November 2019
Murphy Oil Corp. priced $550 million aggregate principal amount of 5.875% senior notes due 2027 for an offering that it expects to close Nov. 27. The company will use proceeds to fund the cash tender offers for its purchase of up to $550 million of its 4% senior notes due 2022 and 3.7% senior notes due 2022. JP Morgan, BofA and MUFG are joint book-running managers for the offering. Under terms of the tender offer, Murphy will pay $998 per $1,000 face amount of its 5.875% notes up to its $500...
Nov 15, 2019
CM - Contango sells over $64MM in equity to buy White Star assets - November 2019
Contango Oil & Gas Co. raised nearly $22 million via a private placement of over 1.1 million Series B contingent convertible preferred shares at almost $19.95 each. The preferred will automatically convert into common stock on a 1:10 basis upon shareholder approval of an increase in the number of authorized common shares of common stock above the current 100 million. Chairman John C. Goff and affiliates participated in $7 million of the placement. In September, the company sold over...
Nov 15, 2019
CM - Saudi Aramco IPO launches in Riyadh, with pricing TBD - November 2019
Saudi Aramco launched its initial public offering on Nov. 3 and issued a prospectus on Nov. 9. In it, the company proposes to sell 3% of its stock for $60 billion on the domestic Tadawul exchange. The final offer price, size of the listing and valuation are being determined through the current book building period and trading is set to begin on Dec. 11 after the company announces the final price at the OPEC meeting on Dec. 5. The company disclosed financial results for Q3 that included...
Nov 15, 2019
CM - Earnings reports don't thrill, & water is king in PE sector - November 2019
Returning value to shareholders continues to be the energy C-suite buzzphrase as most companies releasing their Q3 earnings emphasized just what they've done for shareholders lately in the way of dividends and stock repurchases. Continental Resources is now part of the dividend-paying oil patch, announcing its first quarterly distributions to shareholders (PG.1). Earnings reports for Q3 were mainly off—Exxon Mobil (PG.7) earned less YOY at $3.7 billion, Hess Corp. widened its loss to $205...
Nov 15, 2019
CM - Sanchez still waiting to access full $350MM DIP financing - November 2019
Sanchez Energy Corp. and its debtor-in-possession financing lenders agreed to amend certain milestone provisions under the company's interim $350 million DIP funding package, which was organized by its secured creditors. The amendment extends the milestone date in the loan agreement for the final order of the US Bankruptcy Court authorizing Sanchez and its subsidiaries to enter into the loan agreement to Nov. 15, from earlier extensions that ended Nov. 1 and on several dates in October. Until...
Nov 15, 2019
CM - Credit & Debt Briefs - November 15, 2019
Oasis Petroleum Inc. emerged from its fall redetermination $250 million lighter with a $1.1 billion credit facility, its lowest level since its spring 2013 redetermination of $900 million. The company said it had reduced debt under facility by $125 million during Q3 to $406 million outstanding as of Sept. 30. Wells Fargo leads Oasis' 20-member lending syndicate. Extraction Oil & Gas and lenders reduced the company's borrowing base and elected commitments to $950 million from the prior...
Nov 15, 2019
Get more news for CapitalMarkets