CapitalMarkets
Serving the finance market with news, analysis and investment opportunities.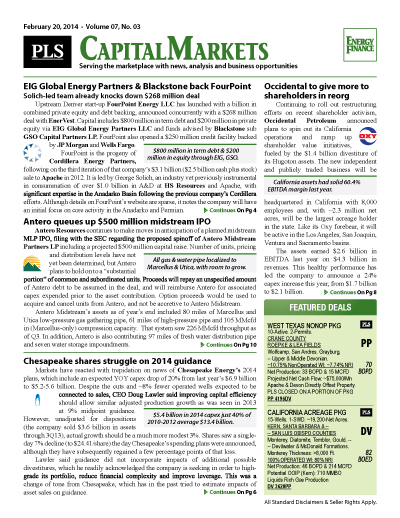 PLS publishes news and analysis in the energy finance sector through its capital markets module. The green banner report includes news and analysis on company budgets, capital spending, financial performance and interviews with leading capital providers.
Your access to energy finance
Single copy pricing; Incl hard copy & email version
Increase market insight & deal flow
Every 3 weeks; 17+ issues per year
Covers financings, capex, earnings, new companies
Includes market analysis and new trends
Access to capital market archives
Phone request for multiple listings published in reports
Includes discounts for other PLS products & events
Are you looking to subscribe to Capitalize? Click here for the latest Capital Markets Report
Search PLS' News Archive for complete oil & gas news for CapitalMarkets .
See what it is about before you buy. View a sample issue of CapitalMarkets.
Need more information? Click the button to recieve more details about the CapitalMarkets
Opportunity is a reflection of information.
Call 713-650-1212 For More Information
Search CapitalMarkets:

Headline
Publication
News Date
CM - Jagged Peak shareholders getting a $2.2B sprig of Parsley - October 2019
Shareholders of Delaware basin pure-play E&P company Jagged Peak Energy will receive over $1.6 billion in Parsley Energy stock for their shares per a definitive agreement between the two companies signed Oct. 14. Each Jagged Peak share will be exchanged for 0.447 shares of Parsley's Class A common stock, valuing them at $7.59 based on Oct. 11 closing prices. Parsley will also assume Jagged Peak's net debt, which stood at $625 million at the end of Q2. Directors on both sides of the table have...
Oct 25, 2019
CM - McDermott's expensive $1.7B credit agreement has hurdles - October 2009
McDermott International, Inc. signed a new syndicated superpriority senior secured credit agreement for up to $1.7 billion, the company announced Oct. 21. Lenders have given McDermott immediate access to $650 million of financing, consisting of $550 million under a total $1.3 billion term-loan facility and $100 million under the total $400 million letter-of-credit facility, prior to reduction for related fees and expenses. The company said it expected to use the borrowings for working capital...
Oct 25, 2019
CM - Bankruptcies: Halcón emerges again; EP Energy goes in - October 2019
Halcón Resources emerged from Chapter 11 bankruptcy protection on Oct. 8 about $800 million lighter and with a new $750 million senior secured reserve-based revolving credit facility that features an initial $275 million borrowing base. It is the company's second time through the process within three years, having shed $1.8 billion in debt in 2016. Halcón said its newly reduced debt load will also decrease annual interest expenses by over $40 million. Post-emergence, the company has $147...
Oct 25, 2019
CM - With $40B issued in Q3, bonds gain most ground in four years - October 2019
A pronounced resurgence in bond issues raised the energy industry's capital markets activity in Q3, as the amount of industry debt issued as tracked by Enverus' Capitalize platform more than doubled YOY to $40.1 billion from 3Q18's $18.7 billion. While $13 billion of the quarterly total was sold by Occidental Petroleum in the largest single multi-tranche offering by a US energy company in history, even without Oxy's contribution, energy issuers offered 50% more principal amount to buyers YOY....
Oct 25, 2019
CM - Bison II signs $155 million term loan to develop DJ assets - October 2019
Bison Oil & Gas Partners II closed a $155 million term loan facility to fund ongoing drilling and expansion in the DJ Basin. The Carnelian Energy Capital Management portfolio company turned to global alternative investment firm Värde Partners for the loan, which will also be used to repay existing debt and provide a distribution to Bison's equity holders. Bison currently operates more than 20 wells across its nearly 50,000-net-acre position in northeast Weld County, Colorado. It has...
Oct 25, 2019
CM - Carlyle assembles new energy investments in Spain & Africa - October 2019
The Carlyle Group announced that it had completed the purchase of a 37% stake in Spanish integrated oil company Compañía Española de Petróleos (Cepsa) from Abu Dhabi sovereign wealth fund Mubadala Investment Co. in a private transaction. Mubadala will retain a 63% stake in Cepsa, which is Europe's largest privately owned integrated energy company. In April, Carlyle said the deal was based on an enterprise value for Cepsa of $12 billion. Earlier in the month, Carlyle announced it would...
Oct 25, 2019
CM - Harvest distributes cash & scales down borrowing capacity - October 2019
The board of directors of Harvest Oil & Gas Corp., formerly called EV Energy Partners, authorized a one-time cash distribution of $7.00 a share payable Oct. 28 to common shareholders of record as of Oct. 18. The company has 10.2 million common shares outstanding following a re-equitization in conjunction with EV's reorganization under Chapter 11 bankruptcy protection, from which it emerged in June 2018. The current shareholders consist of EV creditors who received equity in the...
Oct 25, 2019
CM - More debt, less equity & Q3 earnings will soon be here - October 2019
Q3 proved to be significant, showing a four-year high in energy industry debt issuances, according to Enverus' Capitalize platform. Energy companies borrowed over $40 billion through bonds, most notably Occidental Petroleum and Exxon Mobil Corp. at $13 billion and $7 billion, respectively. But the industry offered almost no equity through the public markets, indicating that, at least for now, this avenue is essentially closed to oil and gas (PG.1). Upstream companies that have raised money...
Oct 25, 2019
CM - Upstream Capital Brief - October 25, 2019
Amplify Energy Corp. announced that shareholders Fir Tree Capital Management, Brigade Capital Management and Axys Capital Income Fund sold an aggregate 12,291,246 common shares of the company in a secondary offering at $6.56 each. Fir Tree sold more than half of its stake in Amplify, or over 6.2 million shares, to bring its overall ownership in the company down to 11% from its current 27%. Brigade and Axys disposed of their entire stakes in Amplify, amounting to over 4.5 million and 1.5 million...
Oct 25, 2019
CM - Credit & Debt Brief - October 25, 2019
Riviera Resources, Inc and lenders made a number of changes to its RBC-led credit facility during fall redetermination, including extending the maturity to Aug. 4, 2021, reducing the borrowing base to $90 million and permitting certain assets to be sold without further reduction to the borrowing base. Interest rates for all loans were decreased by 50 bps. The company said the facility was also updated to reflect a possible replacement of LIBOR as the benchmark.Southwestern Energy Co....
Oct 25, 2019
Get more news for CapitalMarkets