CapitalMarkets
Serving the finance market with news, analysis and investment opportunities.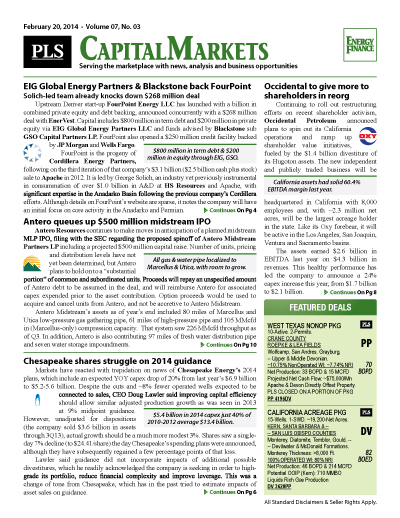 PLS publishes news and analysis in the energy finance sector through its capital markets module. The green banner report includes news and analysis on company budgets, capital spending, financial performance and interviews with leading capital providers.
Your access to energy finance
Single copy pricing; Incl hard copy & email version
Increase market insight & deal flow
Every 3 weeks; 17+ issues per year
Covers financings, capex, earnings, new companies
Includes market analysis and new trends
Access to capital market archives
Phone request for multiple listings published in reports
Includes discounts for other PLS products & events
Are you looking to subscribe to Capitalize? Click here for the latest Capital Markets Report
Search PLS' News Archive for complete oil & gas news for CapitalMarkets .
See what it is about before you buy. View a sample issue of CapitalMarkets.
Need more information? Click the button to recieve more details about the CapitalMarkets
Opportunity is a reflection of information.
Call 713-650-1212 For More Information
Search CapitalMarkets:

Headline
Publication
News Date
CM - Prices plunge, and then along comes earnings… - May 2020
First-quarter earnings have been mostly painful with the writedowns of billions in impaired oil and gas assets. Exxon Mobil Corp. incurred its first quarterly loss in 32 years (PG.1), ConocoPhillips reported a $1.7 billion loss (PG.12), Hess Corp. a $2.4 billion loss (PG.12), Diamondback Energy Inc. lost $272 million (PG.14) and Concho Resources Inc. has reported quarterly losses in five out of the last 10 quarters but never even close to the almost $9.3 billion (PG.13) it lost in Q1. Reliable...
May 15, 2020
CM - Whiting files RSA & reorg plan to extinguish $2.3B-plus in debt - May 2020
Whiting Petroleum Corp., which declared bankruptcy on April 1, reached a restructuring support agreement with some of its debtholders that would give them overwhelming control of the company post-emergence. The company said it filed a consensual Chapter 11 reorganization plan April 24, more than three weeks after first petitioning for protection from the US Bankruptcy Court for the Southern District of Texas. The RSA and the plan would deleverage more than $2.3 billion by...
May 15, 2020
CM - Antero's borrowing base at $2.85B; spending set to fall 41% - May 2020
Lenders for Antero Resources Corp. increased the company's borrowing base by $350 million to $2.85 billion, the company said in its Q1 results. Lender commitments were reaffirmed at $2.64 billion, and the next borrowing base redetermination will be in October. The facility will mature Oct. 26, 2022, or 91 days prior to the earliest stated redemption date of any series of the company's senior notes then outstanding. At the end of Q1, Antero had $882 million drawn on the facility and was paying a...
May 15, 2020
CM - Centennial extends early deadline for notes exchange offer - May 2020
Centennial Resource Development Inc. extended the early tender submission date related to the exchange of its two debt securities to May 19 from May 5. The company reported that holders of $110.4 million of its 5.375% senior notes due 2026 and $143.5 million of its 6.875% senior notes due 2027 had tendered their notes for exchange by the initial early date. The 2026 and 2027 notes have $400 million and $500 million principal amounts outstanding, respectively, and both trade in the vicinity of...
May 15, 2020
CM - Parsley elects larger revolver base at $1.075B, reports Q1 loss - May 2020
Parsley Energy Inc. gave itself a $75 million bump in its elected borrowing base commitments on its revolving credit facility to $1.075 billion while its lenders reaffirmed their committed base of $2.7 billion. The facility's maturity was extended by two years to Oct. 28, 2023, and the letters of credit component of the facility doubled to $60 million. All of this came with an increase in applicable borrowing margins to 200-300 bps over LIBOR, or 100-200 bps over the benchmark for alternative...
May 15, 2020
CM - Pure Acquisition Corp. finds its new business combination - May 2020
Blank-check company Pure Acquisition Corp., which raised $360 million in an April 2018 IPO, will combine with HighPeak Energy LLC and affiliates of HighPeak Energy Partners, LP. The resulting $845 million E&P company, HighPeak Energy Inc., will own 51,000 net acres in the northern Midland Basin. The move came just in the nick of time for Pure, which had a May 20 deadline to either find a new business combination or dissolve and return the IPO money. The company will trade on Nasdaq as HPK....
May 15, 2020
CM - Cabot keeps credit facility and projected 2020 capex intact - May 2020
Cabot Oil & Gas' lenders reaffirmed its $3.2 billion revolving credit facility on April 23. Bank commitments under the facility stayed at $1.5 billion. The company has not drawn from the facility, resulting in around $1.7 billion of liquidity. As of the end of Q1, Cabot had total debt of $1.2 billion and cash on hand of $203 million. Cabot will spend $575 million this year on capex, or 27% less than 2019 actual spending. It has not budged on that figure since announcing it in February....
May 15, 2020
CM - EQT Corp. concludes private six-year notes sale for $500MM - May 2020
EQT Corp. completed its private sale of $500 million aggregate principal amount of 1.75% convertible senior notes due 2026 on April 28. The offering was upsized from $440 million when the buyers exercised their options to buy an additional $60 million of the notes. The notes carry an initial conversion rate of 66.6667 of EQT's common shares for each $1,000 face amount of notes, equivalent to $15 a share. The initial conversion price represents a 20% premium over EQT's April 23 trading price on...
May 15, 2020
CM - CNX Resources closes $345MM private bond placement - May 2020
CNX Resources Corp. announced May 4 that it closed the sale of $345 million aggregate principal amount of 2.25% convertible senior notes due 2026 through JP Morgan and Credit Suisse. Buyers of the initial offering for $300 million exercised options to acquire the other $45 million of the notes prior to the expiry of the 13-day greenshoe period. Estimated net proceeds of almost $334 million will be used for general corporate purposes, including debt reduction and costs to set up capped call...
May 15, 2020
CM - Debt & Credit Briefs - May 15, 2020
Battalion Oil Corp. and lender BMO amended the company's revolving credit facility to reduce the borrowing base to $200 million on April 30. The borrowing base will be further reduced by $5 million each month from Sept. 1 to Nov. 1, the company reported. CEO Richard Little said Battalion has substantial liquidity from its hedge portfolio and was "well positioned to preserve our strength for the future." Chaparral Energy's reserve-based lending facility was decreased to $175 million from...
May 15, 2020
Get more news for CapitalMarkets