CapitalMarkets
Serving the finance market with news, analysis and investment opportunities.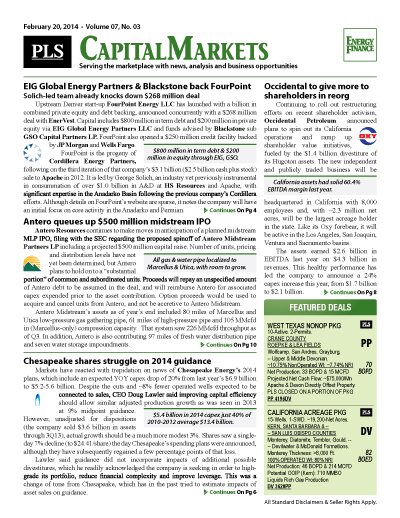 PLS publishes news and analysis in the energy finance sector through its capital markets module. The green banner report includes news and analysis on company budgets, capital spending, financial performance and interviews with leading capital providers.
Your access to energy finance
Single copy pricing; Incl hard copy & email version
Increase market insight & deal flow
Every 3 weeks; 17+ issues per year
Covers financings, capex, earnings, new companies
Includes market analysis and new trends
Access to capital market archives
Phone request for multiple listings published in reports
Includes discounts for other PLS products & events
Are you looking to subscribe to Capitalize? Click here for the latest Capital Markets Report
Search PLS' News Archive for complete oil & gas news for CapitalMarkets .
See what it is about before you buy. View a sample issue of CapitalMarkets.
Need more information? Click the button to recieve more details about the CapitalMarkets
Opportunity is a reflection of information.
Call 713-650-1212 For More Information
Search CapitalMarkets:

Headline
Publication
News Date
Talen Energy buys back $400MM in debt early
Power generator Talen Energy Supply, LLC announced Nov. 29 that it completed a tender offer for $400 million aggregate principal amount of debt from three separate notes that represented over $1.07...
Dec 11, 2018
CM - Analyst Notes - December 06, 2018
Alta Mesa Resources (Nasdaq: AMR; $2.82-Nov. 13; In-Line; PT-$6) We are maintaining our In-Line rating and lowering our one-year price target to $6 from $8 on AMR shares. AMR encountered...
Dec 06, 2018
CM - People & Companies - December 06, 2018
Amazing Energy Oil & Gas appointed David Arndt as COO. Arndt brings to the job 56 years of oil and gas experience, including with Conoco from 1962- 1980 and Torchlight Energy,...
Dec 06, 2018
Gastar's use of $383MM DIP financing authorized
The US Bankruptcy Court in the Southern District of Texas authorized Gastar Exploration's motion to utilize a superpriority debtor-in-possession financing facility, enabling the company to access up...
Dec 06, 2018
CM - News Briefs - December 06, 2018
Camber Energy, Inc. agreed to place 2,941 shares of Series C redeemable convertible preferred stock at $9,520.571 each to gross $28 million. The investor agreed to buy 106 shares of the preferred for...
Dec 06, 2018
Get more news for CapitalMarkets