Eastern Scout
Serving the local market with drilling activities, permits & multiple listings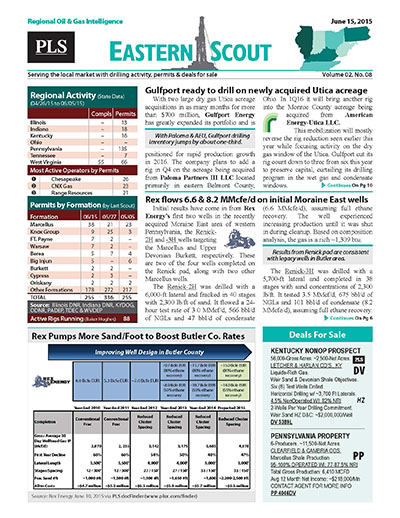 PLS's new Eastern Scout covers local drilling activity, permit data, rig activity and completions in the Eastern region (Pennsylvania, Ohio & West Virginia). Like all of PLS's Regionals this report includes a wealth of statistical analysis on activities and corporate performance. The reports also layer select advertising, business opportunities and multiple listings for sale.
Stay in front of local prospects, plays & rigs!
Pennsylvania, Ohio & West Virginia
Hard Copy and Email For 1 Individual
Every 3 to 4 Weeks (15 issues per year)
Regional discoveries, drilling activity, permits,
completions and summary drilling statistics, layered
with regional listings and business opportunities
Web access to the Eastern Scout archive
Does not include access to MLS
Search PLS' News Archive for complete oil & gas news for Eastern Scout .
See what it is about before you buy. View a sample issue of Eastern Scout.
Need more information? Click the button to recieve more details about the Eastern Scout
Opportunity is a reflection of information.
Call 713-650-1212 For More Information
Search Eastern Scout:

Headline
Publication
News Date
ES - Montage integration drives production beat & increase - May 29, 2019
Montage integration drives production beat & increase The financial combination of Eclipse Resources and Blue Mountain Resources was completed in Q1, and at the end the quarter Montage Resources was a month into the operational integration. Operational efficiencies from the two teams drove production to exceed guidance while lowering production costs. Q1 volumes were up 29% YOY at 407.5 MMcfe/d, compared to guidance of 385-395 MMcfe/d. As a result, the company revised its full-year...
May 29, 2019
ES - Private operator Chief turns in top Marcellus completions - May 29, 2019
Privately held Chief Oil & Gas has flowed some of the best-performing wells in Pennsylvania in the last two quarters. Only large public operators—Chesapeake Energy, Cabot Oil & Gas and Southwestern Energy—tallied higher IP24s during the period. Chief's completions reported to the state for Q4 and Q1 are located in Bradford County and target the Marcellus. Delivering its top initial rates were two wells on the SGL-12 K South pad. The #1H and #2H were completed with 8,333-ft and...
May 29, 2019
ES - Regional Highlights - May 29, 2019
The EIA projects Appalachia production will rise 4 bo/d and 366 MMcf/d sequentially in June to 133,000 bo/d and 32.108 Bcf/d. There are 460 DUCs in Appalachia as of April, down by 19 versus March.According to Cleveland State University, investment in Ohio's energy sector has reached $74 billion since...
May 29, 2019
ES - Seneca Resources Highlights - May 29, 2019
For the Q2 fiscal quarter that ended March 31, Seneca Resources produced 499 MMcf/d, up 1% sequentially and 8% YOY. The company also produced 1,100 bo/d. Production came in below expectations because of operational curtailments, the impact of continued testing to optimize Utica D&C design in Seneca's western development area and, to a lesser extent, D&C delays at Tract 007 in the company's eastern development area. Seneca lowered its 2019 guidance 5% to 562-589...
May 29, 2019
ES - Riviera Resources Highlights - May 29, 2019
Riviera Resources signed a definitive agreement to sell interests in Michigan for $44.5 million. The assets lie in the Antrim shale in Antrim, Otsego, Montmorency, Alpena and Alcona counties and include 1,400 net wells and 193 Bcfe of PD...
May 29, 2019
ES - Gulfport Energy Highlights - May 29, 2019
Gulfport Energy entered an agreement to divest a small footprint of Marcellus rights overlying a portion of its Utica acreage in eastern Ohio. Anticipated proceeds of the divestiture allowed Gulfport to repurchase ~$30 million of its common...
May 29, 2019
ES - Lambda Energy Highlights - May 29, 2019
Lambda Energy Resources has retained Meagher Energy Advisors to assist in the sale of certain operated assets in Michigan. The package includes 62,000 net acres (100% operated and HBP) in Alcona, Alpena, Missaukee, Montmorency, Oscoda, and Roscommon counties, with 10,590 net acres consolidated in the Richfield waterfloods. Net production is 8 MMcfe/d (75% gas) from 442 producing wells, and net PDP reserves are 30.85 Bcfe/d (64%...
May 29, 2019
ES - Antero drills 9,184 ft in 24 hours, calls it a world record - May 07, 2019
Increasing drilling and completion efficiency were a highlight of Antero Resources' Q1 results as the company worked to drive well costs lower. The company drilled an average of 5,300 lateral ft per day, which was a quarterly record and a 14% improvement compared to 2018. Setting what it says is a world record, Antero drilled 9,184 lateral ft in 24 hours on the Hayhurst Unit #2H. In total, it drilled 36 wells during the quarter with laterals averaging 10,000 ft and...
May 07, 2019
ES - Southwestern drills company-record laterals in Appalachia - May 07, 2019
Southwestern Energy continues to make operational improvements in its postFayetteville era. During Q1, the company set a new pad completion time record of 8.3 stages per day in southwestern Appalachia. The company also drilled a record 8,300 lateral ft in 24 hours, 100% in the target zone. Lateral length records were achieved in West Virginia and Pennsylvania at 18,019 ft and 18,683 ft, respectively. With operational improvements came reductions in costs. Q1 well costs were down 10%...
May 07, 2019
ES - Gulfport Energy Highlights - May 07, 2019
Gulfport Energy spudded six operated Utica wells during Q1, with laterals averaging 10,600 ft. The company plans to drill longer laterals this year, with horizontals averaging 11,700 ft compared to an average of 10,300 ft in 2018. Normalizing to an 8,000-ft lateral, drilling days during the quarter averaged 17.7 days, which is down 9% compared to 2018. The company also completed 25 Utica wells and turned six to sales with laterals averaging 8,200 ft. Its Q1 production from the play averaged...
May 07, 2019
Get more news for Eastern Scout