Eastern Scout
Serving the local market with drilling activities, permits & multiple listings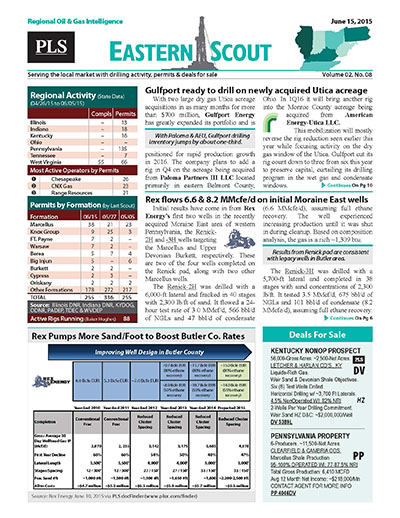 PLS's new Eastern Scout covers local drilling activity, permit data, rig activity and completions in the Eastern region (Pennsylvania, Ohio & West Virginia). Like all of PLS's Regionals this report includes a wealth of statistical analysis on activities and corporate performance. The reports also layer select advertising, business opportunities and multiple listings for sale.
Stay in front of local prospects, plays & rigs!
Pennsylvania, Ohio & West Virginia
Hard Copy and Email For 1 Individual
Every 3 to 4 Weeks (15 issues per year)
Regional discoveries, drilling activity, permits,
completions and summary drilling statistics, layered
with regional listings and business opportunities
Web access to the Eastern Scout archive
Does not include access to MLS
Search PLS' News Archive for complete oil & gas news for Eastern Scout .
See what it is about before you buy. View a sample issue of Eastern Scout.
Need more information? Click the button to recieve more details about the Eastern Scout
Opportunity is a reflection of information.
Call 713-650-1212 For More Information
Search Eastern Scout:

Headline
Publication
News Date
ES - Antero driving well costs down, plans further savings in 2020 - August 20, 2019
Antero driving well costs down, plans further savings in 2020 With no shortage of natural gas on the market and a bearish outlook, Antero Resources set goals this year to reduce Marcellus well costs and lease operating expenses to improve capital efficiency and boost free cash flow. The company is on track to meet its 2019 goal of $970/ft for 12,000-ft laterals. Antero expects H2 wells costs of $930/ft. Costs have come down through service cost deflation, sand logistics optimization and...
Aug 20, 2019
ES - Southwestern trims wells costs, extends lateral lengths - August 20, 2019
Southwestern Energy is drilling longer laterals and doing it at a lower cost per foot. The company's Q2 wells averaged 10,128-ft laterals, which is 30% longer than in 2Q18. Q2 well costs of $866/ft came in under the company's $875 million target. Southwestern has realized average savings of $800,000/well for all wells using its southwest Appalachia piped water infrastructure, which improves logistics and reduces trucking traffic and costs. All wells completed in the southwest program during...
Aug 20, 2019
ES - Regional Highlights - August 20, 2019
The EIA projects that Appalachia production will rise by 4,000 bo/d and 367 MMcf/d sequentially in September to 146,000 bo/d and 32.605 Bcf/d. There are 422 DUCs in Appalachia as of July, down by 16 versus...
Aug 20, 2019
ES - Chesapeake Energy Highlights - August 20, 2019
Chesapeake Energy's Marcellus production averaged 929 MMcf/d in Q2, down 2% sequentially but up 16% YOY. The company is running two rigs in the play and placed 14 wells online during the quarter. Another 12 wells will be turned to sales in...
Aug 20, 2019
ES - Williams Highlights - August 20, 2019
Williams' Transco interstate pipeline has applied with the Federal Energy Regulatory Commission seeking authorization for its $531 million Leidy South project in Pennsylvania, which proposes to connect Marcellus and Utica gas with markets along the Atlantic Seaboard by the 2021-2022 winter heating season. The certificate application reflects an in-service target of Dec. 1, 2021. Leidy South will add 582 MMcf/d of capacity from the Leidy Hub in New York and Zick interconnect to points downstream...
Aug 20, 2019
ES - EOG Resources Highlights - August 20, 2019
As it continues executing its selffunded $6.3 billion capital program this year in its major oil-weighted plays, EOG Resources retained UBS Securities to market a package of producing gas properties in northeast Pennsylvania. Located in the Marcellus dry gas fairway in Bradford County, the marketed assets cover ~25,000 contiguous net acres (99% operated) with projected next-12- months net production of 55 MMcf/d and net cash flow of $2.6 million per month from 40 horizontal...
Aug 20, 2019
ES - UGI Corp. Highlights - August 20, 2019
In early July, UGI Corp. agreed to pay TC Energy $1.275 billion to buy Columbia Midstream Group, a set of five Appalachian gas gathering systems near the Pennsylvania-Ohio border. The transaction involves 240 miles of pipeline, just a portion of the 15,000 miles that TC—then called TransCanada—acquired in 2016 when it bought Columbia Pipeline Group for $13...
Aug 20, 2019
ES - CNX drills record lateral, rolls out blending strategy in SWPA - July 30, 2019
Lateral lengths are trending longer in the Marcellus, and CNX Resources says it set a new Pennsylvania record at 19,609 ft with its RHL71B well. The RHL7B was one of six long laterals averaging 15,744 ft on the Richhill 71 pad. CNX plans to utilize Evolution Well Services' all-electric frac crew for the completions and expects total D&C costs to run $800/ft. It contracted Evolution in Q2 and saved $180,000 in fuel costs on the seven wells it completed during the quarter. The Richhill 71...
Jul 30, 2019
ES - Cabot tweaks 2019 plans to enhance capital efficiency - July 30, 2019
Cabot Oil & Gas is adjusting its 2019 guidance following the acquisition of acreage adjacent to an eight-well pad. Laterals on the pad will now average 12,450 ft instead of 8,850 ft. This will improve the pad's economics but increase cycle times, pushing back the turning to sales of the pad to late December 2019 or early January 2020. As a result, Cabot's 2019 growth target of 20% has been reduced to 16-18%. Capex has been raised to $800-820 million from the prior $800 million...
Jul 30, 2019
ES - Regional Highlights - July 30, 2019
The EIA projects Appalachia production will rise 4,000 bo/d and 396 MMcf/d sequentially in August to 142,000 bo/d and 32.969 Bcf/d. There are 432 DUCs in Appalachia as of June, down by 15 versus...
Jul 30, 2019
Get more news for Eastern Scout