Eastern Scout
Serving the local market with drilling activities, permits & multiple listings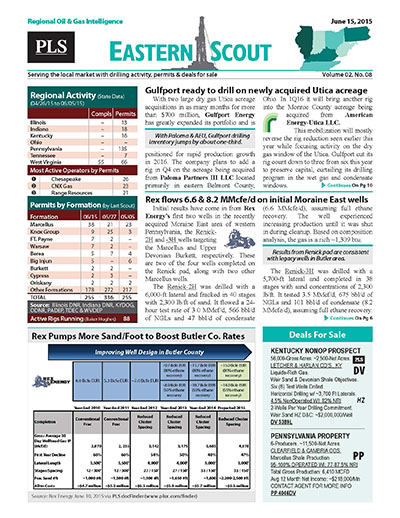 PLS's new Eastern Scout covers local drilling activity, permit data, rig activity and completions in the Eastern region (Pennsylvania, Ohio & West Virginia). Like all of PLS's Regionals this report includes a wealth of statistical analysis on activities and corporate performance. The reports also layer select advertising, business opportunities and multiple listings for sale.
Stay in front of local prospects, plays & rigs!
Pennsylvania, Ohio & West Virginia
Hard Copy and Email For 1 Individual
Every 3 to 4 Weeks (15 issues per year)
Regional discoveries, drilling activity, permits,
completions and summary drilling statistics, layered
with regional listings and business opportunities
Web access to the Eastern Scout archive
Does not include access to MLS
Search PLS' News Archive for complete oil & gas news for Eastern Scout .
See what it is about before you buy. View a sample issue of Eastern Scout.
Need more information? Click the button to recieve more details about the Eastern Scout
Opportunity is a reflection of information.
Call 713-650-1212 For More Information
Search Eastern Scout:

Headline
Publication
News Date
ES - Ascent lowers well costs guidance 19%, cuts capex 17% - June 2, 2020
Ascent Resources Utica Holdings revised its 2020 capex guidance downward to $600-650 million from the $700-800 million initially announced in February. The change was driven partially by efficiency gains and the company's outperformance of cost reduction targets. During Q1, Ascent improved drilling cycle times due to equipment upgrades and technology advancements while decreasing non-productive time and rig move cycle times. Deep top-hole rig upgrades also drove efficiencies. On the...
Jun 02, 2020
ES - EQT to curtail 1.4 Bcfe/d through Q2's end, maintains guidance - June 2, 2020
EQT Corp. is curtailing 1.4 Bcfe/d gross (1.0 Bcfe/d net) of production starting May 16. The duration of the curtailment will be subject to commodity price movements, relationships and resulting economics, and could potentially continue through the end of Q2. Assuming the volumes are deferred through June 30, Q2 sales volumes are forecast to be 315-335 Bcfe (3.46-3.68 Bcfe/d), 45 Bcfe lower than prior guidance. The curtailment is not expected to affect full-year 2020 guidance. EQT's Q1...
Jun 02, 2020
ES - Regional Highlights - June 2, 2020
The EIA projects that Appalachian gas production will fall by 85 MMcf/d sequentially in June to 32.593 Bcf/d. There were 527 DUCs in Appalachia as of April, down by nine versus...
Jun 02, 2020
ES - Seneca Resources Highlights - June 2, 2020
Seneca Resources, the upstream subsidiary of National Fuel Gas, produced 657.1 MMcfe/d in its fiscal Q2, which ended March 31, up 23% YOY. The company curtailed 2.7 Bcf (about 30 MMcf/d) during the quarter. It has reduced its estimated FY20 E&P capex to $375-395 million from a previous estimate of $492 million. Investment in its gathering assets remains level with 2019 at $50- 60 million, and spending on pipeline expansions is set to increase to $175- 195 million from $143 million last...
Jun 02, 2020
ES - EQM Midstream Services Highlights - June 2, 2020
Diana Charletta, president and COO of EQM Midstream Services, told analysts there is still a "narrow path" to complete the $5.4 billion Mountain Valley gas pipeline this year if FERC agrees to lift a halt-work order and the partnership gets resolution on the recent Nationwide Permit 12 vacatur by July. On the same May 14 conference call, CEO Thomas Karam suggested that applying for individual permits rather than relying upon the blanket Permit 12 would expedite the...
Jun 02, 2020
ES - Peregrine Energy Partners Highlights - June 2, 2020
Peregrine Energy Partners has entered an agreement to acquire producing natural gas royalties from undisclosed sellers. Operated by Range Resources, Antero Resources and EQT Corp., the assets lie in Washington County, Pennsylvania, and Tyler and Richie counties, West...
Jun 02, 2020
ES - Kinder Morgan Highlights - June 2, 2020
Kinder Morgan restarted Trains 1 and 3 at its Elba Island LNG export facility after they were shut down as a precaution following a fire that erupted May 11 in a mixed refrigerant compressor of the plant's Unit 2 movable modular liquefaction system. The company said it began the restart process for Unit 3 on May 19 and Unit 1 was slated to begin the restart process by May...
Jun 02, 2020
ES - Shell exits Appalachia E&P with $541MM sale to National Fuel - May 12, 2020
In the largest new US upstream transaction of 2020, National Fuel Gas subsidiary Seneca Resources has agreed to buy Shell's Appalachian upstream and midstream assets for $541 million, plus two contingent payments in 2021 and 2022 if Henry Hub is greater than or equal to $2.75/MMbtu. The dry gas Marcellus and Utica assets cover 450,000 net acres (86.5% NRI), of which 200,000 net acres lie in Tioga County, Pennsylvania. The rest is spread across Cameron, McKean, Forest, Warren and Venango...
May 12, 2020
ES - CNX positioning itself for 2022-2026 maintenance phase - May 12, 2020
In anticipation of lower NGL, condensate and natural gas prices this summer, CNX Resources made revisions to its 2020 plans. D&C capex guidance has been lowered by 8%, or $30 million, to $330-380 million, and non-D&C E&P spending was reduced by $15 million to $75-85 million. Total consolidated capex, which includes CNX Midstream, is now expected to be $60 million lower at $470-550 million. With lower D&C spending, production guidance has been reduced to 1.34-1.45 Bcfe/d compared to...
May 12, 2020
ES - Regional Highlights - May 12, 2020
The EIA projects that Appalachian gas production will fall by 326 MMcf/d sequentially in May to 31.889 Bcf/d. There were 544 DUCs in Appalachia as of March, down by 18 versus...
May 12, 2020
Get more news for Eastern Scout