PetroScout
Serving the E&P market with news, analysis and business opportunities.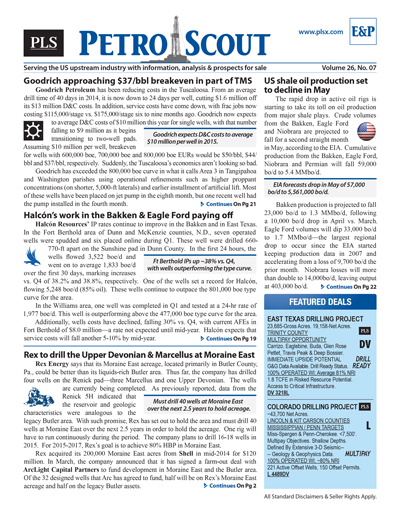 PLS publishes news and analysis on the exploration and production (E&P) sector through its E&P module. The blue banner report covers new well discoveries, drilling activities, acreage sales, industry statistics (drilling results, activity permits and intents to drill) and technological updates.
Covering exploration & production
Single copy pricing; Incl hard copy & email version
Increase market insight & deal flow
Every 3 weeks; 17+ issues per year
Latest in exploration, discoveries, resource plans, land grabs, volumes, development projects & trends
Access to archives covering E&P
Phone request for prospects and lands listed for sale
Includes discounts for other PLS products & events
Search PLS' News Archive for complete oil & gas news for PetroScout .
See what it is about before you buy. View a sample issue of PetroScout.
Need more information? Click the button to recieve more details about the PetroScout
Opportunity is a reflection of information.
Call 713-650-1212 For More Information
Search PetroScout:

Headline
Publication
News Date
PS - EOG racks up 2 more premium Delaware plays holding 1.6 Bboe - November 2019
Two additional Delaware basin plays with a combined 1,470 net drilling locations have ascended to the ranks of EOG Resources' expansive premium inventory: the Middle Wolfcamp and the Third Bone Spring. The two new plays made the cut by demonstrating at least 30% returns at flat $40/bbl oil and $2.50/MMbtu gas prices, a threshold the company says ensures strong returns and direct finding costs below $10/boe through commodity cycles. The Middle Wolfcamp, which EOG calls the "Wolfcamp M,"...
Nov 11, 2019
PS - Encana's HQ move to US underscores STACK & Permian growth - November 2019
EnCana is making some moves, literally and figuratively, to redefine itself. After 17 years in the Great White North, where at one point it was the largest Canadian gas producer, the company is changing its domicile to the US. The move will provide the company with greater access to capital. With the HQ shift will come a name change to Ovintiv Inc. "We are also using this opportunity to rebrand to better reflect who we are today and further break down perceptions that we believe are...
Nov 11, 2019
PS - Tellurian fracs first Haynesville wells on road to Driftwood FID - November 2019
Aspiring LNG exporter Tellurian Inc. drilled and completed its first operated Haynesville wells this year, with three completions on record as of the end of October. Established in 2016 as a midstream company centered around the proposed Driftwood LNG export facility, Tellurian acquired upstream producing properties and undeveloped acreage in late 2017 to support that project and made additional upstream acquisitions the following year. Its first operated well, the NRG 29-12-10 H 002-ALT in...
Nov 11, 2019
PS - Midcontinent drilling reaches three-year low in Q3 - November 2019
Drilling in the Midcontinent fell significantly during the first nine months of 2019 compared with activity levels a year earlier, according to Enverus Rig Analytics. The number of well starts during the period fell 27% YOY to 1,521. Q3 drilling activity fell to the lowest level in three years at 447 well starts and 133 rigs running. In contrast, 3Q18 saw the most active Midcon drilling sector since the end of 2014 at 795 well starts and 223 rigs running. Activity appears to be slumping even...
Nov 11, 2019
PS - Hess to tie back Esox to Tubular Bells after making oil find - November 2019
Hess made an oil discovery on Mississippi Canyon block 726 in the Gulf of Mexico. The Esox-1 exploration well was drilled in 4,609 ft of water by Diamond Offshore's Ocean BlackRhino drillship and encountered 191 ft of net pay in high-quality, oil-bearing Miocene reservoirs. Hess plans to develop it as a tieback to the Tubular Bells platform, which lies 6 miles to the west. "We are delighted with the success of the Esox well, which demonstrates the value of our infrastructure-led...
Nov 11, 2019
PS - LLOG moves forward with HPHT Shenandoah development - November 2019
LLOG Exploration has taken a step toward developing and bringing online its operated Shenandoah project in the Gulf of Mexico. The company awarded TechnipFMC a subsea tree order, the first material equipment order for the high-pressure, high-temperature project and the first of its kind for subsea trees designed for pressures up to 20,000 psi. LLOG is targeting a final investment decision for Shenandoah in 1H20, according to partner Navitas Petroleum. Shenandoah is located 200 miles...
Nov 11, 2019
PS - W&T boosts production 17% sequentially on GOM well startups - November 2019
W&T Offshore brought a number of Gulf of Mexico wells online in Q3, helping it to grow production 17% sequentially to 41,149 boe/d (53% liquids). The company also brought online the Gladden Deep discovery in Mississippi Canyon during the quarter, which is now flowing at a gross production rate of 4,600 boe/d (89% oil). The well was drilled under W&T's Monza JV, in which it is partnered with a group of investors to drill up to 14 specified GOM projects through 2021. In Ewing Bank block...
Nov 11, 2019
PS - US E&P firms are feeling the weight of their success - November 2019
US shale production has drastically altered the dynamics of the oil and gas industry across the globe. The US is now the largest producer of crude oil at 12.6 MMbo/d and has displaced OPEC as the global swing producer. The impacts of this production surge were first felt by Canadian producers as price differentials widened, leading up to Alberta's production rationing scheme. Canadian E&P firms have for years dealt with weak equity prices and a lack of access to capital, and Canadian-born...
Nov 11, 2019
PS - CNX trims 2020 capex & growth targets on bearish outlook - November 2019
CNX Resources anticipates spending less in 2020 than previously planned and is scaling back growth plans as the natural gas outlook appears bearish. The company will spend $885-950 million on capex compared to prior targets of $945 million to $1.01 billion. Production guidance has been revised to 1.47-1.55 Bcfe/d from 1.56- 1.63 Bcfe/d. This would amount to 3% YOY growth versus 2019. However, the company still expects to generate $146 million in free cash flow next year, which is 8% more than...
Nov 11, 2019
PS - Eastern Briefs - November 11, 2019
Marksmen Energy Inc. plans to commence in Q4 with the first three recompletions of a previously announced 40-well program targeting the Clinton sandstone in Portage County, Ohio. It expects these three initial recompletions to cost $410,000 and be funded via a $575,000 private placement. Of the remaining proceeds, the company intends to pay $25,000 for planning and engineering of the 40-well recompletion program and $94,000 as working capital to support light oil exploration in Ohio....
Nov 11, 2019
Get more news for PetroScout