PetroScout
Serving the E&P market with news, analysis and business opportunities.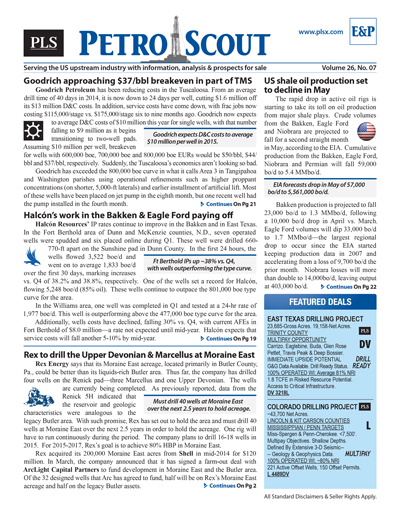 PLS publishes news and analysis on the exploration and production (E&P) sector through its E&P module. The blue banner report covers new well discoveries, drilling activities, acreage sales, industry statistics (drilling results, activity permits and intents to drill) and technological updates.
Covering exploration & production
Single copy pricing; Incl hard copy & email version
Increase market insight & deal flow
Every 3 weeks; 17+ issues per year
Latest in exploration, discoveries, resource plans, land grabs, volumes, development projects & trends
Access to archives covering E&P
Phone request for prospects and lands listed for sale
Includes discounts for other PLS products & events
Search PLS' News Archive for complete oil & gas news for PetroScout .
See what it is about before you buy. View a sample issue of PetroScout.
Need more information? Click the button to recieve more details about the PetroScout
Opportunity is a reflection of information.
Call 713-650-1212 For More Information
Search PetroScout:

Headline
Publication
News Date
PS - Hess holds steady on 2020 GOM plans, sees declines in 2021 - June 2020
Hess Corp.'s Q1 GOM production grew 6% YOY to 74,000 boe/d. During the quarter, the company brought online the Esox-1 discovery (57.24% WI) in Mississippi Canyon, a low-cost tieback to Tubular Bells that went from discovery to first oil in four months. The company does not plan to invest in additional production wells this year but will participate with 25% WI in the BP-operated Galapagos deepwater exploration well. Also located in Mississippi Canyon, the Cretaceous-aged Galapagos prospect was...
Jun 03, 2020
PS - W&T curtails 3,300 boe/d, expects even more in non-op shut-ins - June 2020
In response to the coronavirus pandemic, W&T Offshore delayed the reporting of its Q1 results. The company did however outline a few measures it has taken in response, as well as provide an overview of Q1 operations. As of April 30, the company had shut in 3,300 boe/d from oil-weighted fields in the Gulf of Mexico. Production from Mahogany field and other key natural gas fields in the Mobile Bay complex has not been impacted. W&T also received notice of production at non-operated fields that...
Jun 03, 2020
PS - Marathon to focus H2 Bakken completions on Myrmidon area - June 2020
During Q1, Marathon Oil produced 110,000 boe/d (80% oil) from the Bakken, up 2% sequentially and 20% YOY. The company ran four rigs and one frac crew, bringing 25 operated wells online during the quarter. After completing eight wells during Q2, Marathon has suspended completion activity in the play and plans to transition to one Bakken rig and one completion crew during H2. Of the remaining 25 wells that will be completed and turned to sales in 2020, activity will be concentrated in the...
Jun 03, 2020
PS - Inpex fracs its best Eagle Ford well yet before scaling back plans - June 2020
Inpex, Japan's largest E&P company, entered the US shale sector in April 2019 when it bought 13,000 net acres in Karnes County, Texas, from GulfTex Energy. Since the closing of that transaction, Inpex has completed 31 wells, all of which were drilled on multi-well pads. Prior to 2020, the company's initial 24-hour rates ranged 105-255 boe/d per 1,000 lateral ft, but in early 2020 a marked improvement in IP24 was achieved. In January, Inpex completed eight wells on the Wiatrek Unit in...
Jun 03, 2020
PS - Tidal Petroleum kicks off 2020 with excellent Eagle Ford wells - June 2020
In Karnes County, Texas, Tidal Petroleum completed the Arch #1H targeting the Eagle Ford. The well produced an initial 24-hour rate of 2,024 boe/d (90% oil) from a 2,288-ft effective lateral, or 885 boe/d per 1,000 lateral ft, on a 22/64-inch choke at 1,925 psi FTP. This is a top-tier IP24 for the company and strong per-1,000-ft rate for the play as a whole. The Arch #1H was the second well Tidal completed this year. The first, the Arch #2H, flowed an IP24 of 1,768 boe/d from a 2,433-ft...
Jun 03, 2020
PS - People & Companies - June 3, 2020
Abraxas Petroleum missed the deadline to file its Q1 results on May 11 and has filed for a 45 day extension with the SEC. The company's operations have experienced disruptions because of the coronavirus, including office closures, communication issues between the company and its professional advisors and the unavailability of key personnel required to prepare financial statements. Abraxas has assets in the Williston and Permian basins. Battalion Oil board member and chairman of the...
Jun 03, 2020
PS - EIA forecasts 197,000 bo/d decline in June shale production - June 2020
The EIA anticipates that oil output will fall in six out of seven major US shale plays in June. Combined declines are forecast to be 197,000 bo/d, bringing total production to 7.8 MMbo/d. The Permian is expected to account for the largest drop of 87,000 bo/d, bringing monthly output to 4.3 MMbo/d. Eagle Ford volumes are forecast to fall by 36,000 bo/d, while the Anadarko Basin and Niobrara could fall by 28,000 bo/d and 24,000 bo/d, respectively. Bakken output is predicted to fall by 21,000...
Jun 03, 2020
PS - Analyst Notes - June 2, 2020
EOG Resources (EOG; $48.20-May 13; Buy; PT-$62) Last week's update to 2020 guidance had a number of moving components to work through including a Q2 frac holiday and 40mbopd of annual shut in volumes that took production well below consensus expectations. Our updated model puts capex at $3.4B, or the lower end of the $3.3-3.7B guidance, with our FY oil production of 392mbopd in line with management expectations. Decline rates have been extremely topical for this name, with our updated...
Jun 03, 2020
PS - EOG homes in on sub-$30/bbl Eagle Ford and Delaware wells - June 2020
EOG Resources altered its 2020 plans to fit a sub-$30/bbl environment. Capex was lowered by $3 billion from the original target to current guidance of $3.3-3.7 billion. In just six weeks, the company dropped 78% of its rigs, going from 36 to eight, and 69% of its frac spreads, going from 16 to five. The company has identified more than 4,500 net drilling locations that will generate returns at less than $30/bbl WTI and will focus its activity on these high-return opportunities. Of the 485 net...
Jun 03, 2020
PS - Gulf of Mexico Briefs - June 3, 2020
Chevron is focusing on tiebacks, infill drilling, utilizing existing infrastructure and finding efficient ways to develop fields in order to make its Gulf of Mexico economics work in the current challenging price environment, CEO Michael Wirth said on a May 1 conference call. According to a May 7 announcement, Byron Energy Ltd. recently increased production from the South Marsh 71 platform to 2,900 bo/d and 7 MMcf/d. The company had curtailed 1,900 bo/d and 9.5 MMcf/d from the field....
Jun 03, 2020
Get more news for PetroScout