PetroScout
Serving the E&P market with news, analysis and business opportunities.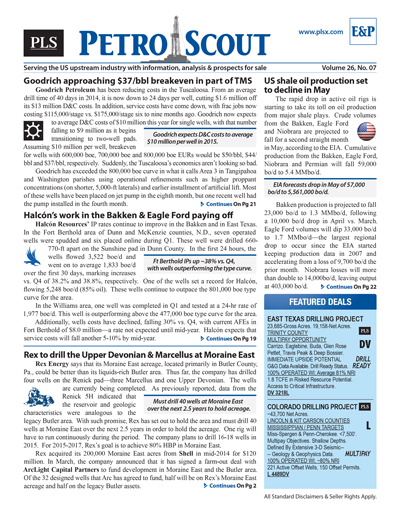 PLS publishes news and analysis on the exploration and production (E&P) sector through its E&P module. The blue banner report covers new well discoveries, drilling activities, acreage sales, industry statistics (drilling results, activity permits and intents to drill) and technological updates.
Covering exploration & production
Single copy pricing; Incl hard copy & email version
Increase market insight & deal flow
Every 3 weeks; 17+ issues per year
Latest in exploration, discoveries, resource plans, land grabs, volumes, development projects & trends
Access to archives covering E&P
Phone request for prospects and lands listed for sale
Includes discounts for other PLS products & events
Search PLS' News Archive for complete oil & gas news for PetroScout .
See what it is about before you buy. View a sample issue of PetroScout.
Need more information? Click the button to recieve more details about the PetroScout
Opportunity is a reflection of information.
Call 713-650-1212 For More Information
Search PetroScout:

Headline
Publication
News Date
PS - Chesapeake delivering oilier Turner wells in Powder River Basin - September 2019
In the Powder River Basin, Chesapeake Energy's Turner program is turning in higher oil-to-gas ratios as the company focuses its activity on the oil window of the play. Among recent highlights, the RRC 5-34-70 USA B TR 23H set a single-well production record at a peak rate of 4,000 boe/d (75% oil) from a 9,827-ft effective lateral followed by an initial 30- day oil rate of 2,000 bo/d. The BB 2-35- 71 USA A TR 16H flowed a peak rate of 3,200 boe/d (88% oil) and initial 30-day oil rate of 1,825...
Sep 30, 2019
PS - Ultra lowering Pinedale costs via 2-string wellbore design pilot - September 2019
Ultra Petroleum has been conducting a two-string wellbore design pilot on its Pinedale assets in Wyoming as it looks for further costs savings. The company has drilled 13 wells in the program YTD and realized savings of $500,000 per well, despite being in the early stages of the program. It successfully delivered eight two-string design wells in Q2 at an average cost of $2.6 million apiece. These wells are not easy to complete, but the company's success rate improved from 50% in Q1 to 73% in...
Sep 30, 2019
PS - QEP's low-density Mustang Spring units meet or beat forecasts - September 2019
Midland Basin-focused QEP Resources' recent activity has focused on its wholly owned Mustang Spring project area in Martin County, Texas. During Q2, the company put on production 23 wells in the area, with laterals averaging 10,459 ft, following 12 wells put on production during Q1. Drilling activity is now being shifted to the County Line area through the end of 2020. The tank-style development used by QEP at Mustang Spring is delivering wells that perform at or above expectations....
Sep 30, 2019
PS - Does data support speculation that the Permian is stalling? - September 2019
Recent commentary on the magic of the Permian miracle has included some dark musings about how the basin is beginning to stall. Given all the back and forth in the investment community about capital discipline and growing supply to the detriment of pricing, a recent study by Enverus co-founder Mark Nibbelink took a brief look at recent changes in EURs in the Delaware basin to read the tea leaves. On a very gross level, median oil EURs across all reservoirs have improved YOY. The...
Sep 30, 2019
PS - Marathon scores record pad in Karnes, further expands core - September 2019
Marathon Oil continues to deliver impressive results across its South Texas position. During Q2, the four-well Turnbull pad in Karnes County produced a new company record for an Eagle Ford pad, averaging initial 30-day rates of 3,230 boe/d (67% oil) per well from laterals averaging 6,140 ft. In Atascosa County, the company continues to expand its core, with 15 Q2 wells flowing IP30s averaging 1,860 boe/d (81% oil) from laterals averaging 6,800 ft. In a successful core extension test, it...
Sep 30, 2019
PS - Chevron to extend life of 'world-class' St. Malo with waterflood - September 2019
Chevron sanctioned a waterflood for its St. Malo field in the Gulf of Mexico. The supermajor's first waterflood in the deepwater Wilcox trend is expected to deliver another 175 MMboe. Two new production wells, three new injector wells and topsides injection equipment will be added for the Jack/St. Malo floating production unit. "The St. Malo field is a world-class asset that is positioned for highly economic brownfield development," North America E&P president Steve Green said. "With our...
Sep 30, 2019
PS - Talos lines up exploration prospects in Green Canyon area - September 2019
Talos Energy entered two separate agreements for Gulf of Mexico exploration opportunities. In the first, the company will work with BP to drill the Puma West prospect in Green Canyon Block 821, where the British supermajor will acquire an operated 75% WI and Talos will retain 25% WI. Puma West is a sub-salt Miocene prospect thought to be analogous to Mad Dog, which lies within 15 miles of the prospect and has produced more than 230 MMboe. The initial well will be drilled by the...
Sep 30, 2019
PS - Upstream firms adjust capex to protect free cash flow in H2 - September 2019
With three quarters of 2019 now over, many oil and gas operators are adjusting their capex and production guidance. While revisions happen every year, they have become the norm in 2H19 as companies announced Q2 results and H2 plans. At the beginning of Q3, Ultra Petroleum elected to drop one of its two active drilling rigs, lowered capex by $60 million and trimmed production guidance by less than 2% (PG.1). By the end of September, it will halt all drilling, reducing full-year capex by...
Sep 30, 2019
PS - QEP to develop remaining resources at S. Antelope with refracs - September 2019
While it continues to evaluate the performance of its Williston Basin refrac program, QEP Resources has already concluded that refracking existing wells is the most economical way to develop its remaining resources in the South Antelope area, while a combination of new wells and refracs will be the optimal approach in the Fort Berthold area. The company has 100 drilling locations remaining in the basin, mostly at Fort Berthold, and 100 refrac candidates split evenly between South Antelope and...
Sep 30, 2019
PS - South Texas Briefs - September 30, 2019
On Sept. 9, Baytex Energy updated its 2019 production guidance to 97,000 boe/d (83% liquids). This is its second revision, following a tightening of guidance toward the high side on Aug. 1—to 96,000-97,000 boe/d from the original range of 93,000-97,000 boe/d. The company plans to exit the year producing 95,000-97,000 boe/d. Capex for the year has also been revised, to $560 million from a $550-600 million range that was set Aug. 1. The original 2019 capex range was $550-650 million. Expectations...
Sep 30, 2019
Get more news for PetroScout