Southeastern Scout
Serving the local market with drilling activities, permits & multiple listings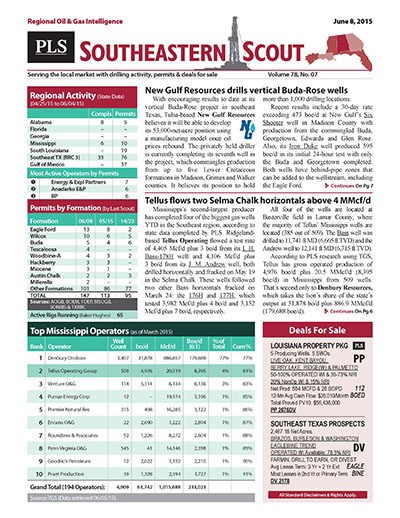 PLS publishes local exploration news and drilling insights on a regional basis through reports like the Southeastern Scout. Previously known as the Southeastern Oil Review and published since 1926, this unique report has a loyal following of explorationists, operators, drillers, landmen and landowners in South Louisiana, Mississippi, Alabama and Florida.
Stay in front of local prospects, plays & rigs!
South Louisiana, Mississippi, Alabama, Florida
Hard Copy and Email For 1 Individual
Every 3 Weeks (16-20 issues per year)
Regional discoveries, drilling activity, permits,
completions and summary drilling statistics, layered
with regional listings and business opportunities
Web access to the Southeastern Scout archive
Does not include access to MLS
Search PLS' News Archive for complete oil & gas news for Southeastern Scout .
See what it is about before you buy. View a sample issue of Southeastern Scout.
Need more information? Click the button to recieve more details about the Southeastern Scout
Opportunity is a reflection of information.
Call 713-650-1212 For More Information
Search Southeastern Scout:

Headline
Publication
News Date
SES - Shell hits more than 400 ft of net oil pay at Blacktip - April 2019
In the US Gulf of Mexico's Perdido thrust belt, Shell made a discovery at its Blacktip prospect on Alaminos Canyon Block 380. The exploration well encountered more than 400 ft of net oil pay in the Wilcox with good reservoir and fluid characteristics. Drilling is still ongoing as the operator deepens the well to further assess the structure's potential. Shell operates the Blacktip and holds 52.375% WI, while Chevron holds 20%, Equinor 19.125% and Repsol 8.5%. "Blacktip is Shell's second...
Apr 25, 2019
SES - Murphy Oil to acquire deepwater GOM assets from LLOG - April 2019
Murphy Oil entered an agreement to acquire oil-weight deepwater assets in the Gulf of Mexico from LLOG Exploration Offshore and LLOG Bluewater Holdings (a JV with Blackstone) for $1.375 billion plus up to $250 million in contingent payments. The effective date is Jan. 1, 2019, and the deal is expected to close in Q2. The assets will be held outside of Murphy's JV with Petrobras. The assets cover 26 blocks in the Mississippi Canyon and Green Canyon areas, with seven producing...
Apr 25, 2019
SES - Hess Highlights - April 25, 2019
Hess' Gulf of Mexico production averaged 70,000 boe/d in Q1, up 3% from 4Q18 and up 71% YOY primarily due to higher production from Conger, Penn State and Llano fields which were impacted in 1Q18 by the shutdown of the Shell-operated Enchilada...
Apr 25, 2019
SES - Shell Highlights - April 25 ,2019
Shell signed an agreement to divest its remaining 22.45% WI in Caesar-Tonga field to Delek Group for $965 million. The producing field lies 190 miles southwest of Louisiana in the Green Canyon area and contains eight wells flowing 68,000 boe/d (86% oil) gross and 78 MMboe (88% oil) of 2P reserves. Other partners, which hold preferential rights to buy Shell's stake under the same terms as Delek, are operator Anadarko, Chevron and Equinor. The deal is expected to close by Sept....
Apr 25, 2019
SES - Chevron Highlights - April 25, 2019
Chevron and Occidental Petroleum are in a bidding war to acquire Anadarko Petroleum, offering $50 billion and $57 billion, respectively. Anadarko holds working interest in 231 blocks. The company's GOM production averaged 142,000 boe/d (85% oil) in...
Apr 25, 2019
SES - Sempra Energy Highlights - April 25, 2019
Sempra energy announced that Cameron LNG has begun pipeline feed gas flow to the first liquefaction train of the export project as it prepares to start up operations at the facility in Hackberry, Louisiana.This is the final commissioning step for the first phase's Train 1.Sempra's Port Arthur LNG received authorization from FERC to build an LNG export facility in Jefferson County, Texas. The proposed two- to three-train facility could export 11...
Apr 25, 2019
SES - Eagle LNG Highlights - April 25, 2019
Eagle LNG Partners received a final environmental impact statement from the Federal Energy Regulatory Commission for the Jacksonville LNG project. The proposed facility in eastern Florida will consist of three trains able to produce a total of 1...
Apr 25, 2019
SES - Giddings field activity continues acceleration in 2019 - April 2019
Austin Chalk and Eagle Ford drilling has led a revival in East Texas activity, particularly at Giddings field. Completion activity more than doubled last year, with 103 wells completed in 2018 compared to 45 the prior year. Burleson has been the most active county by far with 53 completions last year and 28 in 2017. However, Giddings activity outside of Burleson County has shifted. In 2017, these counties were led by Fayette with six, Milam with four and Washington with four. In 2018,...
Apr 04, 2019
SES - Equinor lays out plans for ultra-deepwater Monument prospect - April 2019
Norwegian E&P firm Equinor filed an exploration plan for four wells on the Monument prospect in Walker Ridge blocks 272 and 316 in the Gulf of Mexico. Equinor hasn't filed such a permit in the play in nearly four years. The Walker Ridge blocks lie south of the Shenandoah discovery in 19,700- 20,700 ft of water. Monument is a four-way closure that holds an estimated 500 MMboe to 1 Bboe. Equinor, which still operates under its old Statoil name in the GOM, holds 60% WI, while Venari holds the...
Apr 04, 2019
Get more news for Southeastern Scout