Southeastern Scout
Serving the local market with drilling activities, permits & multiple listings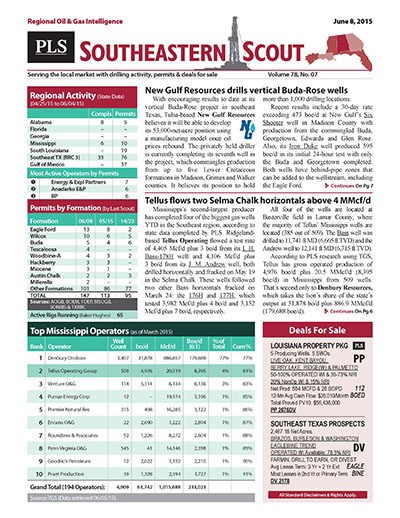 PLS publishes local exploration news and drilling insights on a regional basis through reports like the Southeastern Scout. Previously known as the Southeastern Oil Review and published since 1926, this unique report has a loyal following of explorationists, operators, drillers, landmen and landowners in South Louisiana, Mississippi, Alabama and Florida.
Stay in front of local prospects, plays & rigs!
South Louisiana, Mississippi, Alabama, Florida
Hard Copy and Email For 1 Individual
Every 3 Weeks (16-20 issues per year)
Regional discoveries, drilling activity, permits,
completions and summary drilling statistics, layered
with regional listings and business opportunities
Web access to the Southeastern Scout archive
Does not include access to MLS
Search PLS' News Archive for complete oil & gas news for Southeastern Scout .
See what it is about before you buy. View a sample issue of Southeastern Scout.
Need more information? Click the button to recieve more details about the Southeastern Scout
Opportunity is a reflection of information.
Call 713-650-1212 For More Information
Search Southeastern Scout:

Headline
Publication
News Date
SES - Chesapeake's Brazos Valley delivers strong oil wells, efficiencies - February 6, 2020
Continuing the development of its Brazos Valley area in southeast Texas, Chesapeake Energy completed a pair of three-well pads on the Beran lease in Burleson County during 4Q19. Drilled with longer laterals and completed using optimized completions, these six wells achieved peak 24-hour IP rates averaging 1,625 boe/d (95% oil). Since closing its acquisition of WildHorse Resource Development last February, Chesapeake has placed 81 wells online at Brazos Valley and developed 655,000 ft of...
Feb 06, 2020
SES - Murphy brings Nearly Headless Nick online in Gulf of Mexico - February 6, 2020
During 4Q19, Murphy Oil started production from multiple operated wells in the Gulf of Mexico. Its Nearly Headless Nick discovery in Mississippi Canyon block 387 came online with a peak rate of 6,900 boe/d, less than a year after former operator LLOG Exploration announced the find. On Walker Ridge block 425, Murphy's Chinook #5 workover was completed in late Q4 with a peak rate of 13,000 boe/d. The Medusa A6 recompletion on Mississippi Canyon block 582 started up early in the quarter at a peak...
Feb 06, 2020
SES - Hilcorp Highlights - February 6, 2020
Hilcorp recompleted the SL 21782 #1 well in LaFourche Parish, Louisiana. Tapping the Bigenerina 2 formation, the 14,681-ft MD (13,923 ft TVD) well produced an initial 24-hour rate of 31 MMcfe/d (95% gas) on a 56/64-inch...
Feb 06, 2020
SES - Lonestar Operating Highlights - February 6, 2020
Lonestar Operating completed its fifth Eagle Ford well in Fayette County, Texas: the Five Mile Creek E&B B #2H at South Bay field. The well was drilled with a 2870-ft gross perforated lateral and produced an initial 24-hour rate of 1,274 boe/d (91% oil) from the Eagle Ford on a 30/64-inch choke at 862 psi FTP. This is the company's highest IP24 in the...
Feb 06, 2020
SES - Kosmos Energy Highlights - February 6, 2020
Kosmos Energy finished drilling the Oldfield exploration well in the Mississippi Canyon area of the Gulf of Mexico. The well did not encounter commercial quantities of hydrocarbons and will be plugged and...
Feb 06, 2020
SES - Fieldwood Energy Highlights - February 6, 2020
Fieldwood Energy commenced deepening of the Orlov prospect in Q4 to complete the well in the Aspen J Sand, which was the primary target. The additional drilling encountered 55 ft of high-quality net oil pay, after the initial discovery found 100 ft net oil pay in May. The well has been completed and began flowing an average 4,000 boe/d in mid-January. Orlov lies in Green Canyon block 200. Fieldwood owns 70% WI in the block, while Talos Energy holds...
Feb 06, 2020
SES - BP Highlights - February 6, 2020
BP temporarily suspended the Puma West exploration well after reaching a TVD of 21,500 ft. The top and base of salt were encountered in close proximity to pre-drill depth expectations, validating the preliminary geological interpretation. Plans are being developed to return to the prospect later this...
Feb 06, 2020
SES - Shell Highlights - February 6, 2020
Shell might debottleneck its Appomattox development to increase the peak potential of the project by 65,000 boe/d. Initial design peak capacity was 175,000 boe/d, and debottlenecking would push volumes to 240,000...
Feb 06, 2020
SES - LLOG working on joint development plan for Leon & Moccasin - January 16, 2020
LLOG Exploration's Leon appraisal well on Keathley Canyon block 686 in the Gulf of Mexico confirmed the potential for a joint development of Leon and Moccasin, according to partner Repsol. The two discoveries are located less than 20 miles apart. LLOG is currently doing conceptual engineering to visualize what development would look like. In April, Repsol and LLOG signed asset exchange and joint participation agreements for Keathley Canyon blocks 642, 643, 686, 687 and 736, which...
Jan 17, 2020
SES - Austin Chalk gas fuels Ramtex Energy's drilling program - January 16, 2020
Ramtex Energy LLC has focused its D&C activity over the last two years on Fayette County, Texas, where it is drilling Austin Chalk gas wells at Giddings field. During 4Q19, the company flow tested two such wells. The Lincoln #1H was completed with a 5,459-ft effective lateral using 13.3 MMlb of sand or 2,436 lb/ft. During a 24-hour test, the well produced 17.5 MMcfe/d (78% gas) on a 7/64-inch choke at 3,979 psi FTP. The Hawk #1H features a 6,210-ft effective lateral fracked with 15.3 MMlb of...
Jan 16, 2020
Get more news for Southeastern Scout