Southeastern Scout
Serving the local market with drilling activities, permits & multiple listings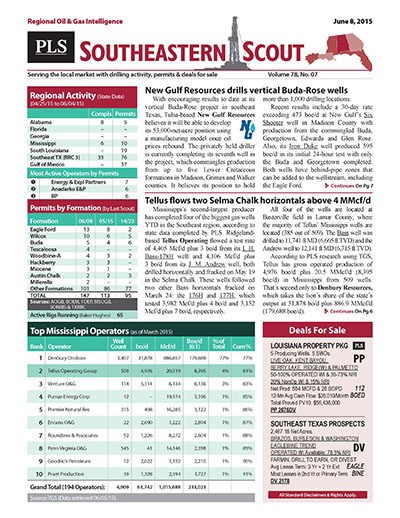 PLS publishes local exploration news and drilling insights on a regional basis through reports like the Southeastern Scout. Previously known as the Southeastern Oil Review and published since 1926, this unique report has a loyal following of explorationists, operators, drillers, landmen and landowners in South Louisiana, Mississippi, Alabama and Florida.
Stay in front of local prospects, plays & rigs!
South Louisiana, Mississippi, Alabama, Florida
Hard Copy and Email For 1 Individual
Every 3 Weeks (16-20 issues per year)
Regional discoveries, drilling activity, permits,
completions and summary drilling statistics, layered
with regional listings and business opportunities
Web access to the Southeastern Scout archive
Does not include access to MLS
Search PLS' News Archive for complete oil & gas news for Southeastern Scout .
See what it is about before you buy. View a sample issue of Southeastern Scout.
Need more information? Click the button to recieve more details about the Southeastern Scout
Opportunity is a reflection of information.
Call 713-650-1212 For More Information
Search Southeastern Scout:

Headline
Publication
News Date
SES - Beacon's 3rd Claiborne development well tops pre-drill estimate - March 2020
Beacon Offshore Energy's third development well at Claiborne field in the Gulf of Mexico was deemed a success after reaching total depth, partner Talos Energy reported. Located on Mississippi Canyon block 794 in 1,500 ft of water, the MC 794 #3 well logged 284 ft of true vertical pay across five pay sands, which exceeded pre-drill expectations. The well will be tied back to the Walter Oil & Gas-operated Coelacanth production facility in Ewing Bank block 834 and reach first production around...
Mar 19, 2020
SES - Byron Energy brings SM71 F4 well onstream at 8.3 MMcf/d - March 2020
Australia-based Byron Energy completed its SM71 F4 well offshore Louisiana and turned it over to production on March 11. As of March 16, it was producing 8.3 MMcf/d with a very low liquid yield on a 25/64-inch choke and flowing tubing pressure of 2,530 psi. CEO Maynard Smith said at current commodity prices, F4's gas production is economically equivalent to about 500 bo/d. Byron said the well is producing from the entire D5 upper sand section. The upper portion is gas-bearing and has...
Mar 19, 2020
SES - Hess Corp. Highlights - March 19, 2020
Hess Corp. reduced its 2020 capital budget by $800 million and now plans to spend $2 billion during the year. Most discretionary exploration and offshore drilling activities, excluding Guyana, will also be deferred, including in the Gulf of Mexico. Prior plans had called for two exploration wells in the GOM and the tieback of the Esox-1...
Mar 19, 2020
SES - Talos Energy Highlights - March 19, 2020
In response to recent trends in oil and gas commodity markets, Talos Energy is reducing its previous 2020 capital and operating expenditure guidance. Spending targets have been lowered by more than $125 million to an unspecified amount. Prior guidance was $520-545 million, with $280-285 million to be spent offshore the US. The reduction will be achieved by utilizing flexibility in its short-term rig contracts. Price assumptions have been revised to $30/bbl WTI from $50/bbl...
Mar 19, 2020
SES - W&T Offshore Highlights - March 19, 2020
W&T Offshore will spend $15-25 million in 2020, rather than the prior guidance of $50-100 million. Planned asset retirement expenditures will be trimmed to $10-20 million from $15-25 million. Due to its portfolio of conventional, low-decline assets, production guidance is unchanged at 47,100-52,100 boe/d. At $25/bbl and $1.50/MMbtu, W&T would be cash flow positive for...
Mar 19, 2020
SES - Murphy Oil Highlights - March 19, 2020
Murphy Oil cuts its 2020 capex guidance by $500 million, or nearly 35%, to $950 million. The company will delay certain Gulf of Mexico projects and development wells; postpone spud timing of two operated exploration wells; release operated rigs and frac crews in the Eagle Ford, with no operated activity planned for H2; and defer well completions in the Tupper Montney in...
Mar 19, 2020
SES - Strong flowback supports Marathon's Louisiana Austin Chalk pus - February 27, 2020
Marathon Oil's first modern completion in the western fairway of the Louisiana Austin Chalk is on flowback and still cleaning up, but the 6,400-ft lateral has already delivered 2,650 boe/d (45% oil) on a restricted choke at flowing wellhead pressure of more than 8,000 psi. The gas-oil ratio, oil gravity of 49°API and watercut are consistent with pre-drill expectations. Marathon expects that FTP will be strong across the entire western fairway. With early results confirming the company's...
Feb 27, 2020
SES - Talos eyes infrastructure-led, short-cycle projects for 2020 - February 27, 2020
Talos Energy is focusing its 2020 activity on infrastructure-led, short-cycle projects while also allocating a portion of its D&C program to high-impact exploration catalysts. Capex guidance has been set at $520-545 million compared to anticipated 2019 spend of $540-550 million. Notably, Talos is expected to close its $640 million acquisition of affiliates of ILX Holdings by the end of February. The addition of 19,000 boe/d increases Talos' volumes 35% and makes it the largest publicly traded...
Feb 27, 2020
SES - Hilcorp Highlights - February 27, 2020
Hilcorp completed the Green #2 well at Lightning field in Matagorda County, Texas, according to partner Otto Energy. The company perforated 66 ft out of 146 ft of calculated net pay in the Tex Miss 1 interval. During a 48-hour test, the well flowed a peak rate of 5.9 MMcf/d and 170 bbl/d of condensate with little water on an 11/64-inch choke at 9,100 psi flowing pressure. The well was producing 12.4 MMcf/d and 350 bbl/d of condensate as of Feb. 24. The partners are now evaluating the potential...
Feb 27, 2020
SES - BP Highlights - February 27, 2020
BP-operated Atlantis Phase 3 is on track to come online in 2020, according to stakeholder BHP. The phase will boost field output by 38,000 boe/d at peak. Located 129 miles offshore Louisiana in over 6,900 ft of water, Atlantis 3 is a subsea tieback of eight new production wells that will be drilled and completed to access infill resource opportunities. BHP approved $696 million in funding to develop Atlantis Phase 3 in February 2019, following approval by operator BP a month...
Feb 27, 2020
Get more news for Southeastern Scout