MidstreamIntelligence
Serving the downstream sector with news, analysis and business opportunities.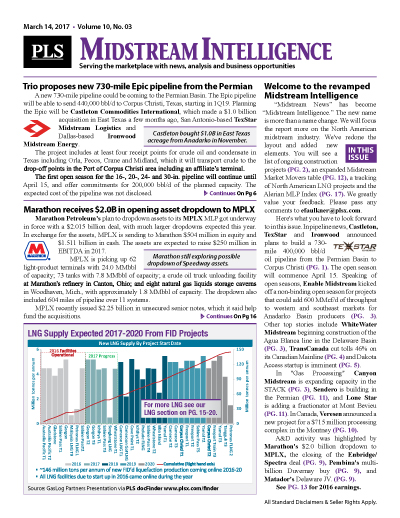 The PLS MidstreamIntelligence Module covers news and analysis on the midstream sector. The purple banner report includes market information, news and analysis on gas gathering, marketing, pipelines, storage, midstream mergers, acquisitions, capital and corporate performance.
Your access to midstream & downstream markets
Single copy pricing; Incl hard copy & email version
Increase market insight & deal flow
Published every 3 weeks; 17+ issues per year
Covers gathering, rail, processing, pipelines, refining and LNG
Phone request for multiple listings for sale
Includes discounts for other PLS products & events
Search PLS' News Archive for complete oil & gas news for MidstreamIntelligence .
See what it is about before you buy. View a sample issue of MidstreamIntelligence.
Need more information? Click the button to recieve more details about the MidstreamIntelligence
Opportunity is a reflection of information.
Call 713-650-1212 For More Information
Search MidstreamIntelligence:

Headline
Publication
News Date
MI - Crestwood prepares to wind down growth capex output - November 2019
Crestwood Equity Partners expects to complete a three-year, $1 billion growth program in early 2020. The Houston-based company expects to start producing positive free cash flow in 1H20 as it tones down its growth capex in 2020. Remaining projects in the three-year plan, which will be completed in early 2020, include the 200 MMcf/d Bucking Horse II processing plant and Jackalope gas gathering and compression projects, all in the Powder River Basin. In 2020, Crestwood intends to spend...
Nov 07, 2019
MI - Venture Global lands non-FTA authority for second project - November 2019
Venture Global's planned Plaquemines LNG project received permission from the US Department of Energy to export up to 3.4 Bcf/d to any country with which the US does not have a free trade agreement. The non-FTA authority is more than enough to cover the Plaquemines LNG's planned capacity of 21.6 mtpa. The company has targeted a financial close on Plaquemines LNG later this year, with construction starting in early 2020 and start-up in 2023. The Federal Energy Regulatory Commission...
Nov 07, 2019
MI - Industry weighs pipeline impacts from US Gulf Coast LNG outages - November 2019
Industry executives at the Gulf Coast Energy Forum in mid-October expressed concern about how unplanned outages at LNG facilities on the US Gulf Coast, such as shut-ins due to a hurricane, could impact the pipeline network and markets, Platts reported. LNG Ltd. commercial director Vince Morrissette, whose company is developing the proposed Magnolia LNG terminal in Louisiana, said there have already been days in 2019 when terminals had to push gas back into the market because of weather and...
Nov 07, 2019
MI - Oneok advances on capex even as NGL segment struggles - November 2019
ONEOK's NGL segment appears likely to be near the low end of the company's EBITDA forecasts for 2019, but its gas segments could beat the high end of guidance. Q3 total revenue was down one third YOY. The company also narrowed its 2019 growth capex forecast to $3.52-3.7 billion, at the high end of the previous $2.5-3.7 billion guidance. In a September presentation, Oneok put its 2019 NGL segment's adjusted EBITDA at $1.52-1.62 billion, but the actual total stood at $1.09 billion after the first...
Nov 07, 2019
MI - Cheniere posts $318MM loss; next train ahead of schedule - November 2019
Cheniere Energy said the third train at its Corpus Christi liquefaction facility in Texas is running ahead of schedule, with a final investment decision expected next year about another expansion there and a possible 500-acre deal to allow future growth. The company gave the updates as it reported a Q3 net loss of $318 million, its worst quarterly net loss since 1Q16, the quarter it shipped its first LNG cargo. CCL Train 3, the last 4.5 mtpa train planned for the site, was two-thirds...
Nov 07, 2019
MI - Sempra subsidiary to make FID on Costa Azul LNG in early 2020 - November 2019
IENova CEO Tania Ortiz Mena Lopez Negrete said the company expects to make a final investment decision on Phase 1 of its Costa Azul LNG export plant in Baja California, Mexico, in early 2020. The company, a Sempra Energy subsidiary, is currently soliciting bids for the engineering, procurement and construction contract, which will continue through the end of the year. It is also negotiating definitive agreements with customers Total, Mitsui and Tokyo Gas Co. IENova is working on...
Nov 07, 2019
MI - Williams receives federal OK for $405MM expansion of Transco - November 2019
Williams' Southeastern Trail expansion of the Transco gas pipeline system received the approval of the Federal Energy Regulatory Commission. The certificate of public convenience and necessity will allow the $405 million project to go forward. Southeastern Trail will provide 296 MMcf/d to utility and local distribution companies located in Virginia, North Carolina, South Carolina and Georgia. The project will consist of 7.7 miles of 42-inch pipeline looping facilities in Virginia,...
Nov 07, 2019
MI - Feds propose removing barriers to shipping LNG by rail - November 2019
A proposed regulatory change could make it easier to ship LNG by rail. The rule from the US Department of Transportation's Pipeline and Hazardous Materials Safety Administration could offer a way for gas shipments to reach areas that are inaccessible to pipelines or resistant to pipeline construction. Currently, LNG may only be transported via rail in a portable tank with an approval from the Federal Railroad Administration. However, the Hazardous Materials Regulations does authorize...
Nov 07, 2019
MI - Kraton sells business unit after gloomy forecast sinks shares - November 2019
Specialty chemicals company Kraton Corp. agreed to sell its Cariflex business unit to Daelim Industrial Co. for $530 million. The sale came 20 days after a reduced forecast sent KRA shares tumbling. Kraton CEO Kevin Fogarty said his company's valuation did not properly reflect the quality of Cariflex, which had a "robust growth profile" and adjusted EBITDA margins over 30%. Cariflex produces isoprene rubber latex and contributed $50.5 million of pro forma adjusted EBITDA in 2018. "Sales...
Nov 07, 2019
MI - Finance Briefs - November 7, 2019
Abu Dhabi-based sovereign investor Mubadala Investment Co. agreed to invest $50 million in NextDecade Corp. by private placement. Mubadala will buy 7,974,482 in NEXT shares at $6.27 per share and receive one seat of the NextDecade board. The Houston-based company is developing the 27 mtpa Rio Grande LNG export facility in Brownsville, Texas. Mubadala will receive an additional 398,724 shares if a final investment decision on Rio Grande LNG is not reached by Jan. 1, 2021 and the same amount if...
Nov 07, 2019
Get more news for MidstreamIntelligence