MidstreamIntelligence
Serving the downstream sector with news, analysis and business opportunities.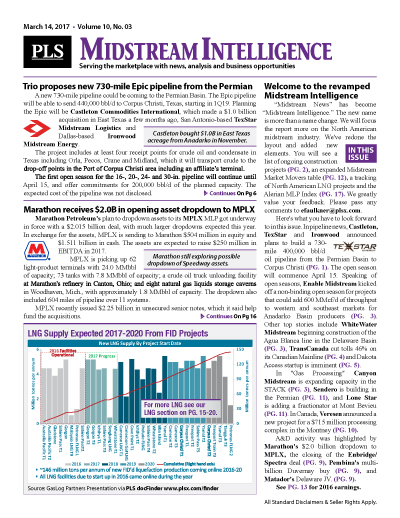 The PLS MidstreamIntelligence Module covers news and analysis on the midstream sector. The purple banner report includes market information, news and analysis on gas gathering, marketing, pipelines, storage, midstream mergers, acquisitions, capital and corporate performance.
Your access to midstream & downstream markets
Single copy pricing; Incl hard copy & email version
Increase market insight & deal flow
Published every 3 weeks; 17+ issues per year
Covers gathering, rail, processing, pipelines, refining and LNG
Phone request for multiple listings for sale
Includes discounts for other PLS products & events
Search PLS' News Archive for complete oil & gas news for MidstreamIntelligence .
See what it is about before you buy. View a sample issue of MidstreamIntelligence.
Need more information? Click the button to recieve more details about the MidstreamIntelligence
Opportunity is a reflection of information.
Call 713-650-1212 For More Information
Search MidstreamIntelligence:

Headline
Publication
News Date
MI - Analyst Notes - November 27, 2018
NGL supply likely to overwhelm demand More than 1 million bbd of frac capacity was announced over the last two months by ENLK, EPD, ET, OKE, PSX/DCP, and TRGP (with more potentially coming...
Nov 27, 2018
MI - Pipelines Briefs - November 27, 2018
Wolf Midstream Partners is conducting a binding open season until Dec. 14 to solicit long-term, firm commitments from Howard County, Texas, oil producers and shippers for the Red Wolf...
Nov 27, 2018
Get more news for MidstreamIntelligence