MidstreamIntelligence
Serving the downstream sector with news, analysis and business opportunities.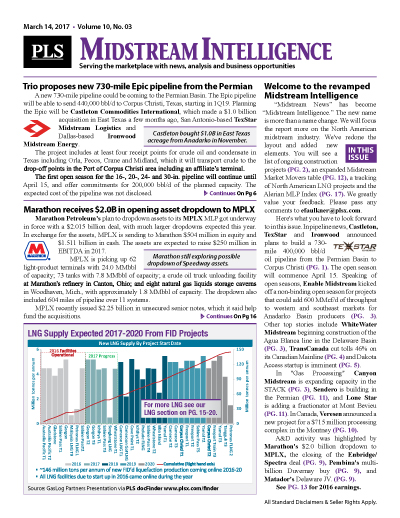 The PLS MidstreamIntelligence Module covers news and analysis on the midstream sector. The purple banner report includes market information, news and analysis on gas gathering, marketing, pipelines, storage, midstream mergers, acquisitions, capital and corporate performance.
Your access to midstream & downstream markets
Single copy pricing; Incl hard copy & email version
Increase market insight & deal flow
Published every 3 weeks; 17+ issues per year
Covers gathering, rail, processing, pipelines, refining and LNG
Phone request for multiple listings for sale
Includes discounts for other PLS products & events
Search PLS' News Archive for complete oil & gas news for MidstreamIntelligence .
See what it is about before you buy. View a sample issue of MidstreamIntelligence.
Need more information? Click the button to recieve more details about the MidstreamIntelligence
Opportunity is a reflection of information.
Call 713-650-1212 For More Information
Search MidstreamIntelligence:

Headline
Publication
News Date
MI - FERC clears way for 48 mtpa of liquefaction projects in Texas - December 2019
The Federal Energy Regulatory Commission approved the construction of four LNG facilities in Texas with a combined capacity of exceeding 48 mtpa—more than the current export capacity of the US—in its November meeting. Three of the projects are planned for the Port of Brownsville, a smaller ship channel that will receive up to 511 tanker visits a year if all three are completed. The other project is a second expansion of Cheniere Energy's Corpus Christi liquefaction facility. The largest...
Dec 04, 2019
MI - NBLX buys remainder of Noble's midstream assets for $1.6B - December 2019
Noble Energy agreed to drop down its remaining midstream interests and sell its incentive distribution rights to Noble Midstream Partners for $1.6 billion. The transaction makes NBLX the latest midstream master limited partnership to simplify its relationship with its sponsor. The deal is expected to roughly double NBLX's adjusted net EBITDA to $500-560 million in 2020. The acquired assets include NBLX's first gas processing complex in the DJ Basin and incremental three-stream gathering...
Dec 04, 2019
MI - EnLink halves capex YOY in anticipation of STACK slowdown - December 2019
EnLink Midstream intends to spend about half as much on capex in 2020 in preparation for a slowdown in Oklahoma, where it has a leading position. The company is also revisiting its dividend strategy, prompting speculation of a coming cut. For Q3, EnLink also reported net income of $11.8 million, its first positive figure in a year. The Dallas-based company expects 2019 growth capex to be at the low end of the previously announced guidance of $630-710 million and 2020 growth capex to be...
Dec 04, 2019
MI - US crude exports boosted with new pipelines; LNG sets record - December 2019
The startup of EPIC's Crude and Plains All American's Cactus II pipelines boosted US crude exports, especially in Corpus Christi, Texas, where exports have grown by over 500,000 bo/d from the end of August into mid-October. US LNG exports set a record in September, according to Enverus' November Fundamental Edge report. Enverus observed an increase in export activity during the first half of October. This was entirely driven by shipments from the Houston customs district, which includes...
Dec 04, 2019
MI - Phillips 66 Partners begins service on Gray Oak out of Permian - December 2019
Phillips 66 Partners has started service on its 900,000 bo/d Gray Oak pipeline, although the pipeline from the Permian to Corpus Christi, Texas, will not reach full service until 1Q20. The company also proposed lower spot rates for the accelerated commissioning service. In a regulatory filing with the Texas Railroad Commission, the company proposed a spot rate of $3.90/bbl, down from the $4.75/bbl it had set in October. Committed shippers whose contracts include the accelerated service...
Dec 04, 2019
MI - Harvest building pipeline to bring Eagle Ford crude to Ingleside - December 2019
Hilcorp Energy affiliate Harvest Midstream started building a 24-mile crude pipeline and a terminal to help send Eagle Ford crude to export facilities. The Ingleside pipeline will have a final capacity of 600,000 bo/d with up to 380,000 bo/d supplied by the existing Harvest Eagle Ford pipeline systems. The 24-inch pipeline that will originate from the Harvest Midway terminal and connect to multiple crude export terminals near Ingleside, Texas, including Flint Hills Resources' Ingleside...
Dec 04, 2019
MI - Whistler gas pipeline out of Permian launches open season - December 2019
An MPLX-led consortium launched a binding open season to solicit commitments for the remaining capacity on the 2 Bcf/d Whistler pipeline. Construction on the pipeline will begin next year with an in-service target of summer 2021. The 450-mile, 42-inch Whistler will transport gas from an interconnect with the Waha header to a terminus near Agua Dulce, Texas. A 50-mile, 36-inch lateral will provide connectivity for gas processors in the Midland Basin. The consortium has contracted...
Dec 04, 2019
MI - If you ain't first, you're last: US LNG forging ahead - December 2019
Qatar and Australia may be in a tussle for the top spot as the world's largest LNG exporter, but US companies and regulators don't appear content with sitting in third place. During its November meeting, the Federal Energy Regulatory Commission approved four LNG facilities in Texas with a combined capacity exceeding 48 mtpa, more than the current export capacity in the US (PG.1). Three of the projects are planned for the Port of Brownsville while the fourth is Cheniere Energy's second expansion...
Dec 04, 2019
MI - Enbridge issues $2B, temporarily bringing debt total to over $63B - December 2019
Enbridge closed the offering of $2 billion in senior notes over three tranches. The issue increased its long-term debt to $63.5 billion, although the company intends to use the net proceeds of $1.98 billion to refinance, redeem or repurchase existing indebtedness. The offering consisted of $500 million of 2.5% senior notes due 2025, $1 billion of 3.125% senior notes due 2029 and $500 million in 4% senior notes due 2049. At $2 billion, the offering is the third largest of the year in the...
Dec 04, 2019
MI - Pipelines Briefs - December 4, 2019
BP and its partners have finished construction on the Greek section of the 1 Bcf/d Trans Adriatic Pipeline, which will run 878 km from Kipoi, Greece, to Albania and southern Italy. As part of the commissioning process, gas has been introduced into a 2-km section of the pipeline between the Evros River and the Kipoi compressor station. Commercial gas flows through the pipeline are expected to start in October. Centurion Pipeline LP announced a binding open season to solicit commitments...
Dec 04, 2019
Get more news for MidstreamIntelligence