Ark-La-Tex Scout
Serving the local market with drilling activities, permits & multiple listings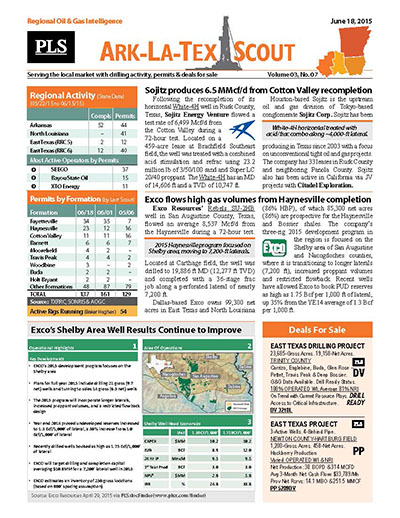 PLS publishes exploration news and drilling insights in Arkansas, Louisiana and East Texas through our Ark-La-Tex Scout. A famed area with significant of oil and gas history- this Region- known for East Texas stacked pays (Smackover, Bossier Sand, Cotton Valley, Travis Peak, Woodbine, Glen Rose, Rodessa, Pettit, James Lime, Edwards, Georgetown); Arkansas's shales (Brown Dense & Fayetteville) and North Louisiana's gas (Hosston & Haynesville) is still a core area for many operators from Dallas to Shreveport.
Stay in front of local prospects, plays & rigs!
Arkansas, Louisiana, East Texas
Hard Copy and Email For 1 Individual
Every 3 to 4 Weeks (12-16 issues per year)
Regional discoveries, drilling activity, permits,
completions and summary drilling statistics, layered
with regional listings and business opportunities
Web access to the Ark-La-Tex Scout archive
Does not include access to MLS
Search PLS' News Archive for complete oil & gas news for Ark-La-Tex Scout .
See what it is about before you buy. View a sample issue of Ark-La-Tex Scout.
Need more information? Click the button to recieve more details about the Ark-La-Tex Scout
Opportunity is a reflection of information.
Call 713-650-1212 For More Information
Search Ark-La-Tex Scout:

Headline
Publication
News Date
Chesapeake racks up 140 MMcf/d from four Haynesville HZs
In early January, Chesapeake Energy completed four outstanding Haynesville wells in DeSoto Parish, Louisiana. The Jenkins 3&10-15-14HC #3-Alt at Caspian field flowed the second-highest initial 24-hour rate on record in the shale play. Sporting a 9,522-ft effective lateral, the well produced 39,984 Mcf/d on a 35/64-inch choke at 7,024 psi flowing casing pressure. The other three wells, located on the L&R 14&11-14-12 HC pad at Thorn Lake field, delivered IP24s of 35,160 Mcf/d, 34,660...
Mar 07, 2019
Comstock's latest Haynesville wells average 28 MMcf/d
Since its last update in early November, Comstock Resources has brought online 13 new Haynesville wells, with eight of them operated. The laterals ranged 5,239-10,964 ft with an average of 9,470 ft, and initial 24-hour rates ranged 17-40 MMcf/d with an average of 28 MMcf/d. In this issue's data, the McCoy 35-2 HC #1 (10,168-ft lateral) tested at an IP24 of 26.5 MMcf/d. The well is located at Logansport field in DeSoto Parish. During 2018, Comstock drilled 49 Haynesville and Bossier wells with...
Mar 07, 2019
ALT - Regional Highlights - March 7, 2019
The EIA projects that Haynesville gas production will average 10.265 Bcf/d in March, up by 160 MMcf/d compared to February. There are 205 DUCs in the Haynesville as of January, up by three compared to...
Mar 07, 2019
ALT - Range Resources Highlights - March 07, 2019
Of Range Resources' $756 million 2019 capex, 10% is allocated to its North Louisiana division. The company plans to bring online eight wells in the area compared to 11 in 2018. Production averaged 256 MMcfe/d in Q4, down 26%...
Mar 07, 2019
ALT - Goodrich Petroleum Highlights - March 07, 2019
Goodrich Petroleum updated its economics for Haynesville horizontal wells. Well costs increased by $200,000 to $10.5 million for 4,600- ft laterals, by $700,000 to $10.9 million for 7,500-ft laterals and by $700,000 to $13.1 million for 10,000-ft laterals. EURs remain the same at 11.5 Bcf, 18.75 Bcf and 25.0 Bcf, respectively, but IRRs at $3.00/Mcfe rose to 61% (up 7.3%), 88.9% (up 28.8%) and 105.6% (up 29.7%), respectively. Recently, Goodrich completed two Haynesville wells in the Thorn...
Mar 07, 2019
ALT - Tellurian Highlights - March 07, 2019
During 2018, Tellurian closed two open seasons on proposed pipelines—the Permian Global Access Pipeline and the Haynesville Global Access Pipeline—receiving non-binding indications of interest for both projects in excess of available...
Mar 07, 2019
ALT -PetroQuest Energy Highlights - March 07, 2019
PetroQuest Energy ended 2018 with 130.3 Bcfe (5% oil, 13% NGLs) in proved reserves, down 16% YOY. Production for the year averaged 58.63 MMcfe/d (9% oil, 16% NGLs), down 22% YOY. The company emerged from Chapter 11 bankruptcy protection on Feb. 8 with a balance sheet that was about $295 million lighter between expunged debt and preferred equity...
Mar 07, 2019
BHP's final Haynesville completions deliver strong rates
In this issue's completion data, BHP completed a pair of two-well pads in Red River Parish, Louisiana. The horizontals averaged 5,250-ft laterals and targeted the Haynesville formation. The Sample 5-8HC #1-Alt and #2-Alt tested at 24-hour IP rates of 20.3 MMcf/d and 19.8 MMcf/d, respectively, while the Sample 5-32HC #1-Alt and #2-Alt flowed 20.2 MMcf/d and 20.2 MMcf/d. These were the company's first wells in Thorn Lake field and highlight the quality of the assets. According to the latest state...
Feb 14, 2019
Comstock & Chesapeake flow top IP rates
In this issue of Ark-La-Tex Scout, Chesapeake Energy and Comstock Resources flowed the highest IP24s. In Caddo Parish, Chesapeake Energy's Sentell 2&11-14- 16HC #002-Alt (9,970-ft lateral) tested at an initial 24-hour rate of 36.8 MMcf/d from the Haynesville on a 33/63- inch choke at 7,220 psi FCP. This is a top-five IP24 for Chesapeake in the play. The company is currently running two rigs in DeSoto Parish and one in Caddo Parish. Comstock completed the second, third and fourth best performing...
Feb 14, 2019
ALT - Amelia Resources Highlights - February 14, 2019
Amelia Resources has put together a sizable position in the Louisiana Austin Chalk and LouisianaMississippi Stack plays and is looking to sell 400,000 net acres. The company is showcasing the package at NAPE Summit this...
Feb 14, 2019
Get more news for Ark-La-Tex Scout