South Texas Scout
Serving the local market with drilling activities, permits & multiple listings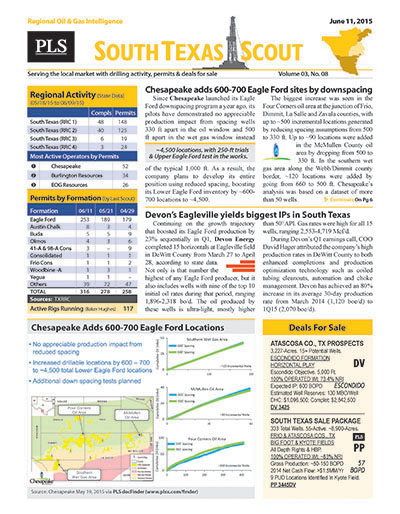 PLS publishes drilling activity in Railroad Districts 1,2,4 and select counties north of 3 through the South Texas Scout. Published every three (3) weeks, this local report covers lead stories on drilling activity, successes and new projects while also reporting on new permits, completions and P&A activity.
Stay in front of local prospects, plays & rigs!
South Texas RRC 1, 2, 4 and north of 3
Hard Copy and Email For 1 Individual
Every 3 Weeks (16-20 issues per year)
Regional discoveries, drilling activity, permits,
completions and summary drilling statistics, layered
with regional listings and business opportunities
Web access to the South Texas Scout archive
Does not include access to MLS
Search PLS' News Archive for complete oil & gas news for South Texas Scout .
See what it is about before you buy. View a sample issue of South Texas Scout.
Need more information? Click the button to recieve more details about the South Texas Scout
Opportunity is a reflection of information.
Call 713-650-1212 For More Information
Search South Texas Scout:

Headline
Publication
News Date
STS - EOG growth engine has more than 10 years of runway - May 23, 2019
EOG Resources has been developing the Eagle Ford at an aggressive pace for about 10 years and made the play a cornerstone of its growth story. After a 9% production increase last year, the company believes its Eagle Ford program can continue to grow for at least 10 more years at premium rates of return, with cash flow exceeding capex. Only 40% of EOG's identified locations have been developed to date. In order to maintain the long-term viability of its Eagle Ford position, EOG is...
May 23, 2019
STS - Devon achieves 12x productivity jump from Eagle Ford refracs - May 23, 2019
Encouraging initial results are coming in from Devon Energy's nascent Eagle Ford refrac program. The company has identified 200 refrac candidates and plans to appraise 20 locations in 2019. However, Devon estimates it has more than 700 potential refracs on its position. The initial wells in the program were brought online in Q1, with initial 30-day rates averaging 1,300 boe/d. These rates represent a 12x increase in well productivity. Devon also competed nine new Eagle Ford horizontals during...
May 23, 2019
STS - Regional Highlights - May 23, 2019
The EIA projects Eagle Ford production will fall 1,000 bo/d and 2 MMcf/d sequentially in June to 1.426 MMbo/d and 6.881 Bcf/d. There are 1,488 DUCs in the Eagle Ford as of April, down by 22 compared to...
May 23, 2019
STS - Sanchez Energy Highlights - May 23, 2019
During Q1, all of Sanchez Energy's completion activity was in Areas 3 and 5 of its Comanche project, where it brought online 18 wells. The company also completed 150 workovers in Q1, primarily related to its artificial lift strategy at...
May 23, 2019
STS - SilverBow Resources Highlights - May 23, 2019
During Q1, SilverBow Resources drilled 11 wells, completed eight and turned to sales five. Notably, a two-well pad in the McMullen oil area was drilled with 11,000-ft laterals and completed with 2,400 lb proppant and 50 bbl of fluid per lateral ft. The horizontals, which are two of the company's longest to date, came online in Q2 and have flowed a combined rate of more than 2,400...
May 23, 2019
STS - Murphy Oil Highlights - May 23, 2019
Murphy Oil brought 13 operated wells online in the Eagle Ford during Q1. In the Karnes area, nine wells came online but produced only two days in the quarter because of a significant delay in bringing a new 10-well pad online and because of offset fracs. Four Upper Eagle Ford wells averaged 1,400 boe/d IP30s and five Lower Eagle Ford wells averaged 2,100...
May 23, 2019
STS - Magnolia Oil & Gas Highlights- May 23, 2019
Magnolia Oil & Gas' Q1 production was up slightly compared to 4Q18 at 62,400 boe/d. The company anticipates volumes will rise 3-5% sequentially in Q2 and reach 70,000 boe/d in Q3, hitting the 2019 exit rate a quarter ahead of schedule. This accelerated growth is a result of higher levels of operated and nonoperated capital spending in...
May 23, 2019
STS - Marathon's latest Atascosa wells validate SW play extension - May 2019
Results of a four-well pad completed and tested by Marathon Oil in the Guajillo area of Atascosa County, Texas, in April further confirm the quality of the company's southwestern Eagle Ford play extension into the county. The Guajillo Unit 16 North #1H to #4H were completed with laterals averaging 6,794 ft and tested at 24-hour initial rates of 3,813 boe/d (90% oil). The top performer, the #4H (6,832-ft lateral) delivered 4,541 boe/d (90% oil), or 665 boe/d per 1,000 lateral ft, on a...
May 02, 2019
STS - SM's second Austin Chalk HZ flowing more than 3,500 boe/d - May 2019
SM Energy completed its second Austin Chalk horizontal in South Texas during Q1. The company is encouraged by the Watson State 167H, which is now flowing at a threestream rate of 3,500 boe/d (55% liquids) from a 12,875-ft effective lateral. The well is located between two producing Eagle Ford wells and is on the same pad as a new Lower Eagle Ford horizontal that came online at the same time. Thus far, the company has not seen any interference. SM's first well targeting the...
May 02, 2019
Get more news for South Texas Scout