South Texas Scout
Serving the local market with drilling activities, permits & multiple listings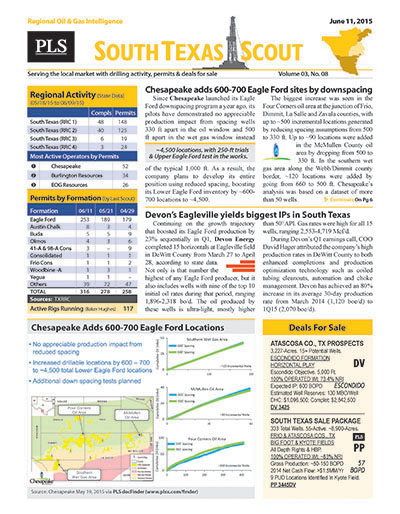 PLS publishes drilling activity in Railroad Districts 1,2,4 and select counties north of 3 through the South Texas Scout. Published every three (3) weeks, this local report covers lead stories on drilling activity, successes and new projects while also reporting on new permits, completions and P&A activity.
Stay in front of local prospects, plays & rigs!
South Texas RRC 1, 2, 4 and north of 3
Hard Copy and Email For 1 Individual
Every 3 Weeks (16-20 issues per year)
Regional discoveries, drilling activity, permits,
completions and summary drilling statistics, layered
with regional listings and business opportunities
Web access to the South Texas Scout archive
Does not include access to MLS
Search PLS' News Archive for complete oil & gas news for South Texas Scout .
See what it is about before you buy. View a sample issue of South Texas Scout.
Need more information? Click the button to recieve more details about the South Texas Scout
Opportunity is a reflection of information.
Call 713-650-1212 For More Information
Search South Texas Scout:

Headline
Publication
News Date
STS - Inpex fracs its best Eagle Ford well yet before scaling back plans - May 28, 2020
Japan's largest E&P company, Inpex, entered the US shale sector in April 2019, when it bought 13,000 net acres in Karnes County, Texas, from GulfTex Energy. Since the closing of that transaction, Inpex has completed 31 wells, all of which were drilled on multi-well pads. Prior to 2020, the company's initial 30-day rates ranged 105- 255 boe/d per 1,000 lateral ft, but in early 2020, a marked improvement in IP24 was achieved. In January, Inpex completed eight wells on the Wiatrek Unit in...
May 28, 2020
STS - Tidal kicks off 2020 with excellent wells, ready to weather downturn - May 28, 2020
In Karnes County, Texas, Tidal Petroleum completed the Arch #1H targeting the Eagle Ford. The well produced an initial 24-hour rate of 2,024 boe/d (90% oil) from a 2,288-ft effective lateral, or 885 boe/d per 1,000 lateral ft, on a 22/64-inch choke at 1,925 psi FTP. This is a top-tier IP24 for the company and strong per-1,000-ft rate for the play as a whole. The Arch #1H was the second well Tidal completed this year. The first, the Arch #2H, flowed an IP24 of 1,768 boe/d from a 2,433-ft...
May 28, 2020
STS - EOG Resources Highlights - May 28, 2020
EOG Resources' Eagle Ford activity is expected to average three rigs and three frac crews in 2020, skewed toward Q1. Of the 200 net wells planned for the play, 82 net were brought online in Q1. Prior plans were for seven rigs, five frac crews and 300 net completions. Compared with 2019, EOG is targeting a 7% drop in well costs to $5.3 million for 8,000-ft...
May 28, 2020
STS - Denbury Resources Highlights - May 28, 2020
Denbury Resources produced 3,419 boe/d from Texas during Q1, up 4% YOY. In March, the company closed the sale of half of its nearly 100% WI in four conventional southeast Texas oil fields for $40 million of net cash and a carried interest in 10 wells to be drilled by the...
May 28, 2020
STS - Callon Petroleum Highlights - May 28,2020
Callon Petroleum has achieved a 90% improvement in completion efficiency in the Eagle Ford since 1Q18. As of 1Q20, the company can complete around 2,000 lateral ft per day. During the same period, completion costs are down more than 50% to just over...
May 28, 2020
STS - Freedom Oil & Gas Highlights - May 28, 2020
Eagle Ford pure-play Freedom Oil & Gas filed for Chapter 11 bankruptcy protection on May 11. Formerly known as Maverick Holdings, Inc., Freedom was founded in 2014 and has more than 9,000 net acres in Dimmit County, Texas, that it bought in...
May 28, 2020
STS - Gavilan Resources Highlights - May 28, 2020
Blackstone-backed Gavilan Resources filed for Chapter 11 bankruptcy protection. The company was founded in 2017 and focused on South Texas, where it partnered with Sanchez Energy in a $2.2 billion deal for Anadarko Petroleum assets covering 77,000 net acres. Sanchez itself is in Chapter 11 and the two parties are in a legal fight for possession of the JV...
May 28, 2020
STS - Devon spacing test supports 12 wells/section in Upper Eagle For - May 7, 2020
During Q1, Devon Energy ran an average of three rigs and three frac crews in the Eagle Ford, spudding 10 wells and turning to sales 30 wells (71% WI) with laterals averaging 5,400 ft. This activity included an initial four-well, 440-ft redevelopment spacing test brought online at the E Butler Unit in DeWitt County, Texas. Averaging 5,700-ft laterals, these wells delivered initial 30-day rates of 2,000 boe/d (60% oil) apiece, with minimal communication with existing wells in the section. The...
May 07, 2020
STS - Marathon suspends completions activity for rest of Q2 - May 7, 2020
Marathon Oil had planned to turn 120-140 operated wells to sales in the Eagle Ford this year, but the outlook has changed considerably. After bringing 38 wells online in Q1, the company suspended Q2 completion activity and will transition to a lower and more stable level of drilling and completion activity over the second half of the year. It expects to turn 20 wells to sales in Q2, weighted to April, and 30 in H2, primarily in Q4. After running four rigs and two frac teams in the Eagle Ford...
May 07, 2020
STS - Regional Highlights - May 7, 2020
The US Energy Information Administration projects that Eagle Ford production will fall by 35,000 bo/d and 116 MMcf/d sequentially in May to 1.301 MMbo/d and 6.838 Bcf/d.There were 1,350 DUCs in the Eagle Ford as of March, down by 18 from February. The Eagle Ford and the DJ Basin were the only two shale plays to see increases in permitting over the two weeks that ended May 12, according to data from Enverus' RigData. The 12 DJ permits during that period were the most in two...
May 07, 2020
Get more news for South Texas Scout