South Texas Scout
Serving the local market with drilling activities, permits & multiple listings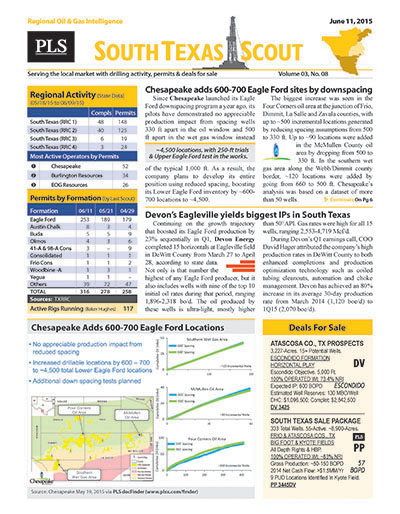 PLS publishes drilling activity in Railroad Districts 1,2,4 and select counties north of 3 through the South Texas Scout. Published every three (3) weeks, this local report covers lead stories on drilling activity, successes and new projects while also reporting on new permits, completions and P&A activity.
Stay in front of local prospects, plays & rigs!
South Texas RRC 1, 2, 4 and north of 3
Hard Copy and Email For 1 Individual
Every 3 Weeks (16-20 issues per year)
Regional discoveries, drilling activity, permits,
completions and summary drilling statistics, layered
with regional listings and business opportunities
Web access to the South Texas Scout archive
Does not include access to MLS
Search PLS' News Archive for complete oil & gas news for South Texas Scout .
See what it is about before you buy. View a sample issue of South Texas Scout.
Need more information? Click the button to recieve more details about the South Texas Scout
Opportunity is a reflection of information.
Call 713-650-1212 For More Information
Search South Texas Scout:

Headline
Publication
News Date
STS - Murphy tallies its best Tilden wells yet with new completions - September 26, 2019
Murphy Oil is applying its latest completion techniques in the Tilden area of the Eagle Ford for the first time this year, and the well results are the best the company has ever seen in the area, CEO Roger Jenkins said. During Q3, 10 wells targeting the Lower Eagle Ford on the Tyle Ranch pad have been brought online at an average initial 24-hour rate of 1,800 boe/d. The wells averaged 7,100-ft laterals and were spaced at 550 ft. The Tilden area lies primarily in Atascosa and Mcmullen counties,...
Sep 26, 2019
STS - EP completes high-oil-cut Eagle Ford wells in Frio County - September 26, 2019
Q2 was the height of EP Energy's DUC inventory build in the Eagle Ford, and at quarter's end the company dropped two of its three active rigs. Now it is focusing on completing DUCs in the play. In the latest available state data, EP completed five horizontal wells on the Siegele pad in the southeast corner of Frio County, Texas—its first in the county since 2016. The Siegele wells averaged 4,564-ft effective laterals and delivered initial 24-hour rates ranging 487-859 boe/d (98% oil)...
Sep 26, 2019
STS - Regional Highlights - September 26, 2019
The EIA projects that Eagle Ford production will fall by 6,000 bo/d and 18 MMcf/d sequentially in October to 1.374 MMbo/d and 6.729 Bcf/d.There are 1,458 DUCs in the Eagle Ford as of August, down by 16 from...
Sep 26, 2019
STS - Baytex Energy Highlights - September 26, 2019
On Sept. 9, Baytex Energy updated its 2019 production guidance to 97,000 boe/d (83% liquids). This is its second revision, following a tightening of guidance toward the high side on Aug. 1—to 96,000-97,000 boe/d from the original range of 93,000-97,000 boe/d. The company plans to exit the year producing 95,000- 97,000 boe/d. Capex for the year has also been revised, to $560 million from a $550-600 million range that was set Aug. 1. The original 2019 capex range was $550-650 million....
Sep 26, 2019
STS - Inpex Highlight - September 26, 2019
Inpex is preparing to drill its first wells in the Eagle Ford, roughly six months after buying into the play in a deal with GulfTex Energy. The deal included 13,000 operated acres primarily in Karnes, Gonzales, Atascosa, Wilson and La Salle counties, Texas. The company recently filed its first 11 permits, with locations in Karnes and La Salle...
Sep 26, 2019
STS - DSD Energy Resources Highlight - September 26, 2019
DSD Energy Resources sold Eagle Ford mineral assets in Atascosa County, Texas. The package included 84 net mineral acres (3,110 gross) operated by PetroEdge and nine PDP wells producing from the Eagle Ford and Pearsall. As of March, gross production was 1,701 boe/d (9 boe/d net; 87%...
Sep 26, 2019
STS - PayRock Energy II Highlight - September 26, 2019
EnCap-backed PayRock Energy II retained BMO Capital Markets to assist in the sale of its Eagle Ford assets. A buyer will acquire an operated 100% WI in 11,212 acres that are largely undeveloped in La Salle, Mcmullen and Dimmit counties, Texas. Net production in June was 2,371 boe/d (74% liquids) from four...
Sep 26, 2019
STS - Marathon scores record pad in Karnes, further expands core - September 5, 2019
Marathon Oil continues to deliver impressive results across its South Texas position. During Q2, the four-well Turnbull pad in Karnes County produced a new company record for an Eagle Ford pad, averaging initial 30-day rates of 3,230 boe/d (67% oil) per well from laterals averaging 6,140 ft. In Atascosa County, the company continues to expand its core, with 15 Q2 wells flowing IP30s averaging 1,860 boe/d (81% oil) from laterals averaging 6,800 ft. In a successful core extension test, Marathon...
Sep 05, 2019
STS - SilverBow results highlighted by McMullen & La Salle areas - September 5, 2019
South Texas-focused SilverBow Resources is delivering some of its strongest wells to date in the Eagle Ford condensate window in La Salle County and oil window in McMullen County, CEO Sean Woolverton told investors on a recent conference call. In Q2, the two-well Hayes pad in the McMullen oil area produced an average initial 30-day rate of 1,280 boe/d (85% liquids) per well. The wells were drilled with 11,000-ft laterals and completed with 2,400 lb of proppant and 50 bbl of fluid per lateral...
Sep 05, 2019
STS - Regional Highlights - September 5, 2019
The EIA projects that Eagle Ford production will fall by 6,000 bo/d and 16 MMcf/d sequentially in September to 1.383 MMbo/d and 6.732 Bcf/d.There are 1,504 DUCs in the Eagle Ford as of July, down by 13 from...
Sep 05, 2019
Get more news for South Texas Scout