South Texas Scout
Serving the local market with drilling activities, permits & multiple listings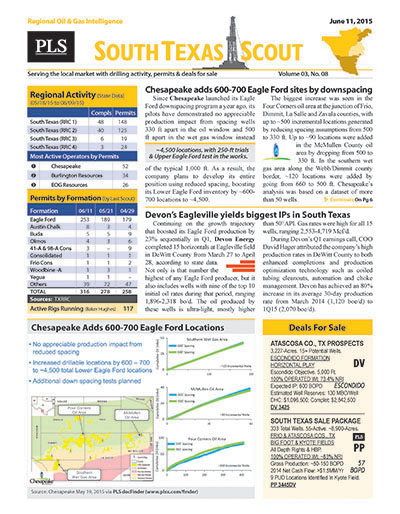 PLS publishes drilling activity in Railroad Districts 1,2,4 and select counties north of 3 through the South Texas Scout. Published every three (3) weeks, this local report covers lead stories on drilling activity, successes and new projects while also reporting on new permits, completions and P&A activity.
Stay in front of local prospects, plays & rigs!
South Texas RRC 1, 2, 4 and north of 3
Hard Copy and Email For 1 Individual
Every 3 Weeks (16-20 issues per year)
Regional discoveries, drilling activity, permits,
completions and summary drilling statistics, layered
with regional listings and business opportunities
Web access to the South Texas Scout archive
Does not include access to MLS
Search PLS' News Archive for complete oil & gas news for South Texas Scout .
See what it is about before you buy. View a sample issue of South Texas Scout.
Need more information? Click the button to recieve more details about the South Texas Scout
Opportunity is a reflection of information.
Call 713-650-1212 For More Information
Search South Texas Scout:

Headline
Publication
News Date
STS - Penn Virginia grows output 110%, terminates merger - April 2019
Penn Virginia generated strong growth during 2018, with full-year volumes increasing 110% YOY to 21,765 boe/d. The company drilled and turned to sales 53 wells and finished the year with three DUCs. According to RRC data, 50 of the wells had reported IP24 rates that averaged 1,333 boe/d (85% oil), or 183 boe/d per 1,000 lateral ft. Its top performing wells were the Southern Hunter-Amber Unit 1 and 2 in Gonzales County, averaging 2,546 boe/d (87% oil), or 312 boe/d per 1,000 ft, from the Eagle...
Apr 11, 2019
STS - Sundance sets moderate development pace for low-cost growth April 21019
Having slowed drilling during 4Q18 in response to oil price reductions, Eagle Ford driller Sundance Energy Australia plans to maintain a moderate development pace this year.It expects to bring 25 wells online at a capital cost of $135-155 million and increase sales volumes more than 50% YOY at midpoint to a 2019 average of 14,000-15,000 boe/d while operating within cash flow. At this pace, the Australia-listed company says it has 429 drilling locations with full-cycle breakevens below...
Apr 11, 2019
STS - Chesapeake Energy Highlights - April 11, 2019
In Dimmit County, Chesapeake Energy's Big Wells South Unit 10 Dim #B4H (9,140-ft lateral) flowed an initial 24-hour rate of 3,549 boe/d (~100% gas) from the Eagle Ford on a 17/64-inch choke at 781 psi FTP. This is the company's highest Eagle Ford IP24 to date, according to state...
Apr 11, 2019
STS - Gulftex Energy Highlights - April 11, 2019
In Karnes County, GulfTex Energy's Mzyk North Unit #3H (4,868- ft lateral; 14.3 MMlb proppant) tested at a 24-hour rate of 2,978 boe/d (90% oil), or 612 boe/d per 1,000 lateral ft, from the Eagle Ford on a 22/64-inch choke at 2,615 psi...
Apr 11, 2019
STS - Dan A Hughes Highlights - April 11, 2019
In Kenedy County, Dan A Hughes Co.'s Santa Fe Ranch Mula Pasture #107 vertical well (13,963 ft TD) delivered an IP24 of 16.3 MMcfe/d (99% gas) from the Deep Consolidated on a 20/64-inch choke at 7,815 psi...
Apr 11, 2019
STS - Contango Oil Highlights - April 11, 2019
During 2019, Contango Oil & Gas plans to spend $1.9 million to participate in two non-operated Georgetown formation wells in Zavala and Dimmit counties. This activity is a follow-up to two successful wells in the formation in 2017 and 2018. Contango's $30.3 million capex is focused on the Delaware...
Apr 11, 2019
STS - Carnelian Energy Capital Highlights - April 11, 2019
Carnelian Energy Capital Management-backed Ridgefield Eagle Ford Minerals sold Eagle Ford mineral assets in Karnes, Dimmit and Gonzales counties. The package covers 763 net royalty acres across 30 units containing 90 producing horizontals and 1,003 drilling...
Apr 11, 2019
STS - Vanguard Natural Resources Highlights - April 11, 2019
Vanguard Natural Resources filed for Chapter 11 on April 1, marking its second bankruptcy since the 2014 oil crash. The company has obtained a committed $130 million debtor-in-possession financing, which contemplates $65 million in new money, up to $20 million of which will become immediately available upon bankruptcy court approval, and $65 million of which will roll up obligations in respect of revolving loans under the company's existing credit...
Apr 11, 2019
STS - Continuous learning keeps EOG at the top in Eagle Ford - March 2019
Rolling into its 10th year of Eagle Ford development, EOG Resources continues to learn new ways to improve well productivity, find efficiencies and lower costs. The company extended its average lateral length 7% YOY in 2018, primarily on its western acreage where there is less faulting. Wells on the western acreage tend to have lower IP rates but are more cost efficient and have slightly lower decline rates, E&P EVP Ken Boedeker said on the company's year-end conference call. The 82...
Mar 21, 2019
STS - Sanchez reverses production declines on new strategy - March 2019
Eagle Ford-focused Sanchez Energy's operational approach in 2018 sought to stem production declines and improve understanding of its assets, especially Comanche. Through incorporating the results of initial testing, the company reverted to a more conservative choke strategy, implemented a completion optimization strategy and increased artificial lift conversion and workover activity across the entire asset base. By Q4, the strategy began to bear fruit, with production increasing 6% sequentially...
Mar 21, 2019
Get more news for South Texas Scout