South Texas Scout
Serving the local market with drilling activities, permits & multiple listings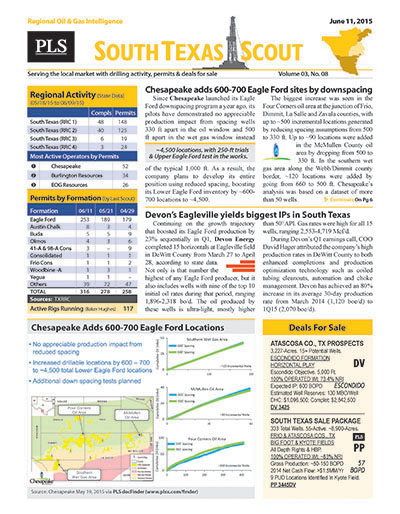 PLS publishes drilling activity in Railroad Districts 1,2,4 and select counties north of 3 through the South Texas Scout. Published every three (3) weeks, this local report covers lead stories on drilling activity, successes and new projects while also reporting on new permits, completions and P&A activity.
Stay in front of local prospects, plays & rigs!
South Texas RRC 1, 2, 4 and north of 3
Hard Copy and Email For 1 Individual
Every 3 Weeks (16-20 issues per year)
Regional discoveries, drilling activity, permits,
completions and summary drilling statistics, layered
with regional listings and business opportunities
Web access to the South Texas Scout archive
Does not include access to MLS
Search PLS' News Archive for complete oil & gas news for South Texas Scout .
See what it is about before you buy. View a sample issue of South Texas Scout.
Need more information? Click the button to recieve more details about the South Texas Scout
Opportunity is a reflection of information.
Call 713-650-1212 For More Information
Search South Texas Scout:

Headline
Publication
News Date
Murphy Oil to accelerate Eagle Ford activity in 2019
Murphy Oil plans to increase its Eagle Ford activity in 2019. Capex has been increased 40% YOY to $600 million, consisting of $470 million for D&C and $130 million for field development and participating in nine non-operated wells. The company plans to drill 90 operated wells in the area, which is 80% more than in 2018. In Q1, Murphy will bring 14 Eagle Ford wells online, while 31 will be turned to sale in Q2, 25 in Q3 and 20 in Q4. Currently, the company is running four rigs and two frac...
Feb 07, 2019
Matador & Carrizo cut Eagle Ford rig counts
During 2H18, Matador Resources and Carrizo Oil & Gas shifted activity away from their Permian operations in favor of boosting rig counts in the Eagle Ford in order to avoid potential differential blowouts in the Permian. After the dramatic drop in oil prices in Q4 and the extensive buildout of Permian infrastructure, both companies are reducing their Eagle Ford programs this year. Matador will drop its rig operating in South Texas after it completes the current drilling program in February....
Feb 07, 2019
STS - Regional Highlights - February 07, 2019
The EIA projects Eagle Ford production will average 1.438 MMbo/d and 7.144 Bcf/d in February, up 11,000 bo/d and 98 MMcf/d from January. There are 1,561 DUCs in the Eagle Ford as of December, up 41 compared to...
Feb 07, 2019
STS - Rocky Creek Resources - February 07, 2019
In Lavaca County, Rocky Creek Resources' Shiner 1H (8,550-ft lateral) is averaging a three-stream rate of 2,070 boe/d after 120 days, or 242 boe/d per 1,000 lateral ft. The horizontal is producing from the Lower Eagle Ford at 3,600 psi FTP. This is the company's third well in the play, with the first two, the Kloesel 1H and Five Star 1H, also showing shallow declines and exceeding the type curve. Rocky Creek is operated by Boomtown Oil and is a JV between investment funds sponsored by Boomtown,...
Feb 07, 2019
STS - ConocoPhillips Highlights - February 07, 2019
ConocoPhillips says it dropped a rig in the Eagle Ford during January. The company is currently running six rigs in the play, with four in DeWitt County and one in both Karnes and Live Oak counties, according to...
Feb 07, 2019
STS - Earthstone Energy Highlights - February 07, 2019
During 2018, Earthstone Energy drilled five and completed 11 wells in southern Gonzales County. The company plans to drill seven wells this year and will consider additional activity if commodity prices improve. Of the $190 million capex budget, $10 million is allocated to the Eagle...
Feb 07, 2019
STS - Lonestar Resources - February 07, 2019
At YE18, Lonestar Resources' proved reserves totaled 93.3 MMboe, up 23.8 MMboe. Including 2018 results, Lonestar's five-year reserves replacement ratio has been 716%, and the five-year all-sources F&D cost averages $8.94 per...
Feb 07, 2019
Chesapeake to apply learnings on WildHorse acreage
In recent investor presentation, Chesapeake has highlighted plans to integrate its WildHorse Resource Development acquisition with its existing Eagle Ford portfolio after closing the $4.0 billion deal later in Q1. CEO Doug Lawler has pointed to similarities in depth, rock properties and thickness between the WildHorse acreage stretching mostly across Burleson and Lee counties northeast of the San Marcos Arch and its existing assets on the southwest side of the play in the South Texas Basin....
Jan 17, 2019
1776's Gonzales County HZs average 2,677 boe/d
During Q4, 1776 Energy Partners completed two high-quality Eagle Ford wells in southern Gonzales County. Completed at the end of October, the Maali #8H (5,085-ft lateral; 12.9 MMlb sand) tested at an initial 24-hour rate of 2,460 bo/d and 4,076 Mcf/d, or 3,139 boe/d (78% oil), on a 32/64-in. choke at 3,136 psi FTP. In November, the Koenning Unit #5H (5,327-ft lateral; 12.3 MMlb sand) delivered an IP of 1,896 bo/d and 1,912 Mcf/d, or 2,215 boe/d (86% oil), on the same size choke at 1,712 psi...
Jan 17, 2019
Get more news for South Texas Scout