CanadianCapital
Serving the Canadian finance market with news, analysis and business opportunities.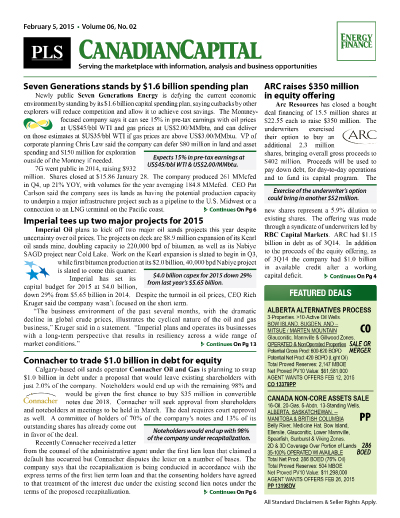 The CanadianCapital (green banner report) covers news and analysis on the energy finance sector, including company budgets, capital spending, financial performance and interviews with leading capital providers. The timely research report also contains analysis of public and private financings as well as tracks trends in capital availability from commercial banks, private equity, public markets and other providers.
Your access to Canadian energy finance
Single copy pricing; Includes hard copy & email version
Increase market insight & deal flow
Every 3 weeks
Covers Canadian financings, capex,
earnings, new companies
Includes market analysis & new trends
Access to CanadianCapital archives
Phone request for multiple listings for sale
Includes discounts for other PLS products & events
Search PLS' News Archive for complete oil & gas news for CanadianCapital .
See what it is about before you buy. View a sample issue of CanadianCapital.
Need more information? Click the button to recieve more details about the CanadianCapital
Opportunity is a reflection of information.
Call 713-650-1212 For More Information
Search CanadianCapital:

Headline
Publication
News Date
Capitalize shows Canadian underwriting activities slow in 1H18
Canadian banks and brokers earned $141 million in fees for total allocations of $24.26 billion in connection with equity and debt offerings, credit facilities and loans for the oil and gas industry during the first half of 2018, according to data compiled by PLS' Capitalize platform, and two banks—RBC Capital Markets and Scotiabank—were among the Top 10 of all 171 underwriters. While a small portion of the underwriting took place for Canadian companies, all companies tracked by...
Jul 19, 2018
IOCs take interest in Canada as world oil prices rebound
A gradual rebound in world oil prices over the last few months has led to a small resurgence in interest from international oil and gas companies, who have started to invest again in Canada. ConocoPhillips and Petronas, both of which sold assets within the last two years, have reinvested in the region as prices have rebounded. The international exodus started in October 2016 after the decline in world oil and gas prices made international oil companies skeptical of the high costs of...
Jul 19, 2018
Industry optimistic about $40 billion capex at Kitimat
A final investment decision for the fate of the Kitimat, B.C.-based LNG Canada project is looking better than it has been in a long time, judging by activity in the area, the re-entrance of Petronas to the Canadian LNG market and new contracts. The $40 billion FID is the decision of project lead Royal Dutch Shell and partners PetroChina, Mitsubishi and Korea Gas Corp., as well as Malaysian NOC Petronas, which took a 25% stake in May after dropping its own Pacific NorthWest LNG project last...
Jul 19, 2018
Canada's net natural gas exports fell 3.3% in '17 to 5.8 Bcf/d
Canada's net exports of natural gas reached 5.8 Bcf/d in 2017, down 3.3% from the previous year, according to recent statistics from the National Energy Board. The net exports slipped as total imports for the year rose faster than total exports. Canada's pipeline exports of natural gas rose 1.2% to 8.2 Bcf/d, while imports rose 14% to 2.4 Bcf/d. Although the volume of net exports fell, the value of its net exports rose moderately as the country exports more natural gas than it imports...
Jul 19, 2018
Ikkuma to fund exploration, reduce debt after asset sale
Ikkuma Resources sold midstream assets in the Alberta foothills for $30 million, including 23 million in readily available cash. The company plans to use proceeds from the asset sale to pay down debt and to finance capital expenditures required through the issue of its CEE flow-through shares. In September, Ikkuma issued 15.1 million CEE flow-through shares for $0.82 each, generating proceeds of $12.4 million. Under provisions of the Income Tax Act, Ikkuma is obligated to spend $12.1...
Jul 19, 2018
TAG Oil earnings for fiscal 2018 sink 85% to $3.8 million
Earnings for Vancouver-based TAG Oil Ltd. plunged for the 12-month period ending March 31 even as the company's revenue held essentially unchanged. Earnings fell to $3.8 million on revenue of $23.7 million for the 12-month period that ended March 31. Earnings for the previous 12-month period were $24.7 million on revenue of $23.3 million. TAG's cash from operating activities rose to $8.7 million, up from $1.5 million a year earlier. At YE18, the company had $1.8 million in cash and...
Jul 19, 2018
What the Analysts are Saying About 'Canadian Capital' - July 19, 2018
Enbridge (TSX: ENB; $46.10 – July 6; Hold; PT: $49.00) Enbridge announced the sale of 19 Western CAD natural gas processing and related gathering pipelines. The total package fetched $4.3bln implying a 12-13x EV/ EBITDA multiple on TPHe of $340 mln vs. expectations of 10-11x given <50% 2017 utilization. The company obtained healthy proceeds without selling the farm. Highly coveted long-haul regulated natural gas transmission assets were retained including Alliance and the...
Jul 19, 2018
Canada's debt, equity markets slow in summer
Canada's Capital markets are in the summer doldrums, with relatively few large debt or equity issues over the last three weeks, although there are a series of smaller ones. The largest debt issue is Transcanada's decision to sell up to $1.0 billion in debt for redemptions and working capital (PG 1). Other significant debt issues include Superior Plus Corp.'s decision to issue $615 million on U.S. and Canadian debt markets (PG 12). Pine Cliff Energy offered $19 million in...
Jul 19, 2018
PetroShale to raise up to $58.5MM for Bakken purchase
PetroShale Inc. announced plans to raise up to $58.5 million through two private placements to fund its acquisition of additional North Dakota acreage. The first issue, which consists of the sale of 21.6 million subscription receipts for $1.85 each, would raise up to $40 million. The underwriters, led by Haywood Securities, have a 30-day underwriters overallotment option to issue up to 3.2 million subscription receipts to raise another $6.0 million. Concurrently, the company is holding...
Jul 19, 2018
People Briefs - July 19, 2018
AltaCorp Capital has named Jon Horsman as its new chairman and CEO. Horsman previously served as the co-head of parent ATB Financial's Corporate Financial Services team. He takes over from Paul Sarachman, who had been serving as co-CEO since late 2017. Sarachman remains president of AltaCorp. Drakkar Energy and Blacksteel Energy announced a change in management after the two companies complete their announced reverse merger. Keith Macdonald, Chairman and President of privately-held...
Jul 19, 2018
Get more news for CanadianCapital