Western Scout
Serving the local market with drilling activities, permits & multiple listings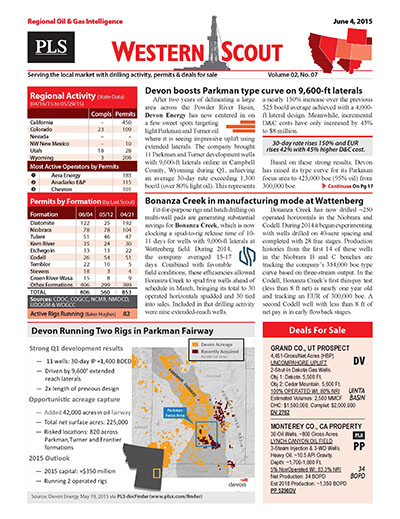 PLS's Western Scout covers local drilling activity, permit data, rig activity and completions in the Southern Rockies, (Colorado, Wyoming, NW Nebraska, Utah, Four Corners) and Western US, (California, Nevada, Oregon, Washington). Like all of PLS's Regionals this report includes a wealth of statistical analysis on activities and corporate performance. The reports also layer select advertising, business opportunities and multiple listings for sale.
Stay in front of local prospects, plays & rigs!
Southern Rockies, Colorado, NW Nebraska, Wyoming, Utah, Four Corners and the Western U.S., California, Nevada, Oregon and Washington
Hard Copy and Email For 1 Individual
Every 3 Weeks (16-20 issues per year)
Regional drilling activity, permits, completions and statistics layered with regional listings and business opportunities
Does not include access to MLS
Search PLS' News Archive for complete oil & gas news for Western Scout .
See what it is about before you buy. View a sample issue of Western Scout.
Need more information? Click the button to recieve more details about the Western Scout
Opportunity is a reflection of information.
Call 713-650-1212 For More Information
Search Western Scout:

Headline
Publication
News Date
Devon Energy reports 3 successful PRB Niobrara HZs
One of the attractive attributes of Wyoming's Powder River Basin is its multi-zone potential. Presently, the most active oil target is the Turner formation, but operators are also exploring other Formations, such as the Niobrara. Devon Energy tallied a number of promising Niobrara A wells in Converse County during 2018. Completed in August, the PDU WJ Ranch Fed 22-153772-1XNH (~10,600-ft lateral; 29.5 MMlb proppant) tested at an initial 24-hour rate of 1,573 bo/d and 1,438 Mcf/d, or...
Jan 29, 2019
Samson Resources Shannon HZ in the PRB delivers 2,339 boe/d IP30
Samson Resources kicked off 2019 by announcing the results from a Shannon formation producer in the Powder River Basin. Located in Converse County, Wyoming, the Spearhead Federal 11-2635 4075 well encountered the Shannon at 10,931 ft. The well sports a 9,940-ft lateral and was completed in 45 stages using 1,243 lb proppant per ft, or 12.4 MMlb total. On test, the well produced a peak 24-hour IP of 3,815 boe/d (95% oil), IP24 average of 2,668 boe/d (94% oil), initial 30-day rate of 2,339 boe/d...
Jan 29, 2019
WS - Regional Highlights - January 29, 2019
The EIA projects Niobrara production will sequentially rise 12,000 bo/d and 64 MMcf/d in January to 681,000 bo/d and 5.241 Bcf/d. There are 455 DUCs in the Niobrara as of December, down three compared to November and down 173...
Jan 29, 2019
WS - Bonanza Creek Highlights - January 29, 2019
In its Legacy West area in Weld County, Colorado, Bonanza Creek's five-well K-22 pad that targets the Niobrara B and C as well as the Codell is tracking above the company's type curve for the area, with an average cumulative production per well of 13,100 boe per 1,000 lateral ft after 136 days. The production performance further validates the company's high-intensity stimulation designs and the value proposition for its western acreage. The pad utilized 40-acre spacing (16 wells per section)...
Jan 29, 2019
WS - Crescent Point Highlights - January 29, 2019
Crescent Point Energy's 2019 budget is down 30% YOY, or $500 million, at $1.2-1.3 billion. In the "emerging and early-stage" Uinta Basin in the US and eastern Duvernay shale in Canada, allocations are down to 15% of the total from 25% last year, because of limited market access in the Uinta and low riskadjusted returns at current oil prices in the Duvernay. Crescent Point has improved economics in its horizontal Uinta program last year. Costs for 2-mile laterals dropped 10% YOY. The company is...
Jan 29, 2019
WS - Highlands Natural Resources - January 29, 2019
Superior, Colorado's trustees have approved a six-month moratorium on fracking as the city reviews its oil and gas regulatory framework. The decision comes after Highlands Natural Resources Corp. decided not to drill 31 wells in Rocky Flats National Wildlife Refuge, a portion of which is in an undeveloped portion of Superior, after public...
Jan 29, 2019
Extraction encouraged by results of first Broomfield pad
The city and county of Broomfield, Colorado, approved Extraction Oil & Gas' plans for a comprehensive 84-well development plan during 3Q18, and at the beginning of August the company turned the first pad in the program to sales, consisting of 10 two-mile laterals spaced at 16-18 wells per section. The wells are located on the Coyote Trails pad in Weld County but produce minerals from Broomfield County. Three Codell wells produced at a peak 60-day average of 1,197 boe/d (68% oil), and...
Jan 08, 2019
Anadarko gains foothold in the Powder River Basin
Wyoming's Powder River Basin is arguably the hottest emerging horizontal play in the US, and Anadarko Petroleum wants in on the action. The company spent $76 million during 3Q18 on acquisitions in the play, where it has now built a position exceeding 300,000 net acres at a cost of less than $2,500/acre. Investor relations VP Robin Fielder told analysts in early November that the PRB was "quickly coming into focus as a third leg to our onshore stool, due to the competitive economics...
Jan 08, 2019
WS - Regional Highlights - January 08, 2019
The EIA projects that Niobrara production will rise 10,000 bo/d and 54 MMcf/d sequentially in January to 679,000 bo/d and 5.209 Bcf/d. There are 421 DUCs in the Niobrara as of November, down by 16 compared to October.On Feb. 25 through March 1, 2019, the BLM is holding a sale for 568 parcels on 768,942 acres in Wyoming. The sale was originally planned for December, but to comply with a recent District Court of Idaho order [W. Watersheds Project v. Zinke] the agency extended...
Jan 08, 2019
WS - Chesapeake Energy Highlights - January 08, 2019
In Converse County, Wyoming, Chesapeake Energy's Nwfu 26-34- 72 C TR #20H (8,598-ft lateral; 35 frac stages; 13.7 MMlb proppant) tested at an initial 24- hour rate of 1,448 bo/d and 2,708 Mcf/d, or 1,899 boe/d (76% oil; 221 boe/d per 1,000 lateral ft) from the Turner on a 32/64- inch choke at 1,592 psi FTP. This is the company's second highest IP24 in the play according to state...
Jan 08, 2019
Get more news for Western Scout