Western Scout
Serving the local market with drilling activities, permits & multiple listings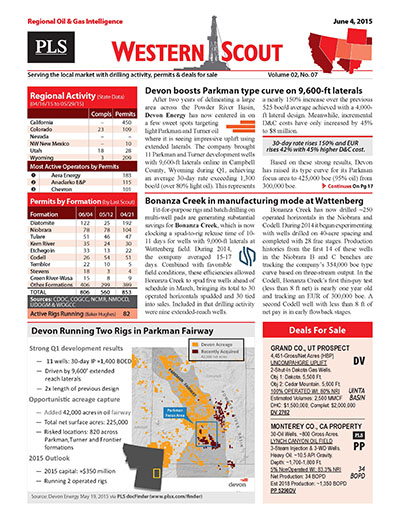 PLS's Western Scout covers local drilling activity, permit data, rig activity and completions in the Southern Rockies, (Colorado, Wyoming, NW Nebraska, Utah, Four Corners) and Western US, (California, Nevada, Oregon, Washington). Like all of PLS's Regionals this report includes a wealth of statistical analysis on activities and corporate performance. The reports also layer select advertising, business opportunities and multiple listings for sale.
Stay in front of local prospects, plays & rigs!
Southern Rockies, Colorado, NW Nebraska, Wyoming, Utah, Four Corners and the Western U.S., California, Nevada, Oregon and Washington
Hard Copy and Email For 1 Individual
Every 3 Weeks (16-20 issues per year)
Regional drilling activity, permits, completions and statistics layered with regional listings and business opportunities
Does not include access to MLS
Search PLS' News Archive for complete oil & gas news for Western Scout .
See what it is about before you buy. View a sample issue of Western Scout.
Need more information? Click the button to recieve more details about the Western Scout
Opportunity is a reflection of information.
Call 713-650-1212 For More Information
Search Western Scout:

Headline
Publication
News Date
WS - SandRidge Highlights - December 11, 2018
During Q3, Sandridge completed a 1,320-ft spacing test on the east side of its North Park Basin acreage in Jackson County, Colorado, with eight extended laterals in a wine-rack configuration...
Dec 11, 2018
WS - Anadarko Highlights - December 11, 2018
Anadarko's 2019 DJ budget is increasing 13% from this year's $1.15 billion program, under which Anadarko has run an average five rigs and three frac crews in the basin. The company drilled its first...
Dec 11, 2018
WS - Hilcorp Highlights - December 11, 2018
New Mexico oil and gas regulators approved hilcorp's request to double well density to eight wells per 320-acre spacing unit in the San Juan Basin's Blanco-Mesaverde gas pool. The Nov. 19 decision by...
Dec 11, 2018
WS - Regional Highlights - November 20, 2018
The EIA projects Niobrara production in December will rise 7,000 bo/d and 44 MMcf/d sequentially to totals of 671,000 bo/d and 5.189 Bcf/d. There are 401 DUCs in the Niobrara as of...
Nov 20, 2018
Get more news for Western Scout