Western Scout
Serving the local market with drilling activities, permits & multiple listings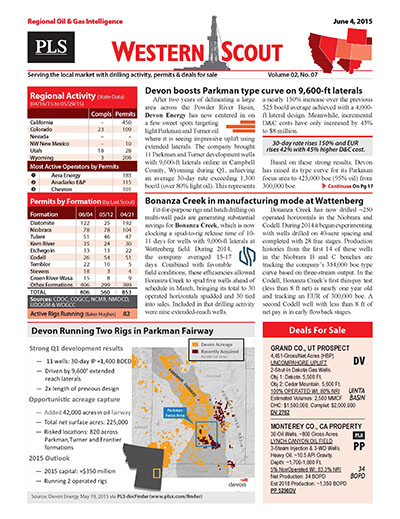 PLS's Western Scout covers local drilling activity, permit data, rig activity and completions in the Southern Rockies, (Colorado, Wyoming, NW Nebraska, Utah, Four Corners) and Western US, (California, Nevada, Oregon, Washington). Like all of PLS's Regionals this report includes a wealth of statistical analysis on activities and corporate performance. The reports also layer select advertising, business opportunities and multiple listings for sale.
Stay in front of local prospects, plays & rigs!
Southern Rockies, Colorado, NW Nebraska, Wyoming, Utah, Four Corners and the Western U.S., California, Nevada, Oregon and Washington
Hard Copy and Email For 1 Individual
Every 3 Weeks (16-20 issues per year)
Regional drilling activity, permits, completions and statistics layered with regional listings and business opportunities
Does not include access to MLS
Search PLS' News Archive for complete oil & gas news for Western Scout .
See what it is about before you buy. View a sample issue of Western Scout.
Need more information? Click the button to recieve more details about the Western Scout
Opportunity is a reflection of information.
Call 713-650-1212 For More Information
Search Western Scout:

Headline
Publication
News Date
WS- Titan's focus on PRB Niobrara delivering strong results - May 19, 2020
In Converse County, Wyoming, Titan Exploration LLC completed the Ogalalla #4075-1003-001NXH with a 9,467-ft effective lateral fracked in 50 stages using 23.9 MMlb of proppant (2,520 lb/ft). During a 24-hour test, the well produced 2,099 boe/d (80% oil), or 223 boe/d per 1,000 lateral ft, from the Niobrara on a 24/64-inch choke at 2,687 psi FTP. This a great result for the Powder River Basin Niobrara. Titan completed seven wells during 2019, all of which targeted the Niobrara in Campbell (four...
May 19, 2020
WS - Devon Energy's Q1 in PRB highlighted by Teapot & Niobrara - May 19, 2020
Devon Energy's Powder River Basin production grew 7% sequentially in Q1 to 29,000 boe/d (74% oil). The company averaged three rigs and one frac crew during the quarter, resulting in the spudding of 12 operated wells and the tie-in of 14 wells, with laterals averaging 9,100 ft and initial 30-day rates of 1,200 boe/d. Q1 development activity was highlighted by four wells targeting the Teapot formation in the Atlas East area of Converse County, Wyoming. These wells averaged IP30s of 1,300...
May 19, 2020
WS - Regional Highlights - May 19, 2020
The EIA projects that Niobrara production from the DJ Basin will fall by 24,000 bo/d and 78 MMcf/d sequentially in June to 636,000 bo/d and 5.4471 Bcf/d. There were 460 Niobrara DUCs in the DJ Basin as of April, up by seven from...
May 19, 2020
WS - Occidental Petroleum Highlights - May 19, 2020
Occidental Petroleum has drastically changed its plans for 2020 following the rapid plunge in oil prices. Current capex guidance of $2.4-2.6 billion has been revised three times and is 53% lower at midpoint than the original target. Rockies guidance is now $300 million, down from $900...
May 19, 2020
WS - EOG Resources Highlights - May 19, 2020
During 2020, EOG Resources plans to bring online 30 net wells in the Powder River Basin, 11 of which were turned to sales in Q1. New completion technology is improving well results, with Niobrara wells using the new design showing 45% higher cumulative oil production at around 300 days. Mowry wells with the new design are delivering 70% higher oil volumes at the one-year...
May 19, 2020
WS - Bonanza Creek Energy Highlights - May 19, 2020
During Q1, Bonanza Creek Energy produced 24,800 boe/d (54% oil), up 2% sequentially and 20% YOY. LOEs for the quarter were down 16% compared to Q4 and 15% YOY at $2.52/boe. Total capex was $41 million, significantly below original guidance. The company exited the quarter with $300 million in liquidity, $59 million outstanding on its credit facility and $11 million in...
May 19, 2020
WS - Anschutz Exploration Highlights - May 19, 2020
Anschutz Exploration shut in all of its producing wells in the Powder River Basin in Wyoming. This amounts to an estimated 18,000 bo/d in April. Company president Joe DeDominic told The Wall Street Journal that Anschutz is prepared to keep the wells shut in for an extended period of...
May 19, 2020
WS - Jonah trying its hand again at horizontals in the Lance - April 28, 2020
Jonah Energy has typically employed vertical and directional wells to exploit its namesake Jonah gas field in Sublette County, Wyoming. Of its 202 wells completed in the field during 2017-2019, only eight were horizontals. Those horizontals were all completed prior to 2019 and had effective laterals averaging 4,877 ft. This year, Jonah has completed two additional horizontals in the field, this time with significantly longer laterals. The SHB Curiosity #313- 02-500H sports a 9,230-ft effective...
Apr 28, 2020
WS - PDC deepens 25% capex cuts to 50%, still targets FCF - April 28, 2020
In order to preserve its balance sheet strength, liquidity and ability to generate meaningful free cash flow, PDC Energy lowered 2020 capex guidance on April 14 to a range of $500-600 million, down 50% compared to the initial target of $1.0-1.1 billion. PDC anticipates generating $100 million in free cash flow, assuming $25/bbl WTI and $2.00/MMbtu Henry Hub. The April 14 reductions follow a March 11 announcement that the company was cutting capex 20-25% from original guidance and targeting $150...
Apr 28, 2020
Get more news for Western Scout