Western Scout
Serving the local market with drilling activities, permits & multiple listings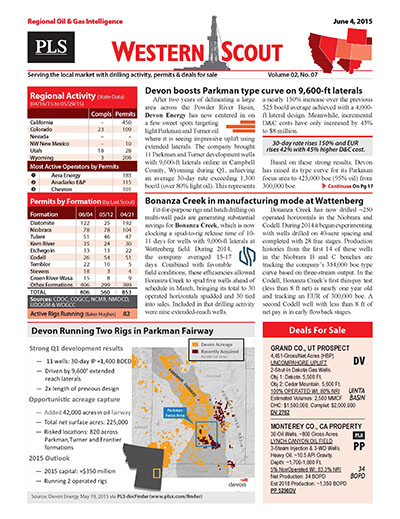 PLS's Western Scout covers local drilling activity, permit data, rig activity and completions in the Southern Rockies, (Colorado, Wyoming, NW Nebraska, Utah, Four Corners) and Western US, (California, Nevada, Oregon, Washington). Like all of PLS's Regionals this report includes a wealth of statistical analysis on activities and corporate performance. The reports also layer select advertising, business opportunities and multiple listings for sale.
Stay in front of local prospects, plays & rigs!
Southern Rockies, Colorado, NW Nebraska, Wyoming, Utah, Four Corners and the Western U.S., California, Nevada, Oregon and Washington
Hard Copy and Email For 1 Individual
Every 3 Weeks (16-20 issues per year)
Regional drilling activity, permits, completions and statistics layered with regional listings and business opportunities
Does not include access to MLS
Search PLS' News Archive for complete oil & gas news for Western Scout .
See what it is about before you buy. View a sample issue of Western Scout.
Need more information? Click the button to recieve more details about the Western Scout
Opportunity is a reflection of information.
Call 713-650-1212 For More Information
Search Western Scout:

Headline
Publication
News Date
WS - SandRidge eyes North Park wine racks at 15 wells/section - June 04, 2019
SandRidge Energy's wells in the North Park Basin continue to exceed expectations. During Q1, four wells were drilled and eight were brought online. Three wells—one extended and two standard laterals—in the Sunshine unit at the far southern end of the play are producing 1,800 boe/d each after being brought online late in the quarter. One of the standard laterals is averaging 800 bo/d, which is twice the type curve oil rate. The other five wells are high-density spacing tests on the...
Jun 04, 2019
WS - Samson reports Fort Union results ahead of sales process - June 04, 2019
Samson Resources released the results of four vertical Fort Union wells in the Green River Basin. Located in Sweetwater County, Wyoming, the wells on the Man Camp pad were drilled to 10,400 ft and completed in 12 stages using 1.4 MMlb of sand per well. Initial 30-day rates ranged 1,190-1,353 boe/d (47-53% liquids). One of the wells is a unit-obligations well that will establish the Milagro Federal Unit if paying quantities are met under Bureau of Land Management regulations. "The Man...
Jun 04, 2019
WS - Regional Highlights - June 04, 2019
The EIA projects Niobrara production will rise 14,000 bo/d and 60 MMcf/d sequentially in June to 752,000 bo/d and 5.604 Bcf/d. There are 545 DUCs in the Niobrara as of April, down by 13 from...
Jun 04, 2019
WS - Extraction Oil & Gas Highlights - June 04, 2019
During Q1, Extraction Oil & Gas drilled 31 wells with laterals averaging 6,900 ft and completed 40 wells with laterals averaging 7,300 ft. Another seven wells with 9,500-ft laterals were turned to sales. Due to the timing of wells turned to sales, quarterly production fell 15% sequentially to 39,809 boe/d, though volumes were up 10% YOY. Midstream gathering lines related to the Broomfield development are 75% laid, and construction of the Badger central gas facility has commenced with an...
Jun 04, 2019
WS - PDC Energy Highlights - June 04, 2019
During Q1, PDC Energy spudded 38 and turned to sales 32 wells at Wattenberg field in the DJ Basin. Cost per lateral ft for the quarter was 5% below budget and the completion crew was 10% ahead of schedule, resulting in improved capital efficiency. Well costs for standardreach, middle-reach and extendedreach laterals were $2.9 million, $3.8 million and $4.8 million,...
Jun 04, 2019
WS - Bonanza Creek Energy Highlights - June 04, 2019
During Q1, Bonanza Creek Energy produced sales volumes of 20,700 boe/d (65% oil, 16% NGLs), up 17% sequentially. The company drilled 13 operated wells, 10 of which had extended-reach laterals, and turned to sales 22 operated wells, of which eight were...
Jun 04, 2019
WS - SRC Energy Highlights - June 04, 2019
SRC Energy's Q1 production averaged 65,771 boe/d, up 10% sequentially and 45% YOY. The company saw the benefit of wells turned to sales at the end of 2018 and midstream build-out. It turned an additional 33 wells to sales during the quarter. The company has raised its midpoint 2019 guidance to 64,500...
Jun 04, 2019
WS - Noble accelerates completion tempo in the DJ Basin - May 14, 2019
Noble Energy is focusing on execution and operational efficiencies this year, and the DJ Basin is serving as its most important test ground. The company's acreage in the core of the basin is positioned for optimal development, and successes here will be translated to other projects in the Delaware Basin and beyond. In order to meet its objectives, Noble is streamlining costs, creating more efficient well designs and increasing the pace of execution. The company has been able to...
May 14, 2019
WS - HighPoint uses high-fluid intensity to boost well efficiency - May 14, 2019
HighPoint Resources is achieving improved well performance through high-fluidintensity completions on its Northeast Wattenberg position in the DJ Basin. Analysis has determined that completion fluid volume is more indicative of well performance than larger proppant loadings. The company said it is so highly encouraged by the results that the completion design will be used as the new standard for future development. HighPoint's high-fluid-intensity completions utilized 31 bbl of fluid per ft...
May 14, 2019
WS - Axia Energy Highlights - May 14, 2019
Axia Energy II completed the Butcher Butte #24-144H-22 well with an 8,319-ft effective lateral at Bluebell field in Duchesne County, Utah. The well tested at an initial 24-hour rate of 1,362 boe/d (89% oil) from the Wasatch. This is a top-tier well for the company and another consistent result in the Butcher Butte...
May 14, 2019
Get more news for Western Scout