Western Scout
Serving the local market with drilling activities, permits & multiple listings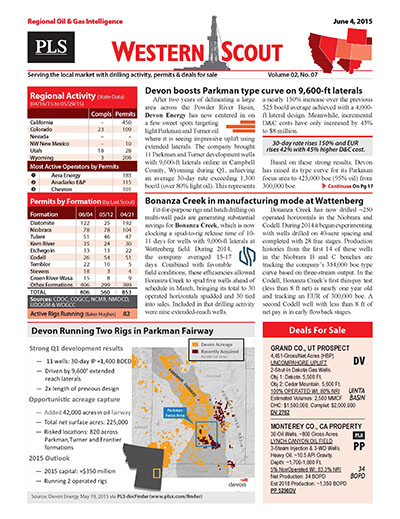 PLS's Western Scout covers local drilling activity, permit data, rig activity and completions in the Southern Rockies, (Colorado, Wyoming, NW Nebraska, Utah, Four Corners) and Western US, (California, Nevada, Oregon, Washington). Like all of PLS's Regionals this report includes a wealth of statistical analysis on activities and corporate performance. The reports also layer select advertising, business opportunities and multiple listings for sale.
Stay in front of local prospects, plays & rigs!
Southern Rockies, Colorado, NW Nebraska, Wyoming, Utah, Four Corners and the Western U.S., California, Nevada, Oregon and Washington
Hard Copy and Email For 1 Individual
Every 3 Weeks (16-20 issues per year)
Regional drilling activity, permits, completions and statistics layered with regional listings and business opportunities
Does not include access to MLS
Search PLS' News Archive for complete oil & gas news for Western Scout .
See what it is about before you buy. View a sample issue of Western Scout.
Need more information? Click the button to recieve more details about the Western Scout
Opportunity is a reflection of information.
Call 713-650-1212 For More Information
Search Western Scout:

Headline
Publication
News Date
WS - Peak tests 224 boe/d per 1,000 ft in Parkman & Turner-Frontier - August 06, 2019
Durango, Colorado-based independent Peak Powder River's first completions of 2019 were recently released by the state of Wyoming, and the results showed high rates per 1,000 lateral ft. A four-well Parkman pad and a separate horizontal well targeting the Frontier-Turner had initial 24-hour rates averaging 224 boe/d per 1,000 lateral ft, all in Campbell County. The highest rate among the five completions was from the Frontier-Turner well, the Leavitt Fed #1-9-4TH. It was completed with...
Aug 06, 2019
WS - EOG delineating PRB at moderate pace to incorporate learnings - August 06, 2019
At the beginning of the year, EOG Resources kicked off delineation and completion technology tests in Wyoming's Powder River Basin to better understand its premium inventory of more than 1,500 locations. Despite the significant potential of this position, the company is operating at a modest pace to incorporate data and knowledge from the delineation wells and build out infrastructure. During Q2, EOG completed wells targeting the Niobrara, Mowry and Turner. Five Niobrara wells with...
Aug 06, 2019
WS - Chesapeake Energy Highlights - August 06, 2019
Chesapeake Energy has drilled its first wine-rack test on the western portion of its Turner acreage in Converse County, Wyoming, as the company seeks to better access stacked pays. It also completed its first new Niobrara well since 2014, with production testing planned for August. Two more Niobrara appraisals are planned this year, along with the company's first test of the Mowry volatile oil...
Aug 06, 2019
WS - Extraction Oil & Gas Highlights - August 06, 2019
With the passage of SB181 in Colorado, Extraction Oil & Gas found itself in a new regulatory environment, but the company is effectively navigating it. During Q2, the company entered a large-scale operator agreement with the city of Aurora. The agreement relates to its Hawkeye area and covers 65 drilling locations with laterals averaging 2 miles over five years. Hawkeye covers 69,000 net acres in Arapahoe and Adams...
Aug 06, 2019
WS - SRC Energy Highlights - August 06, 2019
SRC Energy's operations in the DJ Basin remain limited by thirdparty gas processing constraints. Q2 production fell 8% sequentially but was up 28% YOY at 60,833 boe/d. The company released its only completion crew in mid-May and one of two drilling rigs was dropped early in Q3. This quarter, SRC plans to test an electric hydraulic fracking...
Aug 06, 2019
WS - California Resources Highlights - August 06, 2019
California Resources Corp. operated an average of seven drilling rigs in Q2: two focused on conventional primary production, two on waterfloods, one on steamfloods and two on unconventional production. The company drilled 39 development wells (five steamflood, 20 waterflood, four primary and 10 unconventional). The company's San Joaquin Basin assets produced 94,000 boe/d, up 4% YOY. The Los Angeles Basin contributed 24,000 boe/d, down 4% YOY. The Ventura and Sacramento basins, where there was...
Aug 06, 2019
WS - Axia's Duchesne Co. HZs show high oil cuts, repeatable results - July 16, 2019
Axia Energy II continues to amass high-quality results on the Butcher Butte lease in Duchesne County, Utah. Most recently, the Butcher Butte #19-94H-22 was completed with a 9,237-ft effective lateral and flowed an initial 24-hour rate of 1,413 boe/d (89% oil). The Butcher Butte #30-71H-22 produced 1,221 boe/d (90% oil) from a 9,534-ft effective lateral. The target formation was not listed for either well. Axia has drilled 21 horizontal wells on the lease since it began drilling there...
Jul 16, 2019
WS - BLM raises more than $22 million in Q2 Rockies lease sales - July 16, 2019
The US Bureau of Land Management has completed its Q2 lease sales oil and gas rights in Wyoming, Colorado and Utah. Bonus bids totaled more than $22 million, the overwhelming majority of which came from the sale in Wyoming. The BLM raised $22 million in its June sale of oil and gas leases in Campbell, Converse, Crook, Fremont, Goshen, Hot Springs, Johnson, Natrona, Niobrara, Park, Platte, Sweetwater and Weston counties, Wyoming. Bids were received on 151 parcels covering 186,000 acres...
Jul 16, 2019
WS - Regional Highlights - July 16, 2019
The EIA projects that Niobrara production will rise by 10,000 bo/d and 56 MMcf/d sequentially in August to 746,000 bo/d and 5.634 Bcf/d. There are 473 DUCs in the Niobrara as of June, down by 22 from...
Jul 16, 2019
WS - DJR Operating Highlights - July 16, 2019
Privately held DJR Operating has amassed a 350,000-net-acre position in the San Juan Basin, most recently buying 182,000 net acres from Encana for $480 million. On those assets was an outstanding Mancos shale well drilled by Encana in 2H18. Located in San Juan County, New Mexico, the Nageezi Unit #502H was drilled with a 6,429-ft lateral using 6.2 MMlb of proppant. The well flowed an initial 24-hour rate of 4,736 boe/d, which was nearly 100%...
Jul 16, 2019
Get more news for Western Scout