InternationalDeals
Serving the global asset marketplace with deals, analysis and business opportunities.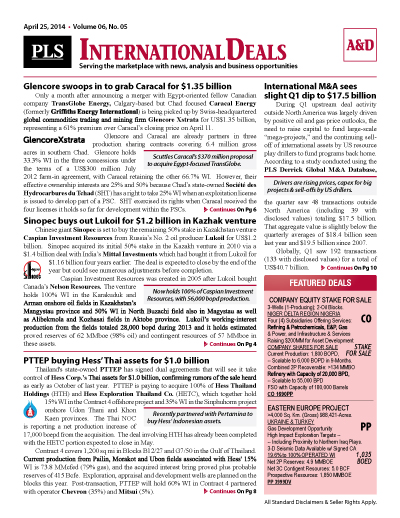 PLS publishes specialized international research and analysis under the InternationalDeals masthead. InternationalDeals includes market analysis and aggregated news on global m&a activities, acquisitions, divestitures, international exploration, new discoveries, lease concessions, farmouts, capital markets, midstream and downstream news.
PLS' most popular International report
Single copy pricing; Incl hard copy & email version
Guaranteed to increase deal flow and market insight
Every 3 weeks
Latest in asset acquisitions, corporate M&A activity, deals in play & industry buying trends
Access to InternationalDeals archives
Phone request to multiple listings
Search PLS' News Archive for complete oil & gas news for InternationalDeals .
See what it is about before you buy. View a sample issue of InternationalDeals.
Need more information? Click the button to recieve more details about the InternationalDeals
Opportunity is a reflection of information.
Call 713-650-1212 For More Information
Search InternationalDeals:

Headline
Publication
News Date
RockRose buys Marathon UK North Sea for $140 million
UK independent RockRose Energy will pay $140 million cash to acquire Marathon Oil's UK North Sea portfolio. RockRose will get its first operated assets and more than double its production through the deal, while Marathon will make its eighth country exit over the last five years as it sharpens focus on its core US onshore assets. The transaction is expected to close in H2 with an effective date of Jan. 1. RockRose separately announced that it launched a formal approach for the acquisition of UK...
Mar 06, 2019
BlackRock & KKR buy into ADNOC midstream for $4 billion
US-based investment firms BlackRock and KKR struck a $4 billion deal with ADNOC, marking the first time institutional investors have partnered with a state-controlled oil company in the Middle East. The deal will form a new entity called ADNOC Oil Pipelines, which will lease ADNOC's stakes in 18 pipelines to transport oil and condensate from across the company's offshore and onshore upstream portfolio for 23 years. BlackRock and KKR will collectively hold a 40% stake in the midstream entity,...
Mar 06, 2019
Origin transfers Ironbark CSG to Conoco-led LNG JV
Australia's Origin Energy struck a $165 million (A$231 million) deal to sell its Ironbark coal seam gas project in Queensland's Surat Basin to the Australia Pacific LNG JV, in which it holds a 37.5% stake. ConocoPhillips remains operator of the liquefaction plant near Gladstone with 37.5% WI, while China's Sinopec holds the remaining 25% WI. Origin will continue to manage the development of Ironbark per its role as APLNG's upstream operator. Because of its stake in APLNG, Origin is...
Mar 06, 2019
Eni & HitecVision circle COP's UK North Sea assets
ENI and private equity firm HitecVision have partnered to bid for ConocoPhillips' UK North Sea assets against Chrysaor, unnamed sources told Reuters, after exclusive talks between chemicals giant Ineos and the USbased independent were abandoned. The sources said Chrysaor, which was already mulling a bid for Conoco's assets prior to the start of Ineos' exclusive talks, is currently preparing a final bid. The sources said the value of a sale could reach $2 billion. Net production from Conoco's...
Mar 06, 2019
Kosmos Energy seeks Mauritania and Senegal stake sales
Kosmos Energy is looking to sell a significant stake in several blocks of Mauritania and Senegal that house the cross-border Greater Tortue Ahmeyim gas project. The BPoperated project has ~15Tcf of gas resources and is considered the world's fourth-largest international LNG project. Kosmos holds 28% WI in four blocks offshore Mauritania and 32.5% WI in Saint Louis Offshore Profond and Cayar Offshore Profond blocks across the maritime border offshore Senegal. It has seen interest from...
Mar 06, 2019
Shell to be prosecuted for alleged corruption in Nigeria oil deal
Shell is facing production in the Netherlands over alleged corruption regarding the acquisition of the OPL 245 block offshore Nigeria in 2011, Reuters reported. The Anglo-Dutch supermajor and Italy's Eni paid $1.3 billion for the offshore asset to the Nigerian government. Of the total acquisition price, $1.1 billion was allegedly used to bribe businessmen and politicians to secure the deal, according to the report. Eni and Shell have both denied knowledge of any wrongdoing at that time....
Mar 06, 2019
PE makes splash in India through Invenire buy of Tata
In what is being described as a first sign of private equity interest in Indian E&P, Chennai-based Invenire Energy struck a $100 million deal to acquire Tata Petrodyne Ltd., the upstream business of India's Tata Group. Invenire is backed by US-based Atyant Capital, which owns two-thirds of the company. Tata holds non-operated stakes in four blocks in India and one each in Indonesia and Tanzania. The Indian blocks, in which Invenire holds stakes ranging from 21-30% WI, are comprised of...
Mar 06, 2019
Gran Tierra expands core Colombia position for $104 million
Gran Tierra Energy struck a $104.2 million deal to acquire assets in Colombia from domestic E&P firm Verta Energia SL. The transaction, expected to close March 11, will add Llanos Basin assets and consolidate its already dominant position in the Putumayo Basin. Gran Tierra will add 2,200 bo/d to its Colombia production through the deal. In the Llanos Basin, Gran Tierra's acquisition of an operated 100% WI in the Llanos-5 block—contiguous to its LLA-1 block to the northeast, LLA-70 block to the...
Mar 06, 2019
BW Offshore mulls acquisition of Brazil's Maromba oil field
Oslo-listed BW Offshore announced it is considering the acquisition of Chevron and Petrobras' stakes in the undeveloped Maromba heavy oil field in Brazil's southern Campos Basin. The Brazilian NOC and US-based supermajor launched the start of the binding phase regarding the transfer of their stakes in the field in October 2017. Petrobras holds an operated 70% WI in the field, while Chevron holds the remaining 30%. Located in water depth of 160 meters, Maromba field comprises the Castor,...
Mar 06, 2019
Petrobras launches sale process of Lagoa Parda cluste
Petrobras launched the binding phase for the sale of its operated 100% WI in three onshore producing fields in the Espirito Santo Basin designated as the Lagoa Parda cluster: Lagoa Parda, Lagoa Parda Norte and Lagoa Piabanha. The company described the cluster as a minor asset, with gross 2017 production of 266 bo/d. Petrobras separately relinquished exploration block BT-PN-3 in the onshore Parnaiba Basin after failing to make a commercial discovery at the Capotira prospect, Upstream reported....
Mar 06, 2019
Get more news for InternationalDeals