CanadianAcquirer
Serving the Canadian E&P market with news, analysis and business opportunities.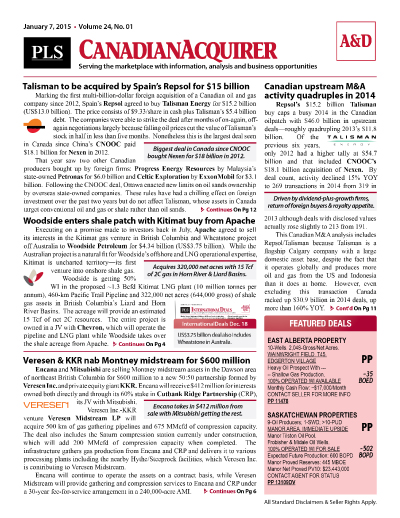 The CanadianAcquirer (red banner report) covers news and analysis on the Canadian acquisitions and divestitures (A&D) sector. This news report on the active Canadian asset marketplace features analysis of corporate mergers, property divestitures, completed transactions, deals in play and deal metrics.
PLS' most popular Canadian report
Single copy pricing; Includes hard copy & email version
Guaranteed to increase deal flow and market insight
Every 3 weeks
Latest in asset acquisitions, corporate M&A activity,
deals in play & industry buying trends
Access to archives editions of CanadianAcquirer
Phone request to multiple listing
Search PLS' News Archive for complete oil & gas news for CanadianAcquirer .
See what it is about before you buy. View a sample issue of CanadianAcquirer.
Need more information? Click the button to recieve more details about the CanadianAcquirer
Opportunity is a reflection of information.
Call 713-650-1212 For More Information
Search CanadianAcquirer:

Headline
Publication
News Date
Amherst racks up 12,000 acres since 2017 formation
Privately held, Calgary-based Amherst Energy has acquired ~12,000 acres of mineral leases since its formation in February 2017. The position covers six oil prospect areas: Morgan, Lloydminster, Leo, Thorsby and Provost in Alberta and Lashburn in Saskatchewan. The prospects are targeting a combination of heavy and light oil.Amherst has identified 111 potential locations on its existing holdings and plans to begin development operations in Q4.An independent evaluation of the acquired...
Jul 25, 2018
Baytex & Raging River file proxy statement for $2B deal
Baytex Energy and Raging River Exploration filed a joint management information circular and proxy statement for their respective Aug. 21 shareholder meetings regarding Baytex's $1.9 billion all-stock acquisition of Raging River. Both boards of directors unanimously recommend that shareholders greenlight the deal. Baytex expands its core portfolio from three areas to five through the deal, adding Viking and East Duvernay assets to its Peace River, Lloydminster and Eagle Ford assets....
Jul 25, 2018
Gear Energy acquires Steppe Resources for $70MM
Gear Energy ltd is adding to its core Lloydminster heavy oil and central Alberta light oil assets, acquiring privately held junior E&P Steppe Resources for $70.4 million in stock and debt. Focused on the Tableland area of southeast Saskatchewan with production from the Torquay formation, Steppe had 1,175 boe/d of June 2018 production and has projected 2H18 annualized funds from operations of $24 million assuming no drilling and strip pricing. Closing is expected in Q3.The assets...
Jul 25, 2018
Luminus boosts ownership of Montney pure-play Delphi
Montney pure-play Delphi Energy announced that New York-based equity hedge fund Luminus Energy Partners Master Fund Ltd. acquired additional common shares through exempt market purchases and that it now owns 21.23% of Delphi's outstanding shares. Luminus was the principal investor in the $65 million debt and equity financing by Delphi in June 2017 to fund an expanded capital program, through which Luminus acquired 16.72% of Delphi's shares.The $463 million Delphi is allocating to its...
Jul 25, 2018
Orca Exploration provides update to the Swala transaction
Toronto-listed Orca Exploration Group indefinitely extended the date by which Tanzanian company Swala Oil & Gas could make the second and third installments of its investment in Orca sub PAE PanAfrican Energy Corp.The move comes after Orca initially extended the closing of the two tranches to June 30, which had required a $130 million investment by that date. Per the July 16 update, the company retains the right to terminate the extension at any time. The first tranche comprised...
Jul 25, 2018
Petrolia Energy adds Canadian assets to global portfolio
U.S.-based Petrolia Energy Corp. (formerly Rockdale Resources) made its Canadian debut, acquiring a non-op 25% WI in the Luseland, Hearts Hill and Cuthbert fields in southwest Saskatchewan and eastern Alberta. The deal includes 10,382 net acres (41,526 gross) with working interest production for the last five months of 322 boe/d (95% oil, 1,290 boe/d gross) from 240 oil and 12 gas wells. There are also several idle wells with potential for reactivation and 5,440 net undeveloped acres...
Jul 25, 2018
PetroShale expands in U.S. Bakken core in $55MM deal
Calgary-based PetroShale struck its sixth acquisition since launching its strategy to become a Bakken North Dakota pure-play in 2013. The latest $55 million deal will see the company acquire assets located near its core Williston Basin Fort Berthold focus area. PetroShale acquires 550 boe/d (90% oil) and 1,931 net undeveloped acres (100% HPB), representing a 34% increase from its existing Bakken/Three Forks acreage position of 5,749 net acres (91% HBP, 74,927 gross), of which 4,192 net acres...
Jul 25, 2018
Toscana expands in southern Alberta in $12MM Cortona buy
Calgary's Toscana Energy Income Corp. acquired Cortona Energy Ltd., a privately held independent with assets near Toscana's Carmangay Barons oil pool in southern Alberta. The $12 million deal hikes Toscana's interests in the pool to more than 90% WI and adds 250 bbl/d of light oil production, boosting its net total from the pool to 450 boe/d. The deal adds to Toscana's long-life, low-decline light oil reserves and will boost its oil weighting to 46% of production from 36% upon...
Jul 25, 2018
Utica submits new offer for Junex as Cuda ramps up activity
After Quebec-focused Junex Inc. rejected its initial offer in early July, Montreal-based Utica Resources Inc. submitted a revised offer to acquire all the outstanding shares of Junex on July 23. Junex holds an operated 52.87% WI in the Galt oil discovery in the Gaspé region of Québec, which is estimated to hold 81 MMbbl of best estimate discovered OOIP. Junex holds 1.0 gross acres in the St. Lawrence Lowlands prospective for Utica shale gas and which hold an estimated 3.5 Tcf of net...
Jul 25, 2018
Analyst Takes July 25, 2018
Enbridge (ENB; $46.84-July 5; Hold; PT-$49)Enbridge announced the sale of 19 Western CAD natural gas processing and related gathering pipelines. The total package fetched $4.3bln implying a 12-13x EV/EBITDA multiple on TPHe of $340 mln vs. expectations of 10-11x given <50% 2017 utilization. The company obtained healthy proceeds without selling the farm…Roughly 60% of the proceeds are expected by year-end 2018 with ultimate closing anticipated in mid-2019. The price tag provides...
Jul 25, 2018
Get more news for CanadianAcquirer