A&D Transactions
Serving the asset marketplace with deals, analysis and business opportunities.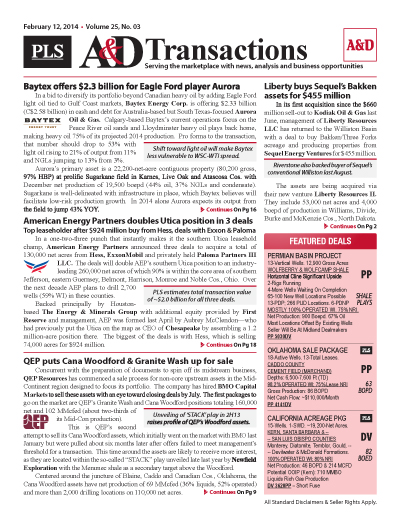 PLS publishes news and analysis on the acquisitions and divestitures (A&D) sector through its A&D module. The red banner report, published every 3 weeks, covers the active US asset marketplace and includes analysis of corporate mergers, property divestitures, completed transactions and deal metrics.
PLS' most popular report
Single copy pricing; Incl hard copy & email version
Guaranteed to increase deal flow & market insight
Every 2-3 weeks; 17+ issues per year
Latest in asset acquisitions, corporate M&A activity, deals in play & industry buying trends
Access to archives editions of A&D
Phone request to multiple listing
Search PLS' News Archive for complete oil & gas news for A&D Transactions .
See what it is about before you buy. View a sample issue of A&D Transactions.
Need more information? Click the button to recieve more details about the A&D Transactions
Opportunity is a reflection of information.
Call 713-650-1212 For More Information
Search A&D Transactions:

Headline
Publication
News Date
A&D - What's On The Market - December 12, 2018
Ridgefield Eagle Ford Minerals is seeking buyers for 90 producing horizontal Eagle Ford wells located on 763 net royalty acres in South Texas, with 80% of the position located in Karnes County...
Dec 12, 2018
A&D - Analyst Notes- December 12, 2018
Murphy Oil Corp. (NYSE: MUR; $31.75-Nov. 7; Market Perform)Tracking to (slightly) positive FCF for the first time since 2011. Having been bumped up by 6% three months ago, the capital program...
Dec 12, 2018
Riviera Resources divests Arkoma assets for $68MM
Linn Energy spin-off Riviera Resources struck a $68 million deal to sell assets in Oklahoma's Arkoma Basin. The properties hold PDP reserves of 111 Bcfe and cover 37,000 net acres (47% operated)...
Dec 12, 2018
Petrobras and Murphy complete formation of GOM JV
Petrobras and Murphy Oil sealed a JV combining their producing properties in the Gulf of Mexico. The Brazilian producer holds a 20% stake in the partnership and Murphy has an operated 80%. The deal...
Dec 12, 2018
Get more news for A&D Transactions