A&D Transactions
Serving the asset marketplace with deals, analysis and business opportunities.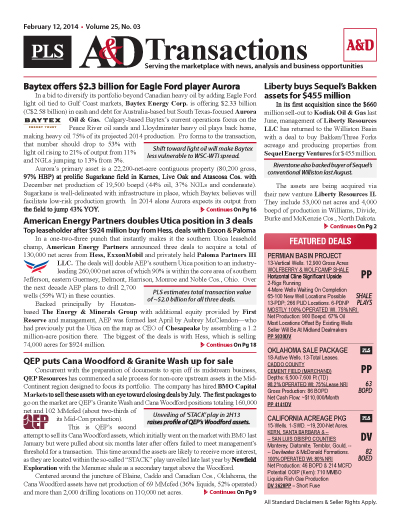 PLS publishes news and analysis on the acquisitions and divestitures (A&D) sector through its A&D module. The red banner report, published every 3 weeks, covers the active US asset marketplace and includes analysis of corporate mergers, property divestitures, completed transactions and deal metrics.
PLS' most popular report
Single copy pricing; Incl hard copy & email version
Guaranteed to increase deal flow & market insight
Every 2-3 weeks; 17+ issues per year
Latest in asset acquisitions, corporate M&A activity, deals in play & industry buying trends
Access to archives editions of A&D
Phone request to multiple listing
Search PLS' News Archive for complete oil & gas news for A&D Transactions .
See what it is about before you buy. View a sample issue of A&D Transactions.
Need more information? Click the button to recieve more details about the A&D Transactions
Opportunity is a reflection of information.
Call 713-650-1212 For More Information
Search A&D Transactions:

Headline
Publication
News Date
A&D - Equinor preempts Delek in $965MM GOM buy from Shell - May 2019
Equinor struck a $965 million all-cash deal that will see the Norwegian firm take its non-operated stake in the Caesar Tonga oil field in the deepwater Gulf of Mexico to 46% through the acquisition of Shell's 22.45% WI. By exercising its preferential rights to acquire the stake, Equinor thwarted a proposed acquisition by Israel's Delek Group. Anadarko, which will soon be acquired by Occidental Petroleum (PG.1), operates the asset with 33.75% WI, and Chevron holds the remaining 20.25%...
May 16, 2019
A&D - Kosmos expands deepwater Gulf of Mexico presence - May 2019
During Q1, Kosmos Energy continued to expand its presence in the Gulf of Mexico. It was one of the most active participants in Gulf of Mexico Lease Sale 252 in March as the high bidder on nine deepwater blocks. The company also farmed into 18 BPoperated blocks in the Garden Banks area and secured the option to earn an interest in three other BP-operated deepwater blocks. Kosmos plans to commence drilling operations on the first well in Garden Banks Block 492, the Resolution prospect,...
May 15, 2019
A&D - LLOG & Repsol expand deepwater GOM partnership - May 2019
Spain's Repsol and Louisiana-based LLOG Exploration signed an asset exchange and participation agreement to carry out projects at the Leon and Moccasin discoveries, which cover five blocks in the Keathley Canyon area of the deepwater Gulf of Mexico. The agreement strengthens the existing partnership between the two companies in the GOM, which was formed in 2017 when LLOG acquired operatorship of the Buckskin project, also in Keathley Canyon, after Repsol had optimized the original...
May 15, 2019
A&D - Gulfport sells Marcellus rights & preps SCOOP water sale - May 2019
Gulfport Energy struck a deal to sell what it describes as a "small footprint" of Marcellus formation rights overlying a portion of its eastern Ohio Utica shale acreage. The company said expected proceeds allowed it to repurchase ~$30 million of Gulfport common stock during Q1, reducing its shares outstanding by ~2%. In January, its board authorized the company to acquire up to $400 million of its outstanding common stock within a 24-month period, and $370 million remains available under the...
May 15, 2019
A&D - Magnolia bolt-ons hike Karnes Eagle Ford position 27% - May 2019
Recent agreements signed and/or completed by Magnolia Oil & Gas will add 4,620 net acres in the Karnes area of the Eagle Ford shale, increasing its position there to 21,460 net acres (64% operated). Of the total acquired acreage, 490 net acres were acquired in Q1, and acquisitions totaling 4,130 net acres are expected to close in Q2. The company said the assets should provide net production of 4,000 boe/d by the end this quarter. Magnolia's total Q2 production is estimated to grow...
May 15, 2019
A&D - Abraxas sells non-core Williston assets for $16MM - May 2019
San Antonio-based Abraxas Petroleum struck a $15.5 million deal to sell some of its non-operated interests North Dakota's Williston Basin to an undisclosed buyer. Under the terms of the agreement, the buyer will assume $5.4 million in outstanding authorizations for expenditures relating to upcoming wells. Abraxas will use the proceeds to reduce debt. The divested assets represent ~5% of Abraxas' current Bakken production, implying 350 boe/d based on reported Q1 volumes of ~7,000 boe/d....
May 15, 2019
A&D - Mosman farms out stake in East Texas project to Xstate - May 2019
Australia-listed Xstate Resources Ltd. is diversifying its US portfolio, striking a deal with London-listed Mosman Oil & Gas Ltd. to farm into a portion of Mosman's non-operated 60% WI in the Champion project in East Texas. Mosman said there is established oil and gas production and infrastructure in the area, with several prospects identified using 3D seismic, including the Falcon and Galaxie prospects. An area entry for Xstate, the deal adds to its US assets in California's...
May 15, 2019
A&D - Southern expands core Southeast US position for $17MM - May 2019
Calgary-based Southern Energy Corp., which changed its name from Standard Exploration Ltd. in December, acquired assets in Mississippi from an undisclosed arm'slength company for $16.5 million. The company said the deal is a significant step toward its goal of reaching 10,000 boe/d of production in the next 18-24 months as it pursues the development of light oil and natural gas resources in Mississippi, Alabama and Louisiana. The deal increases Southern's production by 65% to 15 MMcfe/d...
May 15, 2019
A&D - Antecedents to the Midstates and Amplify merger - May 2019
The merger of Midstates Petroleum and Amplify Energy comes after both companies underwent the throes of the oil market downturn that started in mid-2014. Looking at each of the companies' recent histories provides context for their respective decisions to combine the strengths of their respective parts into a merged "whole." In March, Midstates retained Houlihan Lokey as its financial advisor for its strategic alternatives process. The company had filed for bankruptcy in May 2016 and...
May 15, 2019
A&D - Samson II shops Johnson County as part of strategic review - May 2019
Tulsa-based Samson Resources II retained EnergyNet to market the company's Johnson County, Wyoming, assets as part of its strategic review announced April 2. The assets cover 47,000 net acres with an operated 75% WI. "Samson continues to focus on its core positions in the Powder River and Greater Green River basins," president and CEO Joseph A. Mills said. "A sale of our Johnson County assets will assist the company in executing on its 2019 capital plan while maintaining its very strong...
May 15, 2019
Get more news for A&D Transactions