A&D Transactions
Serving the asset marketplace with deals, analysis and business opportunities.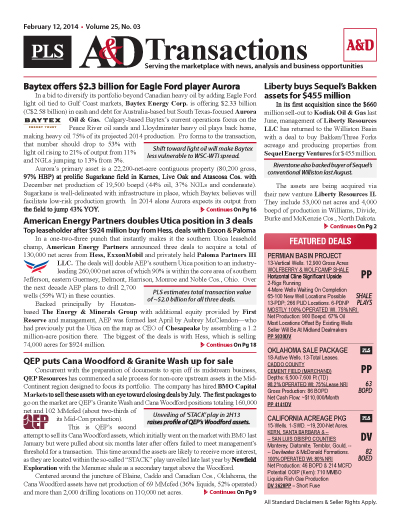 PLS publishes news and analysis on the acquisitions and divestitures (A&D) sector through its A&D module. The red banner report, published every 3 weeks, covers the active US asset marketplace and includes analysis of corporate mergers, property divestitures, completed transactions and deal metrics.
PLS' most popular report
Single copy pricing; Incl hard copy & email version
Guaranteed to increase deal flow & market insight
Every 2-3 weeks; 17+ issues per year
Latest in asset acquisitions, corporate M&A activity, deals in play & industry buying trends
Access to archives editions of A&D
Phone request to multiple listing
Search PLS' News Archive for complete oil & gas news for A&D Transactions .
See what it is about before you buy. View a sample issue of A&D Transactions.
Need more information? Click the button to recieve more details about the A&D Transactions
Opportunity is a reflection of information.
Call 713-650-1212 For More Information
Search A&D Transactions:

Headline
Publication
News Date
A&D - Diversified closes buys totaling $235MM from EQT & Carbon - June 2020
Diversified Gas & Oil completed acquisitions in late May of conventional Appalachian assets from EQT Corp. and Carbon Energy. The two deals boosted Birmingham, Alabama based Diversified's net production by 20%, or 109 MMcfe/d, over its 2019 average. It will also increase its 12-month EBITDA starting June 1 by an estimated $61-65 million. In a deal announced May 12 and completed May 26, Diversified picked up conventional gas assets in West Virginia and Pennsylvania from Marcellus and...
Jun 12, 2020
A&D - Point Loma shuts down, sells Wizard Lake stake to creditors - June 2020
Canada's Point Loma Resources ceased all operations May 21. The company said it has been unable to refinance or recapitalize its business in the present economic environment and no longer has the financial capability to continue. It notified regulators in Alberta and Saskatchewan and will work with them to safely shut down remaining operations. Point Loma's board of directors resigned, and officers were terminated May 21. At the end of March, the company was set to sell its remaining...
Jun 12, 2020
A&D - Templar moves sale process for Midcon portfolio to Section 363 - June 2020
Midcontinent producer Templar Energy, which declared bankruptcy June 1, launced a Section 363 process for its assets. The company placed its portfolio on the market in February and had attracted several indications of interest by mid-April. But following the collapse of oil prices early that month, Templar ultimately opted for the bankruptcy process to complete a sale. Templar's assets cover 273,400 net acres (75% HBP) across the greater Anadarko Basin of northeastern and western...
Jun 12, 2020
A&D - Analyst Notes - June 12, 2020
ConocoPhillips (COP; $44.67-May 27; Buy; PT-$46) Q2 has now included the completion of COP's sale of its Australia-West assets. The total transaction value is unchanged, with the revision being that $125MM of the original $1.39B upfront cash proceeds will be further allocated to the payment to COP upon FID of the proposed Barossa project (now $200MM total), which is to replace Bayu-Undan once field life expires as the source field for Darwin LNG. With an effective date of 1/1/19, net...
Jun 12, 2020
A&D- Titan Energy enters restructuring agreement to sell Eagle Ford - June 2020
Fort Worth-based Titan Energy entered a restructuring support agreement May 26 with key stakeholders for the sale of its Eagle Ford assets to an undisclosed buyer. The divestment, which would comprise substantially all of Titan's assets, is expected to generate $8.5 million in net proceeds. Titan placed its operated Eagle Ford assets on the market in September, when it hired Intrepid Partners to assist in the sale of 10,162 net acres (10,855 gross) in the heart of the black oil window...
Jun 12, 2020
A&D - People & Companies - June 12, 2020
ExxonMobil announced that Steve Greenlee, the president of ExxonMobil Upstream Business Development Co., will retire July 1 after over 38 years of service. The board has appointed Linda DuCharme as his replacement and elected her VP of ExxonMobil. She will retain her current position as president of ExxonMobil Upstream Integrated Solutions Co. BPX Energy CEO David C. Lawler has been appointed chairman and president of BP America Inc, succeeding Susan Dio. ConocoPhillips EVP and...
Jun 12, 2020
A&D - Clearly Petroleum sells Gulf Coast, Permian & North Texas - June 2020
Independent producer Clearly Petroleum and affiliates sold an offering of mostly operated assets in South Texas, the Permian Basin, North Texas and the Gulf Coast in Texas and Louisiana to a single buyer, transaction advisor TenOaks Energy Advisors told Enverus. Clearly sold a total of 25,667 net acres with 5 MMboe of proved reserves and average three-month net production ending in November of 1,516 boe/d (79% oil). Making up almost half of the sold acreage, the North Texas assets...
Jun 12, 2020
A&D - Bright Rock acquires mostly operated Wyoming assets - June 2020
Bright Rock Energy, one of four US subsidiaries of Germany's Deutsche Rohstoff, is acquiring 28,000 net acres (40% HBP) in Wyoming with five wells that produced 300 bbl/d in April. Bright Rock will operate most of the acreage. Several drilling permits have been granted across the acreage, which will be advantageous once oil prices rebound, Bright Rock said. The undisclosed purchase price reflects almost exclusively the value of current production based on the current forward curve. Only a small...
Jun 12, 2020
A&D - Bankruptcy sales emerge as key feature of YTD M&A - June 2020
As low oil prices hammer companies' bottom lines, Section 363 sales are becoming a more prevalent feature in the US upstream space. Rockies-focused Southland Royalty received bankruptcy court approval for the $53.32 million sale of its San Juan Basin assets in New Mexico and Colorado to MorningStar Partners (PG.1). Eagle Ford producer Freedom Oil & Gas, the Houston-based operating arm of Australia-listed Freedom Oil & Gas Ltd., is selling its assets to Australian environmental services...
Jun 12, 2020
A&D - Korean investor shops stake in Tug Hill's Marcellus-Utica program - June 2020
The Houston-based energy arm of South Korean investment firm Atinum Partners is marketing its interests in an active Marcellus-Utica development program operated by privately held Tug Hill Operating in West Virginia. Atinum Energy Investments is offering its non-op 38% WI in the assets, amounting to 8,100 net acres primarily in Marshall and Wetzel counties with net production of 31 MMcfe/d and PDP reserves of 90 Bcfe (40% liquids). Tug Hill has identified more than 60 dry gas Utica...
Jun 12, 2020
Get more news for A&D Transactions