CapitalMarkets
Serving the finance market with news, analysis and investment opportunities.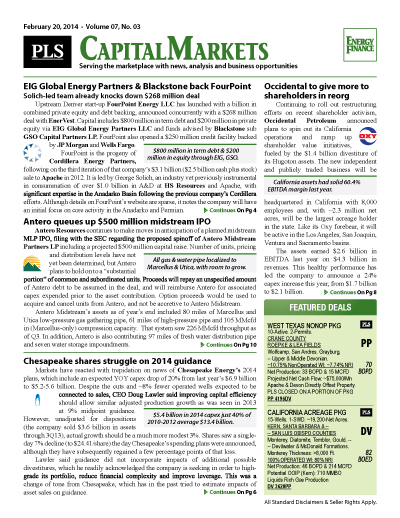 PLS publishes news and analysis in the energy finance sector through its capital markets module. The green banner report includes news and analysis on company budgets, capital spending, financial performance and interviews with leading capital providers.
Your access to energy finance
Single copy pricing; Incl hard copy & email version
Increase market insight & deal flow
Every 3 weeks; 17+ issues per year
Covers financings, capex, earnings, new companies
Includes market analysis and new trends
Access to capital market archives
Phone request for multiple listings published in reports
Includes discounts for other PLS products & events
Are you looking to subscribe to Capitalize? Click here for the latest Capital Markets Report
Search PLS' News Archive for complete oil & gas news for CapitalMarkets .
See what it is about before you buy. View a sample issue of CapitalMarkets.
Need more information? Click the button to recieve more details about the CapitalMarkets
Opportunity is a reflection of information.
Call 713-650-1212 For More Information
Search CapitalMarkets:

Headline
Publication
News Date
CM - KKR putting $900MM into partnership with NextEra - March 2019
KKR agreed to invest $900 million in a partnership with NextEra Energy Partners LP that will buy and run a portfolio of 10 utility-scale wind and solar projects across the US to generate a combined total of about 1,192 MW. Under terms of the agreement, NextEra would have certain rights to acquire KKR's interest over time at pre-determined return levels between three-and-a-half and seven years after the start of the partnership. KKR's share of partnership cash flows would rise to 99% if...
Mar 07, 2019
CM - Apollo bets on Clearway despite PG&E contract worries - March 2019
Apollo Global Management now has a 6% stake in Clearway Energy Inc., a renewable energy producer that sells to California utility PG&E Corp., which filed one of the largest energy bankruptcy petitions on record on Jan. 29. Sources told Reuters that Apollo moved on Clearway after its shares fell in value, stemming from the PG&E action. Clearway recently cut its dividend to $0.20 from $0.33 a share on concerns that PG&E could halt its purchase agreement for wind, solar and gas-fired...
Mar 07, 2019
CM - American institutional giants confirm ADNOC pipe deal - March 2019
KKR and fund management giant BlackRock will invest, through funds they manage, into Abu Dhabi National Oil Co.'s $4 billion midstream pipeline infrastructure, the company announced Feb. 25. A new entity called ADNOC Oil Pipelines will lease the oil company's interest in 18 pipelines, transporting crude oil and condensates across ADNOC's upstream concessions for 23 years. BlackRock will invest via its Global Energy & Power Infrastructure Fund and KKR through its third Global...
Mar 07, 2019
CM - Alta Mesa warns about upcoming impairments - March 2019
Alta Mesa Resources Inc. cautioned investors that it plans to record non-cash asset impairment charges of about $2 billion for its upstream segment and about $1.1 billion for its midstream segment for 4Q18, and that it would delay the issue of its Form 10k to the US Securities & Exchange Commission this year. The company "has determined that it had an ineffective internal control over financial reporting due to an identified material weakness in both the design of its controls and...
Mar 07, 2019
CM - Analyst Notes - March 07, 2019
Chesapeake Energy (NYSE: CHK; $2.63-Feb. 26; Underweight; PT-N/A) CHK expects its oil realizations to be priced at a $1.20 per bbl to $1.60 per bbl premium to WTI, which was $0.20 per bbl lower than our forecast… CHK's production expense guidance range of $3.25 to $3.50 per Boe was $0.26 per Boe higher than our forecast. CHK's GP&T expense guidance range of $6.00 to $6.50 per Boe was $0.08 per boe lower than JPMe at $6.33 per boe. CHK's G&A expense guide of $1.55 per Boe was $0.23 lower...
Mar 07, 2019
CM - People & Companies - March 07, 2019
Directors who have announced they do not intend to stand for re-election at their company's next annual meeting of shareholders: Mark C. McKinley from Anadarko Petroleum, George D. Lawrence from Apache, Martin S. Craighead, vice chairman, from Baker Hughes, a GE company, Charles L. Fabrikant from Diamond Offshore Drilling, Inc., B.Z. (Bill) Parker from Laredo Petroleum, Inc., Gary L. Warren from Newpark Resources, Inc. Berry Petroleum Corp. elected Donald L. Paul to its board of...
Mar 07, 2019
CM - EOG will spend up to $6.5B this year; 2018 results a record -March 07, 2019
This year, EOG Resources Corp. plans to allocate more capital to opportunistic, high-quality new drilling potential while cutting back somewhat on spending in established areas, the company announced Feb. 26. Its exploration and development activities are expected to cost $6.1-6.5 billion in 2019, including facilities and gathering, processing and other expenditures, but excluding acquisitions and non-cash exchanges. EOG will spend on leasing and related infrastructure to drill wells in a...
Mar 07, 2019
CM - At $846MM, Diamondback earnings highest since formed - March 2019
In what CEO Travis Stice called a "another transformational year" for his company, Diamondback Energy Inc. reported net income of $846 million—its highest since its 2007 formation—on record revenue of $2.2 billion. Though cash flow from operations came in 78% higher YOY at $1.56 billion, spending was well over double that amount at almost $3.5 billion as the company bought Energen Corp. during 4Q18 and other assets. The net result of the spending was 123% YOY growth of its assets, which...
Mar 07, 2019
CM - Midstream Briefs - March 07, 2019
Tulsa-based PE group Argonaut Private Equity invested an undisclosed sum in Houston-based pipeline distribution company Mammoth Carbon Products. Started in 2014, Mammoth currently services the North American market focusing in Texas and Colorado. The new investment will help Mammoth continue expansion into the Northeastern US, Canada and California. "Mammoth is well positioned to significantly impact the distribution of steel pipeline in North America to meet demand," said Steve Mitchell, CEO...
Mar 07, 2019
CM - Oilfield Services Briefs - March 07, 2019
Directors of Dril-Quip, Inc. authorized a repurchase program for up to $100 million of its common stock outstanding following the completion of a previous $100 million stock repurchase plan that concluded in 4Q18. Repurchased shares will be canceled. President and CEO Blake DeBerry said, "We believe share buybacks are a very good way to return cash to our shareholders." The NYSE-listed maker of drilling and production equipment currently has 36.4 million shares outstanding at $42.37 each with a...
Mar 07, 2019
Get more news for CapitalMarkets