CapitalMarkets
Serving the finance market with news, analysis and investment opportunities.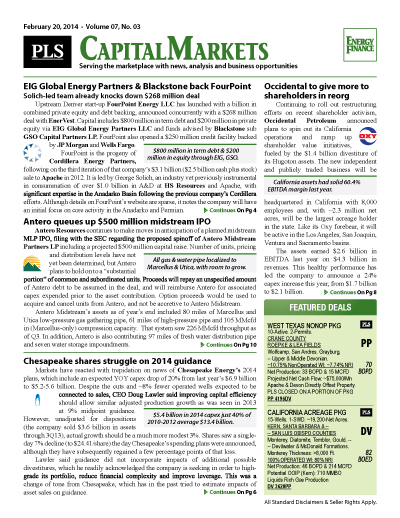 PLS publishes news and analysis in the energy finance sector through its capital markets module. The green banner report includes news and analysis on company budgets, capital spending, financial performance and interviews with leading capital providers.
Your access to energy finance
Single copy pricing; Incl hard copy & email version
Increase market insight & deal flow
Every 3 weeks; 17+ issues per year
Covers financings, capex, earnings, new companies
Includes market analysis and new trends
Access to capital market archives
Phone request for multiple listings published in reports
Includes discounts for other PLS products & events
Are you looking to subscribe to Capitalize? Click here for the latest Capital Markets Report
Search PLS' News Archive for complete oil & gas news for CapitalMarkets .
See what it is about before you buy. View a sample issue of CapitalMarkets.
Need more information? Click the button to recieve more details about the CapitalMarkets
Opportunity is a reflection of information.
Call 713-650-1212 For More Information
Search CapitalMarkets:

Headline
Publication
News Date
CM - Equitrans absorbs EQM Midstream, which issues $1.6B in debt - June 2020
EQM Midstream Partners LP, now a subsidiary of Equitrans Midstream Corp., sold two new series of notes with a combined aggregate principal amount of $1.6 billion: $900 million of 6.5% notes due 2027 and $700 million of 6% notes due 2025. Both series of notes are senior, subordinated and unsecured. The principal amount of notes sold is double the initially contemplated offering amount of $800 million. Just one day earlier, Equitrans and EQM announced the completion of Equitrans' buyout...
Jun 26, 2020
CM - PG&E pushes over $16B of securities in pre-emergence sales - June 2020
PG&E Corp. announced concurrent public offerings of common stock and equity units, seeking to raise $4 billion and $1.23 billion of gross proceeds, respectively. The proceeds will help fund its expected emergence from Chapter 11 at the start of July, as will the proceeds from the dizzying array of debt that it has sold since the middle of June. The common stock and equity units are being offered separately. PG&E seeks to sell up to $4 billion worth of its NYSE-listed shares, which...
Jun 26, 2020
CM - High-yield Comstock add-on brings debt load to $2.5B - June 2020
Comstock Resources Inc. offered $500 million aggregate principal amount of 9.75% senior unsecured notes due 2026. The June 16 offering was upsized from an initially contemplated $400 million principal amount. The company said the new 2026 notes will have substantially identical terms to the $850 million of 9.75% senior notes due 2026 that it issued in August 2018, but will not trade interchangeably with the original notes because they were issued under a separate indenture. Owing to the...
Jun 26, 2020
CM - Exxon surprises markets with new euro-denominated bond sale - June 2020
Exxon Mobil Corp. dared to go where it hasn't gone before—into eurobonds. It issued €4.5 billion ($5.24 billion) of notes in four separate tranches on June 23. The eurobonds are a departure from Exxon's usual corporate debt raising—the first eurobonds among the $46.6 billion in notes currently outstanding on the AA rated issuer's balance sheet. Including these notes, the US' largest oil and gas company has floated over $23 billion worth of debt YTD. A 23-bank syndicate sold €1.5 billion...
Jun 26, 2020
CM - Brigham's PE backers realize over $90MM through stock sale - June 2020
Funds owned by Warburg Pincus, Yorktown Energy Partners and Pine Brook Road Advisors sold off almost $91 million of Brigham Minerals' common stock in a 6.6 millionshare sale on June 9. The Warburg-affiliated funds also offered a 990,000-share overallotment option that will raise another $13.6 million if fully exercised. The offering price was $13.75/share. The three private equity groups were financiers from the formation of the company through its initial public offering on April 17, 2019....
Jun 26, 2020
CM - Startup Sixth Creek Energy will seek $250MM-plus investments - June 2020
Denver-based Sixth Creek Energy, which just formed this quarter, said it will pursue the addition of institutional investors to its capital base if the size of an opportunity dictates. The company disclosed in an investor presentation that initial capital commitments from management, friends and family will total around $50 million. The company is working with Houston-based investment and merchant bank Rivington Holdings. Sixth Creek said its strategy was to acquire low-risk PDP...
Jun 26, 2020
CM - There's no masking the spread of debt flotation - June 2020
As has been the pattern, bonds continue to be the preferred way for energy companies to raise cash. As Q2 comes to an end, the industry is closing in on $120 billion principal amount of bond sales YTD, more than triple the $35 billion principal amount of bonds issued in the same time frame last year, according to data compiled by Enverus' Capitalize platform. Upstream bond issuers this cycle include Comstock Resources (PG.1) and WPX Energy (PG.3). Midstream issuers include Plains All...
Jun 26, 2020
CM - SM Energy reduces debt outstanding with exchange offers - June 2020
SM Energy Co. issued almost $447 million of new 10% second-lien notes due 2025 in exchange for an aggregate $719 million principal amount of older notes, including $107 million of its 1.5% convertible notes due 2021 and varying amounts of five separate issuance that were tendered through SM's recent exchange offer. As of the tender offer's June 12 expiration date, around $296 million of the old notes had been validly tendered and not withdrawn. This amount does not include principal...
Jun 26, 2020
CM - WPX completes 2028 notes offering & extends tender offer - June 2020
WPX Energy Inc. closed a public offering of $500 million of 5.875% senior unsecured notes due 2028 at 100. The company wrapped up the sale June 17 and plans to use proceeds to buy back up to $500 million outstanding of three series of notes due 2022 through 2024. The company launched tender offers on June 3 to repurchase around 45% of the aggregate principal amounts outstanding of the three notes. It extended the early tender deadline to June 30 and doubled the cap on its third-priority...
Jun 26, 2020
CM - Upstream Briefs - June 26, 2020
Northern Oil & Gas Inc. will ask its shareholders to vote sometime in Q3 to reverse split its NYSE-traded common shares. It is considering ratios ranging from 1:6 to 1:10. A change in authorized shares will accompany the reverse split. Northern's 430 million shares outstanding have been trading mainly in the $0.60- $1.00 range in Q2. Texas Pacific Land Trust is moving forward with plans to reorganize into a Delaware corporation and has filed an initial draft registration statement...
Jun 26, 2020
Get more news for CapitalMarkets