CapitalMarkets
Serving the finance market with news, analysis and investment opportunities.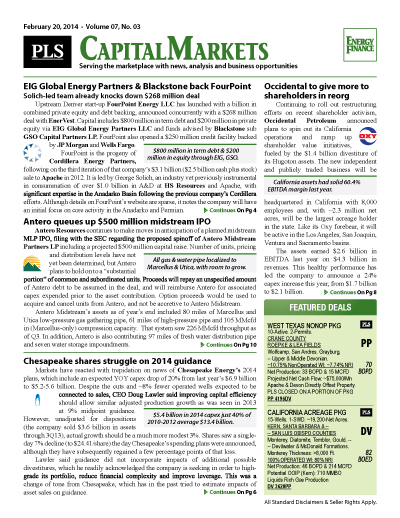 PLS publishes news and analysis in the energy finance sector through its capital markets module. The green banner report includes news and analysis on company budgets, capital spending, financial performance and interviews with leading capital providers.
Your access to energy finance
Single copy pricing; Incl hard copy & email version
Increase market insight & deal flow
Every 3 weeks; 17+ issues per year
Covers financings, capex, earnings, new companies
Includes market analysis and new trends
Access to capital market archives
Phone request for multiple listings published in reports
Includes discounts for other PLS products & events
Are you looking to subscribe to Capitalize? Click here for the latest Capital Markets Report
Search PLS' News Archive for complete oil & gas news for CapitalMarkets .
See what it is about before you buy. View a sample issue of CapitalMarkets.
Need more information? Click the button to recieve more details about the CapitalMarkets
Opportunity is a reflection of information.
Call 713-650-1212 For More Information
Search CapitalMarkets:

Headline
Publication
News Date
CM - E&P writedowns sink Chevron net even as output tops 3 MMboe/d - February 2020
Chevron CEO Michael K. Wirth celebrated a corporate milestone for 2019—worldwide production exceeded 3 MMboe/d for the first time in the supermajor's history. At 3.06 MMboe/d, volumes were up 4% YOY, led by a 17% jump in US liquids to 724,000 bbl/d and 18% more US gas production at 1.22 Bcf/d. On the flipside of Chevron's US upstream achievements, however, was a more than $5 billion net loss stemming from $8.2 billion in impairments related to Appalachian shale gas and the Gulf of Mexico's Big...
Feb 21, 2020
CM - Icahn wants Oxy to disclose potential pre-Anadarko suitors - February 2020
After three months of relative quiet, activist investor Carl Icahn wants to know if Occidental Petroleum was approached as a takeover candidate before it bought Anadarko Petroleum. The 3% shareholder published an open letter to fellow Oxy shareholders on Feb. 12 in which he claimed the company's leadership was more interested in saving their jobs than in the shareholders' best interests. He called the Anadarko buy a "defensive maneuver" and said CEO Vicki Hollub and chairman Eugene Batchelder...
Feb 21, 2020
CM - ConocoPhillips' profits up 15% YOY at $7.2B on UK asset sales -
ConocoPhillips' 2019 earnings of $7.2 billion were 15% higher YOY and augmented by a nearly $3.8 billion gain on the sales of its two UK subsidiaries in September. Excluding special items, 2019 adjusted earnings were $4.0 billion compared with 2018 adjusted earnings of $5.3 billion, with lower realizations attributed to the decline. Revenue was down 12% YOY to $33.3 billion. Cash from operating activities, excluding working capital, was $11.7 billion and, after capex and investments,...
Feb 21, 2020
CM - Parsley refinances $400MM via private placement of 2028 notes - February 2020
Parsley Energy, LLC sold $400 million aggregate principal amount of 4.125% senior unsecured notes due 2028 through its subsidiaries Parsley Energy, Inc. and Parsley Finance Corp. The notes were sold at 100 through a private placement arranged by Morgan Stanley that closed Feb. 11. The company expects $395.1 million in net proceeds, which together with revolving credit facility borrowings will be used to redeem all $400 million outstanding of its 6.25% senior unsecured notes due...
Feb 21, 2020
CM - NGP & Pearl team up again to invest in startup Eagle Mountain - February 2020
NGP and Pearl Energy Investments, which often invest in tandem, have made their most recent equity funding commitments to Eagle Mountain Energy Partners, a Houston-based LLC that will seek to acquire and develop opportunities in the Rockies and Williston Basin. NGP will use its Natural Resources XII, LP for its end of the investment. Eagle Mountain's management team is a mix of previous executives from Kayne Anderson, Pioneer Natural Resources, Carrizo Oil & Gas and Oasis...
Feb 21, 2020
CM - Bankruptcy court approves Alta Mesa/Kingfisher asset sales - February 2020
A federal judge approved the sale of the upstream assets of bankrupt Alta Mesa Resources and midstream subsidiary Kingfisher Midstream to BCE-Mach III, a JV of Bayou City Energy Management and Mach Resources. The combined assets, which are in Oklahoma's STACK play, fetched $320 million in a Jan. 15 auction. Judge Marvin Isgur initially rejected BCE-Mach's earlier stalking-horse bid because of objections over a 3% breakup fee built into the offer's terms, and he turned away a slightly higher...
Feb 21, 2020
CM - Free cash flow reigns in 2020 spending decisions - February 2020
A little something nice: Cheniere Energy rang the NYSE opening bell on Feb. 5 to celebrate the 1,000th LNG cargo exported from its Sabine Pass and Corpus Christi terminals. In other milestones, Chevron reached 3 MMboe/d of production for the first time in its history last year, but it's understandable if the supermajor isn't celebrating an 80% drop in profit (PG.1). ExxonMobil had no asset writedowns in its annual results for the first time in four years, but its profit fell 31% anyway (PG.7)....
Feb 21, 2020
CM - Ultra's borrowing base reflects minimal investment - February 2020
Ultra Petroleum's lending syndicate reduced the borrowing base on its credit agreement to $1.075 billion, with a $100 million commitment attributed to the agreement, becoming effective April 1. An earlier amendment reduced the commitment to $120 million, effective Feb. 29, from the current $200 million and had removed financial maintenance covenants. "The results of the spring 2020 borrowing base review process and the commitment level provided for in this amendment affirms our decision...
Feb 21, 2020
CM - Southland Royalty enters Ch. 11 with whole portfolio up for sale - February 2020
Rockies-focused Southland Royalty Co. filed for Chapter 11 bankruptcy protection on Jan. 27 and is marketing its entire portfolio as part of an in-court restructuring. The 80% EnCap-owned producer owed about $540 million on its reserve-based revolving credit facility and has about $12 million in cash, according to filings. It has secured a nearly $70 million debtor-in-possession loan. Court documents say Southland has limited its drilling and capex to save cash in the short term but had...
Feb 21, 2020
CM - Upstream Capital Briefs - February 21, 2020
Houston-based private investment firm BlackGold Capital Management announced that it bought a diverse portfolio of mineral and royalty interests in the Midland Basin for an undisclosed amount. Nearly 72% of the net royalty acres acquired are leased by operators in the top quartile of active horizontal rig counts in the Midland, and 99% of the net royalty acres are leased by operators in the top half. In the past 12 months, the company has bought about $150 million of mineral and royalty...
Feb 21, 2020
Get more news for CapitalMarkets