CapitalMarkets
Serving the finance market with news, analysis and investment opportunities.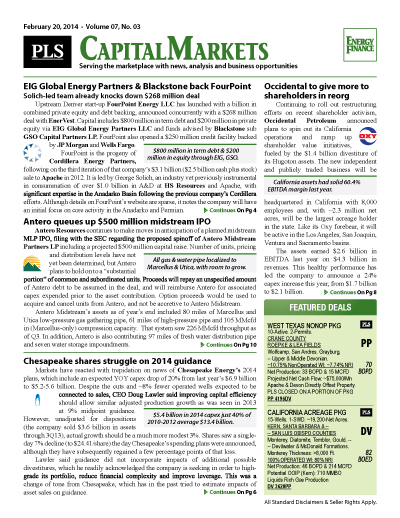 PLS publishes news and analysis in the energy finance sector through its capital markets module. The green banner report includes news and analysis on company budgets, capital spending, financial performance and interviews with leading capital providers.
Your access to energy finance
Single copy pricing; Incl hard copy & email version
Increase market insight & deal flow
Every 3 weeks; 17+ issues per year
Covers financings, capex, earnings, new companies
Includes market analysis and new trends
Access to capital market archives
Phone request for multiple listings published in reports
Includes discounts for other PLS products & events
Are you looking to subscribe to Capitalize? Click here for the latest Capital Markets Report
Search PLS' News Archive for complete oil & gas news for CapitalMarkets .
See what it is about before you buy. View a sample issue of CapitalMarkets.
Need more information? Click the button to recieve more details about the CapitalMarkets
Opportunity is a reflection of information.
Call 713-650-1212 For More Information
Search CapitalMarkets:

Headline
Publication
News Date
CM - Laredo optimistic on free cash flow generation for 2019 - October 2019
Driven by improving fundamentals, Tulsa-based Laredo Petroleum now anticipates 2019 cash flow to be $65 million higher than its May forecast, in which it said it would balance cash flow and capital expenditures. It raised capex to $490 million from $465 million and said that it believes it will deliver $40 million of free cash flow this year. It also updated full-year oil production guidance for 2019 to 28,100 bo/d and total production to 79,000 boe/d. Spending for the year will...
Oct 25, 2019
CM - Phillips 66 board launches new $3B share repurchase plan - October 2019
Phillips 66 announced Oct. 4 that its board of directors authorized the repurchase of up to $3 billion of its common stock. The additional shares bring the total amount of authorized common stock buyback programs since 2012 to $15 billion. As with previous buyback programs, shares will be repurchased from time to time in the open market at the company's discretion, subject to market conditions and other factors. Chairman and CEO Greg Garland said the company's long-term objective is to...
Oct 25, 2019
CM - Carlyle Group leaves $1B oil export project near Corpus - October 2019
The Carlyle Group is no longer a stakeholder in Lone Star Ports LLC, which has proposed to build a $1 billion crude export terminal near Corpus Christi. The private equity giant's departure leaves construction company Berry Group as sole owner of the project. According to Sean Strawbridge, head of the Port of Corpus Christi, Carlyle notified the port of its withdrawal on Oct. 8 but provided no official reason. Carlyle's departure seems to have given Lone Star what it wanted; the...
Oct 25, 2019
CM - Cabot Oil & Gas to spend less, slow output growth in 2020 - October 2019
Cabot Oil & Gas unveiled preliminary 2020 capex and operating plans, stating it would spend $700-725 million next year, down from the expected $800-820 million that it plans to spend this year. Of the proposed 2020 total, $575 million will be maintenance capex and $125-150 million will be dedicated towards growth capital. At $2.50/MMbtu NYMEX pricing, the company expects to generate $375-500 million in free cash flow in 2020, which is a 5.4% free cash flow yield; at $2.75/MMbtu...
Oct 25, 2019
CM - Hess rolling up midstream business into $7B Up-C structure - October 2019
Hess Midstream Partners LP agreed to buy Hess Corp.'s and Global Infrastructure Partners' ownership interests in their 50:50 joint venture Hess Infrastructure Partners LP in a deal valued at $6.19 billion. HIP currently owns 80% of HMP's oil and gas midstream assets. With the assumption of about $1.15 billion of debt, the consolidated companies will form a primarily Bakkenfocused midstream business with an enterprise value of more than $7.25 billion. Additionally, the new entity to house the...
Oct 25, 2019
CM - Cheniere's Corpus holding company sells $1.2B in 20-year notes - October 2019
Cheniere Corpus Christi Holdings, LLC announced that it placed $475 million principal amount of 3.925% senior secured notes due 2039 with a group of insurance companies and BlackRock Real Assets on Oct. 17 and sold $727 million principal amount of 4.8% senior secured notes, also due 2039 on Sept. 27 to a group represented by Allianz Global Investors. Both series of notes are currently unregistered but bring the holding company's total debt outstanding to over $5.4 billion. The earliest maturity...
Oct 25, 2019
CM - MPLX enters into $1B syndicated term loan facility agreement - October 2019
MPLX entered into a term loan agreement in which it can draw up to $1 billion over up to four separate borrowings. The term loan came less than three weeks after the master limited partnership sold $2 billion in unsecured senior notes. MPLX is adjusting its capital structure as it refinances $3.75 billion of outstanding senior notes of Andeavor Logistics, which it acquired in a deal that closed July 30. That transaction settled Sept. 23. If not fully utilized, the term loan commitments...
Oct 25, 2019
CM - Tallgrass still thinking about $5B Blackstone buyout offer - October 2019
Tallgrass Energy LP reported on Oct. 10 that it is still reviewing and evaluating an offer to be taken private by a fund managed by private equity giant Blackstone. The partnership's independent conflicts committee is also negotiating with $40 billion Blackstone Infrastructure Partners on matters related to its offer to buy out 156 million Class A shares, comprising the remaining 55.3% of the Class A shares in Tallgrass that it did not already own, for $19.50 each. The $3.03 billion equity...
Oct 25, 2019
CM - News Briefs - October 25, 2019
Because of permitting issues, Hilcorp's San Juan Royalty Trust capex for 2019 will be $8 million instead of the previously announced $12.6 million. A lawsuit against the Bureau of Land Management has stalled permitting, and Hilcorp is unsure when permits will be received. Hilcorp informed the trust that thus far capital expenditures and accruals for capital recompletions ran $700,000 higher than previously forecasted based upon additional recompletions performed in the Interests....
Oct 25, 2019
CM - Midstream & Downstream Briefs - October 25, 2019
Infrastructure investor Ridgewood Infrastructure LLC bought SiEnergy LP, a regulated natural gas local distribution company in Texas serving 25,000 customers. Financial terms of the deal were not disclosed. Ridgewood's other investments include the Vista Ridge Regional Water Supply project, a 142-mile water pipeline expected to supply San Antonio with 20% of its fresh water, and Undine LLC, which owns and operates water and wastewater utilities in several US markets. Morgan Stanley...
Oct 25, 2019
Get more news for CapitalMarkets