CapitalMarkets
Serving the finance market with news, analysis and investment opportunities.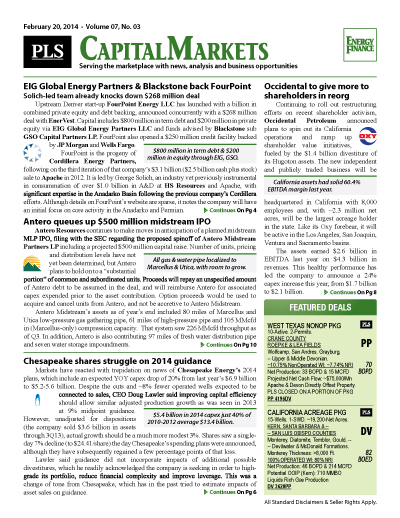 PLS publishes news and analysis in the energy finance sector through its capital markets module. The green banner report includes news and analysis on company budgets, capital spending, financial performance and interviews with leading capital providers.
Your access to energy finance
Single copy pricing; Incl hard copy & email version
Increase market insight & deal flow
Every 3 weeks; 17+ issues per year
Covers financings, capex, earnings, new companies
Includes market analysis and new trends
Access to capital market archives
Phone request for multiple listings published in reports
Includes discounts for other PLS products & events
Are you looking to subscribe to Capitalize? Click here for the latest Capital Markets Report
Search PLS' News Archive for complete oil & gas news for CapitalMarkets .
See what it is about before you buy. View a sample issue of CapitalMarkets.
Need more information? Click the button to recieve more details about the CapitalMarkets
Opportunity is a reflection of information.
Call 713-650-1212 For More Information
Search CapitalMarkets:

Headline
Publication
News Date
CM - EQT shareholders vote in Rice directors in 'shalennial' upset - July 2019
Toby and Derek Rice have emerged victorious in one of the highest-profile proxy fights—energy or not—in recent history. According to voting results on July 10, EQT Corp. said that all seven director nominees proposed by the "shalennial" brothers and the five supported by both sides won control of the board of directors of EQT, the US's largest natural gas producer. All 12 elected directors received more than 80% of the votes cast at the annual meeting. They include existing director Daniel Rice...
Jul 12, 2019
CM - Devon redeems $1.5 billion in notes, cutting debt by 25% - July 2019
Devon Energy Corp. announced June 27 that it will redeem $1.5 billion aggregate principal amount in senior notes early. The company called all $500 million outstanding of its 4% senior notes due 2021 and all $1 billion outstanding of its 3.25% senior notes due 2022, both at 100, plus accrued and unpaid interest, and a make-whole premium. It will pay accrued interest on each series of notes up to the July 27 redemption date. Following the redemptions, the BBB issuer will have nearly $4.35...
Jul 12, 2019
CM - Weatherford opens Chapter 11 to kill $5.8 billion in debt - July 2019
Noting between 200 and 1,000 total creditors, beaten and bruised Weatherford International plc entered a US federal bankruptcy court in Texas on June 28 to file for Chapter 11 protection and pave the way to submit a plan to shed a total of $5.85 billion worth of debt. The bankruptcy filing was expected, as the debtor outlined a comprehensive plan on May 10 to restructure its debt. The plan had the backing of 62% of its noteholders at the time, which grew to 79% by petition-filing day. The...
Jul 12, 2019
CM - Icahn urges Oxy shareholders to request special meeting - July 2019
Occidental Petroleum Corp. told shareholders that it was focused on completing its acquisition of Anadarko Petroleum during the second half of 2019 and that they should reject the overtures of activist investor Carl Icahn, who now owns almost 5% of the company. He said the board mismanaged the deal to buy Anadarko for $38 billion and is seeking to replace four Oxy directors after the company agreed to what he called a "hugely overpriced" deal that showed a lack of "effective corporate...
Jul 12, 2019
CM -Chevron CEO Wirth: 'Second APC bid would have eroded value' - July 2019
In a recent interview, Chevron Corp. chairman and CEO Michael Wirth told CNBC that coming back with a higher bid for Anadarko Petroleum after Occidental Petroleum swooped in with its more expensive package, would have "eroded shareholder value." He said, "We looked hard at it, and we chose to stand behind the deal that we did and was approved by the two boards." Chevron announced an agreement to buy Anadarko for $33 billion in cash and stock. Less than two weeks later, Oxy proposed a...
Jul 12, 2019
CM - Camber Energy reverse splits and acquires new business - July 2019
Camber Energy, Inc. once again effected a one-for-25 reverse split of its common stock on July 8 to cure an NYSE listings standards deficiency, and completed a transaction under which it would combine with Lineal Star Holdings. The reverse split consolidates Camber's common shares outstanding to 1.8 million. The latest onefor-25 reverse split is the company's third in 16 months; it effected reverse splits with the same ratios in March and December 2018. Camber said it issued Lineal Star new...
Jul 12, 2019
CM - Countering US growth, OPEC keeps cuts for nine months - July 2019
At its semi-annual Vienna meeting on July 1, OPEC announced that it will continue production cuts for nine more months to balance the oil market, a practice that it has implemented since 2017. The cartel said global prices are being hit with pressure from continually growing US production, and that the decision was based partly on the fact that "economic bearishness is now increasingly prevalent" because of trade and geopolitical issues as well as central bank policies. OPEC again found...
Jul 12, 2019
CM - Magnolia asks warrant holders to swap rather than exercise - July 2019
Magnolia Oil & Gas Corp. told holders of its common stock purchase warrants to tender them into a new exchange offer "as soon as possible" because the company's registration statement for the June 7 offer was expiring July 5. The warrants were issued in conjunction with the company's initial public offering as special purpose acquisition company TPG Pace Energy Holdings Corp. in May 2017 and entitled holders of both the publicly traded and privately held warrants to buy a new Class A common...
Jul 12, 2019
CM - EXCO out of Chapter 11 with new $235MM credit facility - July 2019
EXCO Resources, Inc. announced July 1 that it emerged from Chapter 11 bankruptcy protection, after its sixth amended debt restructuring plan became effective on June 28. The Dallas-based company said that its leverage had been decreased by more than $1.1 billion and that lenders have committed $235 million in exit financing in the form of a new credit facility. EXCO's shares were delisted from the OTC exchange after having been canceled via the restructuring plan, and the company will operate...
Jul 12, 2019
CM - W&T dipping into cash & revolver to buy nine GOM gas assets - July 2019
W&T Offshore, Inc. will use cash on hand and borrow from its revolving credit facility to buy working interests in nine Gulf of Mexico offshore producing fields and an onshore treating facility for $200 million in cash from Exxon Mobil Corp. The assets are immediately adjacent to W&T's existing owned and operated properties, the company said. At the end of Q1, W&T had a borrowing base of $250 million and $21 million drawn on its revolver, as well as $86.1 million in cash and equivalents....
Jul 12, 2019
Get more news for CapitalMarkets