CapitalMarkets
Serving the finance market with news, analysis and investment opportunities.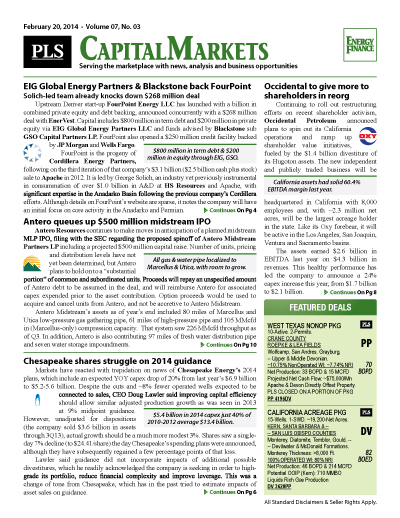 PLS publishes news and analysis in the energy finance sector through its capital markets module. The green banner report includes news and analysis on company budgets, capital spending, financial performance and interviews with leading capital providers.
Your access to energy finance
Single copy pricing; Incl hard copy & email version
Increase market insight & deal flow
Every 3 weeks; 17+ issues per year
Covers financings, capex, earnings, new companies
Includes market analysis and new trends
Access to capital market archives
Phone request for multiple listings published in reports
Includes discounts for other PLS products & events
Are you looking to subscribe to Capitalize? Click here for the latest Capital Markets Report
Search PLS' News Archive for complete oil & gas news for CapitalMarkets .
See what it is about before you buy. View a sample issue of CapitalMarkets.
Need more information? Click the button to recieve more details about the CapitalMarkets
Opportunity is a reflection of information.
Call 713-650-1212 For More Information
Search CapitalMarkets:

Headline
Publication
News Date
CM- Weatherford holds back guidance, expects to spend up to $150MM - April 2020
Weatherford International expects to spend $100-150 million on capital expenditures this year, down from $270 million in 2019, but CFO Christian Garcia told investors and analysts that "the fluidity of the current industry environment prevents us from providing any updated guidance for 2020." The company's main objective this year, achieved through cutting costs and capex, is cash flow neutrality, he said. Weatherford will adjust its cost structure, particularly in North America, where...
Apr 05, 2020
CM - Dominion sells $2.25B in debt, starts $500MM ATM equity sale - April 2020
Dominion Energy issued three series of bonds totaling $2.25 billion in the last half of March: $400 million of 2020 Series A 3.3% senior notes due 2025, $350 million of 2020 Series B 3.6% senior notes due 2027 and $1.5 billion of 2020 Series C 3.375% senior notes due 2030. The Series A were sold at 99.841 and Series B at 99.572 on March 17. The Series C followed two weeks later on March 31 at 98.995. The three new issuances bring Dominion's total long-term debt outstanding to over $36 billion....
Apr 03, 2020
CM - People & Companies - April 3, 2020
Amazing Energy Oil and Gas Co. named Benjamin Jacobson III CFO effective Feb. 13, succeeding Marty Dobbins, who resigned. Prior to joining Amazing Energy, Jacobson co-founded ICP, LLC, which invests in E&P companies. Apache Corp. appointed Clay Bretches EVP, Operations, a promotion from SVP Operations. He will also continue to serve as CEO and a director of Apache subsidiary Altus Midstream Co., which he has done for over a year. Basic Energy Services, Inc. has reconfigured its...
Apr 03, 2020
CM - Shale producers ask TX regulators to consider production cuts - April 2020
Pioneer Natural Resources and Parsley Energy have asked the Texas Railroad Commission to hold a hearing to determine if crude production within the state should be curtailed. The move would help combat falling prices and weakening demand, and it would be an action the regulator hasn't taken since the 1970s. "If we keep producing until we hit a wall, with no proactive decisions, we're going to see single-digit prices across the country," Parsley CEO Matt Gallagher said. Without more regulation,...
Apr 03, 2020
CM - Hess Midstream holding distributions to 5% growth this year - April 2020
After initially providing guidance pointing to a 15% increase in distributions for 2020, CFO Jonathan Stein said that Hess Midstream LP will increase them by just 5% this year. Its capital spending will decrease by $200 million over the next two years, in turn slowing distribution growth, according to a March 17 press release. The need for less well connects because of parent Hess Corp.'s Bakken slowdown will result in the partnership spending 20% less expansion capital this year,...
Apr 03, 2020
CM - Tailwater closes fourth fund with $1.1B in commitments - April 2020
Dallas-based private equity firm Tailwater Capital LLC announced the closing of Tailwater Energy Fund IV LP with $1.1 billion in capital commitments, including a co-investment for one of Fund IV's platform companies. Fund IV is the seven-year old Tailwater's largest closed fund, beating Fund III by $100 million. The midstreamfocused investor, which has raised over $3.7 billion, said it had more than $1.3 billion of dry powder and management teams operating in all of the core onshore basins in...
Apr 03, 2020
CM - Phillips 66 brings spending down over 20%, suspends buybacks - April 2020
Phillips 66 announced a $700 million pullback of consolidated capital spending to $3.1 billion. In a March 24 press release, the refining and logistics company said it will defer work on the Red Oak pipeline and Sweeny Frac 4 projects, as well as MLP Phillips 66 Partners' Liberty Pipeline. The MLP postponed a final investment decision on ACE pipeline. The company also doesn't expect DCP Midstream to exercise its option to participate in Sweeny Fracs 2 and 3 in 2020. DCP, an MLP jointly held by...
Apr 03, 2020
CM - Basic cuts capex & suspends new capital lease additions - April 2020
Basic Energy Services, Inc. said it will spend just $17 million this year on capital expenditures, down 60% from the previously announced $43 million budget. To spend less, it will suspend all new capital lease additions. The company, which is integrating the operations of recently acquired C&J Well Services, believes it can potentially outperform the previously stated cost and capital synergies of $23 million from the acquisition this year, president and CEO Keith Schilling said. Basic bought...
Apr 03, 2020
CM - CorEnergy plans debt & equity buybacks, may add to portfolio - April 2020
CorEnergy Infrastructure Trust, Inc. announced it would repurchase the remaining principal amount outstanding of its 7% convertible senior notes due in June and buy up to $5 million of its common stock and 7.375% Series A cumulative redeemable preferred stock. The securities will be repurchased from time to time through open-market transactions through Aug. 20. The company has $70 million of the 7% notes outstanding and $126 million of the preferred outstanding. As of the end of March, it...
Apr 03, 2020
CM - News Briefs - April 3, 2020
Houston's Helix Energy Solutions Group, Inc. amended an existing credit agreement with Nordea Bank that dates back to 2014. It involves the Q5000 vessel, and the amendment extends the final maturity date of the term loan made under the credit agreement to Jan. 31, 2021 from April 30, 2020. EVP and CFO Erik Staffeldt said the extended maturity aligns with its expected cash flow to be generated during H2. Ranger Energy Services, Inc. received a non-binding offer from CSL Capital...
Apr 03, 2020
Get more news for CapitalMarkets