CapitalMarkets
Serving the finance market with news, analysis and investment opportunities.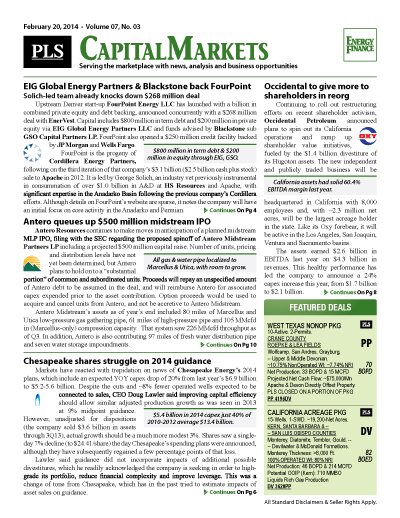 PLS publishes news and analysis in the energy finance sector through its capital markets module. The green banner report includes news and analysis on company budgets, capital spending, financial performance and interviews with leading capital providers.
Your access to energy finance
Single copy pricing; Incl hard copy & email version
Increase market insight & deal flow
Every 3 weeks; 17+ issues per year
Covers financings, capex, earnings, new companies
Includes market analysis and new trends
Access to capital market archives
Phone request for multiple listings published in reports
Includes discounts for other PLS products & events
Are you looking to subscribe to Capitalize? Click here for the latest Capital Markets Report
Search PLS' News Archive for complete oil & gas news for CapitalMarkets .
See what it is about before you buy. View a sample issue of CapitalMarkets.
Need more information? Click the button to recieve more details about the CapitalMarkets
Opportunity is a reflection of information.
Call 713-650-1212 For More Information
Search CapitalMarkets:

Headline
Publication
News Date
CM - Analyst Notes - January 04, 2019
Anadarko Petroleum (NYSE: APC; $47.13-Dec. 18; Overweight; PT-$66.00) Despite the sharp retrenchment in oil prices, APC still has the means to execute on its remaining $1.5 billion buyback...
Jan 04, 2019
2019: Prudent spending, Optimistic thinking
As 2019 gets underway, plenty of uncertainties surround oil price predictions with factors ranging from a continued China trade war to OPEC's effectiveness at beating down the surplus to capacity...
Jan 04, 2019
Exxon pulls planned LNG investment from Canada
Though LNG figures prominently in Exxon Mobil Corp.'s decision tocapitalize on the "strongest investment opportunities in two decades to drive results and improve returns," that decision will no...
Jan 04, 2019
Parsley reining in spending in 2019 to $1.55B max
Parsley Energy said it will spend $1.35-1.55 billion on capital expenditures this year and grow its production about 20% to 124,000-134,000 boe/d, with oil volumes also growing 20% to 80,000-85,000...
Jan 04, 2019
CM - News Briefs - January 04, 2019
Andeavor Logistics LP's new parent company Marathon Petroleum Corp. agreed to make loans of up to $500 million in total available to the LP in an Dec. 21 agreement. The revolvers would be...
Jan 04, 2019
CM- People Briefs - January 04, 2019
CorEnergy infrastructure Trust, Inc. named its president and CEO David Schulte executive chairman, succeeding Richard Green, who resigned effective Jan. 1. Energy-focused private equity...
Jan 04, 2019
Get more news for CapitalMarkets