PetroScout
Serving the E&P market with news, analysis and business opportunities.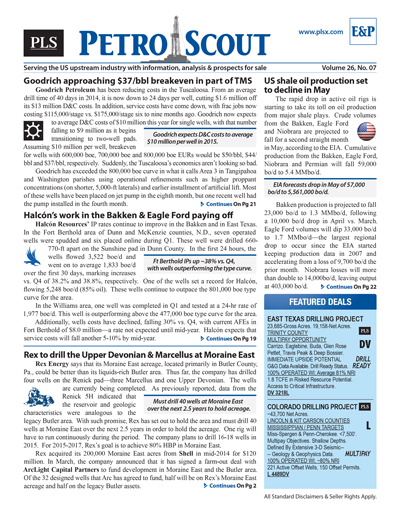 PLS publishes news and analysis on the exploration and production (E&P) sector through its E&P module. The blue banner report covers new well discoveries, drilling activities, acreage sales, industry statistics (drilling results, activity permits and intents to drill) and technological updates.
Covering exploration & production
Single copy pricing; Incl hard copy & email version
Increase market insight & deal flow
Every 3 weeks; 17+ issues per year
Latest in exploration, discoveries, resource plans, land grabs, volumes, development projects & trends
Access to archives covering E&P
Phone request for prospects and lands listed for sale
Includes discounts for other PLS products & events
Search PLS' News Archive for complete oil & gas news for PetroScout .
See what it is about before you buy. View a sample issue of PetroScout.
Need more information? Click the button to recieve more details about the PetroScout
Opportunity is a reflection of information.
Call 713-650-1212 For More Information
Search PetroScout:

Headline
Publication
News Date
PS - THQ Appalachia unlocks the deep Utica in West Virginia - July 2019
The management team behind Tug Hill, which helped pioneer the Marcellus shale more than a decade ago, now says it has cracked the code to economic development of the dry gas Utica in West Virginia. The Fort Worth company's upstream business, THQ Appalachia I LLC, has been quietly building a highly contiguous acreage position in the state's Panhandle region and deploying innovative technologies for co-development of the Marcellus and Utica. These advancements have made THQA the first operator...
Jul 08, 2019
PS - Roan raises Q2 production guidance on strong wells - July 2019
Roan Resources provided updates for the Mad Play, Earl and Victory Slide units in Oklahoma's Merge play, with continued strong well rates. Mad Play, which reached first sales in April, is comprised of two Woodford and two Mayes producers in Canadian County, Oklahoma, drilled on 500-ft horizontal spacing with laterals averaging 6,780 ft. Initial 15-day rates averaged 1,818 boe/d (45% oil, 21% NGLs), normalized to 10,000 ft, and 30-day rates ran 1,602 boe/d (44% oil, 20% NGLs). Also in...
Jul 08, 2019
PS - Lilis encouraged by first spacing test, Bone Spring potential - July 2019
Permian-focused Lilis Energy front-loaded much of its 2019 capex to take advantage of uplifts in realized pricing and other margin enhancements. Of its $60-70 million 2019 capex, ~$53 million is earmarked for H1. The company started the year with six DUCs and is converting those wells to sales primarily in H1. Results are available for three of those wells, all targeting the Wolfcamp A in Winkler County, Texas. The Haley #1H flowed an initial 24- hour rate of 1,422 boe/d (79% oil), or...
Jul 08, 2019
PS - Oil Search plans additional Pikka drilling, increases stake - July 2019
Oil Search confirmed its commitment to the Pikka Nanushuk unit on the North Slope by increasing its share in the unit and planning to sell down other Alaskan assets. The company recently completed a comprehensive two-rig, four-well drilling program. A material resource upgrade is likely following the completion of reservoir modeling and integration of the data acquired from the campaign. This reservoir model will be further enhanced with the results of processing a "mega-3D" seismic dataset....
Jul 08, 2019
PS -Appalachia extends streak of monthly gas output records - July 2019
The Appalachian basin is projected to reach another gas production record in July after posting new highs every month this year. The Energy Information Administration predicts a 347 MMcf/d rise sequentially and ~4.5 Bcf/d increase YOY to 32.4 Bcf/d. Volumes have already climbed ~1.3 Bcf/d in 1H19. Rig activity in the basin has been stable in the last year, according to Drillinginfo's Rig Analytics. As of June 17, there are 66 rigs running in Appalachia: 16 in Ohio, 30 in Pennsylvania and 20...
Jul 08, 2019
PS - EQT reports operational improvements ahead of Q2's end - July 2019
EQT Corp. continued to tally operational efficiencies in Q2 as it pursued its "Target 10%" initiative. Target 10% aims to reduce cash costs 10%, and the company expects $25 million of additional annual capex savings as a result of the program. Management has identified $175 million in annual savings to date and now expects adjusted free cash flow of over $3.0 billion through 2023, rising to $3.4 billion if Target 10% is fully realized. EQT's most recent operational achievements include an 8%...
Jul 08, 2019
PS - Chevron improves EURs, lowers costs in Appalachia - July 2019
Chevron plans to drill 30-40 wells in Appalachia in 2019 after re-starting development drilling in 2018 following the buildout of infrastructure that improved differentials. Wells are being drilled with a new design that includes longer laterals, improved frac efficiency and higher-density completions. Current wells average 8,600-10,000-ft laterals and ~2.6 MMboe EURs. Development costs are coming in at $4.20-$5.70/boe. Last year, lateral lengths were 50% longer than in 2016,...
Jul 08, 2019
PS - Matador concludes Eagle Ford program, pleased by results - July 2019
Matador Resources concluded its 4Q18-2Q19 nine-well Eagle Ford program in late May, turned all the wells to sales and released the rig. Seven of the wells have longer laterals that measure 7,800-10,000 ft. Following this drilling program, Matador's 28,900-net-acre Eagle Ford footprint is 94% HBP. In Atascosa County, Texas, the Haveriah B #1H and A #2H flowed 24- hour IPs of 1,140 boe/d (94% oil) and 1,310 boe/d (95% oil), respectively. To the west in La Salle County, five wells were...
Jul 08, 2019
PS - Lonestar sees YOY improvement in Horned Frog completions - July 2019
Lonestar Resources' 2019 wells in the Horned Frog area of La Salle County, Texas, are outperforming 2018 producers per lateral foot and pushing its production to company records each month. Most recently, the Horned Frog F #A1H flowed a three-stream IP rate of 2,387 boe/d (23% oil, 27% NGLs) along its 12,461-ft effective lateral, which was fracked in 42 stages with 2,312 lb of proppant per foot. Another Horned Frog well, the #B1H, flowed 2,607 boe/d (24% oil, 27% NGLs) from a...
Jul 08, 2019
PS - XTO Energy seeing some of its best Williston Basin IP24s - July 2019
As XTO Energy clears a backlog of drilled but uncompleted wells, one well spudded in 2016 recently came online at a company-record 24-hour rate for the Williston Basin. Located at Lost Bridge field in Dunn County, North Dakota, the Nygaard Federal #13X-5EXH was fracked in 40 stages and with 8.1 MMlb of proppant along a 10,198-ft effective lateral and flowed 2,712 boe/d (80% oil), or 266 boe/d per 1,000 lateral ft, from the Three Forks on a 26/64-inch choke at 2,746 psi FCP. On the same...
Jul 08, 2019
Get more news for PetroScout