PetroScout
Serving the E&P market with news, analysis and business opportunities.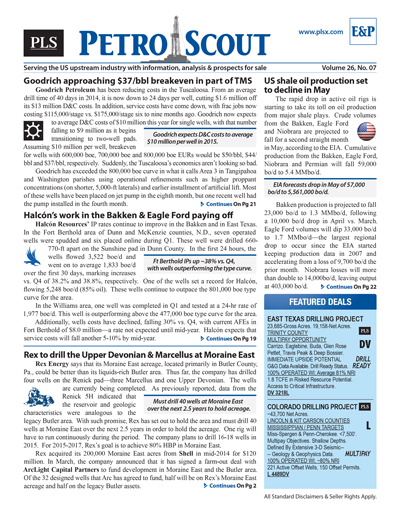 PLS publishes news and analysis on the exploration and production (E&P) sector through its E&P module. The blue banner report covers new well discoveries, drilling activities, acreage sales, industry statistics (drilling results, activity permits and intents to drill) and technological updates.
Covering exploration & production
Single copy pricing; Incl hard copy & email version
Increase market insight & deal flow
Every 3 weeks; 17+ issues per year
Latest in exploration, discoveries, resource plans, land grabs, volumes, development projects & trends
Access to archives covering E&P
Phone request for prospects and lands listed for sale
Includes discounts for other PLS products & events
Search PLS' News Archive for complete oil & gas news for PetroScout .
See what it is about before you buy. View a sample issue of PetroScout.
Need more information? Click the button to recieve more details about the PetroScout
Opportunity is a reflection of information.
Call 713-650-1212 For More Information
Search PetroScout:

Headline
Publication
News Date
PS - People & Companies - August 2019
Gulfport Energy announced Quentin R. Hicks will join the company as EVP and CFO and report to CEO David M. Wood. Hicks will assume his new duties on Aug. 26. He most recently was EVP, CFO and treasurer at Halcón Resources, which hired Ragan T. Altizer as Hicks' replacement. Altizer served as the CFO at Ajax Resources from October 2015 to last October. QEP Resources has entered a cooperation agreement with affiliates of Elliott Management, which own 4.9% of the company's stock. As part...
Aug 20, 2019
PS - Analyst Notes - August 2019
Noble Energy (NBL; $20.49-Aug. 1; Hold; PT-$20) Good to see execution, spending, and ops moving in the right direction especially following E&P sub-sector earnings thus far; expecting outperformance today. In Q2, both total production (349mboepd vs. TPHe/Street 339/343) and oil volumes (130mbpd vs. TPHe 127/129, largely driven by US oil vs. our model) beat estimates, and for better-than-expected capex ($618MM vs. TPHe/Street $727MM/$739MM); $589MM adj. EBITDA compares to TPHe/Street...
Aug 19, 2019
PS - West Coast & Alaska - August 2019
California Resources Corp operated an average of seven drilling rigs in Q2, with two rigs focused on conventional primary production, two on waterfloods, one on steamfloods and two on unconventional production. The company drilled 39 development wells (five steamflood, 20 waterflood, four primary and 10 unconventional). The San Joaquin Basin produced 94,000 boe/d (plus 4% YOY) and operated six rigs. The Los Angeles basin contributed 24,000 boe/d (minus 4% YOY) and operated one rig directed...
Aug 19, 2019
PS - EOG's Wolfcamp IPs exceeding forecasts, outperforming 2018 - August 2019
EOG Resources' Delaware basin activity in Q2 focused on the Wolfcamp. The company placed online 63 horizontal wells averaging 6,500-ft laterals in the formation, with initial 30-day rates averaging 2,900 boe/d (67% oil). Wolfcamp IP30s, IP60s and IP90s have improved 12% in H1 compared to 2018 and are exceeding forecasts. While well performance is up, costs are falling across EOG's Delaware Basin operations. YTD drilling times are down 24% versus 2018 at 13.7 days. Completion costs are down 10%,...
Aug 19, 2019
PS - Encana's 14-well well cube flows IP60 oil rate of 17,000 bo/d
EnCana's cube development continues to drive success in the Permian. The company brought 38 net wells online in the play during Q2, including two new cubes. The 14-well HNC 248 cube in Martin County, Texas, flowed a record aggregate oil rate of 17,000 bo/d after 60 days on production. After 90 days, each well was still averaging 1,400 boe/d. "Since entering the Permian in 2014, we have successfully drilled more than two dozen multi-well cubes," COO Michael McAllister said during...
Aug 19, 2019
PS - BPX capturing synergies & operational improvements - August 2019
BP's onshore US assets are held under its BPX Energy subsidiary based in Denver. BPX took operatorship of BHP's onshore US assets on March 1 and ongoing integration is encouraging. By bringing all of its US assets together under one umbrella, BP hopes to capture $350 million in synergies by 2021. Initial plans were to capture $90 million of those synergies this year but now that target has been raised to $240 million. Operationally, BPX continues to ramp up activity on the newly...
Aug 19, 2019
PS - Oxy to accelerate Midland via $1.5 billion JV with Ecopetrol - August 2019
Occidental Petroleum is forming a $1.5 billion JV with Colombian national oil company EcoPetrol to develop 97,000 net acres of its Midland Basin leasehold. Ecopetrol will pay $750 million cash and $750 million of carried capital in exchange for a 49% stake in the acreage. Oxy will hold the remaining 51% and serve as operator. During the carry period, Ecopetrol will pay 75% of Oxy's share of capital expenditures. The transaction is expected to close in Q4. The JV allows Oxy to...
Aug 19, 2019
PS - Laredo completes dry gas wells in the Lower Eagle Ford - August 2019
As part of its transition toward a Lower Eagle Ford development drilling program that commenced in 2017, Laredo Energy VI has completed nine wells in the Eagle Ford dry gas window in Webb County, Texas. All wells were drilled on 1,000-ft well spacing. The Reuthinger 123H and 124H were drilled on the same pad with laterals measuring 7,791 ft and 8,576 ft, respectively. The 123H generated an IP rate of 12.2 MMcf/d at flowing casing pressure of 7,832 psi while the 124H flowed 12.1 MMcfe/d at 8,267...
Aug 19, 2019
PS - Magnolia scores its best Karnes County rate in Austin Chalk - August 2019
Magnolia Oil & Gas completed 16 wells on the Yanta Etal Unit in Karnes County, Texas, during Q2. Six Austin Chalk wells averaged 4,915-ft effective laterals and initial 24-hour IPs of 1,439 boe/d (86% oil), or 293 boe/d per 1,000 lateral ft, while the 10 Eagle Ford producers sporting effective laterals averaging 5,163 ft flowed IP24s of 1,763 boe/d (88% oil), or 341 boe/d per 1,000 ft. These wells were on par with the company's prior operated results in the county. Notably, the top...
Aug 19, 2019
PS - Peak tests Campbell County wells at 224 boe/d per 1,000 ft - August 2019
Peak Powder River's first completions of 2019 show high rates per 1,000 lateral ft. A four-well Parkman pad and a separate horizontal well targeting the Frontier-Turner had initial 24-hour rates averaging 224 boe/d per 1,000 lateral ft, all in Campbell County, Wyoming. The highest rate among the five completions was from the Frontier-Turner well, the Leavitt Fed #1-9-4TH. It was completed with an 8,644-ft effective lateral in 44 stages using 8.8 MMlb of proppant and delivered an IP24 of 2,204...
Aug 19, 2019
Get more news for PetroScout