PetroScout
Serving the E&P market with news, analysis and business opportunities.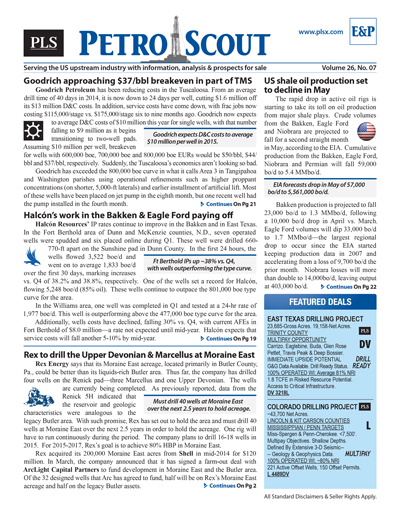 PLS publishes news and analysis on the exploration and production (E&P) sector through its E&P module. The blue banner report covers new well discoveries, drilling activities, acreage sales, industry statistics (drilling results, activity permits and intents to drill) and technological updates.
Covering exploration & production
Single copy pricing; Incl hard copy & email version
Increase market insight & deal flow
Every 3 weeks; 17+ issues per year
Latest in exploration, discoveries, resource plans, land grabs, volumes, development projects & trends
Access to archives covering E&P
Phone request for prospects and lands listed for sale
Includes discounts for other PLS products & events
Search PLS' News Archive for complete oil & gas news for PetroScout .
See what it is about before you buy. View a sample issue of PetroScout.
Need more information? Click the button to recieve more details about the PetroScout
Opportunity is a reflection of information.
Call 713-650-1212 For More Information
Search PetroScout:

Headline
Publication
News Date
PS - Permian Basin pure-plays get serious about activity cuts - March 2020
The economic implications of the coronavirus pandemic and the oil price war between Saudi Arabia and Russia have sent oil markets on a downward spiral. WTI front-month contract prices are down more than 50% since the end of February. Shale operators across the US have acted swiftly to adjust 2020 plans and protect balance sheets. Operators in the Permian Basin have announced a combined $13.8 billion in reductions to their overall capex budgets and cuts to rig activity. Operators plan to cut at...
Mar 30, 2020
PS - Southwestern slashes well costs in 2-year quest for cash flow - March 2020
Southwestern Energy beat cost-reduction targets in 2019, lowering well costs by 27% to $824/lateral ft. Setting a company record, an 18,000-ft lateral was drilled and completed for $605/ft. Self-sourced sand, use of a company-owned water pipeline system, increased lateral lengths and reduced cycle times contributed to the cost reductions. Lower costs are part of the company's two-year plan to become cash flow neutral following the divestment of its Fayetteville assets in December 2018. The plan...
Mar 30, 2020
PS - Oxy's first Turner well delivers on legacy Anadarko acreage - March 2020
Five days after closing its acquisition of Anadarko Petroleum last August, Occidental Petroleum spudded its first well on the legacy Anadarko acreage in the Powder River Basin. This well, the Dora Fed #3570-8-T4XH, was completed in January and delivered a strong test rate. Located in Converse County, Wyoming, the well was completed with a 10,506-ft effective lateral fracked in 53 stages using 15.7 MMlb of proppant (1,498 lb/ft). During a 24-hour test, the Dora Fed produced 2,575 boe/d (83%...
Mar 30, 2020
PS - CHK loses Turner locations, expects to add Frontier - March 2020
During 2019, Chesapeake Energy brought online 72 wells in the Powder River Basin. The appraisal process resulted in some interesting conclusions about well spacing. While its peers are looking at developing the Turner at four wells per section, Chesapeake had been more conservative at two to three. But on its Feb. 26 earnings call, exploration and production EVP Frank Patterson ruled out development of more than two Turner wells per section on the company's acreage and suggested that even one...
Mar 30, 2020
PS - Oxy gives 2020 capex a nearly 50% haircut on price collapse - March 2020
In response to the downtick in crude oil prices, Occidental Petroleum announced a drastic reduction in capital spending for 2020. Capex has been lowered to $2.7-2.9 billion from $5.2-5.4 billion. The company initially announced March 10 that capex would be cut to $3.5-3.7 billion but revised that lower March 25. The latest announcement included another $600 million in operating and corporate cost reductions. Oxy also cut its dividend for the first time in 30 years, slashing it to $0.11/share...
Mar 30, 2020
PS - Ring halts drilling operations, explores capital budget revision - March 2020
Ring Energy has adjusted its 2020 plans because of the recent drop in commodity prices. The company will not drill any wells until prices stabilize. Ring drilled four wells on the Northwest Shelf in Q1 but will not proceed with the 14 other wells planned for the year. The company has no contractual obligations for D&C work. In order to maintain production, Ring will make necessary investments in infrastructure. Ring's all-in cost for a barrel of oil is $25. The company is exploring cost...
Mar 30, 2020
PS - Ovintiv makes a two-thirds reduction in operated rig activity - March 2020
On March 12, Ovintiv announced that it would immediately drop 10 rigs and would cut an additional six in May. Following the reductions, the company will be operating three in the Permian Basin, two in the Anadarko Basin and two in Canada's Montney play. The rig cuts will help to reduce Q2 spending by $300 million and full-year cash costs by $100 million. Ovintiv had anticipated spending $2.7 billion and generating free cash flow for a third consecutive year. The company is prepared to...
Mar 30, 2020
PS - If you're not cutting, you're not trying as WTI falls into $20s - March 2020
Since the end of February, the WTI front-month contract has fallen around 50% as the coronavirus pandemic leaves a trail of economic devastation across the globe. For the first time since 2009, the International Energy Agency projects global oil demand will fall YOY in 2020, dropping by 90,000 bo/d this year, according to the agency's March oil market report. At the same time, Saudi Arabia and Russia are going head-to-head in a battle for market share, slashing prices and ramping oil...
Mar 30, 2020
PS - Callon gives reduced outlook for 2020-2021 with free cash flow - March 2020
Given the macroeconomic outlook, Callon Petroleum is reducing its full-year 2020 capital budget to $700-725 million from $975 million to prioritize financial flexibility and free cash flow. The company's active rig count will be reduced from nine currently to five by the end of Q2. Frac crews will be cut to two from five in the same time frame. The outlook foresees three to four drilling rigs, with two to three in the Permian and one in the Eagle Ford, and one to two frac crews in 2H20 and...
Mar 30, 2020
PS - Permian Briefs - March 30, 2020
Centennial Resource Development shifted from a five-rig program at the end of February to one rig currently. Previously, the company had planned to go to a four-rig program in April through year's end. The reduction to one rig will lower planned capex by 50% to around $320 million if that one rig is held constant through year's end. Additionally, the company has entered into fixed-price oil swaps for April through September to protect against possible additional near-term declines in oil...
Mar 30, 2020
Get more news for PetroScout