PetroScout
Serving the E&P market with news, analysis and business opportunities.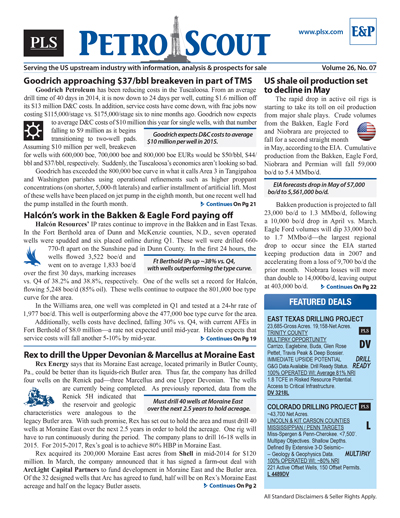 PLS publishes news and analysis on the exploration and production (E&P) sector through its E&P module. The blue banner report covers new well discoveries, drilling activities, acreage sales, industry statistics (drilling results, activity permits and intents to drill) and technological updates.
Covering exploration & production
Single copy pricing; Incl hard copy & email version
Increase market insight & deal flow
Every 3 weeks; 17+ issues per year
Latest in exploration, discoveries, resource plans, land grabs, volumes, development projects & trends
Access to archives covering E&P
Phone request for prospects and lands listed for sale
Includes discounts for other PLS products & events
Search PLS' News Archive for complete oil & gas news for PetroScout .
See what it is about before you buy. View a sample issue of PetroScout.
Need more information? Click the button to recieve more details about the PetroScout
Opportunity is a reflection of information.
Call 713-650-1212 For More Information
Search PetroScout:

Headline
Publication
News Date
PS - People & Companies - January 17, 2019
Alta Mesa Resources announced the resignations of president and CEO Harlan Chappelle and upstream COO Michael E. Ellis. Executive chairman and former Anadarko CEO James Hackett has been named interim...
Jan 17, 2019
PS - Analyst Notes - January 17, 2019
Crude Oil Thoughts (Dec. 26) 2014 redux unlikely as capital discipline and timing of collapse should help support market with lower supply. While never saying never is a good lesson in...
Jan 17, 2019
Occidental plans 2019 growth, drills record wells
Occidental Resources plans to spend $4.4-5.3 billion in 2019 compared to ~$5 billion in 2018. At $40/bbl WTI, the company believes it would be able to maintain its dividend and production; at $50/bbl...
Jan 17, 2019
PS - News Briefs - January 17, 2019
Chesapeake Energy's Nwfu 26-34- 72 C TR #20H well (8,598-ft lateral; 35 frac stages; 13.7 MMlb proppant) in Converse County, Wyoming, tested at an IP24 of 1,899 boe/d (76% oil), or 221 boe/d...
Jan 17, 2019
Get more news for PetroScout