PetroScout
Serving the E&P market with news, analysis and business opportunities.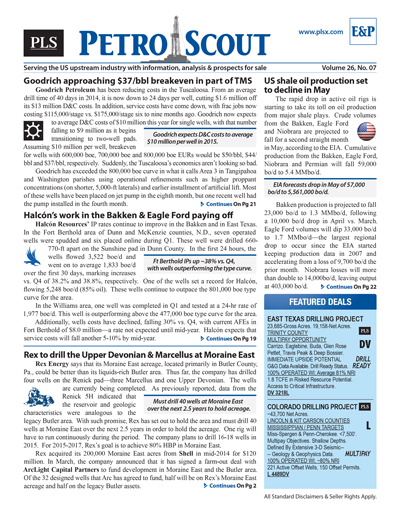 PLS publishes news and analysis on the exploration and production (E&P) sector through its E&P module. The blue banner report covers new well discoveries, drilling activities, acreage sales, industry statistics (drilling results, activity permits and intents to drill) and technological updates.
Covering exploration & production
Single copy pricing; Incl hard copy & email version
Increase market insight & deal flow
Every 3 weeks; 17+ issues per year
Latest in exploration, discoveries, resource plans, land grabs, volumes, development projects & trends
Access to archives covering E&P
Phone request for prospects and lands listed for sale
Includes discounts for other PLS products & events
Search PLS' News Archive for complete oil & gas news for PetroScout .
See what it is about before you buy. View a sample issue of PetroScout.
Need more information? Click the button to recieve more details about the PetroScout
Opportunity is a reflection of information.
Call 713-650-1212 For More Information
Search PetroScout:

Headline
Publication
News Date
PS - Shell ponders FID, expansion for US Gulf of Mexico projects - February 2020
Shell's final investment decision for the Whale discovery could come this year, as a senior executive says the project is still on track for being sanctioned in 2020. Sembcorp Marine has already been contracted to build and integrate a topside and hull for the project's floating production unit, which will be completed in 2022. Whale was discovered in 2018 and lies in the Alaminos Canyon area. The discovery well encountered more than 1,400 ft of net oil pay. Shell operates the discovery and...
Feb 17, 2020
PS - Ovintiv takes one-year victory lap in the Anadarko Basin - February 2020
Ovintiv has achieved tremendous success in its Anadarko Basin operations since it acquired Newfield Exploration for $7.7 billion in February 2019. The company known until recently as Encana had been watching operations in the SCOOP and STACK from the sidelines for years and thought that its cube-style development and operational expertise could greatly improve returns in those plays. A year into operating in the basin, it appears the company was right. Since the acquisition closed,...
Feb 17, 2020
PS - Is 40 MMcf/d the new 30 MMcf/d benchmark in the Haynesville? - February 2020
In the last two years, Louisiana Haynesville operators have generated some monster wells that have delivered initial 24-hour rates not seen before in the play. Previously, 30 MMcf/d was the benchmark for top-tier Haynesville wells. A well hitting that initial rate wasn't seen until 2Q17, but now several 40 MMcf/d-plus wells are being reported. Chesapeake Energy delivered three such wells. The first, the GEPH30&19&18- 16-15HC 001-ALT, was drilled in Caddo Parish. The well's effective...
Feb 17, 2020
PS - CNX lowers 2020 expectations, takes output growth off table - February 2020
Capex at CNX Resources is going the way of natural gas prices—down. The company spent 41% less in Q4 than it had a year ago at $156 million, and full-year 2019 capital expenditures of $876 million came in below guidance of $890-915 million, driven by stagespacing optimization for wells turned to sales. With prices having taken a turn for worse at below $2.00/MMbtu early in Q1, CNX is lowering its 2020 guidance in order to generate $200 million in free cash flow for the year after a 2019 that...
Feb 17, 2020
PS - EQT takes 4.3 Tcfe negative revision in YE19 reserves - February 2020
In 2H19, EQT laid the groundwork to transition to a combo development focus that it says will transform the company into one of the lowest-cost natural gas operators in the US. The 100-day plan initiated in July was a significant success. It increased drilling efficiencies, as measured by horizontal feet drilled per hour, by 50% in the Pennsylvania Marcellus and by 20% in the Utica during 3Q19. The company expects organizational changes related to its transition plan to drive well costs, gross...
Feb 17, 2020
PS - EOG Wolfcamp well gushes 15,073 boe/d IP24 from 2-mile lateral - February 2020
EOG Resources brought online a trio of stellar Wolfcamp producers in Loving County, Texas, at the end of 3Q19, according to the latest state data. Located on the McGregor D Unit, the #5H well produced an initial 24-hour rate of 15,073 boe/d (76% oil) on a very large 1.6-inch choke at 1,740 psi FCP. Based on this well's 9,997-ft effective lateral, that IP rate amounts to 1,508 boe/d per 1,000 lateral ft. This is a record rate for not only the Texas part of the Delaware Basin, but the entire...
Feb 17, 2020
PS - Earthstone targets 20% Permian-fueled 2020 production growth - February 2020
Earthstone Energy set its 2020 capital budget guidance 21% lower compared to 2019 at $160-170 million, with $145-155 million allocated to drilling and completions. The plans assumes a one-rig program in the Midland Basin and the turning to sales of 19 operated wells (85% WI) and 3.1 net non-operated wells. Production is forecast to grow by 20% YOY to 15,500-16,500 boe/d (64% oil). The company anticipates generating free cash flow by H2. During 2019, Earthstone drilled, completed and...
Feb 17, 2020
PS - Operational results provided bright spot for industry in 2019 - February 2020
Quarterly and annual results are starting to trickle in for the E&P sector. Without delving too much into the financial side of earnings, the upstream industry is faced with many net losses and large impairments related to the value of natural gas holdings. However, things are looking strong in terms of upstream operational results, with companies effectively slashing costs and well productivity on the rise. Since closing its acquisition of Newfield Exploration last February, Ovintiv...
Feb 17, 2020
PS - HighPeak Energy reduces costs, lays out plans for first quarter - February 2020
The collection of northern Midland Basin assets slated to be merged later this month into HighPeak Energy Inc. achieved a 2019 exit rate of 12,000 boe/d (79% oil, 13% NGLs). Pure Acquisition Corp., the Jack Hightower-led blank-check company that engineered the merger, reported the drilling and completion of seven 7,500- ft laterals, five 10,000-ft laterals and two 12,500-ft laterals during Q4. Drilling, completion, equipping and facilities costs continue to improve for wells drilled by...
Feb 17, 2020
PS - Permian Briefs - February 17, 2020
Chevron's Q4 Permian production of 514,000 boe/d was up 36% YOY. The company plans to reach positive cash flow in the play in 2020. ConocoPhillips produced 70,000 boe/d from its Permian unconventional assets in Q4, up ~23% sequentially, as the company brought new pads online. Because of the timing of completions, Conoco expects volumes from the play will be relatively flat in Q1 before resuming growth for the remainder of 2020. Ring Energy laid out its 2020 plans, setting capex...
Feb 17, 2020
Get more news for PetroScout