PetroScout
Serving the E&P market with news, analysis and business opportunities.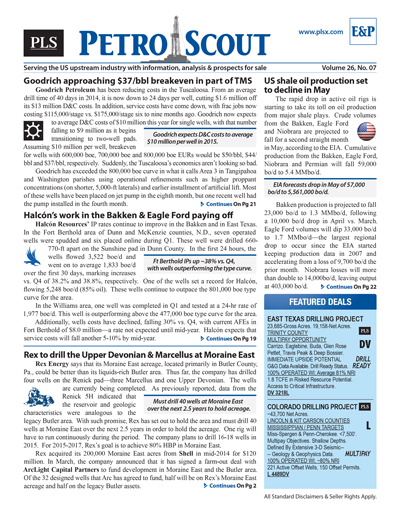 PLS publishes news and analysis on the exploration and production (E&P) sector through its E&P module. The blue banner report covers new well discoveries, drilling activities, acreage sales, industry statistics (drilling results, activity permits and intents to drill) and technological updates.
Covering exploration & production
Single copy pricing; Incl hard copy & email version
Increase market insight & deal flow
Every 3 weeks; 17+ issues per year
Latest in exploration, discoveries, resource plans, land grabs, volumes, development projects & trends
Access to archives covering E&P
Phone request for prospects and lands listed for sale
Includes discounts for other PLS products & events
Search PLS' News Archive for complete oil & gas news for PetroScout .
See what it is about before you buy. View a sample issue of PetroScout.
Need more information? Click the button to recieve more details about the PetroScout
Opportunity is a reflection of information.
Call 713-650-1212 For More Information
Search PetroScout:

Headline
Publication
News Date
PS - Murphy delays one well in three-well Front Runner program - June 2020
Murphy Oil brought online the first well in its Front Runner program on the Green Canyon block 338 in the Gulf of Mexico during Q1. The A4 well encountered more than 250 ft of net pay and has outperformed expectations by nearly 2x with a gross peak rate of 7,000 boe/d. The company is evaluating a near-field subsea exploitation opportunity as a result. Front Runner was launched as a three-well program in November but was recently revised to two wells, with the third to be drilled at a later...
Jun 25, 2020
PS - Oxy slashes GOM capex by 60%, looks for cost reductions - June 2020
Occidental Petroleum's Gulf of Mexico capex guidance was lowered to $200 million from $500 million originally. Overall guidance was cut by more than 50% to $2.4-2.6 billion. Oxy's Q1 production from the GOM averaged 163,000 boe/d (83% oil), up 6% sequentially. After closing its acquisition of Anadarko Petroleum, Oxy said an 8-15% reduction in the cost of capital for the GOM assets was possible during 2020. Through the application of the company's "Oxy Drilling Dynamics" optimization...
Jun 24, 2020
PS - Q2 GOM well starts, rig counts lag behind Q1 amid oil bust - June 2020
The number of rigs drilling for hydrocarbons in the Gulf of Mexico has averaged 33 during Q2 thus far, showing a nine-rig, or 21%, drop compared to the Q1 average, according to Enverus Rig Analytics. If the situation holds constant through the remainder of the quarter, this would be the lowest level of GOM rig activity in Enverus' data, which goes back to 2Q14. After bottoming at a quarterly average of 34 in 4Q16 following the last oil bust, the count has stayed in a tight range around 40. This...
Jun 24, 2020
PS - Mid-Con transforms structure, hires Contango to operate - June 2020
Mid-Con Energy Partners LP has completed a reorganization and recapitalization that will shift the way it does business. The company converted all of its Series A and B preferred units into common units valued at $3.12/unit. Ownership of general partner Mid-Con GP LLC has been transferred to the LP, resulting in strengthened corporate governance. The partnership will no longer operate assets, instead transferring operatorship to Contango Oil & Gas through a management services agreement,...
Jun 24, 2020
PS - Analyst Notes - June 14, 2020
Bakken Differential Outlook: Watching differentials The Bakken has been one of the hardest hit basins from a curtailment perspective as the state regulator indicated over 500mbopd of production had been taken offline in May at the peak. This compares to production in February/March of ~1.45mmbopd. The drop in production alleviated pressure on Cushing and has dramatically improved in-basin pricing with spot realizations moving to a slight premium to WTI at one point. Given the...
Jun 24, 2020
PS - People & Companies - June 24, 2020
ExxonMobil Upstream Business Development Co. president Steve Greenlee will retire July 1 after more than 38 years with the company. Linda DuCharme, president of ExxonMobil Upstream Integrated Solutions Co., will replace him, while also being elected VP of Exxon Mobil Corp. and retaining her current role. Falcon Minerals added Claire Harvey and Daniel Herz to its board as Class III directors. Harvey is the CEO of non-op E&P firm Gryphon Oil & Gas. Herz is president and CEO of Falcon....
Jun 24, 2020
PS - Extraction adds producers in Q1, files for Chapter 11 in Q2 - June 2020
During Q1, Extraction Oil & Gas drilled 34 wells (74% WI), completed 28 wells (82% WI) and turned to sales 12 (92% WI). The completed wells averaged 2.3-mile laterals, while those turned in line averaged 2.1 miles. The Q1 completions were split 50:50 between Broomfield and Weld counties, Colorado, with targets in the Niobrara A, B and C and the Codell. The Broomfield wells averaged 12,113-ft effective laterals fracked in 55 stages using 10.8 MMlb of proppant (893 lb/ft) and delivered an...
Jun 24, 2020
PS - Enerplus lowers North Dakota well costs by 11% YOY - June 2020
Enerplus' North Dakota 2020 drilling cycle times (spud to rig release) averaged 11 days per well for 10,000-ft laterals as of the beginning of May, tracking ahead of expectations for the year and faster than the 2019 average of 12.6 days. Eight of the last 11 wells were drilled in 10 days or less. Completion operations have also outperformed expectations this year, with wells taking about five days to frac. All outperformance considered, well costs YTD have averaged $6.8 million, which is down...
Jun 24, 2020
PS - E&Ps detail curtailment efforts, some bring volumes back - June 2020
US upstream operators continue to update the market on curtailments plans, as they keep their oil and natural gas in the ground while awaiting a better price environment. Enverus estimates that natural gas production fell by 5.7 Bcf/d from January to May, and oil and condensate output fell by 1.08 MMbbl/d combined from five major shale plays from March to May (PG.1). In Appalachia, CNX Resources shut in 375 MMcf/d as of May 1 in order to take advantage of the large positive spread...
Jun 24, 2020
PS - Bruin completes six-well pad, halts D&C operations - June 2020
In McKenzie County, North Dakota, Bruin E&P Partners completed the FB Bonita #152-93-9B-10-9T targeting the first bench of the Three Forks. The well was completed with a 10,038-ft effective lateral fracked with 9.9 MMlb of proppant (987 lb/ft). During a 24- hour test, it flowed 4,796 boe/d (89% oil), or 478 boe/d per 1,000 lateral ft, on a 50/64-inch choke at 2,250 psi FCP, which places it in the company's top quartile for IP24s. Five other wells were completed on the same pad during Q1....
Jun 24, 2020
Get more news for PetroScout