PetroScout
Serving the E&P market with news, analysis and business opportunities.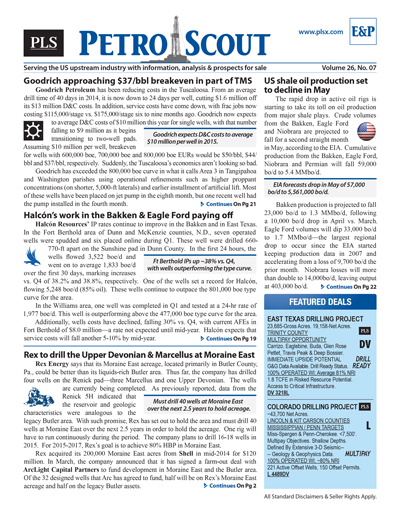 PLS publishes news and analysis on the exploration and production (E&P) sector through its E&P module. The blue banner report covers new well discoveries, drilling activities, acreage sales, industry statistics (drilling results, activity permits and intents to drill) and technological updates.
Covering exploration & production
Single copy pricing; Incl hard copy & email version
Increase market insight & deal flow
Every 3 weeks; 17+ issues per year
Latest in exploration, discoveries, resource plans, land grabs, volumes, development projects & trends
Access to archives covering E&P
Phone request for prospects and lands listed for sale
Includes discounts for other PLS products & events
Search PLS' News Archive for complete oil & gas news for PetroScout .
See what it is about before you buy. View a sample issue of PetroScout.
Need more information? Click the button to recieve more details about the PetroScout
Opportunity is a reflection of information.
Call 713-650-1212 For More Information
Search PetroScout:

Headline
Publication
News Date
PS - People & Companies - March 21, 2019
President Donald Trump nominated David Bernhardt as Secretary of the Interior to replace Ryan Zinke, who resigned. Bernhardt was serving in the role on an interim basis prior to his appointment and was previous deputy secretary of the department twice and Interior department solicitor under President George W. Bush. Bernhardt must be confirmed by the Senate. Berry Petroleum appointed Donald L. Paul to its board, effective Feb. 28. Don Paul is currently executive director of the...
Mar 21, 2019
PS - Analyst Notes - March 21, 2019
Chevron (CVN: $123.29-March 5; Buy; PT:$133) Yesterday's annual analyst meeting was an overall positive in our view as key assets outperformed our outlook and the planned increase in capex post2020 will be relatively mild. Specifically, the company's first foray into providing a 5-year outlook surprised to the upside, as the 5-year CAGR from 2018-2023 of 3-4% compares to TPHe ~2%. The biggest delta vs. our model lies in the company's cornerstone Permian asset, which is now guided to...
Mar 21, 2019
PS - Australis' first TMS well performing above type curve - March 2019
In the Tuscaloosa Marine shale, Australis Oil & Gas is undertaking an initial six-well program on its 110,000 net acres. The first well in the program, the Stewart 30H-1, was drilled with a 6,900-ft lateral, completed in 20 stages and flowed an initial 30-day rate of 1,248 boe/d (94% oil) on a 21/64-inch choke, which is 34% above its TMS type curve.The well also came in under budget. After 60 days, it continues to perform materially above the curve. Drilling of the program's second...
Mar 21, 2019
PS - Comstock unveils Haynesville-focused plans for 2019 - March 2019
Comstock Resources set its 2019 capex at $364.0 million, with the Haynesville/Bossier attracting $339.8 million to drill 58 wells and another $25.0 million to complete 16 wells drilled last year. It expects to spend an additional $24.2 million on its Bakken and Eagle Ford properties.Since its last update in early November, Comstock has brought online 13 new Haynesville wells, with eight of them operated. The laterals ranged 5,239-10,964 ft with an average of 9,470 ft, and...
Mar 21, 2019
PS - US output from shale continues march upward - March 2019
The EIA projects production from major shale plays will sequentially rise 85,000 bo/d and 883 MMcf/d to 8.59 MMbo/d and 79.02 Bcf/d in April. Oil increases will be led by the Permian, where output will grow 40,000 bo/d to a record 4.18 MMbo/d. Niobrara output will rise 20,000 bo/d to 753,000 bo/d, Bakken volumes will jump 17,000 bo/d to 1.46 MMbo/d, and the Eagle Ford will add 8,000 bo/d to 1.44 MMbo/d. Natural gas increases will be largest in Appalachia, where output will grow 358 MMcf/d to...
Mar 21, 2019
PS -Enerplus allocates 80% of 2019 capex to North Dakota - March 2019
Enerplus plans to spend $565-635 million during 2019 compared to $593.9 million in 2018. Production is forecast to grow across its operations to 94,000-100,000 boe/d (56% oil), which would be 4% growth at midpoint compared to the 2018 average of 93,216 boe/d. Liquids volumes are projected to increase 9% at midpoint as the company focuses on North Dakota development. The state has been allocated 80% of capex, while the Marcellus will get 7.5%, the DJ Basin 5% and Canadian waterfloods...
Mar 21, 2019
PS - Equinor grows Bakken output with focus on Williams County - March 2019
In the last year, Equinor's Williston Basin activity has been focused on Williams County, where the company has completed 17 wells and turned 26 to sales, according to state data. In mid-February, the company brought online a four-well pad, with three wells targeting the Three Forks First Bench and one targeting the Middle Bakken.The SJOL #5-8F 1H through 4H averaged 9,616-ft laterals and 24-hour IPs of 2,051 boe/d (87% oil), or 213 boe/d per 1,000 lateral ft. The wells are above...
Mar 21, 2019
PS - Oasis reduces 2019 D&C activity to be cash flow positivein order - March 2019
Oasis Petroleum unveiled its 2019 capex plans that will be cash flow positive at $50/bbl WTI. Coming in 40% lower than in 2018, the capital budget has been set at $540-560 million. Of the total 75% has been allocated to the Williston Basin and 25% to the Delaware Basin. Oasis plans to complete 70 operated wells (65% WI) in the Williston; Delaware plans include nine to 11 operated completions (90% WI). During 2018, Oasis completed and turned to sales 121 operated wells, with 114 in the...
Mar 21, 2019
PS - Bakken Briefs - March 21, 2019
EOG Resources realized significant operational improvements in the Williston Basin during 2018. The company drilled 20 net wells with an average treated lateral length of 9,500 ft apiece. Efficient drilling performance delivered, on average, an additional 1,000 ft of lateral length per well in 2018 for the same cost as in 2017. EOG's Austin 45-1113H well set a company record in the basin with a spudto-TD time of 8.4 days. During 2H18, Kraken Oil & Gas completed an industry-record...
Mar 21, 2019
PS - News Briefs - March 21, 2019
Abraxas Petroleum booked proved reserves of 67.2 MMboe (63% oil, 15% NGLs) at YE18, up 3% YOY. PD accounted for 37% of the total. Fullyear 2018 production averaged 9,809 boe/d, up 33% YOY. In Reeves County, Texas, Luxe Operating's Angels Envy 4-3W Unit #1H (10,182-ft lateral) tested at a 24-hour IP rate of 6,978 boe/d (81% oil) from the Wolfcamp on a 1-inch choke at 1,305 psi FTP. This is Luxe's top IP24 to date and a top-10 IP24 for a Wolfcamp well in Reeves County. Permian...
Mar 21, 2019
Get more news for PetroScout