Southeastern Scout
Serving the local market with drilling activities, permits & multiple listings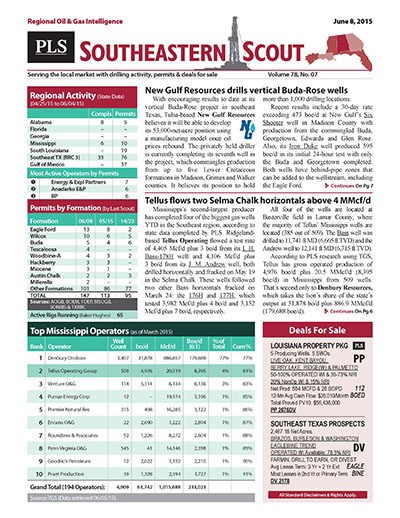 PLS publishes local exploration news and drilling insights on a regional basis through reports like the Southeastern Scout. Previously known as the Southeastern Oil Review and published since 1926, this unique report has a loyal following of explorationists, operators, drillers, landmen and landowners in South Louisiana, Mississippi, Alabama and Florida.
Stay in front of local prospects, plays & rigs!
South Louisiana, Mississippi, Alabama, Florida
Hard Copy and Email For 1 Individual
Every 3 Weeks (16-20 issues per year)
Regional discoveries, drilling activity, permits,
completions and summary drilling statistics, layered
with regional listings and business opportunities
Web access to the Southeastern Scout archive
Does not include access to MLS
Search PLS' News Archive for complete oil & gas news for Southeastern Scout .
See what it is about before you buy. View a sample issue of Southeastern Scout.
Need more information? Click the button to recieve more details about the Southeastern Scout
Opportunity is a reflection of information.
Call 713-650-1212 For More Information
Search Southeastern Scout:

Headline
Publication
News Date
SES - Chesapeake's Brazos Valley ops generate improved results - May 2019
The integration of WildHorse Resource Development's Brazos Valley project in southeast Texas has been a great success for Chesapeake, which says the assets will be cash flow positive this year. In just three months, Chesapeake has trimmed an average of $500,000 off well costs as a result of faster drilling times, more frac stages per day, and the use of locally sourced sand from a company-owned mine as well as supply chain and logistic synergies. Several Brazos Valley wells have even...
May 16, 2019
SES - Australis' initial TMS program outperforms the curve - May 2019
Australis Oil & Gas Ltd. completed an excellent Tuscaloosa Marine Shale well in Amite County, Mississippi, at the beginning of Q2. The Taylor 27H #1 was drilled with a 6,798-ft lateral, perforated over a short 1,888-ft interval and completed in 20 stages using 17.0 MMlb of proppant. Once online, the well tested at a 24-hour rate of 1,386 boe/d (93% oil) on a 19/64-inch choke at 1,113 psi FTP. It averaged 1,105 bo/d during the initial 19-day cleanup period and is outpoerforming...
May 16, 2019
SES - BP Highlights - May 16, 2019
In early May, BP sanctioned the Thunder Horse South Expansion Phase 2 project in the Mississippi Canyon area. The expansion will consist of the addition of two subsea production units and two new wells. Eventually eight wells will be drilled as part of the overall Thunder Horse South project. Phase 2 is expected to add 50,000 boe/d of production at its peak, with first oil planned for...
May 16, 2019
SES - Talos Energy Highlights - May 16, 2019
Talos Energy's Phoenix complex in the Gulf of Mexico recently reached a production milestone. Comprised of the Typhoon, Boris and Tornado developments in the Green Canyon area, the complex produced 47,000 boe/d (85% oil) in May, following the hookup of two new wells. The Tornado 3 well came online in April at a controlled rate of 9,300 boe/d (83% oil), which was slightly lower than expectations. The last week of April, Talos' wholly owned Boris 3 well came online at a higherthan-expected 8,500...
May 16, 2019
SES - Murphy Oil Highlights - May 16, 2019
Murphy Oil's GOM unit secured a rig to drill a development well at Dalmatian field in Q2. Afterward the rig will drill the Hoffe Park exploration well in Mississippi Canyon 122 and repair a subsea safety valve on the Cascade #5 well. Also in 2019, a well will be worked over on the Medusa facility and a new well and sidetrack will be drilled at Front...
May 16, 2019
SES - Equinor Highlights - May 16, 2019
Equinor exercised its preferential rights to acquire an additional 22.45% interest in the Caesar Tonga oil field from Shell for $965 million, thwarting a proposed acquisition of the stake by Delek Group. This will increase Equinor's interest from 23.55% to 46%. Anadarko remains the operator with a 33.75%, and Chevron retains its 20.25%. Caesar Tonga is located 180 miles southwest of New Orleans in the Green Canyon area. Equinor's current share of production from Caesar Tonga is 18,600...
May 16, 2019
SES - Shell hits more than 400 ft of net oil pay at Blacktip - April 2019
In the US Gulf of Mexico's Perdido thrust belt, Shell made a discovery at its Blacktip prospect on Alaminos Canyon Block 380. The exploration well encountered more than 400 ft of net oil pay in the Wilcox with good reservoir and fluid characteristics. Drilling is still ongoing as the operator deepens the well to further assess the structure's potential. Shell operates the Blacktip and holds 52.375% WI, while Chevron holds 20%, Equinor 19.125% and Repsol 8.5%. "Blacktip is Shell's second...
Apr 25, 2019
SES - Murphy Oil to acquire deepwater GOM assets from LLOG - April 2019
Murphy Oil entered an agreement to acquire oil-weight deepwater assets in the Gulf of Mexico from LLOG Exploration Offshore and LLOG Bluewater Holdings (a JV with Blackstone) for $1.375 billion plus up to $250 million in contingent payments. The effective date is Jan. 1, 2019, and the deal is expected to close in Q2. The assets will be held outside of Murphy's JV with Petrobras. The assets cover 26 blocks in the Mississippi Canyon and Green Canyon areas, with seven producing...
Apr 25, 2019
SES - Hess Highlights - April 25, 2019
Hess' Gulf of Mexico production averaged 70,000 boe/d in Q1, up 3% from 4Q18 and up 71% YOY primarily due to higher production from Conger, Penn State and Llano fields which were impacted in 1Q18 by the shutdown of the Shell-operated Enchilada...
Apr 25, 2019
SES - Shell Highlights - April 25 ,2019
Shell signed an agreement to divest its remaining 22.45% WI in Caesar-Tonga field to Delek Group for $965 million. The producing field lies 190 miles southwest of Louisiana in the Green Canyon area and contains eight wells flowing 68,000 boe/d (86% oil) gross and 78 MMboe (88% oil) of 2P reserves. Other partners, which hold preferential rights to buy Shell's stake under the same terms as Delek, are operator Anadarko, Chevron and Equinor. The deal is expected to close by Sept....
Apr 25, 2019
Get more news for Southeastern Scout