Southeastern Scout
Serving the local market with drilling activities, permits & multiple listings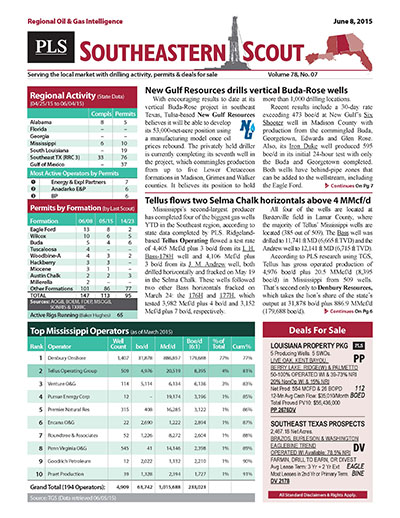 PLS publishes local exploration news and drilling insights on a regional basis through reports like the Southeastern Scout. Previously known as the Southeastern Oil Review and published since 1926, this unique report has a loyal following of explorationists, operators, drillers, landmen and landowners in South Louisiana, Mississippi, Alabama and Florida.
Stay in front of local prospects, plays & rigs!
South Louisiana, Mississippi, Alabama, Florida
Hard Copy and Email For 1 Individual
Every 3 Weeks (16-20 issues per year)
Regional discoveries, drilling activity, permits,
completions and summary drilling statistics, layered
with regional listings and business opportunities
Web access to the Southeastern Scout archive
Does not include access to MLS
Search PLS' News Archive for complete oil & gas news for Southeastern Scout .
See what it is about before you buy. View a sample issue of Southeastern Scout.
Need more information? Click the button to recieve more details about the Southeastern Scout
Opportunity is a reflection of information.
Call 713-650-1212 For More Information
Search Southeastern Scout:

Headline
Publication
News Date
SES - Anadarko Highlights - November 27, 2018
Anadarko's Gulf of Mexico sales volumes averaged 144,000 boe/d in Q3, up 7% from Q2 on a divestment-adjusted basis. A record monthly GOM oil rate exceeding 140,000 bo/d in August was driven by...
Nov 27, 2018
SES - W&T Offshore Highlights - November 27, 2018
W&T Offshore drilled and completed the A-12 well on its operated Viosca Knoll 779 block, part of the Virgo gas field on the Gulf of Mexico shelf. A follow-up to the A-10 sidetrack brought online in...
Nov 27, 2018
SES - Hess Highlights - November 27, 2018
Hess increased Gulf of Mexico production 51% sequentially and 20% YOY to 71,000 boe/d in Q3, far exceeding 60,000 boe/d guidance. Its operated Conger field (37.5% WI) returned to production in...
Nov 27, 2018
SES - Yuma Energy Highlights - November 27, 2018
Yuma Energy has retained Seaport Global Securities to advise it on strategic alternatives, including possible mergers, acquisitions and divestitures. The company holds 10,969 net acres in southern...
Nov 27, 2018
SES - Hilcorp Highlights - October 11, 2018
In Plaquemines Parish, La., hilcorp's Buvas Levee District #212 recompletion (9,971 ft MD) flowed an IP24 of 699 bo/d and 614 Mcf/d, or 801 boe/d (87% oil), from the B-30 formation at 801 psi...
Oct 11, 2018
SES - LLOG Highlights - October 11, 2018
The BSEE approved LLOG's suspension of production on its Shenandoah discovery as the company prepares to develop the find. The approval was for Walker Ridge blocks 51, 52 and 53 from April 18 to May...
Oct 11, 2018
Get more news for Southeastern Scout