Southeastern Scout
Serving the local market with drilling activities, permits & multiple listings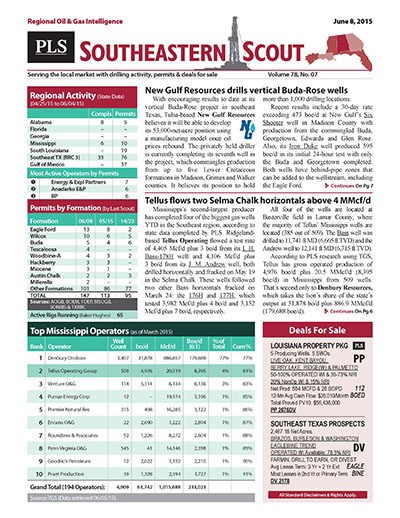 PLS publishes local exploration news and drilling insights on a regional basis through reports like the Southeastern Scout. Previously known as the Southeastern Oil Review and published since 1926, this unique report has a loyal following of explorationists, operators, drillers, landmen and landowners in South Louisiana, Mississippi, Alabama and Florida.
Stay in front of local prospects, plays & rigs!
South Louisiana, Mississippi, Alabama, Florida
Hard Copy and Email For 1 Individual
Every 3 Weeks (16-20 issues per year)
Regional discoveries, drilling activity, permits,
completions and summary drilling statistics, layered
with regional listings and business opportunities
Web access to the Southeastern Scout archive
Does not include access to MLS
Search PLS' News Archive for complete oil & gas news for Southeastern Scout .
See what it is about before you buy. View a sample issue of Southeastern Scout.
Need more information? Click the button to recieve more details about the Southeastern Scout
Opportunity is a reflection of information.
Call 713-650-1212 For More Information
Search Southeastern Scout:

Headline
Publication
News Date
SES - Chesapeake cuts Brazos Valley costs, expands oil window - August 29, 2019
At its Brazos Valley operational area in southeast Texas, Chesapeake Energy continues to improve the economics of the position it took control of in February after closing its acquisition of WildHorse Resource Development. In just five months, well costs have been reduced by $600,000 and in some cases have been trimmed as much as $2 million thanks to better drilling and completion techniques, faster cycle times and lower oilfield service costs. IP rates have also been on the rise since...
Aug 29, 2019
SES - Conoco seeks upside as Louisiana Austin Chalk disappoints - August 29, 2019
As major US shale players have built up positions in the Louisiana Austin Chalk, the industry has eagerly awaited operators' first results. ConocoPhillips gave an update on its operations during its Q2 earnings call, and the news wasn't good. The company has flow tested three of its initial four wells in the play, and watercuts are much higher than expected at ~90%. CEO Matthew Fox called the results "disappointing." He elaborated that "the oil rates have been about 100 barrels a day....
Aug 29, 2019
SES - Murphy Oil Highlights - August 29, 2019
Murphy Oil sanctioned three related projects in the Gulf of Mexico. In the Green Canyon area, a final investment decision was made for the King's Quay floating production system. The FPS will process up to 80,000 bo/d anchored by the Khaleesi/Mormont and Samurai developments. Four existing wells from Khaleesi/Mormont will be tied back to King's Quay, and another three will be added. Samurai will include four subsea wells tied back to the FPS. The new floater is expected to reach first...
Aug 29, 2019
SES - BHP Highlights - August 29, 2019
BHP agreed to divest its nonop 50% WI in the Samurai discovery in the Gulf of Mexico to a private equity firm. Discovered in 2009 in the Green Canyon area, Samurai has estimated resources of 60 MMboe with upside of 15 MMboe. Murphy Oil operates the discovery and holds the remaining 50%...
Aug 29, 2019
SES - Regional Highlights - August 29, 2019
The US Bureau of Ocean Energy Management's Gulf of Mexico Lease Sale 253 brought in $159.4 million in high bids Aug. 21 for 151 blocks covering 835,007 acres. A total of 27 companies participated and 165 bids were placed. BHP placed the highest bid at $22.5 million, or $3,908/acre, for Green Canyon Block 124. Companies winning the most blocks were Equinor (23 blocks at bonus bids totaling $16.9 million), BP (21 blocks, $14.7 million), BHP (20 blocks, $41.9 million), Chevron (17 blocks, $22.6...
Aug 29, 2019
SES - Tropical Storm Barry curtails 69% of US GOM oil production - July 18, 2019
Gulf of Mexico operators got their first taste of the 2019 hurricane season in early July. Hurricane Barry forced companies to shut in nearly 74% of US GOM oil production and evacuate personnel, although they have begun restoring production since Barry made landfall and was downgraded to a tropical storm. The Bureau of Safety and Environmental Enforcement estimated that 69.08% of oil production in the Gulf of Mexico remained shut in as of July 15 due to the storm. This equates to 1.3 MMbo/d....
Jul 18, 2019
SES - Shell Highlights - July 18, 2019
At the end of June, Shell spudded the NFW G35431 1 well targeting the Aransas prospect on Atwater Valley block 198, according to reports in mid-July. As of July 15, Transocean's Deepwater Thalassa drillship was still on location at the well site. Shell filed a multi-well exploration program with the Bureau of Ocean Energy Management in November on the two contiguous Atwater Valley blocks of AT 154 (G35019) and AT 198 (G35431). The plan encompasses eight drill...
Jul 18, 2019
SES - Gulfslope Highlights - July 18, 2019
GulfSlope Energy signed a letter of intent to form a JV with an undisclosed privately held company to generate and drill shallow-water depth prospects on the Gulf of Mexico shelf. Gulfslope will operate the JV, and the partner will have the right to acquire up to 50% WI in the wells in return for compensating Gulfslope for the management and administration of the JV and reimbursing the company for direct G&A costs incurred by the partnership. Gulfslope will retain and deploy a...
Jul 18, 2019
SES - TMS Interests Highlights- July 18, 2019
TMS Interests LLC has retained EnergyNet to assist in the sale of certain non-op assets in Amite and Wilkinson counties, Mississippi. The package covers 932 net acres (100% HBP) with 14 producing wells (0.009-19.5% WI) operated by Australis TMS or Griffin & Griffin Exploration. The acreage is prospective for the Austin...
Jul 18, 2019
SES - PetroQuest testing Austin Chalk, improving in Cotton Valley - July 18, 2019
PetroQuest Energy exited bankruptcy in February and is now focusing its operations on its East Texas Cotton Valley and Louisiana Austin Chalk positions. The company has 620 gross Cotton Valley locations suitable for 7,500-ft laterals remaining and potential for the Austin Chalk on 21,000 net acres. The company's current strategy is to test the Austin Chalk and unbooked Cotton Valley benches as well as drive costs down and improve recoveries. In the Austin Chalk, PetroQuest is drilling...
Jul 18, 2019
Get more news for Southeastern Scout