Southeastern Scout
Serving the local market with drilling activities, permits & multiple listings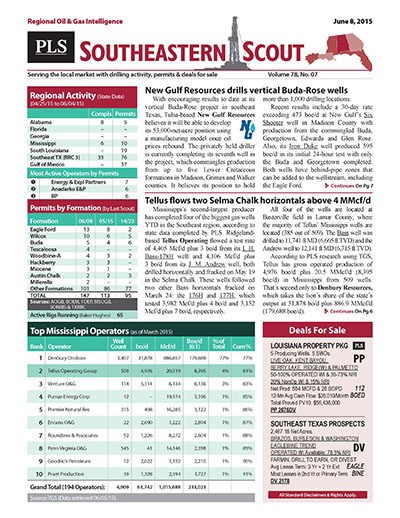 PLS publishes local exploration news and drilling insights on a regional basis through reports like the Southeastern Scout. Previously known as the Southeastern Oil Review and published since 1926, this unique report has a loyal following of explorationists, operators, drillers, landmen and landowners in South Louisiana, Mississippi, Alabama and Florida.
Stay in front of local prospects, plays & rigs!
South Louisiana, Mississippi, Alabama, Florida
Hard Copy and Email For 1 Individual
Every 3 Weeks (16-20 issues per year)
Regional discoveries, drilling activity, permits,
completions and summary drilling statistics, layered
with regional listings and business opportunities
Web access to the Southeastern Scout archive
Does not include access to MLS
Search PLS' News Archive for complete oil & gas news for Southeastern Scout .
See what it is about before you buy. View a sample issue of Southeastern Scout.
Need more information? Click the button to recieve more details about the Southeastern Scout
Opportunity is a reflection of information.
Call 713-650-1212 For More Information
Search Southeastern Scout:

Headline
Publication
News Date
SES - Australis' TMS well performing above type curve - March 2019
In the Tuscaloosa Marine shale, Australis Oil & Gas is undertaking an initial six-well program on its 110,000 net acres. The first well in the program, the Stewart 30H-1, was drilled with a 6,900-ft lateral, completed in 20 stages and flowed an initial 30-day rate of 1,248 boe/d (94% oil) on a 21/64-inch choke, which is 34% above its TMS type curve. The well also came in under budget. After 60 days, it continues to perform materially above the curve.Drilling of the program's second...
Mar 14, 2019
SES - Kosmos expands Gulf of Mexico portfolio after Deep Gulf buy - March 2019
Last year, Kosmos Energy closed a $1.2 billion acquisition of Deep Gulf Energy, giving the company a portfolio of short-cycle growth assets in the Gulf of Mexico. At YE18, the company booked 51 Bboe of proved reserves from its GOM assets, and production from the September closing until year's end averaged 23,700 boe/d (81% oil).Kosmos won seven deepwater blocks in the Bureau of Ocean Energy Management's Lease Sale 251 during Q3, and it has been looking to further expand its position...
Mar 14, 2019
SES - Hilcorp Highlights - March 14, 2019
After encountering 180 ft of net hydrocarbon pay in multiple sands, hilcorp's Green #1 well on the Lightning Prospect in Matagorda County, Texas, was perforated over a 28-ft zone in the lowest intersected pay zone, the Tex Miss 3 interval. Over a 15-hour test using an 8/64-inch choke, 1.4 MMcfe (79% gas) was recovered with no formation water. The condensate-gas ratio from this zone indicates 40-45 bbl per MMcf, significantly in excess of the 10 bbl per MMcf yield from other wells in the...
Mar 14, 2019
SES - Shell Pipeline Highlights - March 14, 2019
Due to Shell Pipeline Company shutting in the 350,000 bbl/d Amberjack pipeline system, Chevron suspended production at Jack/St. Malo, Tahiti, Big Foot and Genesis fields on March 13. However, service was restarted the next day, and Chevron is in the process of ramping up production at the...
Mar 14, 2019
SES - Talos Energy Highlights - March 14, 2019
In late January, Talos Energy agreed to acquire a 100% interest in the Antrim project in Green Canyon Block 364 from ExxonMobil. It is now working on an appraisal and development plan to follow up a subsalt Miocene discovery on the block in November 2017. If the appraisals are successful, Talos would likely tie back the field to its operated GC18...
Mar 14, 2019
SES - GulfSlope Energy Highlights - March 14, 2019
On Louisiana's Outer Continental Shelf, GulfSlope Energy's operated Tau prospect has drilled through 7,000 ft of salt where high pressures and hydrocarbons near the base of salt were encountered and significant mud losses occurred. The interval has been treated with lost-circulation materials and cement. The company is currently tripping for a different drilling assembly to clean out the existing wellbore and possibly run casing prior to drilling below salt. Tau is the first of...
Mar 14, 2019
Anadarko reaches first production at Constellation
The Anadarko Petroleum-operated Constellation development commenced production in January on the Green Canyon 583, 626, 627, 628 and 670 blocks, with volumes flowing back to Anadarko's 100%-owned Constitution spar in Green Canyon 680. Anadarko owns 33.33% WI in the project, and BP holds 66.67%. Constellation is a deepwater Pliocene discovery made by BP in 2014. Development was delayed because of falling prices, but work began in 2017. Output is expected to peak at 15,000 boe/d.In...
Feb 21, 2019
Hilcorp strikes hydrocarbons at Lightning
Hilcorp made a discovery at the Lightning prospect in Matagorda County, Texas, according to partner Otto Energy. The Green-1 well was drilled to 15,218 ft TD and encountered hydrocarbons in a total net hydrocarbon-filled sand interval of 180 ft based on a petrophysical evaluation of logging data. The petrophysical evaluation has been undertaken using historical parameters for production performance in the play trend. Dependent upon porosity and water saturation cutoffs applied, there is...
Feb 21, 2019
SES - Upstream Exploration Highlights - February 21, 2019
In Plaquemines Parish, Louisiana, Upstream Exploration recompleted the SL 21543 #1 (17,325 ft TD) in the Cristellaria I 4 formation. The well tested at an initial 24-hour rate of 2,102 boe/d (42% oil) on a 24/64-inch at 10,658 psi FTP. This is Upstream's highest IP24...
Feb 21, 2019
Get more news for Southeastern Scout