Southeastern Scout
Serving the local market with drilling activities, permits & multiple listings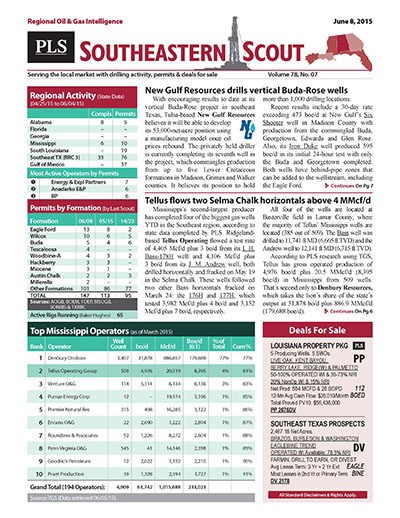 PLS publishes local exploration news and drilling insights on a regional basis through reports like the Southeastern Scout. Previously known as the Southeastern Oil Review and published since 1926, this unique report has a loyal following of explorationists, operators, drillers, landmen and landowners in South Louisiana, Mississippi, Alabama and Florida.
Stay in front of local prospects, plays & rigs!
South Louisiana, Mississippi, Alabama, Florida
Hard Copy and Email For 1 Individual
Every 3 Weeks (16-20 issues per year)
Regional discoveries, drilling activity, permits,
completions and summary drilling statistics, layered
with regional listings and business opportunities
Web access to the Southeastern Scout archive
Does not include access to MLS
Search PLS' News Archive for complete oil & gas news for Southeastern Scout .
See what it is about before you buy. View a sample issue of Southeastern Scout.
Need more information? Click the button to recieve more details about the Southeastern Scout
Opportunity is a reflection of information.
Call 713-650-1212 For More Information
Search Southeastern Scout:

Headline
Publication
News Date
SES - Hess holds steady on 2020 GOM plans, sees declines in 2021 - May 21, 2020
Hess Corp.'s Q1 Gulf of Mexico production grew 6% YOY to 74,000 boe/d. During the quarter, the company brought online the Esox-1 discovery (57.24% WI) in the Mississippi Canyon area, a low-cost tieback to the Tubular Bells production facilities that went from discovery to first oil in four months. The company does not plan to invest in additional production wells this year but will participate with 25% WI in the BPoperated Galapagos deepwater exploration well. Also located in Mississippi...
May 21, 2020
SES - Hilcorp adds second Lightning producer on Texas Gulf Coast - May 21, 2020
The second well in Hilcorp's operated Lightning project in Matagorda County, Texas, came online in Q1. The Green #2 was drilled to 15,121 ft MD (14,981 ft TVD) and completed in the Tex Miss 1 interval with 66 ft of perforations out of 146 ft of net pay. During a 24-hour test, the well produced 14.8 MMcfe/d (15% oil) on a 26/64- inch choke at 8,438 psi FTP. The Green #2 follows the Green #1, the initial well that commenced production in June 2019. As of March 31, the two wells were...
May 21, 2020
SES - Talos Energy Highlights - May 21, 2020
Talos Energy will curtail 12,500-13,500 boe/d during Q2 as a result of price-related shut-ins and accelerated maintenance and facilities projects. The latter will have a 6,000-7,000 boe/d impact. Q1 production averaged 58,100 boe/d (70% oil), up 8% sequentially. Fullyear 2020 production guidance has been revised to 61,000-64,400 boe/d from 66,800-70,200 boe/d. Capex has been lowered to $355-380 million from $520-545...
May 21, 2020
SES - W&T Offshore Highlights - May 21, 2020
As of April 30, W&T Offshore has shut in 3,300 boe/d from oil-weighted fields in the Gulf of Mexico. Additional net production impacts of 3,400 boe/d are expected from potential shut-ins for which the company has received notice at non-operated fields. During Q1, W&T produced 53,553 boe/d (48% liquids), up slightly compared to Q4 and up 61% YOY. The company recompleted one well during Q1 and performed four workovers, adding 700 boe/d...
May 21, 2020
SES - LLOG Exploration Highlights - May 21, 2020
Delta House platform operator LLOG Exploration is accelerating planned maintenance to May, impacting Kosmos Energy's Q2 net volumes by 5,500 boe/d. Kosmos will also shut in 1,500 boe/d net at other facilities during the quarter, resulting in total curtailments of 7,000 boe/d for the...
May 21, 2020
SES - Byron Energy Ltd. Highlights - May 21, 2020
According to a May 7 announcement, Byron Energy Ltd. recently increased production from the South Marsh 71 platform to 2,900 bo/d and 7 MMcf/d. The company had curtailed 1,900 bo/d and 9.5 MMcf/d from the field. The field is held 50:50 by Byron and Otto Energy, excluding the 100% Byron-owned F4...
May 21, 2020
SES - Chevron Highlights - May 21, 2020
Chevron is focusing on tiebacks, infill drilling, utilizing existing infrastructure and finding efficient ways to develop fields in order to make its Gulf of Mexico economics work in the current challenging price environment, CEO Michael Wirth said on a May 1 conference...
May 21, 2020
SES - Chesapeake drops rigs as rumors swirl about bankruptcy - April 30, 2020
Oklahoma City-based Chesapeake Energy has not issued capex or operational revisions since oil prices crashed, but the company's rig activity has been reduced. Since Jan. 1, Chesapeake dropped 38% of its rigs, going from 13 to eight as of April 29, according to Enverus Rig Analytics. Powder River activity has fallen from four rigs to one and the rig count on the company's legacy Eagle Ford acreage is down 50% to two, while its Brazos Valley operations have dropped from two rigs to one....
Apr 30, 2020
SES - RRC proposes 20% output cut; chairman opposes measure - April 30, 2020
The Texas Railroad Commission is considering a proposal to reduce the supply of crude being extracted in the state as the industry faces unprecedented oversupply amid falling demand. The proposal outlines a 20% reduction, which would amount to about 1 MMbo/d. Small operators that produce less than 1,000 bo/d would be exempt, and non-exempt companies would face a $1,000/bbl fine for exceeding limits. The RRC is accepting public comments on the proposal through May 4. The RRC has not...
Apr 30, 2020
SES - Navitas Petroleum Highlights - April 30, 2020
In mid-April, Navitas Petroleum farmed out stakes in three Gulf of Mexico blocks to LLOG Exploration. Included in the deal were 30.95% WI in Walker Ridge blocks 51 and 52, 30.85% in the northern half of block 53 and 8.85% in the southern half. Following completion of this transaction, equity in WR 51, WR 52 and the northern half of WR 53 is now shared among Beacon Offshore Energy (15.95% WI), Navitas (53.1%) and LLOG (30.95%). Equity in the southern half of WR 53 is split among Beacon (4.556%),...
Apr 30, 2020
Get more news for Southeastern Scout