Bakken Scout
Serving the local market with drilling activities, permits & multiple listings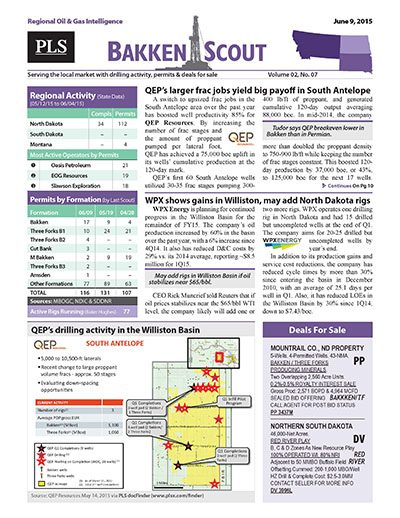 PLS's Bakken Scout covers oil and gas permitting, rig activity and completions in the Dakotas and Montana. The report is available by subscription and is delivered by hard copy and email every 3 weeks. Like other Regionals, the Bakken is packed full of local statistical analysis covering permits, rigs and completions while also covering top stories, fun facts, quick stats and production anomalies.
Stay in front of local prospects, plays & rigs!
North Dakota, South Dakota and Montana
Hard Copy and Email For 1 Individual
Every 3 Weeks (16-20 issues per year)
Regional discoveries, drilling activity, permits,
completions and summary drilling statistics, layered
with regional listings and business opportunities.
Web access to the Bakken Scout archive.
Does not include access to MLS
Search PLS' News Archive for complete oil & gas news for Bakken Scout .
See what it is about before you buy. View a sample issue of Bakken Scout.
Need more information? Click the button to recieve more details about the Bakken Scout
Opportunity is a reflection of information.
Call 713-650-1212 For More Information
Search Bakken Scout:

Headline
Publication
News Date
BS - Marathon Oil lowers Bakken costs, scores Hector extension - March 24, 2020
Marathon Oil turned to sales 16 operated wells in North Dakota's Myrmidon and Hector areas during Q4. Completed well costs averaged $5 million, down 18% compared to the 2018 average, and the recent four-well Bingo pad was completed for $4.3 million per well. Located in the Myrmidon area of Dunn County, the wells averaged initial 30-day rates of 3,160 boe/d (79% oil) each. Long-term production rates from appraisal wells at South Hector have validated a core extension for that area. The four-well...
Mar 24, 2020
BS - Continental runs 36% fewer rigs, asks Dept. of Commerce for help - March 24, 2020
Continental Resources is drastically scaling back its D&C activity in response to the new low-price environment. The company will reduce its active rig count in the Bakken to three from nine and go from 10.5 rigs in Oklahoma to an average of four in 2020. Capital spending plans were shrunk 55% from $2.65 billion to new guidance of $1.2 billion. The revised budget would result in average 2020 production falling less than 5% YOY; 2019 production was 340,395 boe/d. At $30/bbl oil, Continental...
Mar 24, 2020
BS - WPX Energy Highlights - March 24, 2020
WPX Energy cut $400 million, or 25%, from its 2020 capital budget guidance and could make further cuts in the future. Revised guidance is now $1.28-1.40 billion, which will keep WPX's current oil production of 150,000 bo/d flat for the remainder of the year. The company has 95,978 bo/d of oil hedged with fixed price swaps at a weighted average of $56.27/bbl and 20,000 bo/d hedged with fixed collars at a weighted average floor of $53.33/ bbl. WPX anticipates generating $150 million in free cash...
Mar 24, 2020
BS - Hess Corp. Highlights - March 24, 2020
Hess Corp. reduced its 2020 capex by $800 million to a total of $2.2 billion. The company will go from six rigs in the Bakken down to one by the end of May. Most discretionary exploration and offshore drilling activities, excluding Guyana, will also be deferred. Production guidance is now 325,000-330,000 boe/d, excluding Libya, compared to the former target of 330,000-335,000 boe/d; Bakken volumes are expected to be 175,000 boe/d in 2020, down 5,000 boe/d from the old guidance. The company's...
Mar 24, 2020
BS - Whiting Petroleum Highlights - March 24, 2020
Whiting Petroleum is slimming down its 2020 plans and has cut $185 million, or 30%, from its capex guidance at midpoint, with 2020 capital spending now targeted at $400-435 million. The company will drop to one rig and one completion crew by mid-April, down from prior plans to run three rigs and two completion crews. "This new spending plan preserves our liquidity while improving capital efficiency," CEO Bradley Holly said in a press release. "Increased operating efficiencies and strong well...
Mar 24, 2020
BS - WPX's Williston drives 2019 growth, takes back seat in 2020 - March 3, 2020
The Williston Basin was a significant growth engine for WPX Energy in 2019. Volumes in the play rose 45% YOY to 70,900 boe/d while the company's overall output including the Delaware Basin rose 31% to 166,900 boe/d, with oil production up 103% to 103,600 bo/d. The increase in the Williston continues to be driven by strong execution. WPX's 2019 Williston D&C program generated a number of standout pads. In McKenzie County, North Dakota, the four-well Young Bird pad has produced more than...
Mar 03, 2020
BS - Whiting Petroleum narrowing in on optimal infill design - March 3, 2020
Of the 35 wells that Whiting Petroleum turned to sales during 4Q19, 20 were part of an infill program at the company's Pod 10 and Pod 16 projects in Sanish field. Pod 10 represents the latest evolution of the company's infill design, spanning two 1,280-acre DSUs with 16 parent wells and 10 child wells. Based on prior infill results, the company optimized proppant and fluid volumes and modified its artificial lift program to increase fluid recovery at Pod 10. As a result, cumulative production...
Mar 03, 2020
BS - Regional Highlights - March 3, 2020
The US Energy Information Administration projects that Bakken production will fall by 2,000 bo/d and 9 MMcf/d sequentially in March to 1.472 MMbo/d and 3.070 Bcf/d. There were 841 DUCs in the Bakken as of January, up by 27 compared to December. North Dakota's oil production fell 3% month-over-month in December to an average of 1.475 MMbo/d, according to state regulators. November volumes were revised upward ~3,600 bo/d to 1.519 MMbo/d, which is a new state record. Natural gas volumes...
Mar 03, 2020
BS - Ovintiv Highlights - March 3, 2020
During 2019, Ovintiv achieved a reduction of more than 20% in Bakken well costs. No activity is planned for the play in 2020, but the asset will generate free cash flow for the...
Mar 03, 2020
BS - QEP Resources Highlights - March 3, 2020
QEP Resources drilled and completed seven wells in the Williston Basin during 2019, with laterals averaged 10,182 ft. The company plans to run a selective drilling and refrac program in the play during 2020 and has allocated $120 million in capex there, including $35 million for non-operated activity. QEP has more than 100 refrac candidates, more than 100 non-infill drilling locations at $50/bbl WTI and more than 100 additional locations in a higher-price environment. Total capex has been set...
Mar 03, 2020
Get more news for Bakken Scout