Bakken Scout
Serving the local market with drilling activities, permits & multiple listings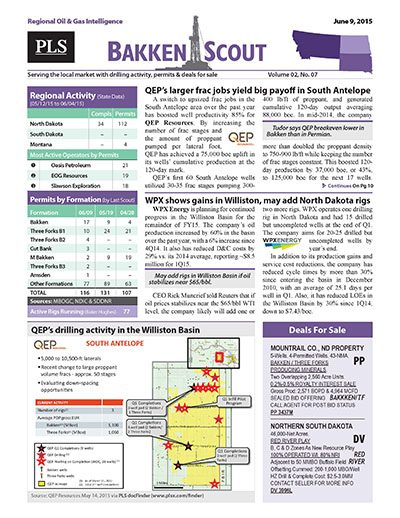 PLS's Bakken Scout covers oil and gas permitting, rig activity and completions in the Dakotas and Montana. The report is available by subscription and is delivered by hard copy and email every 3 weeks. Like other Regionals, the Bakken is packed full of local statistical analysis covering permits, rigs and completions while also covering top stories, fun facts, quick stats and production anomalies.
Stay in front of local prospects, plays & rigs!
North Dakota, South Dakota and Montana
Hard Copy and Email For 1 Individual
Every 3 Weeks (16-20 issues per year)
Regional discoveries, drilling activity, permits,
completions and summary drilling statistics, layered
with regional listings and business opportunities.
Web access to the Bakken Scout archive.
Does not include access to MLS
Search PLS' News Archive for complete oil & gas news for Bakken Scout .
See what it is about before you buy. View a sample issue of Bakken Scout.
Need more information? Click the button to recieve more details about the Bakken Scout
Opportunity is a reflection of information.
Call 713-650-1212 For More Information
Search Bakken Scout:

Headline
Publication
News Date
BS - WPX's 2019 Williston completions outperforming prior wells - July 05, 2019
WPX Energy's Williston Basin 2019 completions are showing a YOY improvement and are tracking far above a 1.0 MMboe type curve. Seven of the company's top 10 initial 24-hour rates were from wells completed this year. Most recently, WPX brought six wells online on the Minot Grady #26 pad at Squaw Creek field in McKenzie County, North Dakota.The two Middle Bakken and four Three Forks producers averaged 9,793-ft effective laterals and 4,018 boe/d (88% oil), or 410 boe/d per 1,000 lateral...
Jul 05, 2019
BS - XTO seeing some of its best IP24s with 2019 completions - July 05, 2019
As XTO Energy clears a backlog of drilled but uncompleted wells, one well that was spudded in 2016 came online at a company-record 24-hour rate for the Williston Basin. Located at Lost Bridge field in Dunn County, North Dakota, the Nygaard Federal #13X-5EXH was completed with a 10,198-ft effective lateral fracked in 40 stages with 8.1 MMlb of proppant. On test, the well flowed an IP24 of 2,712 boe/d (80% oil), or 266 boe/d per 1,000 lateral ft, from the Three Forks on a 26/64-inch choke at...
Jul 05, 2019
BS - Regional Highlights - July 05, 2019
The EIA projects Bakken production will rise 11,000 bo/d and 20 MMcf/d sequentially in July to 1.44 MMbo/d and 2.976 Bcf/d. There are 699 DUCs in the Bakken as of May, down by 17 compared to April. North Dakota gas production hit a record in April, according to the state's Department of Mineral Resources. Volumes averaged 2.86 Bcf/d, up from 2.84 Bcf/d in March. Oil output fell 571,000 bo/d sequentially to an average of 1.39...
Jul 05, 2019
BS - Oasis Petroleum Highlights - June 05, 2019
Oasis Petroleum brought online 15 wells in Q1: 12 in the Williston Basin and three in the Delaware Basin. Overall volumes averaged 91,700 boe/d, up 4% sequentially and up 19% YOY. In a press release, CEO Thomas Nusz said Oasis' Williston Basin "deep inventory and emphasis on operating efficiency supports rapid growth in the Delaware and overall E&P free cash flow." The company is working toward full field development in the Delaware...
Jul 05, 2019
BS - Northern Oil & Gas Highlights - July 05, 2019
Northern Oil & Gas closed on the acquisition of Bakken properties owned by VEN Bakken LLC, a wholly owned subsidiary of Flywheel Energy, for $310.3 million. The acquired assets are outperforming Northern's initial estimates with increases in both the number of producing wells and the number of wells in process since the deal was announced in April. Production from the acquired assets is now expected to average 6,650 boe/d in Q3 and 7,000 boe/d in Q4, an increase from Northern's prior...
Jul 05, 2019
BS - Kinder Morgan Highlights - July 05, 2019
Kinder Morgan and Tallgrass Energy launched an open season for commitments on the Hiland crude system, which originates in the Bakken, to delivery points along the Pony Express system and to Cushing. Hiland has 88,000 bo/d...
Jul 05, 2019
BS - Abraxas reaping rewards of completion improvements - June
Abraxas Petroleum is "extremely pleased" with the results of four new wells on its Raven NE pad in McKenzie County, North Dakota. Despite being choked back due to the installation of a gas pipeline, the pad has produced more than 715,000 boe (73% oil) in the first 160 days, with the wells currently producing 900 boe/d each. These child wells have produced an average of 75% of the cumulative volumes as legacy parent wells on the same pad, which has been online for more than seven...
Jun 11, 2019
BS - Hess' multi-zone pad averages IP24s of 376 boe/d per 1,000 ft - June 11, 2019
At the beginning of April, Hess Corp. completed four wells on the AN-Dinwoodie #153-94-2833H pad in McKenzie County, North Dakota. This year the company is transitioning to plug-and-perf completions from 60-stage sliding-sleeve completions and increasing proppant loading to an average intensity of 10 MMlb per well compared to 8.4 MMlb previously. The Dinwoodie wells were completed in an average of only 35 stages with 11.7-18.8 MMlb of sand and proppant. The four horizontals averaged 376...
Jun 11, 2019
BS - Enerplus Highlights - June 11, 2019
Enerplus brought a three-well pad (100% WI) on production at Fort Berthold in the Williston Basin in Q1. The average peak initial production per well was 1,900 boe/d (74% oil), with an average completed lateral length of 9,600 ft. The company drilled 15 operated wells in Q1, and it expects to complete and bring ~35 operated wells on production in 2019 at Fort...
Jun 11, 2019
BS - PetroShale Highlights - June 11, 2019
Bakken pure-play PetroShale acquired additional acreage in its core South Berthold area for $2.0 million during Q1. The South Berthold area straddles the Dunn-McKenzie county line in North Dakota and is one of two areas where PetroShale is actively drilling and completing wells along with the Antelope area to its north. PetroShale's South Berthold type wells have EURs of 1.05 MMboe and payout in 1 year for D&C costs of $8.0 million. It has current production of 6,200 boe/d and expects to...
Jun 11, 2019
Get more news for Bakken Scout