Bakken Scout
Serving the local market with drilling activities, permits & multiple listings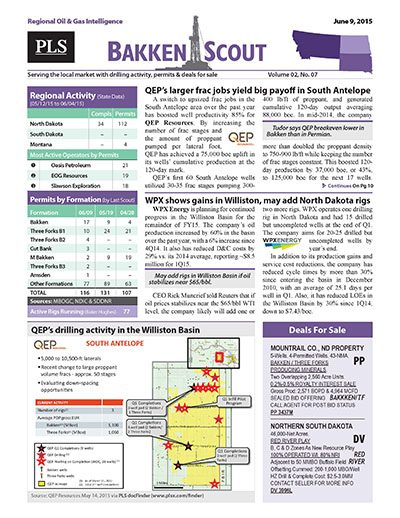 PLS's Bakken Scout covers oil and gas permitting, rig activity and completions in the Dakotas and Montana. The report is available by subscription and is delivered by hard copy and email every 3 weeks. Like other Regionals, the Bakken is packed full of local statistical analysis covering permits, rigs and completions while also covering top stories, fun facts, quick stats and production anomalies.
Stay in front of local prospects, plays & rigs!
North Dakota, South Dakota and Montana
Hard Copy and Email For 1 Individual
Every 3 Weeks (16-20 issues per year)
Regional discoveries, drilling activity, permits,
completions and summary drilling statistics, layered
with regional listings and business opportunities.
Web access to the Bakken Scout archive.
Does not include access to MLS
Search PLS' News Archive for complete oil & gas news for Bakken Scout .
See what it is about before you buy. View a sample issue of Bakken Scout.
Need more information? Click the button to recieve more details about the Bakken Scout
Opportunity is a reflection of information.
Call 713-650-1212 For More Information
Search Bakken Scout:

Headline
Publication
News Date
BS - Hess transitions to plug & perf, flows record well - April 30, 2019
Hess' Bakken assets delivered strong production growth in Q1 despite severe winter weather. Production averaged 130,000 boe/d, up 3% sequentially and 17% YOY. The company saw success in its transition to plug-and-perf from its prior 60-stage slidingsleeve design. The change is expected to increase the net present value of Hess' Bakken position by $1 billion. During Q1, the company drilled 38 wells and brought 25 online in the play. With improved weather, activity is expected to increase...
Apr 30, 2019
BS - Continental's Q1 step-out tests deliver excellent results - April 30, 2019
During Q1, Continental Resources began testing its optimized completion design outside of its core acreage in the Williston Basin. The three step-out tests were a rousing success, outperforming offset legacy horizontals by as much as 110% in the first 60 days. In Richland County, Montana, the Baird Federal 2-34H flowed at an initial 24-hour rate of 1,680 boe/d (85% oil) and outperformed the legacy well by 110% at 60 days. In southern Billings County, North Dakota, the Burian 4-27H1...
Apr 30, 2019
BS - Regional Highlights - April 30, 2019
The EIA projects Bakken production will grow 11,000 bo/d and 14 MMcf/d sequentially in May to 1.385 MMbo/d and 2.73 Bcf/d. There are 710 DUCs in the Bakken as of March, down by 12 compared to February. In the seven major shale plays, only the Permian up 49) and Haynesville up 1) saw increases during the...
Apr 30, 2019
BS - Bruin E&P Highlights - April 30, 2019
In McKenzie County, North Dakota, Bruin E&P's Fort Berthold #152-94-15A-22-9H (9,949-ft lateral) flowed an initial 24-hour rate of 3,512 boe/d (87% oil) from the Three Forks first bench on a 46/64-inch choke at 359 psi FTP. This is the company's top Three Forks IP24 and a top IP24 across all formations for the...
Apr 30, 2019
BS - Northern Oil & Gas Highlights - April 30, 2019
Northern Oil & Gas struck a $310.29 million cash-and-stock deal to acquire 18,000 net acres in the Williston Basin from private equitybacked Flywheel Energy (formerly Valorem Energy). The non-op Bakken E&P firm will pick up 18,000 net acres in Mountrail, McKenzie, Williams and Dunn counties, North Dakota. The assets are expected to produce 6,600 boe/d (80% oil) in 2H19 from 86.9 net producing wells. They also include 2.7 net wells in process and 47.5 net undrilled locations. Estimated...
Apr 30, 2019
BS - Enerplus Corp Highlights - April 30, 2019
Enerplus Corp. is seeking buyers for its Elm Coulee assets in Richland County, Montana. The position covers 54,000 contiguous net acres averaging an operated 89% with 329 gross PDP wells and 67 infill locations. Projected June net production of 2,695 boe/d (72% oil) is expected to generate annualized cash flow of $30 million per year. There is additional recovery potential from infill wells, refracs and enhanced oil...
Apr 30, 2019
BS - WPX's well-oiled Williston machine keeps delivering results - April 2019
Expanding outside of its Williston Basin core, WPX Energy is moving rigs to a southern, less-developed portion of its acreage. Strong initial results give the company confidence that it can continue to deliver the same level of performance as it drills outside of its best areas. During 2018, WPX brought online 60 wells in the basin, including 18 in Q4. Twelve of the Q4 wells reached 24-hour peak rates exceeding 3,000 boe/d. Notably, the Lead Woman 23-14UL flowed a peak of 4,515 boe/d...
Apr 09, 2019
BS - Oasis' Williston position fueling company-wide growth - April 2019
While Oasis Petroleum has expanded its portfolio outside of the Williston Basin by adding Permian assets, the Williston is still the company's focus. For 2019, Oasis has allocated 75% of its $540-560 million capex to the basin; the overall budget is down 40% YOY so that the company will be free cash flow positive at $50 WTI. Oasis plans to complete 70 wells in the Williston this year, with working interests averaging 65%. During 2018, Oasis increased its guidance twice and full-year...
Apr 09, 2019
BS - Regional Highlights - April 09, 2019
According to the North Dakota Department of Mineral Resources, the state's oil production was relatively flat in January, averaging 1.4 MMbo/d. Gas output hit a new record of 2.7 Bcf/d, up 2.6% from the previous month. Of the gas volumes, 2.2 Bcf/d was captures, with state-wide flaring activity flat at 19%. Because of harsh winter weather in February, Director Lynn Helms expects oil production to be "real ugly" for that...
Apr 09, 2019
BS - Seaport Global Highlights - April 09, 2019
According to Seaport Global Securities, interested has been strong for the assets Abraxas Petroleum is marketing in the Bakken. The company has presented to multiple interested parties, and bids are due next week. Abraxas will use proceeds to pay off current debt and possibly fund share buybacks to support acceleration in the Delaware...
Apr 09, 2019
Get more news for Bakken Scout