OilfieldServices
Serving the oilfield service sector with news, analysis and business opportunities.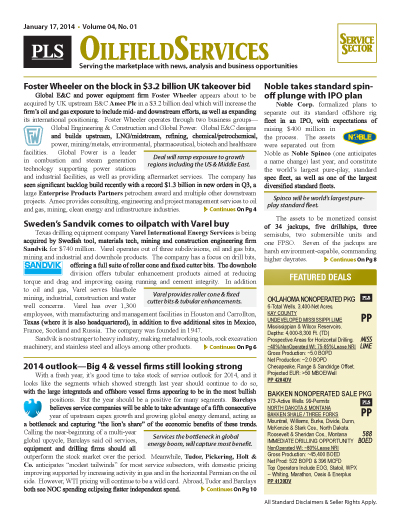 PLS publishes news and analysis on the oilfield service sector through its OFS module. The gold banner report, published every 3 to 4 weeks, covers the active sector with news and analysis on drilling, completions, field operations and technology.
Your access to oilfield service sector
Single copy pricing; Incl hard copy & email version
Increase understanding of field services & infrastructure
Published every 3 weeks; 17+ issues per year
Covers drilling rigs, field services, completions, equipment, OFS performance, supply, costs
Includes properties, oilfield services,
rigs & equipment for sale
Incl discounts for other PLS products & events
Search PLS' News Archive for complete oil & gas news for OilfieldServices .
See what it is about before you buy. View a sample issue of OilfieldServices.
Need more information? Click the button to recieve more details about the OilfieldServices
Opportunity is a reflection of information.
Call 713-650-1212 For More Information
Search OilfieldServices:

Headline
Publication
News Date
OFS - McDermott, Saipem win slices of Aramco's $18B mega-project - July 2019
McDermott International confirmed it received more than $4.5 billion from two "mega-project" awards from Saudi Aramco, including the largest single engineering, procurement, construction and installation offshore contract in the NOC's history. On July 9, Aramco awarded $18 billion across 34 contracts for engineering, procurement and construction work to 16 companies to help it expand production capacity at the Marjan and Berri fields in the Arabian Gulf by a combined 550,000 bo/d and 2.5...
Jul 16, 2019
OFS - Weatherford hopes to have US restructuring OK'd by Sept. 15 - July 2019
Weatherford International made it official on the first day of H2, filing for bankruptcy to cut nearly $6 billion from its debt. The company is continuing normal operations with access to up to $1.5 billion in debtor-in-possession financing. Weatherford expects its bankruptcy plan to be approved in a US court by Sept. 15, but it won't officially exit bankruptcy until proceedings in Ireland conclude, which is expected in Q4. Under the restructuring plan filed, $5.85 billion in Weatherford's...
Jul 16, 2019
OFS - DP World purchase of Topaz gives OFS A&D a $1.1B boost - July 2019
Dubai-based marine terminal operator DP World will expand into marine logistics services by acquiring Topaz Energy and Marine Ltd. from Oman-headquartered support vessel operator Renaissance Services and Standard Chartered Private Equity/Affirma Capital. The $1.079 billion transaction is the second-largest A&D deal in oilfield services this year. Topaz operates a fleet of 117 vessels, predominantly in the Caspian Sea, Middle East, North Africa and West Africa regions. The company offers towing,...
Jul 16, 2019
OFS - Upcoming Q2 earnings seem unlikely to show a rebound - July 2019
Signs are pointing to another disappointing earnings season in oilfield services with indications that Q2 onshore drilling performed worse than expected. However, earnings reports are expected to show pockets of onshore pricing strength. Patterson-UTI's rig count offered one indicator that Q2 was worse than expected, noting that it averaged 150 rigs operating in June and 158 for Q2 (PG.9). Drillinginfo's rig count puts the number lower—133 as of July 11 (PG.11). In April, CEO...
Jul 16, 2019
OFS - TGS-Spectrum merger receives approval of shareholders - July 2019
TGS-NOPEC Geophysical's merger with Spectrum ASA should close this quarter after shareholders from both companies voted in favor of the transaction in June. TGS will issue 0.28 of its shares and pay $0.27 for each Spectrum share, a $422 million deal when announced in May. "Spectrum's portfolio will enhance TGS's position as a leading multiclient geophysical data provider covering all mature and frontier basins," TGS CEO Kristian Johansen said. Spectrum holds a library of about 3.35...
Jul 16, 2019
OFS - Emerson acquires Zedi's software and automation business - July 2019
Emerson completed the purchase of Calgary-based Zedi's software and automation businesses. The addition of Zedi's cloud supervisory control and data acquisition platform will further enable Emerson to help oil and gas producers increase production and lower operating costs through cloud-based monitoring, control and optimization, the St. Louis-based technology company said. Zedi's technology lets customers monitor more than 2 million sensors and thousands of devices and applications. By...
Jul 16, 2019
OFS - Archrock to pay Hilcorp affiliate $410 million for Elite - July 2019
Archrock Inc. is buying substantially all assets of Elite Compression Services from JDH Capital Co for $410 million in cash and stock, acquiring 430,000 hp of predominantly large-horsepower compression, nearly all of which are under contract. In a side deal, Harvest Midstream will acquire 80,000 hp of active and idle compression assets from Archrock for $30 million, leaving the US gas compression leader with about 4 MMhp active. JDH and Harvest are affiliates of Hilcorp Energy. CEO Brad...
Jul 16, 2019
OFS - News Briefs - July 16, 2019
Cordy Oilfield Services signed a non-binding letter of intent to acquire the three private construction and transportation companies based in Kamloops, British Columbia, including operating assets and business contracts, in a C$2.0 million transaction. The founder and key employee of the business will join Cordy's senior management upon closing. Calgary, Alberta-based Cordy will issue 10 million common shares at a deemed price of C$0.05 per share for the businesses and will assume leases...
Jul 16, 2019
OFS - Finance Briefs - July 16, 2019
Private equity firm B-29 Investments is partnering with industry veteran Ralph Townsend to form Caliber Completion Services in partnership. Headquartered in Moore, Oklahoma, the company offers a comprehensive suite of wireline services. Caliber will initially focus its operations within the Midcontinent. EnscoRowan increased the size of a cash tender offer for senior notes to a cap of $724 million from $600 million and moved the settlement date up to July 12. The notes accepted...
Jul 16, 2019
OFS - Developments & Trends Briefs - July 16, 2019
The world's largest semi-submersible crane vessel, Heerema Marine Contractors' Sleipnir, is ready to begin its maiden voyage. The SSCV was built by Sembcorp Marine in Singapore, passed sea trials in June and will set course for Spain. The Sleipnir is equipped with two 10,000-tonne revolving cranes. The vessel is designed to work on large offshore projects such as installing and removing jackets, topsides, deep-water foundations, moorings and other offshore structures, such as windmills....
Jul 16, 2019
Get more news for OilfieldServices