OilfieldServices
Serving the oilfield service sector with news, analysis and business opportunities.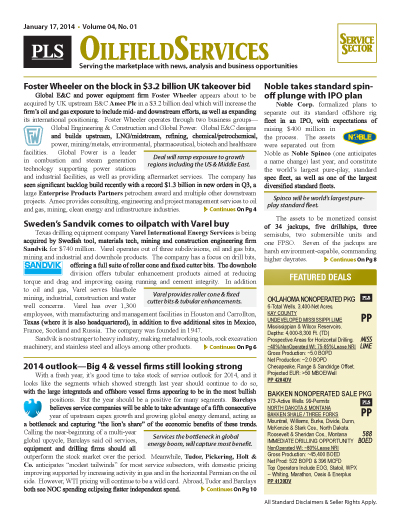 PLS publishes news and analysis on the oilfield service sector through its OFS module. The gold banner report, published every 3 to 4 weeks, covers the active sector with news and analysis on drilling, completions, field operations and technology.
Your access to oilfield service sector
Single copy pricing; Incl hard copy & email version
Increase understanding of field services & infrastructure
Published every 3 weeks; 17+ issues per year
Covers drilling rigs, field services, completions, equipment, OFS performance, supply, costs
Includes properties, oilfield services,
rigs & equipment for sale
Incl discounts for other PLS products & events
Search PLS' News Archive for complete oil & gas news for OilfieldServices .
See what it is about before you buy. View a sample issue of OilfieldServices.
Need more information? Click the button to recieve more details about the OilfieldServices
Opportunity is a reflection of information.
Call 713-650-1212 For More Information
Search OilfieldServices:

Headline
Publication
News Date
OFS - Halliburton hired for Ichthys drilling and completions work - February 2020
Halliburton received seven contracts for drilling and completion services for the next phase of field development of the Inpex-operated Ichthys project in the Browse Basin off northern Australia. The Ichthys project began production in 2018 with gas and condensate transported by a 550-mile pipeline for processing near Darwin, Australia. The well development campaign is due to start in March and will continue for an estimated three-year term. The contracts awarded include...
Feb 05, 2020
OFS - Baker Hughes finishes year in black despite OFS disappointment - February 2020
Baker Hughes' Oilfield Services segment performed worse than the company expected in 4Q19, with operating income down 14% sequentially to $235 million. The company still managed to report a positive net income for 2019, making it the only one of the "Big Three" to do so. While US land activity declined overall during Q4, CFO Brian Worrell said the US OFS segment's activity woes were "really largely customer- and basinspecific." The segment also saw some weakness in Gulf of Mexico...
Feb 05, 2020
OFS - Step Energy Services gets credit facilities ratios relaxed - February 2020
Step Energy Services extended its credit facilities to give it more flexibility. Lenders changed the required funded-debt-to-adjusted-bank-EBITDA ratio to 4.50:1 for rest of the year, ticking down to 4:1 through 1H21 and 3:1 thereafter. The earlier agreement was for 4:1 in Q1 and 3.5:1 in Q2 then 3:1 thereafter. Interest continues to be payable monthly at the bank's prime lending rate plus 50-300 bps depending on certain financial ratios of the company. The Calgary-based coiled tubing...
Feb 05, 2020
OFS - Ryuk ransomware attacking energy firms, security expert says - February 2020
At least five oil and gas organizations were hit by a ransomware attack on their industrial control system, the leader of a cybersecurity services firm said. The Ryuk ransomware attack was apparently the subject of a US Coast Guard alert issued in December. The Coast Guard said the Ryuk attack began with a user opening a malicious link in a phishing email. Ryuk then locked the maritime facility out of critical IT files and spread to systems that monitor and control the transfer of...
Feb 05, 2020
OFS - Technip Energies' split from TechnipFMC expected in Q2 - February 2020
TechnipFMC reaffirmed its planned transaction to separate into two companies, with completion still on track for Q2. The spinoff of TechnipFMC's onshore/offshore segment will be named Technip Energies. With 15,000 employees, Technip Energies will be one of the largest engineering and construction pure-plays and positioned to capture LNG opportunities. The new company will have a downstream backlog, as well as future growth opportunities in biofuels, green chemistry and other energy...
Feb 05, 2020
OFS - People & Companies - February 4, 2020
CAM Integrated Solutions, a provider of engineering, procurement and construction management services to onshore energy, promoted Israel Martinez to SVP of business operations. He has been with CAM since its founding in 2015. CAM promoted Jason Newton to Martinez's previous role of VP of engineering operations. Wellhead and pressure control manufacturer Cactus Inc. appointed Melissa Law to the board of directors. Law currently serves as the president of global operations for Tate &...
Feb 04, 2020
OFS - Divergent changes CFO & auditor after year of accounting trouble - February 2020
Divergent Energy Services changed its CFO and auditor after a year of accounting difficulties that included not releasing its full year 2018 results until Dec. 23, and no quarterly 2019 results until Jan. 2. The artificial lift company identified errors with respect to foreign currency translation, tax accruals and tax deferrals as it was preparing its yearend 2018 results. Scott Hamilton, who had been CFO since 2013, left Divergent, effective Jan. 31. Lance Mierendorf, currently CFO...
Feb 04, 2020
OFS - Analyst Notes - February 4, 2020
OFS has value if investors can 'see through the fog' [Bernstein analyst Nicholas Green said:] "Poor quality of information means the sector is an active manager's dream: lots of idiosyncratic alpha, huge dispersions in performance, and huge option value on recovery. See through the fog, and there is a lot of opportunity." Green argues that the big names that attract the most attention and investor dollars aren't the place to be. Those big names are Schlumberger (SLB), Halliburton (HAL)...
Feb 04, 2020
OFS - Legal & Regulatory Briefs - February 4, 2020
UK's Competition and Markets Authority may stop the proposed merger of Prosafe and Floatel International because of concerns the combination would give the new Prosafe too much of the North Sea offshore accommodations market. The CMA released provisional findings Jan. 30 that conclude blocking the merger may be the only way to mitigate its concerns, Prosafe said. The Norwegian Competition Authority came out against the merger in October. Oslo-based Prosafe has until Feb. 20 to respond to the...
Feb 05, 2020
OFS - Earnings Briefs - February 4, 2020
Core Laboratories reported 4Q19 revenue from continuing operations of $157 million, a 9% drop sequentially and YOY. The result was the company's worst quarter in years but beat the $154- 156 million projected in December when it announced it would cut its quarterly dividend to $0.25/share from $0.55/share. It blamed the drop on a steep decline in US onshore activity and slow international projects. Core Lab's net income was $10.3 million in 4Q19 compared with $23.7 million in 3Q19 and $8.8...
Feb 04, 2020
Get more news for OilfieldServices