OilfieldServices
Serving the oilfield service sector with news, analysis and business opportunities.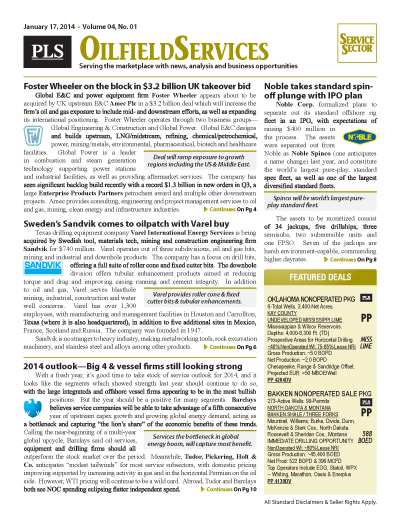 PLS publishes news and analysis on the oilfield service sector through its OFS module. The gold banner report, published every 3 to 4 weeks, covers the active sector with news and analysis on drilling, completions, field operations and technology.
Your access to oilfield service sector
Single copy pricing; Incl hard copy & email version
Increase understanding of field services & infrastructure
Published every 3 weeks; 17+ issues per year
Covers drilling rigs, field services, completions, equipment, OFS performance, supply, costs
Includes properties, oilfield services,
rigs & equipment for sale
Incl discounts for other PLS products & events
Search PLS' News Archive for complete oil & gas news for OilfieldServices .
See what it is about before you buy. View a sample issue of OilfieldServices.
Need more information? Click the button to recieve more details about the OilfieldServices
Opportunity is a reflection of information.
Call 713-650-1212 For More Information
Search OilfieldServices:

Headline
Publication
News Date
OFS - Analyst Notes - January 08, 2019
TPH remains upbeat on land OFS stocks Following a horrid end to 2018, many OFS stocks entered 2019 at/near 52-week and/or all-time lows, which begs question as to whether we are headed for...
Jan 08, 2019
OFS - People Briefs - January 08, 2019
Halliburton Co. directors appointed Jeff Miller, the company's president and CEO, as chairman of the board, effective Jan. 1. Executive chairman Dave Lesar, who was CEO from 2000 to June 2017,...
Jan 08, 2019
OFS - A&D News Briefs - January 08, 2019
Mammoth Energy Services expanded its aviation services business, acquiring Air Rescue Services and forming a JV with private equity firm Wexford Capital, which purchased Brim Equipment Leasing....
Jan 08, 2019
OFS - Contracts Briefs - January 08, 2019
Borr Drilling is taking a premium jackup out of warm stack in Singapore for an eight-month contract off Mexico. The Odin will work for an unidentified customer from March to November, according to...
Jan 08, 2019
Get more news for OilfieldServices