OilfieldServices
Serving the oilfield service sector with news, analysis and business opportunities.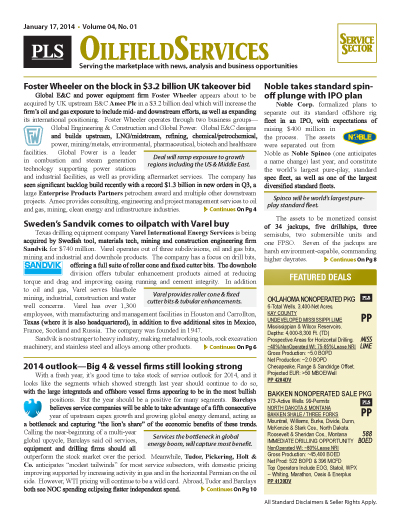 PLS publishes news and analysis on the oilfield service sector through its OFS module. The gold banner report, published every 3 to 4 weeks, covers the active sector with news and analysis on drilling, completions, field operations and technology.
Your access to oilfield service sector
Single copy pricing; Incl hard copy & email version
Increase understanding of field services & infrastructure
Published every 3 weeks; 17+ issues per year
Covers drilling rigs, field services, completions, equipment, OFS performance, supply, costs
Includes properties, oilfield services,
rigs & equipment for sale
Incl discounts for other PLS products & events
Search PLS' News Archive for complete oil & gas news for OilfieldServices .
See what it is about before you buy. View a sample issue of OilfieldServices.
Need more information? Click the button to recieve more details about the OilfieldServices
Opportunity is a reflection of information.
Call 713-650-1212 For More Information
Search OilfieldServices:

Headline
Publication
News Date
OFS - Black Bay spins TOPS's gas lift systems as growth opportunity - August 2019
New Orleans-based private equity firm Black Bay Energy Capital will invest in Total Operations and Production Services, which custom designs, installs and services advanced electric- and gas-driven compression systems in the Permian Basin. TOPS, based in Midland, specializes in gas lift applications, which Black Bay sees as a growing market. Gas lift systems becoming the preferred form of artificial lift, Black Bay said. In addition, with the continuing electrification of the oilfield,...
Aug 30, 2019
OFS - People & Companies - August 28, 2019
Halliburton hired Barnes & Thornburg, a lobbying firm that includes Bob Grand, who Politico said is a Republican donor based in Indianapolis who's friends with Vice President Mike Pence. The company spent $140,000 on Washington lobbying in H1 and retains only one outside lobbyist as well as an in-house lobbyist. Mooring company InterMoor renewed the lease at its fabrication facility in Morgan City, Louisiana. Opened in 2011, the 24-acre facility was subsequently expanded to 34 acres...
Aug 28, 2019
OFS - Former Schlumberger CEO to become Borr Drilling chairman - August 2019
Former Schlumberger chairman and CEO Paal Kibsgaard is in line to be the new chairman of Borr Drilling. The jackup company's board voted to recommend for the position with an election will take place at the annual general meeting to be held on Sept. 27. Kibsgaard exited Schlumberger on Aug. 1, leaving the services giant's board as well. Schlumberger is Borr's leading stockholder, presumably making the new post acceptable for any non-compete agreements Kibsgaard had upon his exit....
Aug 28, 2019
OFS - PHI expects to exit bankruptcy and change CEOs in a few weeks - August 2019
PHI Inc. expects to complete its reorganization transactions and to emerge from bankruptcy during the first week of September, the helicopter services company said in a Securities and Exchange Commission filing on Aug. 20. The holders of Phi's $500 million in unsecured notes will received 100% of the restructured company's equity, and chairman and CEO Al Gonsoulin will be forced into retirement. Gonsoulin, also PHI's majority shareholder, lent PHI $130 million to refinance an...
Aug 28, 2019
OFS - Covia removes 'interim' tag, makes Navarre CEO, president - August 2019
Covia interim CEO and presidentg Richard Navarre will take the permanent job effective Sept. 1, adding the roles to his current post as board chairman. Since he took the interim position in May, the proppant and industrial sand company has agreed to sell $240 million in non-core assets and posted Q2 results that were improvements from Q1 but included its fourth straight quarterly net loss. A former president of Peabody Energy, Navarre joined Covia as board chairman in June 2018 when...
Aug 28, 2019
OFS - Analyst Notes - August 28, 2019
Frac activity declines accelerate with thorny H2 outlook US frac activity declines accelerated in August (down >4% m/m) as E&P operators remain quite budget conscious and both natural gas and NGL prices stink. The declines were most pronounced in the Permian, Northeast, and Haynesville. We also re-looked at m/m changes in US frac activity in 2018 and compared them to the changes seen thus far in 2019. Should 2H'19 play out similarly to 2H'18, we could end the year at ~300 active frac...
Aug 28, 2019
OFS - Water handling firm Lagoon buys Continental STACK system - August 2019
Continental Resources announced the $85 million sale of its eastern STACK water gathering and recycling system in Blaine County, Oklahoma, to Lagoon Water Solutions. Along with the divestiture, the company concurrently entered into a longterm arrangement with Lagoon to provide water sourcing, gathering and disposal services for its future development in the area. Oklahoma City-based Lagoon describes itself as Oklahoma's leading midstream water logistics company. The acquisition will...
Aug 28, 2019
OFS - H&P adds DrillScan to its list of oilfield tech acquisitions - August 2019
Helmerich & Payne acquired DrillScan, a provider of proprietary drilling engineering software, well engineering services and training. The leading independent US land driller has targeted technology companies for acquisitions in the past two years. DrillScan will operate as part of H&P Technologies, H&P's dedicated business entity focused on developing advanced technologies and directional drilling automation solutions that can be marketed to non-H&P rigs as well. DrillScan brings a...
Aug 28, 2019
OFS - Hunting bets on offshore turnaround and RTI Energy Systems - August 2019
London-based Hunting acquired RTI Energy Systems, a manufacturer of production riser technologies for deepwater applications, for $12.5 million. While RTIES is currently posting operating losses, Hunting is optimistic about its technology and potential when offshore drilling recovers. RTIES's product portfolio incorporates proprietary technology protected by several patents. The company is also the only supplier of titanium stress joints, providing a more reliable, compact and lower...
Aug 28, 2019
OFS - Quintana exits conventional pressure pumping and changes CEO - August 2019
Quintana Energy Services sold its legacy conventional pressure pumping operations in Kansas and Oklahoma to Hurricane Services for $4.4 million. The divestment came Aug. 19, 12 days after QES changed CEOs as part of an effort to streamline the company. Hurricane, a privately held company based in Wichita, Kansas, adds about 12,000 hhp and five facilities: one in Bartlesville, Oklahoma, and four Kansas locations. QES said the assets and locations were responsible for $7.9 million of...
Aug 28, 2019
Get more news for OilfieldServices