OilfieldServices
Serving the oilfield service sector with news, analysis and business opportunities.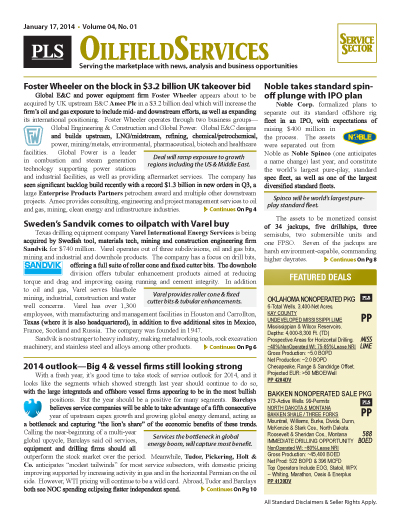 PLS publishes news and analysis on the oilfield service sector through its OFS module. The gold banner report, published every 3 to 4 weeks, covers the active sector with news and analysis on drilling, completions, field operations and technology.
Your access to oilfield service sector
Single copy pricing; Incl hard copy & email version
Increase understanding of field services & infrastructure
Published every 3 weeks; 17+ issues per year
Covers drilling rigs, field services, completions, equipment, OFS performance, supply, costs
Includes properties, oilfield services,
rigs & equipment for sale
Incl discounts for other PLS products & events
Search PLS' News Archive for complete oil & gas news for OilfieldServices .
See what it is about before you buy. View a sample issue of OilfieldServices.
Need more information? Click the button to recieve more details about the OilfieldServices
Opportunity is a reflection of information.
Call 713-650-1212 For More Information
Search OilfieldServices:

Headline
Publication
News Date
OFS - Analyst Notes - March 12, 2019
Global exploration expected to get back on track in 2019 Offshore and international growth is set to overtake US and onshore for the first time since 2016. A subset of that theme is the recovery in global exploration spend. After declining by more than 50% since the 2014 peak, exploration spend posted a very modest recovery in 2018, but appears poised for a sharp (15%+) pickup in 2019, while the improvement in development activity slows on the heels of increased capital discipline in US...
Mar 12, 2019
OFS - Hess JV closes one Bakken water sale & agrees to another - March 2019
Hess Infrastructure Partners, a JV of Hess Corp. and private equity firm Global Infrastructure Partners, agreed to acquire Williston Basin operator Tioga Midstream as it expands its Bakken produced water network. Summit Midstream Partners will receive $90 million for Tioga, which also has crude and gas gathering operations. HIP is the sponsor of Hess Midstream Partners LP, which will contribute $70 million to receive Tioga's 73 miles of crude pipelines and 79 miles of gas pipelines, which it...
Mar 12, 2019
OFS - WaterBridge pays $239MM to close Delaware acquisition - March 2019
WaterBridge Resources closed its acquisition from NGL Energy Partners of several water infrastructure assets near Pecos, Texas, for $238.8 million. The transaction was one of three that WaterBridge announced near YE18 that increased its Delaware Basin assets. The NGL Energy transaction includes nine saltwater disposal facilities with permits for 275,000 bbl/d of disposal capacity and 10 miles of pipeline in Reeves and Ward counties, Texas. WaterBridge assumed all existing commercial agreements...
Mar 12, 2019
OFS - Weatherford almost finished with land rigs sale - March 2019
Weatherford International completed the sale of four contracted drilling rigs in Algeria, the third of four closings from the $287.5 million sale of its land rig operations in the Middle East. The company expects the transaction to be wrapped up by the end of March, after the remaining two rigs are relocated within Algeria and transferred.In Algeria, Weatherford is transferring six drilling rigs, 350 employees and contractors and associated customer contracts to ADES International...
Mar 12, 2019
OFS - McDermott lands $550MM-$1B in Saudi Aramco contracts - March 2019
McDermott International received a pair of engineering, procurement, construction and installation contracts from Saudi Aramco in the Marjan field off Saudi Arabia, the largest of which is valued at $500-750 million. David Dickson, CEO of McDermott, pointed to this activity as a sign that Aramco is moving ahead after a slow 2018 in awarding projects.The larger contract is for the design, procurement, fabrication, installation, testing and pre-commissioning of the TP-10 tie-in platform,...
Mar 12, 2019
OFS - Earnings Briefs - March 12, 2019
Dawson Geophysical Co. posted a net loss of $11.8 million in 4Q18, its widest net loss in a year and a half, and expects reduced bid activity in Q1. Crew activity has increased in Q1 to a peak of five in the US and four in Canada, compared with four and three in 4Q18. CEO Stephen Jumper said Dawson is "cautiously optimistic" as WTI recovers from its 4Q18 decline. Dawson's revenue in 4Q18 was $27.7 million, down 32% from 3Q18 and 26% from 4Q17. Ranger Energy Services reported a 3.9%...
Mar 12, 2019
OFS - Finance Briefs - March 12, 2019
Halliburton entered into a new $3.5 billion revolving credit agreement, a $500 million from its existing revolver. The 2019 agreement will expire in March 2024, replacing the $3 billion five-year agreement that would have matured in July 2020. Citibank will remain as lead manager, although the new revolver is a syndicate of eight financial institutions instead of the previous 26. The older revolver would have increased to $4.5 billion if Halliburton's planned acquisition of Baker Hughes had...
Mar 12, 2019
OFS - People Briefs - March 12, 2019
Nabors Industries expanded its board to seven members and appointed Anthony Chase to fill the vacancy. Chase is the CEO of ChaseSource, a Houstonbased staffing and real estate development firm, and was a founder of mobile phone provider Cricket Wireless. Chase has served as a director of Anadarko Petroleum Corp. and Paragon Offshore. Dril-Quip Inc. announced that James Gariepy, who served as SVP and COO since 2011, retired March 1 after 15 years with Dril-Quip. The board has appointed...
Mar 12, 2019
OFS - A&D Briefs - March 12, 2019
Houston-based Chet Morrison Contractors doubled its pipelay barge fleet, acquiring two barges while also adding a saturation diving system. Morrison acquired the LB Super Chief, a 265-foot pipelay barge with a 100 KIP pipe tensioner and accommodations for 93 personnel; the DLB Subsea Vision, a 415-foot pipelay and construction barge with a large-diameter pipelay system with a 100 KIP pipe tensioner, a 300-ton crane and accommodations for 140; and a 12- man portable diving system capable...
Mar 12, 2019
OFS - Contracts Briefs - March 12, 2019
KBR Inc. received an engineering, procurement and construction contract from ExxonMobil for part of the supermajor's 250,000 bo/d Beaumont refinery expansion in Texas. KBR will provide services for the offsites and interconnecting units. Financial terms of the contract were not disclosed. In January, TechnipFMC landed an EPC contract between $500 million and $1 billion for the addition of four new units—atmospheric pipe still, kerosene hydrotreater, diesel hydrotreater and benzene recovery—at...
Mar 12, 2019
Get more news for OilfieldServices