OilfieldServices
Serving the oilfield service sector with news, analysis and business opportunities.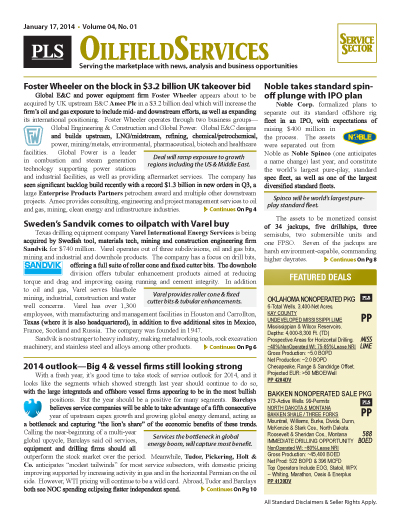 PLS publishes news and analysis on the oilfield service sector through its OFS module. The gold banner report, published every 3 to 4 weeks, covers the active sector with news and analysis on drilling, completions, field operations and technology.
Your access to oilfield service sector
Single copy pricing; Incl hard copy & email version
Increase understanding of field services & infrastructure
Published every 3 weeks; 17+ issues per year
Covers drilling rigs, field services, completions, equipment, OFS performance, supply, costs
Includes properties, oilfield services,
rigs & equipment for sale
Incl discounts for other PLS products & events
Search PLS' News Archive for complete oil & gas news for OilfieldServices .
See what it is about before you buy. View a sample issue of OilfieldServices.
Need more information? Click the button to recieve more details about the OilfieldServices
Opportunity is a reflection of information.
Call 713-650-1212 For More Information
Search OilfieldServices:

Headline
Publication
News Date
OFS - Sector mostly mum on changes in wake of crude & stock crash - March 2020
Failed supply cut talks between OPEC and Russia, the coronavirus disruptions, recession fears and a Wall Street selloff combined to send both WTI and Brent below $33/bbl in the second week of March—a level not seen since 1Q16. Weatherford International retracted its 2020 guidance on March 16, making it one of the first oilfield services companies to make dramatic changes after the crude price collapse (PG.14). Russia refused to go along with OPEC's plan to cut 1 MMbbl/d because of the...
Mar 17, 2020
OFS - Basic will 'double down' on workover rigs as NexTier sells C&J - March 2020
Basic Energy Services acquired NexTier's well support operations for $93.7 million on March 9, a transaction that shows two companies executing contrasting strategies. While Basic will stress production services by assembling the US's leading workover fleet by rig count and revenue, NexTier will focus on completions and well construction. Fort Worth, Texas-based Basic started moving in this direction in December when it sold its pressure pumping assets to an unidentified buyer for $52.7...
Mar 17, 2020
OFS - Subsea 7 wins up to $800MM from Australia and GOM projects - March 2020
Subsea 7 announced on March 3 the award of two contracts with a combined value of up to $800 million. The contracts cover projects off northern Australia and the Gulf of Mexico. The Luxembourg-based firm received a $150-300 million contract from Murphy Oil for subsea installation services related to Murphy's King's Quay floating production system. Subsea 7 will help connect the Samurai, Khaleesi, and Mormont developments to the semisubmersible facility. Designed to process up to 80,000...
Mar 17, 2020
OFS - McDermott sells Lummus for $2.7B after court OKs reorg - March 2020
McDermott International will sell its Lummus Technology business to a JV between private equity firms The Chatterjee Group and Rhône Capital for $2.725 billion. The Houston-based engineering firm received permission for the sale and the rest of its bankruptcy reorganization plan from the US Bankruptcy Court for the Southern District of Texas on March 12, less than two months after it filed for Chapter 11. The Chatterjee-Rhone offer was a stalking-horse bid, hoping to find a higher offer...
Mar 17, 2020
OFS - TechnipFMC wins EPCI contract for BP's Platina project - March 2020
TechnipFMC won a significant contract, which the company defines as a contract value ranging $75-250 million, from BP for integrated engineering, procurement, construction and installation work associated with the Platina field development off Angola. The field is in Block 18 at water depths ranging 1,200-1,500 meters. The contract covers the manufacture, delivery and installation of subsea equipment, including subsea trees, a production manifold with associated subsea control and connection...
Mar 17, 2020
OFS - Wood delivering full design for Chevron's Anchor project - March 2020
Wood plc's Houston team will be leading a multimillion-dollar design project for Chevron's Anchor development in the Gulf of Mexico, which was awarded under an existing 10-year master services agreement between the two companies. The contract scope initially covered preliminary front-end engineering design and full FEED, and it now also includes a detailed design of Anchor. Wood's fully integrated design will cover the topsides and subsea system, risers, production flowlines, export pipelines...
Mar 17, 2020
OFS - CGG sees backlog climb despite shutting down acquisition units - March 2020
Paris-based geosciences firm CGG said its backlog was $537 million at the end of February, up 34% YOY. The higher backlog comes even after it shut down its marine and land acquisition businesses in Q1 to become an asset-light "people, data and technology" company. "We have solid backlog, a strong balance sheet and are prepared to weather the current volatile market environment," CEO Sophie Zurquiyah said. "We have flexibility to adapt our plans and investments, and I am confident that...
Mar 17, 2020
OFS - As crude prices sink, sector still deciding on how to swim - March 2020
For most of earnings season, a narrative had taken shape. The US land market would be rough throughout 2020, but oilfield services companies would be able to adapt. For international and offshore markets, 2020 was going to be the start of a multiyear growth cycle. Then on March 9, we entered a $30/bbl world, and the mood shifted from somewhat optimistic to somewhat apocalyptic. Calgary-based Ensign Energy Services conducted its 4Q19 earnings call (PG.12) during the crude price plummet...
Mar 17, 2020
OFS - Seadrill added $1B during 4Q19 to boost backlog to $2.5B - March 2020
Equinor exercised a five-well option for Seadrill Ltd.'s West Hercules semisubmersible on Feb. 26, adding about $70 million to the offshore drilling company's backlog. Seadrill took in $1 billion in orders in 4Q19 and exited 2019 with a backlog of $2.5 billion, a $500 million increase from YE18. The West Hercules has been working for Equinor off Norway since last May, and the option will keep the semisub active until February 2021. Equinor also has options through June 2022 that it has...
Mar 17, 2020
OFS - Sempra turns to Bechtel for EPC on Port Arthur LNG in Texas - March 2020
Bechtel will provide engineering, procurement and construction services for Sempra Energy's planned 13.5 mtpa Port Arthur LNG facility under development in Texas. The signing of the fixed-price contract comes as Sempra's troubled Cameron LNG facility in Louisiana, its first liquefaction project in the US, is almost complete. The EPC contract for Cameron LNG went to a JV of Chicago Bridge & Iron Co. and Chiyoda in 2014. The project suffered delays and cost overruns that helped drive...
Mar 17, 2020
Get more news for OilfieldServices