QuickPrice
Serving the marketplace with prices, metrics and analysis.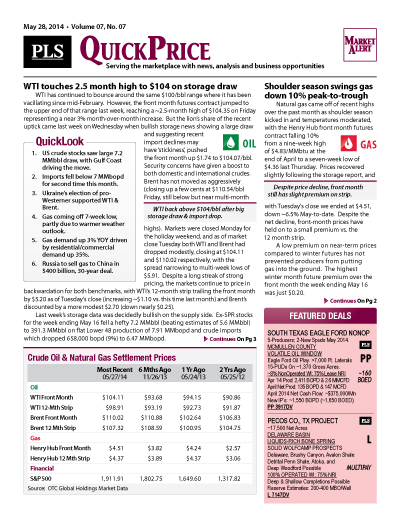 PLS publishes news and analysis impacting oil and gas pricing through its QPi (Pricing) Module. The maroon report is designed to provide active operators, acquirers, explorationists, capital providers and investors the key market and price information they need to be successful.
Your access to energy commodity pricing
Single copy pricing; Only email version
Increase understanding of oil and gas pricing
Published every 2 weeks
Stay abreast of current price dynamics and future outlook.
Includes discounts for other PLS products & events
Search PLS' News Archive for complete oil & gas news for QuickPrice .
See what it is about before you buy. View a sample issue of QuickPrice.
Need more information? Click the button to recieve more details about the QuickPrice
Opportunity is a reflection of information.
Call 713-650-1212 For More Information
Search QuickPrice:

Headline
Publication
News Date
QP - The Week in Crude Oil Markets - March 30, 2020
May WTI settled at $21.51/bbl on Friday, down from last Wednesday's high of $25.24/ bbl. As of this morning's trading, front-month WTI was testing support at $20/bbl and the front spread has continued deeper into contango at $3.81/bbl. The last time the front spread was this far in contango was in February 2011, when Cushing storage was approaching full capacity. Prompt crude oil prices in the field are approaching single digits in many locations. Shut-ins are likely to emerge in the coming...
Mar 30, 2020
QP - The Week in Crude Oil Markets - March 23, 2020
Talk of $10-$15/bbl crude oil is permeating conversations among traders and market analysts as prompt WTI treads water just below $22.50/bbl. Given the inability of nonOPEC production to respond quickly to the precipitous drop in global oil demand just as Saudi Arabia and others ramp up production, inventory builds in April and May are expected to be historically unrivaled in both the size and the speed at which they develop. Stepped-up quantitative easing announced by the Federal...
Mar 23, 2020
QP - The Week in Crude Oil Markets - March 16, 2020
Despite President Donald Trump's pledge on Friday to fill the Strategic Petroleum Reserve "to the top," crude oil futures continued to slide Monday morning amid growing fears of an outright contraction in global oil demand this year. A number of countries around the globe are going into lockdown in an effort to slow the coronavirus pandemic. Even without a contraction in world oil demand, the SPR fill proposed by the White House would only partly offset the volumes going into commercial...
Mar 16, 2020
QP - The Week in Crude Oil Markets - March 9, 2020
A collapse in oil prices followed last week's disastrous OPEC+ meeting, with front-month WTI dropping $4.62/bbl Friday to settle at $41.28/bbl and subsequently opening Monday morning at $32.29/bbl. Russia refused to go along with OPEC's plan to cut 1 MMbbl/d on the condition that non-OPEC participants to the OPEC+ deal also cut 0.5 MMbbl/d, which would have fallen mostly on Russia. In response, Saudi Aramco slashed official selling prices for its customers over the weekend. In what can...
Mar 09, 2020
QP - The Week in Crude Oil Markets - March 2, 2020
Crude oil futures ended last week at a 14-month low, with April WTI settling at $44.76/ bbl on Friday. The rapid spread of COVID-19 outside of China and the rising likelihood of a global economic slowdown sent financial markets around the world into a selloff, and oil futures trading has not been immune to the selling pressure. With China's economy weakened by the COVID-19 outbreak, market participants for several weeks had been expecting a significant reduction in China's petroleum demand...
Mar 02, 2020
QP - The Week in Crude Oil Markets - February 24, 2020
Crude oil futures trended higher over much of last week but lost ground on Friday amid renewed concerns over the spread of the COVID-19 virus. April WTI settled Friday at $53.38/bbl, a $0.50 drop from the day before, and is down more than 4% this morning. Outbreaks in South Korea, Italy and Iran have taken the market's focus off of China, where the number of new cases continues to slow and economic activity has been on the mend. Meanwhile, negotiations in Geneva between Libya's two warring...
Feb 24, 2020
QP - The Week in Crude Oil Markets - February 10, 2020
Prompt WTI futures struggled to tread water just above $50/bbl last Friday after Russia said it would need more time to formulate its position vis-à-vis the proposed 600,000 bbl/d of additional OPEC+ production cuts. The coronavirus outbreak in China has led to a major reassessment of global supply/demand fundamentals, with all eyes now on OPEC and allied non-OPEC countries to manage deteriorating physical market conditions. Even before the deadly coronavirus outbreak, early 2020 was set to be...
Feb 10, 2020
QP - The Week in Crude Oil Markets - February 3, 2020
Crude oil futures continued their downward slide last week, with March WTI opening last Monday at $53.70/bbl and settling Friday at $52.92/bbl. Front month WTI opened lower this morning at $51.01/bbl. Coronavirus concerns continue to dominate the headlines and market participants are bracing for a sharp slowdown in refined product demand as China takes aggressive efforts to contain the spread of the disease and countries around the world impose restrictions on air travel from China. OPEC and...
Feb 03, 2020
QP - The Week in Crude Oil Markets - January 27, 2020
The Week in Crude Oil Markets US crude oil inventories decreased by a modest 0.4 MMbbl the week that ended Jan. 17, according to last week's report from the US Energy Information Administration. Gasoline inventories increased by 1.7 MMbbl and distillate inventories decreased by 1.2 MMbbl. Total petroleum inventories posted an increase of 1.9 MMbbl. US crude oil production was estimated to be flat on the week, and crude oil imports were down by 120,000 bbl/d to 6.432 MMbbl/d....
Jan 27, 2020
QP - The Week in Crude Oil Markets - January 20, 2020
US crude inventories declined by 2.5 MMbbl the week that ended Jan. 10, according to last week's report from the US Energy Information Administration. Gasoline and distillate stocks increased by 6.7 MMbbl and 8.2 MMbbl, respectively, resulting in a very large increase of 14.5 MMbbl for total petroleum inventories. Inventory builds across the complex were largely attributable to depressed export volumes and seasonally weak demand for motor fuels. Crude runs, last reported at 16.973 MMbbl/d, will...
Jan 20, 2020
Get more news for QuickPrice