OilfieldServices
Serving the oilfield service sector with news, analysis and business opportunities.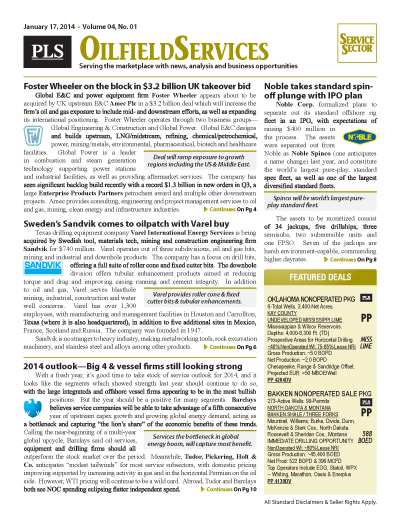 PLS publishes news and analysis on the oilfield service sector through its OFS module. The gold banner report, published every 3 to 4 weeks, covers the active sector with news and analysis on drilling, completions, field operations and technology.
Your access to oilfield service sector
Single copy pricing; Incl hard copy & email version
Increase understanding of field services & infrastructure
Published every 3 weeks; 17+ issues per year
Covers drilling rigs, field services, completions, equipment, OFS performance, supply, costs
Includes properties, oilfield services,
rigs & equipment for sale
Incl discounts for other PLS products & events
Search PLS' News Archive for complete oil & gas news for OilfieldServices .
See what it is about before you buy. View a sample issue of OilfieldServices.
Need more information? Click the button to recieve more details about the OilfieldServices
Opportunity is a reflection of information.
Call 713-650-1212 For More Information
Search OilfieldServices:

Headline
Publication
News Date
Forum replaces CEO with chairman after 18 months
Forum Energy Technologies chairman Christopher Gaut is returning to the CEO position that he held from 2010 to May 2017. He replaces Prady Iyyanki, who was Forum's COO before being elevated 18 months...
Dec 11, 2018
OFS - Analyst Notes - December 11, 2018
Weatherford (NYSE: WFT; Nov. 16—$0.85; Overperform to Market Perform) While we still remain confident that oil prices head higher over the next few years, and WFT FCF will outperform...
Dec 11, 2018
OFS - People & Companies - December 11, 2018
Halliburton CFO Chris Weber has left the company to pursue other opportunities after just over a year in the post. Weber joined Halliburton in June 2017 from Parker Drilling where he had been...
Dec 11, 2018
OFS - A&D Briefs - December 11, 2018
Weatherford International completed the sale of its Precision Drilling Services Saudi Arabia, including 11 land drilling rigs and associated customer contracts, to ADES International for $92.5...
Dec 11, 2018
Get more news for OilfieldServices