OilfieldServices
Serving the oilfield service sector with news, analysis and business opportunities.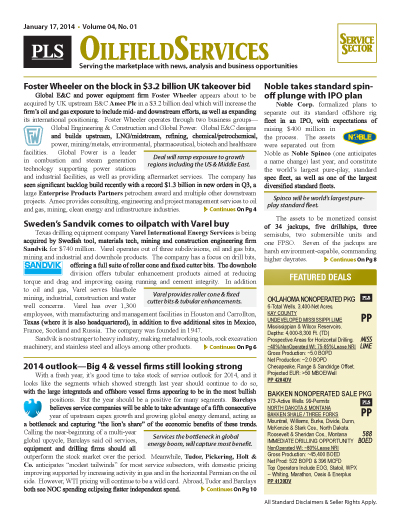 PLS publishes news and analysis on the oilfield service sector through its OFS module. The gold banner report, published every 3 to 4 weeks, covers the active sector with news and analysis on drilling, completions, field operations and technology.
Your access to oilfield service sector
Single copy pricing; Incl hard copy & email version
Increase understanding of field services & infrastructure
Published every 3 weeks; 17+ issues per year
Covers drilling rigs, field services, completions, equipment, OFS performance, supply, costs
Includes properties, oilfield services,
rigs & equipment for sale
Incl discounts for other PLS products & events
Search PLS' News Archive for complete oil & gas news for OilfieldServices .
See what it is about before you buy. View a sample issue of OilfieldServices.
Need more information? Click the button to recieve more details about the OilfieldServices
Opportunity is a reflection of information.
Call 713-650-1212 For More Information
Search OilfieldServices:

Headline
Publication
News Date
OFS - Weatherford to file for bankruptcy after dismal Q1 earnings - May 2019
Weatherford International will file a pre-arranged restructuring plan in US and Irish courts that would give 99% of its equity to the holders of 62% of its senior unsecured notes, the company announced May 10. Market headwinds, WFT's tumble on the NYSE, trouble generating positive cash flow and an underperforming transformation plan all combined with $7.92 billion in net debt to send the ailing member of the service sector's "Big Four" into Chapter 11 bankruptcy. The company also filed...
May 14, 2019
OFS - McDermott stands by Cameron LNG as Chiyoda struggles - May 2019
McDermott insisted that its cost position on Sempra energy's Cameron LNG export facility has not changed, disagreeing with a release by Chiyoda Corp., its JV partner on the construction project in Louisiana. The Japan-based engineering company, which has said it is threatened by unexpected costs on the project, reportedly agreed to an $1.36 billion lifeline. A release by Chiyoda's new Strategy and Risk Integration Division said it ran into "a substantial volume of unanticipated additional...
May 14, 2019
OFS - TGS buys Spectrum for $422MM, creating seismic leader - May 2019
Norway-based TGS-NOPEC Geophysical Co. struck a $422 million (NOK3.67 billion) deal to acquire Oslo-listed peer Spectrum, creating a leading global provider of 2D and 3D seismic data. TGS will issue 0.28 of its shares for each Spectrum share and pay $0.27 multiplied by the exchange ratio in cash, implying a transaction share price of NOK61.9 per Spectrum share, representing a 10.2% premium based on the May 2 closing price. In total, TGS will issue 16.6 million shares representing a 13.9%...
May 14, 2019
OFS - Patterson-UTI expects rig count to bottom out in Q2 - May 2019
Patterson-UTI Energy expects the slide in US drilling demand to continue, forecasting it will average 160 rigs operating in Q2, down from 175 in Q1 and 183 in 4Q18. CEO Andy Hendricks predicted that Patterson-UTI's daily rig count would bottom out in the mid-150s during Q2, but improved WTI prices should make that the low point of the year. "The speed and magnitude of the recovery in oil prices has been almost as surprising" as 4Q18's decline, executive chairman Mark Seigel said. "It...
May 14, 2019
OFS - Schlumberger sells Drilco, 16 Middle East rigs in two deals - May 2019
Schlumberger agreed to sell two of its businesses for around $400 million each. An affiliate of private equity firm Rhone Capital will acquire Schlumberger's Drilco, Thomas Tools and Fishing & Remedial services and part of a manufacturing facility in a deal announced on May 14. In late April, Schlumberger agreed to sell its Middle East onshore drilling rigs business in Kuwait, Oman, Iraq and Pakistan for $415 million to the drilling subsidiary of Saudi Arabia's Industrialization and...
May 14, 2019
OFS - WaterBridge buys PDC's Delaware water assets for $125MM - May 2019
PDC Energy will divest its Delaware Basin water midstream assets, including infrastructure and long-term future gathering and disposal rights, to a subsidiary of WaterBridge Resources for $125 million. The agreement is WaterBridge's fourth acquisition in the past six months. The transaction gives PDC access to WaterBridge's water disposal network of more than 1 MMbbl/d. Under a 15-year contract, WaterBridge will handle PDC's water gathering and disposals and offer an option to send recycled...
May 14, 2019
OFS - Teekay cashes out stake in FPSO operator Teekay Offshore - May 2019
Teekay Corp. agreed to sell its stake in Teekay Offshore Partners to Brookfield Business Partners and its institutional partners for $100 million. The sale includes Teekay's 49% general partner interest, common units, warrants and an outstanding $25 million loan to Teekay Offshore. Teekay Offshore owns $5.3 billion of 60 offshore assets, including FPSO units, shuttle tankers including six newbuilds, floating storage and offtake units, long-distance towing and offshore installation...
May 14, 2019
OFS - BHGE receives second major Tortue Ahmeyim contract - May 2019
Baker Hughes, a GE company will provide turbomachinery equipment for four floating LNG compression trains for BP's Greater Tortue Ahmeyim gas project. The award is BHGE's second major contract from the first phase of the project on the maritime border of Senegal and Mauritania. The trains will be placed on board Golar LNG's Gimi, an LNG carrier being converted into a 2.5 mtpa floating liquefaction vessel by Keppel in Singapore. Golar's topsides contractor, Black & Veatch, awarded...
May 14, 2019
OFS - Emerson wins 5-year data contract with BP at Clair Ridge - May 2019
After serving as the main automation contractor for BP's Clair Ridge development in the UK North Sea, Emerson has scored a five-year contract with the British supermajor to provide predictive maintenance and operational support services at the project's Clair Ridge platform and Glen Lyon FPSO, which came online in November. The engineering company's proprietary Plantweb digital ecosystem service will equip offshore personnel with real-time production data and analytics, including DeltaV...
May 14, 2019
OFS - TechnipFMC lands second IEPCI deal in GOM from BP - May 2019
BP awarded TechnipFMC an integrated engineering, procurement, construction and installation contract for the Thunder Horse South Expansion 2 project in the Gulf of Mexico. TechnipFMC also picked up its first ConocoPhillips IEPCI contract for a subsea production system and related infrastructure from the producer's Tor 2 development in the Norwegian North Sea. Both contracts were valued at $75-250 million. For BP, TechnipFMC will manufacture, deliver and install subsea equipment, including...
May 14, 2019
Get more news for OilfieldServices