OilfieldServices
Serving the oilfield service sector with news, analysis and business opportunities.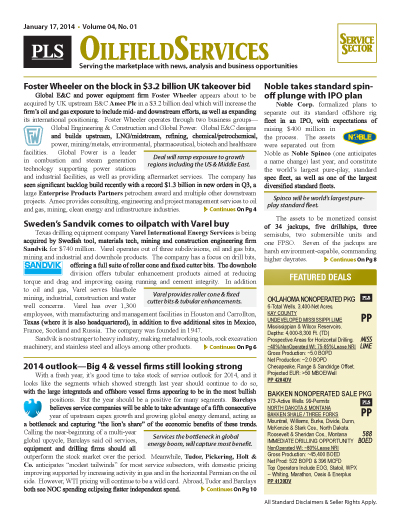 PLS publishes news and analysis on the oilfield service sector through its OFS module. The gold banner report, published every 3 to 4 weeks, covers the active sector with news and analysis on drilling, completions, field operations and technology.
Your access to oilfield service sector
Single copy pricing; Incl hard copy & email version
Increase understanding of field services & infrastructure
Published every 3 weeks; 17+ issues per year
Covers drilling rigs, field services, completions, equipment, OFS performance, supply, costs
Includes properties, oilfield services,
rigs & equipment for sale
Incl discounts for other PLS products & events
Search PLS' News Archive for complete oil & gas news for OilfieldServices .
See what it is about before you buy. View a sample issue of OilfieldServices.
Need more information? Click the button to recieve more details about the OilfieldServices
Opportunity is a reflection of information.
Call 713-650-1212 For More Information
Search OilfieldServices:

Headline
Publication
News Date
OFS - KBR's energy business will exit EPC contracts to calm investors - July 2020
KBR will slash its energy business, leaving lump-sum engineering, procurement and construction projects as it focuses on more stable government contracts. The announcement would remove a leading player in LNG projects. "We are exiting the blue-collar construction and lump sum EPC areas within our energy business, and this includes lump sum EPC as it relates to LNG," CEO Stuart Bradie said during a June 16 investor presentation. Specifics on how KBR intends to accomplish this will wait...
Jul 01, 2020
OFS - Oceaneering to feel effects of downturn beyond 2021 - July 2020
Oceaneering expects subsea tree awards to be down 50% and the number of offshore greenfield FIDs to fall 70% in 2020 from 2019. The FID decline is also skewed toward large projects, with expected capex falling 85%. These cutbacks will affect the offshore engineering industry in 2021 and beyond. The offshore decline in liquids output is expected to be in line with land cutbacks, with offshore barrels forecast to remain nearly 30% of global production in 2021. Oceaneering expects to...
Jul 01, 2020
OFS - SLB hit with $100MM suit alleging sexual harassment on rigs - July 2020
A former field engineer is suing Schlumberger for at least $100 million, accusing it of a culture that permits sexual harassment. The lawsuit filed in a Houston federal court seeks class action status, which would lead to as many as 500 women who worked on Schlumberger rigs across the country from 2017 to join as defendants. According to the suit, women are sexually harassed, groped and labeled with offensive terms at Schlumberger-operated rigs. The company typically ignores or...
Jul 01, 2020
OFS - Maersk Drilling to assist Danish carbon capture consortium - July 2020
Maersk Drilling is joining a carbon capture and storage consortium that looks to reuse discontinued offshore oil and gas fields off Denmark for permanent CO2 storage. Formed by Ineos Oil & Gas Denmark and Wintershall Dea, the consortium looks to enable CO2 captured in onshore facilities to be transported offshore for injection and storage just over a mile beneath the seabed. The consortium is maturing one of the most progressed projects, a plan to have a well ready to inject CO2...
Jul 01, 2020
OFS - Weatherford COO takes over CEO duties; three directors ousted - July 2020
Weatherford International's plan to divide interim CEO responsibilities across two people lasted a bit over a week. EVP and COO Karl Blanchard will take over those duties until the appointment of a permanent president and CEO. The company is also rebuilding its board of directors after stockholders rejected the re-election of three members. When CEO Mark McCollum left the company June 7, Weatherford said Blanchard would share CEO responsibilities with EVP and CFO Christian Garcia, who...
Jul 01, 2020
OFS - Analyst Notes - July 1, 2020
Helmerich & Payne (NYSE: HP; $21.42-June 22; Buy) Excluding early-termination payments, must acknowledge that we do see negative EBITDA as a very real possibility over the balance of CY'20, and we're now only modeling marginal positive EBITDA for FY'21 (vs. Street $79MM). Despite that ugly near-term outlook, more important in our view is fact that HP's healthy balance sheet (Mar-Q net debt/cap ~2%) still offers ample flexibility to weather the storm (and emerge stronger on the other...
Jul 01, 2020
OFS - People & Companies - July 1, 2020
Calgary-based Cordy Oilfield Services announced that Ricky Manhas resigned as director. Danos VP of business development Reed Peré will become VP of Permian operations. In this new role he is responsible for overseeing all Danos service lines and operations in the Permian Basin. Established in 1947, Danos has been working in the Permian since 2012 and recently completed construction of a new Permian headquarters in Midland, Texas. Essential Energy Services shareholders...
Jul 01, 2020
OFS - Fed: 16% of execs believe US activity will never fully recover - July 2020
Oilfield services companies paid the highest price of a historic Q2 downturn, according to results from the Federal Reserve Bank of Dallas quarterly survey. Respondents also indicated that they don't expect the oilpatch downturn to be a short one. In fact, one out of six predicted US drilling and completions activity will never return to where it was before the coronavirus pandemic. The business activity index for oilfield services firms plunged to -73.5 in Q2 from -46.3 in Q1. The...
Jul 01, 2020
OFS - Covia enters bankruptcy with rival Hi-Crush likely to follow - July 2020
Covia filed for Chapter 11 bankruptcy reorganization on June 29, the latest of several dark days for the depressed proppant sector. Hi-Crush Inc., an early mover into mining West Texas for frac sand, expects to enter bankruptcy after defaulting on its asset-based loan facility. Another frac sand provider, Vista Proppants and Logistics, entered Chapter 11 in early June (PG.9). Covia, which is based in Independence, Ohio, said it has reached a prepackaged deal that will reduce debt and...
Jul 01, 2020
OFS - Technology Briefs - July 1, 2020
The OOC Oil & Gas Blockchain Consortium has added Deloitte Risk & Financial Advisory as a strategic advisor. Deloitte will advise on efforts to accelerate the consortium's two mature projects, Integrated Joint Venture Management and Commodity Haulage, to help enable minimum viable products for initial adoption by member companies. The consortium has also partnered with the Blockchain Research Institute, which seeks to gather top global researchers on blockchain technology. OOC was...
Jul 01, 2020
Get more news for OilfieldServices