OilfieldServices
Serving the oilfield service sector with news, analysis and business opportunities.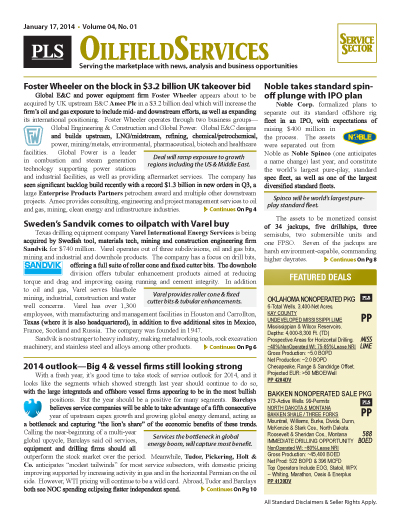 PLS publishes news and analysis on the oilfield service sector through its OFS module. The gold banner report, published every 3 to 4 weeks, covers the active sector with news and analysis on drilling, completions, field operations and technology.
Your access to oilfield service sector
Single copy pricing; Incl hard copy & email version
Increase understanding of field services & infrastructure
Published every 3 weeks; 17+ issues per year
Covers drilling rigs, field services, completions, equipment, OFS performance, supply, costs
Includes properties, oilfield services,
rigs & equipment for sale
Incl discounts for other PLS products & events
Search PLS' News Archive for complete oil & gas news for OilfieldServices .
See what it is about before you buy. View a sample issue of OilfieldServices.
Need more information? Click the button to recieve more details about the OilfieldServices
Opportunity is a reflection of information.
Call 713-650-1212 For More Information
Search OilfieldServices:

Headline
Publication
News Date
OFS - Fed: 16% of execs believe US activity will never fully recover - July 2020
Oilfield services companies paid the highest price of a historic Q2 downturn, according to results from the Federal Reserve Bank of Dallas quarterly survey. Respondents also indicated that they don't expect the oilpatch downturn to be a short one. In fact, one out of six predicted US drilling and completions activity will never return to where it was before the coronavirus pandemic. The business activity index for oilfield services firms plunged to -73.5 in Q2 from -46.3 in Q1. The...
Jul 01, 2020
OFS - Covia enters bankruptcy with rival Hi-Crush likely to follow - July 2020
Covia filed for Chapter 11 bankruptcy reorganization on June 29, the latest of several dark days for the depressed proppant sector. Hi-Crush Inc., an early mover into mining West Texas for frac sand, expects to enter bankruptcy after defaulting on its asset-based loan facility. Another frac sand provider, Vista Proppants and Logistics, entered Chapter 11 in early June (PG.9). Covia, which is based in Independence, Ohio, said it has reached a prepackaged deal that will reduce debt and...
Jul 01, 2020
OFS - ProPetro wraps up audit & finalizes 2019 earnings report - July 2020
ProPetro is looking to put its accounting mess behind it, issuing final earnings reports for 2Q19, 3Q19 and FY19 after completing an audit that led to the recent exit of its CEO. Despite all the turmoil, the Midland-based fracker managed to post its first year with $2 billion revenue and remained in the black in 2019. ProPetro also said that it saw no reason to restate 2018 or 1Q19 results. The audit committee review, which lasted about a year, found that ProPetro's management at the...
Jul 01, 2020
OFS - Streamlining effort will cost $1.2-1.4B, Schlumberger says - July 2020
Schlumberger expects efforts to trim down its organization and headcount will cost $1.2-1.4 billion. While noting that Q2 decline was steeper than expected, CEO Olivier Le Peuch said the reorganization is an act of looking beyond the downturn. The core of the reorganization was announced to employees in May. Schlumberger's current system of "GeoMarkets and sub-GeoMarkets teams" will be replaced with five "basins" groups: Americas land; offshore Atlantic; Middle East and North Africa;...
Jul 01, 2020
OFS - Dril-Quip outsources subsea control development to Proserv - July 2020
Dril-Quip will rely upon Proserv Group to develop and manufacture its subsea control systems under a new supply agreement. Houston-based Dril-Quip decided earlier to consolidate the supply and development of its control systems with a dedicated subsea controls provider. Aberdeen, Scotland-based Proserv established the focused division Proserv Controls last year as part of a corporate restructuring. Dril-Quip will continue to support its existing subsea controls customers with the...
Jul 01, 2020
OFS - BHP selects trio to provide pre-FEED of Trion field FSO unit - July 2020
Altera Infrastructure, BW Offshore and SBM Offshore have been selected by BHP to deliver a pre-FEED study for a floating storage and offloading unit for the Trion field in the deepwater Gulf of Mexico off Mexico. Financial terms were not disclosed. "By engaging with the selected contractors now, we're better enabled to optimize the design, and contracting and execution strategies for the FSO delivery," BHP petroleum operations president Geraldine Slattery said. The studies were awarded...
Jul 01, 2020
OFS - TechnipFMC lines up $190MM in work off Norway for Equinor - July 2020
TechnipFMC received two contracts and an LOI for pipelaying and subsea installation from Equinor for three projects in the Norwegian North Sea. The total value of the three assignments, including the option, is about NOK 1.8 billion ($190 million). The contracts cover the Breidablikk discovery and the gas import system for the Snorre expansion project. The LOI covers Askeladd Vest, a gas project in Snøhvit field. The Breidablikk contract has subsea installation as an option. The...
Jul 01, 2020
OFS - Good riddance to Q2, but will US activity ever be the same? - July 2020
A quarter no one in the services sector will forget—no matter how much they want to—has come to an end. What's left is the cleanup—brutal earnings reports, bankruptcies, depressed activity and day rates. A significant number of executives think this downturn will never be entirely over. The Dallas Fed's quarterly energy survey found 16% believe US drilling and completions activity will never fully rebound to pre-coronavirus levels. Another 39% said it will happen in 2022 or later...
Jul 01, 2020
OFS - McDermott finishes structures & pipelines project off Malaysia - July 2020
McDermott International completed the Pan Malaysia transportation and installation projects located off Miri, Malaysia, for Sarawak Shell Berhad and SapuraOMV. Awarded in November 2018, the projects included the transport and installation of jackets, topsides and pipelines for the Gorek, Larak and Bakong gas fields. McDermott's vessel, the Derrick Barge 30, was used to install the structures and pipelines, including the longest corrosion-resistant alloy pipeline in Malaysia....
Jul 01, 2020
OFS - Contracts & Projects Briefs - July 1, 2020
Allseas' heavy lift vessel Pioneering Spirit completed its first decommissioning job of this summer, the single-lift removal of Shell's Brent Alpha platform from the North Sea. Several years of planning and 15 months of offshore preparation culminated in the nine-second "fast lift" of the 17,000-tonne topsides on June 21. Pioneering Spirit will deliver the 44-year old structure to Able UK Ltd.'s Teesside decommissioning yard in England for dismantling and recycling. This summer, Pioneering...
Jul 01, 2020
Get more news for OilfieldServices