MidstreamIntelligence
Serving the downstream sector with news, analysis and business opportunities.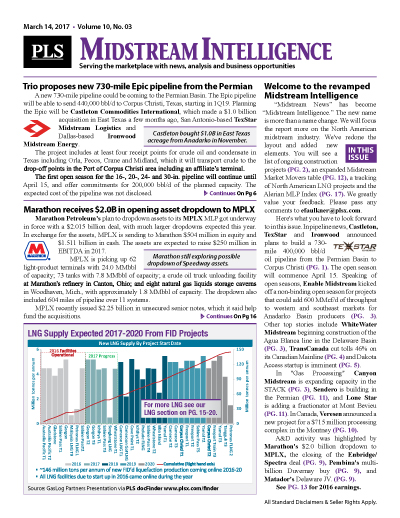 The PLS MidstreamIntelligence Module covers news and analysis on the midstream sector. The purple banner report includes market information, news and analysis on gas gathering, marketing, pipelines, storage, midstream mergers, acquisitions, capital and corporate performance.
Your access to midstream & downstream markets
Single copy pricing; Incl hard copy & email version
Increase market insight & deal flow
Published every 3 weeks; 17+ issues per year
Covers gathering, rail, processing, pipelines, refining and LNG
Phone request for multiple listings for sale
Includes discounts for other PLS products & events
Search PLS' News Archive for complete oil & gas news for MidstreamIntelligence .
See what it is about before you buy. View a sample issue of MidstreamIntelligence.
Need more information? Click the button to recieve more details about the MidstreamIntelligence
Opportunity is a reflection of information.
Call 713-650-1212 For More Information
Search MidstreamIntelligence:

Headline
Publication
News Date
MI - Cheniere's Corpus Christi Train 2 allowed to start service - September 6, 2019
The Federal Energy Regulatory Commission gave Cheniere Energy's Corpus Christi Liquefaction facility in Texas permission to begin commercial and export operations from its second 4.5 mtpa train. Train 2 completed its first commissioning cargo in July. Spain's Iberdrola and Naturgy, Indonesia's Pertamina, Australia's Woodside energy and France's EDF will be the primary recipients of the LNG, Platts reported. The addition means Cheniere and contractor Bechtel have placed into service...
Sep 06, 2019
MI - ET looking to delay Lake Charles LNG deadline to 2025 - September 2019
Energy Transfer and Shell are asking the Federal Energy Regulatory Commission for a five-year extension through 2025 to build its Lake Charles LNG export facility in Louisiana, with Shell saying the JV is targeting a 2023-2024 startup to take advantage of a forecast dip in supply. When FERC approved Lake Charles LNG in 2015, the regulator gave the ET-led JV a December 2020 deadline to start commercial operations, a deadline it will not meet because it has yet to reach a final investment...
Sep 06, 2019
MI - Gazprom and Equinor lose European gas market share to LNG - September 2019
Market share in Europe's gas supply fell for the first time in four years for Equinor and Gazprom, the two largest suppliers of pipeline gas for the region. The drop left room for LNG imports to triple, increasing to 14% market share between last October and August from 5% in the same period of 2017-2018, Reuters reported. US LNG imported into northwest Europe accounted for 2% of total gas supply in the region during this period. Norway's share fell to 33% from 38% over the respective...
Sep 06, 2019
MI - Novatek reaches FID on world's largest LNG project - September 2019
Novatek is going ahead with Arctic LNG-2, the $21.3 billion project to build a 19.8 mtpa liquefaction facility in western Siberia. The first of three trains is scheduled for startup in 2023. The final investment decision was announced Sept. 5 at an economic forum in Vladivostok, Russia. By production capacity, Arctic LNG 2 is the largest liquefaction project to ever reach FID. The Russian company's first Arctic LNG project, Yamal LNG, reached its full 16.5 mtpa production capacity in...
Sep 06, 2019
MI - Freeport LNG exports first cargo from Texas facility's Train 1 - September 2019
Freeport LNG shipped the first LNG shipping cargo from Train 1, a milestone for the second operating liquefaction export facility in Texas. About 150,000 cubic meters of LNG were loaded aboard the LNG Jurojin, which departed from the terminal on Quintana Island on Sept. 3. Train 1's contracted capacity is evenly divided between Osaka Gas Co. and a JV of Tokyo Electric Power Co. and Chubu Electric Power Co. The first of three 5 mtpa trains was originally scheduled for startup in...
Sep 06, 2019
MI - Frontline to acquire 10 Suezmax tankers for up to $675MM - September 2019
Geneva-based commodity trader Trafigura's marine logistics subsidiary agreed to sell 10 Suezmax tankers to Frontline Ltd. for $538-547 million cash and 16,035,856 ordinary shares of Frontline at an agreed price of $8.00/share. With a total value of $666.29-675.29 million, the deal will make Trafigura a strategic shareholder in NYSEand Oslo-listed Frontline with an 8.48% equity stake. Closing is scheduled between Nov. 15 and March 15. The 10 tankers were all built during 2019 in South...
Sep 06, 2019
MI - TC Energy wins Nebraska court fight to build Keystone XL - September 2019
TC Energy's Keystone XL route has passed muster before the Nebraska Supreme Court. The approval is one of the last major obstacles to the $8 billion project, although environmentalist activists continue to fight the 1,179-mile crude pipeline in federal court. Nebraska's Public Service Commission approved the construction of the project in the state last year, but it rejected TC's preferred route and approved an alternate path so Keystone XL will more closely match the current Keystone...
Sep 06, 2019
MI - Enbridge's Mainline open season has industry up in arms - September 2019
Enbridge is facing backlash from the industry over its Mainline open season and its attempt to switch from a short-term model to contracted long-term commitments. SunCor, Shell, Canadian Natural Resources Ltd. and the Explorers and Producers Association of Canada have all filed letters with the Canada Energy Regulator— formerly the National Energy Board—seeking a decision on whether Enbridge is unfairly exercising its power as provider of 70% of oil exit capacity from the Western Canadian...
Sep 06, 2019
MI - LNG Briefs - September 6, 2019
The Federal Energy Regulatory Commission formally accepted Houston based Commonwealth LNG's application to build an export terminal in southwest Louisiana with operations starting in early 2024. The project would produce 8.4 mtpa over six trains on 393 acres along the Calcasieu Ship Channel. The project has been listed in pre-filing since August 2017. NextDecade moved its final investment decision on its Rio Grande LNG project to Q4 in its August investor presentation. When the company...
Sep 06, 2019
MI - Developments & Trends Briefs - September 6, 2019
Buckeye Partners' Bahamas hub apparently sustained no significant damage from Hurricane Dorian, although the partnership cautioned that its report was a preliminary assessment. The company said it will provide further updates after in-depth, on-the-ground inspections. Buckeye's Bahamas hub has more than 26 MMbbl of storage for crude, fuel oil, diesel, gasoline and other products. Buckeye intends to help bring needed supplies to Grand Bahama Island as soon as it is safe. The hub has eight docks,...
Sep 06, 2019
Get more news for MidstreamIntelligence