MidstreamIntelligence
Serving the downstream sector with news, analysis and business opportunities.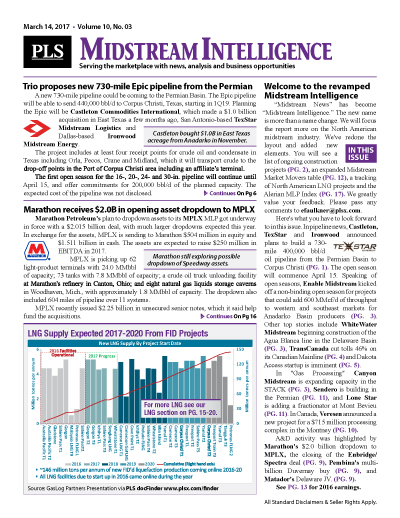 The PLS MidstreamIntelligence Module covers news and analysis on the midstream sector. The purple banner report includes market information, news and analysis on gas gathering, marketing, pipelines, storage, midstream mergers, acquisitions, capital and corporate performance.
Your access to midstream & downstream markets
Single copy pricing; Incl hard copy & email version
Increase market insight & deal flow
Published every 3 weeks; 17+ issues per year
Covers gathering, rail, processing, pipelines, refining and LNG
Phone request for multiple listings for sale
Includes discounts for other PLS products & events
Search PLS' News Archive for complete oil & gas news for MidstreamIntelligence .
See what it is about before you buy. View a sample issue of MidstreamIntelligence.
Need more information? Click the button to recieve more details about the MidstreamIntelligence
Opportunity is a reflection of information.
Call 713-650-1212 For More Information
Search MidstreamIntelligence:

Headline
Publication
News Date
MSI - People & Companies - January 16, 2019
Transcanada intends to change its name to TC Energy, which the Calgarybased company said would better reflect the scope of the company's operations. A special resolution to change the name will...
Jan 16, 2019
MSI - Projects Briefs - January 15, 2019
The US Army Corps of Engineers awarded its first contract in the fiveyear, $326 million project to deepen the Corpus Christi Ship Channel. Illinois-based Great Lakes Dredge & Dock Co....
Jan 15, 2019
MSI - Finance Briefs - January 15, 2019
Vaquero Midstream completed an upsize of its revolving credit facility to $225 million. The company, which owns two 200 MMcf/d cryogenic plants in the Delaware Basin with plans for three more,...
Jan 15, 2019
MSI - Legal & Regulatory Briefs - January 15, 2019
Canada's National Energy Board granted Transcanada's Coastal GasLink an extension to Jan. 25 to submit additional written evidence as to why the project does not lies outside NEB's jurisdiction. The...
Jan 15, 2019
MSI - A&D Briefs - January 15, 2019
Martin Midstream Partners LP (MMLP) completed its $135 million purchase of Martin Transport Inc. from Martin Resource Management Corp. MTI operates a fleet of tank trucks providing transportation of...
Jan 15, 2019
MSI - News Briefs - January 15, 2019
Williams' Gulf Connector project started full service, connecting its Transco pipeline to two Texas LNG export projects. Gulf Connector expands the Transco system's delivery capacity by 475...
Jan 15, 2019
Get more news for MidstreamIntelligence