MidstreamIntelligence
Serving the downstream sector with news, analysis and business opportunities.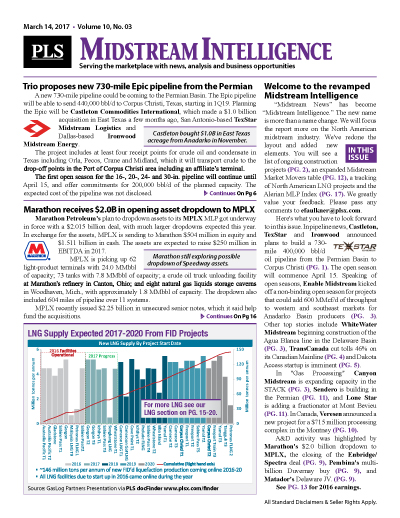 The PLS MidstreamIntelligence Module covers news and analysis on the midstream sector. The purple banner report includes market information, news and analysis on gas gathering, marketing, pipelines, storage, midstream mergers, acquisitions, capital and corporate performance.
Your access to midstream & downstream markets
Single copy pricing; Incl hard copy & email version
Increase market insight & deal flow
Published every 3 weeks; 17+ issues per year
Covers gathering, rail, processing, pipelines, refining and LNG
Phone request for multiple listings for sale
Includes discounts for other PLS products & events
Search PLS' News Archive for complete oil & gas news for MidstreamIntelligence .
See what it is about before you buy. View a sample issue of MidstreamIntelligence.
Need more information? Click the button to recieve more details about the MidstreamIntelligence
Opportunity is a reflection of information.
Call 713-650-1212 For More Information
Search MidstreamIntelligence:

Headline
Publication
News Date
MI - Marathon chooses to keep MPLX structure following review - March 2020
Marathon Petroleum Corp. will remain the general partner of MPLX after MPC directors unanimously decided not to change its current midstream structure, the refiner announced March 18. After a special committee board conducted a formal review, MPC decided that MPLX contributes more to the general partner than a spinoff would. MPC also repeated its intent to sell its Speedway convenience store chain and said that MPLX CEO Michael Hennigan will become the parent company's CEO as well. MPC...
Mar 26, 2020
MI - Targa slashes dividend & capex budget in quest to save $1.5B - March 2020
Targa Resources reduced its quarterly dividend by 89% and its 2020 capex budget by 32% at midpoint, two moves that should save the company about $1.5 billion. Targa's preliminary estimate for 2021 net growth capex spending is just $200 million—a 92% drop from the $2.57 billion it spent in 2019. The quarterly dividend for Q1 will be $0.10 per common share compared with the $0.91/share Q4 dividend it paid Feb. 18. This reduction provides for $755 million of additional annual direct cash...
Mar 26, 2020
MI - Oneok's $1.75B in notes put YTD sector total near $17B - March 2020
Oneok sold $1.75 billion aggregate principal amount of senior notes to repay commercial paper, fund capital expenditures and potentially pay down some existing debt. The offerings consisted of $400 million of five-year senior notes with a 2.2% coupon, $850 million of 10-year senior notes paying 3.1% p.a. and back-to-back $400 million and $100 million offerings of 4.5% senior notes due 2050. Though there were two offerings, the 2050 notes formed a single series that will be reported with a...
Mar 26, 2020
MI - TC Energy set to begin preliminary work on Keystone XL in April - March 2020
TC Energy is starting preliminary work along the Keystone XL route in the US in anticipation of construction beginning in April, the Associated Press reported March 11. Spokesperson Sara Rabern said the company is moving equipment and will begin clearing areas along the 1,200-mile route before the end of March. She added that work is planned in Montana, South Dakota and Nebraska but did not provide further details on locations. Construction is slated to begin on the pipeline's border...
Mar 26, 2020
MI - Sanchez exits Seco pipeline, sending SNMP to $48MM net loss - March 2020
Bankrupt Sanchez Energy suspended use of the Seco gas pipeline, causing Sanchez Midstream Partners to take a $32.1 million impairment on the 30-mile pipeline in South Texas. The impairment caused SNMP to take a net loss of $47.8 million on revenue of $16.4 million in 4Q19 when it released earnings on March 13. Completed in 2017, Seco sends dry gas from the Raptor processing facility to markets in South Texas. While it has a 400 MMcf/d capacity, Seco transported an average of just 1.9...
Mar 26, 2020
MI - Superior Pipeline extends STACK contract dedication area - March 2020
Superior Pipeline Co. entered into a long-term, fee-based gas gathering and processing agreement with an active producer in the STACK. The company said the agreement replaces a prior contract and expands the producer's dedication area to 345,000 gross acres. Within the dedicated acreage, the producer plans to continue developing the Oswego, Mississippian, Woodford and Hunton formations in central Oklahoma. The company operates 1,500 miles of pipeline, seven gas processing facilities...
Mar 26, 2020
MI - Not even midstream sector is immune from this slowdown - March 2020
The midstream sector, often credited with being more stable than other parts of the oil and gas industry, is not invincible. As E&P firms start gutting their capex budgets, midstream companies are tightening their belts too, postponing projects, revisiting their dividends and socially distancing themselves from earlier 2020 plans. The construction slowdown will be delayed, as companies generally committed to complete ongoing projects, with capex cuts going into 2021. One of the sharpest...
Mar 26, 2020
MI - Crestwood starts 200 MMcf/d plant in time for Oxy dedication - March 2020
Crestwood Equity Partners started commercial operations at the 200 MMcf/d Bucking Horse II processing plant in Converse County, Wyoming. The Bucking Horse II plant brings Crestwood's total processing capacity in the Powder River Basin to 345 MMcf/d and gives it the ability to process all volumes gathered by its Jackalope gas gathering system. Additionally, Crestwood has entered a new gathering and processing agreement to provide wellhead services for Occidental Petroleum's 2020...
Mar 26, 2020
MI - OSG completes acquisition of Alaska crude tankers from BP - March 2020
Overseas Shipholding Group completed the purchase of three US-flagged crude tankers, the Alaskan Explorer, Alaskan Legend and Alaskan Navigator from BP and have entered into a bareboat charter with BP for a fourth vessel, the Alaskan Frontier. The Tampa, Florida-based company also made Alaska Tanker Co. a wholly owned subsidiary of OSG instead of a JV with BP. The vessels purchased will continue to be operated by ATC under time charters with BP Exploration (Alaska), Inc., with firm...
Mar 26, 2020
MI - Pipelines Briefs - March 26, 2020
Ineos delayed its planned summer shutdown of the Forties Pipeline System to carry out upgrades, which are part of a £500 million ($580 million) project to rejuvenate the pipeline. The 600,000 bbl/d FPS is an integrated oil and NGL transportation and processing system serving the central North Sea in both UK and Norwegian waters. The UK-based company had previously said the shutdown would start on June 16 but now says it will not occur before August. Tallgrass Energy is launching a...
Mar 26, 2020
Get more news for MidstreamIntelligence