MidstreamIntelligence
Serving the downstream sector with news, analysis and business opportunities.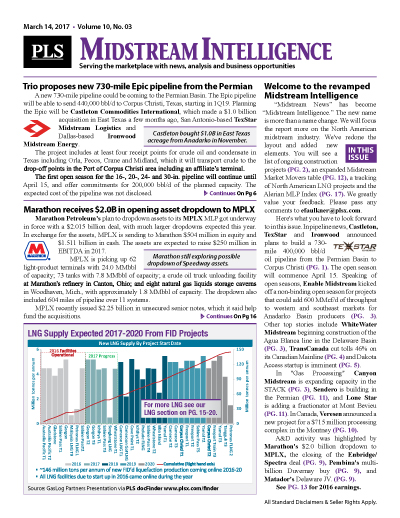 The PLS MidstreamIntelligence Module covers news and analysis on the midstream sector. The purple banner report includes market information, news and analysis on gas gathering, marketing, pipelines, storage, midstream mergers, acquisitions, capital and corporate performance.
Your access to midstream & downstream markets
Single copy pricing; Incl hard copy & email version
Increase market insight & deal flow
Published every 3 weeks; 17+ issues per year
Covers gathering, rail, processing, pipelines, refining and LNG
Phone request for multiple listings for sale
Includes discounts for other PLS products & events
Search PLS' News Archive for complete oil & gas news for MidstreamIntelligence .
See what it is about before you buy. View a sample issue of MidstreamIntelligence.
Need more information? Click the button to recieve more details about the MidstreamIntelligence
Opportunity is a reflection of information.
Call 713-650-1212 For More Information
Search MidstreamIntelligence:

Headline
Publication
News Date
MI - Enterprise trades its third crude pipe for interest in PAA's W2W - February 2020
Enterprise Products Partners will own a 29% undivided joint interest in the 1.5 MMbo/d Wink to Webster pipeline, a Permian crude long-haul being built by a JV that includes Plains All American Pipeline and ExxonMobil. As part of the agreement, the Midland-to-ECHO 3 project, Enterprise's planned pipeline to its Enterprise Crude Houston (ECHO) terminal, will be folded into the system. The combination cuts takeaway planned for 2020 by 450,000 bo/d as some worry about slowing crude production...
Feb 11, 2020
MI - PAA sees opportunities even as it projects crude slowdown - February 2020
Plains All American Pipeline expects crude production in the Permian Basin to increase by just 400,000 bo/d in 2020, a much slower rate of growth than in the past couple of years. Despite the expected slowdown, PAA still saw enough value to pay Felix Midstream $300 million for an 80-mile crude pipeline in the basin. US production grew by 1.25 MMbo/d in 2019, down from an increase of 1.64 MMbo/d in 2018, according to the US Energy Information Administration. But even with 400,000 bo/d in...
Feb 11, 2020
MI - Start of GCX caps record-setting year for Kinder Morgan - February 2020
Kinder Morgan Inc. posted its sixth straight quarterly positive net income in 4Q19 and a record $2.19 billion net income for the year. Much of the strength came from growing gas volumes; Q4 was the company's eighth consecutive quarter of more than 10% YOY gas transport increases, boosted by the recently commissioned Gulf Coast Express gas pipeline. The GCX out of the Permian to Agua Dulce, Texas, which entered service at the end of September, is "routinely" running at its full 2...
Feb 11, 2020
MI - Crude pipeline crunch stalls growth in Bakken & Rockies - February 2020
Production growth in the Bakken and Rockies has been bumping its head against a ceiling in the past few months, and a shortage of crude takeaway pipeline is partly to blame. Relief is probably more than a year away, according to the latest Enverus FundamentalEdge report. Bakken crude output has flatlined around 1.5 MMbo/d amid lower drilling activity since 1H19. Operators are also focusing on living within cash flows, and a year of WTI prices typically under $60/ bbl has also...
Feb 11, 2020
MI - Layne Water expands contract with state on Permian acreage - February 2020
Layne Water Midstream received exclusive reuse and disposal rights on 88,000 acres owned by the Texas General Land Office in Reeves and Culberson counties in the Delaware Basin. The rights are an expansion of a long-term agreement signed in 2017 that permitted the company to develop non-potable water resources for use in drilling on the property. The contract amendment will enable Layne to develop, construct and operate water infrastructure on GLO acreage that will gather, transport,...
Feb 11, 2020
MI - ARB Midstream's DJ Basin system connects to Pony Express - February 2020
ARB Midstream subsidiary DJ South Gathering has expanded its oil gathering and transport system in the DJ Basin in northeastern Colorado. The subsidiary said its Platteville Complex is now connected to Tallgrass Energy's 400,000 bo/d Pony Express pipeline and terminal system. The connection has an initial capacity of 48,000 bo/d. The Pony Express system will be fed by ARB's 300,000 bo crude storage at Platteville, which is fed by DJSG's 90,000 bo/d Badger pipeline segment, the 220,000...
Feb 11, 2020
MI - Phillips 66 Partners to start full service on Gray Oak in Q2 - February 2020
Phillips 66 Partners intends to spend $734 million on growth projects in 2020, a year that will include the ramp-up of the Gray Oak crude pipeline and the opening of the supertanker-capable South Texas Gateway terminal. The Gray Oak started in the final weeks of 2019, capping PSXP's most profitable year yet. Gray Oak, which PSXP operates and owns with 42.25% interest, is currently flowing crude from West Texas to its central junction in the Eagle Ford. Full service to the Texas Gulf...
Feb 11, 2020
MI - Enterprise starts up 200 MMcf/d cryo plant in northeast Texas - February 2020
Enterprise Products Partners started operations at its new 200 MMcf/d Bulldog cryogenic processing plant in Panola County, Texas. Bulldog is currently running near 100% of its capacity with production from the Cotton Valley and Haynesville formations. The facility has the capability to extract up to 12,000 bbl/d of NGLs. Combined with Enterprise's existing Panola cryogenic facility, this new plant gives the company the capacity to process 320 MMcf/d and produce more than 18,000 bbl/d of...
Feb 11, 2020
MI - Midstream feeling the pinch as US producers slow down - February 2020
Even midstream companies are not immune to the US land slowdown or investor pressure to watch their spending. The first companies to report their earnings seemed focused on stressing the modesty of their capex plans as they prepare for slower growth. How much slower is a matter of debate. Plains All American Pipeline expects Permian Basin crude production to increase just 400,000 bo/d in 2020, a small fraction of growth in the past two years (PG.1). Plus, PAA's estimate was made before the...
Feb 11, 2020
MI - Kirby buys Savage inland tank barges & bunkering for $278MM - February 2020
Kirby Corp. announced the signing of a definitive agreement to acquire Savage's inland tank barge fleet for $278 million in cash and the assumption of leases. The acquisition also includes Savage's ship bunkering business in New Orleans, allowing Kirby to expand bunkering operations beyond Texas and Florida. Savage's fleet consists of 90 inland tank barges with 2.5 MMbbl of capacity and 46 inland towboats moving mainly petrochemicals, refined products and crude. Kirby president David...
Feb 11, 2020
Get more news for MidstreamIntelligence