MidstreamIntelligence
Serving the downstream sector with news, analysis and business opportunities.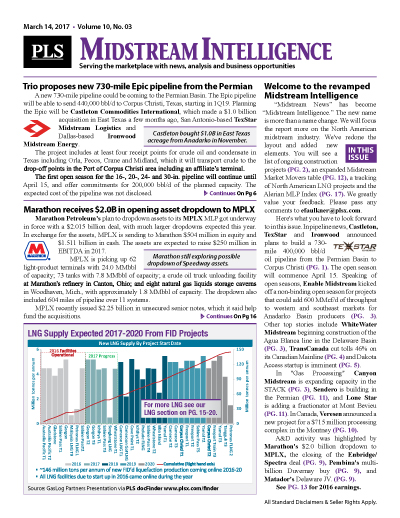 The PLS MidstreamIntelligence Module covers news and analysis on the midstream sector. The purple banner report includes market information, news and analysis on gas gathering, marketing, pipelines, storage, midstream mergers, acquisitions, capital and corporate performance.
Your access to midstream & downstream markets
Single copy pricing; Incl hard copy & email version
Increase market insight & deal flow
Published every 3 weeks; 17+ issues per year
Covers gathering, rail, processing, pipelines, refining and LNG
Phone request for multiple listings for sale
Includes discounts for other PLS products & events
Search PLS' News Archive for complete oil & gas news for MidstreamIntelligence .
See what it is about before you buy. View a sample issue of MidstreamIntelligence.
Need more information? Click the button to recieve more details about the MidstreamIntelligence
Opportunity is a reflection of information.
Call 713-650-1212 For More Information
Search MidstreamIntelligence:

Headline
Publication
News Date
MI - Marathon Petroleum to spin off Speedway, mull MPLX moves - November 2019
Marathon Petroleum will form a special board committee to review options for its midstream business, including master limited partnership MPLX. The downstream company also announced it will spin off its Speedway retail store operations. In addition, MPLX announced it had trimmed 2020 capex plans by $600 million to $2 billion. MPC has faced some activist shareholder pressure of late, but CEO Gary Heminger said a strategic review has been ongoing since January. "With a potential...
Nov 07, 2019
MI - TC looking to move more Alberta gas to US via two projects - November 2019
TC Energy launched two expansion projects that will give the Western Canadian Sedimentary Basin additional access to the US Pacific Northwest. The announcements increase total sanctioned expansions to the NOVA Gas Transmission Ltd. and Foothills systems to C$10 billion ($7.6 billion). In discussing the projects during the Q3 earnings call, CEO Russ Girling said he expects the company's footprint to produce similar C$500 million to C$1.5 billion growth projects several times a year. In...
Nov 07, 2019
MI - Kinder Morgan pushes back start for two Permian pipelines - November 2019
Kinder Morgan Inc. delayed the expected start of its 2 Bcf/d Permian Highway pipeline, potentially missing the winter 2020-2021 demand season. Permian Pass, another 2 Bcf/d KMI pipeline from the Permian to the Texas Gulf Coast, might also miss its expected start date of 2022. The Permian Highway news sent gas futures higher for early 2021. On Oct. 18, the day after the company's announcement, prices for winter gas futures rose about $0.03/MMbtu to $2.73/MMbtu in January 2021 and...
Nov 07, 2019
MI - Dominion sells 25% Cove Point stake to Brookfield for $2B - November 2019
Dominion Energy agreed to sell a 25% stake in its subsidiary that owns the Cove Point LNG facility in Maryland to an infrastructure fund managed by global investment firm Brookfield Asset Management for $2.06 billion. The Virginia-based utility and midstream company will retain operational control of Cove Point, the second US facility to export LNG. Dominion Energy Cove Point LNG LP owns the import, export and storage facility in Lusby, Maryland, and a 136-mile pipeline, which gets...
Nov 07, 2019
MI - EPIC launches third open season for Permian-to-Gulf crude line - November 2019
EPIC Crude Holdings launched a third open season for its 30-inch crude pipeline from the Permian to the Texas Gulf Coast, which will be completed in 1Q20. The company is currently moving crude on its 24-inch Y-Grade pipeline, which was completed in August. The pipelines run parallel from Orla, Texas, to the Port of Corpus Christi and connect with terminals in Orla, Saragosa, Crane, Wink, Midland, Upton, Hobson and Gardendale, with connectivity to the Corpus refining market as well...
Nov 07, 2019
MI - Rangeland gearing up to build system in Alberta's Marten Hills - November 2019
Rangeland Midstream Canada is clearing rights of way for its Marten Hills crude and condensate system with pipeline construction to start in late October. The Marten Hills system in north-central Alberta will extend about 85 km (53 miles), terminating at an interconnect with Plains Midstream Canada's Rainbow pipeline system, which serves the Edmonton, Alberta, hub and refining market. The system is anchored by long-term transportation agreements with three of the region's largest producers, who...
Nov 07, 2019
MI - Shell Midstream starts mission to boost Mars capacity in GOM - November 2019
Shell Midstream Partners intends to expand its Mars offshore pipeline because the 163-mile pipeline from the Mississippi Canyon to Louisiana is expected to reach capacity. The partnership announced a solicitation of interest, offering priority service on the new incremental capacity for Mars. The company expects the new volumes from fields such as Vito, PowerNap and other nearby prospects. Shell Midstream is keeping the anticipated size and cost of the expansion to itself because to say...
Nov 07, 2019
MI - Earnings calls suggest many trimming 2020 capex - November 2019
Q3 earnings season is coming to a close, and several conference calls provided peeks into 2020 capex planning. Many midstream companies are joining those in the E&P and oilfield services sector by cutting back. TC Energy announced C$1.2 billion ($910 million) and $335 million projects to get more Alberta gas to the US Pacific Northwest. The Calgary, Alberta -based company is in the middle of a multi-year, C$30 billion growth program, although talks are progressing on selling up to 75%...
Nov 07, 2019
MI - DJ South starts pumping crude into 90,000 bo/d Badger - November 2019
DJ South Gathering's Badger pipeline started receiving crude in October. The 90,000 bo/d Badger transports production from southwestern Weld County, Colorado, to 300,000 bo of storage at the Platteville, Colorado, hub. The pipeline is one of three large-diameter transmission lines currently being constructed by DJS, a subsidiary of ARB Midstream. DJS is also building the 220,000 bo/d Matador and the 150,000 bo/d Freedom pipelines. Matador, which is slated to be in service in YE19, will...
Nov 07, 2019
MI - Pipelines Briefs - November 7, 2019
Seaway Crude Pipeline Co., a 50:50 JV of Enterprise Product Partners and Enbridge, plans to hold an open season regarding an expansion of crude capacity on its existing system from Cushing to the Texas Gulf Coast. The expansion would add 200,000 bo/d of capacity to the system and include quality enhancements in the separation of heavy and light crude shipments. Initial expansion capacity would be available by mid-2020 and full capacity by 2022. Dates for the open season will be announced later....
Nov 07, 2019
Get more news for MidstreamIntelligence