MidstreamIntelligence
Serving the downstream sector with news, analysis and business opportunities.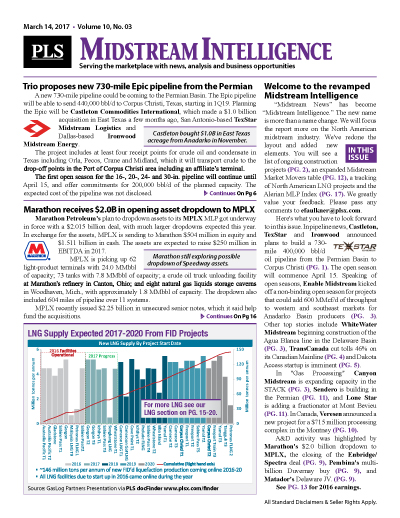 The PLS MidstreamIntelligence Module covers news and analysis on the midstream sector. The purple banner report includes market information, news and analysis on gas gathering, marketing, pipelines, storage, midstream mergers, acquisitions, capital and corporate performance.
Your access to midstream & downstream markets
Single copy pricing; Incl hard copy & email version
Increase market insight & deal flow
Published every 3 weeks; 17+ issues per year
Covers gathering, rail, processing, pipelines, refining and LNG
Phone request for multiple listings for sale
Includes discounts for other PLS products & events
Search PLS' News Archive for complete oil & gas news for MidstreamIntelligence .
See what it is about before you buy. View a sample issue of MidstreamIntelligence.
Need more information? Click the button to recieve more details about the MidstreamIntelligence
Opportunity is a reflection of information.
Call 713-650-1212 For More Information
Search MidstreamIntelligence:

Headline
Publication
News Date
MI - Williams to form $3.8 billion JV with Canadian pension fund - March 2019
Williams will partner with the Canada Pension Plan Investment Board in a $3.8 billion gas gathering and processing JV in the western Marcellus and Utica shale plays under an agreement announced March 18. CPPIB will pay $1.34 billion for a 35% stake in the JV, with Williams holding the rest and remaining operator. The transaction gives Williams cash for its $2.7-2.9 billion growth capex budget and debt reduction, while CPPIB adds a midstream stake that complements a nearly $2 billion...
Mar 19, 2019
MI - Trafigura warns US crude exports need trade peace with China - March 2019
The US will need to resolve its trade issues with China if it wishes to reach its potential as a crude exporter, an executive at commodities trader Trafigura said at a recent industry conference. Trade tensions between the countries have reduced US crude shipments to China, with tankers going to Europe and India instead.With Permian Basin output growing and US refineries near their limits for light sweet crude, eight groups have announced projects on the Gulf Coast to fill very large...
Mar 19, 2019
MI - Analyst Notes - March 19, 2019
Kinder Morgan Inc. (NYSE: KMI; $19.73 -March 11; Buy; PT-$21) While we continue to view KMI as a core defensive holding given an improved balance sheet, outsized dividend coverage and growing FCF; recent performance likely increases execution risk as outcome of the KML strategic review is anticipated by the Q1 earnings report in coming weeks. Since announcement of the Trans Mountain sale in May'18, consensus expectation has increased for an outright exit of KML with an accompanying sale...
Mar 19, 2019
MI - Goodnight Midstream sold to TPG for $930MM - March 2019
Private equity firm TPG Capital agreed to acquire a majority stake in water services provider Goodnight Midstream from PE firm Tailwater Capital and private investors for $930 million. TPG also committed more than $300 million for Goodnight's continued expansion through additional growth equity and proceeds from committed debt financing. The deal launches TPG into the water handling segment, which has grown with fracking. Goodnight Midstream operates in the Permian Basin, Bakken and...
Mar 19, 2019
MI - Cheniere Energy sues former CEO over $46MM loan - March 2019
Cheniere Energy filed a lawsuit against its former CEO, Charif Souki, that claims he conspired to create rival LNG company Tellurian using Cheniere money. The civil suit filed in Harris County, Texas, seeks repayment of a $46 million loan and unspecified damages.The suit alleges that Souki arranged for Cheniere to loan $46 million to Parallax Enterprises in 2015 to help develop liquefaction trains. According to the lawsuit, Souki conspired with Parallax owner Martin Houston that December to...
Mar 19, 2019
MI - ONEOK adds to July offering as it sells $1.25B in notes - March 2019
ONEOK Inc. sold $1.25 billion of senior notes, consisting of $700 million of 10-year senior notes at 4.35% and $550 million in 5.20% senior notes due 2048 that are an add-on to an issue of 30-year notes last July. The new 2048 senior notes are being offered as additional senior notes under an indenture where ONEOK issued $450 million of 5.20% senior notes due 2048. ONEOK also issued $800 million in 10-year senior notes at 4.55% last year and exited 2018 with $8.87 billion in long-term...
Mar 19, 2019
MI - Sanchez Midstream prepares for sponsor's cutbacks - March 2019
Struggling Eagle Ford E&P firm Sanchez Energy slashed its 2019 capex budget to $100-150 million from $580 million in 2018, likely reducing production and revenue for its master limited partnership, Sanchez Midstream Partners. The MLP is facing its own concerns, having cut its dividend by more than two-thirds in November. Sanchez Energy said the lower capex will still cover its drilling and development commitments at Catarina and Comanche "for the 12-month periods that extend into 2019."...
Mar 19, 2019
MI - Secure intends to increase Kerrobert storage in 2019 - March 2019
Secure Energy Services expects to spend about C$100 million ($74 million) of growth capex in 2019, a little more than half of what it spent in 2018. The Canadian company's 4Q18 results featured a sharp sequential drop in revenue but improved net income by managing costs. The 2019 capex plan will increase storage capacity by 260,000 bo by adding two tanks by May at its Kerrobert crude terminal in Saskatchewan. Secure will also build two produced water transfer and injection pipelines from...
Mar 19, 2019
MI - Texas Gulf Coast ports about to be overwhelmed, CEO says - March 2019
Ports on the Texas Gulf Coast are not prepared to handle the volumes coming their way, Enterprise Products Partners CEO Jim Teague said at a recent energy conference. "Corpus Christi can't handle what's coming, and Houston can't handle what's coming. It's not just crude. It's not just LNG. It's all of the above," Teague said at the CERAWeek by IHS Markit conference. Enterprise has filed for permits to operate the Sea Port Oil Terminal off Brazoria County, Texas, which will be able to load a...
Mar 19, 2019
MI - People and Companies - March 19, 2019
Plains All American Pipeline shuffled its senior management team in connection with long-term succession plans. Jeremy Goebel, currently senior group VP of commercial, has been appointed EVP of commercial, and Chris Chandler, SVP of strategic planning and acquisitions has been appointed EVP and COO. Additionally, Matt Isom, previously director of engineering, has been promoted to VP of engineering, and Dan Reinbold, previously VP of information services at Plains Midstream Canada, has been...
Mar 19, 2019
Get more news for MidstreamIntelligence