MidstreamIntelligence
Serving the downstream sector with news, analysis and business opportunities.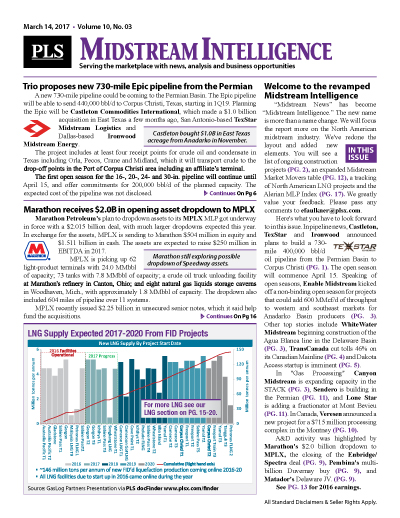 The PLS MidstreamIntelligence Module covers news and analysis on the midstream sector. The purple banner report includes market information, news and analysis on gas gathering, marketing, pipelines, storage, midstream mergers, acquisitions, capital and corporate performance.
Your access to midstream & downstream markets
Single copy pricing; Incl hard copy & email version
Increase market insight & deal flow
Published every 3 weeks; 17+ issues per year
Covers gathering, rail, processing, pipelines, refining and LNG
Phone request for multiple listings for sale
Includes discounts for other PLS products & events
Search PLS' News Archive for complete oil & gas news for MidstreamIntelligence .
See what it is about before you buy. View a sample issue of MidstreamIntelligence.
Need more information? Click the button to recieve more details about the MidstreamIntelligence
Opportunity is a reflection of information.
Call 713-650-1212 For More Information
Search MidstreamIntelligence:

Headline
Publication
News Date
MI - TC to sell five Appalachian gas systems to UGI for $1.3B - July 2019
TC Energy will sell Columbia Midstream Group, a set of gas gathering systems near the Pennsylvania-Ohio border, for $1.275 billion to UGI Energy Services, the midstream and marketing subsidiary of energy distributor UGI Corp. The transaction, announced late July 2, brings UGI's gas midstream to the wellhead while helping to finance TC's growth capex projects. The CMG sale involves 240 miles of pipeline, just a sliver of the 15,000 miles that TC—then called Transcanada—acquired in 2016 when it...
Jul 03, 2019
MI - PAA reportedly days away from putting Permian oil in Cactus II - July 2019
Plains All American Pipeline's 670,000 bo/d Cactus II will reportedly begin line fill in a matter of days. Putting crude in the pipeline from Wink in the southern Delaware Basin to Ingleside on the Texas Gulf Coast would mark the beginning of the end of the Permian crude takeaway shortage. Cactus II is on schedule, with operations beginning before the end of Q3, COO Chris Chandler said at a June 11 investor day. "We have over 90% of the pipe in the ground, and we're working diligently...
Jul 03, 2019
MI - XcL connects southern Appalachian gas to multiple markets- July 2019
Two years ago, a new privately held midstream company formed by the management of Marcellus shale pioneer Tug Hill and backed by private equity firm Quantum Energy Partners began building a greenfield system to link southwest Appalachian gas production to every major long-haul pipeline in the region. The company, called XcL Midstream, has now brought online its Appalachia Connector system, which will connect with East Coast, Midwest, Midcontinent, Gulf Coast and West Coast markets. The...
Jul 03, 2019
MI -ET applies to boost Dakota Access to 1.1 MMbo/d - July 2019
Energy Transfer intends to increase the capacity of the Dakota Access pipeline to 1.1 MMbo/d, a project that would eliminate much of a crude takeaway shortage that has developed in the Bakken. The proposal sent to North Dakota's Public Service Commission would increase the capacity to just below the state's entire crude output at a far cheaper price than the newbuild pipelines that have been proposed. ET would put two 6,000-hp pumps at a tank terminal near Johnsons Corner...
Jul 03, 2019
MI - Brazos to build new Delaware system after Shell deal - July 2019
Brazos Midstream will construct a new gas gathering system in the southern Delaware Basin as part of gathering and processing agreements with Shell Exploration & Production. The new infrastructure will be anchored by 15-year, fee-based dedications of 55,000 acres in Loving, Ward, and Winkler counties, Texas. Privately held Brazos will construct 16 miles of high-pressure pipeline that will extend from its existing gathering and processing systems. The system can be expanded further to...
Jul 03, 2019
MI - NuStar to expand Valley products pipeline to Mexico border - July 2019
NuStar Energy is looking to double the capacity of its Valley refined products pipeline system in South Texas to 90,000 bbl/d in an effort to supply northern Mexico. The San Antonio-based company said it has enough commitments to procced with the project and launched an open season into July 12 for additional commitments. Valley is a 196-mile pipeline from the Corpus Christi area to delivery points in Brownsville, Edinburg and Harlingen. The expansion includes the construction of a...
Jul 03, 2019
MI - Summit delivers FID to Double E gas pipeline in Delaware - July 2019
Summit Midstream Partners will proceed with its Double E pipeline in the Delaware Basin to the Waha hub. The final investment decision on June 27 came with JV agreements with its foundation shipper, apparently an affiliate of ExxonMobil sub XTO Energy. SMLP said it had received firm 10-year, take-or-pay volume commitments for a substantial majority of Double E's initial capacity of 1.35 Bcf/d. Capacity could be expanded later to 1.85 Bcf/d with the installation of compression...
Jul 03, 2019
MI - Oxy eyes selling piece of Anadarko's Western Midstream stake - July 2019
Occidental Petroleum is reportedly looking for a buyer to take majority control of Western Midstream Partners, which the company is acquiring as part of its broader $57 billion acquisition of Anadarko. Unnamed sources told Bloomberg that Oxy has retained a financial advisor to solicit bids for half of Anadarko's 55.5% stake in the Delaware and DJ Basin midstream operator and its general partner. The potential acquirer of these stakes would also seek to purchase the 45% of Western...
Jul 03, 2019
MI - Williams, Canadian pensioner close $3.8B Appalachian JV deal - July 2019
Williams completed the formation with Canada Pension Plan Investment Board in a $3.8 billion gas gathering and processing JV in the western Marcellus and Utica. CPPIB invested $1.33 billion for a 35% stake in the partnership. Williams retains 65% ownership and operates the combined business. The JV owns 100% of the Ohio Valley Midstream and the Utica East Ohio Midstream systems. OVM currently has 216 miles of gathering pipelines and 800 MMcf/d of processing capacity. UEO has two processing...
Jul 03, 2019
MI - Flint Hills looking to sell Ingleside crude export terminal - July 2019
Flint Hills Resources has hired J.P. Morgan to market its crude export terminal and fuel loading operations at Ingleside, Texas. The company said it would explore the sale of the terminal, a potential partnership or keeping the terminal for itself. Earlier this year, Flint Hills Resources started expanding the 115-acre facility on the Port of Corpus Christi to add four new storage tanks to increase capacity to 3.5 MMbbl from 2.5 MMbbl. Additionally, loading capacity will grow to 380,000...
Jul 03, 2019
Get more news for MidstreamIntelligence