MidstreamIntelligence
Serving the downstream sector with news, analysis and business opportunities.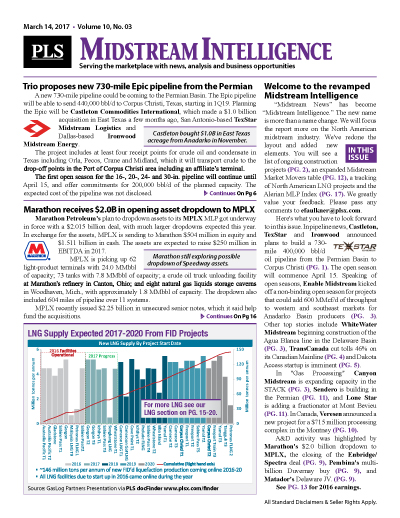 The PLS MidstreamIntelligence Module covers news and analysis on the midstream sector. The purple banner report includes market information, news and analysis on gas gathering, marketing, pipelines, storage, midstream mergers, acquisitions, capital and corporate performance.
Your access to midstream & downstream markets
Single copy pricing; Incl hard copy & email version
Increase market insight & deal flow
Published every 3 weeks; 17+ issues per year
Covers gathering, rail, processing, pipelines, refining and LNG
Phone request for multiple listings for sale
Includes discounts for other PLS products & events
Search PLS' News Archive for complete oil & gas news for MidstreamIntelligence .
See what it is about before you buy. View a sample issue of MidstreamIntelligence.
Need more information? Click the button to recieve more details about the MidstreamIntelligence
Opportunity is a reflection of information.
Call 713-650-1212 For More Information
Search MidstreamIntelligence:

Headline
Publication
News Date
MI - KMI open to a third new Permian gas takeaway pipeline - April 2019
Kinder Morgan Inc. is considering a third gas takeaway pipeline out of the Permian Basin to go along with its Gulf Coast Express (GCX) and its Permian Highway (PHP), CEO Steven Kean told investors in a Q1 earnings call. The abundance of associated gas in the Permian resulted in the Waha gas price falling below zero for much of March with prices expected to be volatile until the GCX is completed in October. "If you look at the projections, they would show you that a GCX a year, almost,...
Apr 30, 2019
MI - FERC greenlights Tellurian & Sempra LNG facilities - April 2019
The Federal Energy Regulatory Commission approved Tellurian's Driftwood and Sempra energy's Port Arthur LNG and pipeline projects as regulators continued to cut through the backlog of liquefaction projects seeking final authorization. Tellurian expects to make a final investment decision this year, while Sempra has said it might wait until 1Q20. FERC's approval of the projects continues a shift among commissioners, who are divided on how to assess the impact of LNG projects on climate change....
Apr 30, 2019
MI - MMLP halves distribution after all segments disappoint - April 2019
Petroleum products transporter Martin Midstream Partners cut distributions by 50% after reporting all four of its segments missed EBITDA guidance in Q1. While the distribution cut will boost liquidity, MMLP also expects to sell its Cardinal Gas Storage business by the end of Q2 and unnamed non-core assets to free itself from looming debt maturities. MMLP already faced headwinds with the sudden drop in commodity prices in 4Q18, especially in butane. But as rains depressed...
Apr 30, 2019
MI - Trump's orders seek to clear way for pipelines - April 2019
President Donald Trump signed two executive orders meant to promote pipeline construction by making it harder for state regulators to intervene. The orders also seek to eliminate the roadblocks used to stop Williams' Constitution, Dominion Energy's Atlantic Coast, EQM Midstream's Mountain Valley and Transcanada's Keystone XL pipelines. Whether the executive orders will survive legal challenges is unclear. While executive orders can be used to interpret or clarify existing law, critics...
Apr 30, 2019
MI - Cogent to build pipeline to connect with Gulf Coast Express - April 2019
Cogent Midstream will construct a 25-mile residue gas pipeline to connect its Big Lake gas processing complex in Reagan County, Texas, to Kinder Morgan Inc.'s Gulf Coast Express pipeline. The 400 MMcf/d pipeline is also expected to cross other Permian Basin gas takeaway pipelines, KMI's proposed Permian Highway and Targa Resources' Whistler. Like the GCX, Cogent's 20-inch pipeline is anticipated to come into service in Q4. The in-service date coincides with Cogent's timeline for...
Apr 30, 2019
MI - Midcoast lands Haynesville anchor shipper for Texas pipeline - April 2019
Midcoast Energy launched a binding open season for additional shippers for its CJ Express gas pipeline in East Texas. The open season comes after a commercial agreement with an anchor shipper, described as one of the leading producers in the Haynesville shale.CJ Express will connect Midcoast's existing pipeline assets in San Augustine County, Texas, and growing production in the Carthage and Shelby Trough area of the Haynesville, to its Clarity pipeline near Silsbee, Texas. The project...
Apr 30, 2019
MI - Concho & Frontier to build Beta, two years after selling Alpha - April 2019
Permian Basin E&P firm Concho Resources and Frontier Midstream Solutions IV will create a crude system in the northern Midland Basin. The JV will be named Beta Crude Connector, a callback to the Alpha Crude Connector, a Concho-Frontier project in the northern Delaware Basin that was sold to Plains All American for $1.22 billion in 2017. The new gathering and transportation system will consist of a 100- mile gathering system, 250,000 bo of storage facilities and truck terminals. The...
Apr 30, 2019
MI - ONEOK to build $100 million NGL lateral in North Dakota - April 2019
ONEOK plans to invest about $100 million to construct a 75-mile NGL pipeline lateral connecting the northern portion of the Bakken NGL pipeline with a third-party gas processing plant in eastern Williams County, North Dakota. The lateral is expected to be complete in 4Q20. The lateral will provide volumes to ONEOK's $1.4 billion Elk Creek NGL pipeline, which will run 900 miles from the Montana-North Dakota border to the DJ Basin, then cut to Bushton, Kansas. Elk Creek will have a...
Apr 30, 2019
MI - Kinder Morgan can start building expansion to Mexico - April 2019
Kinder Morgan can start construction of the Sierrita Compressor Expansion, which would send an additional 200 MMcf/d to northwestern Mexico. The region's gas market has grown with the introduction of combined-cycle gas turbines while the strong agricultural industry seeks fertilizers derived from gas. The Federal Energy Regulatory Commission provided the limited notice to proceed for a new compressor station in Pima County, Arizona, doubling capacity of the 61-mile Sierrita gas...
Apr 30, 2019
MI - Oryx seeks commitments to expand to Gray Oak & PAA station - April 2019
Permian Basin-focused Oryx Midstream launched a binding open season to secure volume commitments for proposed expansions that would offer its underconstruction Oryx II crude system more outlets to the Texas Gulf Coast. Infrastructurefocused private equity firm Stonepeak Infrastructure Partners agreed in early April to acquire Oryx for $3.6 billion in cash. One expansion is a connection from Oryx's terminal near Crane, Texas, to the Crane station of the proposed 900,000 bo/d Gray Oak pipeline, a...
Apr 30, 2019
Get more news for MidstreamIntelligence