International Scout
Serving the global E&P market with news, analysis and business opportunities.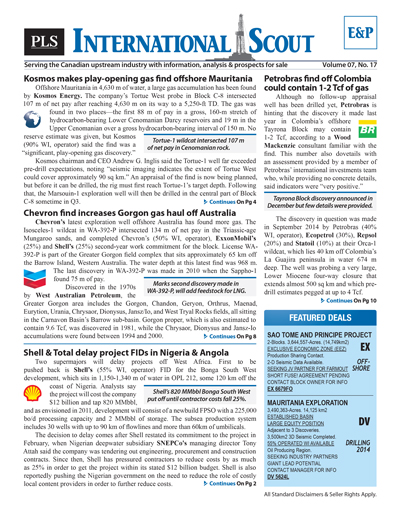 PLS publishes news and analysis on the international exploration and production (E&P) sector through its International Scout. Published every 3 weeks, the blue banner report covers new well discoveries, drilling activities, acreage sales, industry statistics (drilling results, activity permits & intents to drill) and technological updates.
Covering exploration & production
Single copy pricing; Incl hard copy & email version
Increase market insight & deal flow
Every 3 weeks
Latest in exploration, discoveries, resource plans, land grabs, volumes, development projects & trends
Access to International Scout archives
Phone request for prospects and lands listed for sale
Includes discounts for other PLS products & events
Search PLS' News Archive for complete oil & gas news for International Scout .
See what it is about before you buy. View a sample issue of International Scout.
Need more information? Click the button to recieve more details about the International Scout
Opportunity is a reflection of information.
Call 713-650-1212 For More Information
Search International Scout:

Headline
Publication
News Date
IS - People & Companies - September 2019
Block Energy, with operations focused on the Republic of Georgia, appointed William McAvock CFO and director of the board. He has been Block's finance manager since May. Before joining the company, he most recently was interim financial controller and financial projects manager at Kurdistan-focused Gulf Keystone Petroleum Ltd. London-listed EnQuest named Martin Houston as chairman, effective Oct. 1. He will replace Jock Lennox, who is stepping down from the board on Sept. 30. Houston is...
Sep 24, 2019
IS - Rosneft could roll some more barrels India's way if needed - September 2019
Potential supply disruption to India from the attack on Saudi Arabian facilities could be fulfilled by Rosneft, the company said Sept. 17 as CEO Igor Sechin visited New Delhi to meet with India's natural gas and steel minister Dharmendra Pradhan. "The parties discussed acute cooperation issues, primarily the situation with the energy security of the region given recent attacks at oil production and processing units of Saudi Aramco," Rosneft said in a statement. "Particular attention was...
Sep 24, 2019
IS - Petro Matad completes drilling of promising Heron-1 well - September 2019
Mongolia-focused Petro Matad Ltd. has finished drilling its Heron-1 well on Block XX in eastern Mongolia. The well was drilled to a TD of 2,960 meters and encountered the top Lower Tsagaantsav reservoir in an interval ranging 2,803-2,880 meters. Wireline logs indicate a 77-meter gross interval of potential reservoir. Three zones within the meter with a gross thickness of 22 meters also showed better porosity and permeability than is typically seen in the formation. The formation...
Sep 24, 2019
IS - Papua New Guinea government gives approval for Papua LNG - September 2019
Total and its Papua LNG project partners, ExxonMobil and Oil Search, are breathing easier after the new Papua New Guinea government gave the go-ahead for the project. The government had conducted a review of the agreement for the project and considered renegotiating terms. The project involves developing the Elk-Antelope gas fields, which contains gross contingent resources of 6.53 Tcf and 57.4 MMbbl of condensate, to supply two new 2.7 mtpa LNG trains at Exxon's existing PNG LNG facility....
Sep 24, 2019
IS - Cooper's Annie-1 discovery first in offshore Otway in 11 years - September 2019
Cooper Energy made a gas discovery with its Annie-1 well on VIC/P44 offshore Victoria, Australia in the Otway Basin, which is the first offshore discovery in the basin in 11 years. The well was spudded in early August at 9 km off Victoria's coast in 58 meters of water and reached a TD of 2,442 meters. The primary Waarre C sandstone target was encountered at 2,241 meters and held 62 meters of net gas pay. The Waarre A sandstone target was encountered at 2,341 meters and was water wet....
Sep 24, 2019
IS - Strike Energy finds more gas as it finally reaches end of WE-2 - September 2019
Strike Energy significantly upgraded the Kingia gas discovery in its West Erregulla-2 well onshore Western Australia on EP469 in the Perth Basin. The company said further analysis increased the net pay in the Kingia sandstone from 41 meters to 58 meters with pressures of 6,814-6,828 psia. Permeability was calculated as 102 millidarcies, and gas samples were 92% methane and 5.8% CO2. The well also reached its final target in the High Cliff formation at 4,918 meters and encountered a...
Sep 24, 2019
IS - LNG exports providing fuel for Australia's economic growth - September 2019
Resources and energy exports represented more than half of Australia's GDP growth in Q2, according to the latest Australian Bureau of Statistics figures released Sept. 5. The results show the value of LNG exports to the economy, ABS said. The country is expected to become the world's leading exporter of LNG next year, surpassing Qatar. Australia's GDP increased by 0.5% in Q2, or 1.4% for the year, the country's lowest annual increase since 3Q09. The value added by oil and gas to the Australian...
Sep 24, 2019
IS - Albany-2 well in Galilee Basin shows promise for Comet Ridge - September 2019
Comet Ridge Ltd. said preliminary analysis of logs indicates good reservoir quality and gas shows in its Albany-2 well onshore Queensland in the Galilee Basin on the ATP 744 license. Porosity values reached a maximum of 15%, exceeding pre-drill estimates. The company is currently working on retrieving a tool that got stuck downhole. After fishing operations, it will run in and cement a 4.5-inch casing to prepare for further evaluations. Albany-2 was drilled to a TD of 2,702 meters....
Sep 24, 2019
IS - Tap Oil sells nearly all its Australia and New Zealand portfolio - September 2019
Tap Oil sold its interests in three blocks in Australia and New Zealand to private Australian investor Kensington Energy, leaving the non-operating E&P firm with just one remaining asset outside Thailand. It will book a $2.58 million after-tax profit from the sale. The transaction involves the sale of 20% WI in the BHP-operated WA72-R block, which holds the Tallaganda gas discovery and where Tap has booked net 2C gas resources of 46 Bcf. The company is also selling 15% WI in WA-25-L,...
Sep 24, 2019
IS - News Briefs - September 24, 2019
London-listed Anglo African Oil & Gas plc has begun well re-entry operations in preparation to drill a sidetrack on its TLP-103C well at the onshore Tilapia site near Pointe Noire in the Republic of the Congo. The sidetrack will target the Djeno sands, from which neighboring fields have produced up to 5,000 bo/d per well. The Tilapia field is 1.8 km offshore, but the company drills from and has production and storage facilities onshore. It currently produces ~55 bo/d from the field's R1/R2...
Sep 24, 2019
Get more news for International Scout