International Scout
Serving the global E&P market with news, analysis and business opportunities.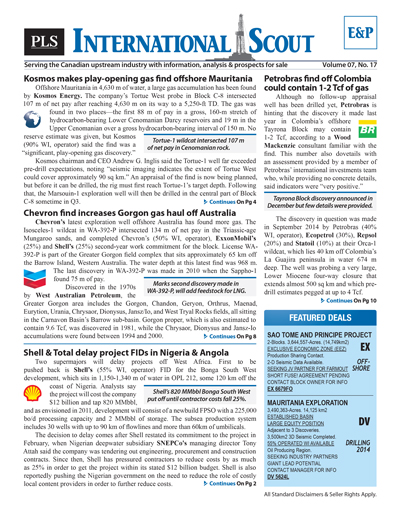 PLS publishes news and analysis on the international exploration and production (E&P) sector through its International Scout. Published every 3 weeks, the blue banner report covers new well discoveries, drilling activities, acreage sales, industry statistics (drilling results, activity permits & intents to drill) and technological updates.
Covering exploration & production
Single copy pricing; Incl hard copy & email version
Increase market insight & deal flow
Every 3 weeks
Latest in exploration, discoveries, resource plans, land grabs, volumes, development projects & trends
Access to International Scout archives
Phone request for prospects and lands listed for sale
Includes discounts for other PLS products & events
Search PLS' News Archive for complete oil & gas news for International Scout .
See what it is about before you buy. View a sample issue of International Scout.
Need more information? Click the button to recieve more details about the International Scout
Opportunity is a reflection of information.
Call 713-650-1212 For More Information
Search International Scout:

Headline
Publication
News Date
IS - Supermajors stay resilient though earnings slip double-digits - November 2019
Supermajors were beset with slumping prices and demand along with tightening chemical margins in Q3. The three European supers—Shell, BP and Total—all reported lower adjusted earnings reflecting market conditions, and in all three cases their leaders expressed resiliency and confidence in their business plans. Total raised its dividend 6% YOY, BP got rid of the scrip dividend option because it's feeling good (despite a net loss for the quarter), and cautious Shell kept its dividend flat YOY....
Nov 05, 2019
IS - Saudi Aramco IPO launches on Tadawul, with pricing TBD - November 2019
At long last, Saudi Aramco launched its initial public offering Nov. 3, proposing to sell 3% of the company for $60 billion on the domestic Tadawul exchange. The company and current 100% owner, the Saudi Arabian government, had hyped the potential IPO for three years, ever since Crown Prince Mohammed bin Salman first indicated that 5% of the company would fetch $100 billion through a splashy global NSYE or London mega-event. The launched offering aligns with that valuation, after more than...
Nov 05, 2019
IS - Chevron exits major Caspian oil project in $1.6B MOL deal - November 2019
MOL Group struck a $1.57 billion deal to acquire Chevron's stake in the largest oil field in the Azerbaijan sector of the Caspian Sea. The Hungarian company will acquire 9.57% WI in the BP-operated Azeri-Chirag-Gunashli supergiant oil field, as well as an 8.9% stake in the Baku-Tbilisi-Ceyhan pipeline. MOL said the transaction will add ~20,000 bbl/d to its production in coming years and increase 2P reserves to 360-380 MMboe by YE20. For Chevron, the disposal marks its exit from Azerbaijan and,...
Nov 05, 2019
IS - Strike Energy's first WE-2 flow test exceeds expectations - November 2019
Strike Energy started flow tests at its West Erregulla-2 discovery onshore Western Australia in the Perth Basin and also laid out an early plan for developing the area. Its first test covered a zone in the Kingia formation with 48 meters of perforations placed across the interval from 4,799 meters to 4,951 meters. The flow rate over a one-hour period was 69 MMcf/d through a 2-inch choke and a wellhead pressure of 700 psi, exceeding initial expectations. Strike said the flow rate was...
Nov 05, 2019
IS - Eni producing from 1 Tcf Obiafu-41 discovery in record time - November 2019
Eni has started production from the Obiafu-41 discovery well on the OML 61 license in the Niger Delta, only three weeks after the well was completed. The discovery contains an estimated 1 Tcf and 60 MMbbl of condensate. Gas production will largely go to the Nigerian market to feed the power sector. The company said the time-to-market was due to its new integrated model, where multiple disciplines work in parallel and synergies with existing facilities are leveraged. The well's production is...
Nov 05, 2019
IS - BW Offshore revises Ruche project to include Hibiscus discovery - November 2019
BW Offshore Ltd. has revised its Ruche Phase 1 development plan offshore Gabon to include the recent Hibiscus discovery. Under the new plan, gross production from Phase 1 development is expected to reach 30,000 bo/d compared to the original 15,000 bo/d. The proposed platform will be installed 4 km to the west of the original position to exploit the new discovery. Four wells will be drilled at Hibiscus and two wells will be drilled at Ruche, all of which will target the Gamba formation....
Nov 05, 2019
IS - Africa Oil goes solo in purchase of Petrobras' Nigerian fields - November 2019
Canada-based Africa Oil Corp. is proceeding with the acquisition announced last year of stakes in Petrobras' deepwater assets in Nigeria even though previous partners Vitol Group and Delonex Energy have backed out of the deal. The three companies formed the Petrovida consortium in October 2018 that had agreed to acquire the Brazilian NOC's 50% holding in Netherlands-based Petrobras Oil & Gas BV for $1.407 billion. Per the amended Nov. 1 agreement, Africa Oil will acquire the 50% stake by...
Nov 05, 2019
IS - Mixed Q3 results as operators aim for strong 2019 finish - November 2019
With earnings season in full swing, Q3 results from some of the top international oil companies are so far mixed, with BP, Shell and Total reporting earnings losses (PG.1). But while BP and Shell's results are largely attributable to weaker upstream performance, the French supermajor's production was actually up in the quarter thanks largely to the rampup of projects launched last year. Statecontrolled firms are likewise reporting ambivalent results, with Norway's Equinor seeing lower earnings...
Nov 05, 2019
IS - BP's Orca-1 exploration well encounters 47 meters of net gas pay - November 2019
BP made a significant discovery with its Orca-1 exploration well offshore Mauritania in Block C-8, 30 km north of Greater Tortue, partner Kosmos Energy reported. The well targeted an untested Albian play and exceeded pre-drill estimations, encountering 36 meters of net gas pay in excellent quality reservoirs. It also encountered 11 meters of net gas play in the Cenomanian play downdip of the Marsouin-1 discovery 15 km to the northeast, which extended the play's fairway. To top it all off,...
Nov 05, 2019
IS - VAALCO appraisal well finds new oil below Etame field - November 2019
VAALCO Energy finished drilling the Etame 9P appraisal vertical well 40 km offshore Gabon in the Etame block. The well was drilled to a depth of 10,260 ft and successfully intersected the Gamba and Dentale oil-bearing sands, the latter of which is underneath VAALCO's Etame field. The company retrieved tools and most of the drill pipe that were lodged in the wellbore and plugged the well back to a shallower depth. It is drilling a horizontal development well in the Gamba reservoir. Etame 9P...
Nov 05, 2019
Get more news for International Scout