International Scout
Serving the global E&P market with news, analysis and business opportunities.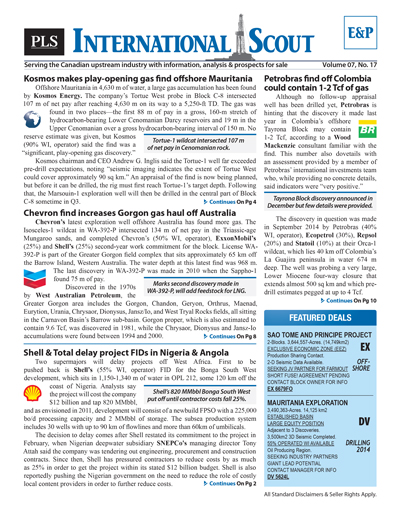 PLS publishes news and analysis on the international exploration and production (E&P) sector through its International Scout. Published every 3 weeks, the blue banner report covers new well discoveries, drilling activities, acreage sales, industry statistics (drilling results, activity permits & intents to drill) and technological updates.
Covering exploration & production
Single copy pricing; Incl hard copy & email version
Increase market insight & deal flow
Every 3 weeks
Latest in exploration, discoveries, resource plans, land grabs, volumes, development projects & trends
Access to International Scout archives
Phone request for prospects and lands listed for sale
Includes discounts for other PLS products & events
Search PLS' News Archive for complete oil & gas news for International Scout .
See what it is about before you buy. View a sample issue of International Scout.
Need more information? Click the button to recieve more details about the International Scout
Opportunity is a reflection of information.
Call 713-650-1212 For More Information
Search International Scout:

Headline
Publication
News Date
IS - Total to buy Anadarko's Africa assets from Oxy for $8.8B - May 2019
In a move to help finance its $57 billion acquisition of Anadarko Petroleum, Occidental Petroleum struck a deal to sell Anadarko's African assets to Total for $8.8 billion cash. The assets will further enhance Total's position as the leading integrated producer in Africa and the second-largest global LNG producer. For Oxy, the deal was a key component of its victory over Chevron, whose $50 billion bid was rejected by Anadarko in favor of Occidental's "superior" proposal. Oxy also secured a $10...
May 16, 2019
IS - ExxonMobil sanctions $6B Liza Phase 2 project off Guyana - May 2019
After receiving regulatory approval from the government of Guyana to proceed with the second phase of its Liza development, ExxonMobil says it has funded the $6 billion offshore project and is on track to start producing up to 220,000 bo/d by mid-2022. Located on the Stabroek block, which has 13 discoveries and counting, Liza Phase 2 will develop ~600 MMbo using the $1.6 billion Liza Unity FPSO and six drill centers with 30 wells: 15 producers, nine water injectors and six gas injectors. The...
May 16, 2019
IS - Chrysaor buys Conoco's UK North Sea assets for $2.7B - May 2019
Private equity-backed Chrysaor Holdings is joining the ranks of BP and Total to become a top producer in the UK North Sea, striking a $2.67 billion deal to acquire all of ConocoPhillips' upstream assets in the region. Conoco will depart the UK North Sea after more than five decades as it sharpens focus on other areas of its global portfolio, including US shale. It will retain its UK commodity trading business and its operated 40.25% WI in the Teesside oil terminal. Chrysaor beat other...
May 16, 2019
IS - BP extends 2019 bond issues to more than $5B - May 2019
In its first euro and sterling flotations this year, BP sold the equivalent of $3.03 billion principal amount of bonds in three tranches May 8 via its BP Capital Markets plc subsidiary, bringing the British supermajor's total bonds outstanding to around $58.5 billion. The global debt market eagerly devoured €1.1 billion each of 0.831% notes due 2027 and 1.231% notes due 2031, as well as £400 million of 1.827% notes due 2025. Interest is payable annually May 8 for the eurodenominated notes and...
May 16, 2019
IS - Siccar Point strikes oil & gas with West of Shetland well - May 2019
Siccar Point Energy encountered oil and gas at its Blackrock exploration well 204/5b-2 in the West of Shetland area off the UK. Diamond Ocean's Great White semisubmersible drilled the well on license P1830 in 1,115 meters of water, 10 km north of Siccar Point's operated Cambo oil field. The well targeted intra-volcanic Paleocene Flett reservoirs of the Colsay member lying on trend with equivalent oil-filled sandstones at Rosebank field. It encountered a 34-meter package of intravolcanic...
May 16, 2019
IS - HitecVision sells CapeOmega to Partners Group for $1.4B - May 2019
Private equity firm HitecVision struck a $1.35 billion deal to sell its portfolio company CapeOmega to Switzerland-based global investment manager Partners Group. Formed in 2014, CapeOmega provides infrastructure for transporting gas produced on the Norwegian Continental Shelf. The deal comes as Partners Group seeks to expand its Norwegian gas infrastructure assets. CapeOmega owns 16.32% of the Gassco-operated Gassled Norway gas transport network. The world's largest offshore gas...
May 16, 2019
IS - Dea & Wintershall seal merger, forming upstream powerhouse - May 2019
The merger of Wintershall and Dea Deutche Erdoel, the respective oil and gas subsidiaries of European chemical conglomerate BASF and Russian billionaire Mikhail Fridman's LetterOne Group, was completed May 1. The deal creates Wintershall Dea, the world's largest privately held energy company, with an initial public offering expected in 2H20. BASF will own a 67% stake in the new company, and LetterOne will hold the rest. The deal, announced in December 2017, closed following the receipt...
May 16, 2019
IS - Aker BP to start recovery project at Valhall off Norway - May 2019
Aker BP made a final investment decision for the first phase of the wellhead platform production recovery project at its Valhall field in the southern Norwegian North Sea. This will involve a water injection test and the drilling of six infill producer wells in the Lower Hod formation. It represents a continuation of drilling in the Valhall central area after a successful campaign from the field's water injection platform. The company did not reveal the cost of the infill producer wells and the...
May 16, 2019
IS - KNOC hires ScotiaBank to seek partner for Dana stake - May 2019
NOC hires ScotiaBank to seek partner for Dana stake Korea National Oil Corp. retained Canada's Scotiabank to help find a financial partner for a 30% stake in its UK subsidiary Dana Petroleum, sources told Reuters. The marketing process is expected to begin in early May, when information packages will be distributed to interested parties to undertake due diligence. One of the sources said the stake could be worth up to $550 million. State-controlled KNOC acquired Aberdeen-based Dana in...
May 16, 2019
IS - Chevron poised for North Sea exit as Delek submits bid - May 2019
Another multinational oil and gas company is preparing to pull the trigger on the sale of its UK North Sea assets. Chevron received a bid from Delek Group through its subsidiary Ithaca Energy for the assets, the Israel-based company confirmed April 28. Delek recently struck a $965 million deal to buy Shell's stake in a US Gulf of Mexico oil field but was thwarted by a preferential bid from Equinor (PG.21). Earlier in April, a Bloomberg story citing unnamed sources reported that Delek...
May 16, 2019
Get more news for International Scout