International Scout
Serving the global E&P market with news, analysis and business opportunities.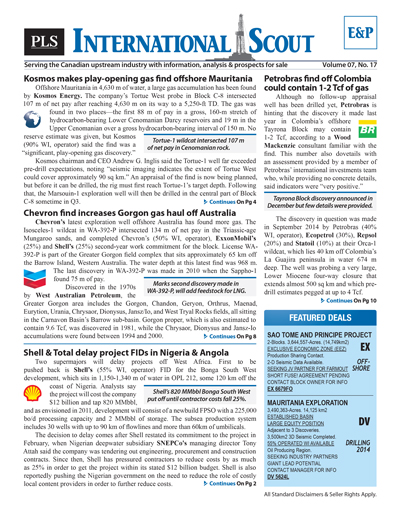 PLS publishes news and analysis on the international exploration and production (E&P) sector through its International Scout. Published every 3 weeks, the blue banner report covers new well discoveries, drilling activities, acreage sales, industry statistics (drilling results, activity permits & intents to drill) and technological updates.
Covering exploration & production
Single copy pricing; Incl hard copy & email version
Increase market insight & deal flow
Every 3 weeks
Latest in exploration, discoveries, resource plans, land grabs, volumes, development projects & trends
Access to International Scout archives
Phone request for prospects and lands listed for sale
Includes discounts for other PLS products & events
Search PLS' News Archive for complete oil & gas news for International Scout .
See what it is about before you buy. View a sample issue of International Scout.
Need more information? Click the button to recieve more details about the International Scout
Opportunity is a reflection of information.
Call 713-650-1212 For More Information
Search International Scout:

Headline
Publication
News Date
IS - Total & Shell reduce capex by 20% amid market disruptions - March 2020
Total and Shell have become the first supermajors to announce specific spending cuts in response to the recent oil price crash, while other supermajors are still assessing their plans. Both the French and Anglo-Dutch supermajors are slashing their capital budgets and curtailing plans because of recent market developments. Assuming oil prices at around $30/bbl, Total is reducing its 2020 spending plans by 20% to $15 billion. The savings will mainly take the form of shortcycle flexible capex,...
Mar 24, 2020
IS - Aramco 'very comfortable' with $30 oil, cuts 2020 capex by $10B - March 2020
Saudi Aramco told analysts and investors that it is "very comfortable with a $30 per barrel price level." The company plans to cut its 2020 capital expenditures by $10 billion at midpoint to $25-30 billion on the impact of the coronavirus pandemic while at the same time ramping up crude production in April to 12 MMbo/d from the current 9.7 MMbo/d and also liquidating 300,000 bo/d of inventory. "In a nutshell, Saudi Aramco can sustain the very low price and can sustain it for a long...
Mar 24, 2020
IS - Petronas and Exxon mull sale of Chad-Cameroon oil project - March 2020
Petronas and ExxonMobil are working with advisers on a proposed sale of their stakes in the Chad-Cameroon Petroleum Development and Pipeline project that could fetch a total of more than $1 billion, Japanese wealth management firm Osaka Matsui Management said in a March 10 statement. The joint project consists of oil fields in southern Chad's Doba Basin and a major pipeline transporting crude to a marine terminal for exportation in Cameroon. Exxon has retained Standard Chartered to sell...
Mar 24, 2020
IS - Carnarvon: We are pushing ahead on Dorado with Santos - March 2020
Despite commodity prices battered by the coronavirus pandemic and the ongoing Saudi-Russian oil price war, work continues on Santos' Dorado project off Western Australia, minority partner Carnarvon Petroleum reported. Carnarvon (20% WI) said it is working closely with operator Santos (80% WI) on components that are required to formally enter front-end engineering design. It added that nothing is preventing commencement of FEED nor ongoing work on the project through 2021. Santos said in...
Mar 24, 2020
IS - Aker Solutions and other Norwegian OFS firms face layoffs - March 2020
Aker Solutions issued a warning of imminent layoffs to all 6,000 employees and told 700 foreign workers at its Egersund yard in Norway to return to their home countries, daily newspaper Stavanger Aftenblad reported. The warnings are in response to plummeting oil prices resulting from the global coronavirus pandemic and the SaudiRussian price war. A company spokeswoman told Upstream on March 16 that Aker Solutions would be unable to maintain its activity level but had not determined how...
Mar 24, 2020
IS - Total discovers 64 meters of net pay at Isabella off the UK -March 2020
Total made a gas condensate discovery in the Isabella well in the UK North Sea. The well encountered 64 meters of net pay of lean gas, condensate and high-quality light oil in Upper Jurassic and Triassic sandstone reservoirs. Isabella is located on license P1820 about 40 km south of Elgin-Franklin field and 170 km east of Aberdeen, Scotland. The Noble Sam Hartley jackup rig drilled the well to a depth of 5,557 meters in 80 meters of water. Delek Drilling, the parent company of license...
Mar 24, 2020
IS - Equinor confirms coronavirus case at Martin Linge project - March 2020
Equinor confirmed one worker at its Martin Linge field development project in the Norwegian North Sea has contracted the coronavirus. The man arrived at the field March 4 after recently traveling to Austria, and when that was designated as a highrisk country, he was quarantined on board March 9 and tested. A company spokesperson told Upstream the worker has since been airlifted to shore and is quarantined at home. Equinor said the man was not seriously ill. At the time, nearly 800...
Mar 24, 2020
IS - Market disruptions force recalibration of 2020 plans - March 2020
With the coronavirus pandemic engulfing the globe, we wish our readers safety and health during this difficult time. Falling demand because of the outbreak and rising supply because of a price war between Saudi Arabia and Russia have thrown the oil market into disarray (PG.16). Companies have started slashing capex and revising plans for 2020 to prepare for a likely even-lower-for-evenlonger oil price scenario. Total and Shell (PG.1) became the first supermajors to cut their 2020 capex...
Mar 24, 2020
IS - BP adds $750MM onto recently issued 30-year, 3% notes - March 2020
BP closed the sale of $750 million aggregate principal amount of 3% notes due 2050 at 98.731. This tranche is an add-on to the $1.25 billion of 3%, 30-year notes the supermajor's US finance arm issued just a few weeks ago and is being treated as a single series together with the original notes. Morgan Stanley was the sole underwriter for this issue, and was one of four underwriters for the larger, earlier-issued tranche along with Barclays, BofA and Goldman Sachs. Net from the sale of...
Mar 24, 2020
IS - Premier's expansion plan has many moving parts, namely funding - March 2020
Premier Oil's initial analysis of the new oil price landscape may result in the company trimming at least $100 million from its 2020 capex program. But it has bigger concerns. The company was planning to close two North Sea purchases from BP and Dana Petroleum for $871 million and finish up a $2.9 billion debt refinancing by pushing nearing credit facility maturities to 2023. However, combined shareholder/lender Asia Research and Capital Management, which wasn't keen on the purchases to begin...
Mar 24, 2020
Get more news for International Scout