Permian Scout
Serving the local market with drilling activities, permits & multiple listings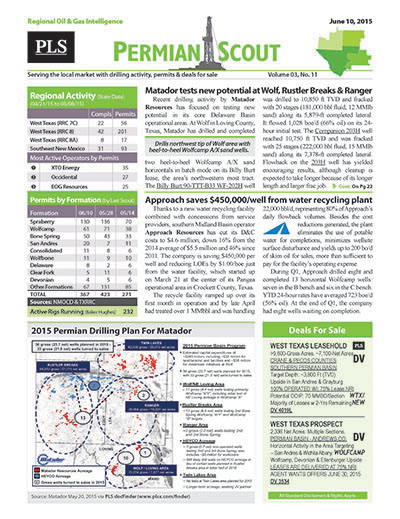 PLS publishes exploration news and drilling insights in West Texas and Southeast New Mexico through our Permian Scout.
Published every two (2) weeks, this regional report (RRC 7C, 8, & 8A) includes lead stories on drilling activity, successes and new projects while also reporting on drilling rigs, new permits, completions and P&A activity.
Stay in front of local prospects, plays & rigs!
West Texas, Southeast New Mexico
Hard Copy and Email For 1 Individual
Every 2 Weeks (22-25 issues per year)
Regional discoveries, drilling activity, permits,
completions and summary drilling statistics, layered
with regional listings and business opportunities.
Web access to the Permian Scout archive.
Does not include access to MLS
Search PLS' News Archive for complete oil & gas news for Permian Scout .
See what it is about before you buy. View a sample issue of Permian Scout.
Need more information? Click the button to recieve more details about the Permian Scout
Opportunity is a reflection of information.
Call 713-650-1212 For More Information
Search Permian Scout:

Headline
Publication
News Date
PS - Permian operators slash 2020 plans as oil market craters - March 18, 2020
The economic implications of the novel coronavirus and the oil price war initiated between Saudi Arabia and Russia have sent oil markets on a downward spiral. WTI settled at $20.37/bbl on March 18, dropping 24% on the day and 56% in the last two weeks. Shale operators across the US have acted swiftly to adjust 2020 plans and protect balance sheets. In the Permian, everyone is cutting back. Parsley Energy revised its baseline capex assumption from $50/bbl WTI to $30- $35/bbl for the...
Mar 18, 2020
PS - Chevron drives Delaware Basin productivity higher with latest pad - March 4, 2020
Chevron delivered some of its strongest initial well productivity to date in the Permian during Q4, particularly on a pad in Lea County, New Mexico. The SD EA 29 32 Federal Com P10 #18H, #19H and #20H were completed with effective laterals averaging 7,211 ft and produced IP24s of 3,695 boe/d (74% oil) from the Wolfcamp, or 512 boe/d per 1,000 lateral ft. The top-performing well, the #19H, set an IP24 record for the company, flowing 4,269 boe/d (76% oil) at 2,000 psi FCP from a 7,146-ft...
Mar 04, 2020
PS - Oxy drastically improves operations on Anadarko acreage - March 4, 2020
On the Texas Delaware Basin acreage it acquired as part of its purchase of Anadarko Petroleum last year, Occidental Petroleum is recovering more barrels per section with fewer wells and lowering costs utilizing its proprietary development approach. The Anadarko method used a higher density of wells with landing zones in the Wolfcamp X, Y and A. Oxy's method uses 14% fewer wells per section and targets the Third Bone Spring, Wolfcamp Y and Wolfcamp A. Recovery is estimated to be 7% higher....
Mar 04, 2020
PS - Regional Highlights - March 4, 2020
The EIA projects that Permian production will rise by 39,000 bo/d and 198 MMcf/d sequentially in March to 4.855 MMbo/d and 16.983 Bcf/d. There were 3,504 DUCs in the Permian as of January, up by 14 compared to...
Mar 04, 2020
PS - Apache Highlights - March 4, 2020
Apache put its Alpine High development on an indefinite pause. Declines in natural gas and NGL prices and disappointing extended flow data informed the...
Mar 04, 2020
PS - Diamondback Energy Highlights - March 4, 2020
Diamondback Energy completed its initial Meramec appraisal well at the Limelight prospect in its nascent Mississippian oil play in the southern Midland Basin. Located in Ector County, Texas, the Xanadu 31 1H well was drilled with a 4,720-ft lateral and produced an initial peak 30-day rate of 491 boe/d (83% oil), or 104 boe/d per 1,000 ft, and an initial 90-day peak rate of 359 boe/d (82% oil), or 76 boe/d per 1,000...
Mar 04, 2020
PS - Centennial Resource Highlights - March 4, 2020
Centennial Resource announced the sale of its southern Delaware Basin water infrastructure assets in Reeves County, Texas, to WaterBridge Resources. Upon closing, expected in late Q1, Centennial will enter a longterm water services agreement with WaterBridge to handle the disposal of its southern Delaware Basin water that is not currently subject to existing dedications. Centennial will get $150 million cash at closing, part of which it will use to repay existing borrowings under its credit...
Mar 04, 2020
PS - Marathon Oil Highlights - March 4, 2020
Marathon Oil announced the closing of two Permian acreage acquisitions totaling $106 million in its new oil play. The two West Texas transactions were signed and completed during Q4, bolting on 40,000 contiguous net acres to an existing 20,000-net-acre position leased during Q3. The new oil play in northern Ward and southern Winkler counties targets the Meramec and Woodford formations—the primary targets of Oklahoma's STACK play— with potential for more than 400 longlateral drilling...
Mar 04, 2020
PS - Marathon advances Delaware Basin development & delineation - February 19, 2020
Early development of the Upper Wolfcamp in Marathon Oil's Malaga area in Eddy County, New Mexico, yielded strong results last year. Twenty-two wells in the 2019 program achieved a 30% improvement in initial 30-day rates compared with 2018, flowing an average 1,780 boe/d (63% oil), or 370 boe/d per 1,000 ft. These increases were achieved at D&C costs that were 15% lower than for the 2018 wells. The company also has completed three Bone Spring wells at Malaga with 30-day rates averaging 2,090...
Feb 19, 2020
PS - Noble drastically improves Delaware operations and economics - February 19, 2020
Noble Energy made notable improvements in cost structure and well productivity on its Delaware Basin acreage in 2019. Q4 well costs continued to decrease, with savings of more than $3 million per well, normalizing to 7,500-ft laterals, compared to 4Q18. During the same period, LOEs per boe saw a 31% decrease. Contributing to the falling costs was a boost in efficiencies. Q4 drilling times averaged 15 days for 8,430-ft laterals, which is more than a 45% improvement compared to 1Q19. Completion...
Feb 19, 2020
Get more news for Permian Scout