Permian Scout
Serving the local market with drilling activities, permits & multiple listings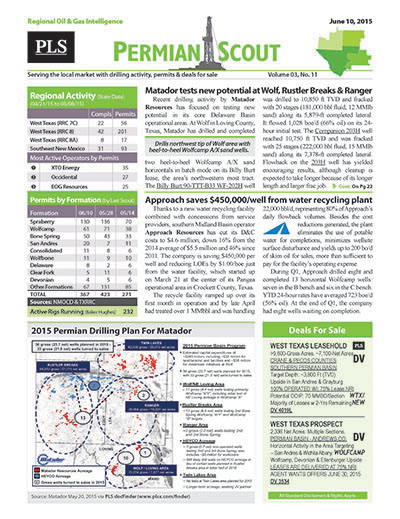 PLS publishes exploration news and drilling insights in West Texas and Southeast New Mexico through our Permian Scout.
Published every two (2) weeks, this regional report (RRC 7C, 8, & 8A) includes lead stories on drilling activity, successes and new projects while also reporting on drilling rigs, new permits, completions and P&A activity.
Stay in front of local prospects, plays & rigs!
West Texas, Southeast New Mexico
Hard Copy and Email For 1 Individual
Every 2 Weeks (22-25 issues per year)
Regional discoveries, drilling activity, permits,
completions and summary drilling statistics, layered
with regional listings and business opportunities.
Web access to the Permian Scout archive.
Does not include access to MLS
Search PLS' News Archive for complete oil & gas news for Permian Scout .
See what it is about before you buy. View a sample issue of Permian Scout.
Need more information? Click the button to recieve more details about the Permian Scout
Opportunity is a reflection of information.
Call 713-650-1212 For More Information
Search Permian Scout:

Headline
Publication
News Date
PS - Marathon reveals Woodford/Meramec oil play in Delaware Basin - November 13, 2019
In its Q3 earning release, Marathon Oil announced that it has established a new oil play in the Texas portion of the Delaware basin. The company said it put together a position exceeding 60,000 net acres in Ward County at a low entry cost of $2,400/acre. The acreage is prospective for the Woodford and Meramec shales, with the Woodford over 350 ft thick and 700 ft of separation between the zones. Both targets are overpressured and are expected to deliver about 65% oil cuts. There is...
Nov 13, 2019
PS - EOG racks up 2 more premium Delaware plays holding 1.6 Bboe - November 13, 2019
Two additional Delaware basin plays with a combined 1,470 net drilling locations have ascended to the ranks of EOG Resources' expansive premium inventory: the Middle Wolfcamp and the Third Bone Spring. The two new plays made the cut by demonstrating at least 30% returns at flat $40/bbl oil and $2.50/MMbtu gas prices, a threshold the company says ensures strong returns and direct finding costs below $10/boe through commodity cycles. The Middle Wolfcamp, which EOG calls the "Wolfcamp M,"...
Nov 13, 2019
PS - Cimarex Energy Highlights - November 13, 2019
In the first nine months of 2019, Cimarex Energy has lowered its Permian operating expenses by 19% compared to 2018 at $6.50/boe. Ownership of midstream and saltwater disposal assets has driven down opex. Well costs (drilling, completion, well facilities and flowback) are trending at $1,150-$1,200/ lateral ft in 2019, which is down 20% YOY. The company has seen completion costs decline primarily due to service cost reductions. Cimarex's Q3 Permian output averaged 198,600 boe/d, up 5%...
Nov 13, 2019
PS - SM Energy Highlights - November 13, 2019
Since its August update, SM Energy has reached peak initial 30- day rates for 11 wells in the RockStar area in Martin and Howard counties, Texas. The wells averaged peak IP30s of 1,180 boe/d (90% oil) from the Wolfcamp A or Lower Spraberry. Laterals averaged 10,150 boe/d, resulting in relative rates of 116 boe/d per 1,000 lateral ft. The average cost to drill, complete and equip a RockStar well is $700/lateral ft. SM says its high-oilcontent assets generate some of the highest realized prices...
Nov 13, 2019
PS - Apache Highlights - November 2019
Due to reduced activity and lower than expected production from its recent Blackfoot pad, Apache lowered its Alpine High Q4 guidance 5% to 94,000-96,000 boe/d, assuming no deferrals and 100% ethane recovery. Blackfoot is a 14- well pad targeting the Barnett on the northern flank of Alpine High. All of the wells were completed sequentially before commencing flowback, with a significant amount of frac water pumped into a small area. Apache believes this may have impacted productivity, and the...
Nov 13, 2019
PS - Concho beats year-end well costs reduction target a quarter early - October 30, 2019
During Q3, Concho Resources surpassed its YE19 well cost reduction goal by 10%. Drilling, completion and equipping costs averaged $955/ft, representing a 20% improvement compared to 1H19. The improvement was led by the Delaware basin, where DC&E costs are down 28% vs. H1 at $1,118/ft. Midland Basin costs fell 13% to $791/ft during the period. Concho plans to further reduce costs through optimizing drilling, completion and facilities design; increasing use of in-basin sand to reduce sand costs;...
Oct 30, 2019
PS - Matador rides Q3 high with record oil well & company high output - October 30, 2019
Matador Resources just experienced the best quarter in its history, chairman and CEO Joseph Foran said. Production not only exceeded guidance but reached a company record. Volumes averaged 69,000 boe/d (57% oil), which was up 14% sequentially. Oil volumes rose 8% versus Q2 to 39,800 bo/d primarily because of the better-thanexpected initial performance of certain wells in the Rustler Breaks and Antelope Ridge areas. Also contributing to the increase, several wells were completed and turned to...
Oct 30, 2019
PS - QEP Resources Highlights - October 30, 2019
QEP Resources' volumes in the Permian were up 23% sequentially and 18% YOY to 61,500 boe/d in Q3. The company brought 24 grossoperated wells online in the Permian during the quarter, all at Mustang Springs. Of those wells, 12 had reached peak production at the end of the quarter. Activity for the year has peaked, and the company expects Permian volumes to fall in...
Oct 30, 2019
PS - Laredo Petroleum Highlights - October 30, 2019
Laredo Petroleum has revised 2019 guidance, increasing its production forecast to 79,000 boe/d including 28,100 bo/d, compared to a prior target of 78,000 boe/d including 27,300 bo/d. The new guidance represents a 16% YOY in total volumes. Laredo now believes it will deliver $40 million of free cash flow in 2019, up from a prior estimate of $30...
Oct 30, 2019
Get more news for Permian Scout