Permian Scout
Serving the local market with drilling activities, permits & multiple listings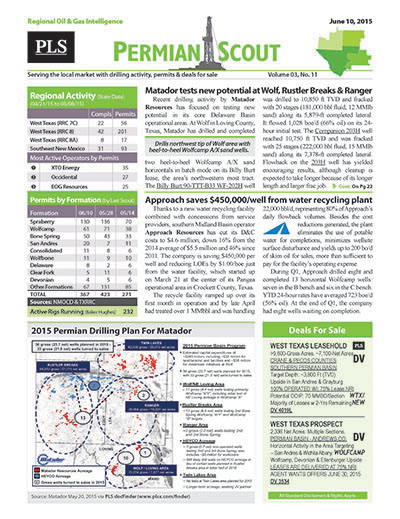 PLS publishes exploration news and drilling insights in West Texas and Southeast New Mexico through our Permian Scout.
Published every two (2) weeks, this regional report (RRC 7C, 8, & 8A) includes lead stories on drilling activity, successes and new projects while also reporting on drilling rigs, new permits, completions and P&A activity.
Stay in front of local prospects, plays & rigs!
West Texas, Southeast New Mexico
Hard Copy and Email For 1 Individual
Every 2 Weeks (22-25 issues per year)
Regional discoveries, drilling activity, permits,
completions and summary drilling statistics, layered
with regional listings and business opportunities.
Web access to the Permian Scout archive.
Does not include access to MLS
Search PLS' News Archive for complete oil & gas news for Permian Scout .
See what it is about before you buy. View a sample issue of Permian Scout.
Need more information? Click the button to recieve more details about the Permian Scout
Opportunity is a reflection of information.
Call 713-650-1212 For More Information
Search Permian Scout:

Headline
Publication
News Date
PS - WPX Energy Highlights - May 27, 2020
During Q1, WPX Energy completed 25 wells on its legacy Delaware Basin acreage, not including its $2.5 billion Felix Energy acquisition, which closed in March. The highest initial 24-hour rate was delivered by the CBR 33-28H-56-1- 414H, flowing 3,909 boe/d (53% oil) from the Wolfcamp A. Also delivering a strong rate was the Lindsay 3-10J-55- 1-403H, with an IP24 of 3,759 boe/d (55% oil) from the Wolfcamp...
May 28, 2020
PS - Apache Highlights - May 27, 2020
Apache released its last US rig in mid-May after rapidly dropping its seven rigs. Four of the rigs, along with one frac crew, drilled and completed 12 wells in the Midland Basin during Q1. The company's first 3-mile lateral pad was substantially completed on the Goodspeed lease in the Azalea area and achieved significant cost savings. In the Delaware Basin, three rigs and one frac crew operated in Q1 to D&C 11 wells. At the beginning of May, Apache had about 70 DUCs in the unconventional...
May 27, 2020
PS - Diamondback Energy Highlights - May 27, 2020
Before ceasing all completion activity in March, Diamondback Energy managed to bring 80 wells online in Q1 with laterals averaging 9,751 ft: 34 in the Midland Basin and 46 in the Delaware Basin. The frac holiday was intended to last one to three months, and the company expects to average less than one completion crew in Q2 to meet leasehold obligations. Of its expected 170-200 completions in 2020, less than 10% will be fulfilled in Q2. Depending on commodity prices, the company could bring back...
May 27, 2020
PS - Laredo improves Cline economics, now competitive with Wolfcamp - May 27, 2020
Laredo Petroleum is working to make its wells in the Cline formation competitive with its traditional Wolfcamp program. Naturally, wells in the deeper formation are more expensive, but increases in initial productivity, in addition to decreasing well costs, have made the Cline wells more economic. During Q1, Laredo completed its first two wells targeting the formation in two years. Well costs of $7.4 million were 8% below expectations, and the company believes that declines in service...
May 27, 2020
PS - Devon derisks deeper Wolfcamp potential, reports successful infills - May 27, 2020
Devon Energy's Q1 D&C program in the Delaware Basin was highlighted by a number of Wolfcamp results. At Spud Muffin Phase 2 in Eddy County, New Mexico, two Wolfcamp horizontals with laterals averaging 9,900 ft delivered initial 30-day rates of 3,200 boe/d apiece on restricted chokes. Devon says these results derisk its deep Wolfcamp potential in the larger Potato Basin area. In Lea County, eight Wolfcamp wells at Jayhawk in the Rattlesnake area validated Devon's Wolfcamp development...
May 27, 2020
PS - Regional Highlights - May 27, 2020
The EIA projects that Permian production will fall by 87,000 bo/d and 210 MMcf/d sequentially in June to 4.29 MMbo/d and 15.839 Bcf/d. There were 3,464 DUCs in the Permian as of April, up by 28 compared to...
May 27, 2020
PS - QEP's first tank-style County Line development tops expectations - May 13, 2020
During Q1, QEP Resources brought online its first tank-style development in the County Line area of Martin County, Texas, with wells drilled across two half-mile sections on the east and west sides of the 0312 DSU exceeding expectations. Productivity was strong across all completed zones, and 17 of the 25 wells produced initial 30-day oil rates greater than 1,000 bo/d. In fact, three of the wells delivered IP30s over 2,000 bo/d, and four topped 1,500 bo/d. Wells targeting the Wolfcamp A and the...
May 13, 2020
PS - EOG shifts D&C to wells profitable below $30/bbl in two plays - May 13, 2020
EOG Resources altered its 2020 plans to fit a sub-$30/bbl environment. Capex was lowered by $3 billion from the original target to current guidance of $3.3-3.7 billion. In just six weeks, the company dropped 78% of its rigs, going from 36 to eight, and 69% of its frac spreads, going from 16 to five. The company has identified more than 4,500 net drilling locations that will generate returns at less than $30/bbl WTI and will focus its activity on these high-return opportunities. Of the 485 net...
May 13, 2020
PS - Parsley Energy Highlights - May 13, 2020
After running 15 rigs and five frac spreads during most of Q1 to spud 51 and turn to sales 46 operated wells, Parsley Energy suspended all new D&C activity in April. The company plans to reactivate operations with four to five rigs and one to two frac spreads when oil market fundamentals...
May 13, 2020
PS - Occidental Petroleum Highlights - May 13, 2020
Occidental Petroleum drilled a 10,000-ft horizontal at Silvertip in northern Loving County, Texas, in 15.2 days, which is more than four days faster than the prior record on the acreage. Drilling times in the area are down 14% in the Oxy era compared to Anadarko's 2019 average. Oxy's first Silvertip well has flowed back 361,000 bo (489,000 boe) in the first 150 days compared to the Anadarko average of 150,000...
May 13, 2020
Get more news for Permian Scout