Permian Scout
Serving the local market with drilling activities, permits & multiple listings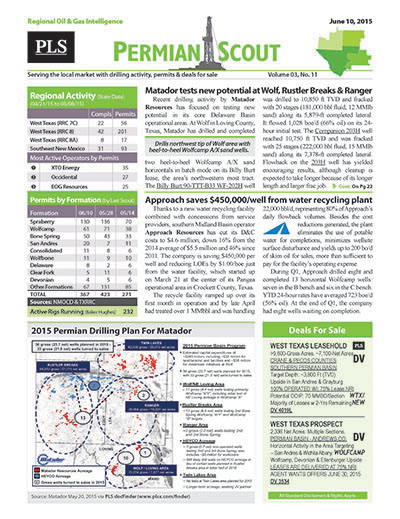 PLS publishes exploration news and drilling insights in West Texas and Southeast New Mexico through our Permian Scout.
Published every two (2) weeks, this regional report (RRC 7C, 8, & 8A) includes lead stories on drilling activity, successes and new projects while also reporting on drilling rigs, new permits, completions and P&A activity.
Stay in front of local prospects, plays & rigs!
West Texas, Southeast New Mexico
Hard Copy and Email For 1 Individual
Every 2 Weeks (22-25 issues per year)
Regional discoveries, drilling activity, permits,
completions and summary drilling statistics, layered
with regional listings and business opportunities.
Web access to the Permian Scout archive.
Does not include access to MLS
Search PLS' News Archive for complete oil & gas news for Permian Scout .
See what it is about before you buy. View a sample issue of Permian Scout.
Need more information? Click the button to recieve more details about the Permian Scout
Opportunity is a reflection of information.
Call 713-650-1212 For More Information
Search Permian Scout:

Headline
Publication
News Date
PS - Conoco's Permian to reach 400,000 boe/d over the next decade - December 4, 2019
ConocoPhillips's approach to US unconventionals is meant to bring each asset to an "optimal plateau, generate strong returns and free cash flow, keep learning, find upside and increase value," Lower 48 president Dominic Macklon said at the company's Nov. 19 analyst day. The company is in the plateau stage in the Bakken and will reach that stage in the Eagle Ford over the next few years. The company's Permian assets, which are comprised of 90,000 net Delaware basin acres, 20,000 net Northwest...
Dec 04, 2019
MP - Laredo shifts near-term program on transformative acreage buy - December 4, 2019
In early November, Laredo Petroleum made a strategic acquisition in Howard County, Texas, that is transforming the company's near-term development plan. The company spent $130 million to acquire 7,360 net acres (96% operated) and 750 net royalty acres in a new operational area with significant offset development activity. Laredo is getting high-margin, Tier 1 acreage at values below the historical average in the county. Offset wells have delivered first-year production that is 80% oil...
Dec 04, 2019
PS - Regional Highlights - December 4,2019
The EIA projects that Permian production will rise by 57,000 bo/d and 223 MMcf/d sequentially in December to 4.727 MMbo/d and 16.493 Bcf/d. There were 3,589 DUCs in the Permian as of October, down by 45 compared to...
Dec 04, 2019
PS - Devon Energy Highlights - December 4, 2019
Devon Energy has applied learnings from prior developments to its Leonard program in the Delaware basin, which primarily targets the B interval. The company is currently drilling six Leonard wells per DSU and is considering testing up to eight wells. IP30s are averaging 2,200 boe/d (70% oil) and well costs are running $7.5 million, EVP David Harris said on a Nov. 6 earnings call, adding, "returns from this Leonard activity rank among the very best projects we have executed this...
Dec 04, 2019
PS - Occidental Petroleum Highlights - December 4, 2019
Occidental Petroleum released a preliminary 2020 budget of $5.3- 5.5 billion. This is down by $3.6 billion from the combined Anadarko Petroleum and Oxy budgets for 2019. At that level, the company is targeting 2% production growth, driven by 5% higher volumes in its Permian resource play; output from other areas will be flat or grow at a reduced rate. Oxy will run five rigs in New Mexico, six to seven on Anadarko's legacy Texas Delaware Basin acreage and three to four in its Midland Basin JV...
Dec 04, 2019
PS - Rosehill Resources Highlights - December 4, 2019
During Q3, Rosehill Resources completed nine wells in Loving County, Texas. Notably, three wells on the Kyle 26 pad targeting the Wolfcamp A delivered initial 30-day rates of 1,470 boe/d (75% oil), or 306 boe/d per 1,000 lateral ft. On the Z&T 32 pad, three wells averaged IP30s of 961 boe/d (75% oil), or 222 boe/d per 1,000 ft, from the Second Bone Spring. And the Z&T 20 E006 well delivered an initial 180-day rate of 985 boe/d (70% oil), or 224 boe/d per 1,000 ft, from the Second Bone...
Dec 04, 2019
PS - Marathon reveals Woodford/Meramec oil play in Delaware Basin - November 13, 2019
In its Q3 earning release, Marathon Oil announced that it has established a new oil play in the Texas portion of the Delaware basin. The company said it put together a position exceeding 60,000 net acres in Ward County at a low entry cost of $2,400/acre. The acreage is prospective for the Woodford and Meramec shales, with the Woodford over 350 ft thick and 700 ft of separation between the zones. Both targets are overpressured and are expected to deliver about 65% oil cuts. There is...
Nov 13, 2019
PS - EOG racks up 2 more premium Delaware plays holding 1.6 Bboe - November 13, 2019
Two additional Delaware basin plays with a combined 1,470 net drilling locations have ascended to the ranks of EOG Resources' expansive premium inventory: the Middle Wolfcamp and the Third Bone Spring. The two new plays made the cut by demonstrating at least 30% returns at flat $40/bbl oil and $2.50/MMbtu gas prices, a threshold the company says ensures strong returns and direct finding costs below $10/boe through commodity cycles. The Middle Wolfcamp, which EOG calls the "Wolfcamp M,"...
Nov 13, 2019
PS - Cimarex Energy Highlights - November 13, 2019
In the first nine months of 2019, Cimarex Energy has lowered its Permian operating expenses by 19% compared to 2018 at $6.50/boe. Ownership of midstream and saltwater disposal assets has driven down opex. Well costs (drilling, completion, well facilities and flowback) are trending at $1,150-$1,200/ lateral ft in 2019, which is down 20% YOY. The company has seen completion costs decline primarily due to service cost reductions. Cimarex's Q3 Permian output averaged 198,600 boe/d, up 5%...
Nov 13, 2019
PS - SM Energy Highlights - November 13, 2019
Since its August update, SM Energy has reached peak initial 30- day rates for 11 wells in the RockStar area in Martin and Howard counties, Texas. The wells averaged peak IP30s of 1,180 boe/d (90% oil) from the Wolfcamp A or Lower Spraberry. Laterals averaged 10,150 boe/d, resulting in relative rates of 116 boe/d per 1,000 lateral ft. The average cost to drill, complete and equip a RockStar well is $700/lateral ft. SM says its high-oilcontent assets generate some of the highest realized prices...
Nov 13, 2019
Get more news for Permian Scout