Canadian Scout
Serving the Canadian E&P market with news, analysis and business opportunities.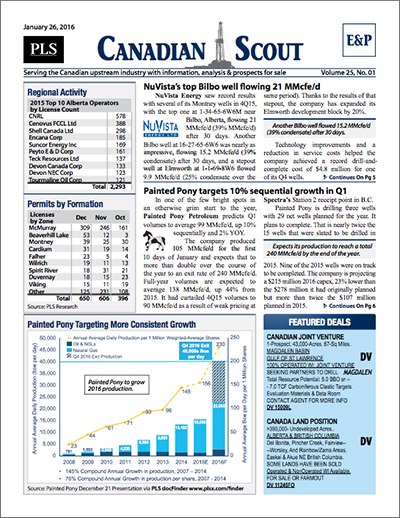 The Canadian Scout (blue banner report) covers news and analysis on the Canadian exploration and production (E&P) sector including new well discoveries, drilling activities, acreage sales, industry statistics (drilling results, activity permits & intents to drill) and technological updates. Besides composite E&P news, the Canadian Scout also carries market insight, analyst comments and respected featured interviews with leading E&P executives.
Covering exploration & production
Single copy pricing; Includes hard copy & email version
Increase market insight & deal flow
Every 3 weeks
Latest in exploration, discoveries, resource plans, land grabs, volumes, development projects & trends
Access to archives covering E&P
Phone request for prospects and lands listed for sale
Includes discounts for other PLS products & events
Search PLS' News Archive for complete oil & gas news for Canadian Scout .
See what it is about before you buy. View a sample issue of Canadian Scout.
Need more information? Click the button to recieve more details about the Canadian Scout
Opportunity is a reflection of information.
Call 713-650-1212 For More Information
Search Canadian Scout:

Headline
Publication
News Date
CS - Cenovus jumps on clean energy train with 2050 net-zero target - January 2020
Cenovus Energy has joined Canadian Natural Resources Ltd. and MEG Energy in adopting net-zero greenhouse gas emissions targets for 2050. Cenovus reduced emissions by 30% from 2004 to 2019 and plans to make a further 30% reduction by 2030 using a 2019 baseline. According to its 2018 environmental, social and governance report, estimated per-barrel CO2 emissions were under 40 kg at Christina Lake and between 50 and 60 kg at Foster Creek, placing Cenovus' emissions below the global average. SAGD...
Jan 29, 2020
CS - MEG refinances with a $1.6B bond placement in US & Canada - January 2020
The normally sleepy corporate bond market for Canadian oil companies woke up for the first time in 2020 with MEG Energy Corp.'s offering of US$1.2 billion ($1.6 billion) aggregate principal amount of 7.125% senior unsecured notes due 2027. The seven-year notes were upsized from an earlier contemplated US$800 million offering. MEG said the notes were offered only to institutional buyers in the US under Rule 144A and outside the US in accordance with Regulation S under the US Securities Act. In...
Jan 29, 2020
CS - IPC adds Alberta Bakken in $77MM acquisition of Granite Oil - January 2020
International Petroleum Corp. is acquiring Granite Oil Corp. for $77.2 million in cash and debt. IPC, an offshoot of Sweden's Lundin Petroleum, will acquire 100% WI in high-netback light oil-producing assets in the Alberta Bakken's Milk River area southwest of its existing operations in the Suffield area, just north of the US border. Current production is 1,500 bo/d from an oil pool that extends over a 50-km fairway, and there are 2P reserves of 14 MMboe, of which nearly 100% is light oil, and...
Jan 29, 2020
CS - Encana moves to Colorado after court & holder approval - January 2020
Encana Corp. is now Ovintiv, Inc., a new Denver resident, after an Alberta court approved its reorganization on Jan. 17, clearing the path to leave Calgary on Jan. 24. Prior to the court's approval, 90% of the company's security holders—well past the two-thirds required—voted in favor of resolutions at the Jan. 14 special meeting to move to the US, change the name and conduct a 5:1 reverse split of the company's common stock. Ovintiv now trades about 260 million common shares on the...
Jan 29, 2020
CS - Athabasca aims to live within funds flow with $125MM capex - January 2020
Athabasca Oil Corp. will spend $125 million in 2020 compared to $135 million last year and aim to sustain production within projected funds flow. The company will spend $65 million on thermal oil sands assets with a focus on Leismer, including long-lead items for pad L8, a water disposal well and routine pump changes. At Hangingstone, Athabasca will complete its first facility turnaround during Q2. The company will spend $60 million on its light oil assets, weighted towards H1. In the...
Jan 29, 2020
CS - Baytex beats 2019 production guidance with $552MM capex - January 2020
Baytex Energy Corp. ended the year with average production of 97,680 boe/d, beating its guidance of 96,000-97,000 boe/d, and also stayed at the low end of its $550-600 million capex guidance with total spending of $552 million. The company's strong production and capital efficiencies helped it generate $329 million of free cash flow and reduce net debt 17%, or $394 million, to $1.87 billion. Q4 production was slightly lower than the average at 96,360 boe/d (83% oil and NGLs), likely because...
Jan 29, 2020
CS - Advantage spending up to $200MM in 2020; light oil a priority - January 2020
Expect to see Advantage Oil & Gas Ltd.'s liquids transition plan put into motion this year as the company spends a portion of its $170-200 million capital budget in the Montney to focus on development of its Progress and Pipestone/Wembley light oil assets. The work will complement its natural gas and condensate activity at Glacier and Valhalla, the company said, adding that the 2020 capex budget is expected to generate a 130% growth in liquids production YOY and "significant" revenue...
Jan 29, 2020
CS - Streamlined capex, low-carbon ambition & a rare foreign buy - January 2020
Companies are detailing their spending plans for 2020 within an environment that remains challenging for oil and gas producers. Heavy regulations, supply constraints and mandatory production curtailments in Alberta, among other factors, are providing the macro-context for decisions going forward. Athabasca Oil will spend $125 million, down $10 million from last year, and aim to sustain production within projected funds flow (PG.3). Crescent Point Energy has up to $1.2 billion earmarked...
Jan 29, 2020
CS - Pipestone sets 2020 capex at $145-155MM, sees 20% growth - January 2020
Montney pure-play Pipestone Energy Corp. will focus its 2020 development program in the northwest sector of its largely contiguous 140-net-section position. The company plans to spend $145-155 million, 85% of which will go toward drilling, completion, equipping and tie-in expenditures. Remaining capital costs include downhole frac and production diagnostic tools to optimize completion designs and incremental water management and infrastructure optimization projects. Pipestone expects to...
Jan 29, 2020
CS - Obsidian Energy already nearly halfway through H1 campaign - January 2020
Obsidian Energy has two rigs active at its Crimson Lake acreage and is in the midst of a nine-well Cardium 1H20 drilling campaign. Three wells have been rig released, and the fourth and fifth wells are currently being drilled. The 1H20 campaign directly offsets the company's cluster of Crimson Lake wells drilled in 2018 and 2019, with four of the wells to the southeast and five wells to the northwest. Obsidian has budgeted $49.4 million for H1. All 13 wells drilled in 2H19 are now...
Jan 29, 2020
Get more news for Canadian Scout