Canadian Scout
Serving the Canadian E&P market with news, analysis and business opportunities.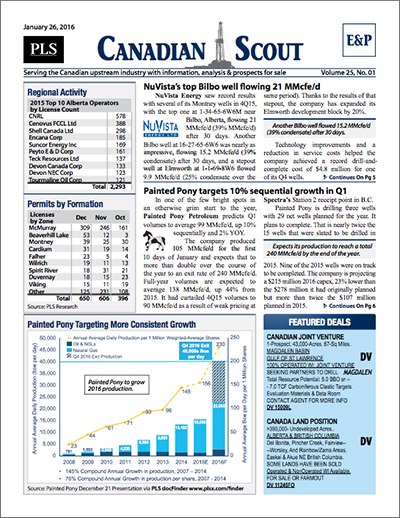 The Canadian Scout (blue banner report) covers news and analysis on the Canadian exploration and production (E&P) sector including new well discoveries, drilling activities, acreage sales, industry statistics (drilling results, activity permits & intents to drill) and technological updates. Besides composite E&P news, the Canadian Scout also carries market insight, analyst comments and respected featured interviews with leading E&P executives.
Covering exploration & production
Single copy pricing; Includes hard copy & email version
Increase market insight & deal flow
Every 3 weeks
Latest in exploration, discoveries, resource plans, land grabs, volumes, development projects & trends
Access to archives covering E&P
Phone request for prospects and lands listed for sale
Includes discounts for other PLS products & events
Search PLS' News Archive for complete oil & gas news for Canadian Scout .
See what it is about before you buy. View a sample issue of Canadian Scout.
Need more information? Click the button to recieve more details about the Canadian Scout
Opportunity is a reflection of information.
Call 713-650-1212 For More Information
Search Canadian Scout:

Headline
Publication
News Date
CS - Imperial's Q1 upstream earnings jump as downstream lags - May 2019
An increase in production and stronger bitumen prices in Q1 led to stronger upstream earnings for Imperial Oil, but the company's downstream sector was hurt by a decline in throughput and narrower margins.The government-mandated production cuts slashed the company's refinery margins, which more than offset the effect of stronger prices that boosted upstream profits. Imperial's net income in Q1 fell to $293 million, down from $516 million one year ago. Upstream profits rose to $58...
May 07, 2019
CS - Husky's income reaches $328MM in Q1, up 32% YOY - May 2019
Husky Energy reported its Q1 upstream margins, cash flow and earnings were up, as stronger heavy oil prices offset a decline in production from a year ago. The company's net income was $328 million, up 32% YOY. Husky's cash from operating activities rose to $545 million in Q1 compared with $529 million a year ago. Total production fell to 285,000 boe/d (70% oil and NGLs), down 5% from 300,000 boe/d a year ago. The decline in production was largely caused by the government-mandated production...
May 07, 2019
CS - Devon applies for $914MM program to extend Jackfish life - May 2019
Even as it continues to pursue the sale of its entire Canadian portfolio, Oklahoma Citybased Devon Energy has requested permission from the Alberta Energy Regulator to drill up to 13 new SAGD well pads with up to 102 well pairs at its Jackfish oil sands properties at an estimated cost of $914 million. The proposed Jackfish West program would add 12 years to the life of Devon's Jackfish 2 central processing facility, one of three such facilities at the oil sands project with combined capacity of...
May 07, 2019
CS - Risk management contracts weigh on Encana's Q1 results - May 2019
EnCana Corp. reported its recent acquisition of Newfield Exploration was one factor for the company's growing production, but a noncash loss of $427 million on risk management contracts weighed down its results in Q1. Encana reported a net loss of $245 million, down from net earnings of $151 million a year ago. Its Q1 cash from operating activities was $529 million, up from $381 million a year ago. In February, Encana closed its $7.7 billion acquisition of Newfield Exploration, a...
May 07, 2019
CS - Leucrotta flows 16 MMcfe/d from Upper Montney stepout - May 2019
In what Leucrotta Exploration described as a major stepout, the northeast British Columbia-focused Montney player drilled and completed a horizontal Upper Montney well with materially higher production results than expected. The 8-22-81-14W6 well was drilled on Leucrotta's Mica acreage in its Dawson focus area, 7.5 miles from the nearest horizontal Upper Montney producer. After testing on initial flowback for five days, the 8-22 well had a final flowrate of ~16 MMcfe/d. Along with 13.9 MMcf/d...
May 07, 2019
CS - Husky applies to expand oil sands drilling at Tucker project - May 2019
Husky Energy is seeking approval from the Alberta Energy Regulator to drill, complete and tie in 15 new well pairs on two pads, increasing the footprint of its Tucker thermal project in the Cold Lake oil sands. The company has applied to amend its existing approval for the project to add the two new surface well pads, Pads E and F, and increase the project's footprint by ~10.3 hectares to accommodate the additional pads, associated infrastructure and rights-of-way. The proposed...
May 07, 2019
CS - Pulse completes first of two Bigoray wells & starts second - May 2019
Pulse Oil Corp. has completed the first of a two-well drilling program in its Bigoray assets and has started drilling the second. The first well targeted the newly defined undrained attic areas of Pulse's Nisku D pinnacle reef and found more than 50 meters of oil pay.The well was drilled to a total depth of 2,750 meters and has been successfully cased and is awaiting testing. The company spudded the second well from the same pad. That well has a similar objective but is targeting the...
May 07, 2019
CS - Saturn to double 2019 capex to $41.5MM & drill 36 ERHs - May 2019
Saturn Oil & Gas announced total capital expenditures of $41.5 million for 2019, including $39.6 million on drilling, completions and tie-ins. The plan is essentially double the $20.7 million spent in 2018, which funded the drilling of 17 net Viking light oil wells including 15 extended reach horizontals. The 2019 program calls for Saturn to drill 36 Viking extended reach horizontals.It has already spent $9.9 million to drill nine wells in Q1 on its Milton, Kerrobert and Prairiedale...
May 07, 2019
CS - Canada & Eagle Ford output drive Baytex's Q1 results - May 2019
Baytex Energy Corp. said Q1 was the first quarter in which it demonstrated the benefit of its $1.9 billion merger with Raging River Exploration, which closed in August, increasing its operating netback, delivering "meaningful" cash flow and strengthening its balance sheet. Q1 production increased 2% sequentially to 101,105 boe/d, exceeding the high end of the company's guidance. Production was 60,018 boe/d in Canada, where the company continues its development program in the Viking and...
May 07, 2019
CS - Whitecap drilling program focused on Saskatchewan in Q1 - May 2019
Western Canadian producer Whitecap Resources spent $124.9 million to drill 56 wells in Q1, mostly within its core west-central and southwest Saskatchewan positions. Average production for Q1 was down 3% sequentially to 70,666 boe/d but higher than its forecast of 69,000 boe/d. The company said it expects to achieve its 2019 production guidance of 70,000-72,000 boe/d based on a capex of $425-475 million. The company drilled 23 Viking horizontal wells in west-central Saskatchewan,...
May 07, 2019
Get more news for Canadian Scout