Canadian Scout
Serving the Canadian E&P market with news, analysis and business opportunities.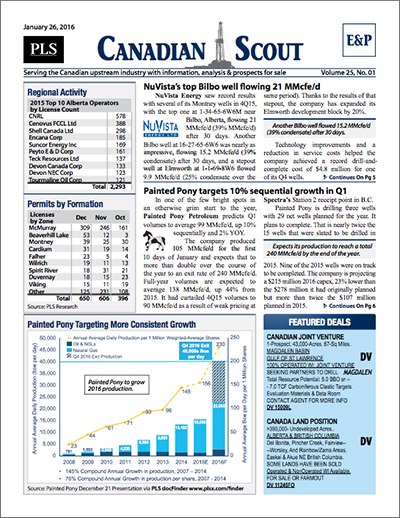 The Canadian Scout (blue banner report) covers news and analysis on the Canadian exploration and production (E&P) sector including new well discoveries, drilling activities, acreage sales, industry statistics (drilling results, activity permits & intents to drill) and technological updates. Besides composite E&P news, the Canadian Scout also carries market insight, analyst comments and respected featured interviews with leading E&P executives.
Covering exploration & production
Single copy pricing; Includes hard copy & email version
Increase market insight & deal flow
Every 3 weeks
Latest in exploration, discoveries, resource plans, land grabs, volumes, development projects & trends
Access to archives covering E&P
Phone request for prospects and lands listed for sale
Includes discounts for other PLS products & events
Search PLS' News Archive for complete oil & gas news for Canadian Scout .
See what it is about before you buy. View a sample issue of Canadian Scout.
Need more information? Click the button to recieve more details about the Canadian Scout
Opportunity is a reflection of information.
Call 713-650-1212 For More Information
Search Canadian Scout:

Headline
Publication
News Date
CS - Baytex eyes heavy oil in future of better prices & less debt - October 2019
During a presentation for the Peters & Co. Ltd. Energy Conference, Baytex Energy CEO Ed LaFehr said the company is still focusing on free cash flow generation and net debt reduction but sees plenty of growth opportunities in its Canadian heavy oil assets once Alberta's curtailment policy ends and prices stabilize. It is currently running at the high end of its production guidance at 97,000 boe/d and is at the low end of its capex guidance, projecting $560 million for the year. It also...
Oct 02, 2019
CS - Pembina closes $1.5B financing, amends KML purchase agreement - October 2019
Pembina Pipeline Corp. closed a $1.5 billion, triple-tranche offering of medium-term senior unsecured notes on Sept. 12. The offering of $600 million principal amount each of 2.56% Series 14 notes due 2023 and 3.31% Series 15 notes due 2030, and a $300 million add-on to the company's 4.54% Series 13 notes due 2049 was launched Sept. 9. Net proceeds were used to repay borrowings from a $1 billion non-revolving term loan due March 2021, and for capital expenditures and general purposes....
Oct 02, 2019
CS - Trans Mountain progress in court marred by local opposition - October 2019
Trans Mountain Corp., a Crown corporation owned by the Canadian government, received a court win in British Columbia on Sept. 17 for the Trans Mountain pipeline expansion project but continues to battle strong headwinds in reaching agreements with landowners, cities and indigenous groups along the proposed route. In the ruling, the BC Court of Appeal said the province cannot prevent or impede construction or operation of the pipeline, nor can it order assessments that the National Energy...
Oct 02, 2019
CS - Upstream M&A slams brakes in Q3, trails other subsectors - October 2019
Q3, trails other subsectors Canadian upstream M&A remained virtually non-existent in Q3, with $235.3 million in deals with disclosed values across six announced transactions. That's the second-lowest quarterly total recorded by Enverus' M&A Database after Q1, which had eight deals, including five with disclosed values totaling $70 million. While a confluence of heavy regulations, market volatility, supply bottlenecks and ongoing production curtailments in Alberta have contributed to the...
Oct 02, 2019
CS - Waterflood leads to reserves upgrade for Prairie Provident - October 2019
Prairie Provident Resources Inc. had its reserves upgraded by an independent evaluation conducted by Sproule Associates Ltd. The reserves were upgraded in three future undeveloped waterflood expansion areas on its Evi acreage in north central Alberta. Sproule assigned 1.6 MMboe of proved undeveloped reserves and 0.5 MMboe of probable reserves (97% oil and liquids) to future waterflood expansions. The evaluation amounts to a 40% increase in proved reserves for the relevant areas, and total...
Oct 02, 2019
CS - Hillcrest achieves milestone production rate from West Hazel - October 2019
After a successful workover program in July, Hillcrest Petroleum has recorded continuous oil production rates exceeding 150 bo/d from wells at its West Hazel oil field in Saskatchewan that had been shut in since 2015. In July, total fluid production from the wells was 4,500 bbl/d with an oil cut of 1.5-2.0%, and by September the oil cut increased to 2.5-3.0%. Hillcrest said the increasing oil cut indicates the reservoir could be moving back toward oil production rates recorded prior to the...
Oct 02, 2019
CS - Hemisphere Energy reaches 2,000 boe/d after 11-well program - October 2019
Hemisphere Energy has crossed the 2,000 boe/d threshold, with average production from Sept. 1 to Sept. 15 of 2,020 boe/d (96% oil). This is a 45% increase over Q2 production and is due to its 11- well summer drilling program in the Atlee Buffalo area of southern Alberta, which included facility upgrades to the G pool battery. Nine of the wells were online as of Sept. 17, and the remaining two were expected to start producing by Sept. 21. The company said its waterflood project in the Upper...
Oct 02, 2019
CS - Midstream lifts Canadian energy sector on its shoulders - October 2019
As the page turns from Q3 to Q4, the Canadian oil patch continues to confront challenges ranging from heavy regulation and supply constraints at home to the impact of market volatility and fallout of the attacks in Saudi Arabia in the broader global arena (PG.16). Operators are assessing their financial and operational strategies within this context and remaining hesitant to engage in dealmaking until more stability is realized. This M&A reticence was particularly pronounced in Q3, when...
Oct 02, 2019
CS - Alberta eases output limits for November and December - October 2019
Alberta announced it will ease curtailment limits by 10,000 bo/d in November and December, allowing production to rise to 3.80 MMbo/d and 3.81 MMbo/d, respectively. The limits were last eased by 25,000 bo/d for September and October when the province announced the extension of the curtailment program through the end of 2020. The government sent letters announcing the new limits to the 15 producers whose output is affected by curtailment, out of more than 300 in Alberta. Energy Minister...
Oct 02, 2019
CS - Medicine Hat will abandon most of its gas wells by 2022 - October 2019
Medicine Hat, Alberta's "Gas City," announced Sept. 11 that it would accelerate its abandonment and reclamation of uneconomic gas fields and plans on shuttering 2,000 currently producing wells by the end of 2022. The city has been working since 2015 to find efficiencies and new opportunities in a battered oil and gas market. Commissioner of Energy and Utilities Brad Maynes said its exploration program found some oil, gas and even helium, but not enough to regain profitability. As of...
Oct 02, 2019
Get more news for Canadian Scout