Canadian Scout
Serving the Canadian E&P market with news, analysis and business opportunities.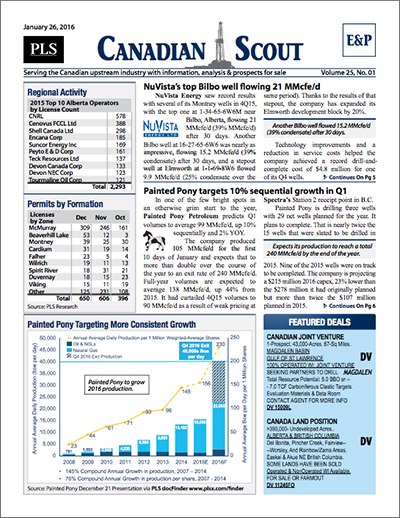 The Canadian Scout (blue banner report) covers news and analysis on the Canadian exploration and production (E&P) sector including new well discoveries, drilling activities, acreage sales, industry statistics (drilling results, activity permits & intents to drill) and technological updates. Besides composite E&P news, the Canadian Scout also carries market insight, analyst comments and respected featured interviews with leading E&P executives.
Covering exploration & production
Single copy pricing; Includes hard copy & email version
Increase market insight & deal flow
Every 3 weeks
Latest in exploration, discoveries, resource plans, land grabs, volumes, development projects & trends
Access to archives covering E&P
Phone request for prospects and lands listed for sale
Includes discounts for other PLS products & events
Search PLS' News Archive for complete oil & gas news for Canadian Scout .
See what it is about before you buy. View a sample issue of Canadian Scout.
Need more information? Click the button to recieve more details about the Canadian Scout
Opportunity is a reflection of information.
Call 713-650-1212 For More Information
Search Canadian Scout:

Headline
Publication
News Date
CS - Alberta launches review of AER, replaces board members - September 2019
The Alberta Energy Regulator will be the subject of an overall review of the provincial government that will evaluate potential changes to its mandate, operations and governance. The regulator's board members are also being replaced with interim members, Energy Minister Sonya Savage said. The review is the fulfillment of a campaign promise made by of Premier Jason Kenney before the April election. During the campaign, Kenney said that among his first tasks as premier would be the...
Sep 17, 2019
CS - Pembina: Trans Mountain still fits in KML, but not buying - September 2019
The Kinder Morgan Canada Ltd. that is being acquired by Pembina Pipeline Corp. represents a collection of assets left over after the $4.5 billion (US$3.5 billion) sale last year of the 1,150-km Trans Mountain pipeline (PG.9) to the Canadian government. The line, which runs from Alberta to Vancouver, British Columbia, formed a natural bridge between KML's Edmonton oil storage business and West Coast storage and marine facilities. When asked about potentially acquiring Trans Mountain on a...
Sep 17, 2019
CS - Pembina buys Kinder Morgan Canada, US Cochin line for $4.4B - September 2019
Less than four months after Kinder Morgan Canada Ltd. concluded a strategic review with a decision to remain an independent company, the Toronto-listed Kinder Morgan Inc. affiliate agreed on Aug. 21 to an all-stock buyout offer from Pembina Pipeline Corp. valued at $2.31 billion (US$1.74 billion). Pembina will also acquire the US portion of the 110,000 bbl/d Cochin condensate pipeline from KMI for $2.05 billion (US$1.55 billion) cash. KMI owns a 70% voting interest in KML. In addition...
Sep 16, 2019
CS - Alberta extends oil curtailment program through 2020 - September 2019
Alberta's government announced on Aug. 20 that it was extending the oil curtailment program to Dec. 31, 2020. Energy Minister Sonya Savage said the limits were necessary because of continued pipeline delays—such as Enbridge's Line 3 replacement (PG.8)—and without them production would exceed takeaway capacity by 150,000 bo/d, leading to large discounts for Canadian crude. However, the province is updating the policy—with the changes taking effect on Oct. 1—to provide producers with more...
Sep 11, 2019
CS - Suncor Energy advances $1.4 billion oil sands cogen project - September 2019
Suncor Energy gave the green light to a $1.4 billion project at its oil sands base plant near Fort McMurray, Alberta, to replace its coke-fired boilers with two natural gasfired cogeneration units. These will provide steam generation needed for the company's extraction and upgrading operations and generate 800 MW of power, which will be transmitted to Alberta's grid and make up ~8% of the province's current electricity demand. "This is a great example of how Suncor deploys capital in...
Sep 11, 2019
CS - Husky Energy delivers first oil at Dee Valley development - September 2019
Husky Energy started producing from its Dee Valley thermal project near Lloydminster in Saskatchewan in August. The project will ramp up through the end of the year to its 10,000 bo/d design capacity, bringing the company's thermal production in the province to 90,000 bo/d. It is the second of six thermal bitumen projects intended to come onstream from 2018 to 2022. "Dee Valley is the latest in our deep portfolio of repeatable, small-scale Lloyd developments that provide low-cost,...
Sep 11, 2019
CS - Wizard Lake Rex-2 flow test delivers 700 boe/d with 50% oil - September 2019
Point Loma Resources released flow test results for the Rex-2 well, its second horizontal well at Wizard Lake in Alberta with Australia-based JV partner Whitebark Energy, after drilling Rex-1 in June. Over the last 24 hours of the test up to Sept. 4, the well flowed at 700 boe/d (50% 18.5°API oil). Operator Point Loma said the partners have recovered 41% of the load fluid so far and plan to put the well on production to existing facilities as soon as possible. Whitebark used more than 1,000...
Sep 11, 2019
CS - Key projects & deals advance amid output limit extension - September 2019
After being a main subject in Q2 conference calls, mandatory production limits in Alberta will continue to provide the backdrop of operator plans going forward after the province extended them by a year to December 2020 (PG.1). Alberta will provide producers with more flexibility, however, while at the same time addressing continued pipeline delays, such as Enbridge's Line 3 replacement (PG.8). Against this backdrop, some companies have reported recent progress with key projects. In...
Sep 11, 2019
CS - PrairieSky reveals new leasing opportunities in East Duvernay - September 2019
PrairieSky Royalty announced Sept. 4 that it has ~50,000 acres of prospective unleased Duvernay Shale rights available for leasing in the Trochu area of central Alberta. The lands are within the emerging East Duvernay play and target up to 18 meters of pay, according to the prospect poster, with oil production from both Upper and Lower Duvernay horizontals having been proven in the area. The company has 2D and 3D seismic coverage across the unleased area. The Duvernay in the northern...
Sep 11, 2019
CS - Obsidian launches review after nixed Highwood deal - September 2019
Obsidian Energy Ltd. formally launched a strategic review Sept. 10, with the E&P firm saying the process will allow for consideration of consolidation within the Cardium play in Alberta, where it is the largest producer with 20,289 boe/d in Q2 and the largest acreage holder with 311,680 net acres (487 net sections). The company said that if such consolidation is possible, it may allow for the creation of additional scale, efficiency and financial strength. Tudor, Pickering, Holt & Co. has...
Sep 11, 2019
Get more news for Canadian Scout