International Scout
Serving the global E&P market with news, analysis and business opportunities.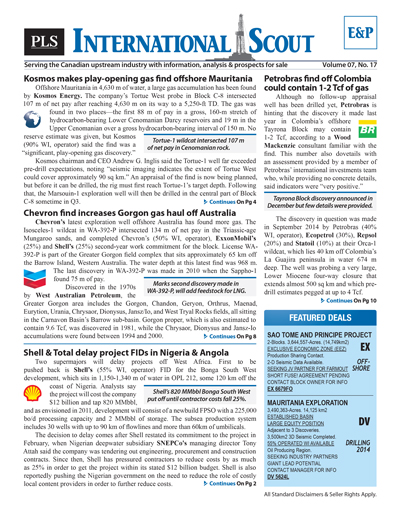 PLS publishes news and analysis on the international exploration and production (E&P) sector through its International Scout. Published every 3 weeks, the blue banner report covers new well discoveries, drilling activities, acreage sales, industry statistics (drilling results, activity permits & intents to drill) and technological updates.
Covering exploration & production
Single copy pricing; Incl hard copy & email version
Increase market insight & deal flow
Every 3 weeks
Latest in exploration, discoveries, resource plans, land grabs, volumes, development projects & trends
Access to International Scout archives
Phone request for prospects and lands listed for sale
Includes discounts for other PLS products & events
Search PLS' News Archive for complete oil & gas news for International Scout .
See what it is about before you buy. View a sample issue of International Scout.
Need more information? Click the button to recieve more details about the International Scout
Opportunity is a reflection of information.
Call 713-650-1212 For More Information
Search International Scout:

Headline
Publication
News Date
IS - Chevron reportedly considers reducing Niger Delta footprint - November 2019
Chevron could soon be joining fellow supermajors Shell, Total and Eni in selling down its stakes in Nigeria. The company is considering the divestment of stakes in eight blocks onshore and in the shallow waters across the Niger Delta, which it holds in a JV with state-controlled NNPC, sources told Reuters. The US-based supermajor, which holds an operated 40% WI in the blocks, has not yet launched a formal tender but is conducting direct negotiations with suitors, according to the report....
Nov 05, 2019
IS - PE-backed Waldorf picks up Endeavour's UK North Sea assets - November 2019
Newly formed private equity-backed Waldorf Production acquired the UK North Sea assets of Houston-based Endeavour International for an undisclosed amount. The deal marks Waldorf's debut in the region and comes after Reuters reported in March 2018 that Endeavour had formally launched the sales process for its UK North Sea assets by retaining Deloitte. The company had reportedly hoped to receive up to $500 million for the assets. The portfolio was part of a group of assets Endeavour initially...
Nov 05, 2019
IS - Equinor goes red on write-downs, produces 10% less gas in Q3 - November 2019
Lower prices and deferred gas production drove Equinor's Q3 adjusted earnings down 46% YOY to $2.59 billion, but net impairments of $2.8 billion put Norway's statebacked energy company in the red for the quarter with a $1.1 billion net loss, compared with a $1.66 billion profit a year ago. The write-downs were due to lower assumptions on long-term US gas prices. Revenue of $15.6 billion was off 18% from a year ago, and the lowest in eight quarters, reflecting the lower prices and production...
Nov 05, 2019
IS - OMV narrows Iris resource estimate after appraisal - November 2019
OMV finished drilling an appraisal well targeting the 2018 Iris discovery and conducted two formation tests on PL644 in the Norwegian Sea. The company's initial resource estimate for Iris before the appraisal was 114-792 Bcfe. It has now narrowed its estimate to 150-450 Bcfe. OMV carried out two formation tests and achieved a maximum flow rate of 90 MMcfe/d (37% condensate). Iris may be developed as a subsea tieback to existing facilities in the area. The appraisal well reached a depth...
Nov 05, 2019
IS - Dana submits Platypus plans, sets sights on 1Q22 first gas - November 2019
Dana Petroleum has submitted a field development plan and environmental statement for the offshore Platypus gas project in the UK North Sea to UK regulators, partner Parkmead Group reported. The field is located in blocks 47/5B and 48/1a and has estimated mid case recoverable resources of 105 Bcf, plus another potential 51 Bcf recoverable in Platypus East. The development plan calls for two development wells tied back to Perenco's Cleeton CW platform via a 23-km pipeline. Production will then...
Nov 05, 2019
IS - IOG and CalEnergy complete North Sea farm-out deal & take FID - November 2019
Independent Oil & Gas has completed its farm-out deal with CalEnergy Resources Ltd. and subsequently taken a final investment decision for the Phase 1 development of six gas fields in the UK North Sea. The farm-out agreement gave CalEnergy 50% in IOG's upstream assets in the southern North Sea—except for the Harvey licenses— the Thames pipeline and associated Thames reception facilities. IOG received an initial consideration of £40 million ($51.5 million), and CalEnergy will carry up to £60...
Nov 05, 2019
IS - Serenity well in UK North Sea proves a success for i3 Energy - November 2019
UK-based i3 Energy's Serenity well encountered oil on Block 13/23c in the UK North Sea, 6 km north of the company's Liberator field. The well was drilled downdip from Repsol Sinopec Resources UK Ltd.'s Tain field on the adjacent Block 13/23b. It encountered oil-bearing Captain and Coracle sands from 4,740 ft to 5,252 ft, and the oil-water contact was estimated to be at 5,270 ft. The net oil interval in the Captain sands was 10 ft with 30% porosity, which is thicker than in the Tain...
Nov 05, 2019
IS - Premier Oil makes significant gas find at Tolmount East - November 2019
Premier Oil struck gas with its offshore Tolmount East well on Block 24/28d in the UK North Sea. The well targeted estimated P50 gross prospective resources of 220 Bcf 4 km east of the company's 500 Bcf Tolmount gas field, which it began developing last year. The well tested an extension to the Tolmount Main gas field and encountered 241 ft of gas-bearing, high-quality Leman sands with a net-to-gross ratio of 71%, porosity of 16% and gas saturation of 82%. No gas-water contact was penetrated,...
Nov 05, 2019
IS - PGNiG finds 19-38 MMboe recoverable in Shrek prospect - November 2019
PGNiG has finished drilling an exploration well and appraisal sidetrack targeting the Shrek prospect in the Norwegian Sea and encountered an estimated 19-38 MMboe of recoverable resources. The wells took 45 days to drill and are located about 5 km south of Aker BP's Skarv FPSO. PGNiG is considering tieing the discovery back to Skarv, where it holds 11.92% WI. Water depth at the site is 350 meters. Both wellbores targeted Middle and Lower Jurassic reservoir rocks. The initial exploration...
Nov 05, 2019
IS - North Sea & Western Europe Briefs - November 5, 2019
Angus Energy plc will gross £1.5 million from a convertible loan facility led by Riverfort Global Opportunities. It received the first £1 million of the facility upon signing Oct. 28, netting £897,500 in the transaction. While there is no interest due, the holder can convert the drawn borrowings into equity using a variety of discounting methods. If the holder doesn't convert, amounts drawn must be repaid after 12 months. Up to 20% of the outstanding principal is convertible by YE19. Angus also...
Nov 05, 2019
Get more news for International Scout