International Scout
Serving the global E&P market with news, analysis and business opportunities.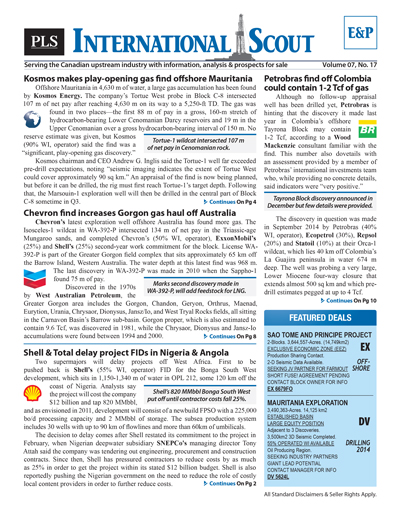 PLS publishes news and analysis on the international exploration and production (E&P) sector through its International Scout. Published every 3 weeks, the blue banner report covers new well discoveries, drilling activities, acreage sales, industry statistics (drilling results, activity permits & intents to drill) and technological updates.
Covering exploration & production
Single copy pricing; Incl hard copy & email version
Increase market insight & deal flow
Every 3 weeks
Latest in exploration, discoveries, resource plans, land grabs, volumes, development projects & trends
Access to International Scout archives
Phone request for prospects and lands listed for sale
Includes discounts for other PLS products & events
Search PLS' News Archive for complete oil & gas news for International Scout .
See what it is about before you buy. View a sample issue of International Scout.
Need more information? Click the button to recieve more details about the International Scout
Opportunity is a reflection of information.
Call 713-650-1212 For More Information
Search International Scout:

Headline
Publication
News Date
IS - Aramco discloses $47B in H1 net income, $164B in revenue - September 2019
In a brief but historic conference call on Aug. 12, Saudi Aramco publicly disclosed its financial results for the first time. Publishing its 1H19 results is another step forward on the path toward completing the famously private company's long-discussed initial public offering. The company earned $46.9 billion during H1 in net income, after interest and tax, while EBIT was $92.5 billion. For the comparable period in 2018, Aramco earned $52.9 billion with $101 billion in EBIT. Revenue of...
Sep 04, 2019
IS - BW gets nod for Maromba buy ahead of planned E&P spinof - September 2019
BW Offshore has received approval from Brazil's oil regulator for the acquisition of Chevron and Petrobras' stakes in the undeveloped Maromba heavy oil field in Brazil's southern Campos Basin for $115 million. The Brazilian NOC sold its operated 70% WI and the US-based supermajor its 30%, enabling BW to expand its operations in Brazil where it already has two FPSOs. The deal comes ahead of BW's planned separation of its E&P arm BW Energy into a separate entity later this year. The...
Sep 04, 2019
IS - BW Energy launches six-well campaign at Dussafu off Gabon - September 2019
BW Energy has encountered signs of hydrocarbons in the DHIBM-1 exploration well on the Hibiscus updip prospect on the prolific Dussafu block offshore Gabon. Logging operations are underway, and BW is planning to drill a side-track. The well, spudded in early August, is 56 km offshore in 116 meters of water and targeted the Gamba and Dentale reservoirs. It is located 1.5 km southwest of the HIBM-1 well drilled by Arco in 1991, which found oil shows in good quality Gamba reservoir. The new well...
Sep 04, 2019
IS - BP's Ras Shouqair flow 61,700 bo/d ahead of sale to Dragon - September 2019
Gulf of Suez Petroleum Co.,a 50:50 JV of BP and Egypt's state-ownedEGPC,reported a 61,700 bo/d average production rate from the Ras Shouqair field offshore Egypt in the Gulf of Suez for its fiscal 2019, which ended June 30. In June, BP announced it was selling its GUPCO stake to Dragon Oil, a subsidiary of Dubai's Emirates National Oil Co. That deal is expected to close before year's end, leaving Dragon to carry on BP's share of a $1.2 billion spending program through 1H21 to increase...
Sep 04, 2019
IS - China cuts back Venezuela oil imports after US threats - September 2019
CNPC canceled all August loadings of Venezuelan crude because of US sanctions of the South American country. In July, China's imports of Venezuelan oil fell 62% from June to a total of 703,742 tonnes, roughly equivalent to 166,000 bo/d. The Trump administration has targeted Venezuela with sanctions to topple President Nicolas Maduro, including freezing Venezuelan government assets in the US and threatening sanctions against companies that do business with staterun PDVSA. CNPC could...
Sep 04, 2019
IS - China opens the door for direct foreign O&G investment - September 2019
International O&G companies have new opportunities for investment after China lifted restrictions on foreign investment in its conventional upstream and city gas distribution sectors with a policy that took effect July 30. Previously, upstream companies were required to form JVs with one of China's Big Three—CNPC, Sinopec and CNOOC— to operate in the country. Operators would bear 100% of exploration costs and the national oil company would retain the right to back in for a 51% stake in any...
Sep 04, 2019
IS - Asian companies slow bond issues despite strong investor demand - September 2019
A shortage of Asian investment-grade bond issues has been a boon for the few opportunities out there. The slowdown came following a summer featuring strong international interest. International investors bought a net $12.36 billion of Asian bonds in June, the largest net purchase in at least six years. The number shrank to $3.43 billion in July, but it still was the third straight month foreigners were net buyers of Asian bonds. Despite the demand, issues dried up after China...
Sep 04, 2019
IS - Woodside Petroleum sees first oil from Greater Enfield project - September 2019
Woodside Petroleum delivered first oil from its $1.9 billion Greater Enfield project offshore Western Australia in late August. The project, approved in 2016, produces from the Laverda Canyon, Norton over Laverda and Cimatti oil fields through a subsea tieback to the company's Ngujima-Yin FPSO vessel. The FPSO returned from a retrofit in Singapore in May. Ngujima-Yin now has a production capacity of 120,000 bo/d. All 12 wells and subsea infrastructure for the Greater Enfield...
Sep 04, 2019
IS - EWC confirms gas flows in Eromanga gas field recommissioning - September 2019
Southeast Asia and Australia-focused Energy World Corp. passed a major milestone in its recommissioning project for the Eromanga gas fields onshore southwest Queensland after completing initial well rehabilitation and confirming gas flows and pressures at existing wells. The company received an A$2 million ($1.4 million) grant under Queenland's gas acceleration program to bring Eromanga and Gilmore back online in August 2018. Besides well rehabilitation, EWC conducted repairs and maintenance of...
Sep 04, 2019
IS - Carnarvon and Central update Dorado-3 and Dukas-1 status - September 2019
Santos' Dorado-3 appraisal well has reached a depth of 4,357 meters out of a planned TD of 4,575 meters offshore Western Australia in the Bedout sub-basin, partner Carnarvon Petroleum reported. The operator has extracted 175 meters of whole wellbore core across the Caley and Baxter reservoirs. Wireline logging will take place after TD is reached. Meanwhile, at EP112 onshore Australia's Northern Territory 175 km southwest of Alice Springs, Santos is acquiring wireline logs before...
Sep 04, 2019
Get more news for International Scout