International Scout
Serving the global E&P market with news, analysis and business opportunities.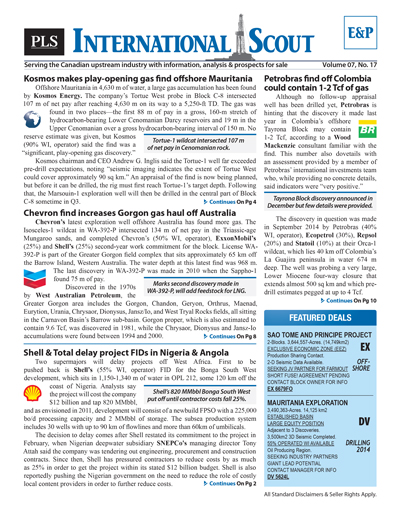 PLS publishes news and analysis on the international exploration and production (E&P) sector through its International Scout. Published every 3 weeks, the blue banner report covers new well discoveries, drilling activities, acreage sales, industry statistics (drilling results, activity permits & intents to drill) and technological updates.
Covering exploration & production
Single copy pricing; Incl hard copy & email version
Increase market insight & deal flow
Every 3 weeks
Latest in exploration, discoveries, resource plans, land grabs, volumes, development projects & trends
Access to International Scout archives
Phone request for prospects and lands listed for sale
Includes discounts for other PLS products & events
Search PLS' News Archive for complete oil & gas news for International Scout .
See what it is about before you buy. View a sample issue of International Scout.
Need more information? Click the button to recieve more details about the International Scout
Opportunity is a reflection of information.
Call 713-650-1212 For More Information
Search International Scout:

Headline
Publication
News Date
IS - Shell's $15B Prelude ships first LNG eight years after FID - July 2019
Shell shipped the first long-anticipated cargo of LNG from its Prelude floating LNG plant off Western Australia's northern coast. The cargo on the Valencia Knutsen LNG tanker went to customers in Asia on June 10, eight years after the supermajor approved the development concept for its Prelude and Concerto discoveries in Australia's Browse Basin, which contain an estimated 3 Tcf of gas plus 120 MMbbl of condensate. Delays and cost overruns over the years have pushed overall capex for the...
Jul 01, 2019
IS - OMV takes $1B bite of Gazprom's 14 Tcfe Achimov project - July 2019
OMV will pay $1.105 billion (€980 million) to buy into a Gazprom project targeting West Siberia's Achimov formation. The June 6 agreement for the acquisition of 24.98% WI in the Achimov 4A and 5A development phases of the 14,000-sq-km Urengoy gas and condensate field, Russia's largest, amends a basic sale agreement signed last October. The deal is expected to close by the end of 2019. OMV says the acquisition will add 3.6 Tcfe to its reserves, representing its share of production from...
Jul 01, 2019
IS - Anadarko commits to 12.9 mtpa Mozambique LNG project - July 2019
Anadarko Petroleum Corp. has made a final investment decision to develop the Mozambique LNG project. The company plans to build two LNG trains with an initial capacity of 12.9 mtpa to support development of the Golfinho and Atum fields within Offshore Area 1. The initial project sets the stage for future expansion of up to 50 mtpa from the region, ~40 km offshore northern Mozambique in water depth of ~1,600 meters. Offshore Area 1 covers ~2.6 million acres and includes the...
Jul 01, 2019
IS - Exxon moves Vaca Muerta oil into large-scale development - July 2019
ExxonMobil will proceed with its oil development in Argentina's Bajo del Choique-La Invernada block, which will produce up to 55,000 boe/d within five years and include 90 wells, a central production facility and export infrastructure connected to the Oldeval pipeline and refineries. The commitment is the latest in Argentina's Vaca Muerta shale, after Shell announced in December plans to start full-scale development of 70,000 boe/d by the mid-2020s. The Vaca Muerta is the first major...
Jul 01, 2019
IS - Poland's PGNiG acquires Total's 22.2% stake in King Lear - July 2019
Poland's PGNiG is acquiring Total's 22.2% WI in the Aker BP-operated King Lear field. Located within licenses PL146 and PL333 in the North Sea, production from the gas and condensate discovery is expected to commence production in 2025 following an investment process planned in 2021-2024. Gas produced from the asset will be sent to Poland via the future Baltic Pipe gas pipeline. "King Lear is one of the largest undeveloped discoveries in the North Sea. This is another purchase PGNiG has...
Jul 01, 2019
IS - Lundin makes two new discoveries near Edvard Grieg field - July 2019
Lundin Petroleum has made two oil discoveries from the Jorvik and Tellus East wells on the eastern edge of the Edvard Grieg field on the North Sea's Utsira High. The discoveries have combined gross resources of 4-37 MMboe. The Jorvik well encountered oil in 30 meters of conglomerate reservoir of Triassic age with a thin, high quality sandstone above. After extensive coring and data collection the well was tested at an anticipated low rate of ~130 bo/d in the conglomerate interval....
Jul 01, 2019
IS - Okea lists on the Oslo Børs with a NOK2.1B market cap - July 2019
Following four years of buildup from a fresh portfolio company of Bermudabased Seacrest Capital into a major Norwegian Continental Shelf player, Okea ASA launched an initial public offering to raise NOK315 million ($37 million) on the Oslo Børs. The company completed the sale June 17, giving it an instant NOK2.139 billion ($252 million) market cap. Trondheim, Norway-based Okea issued 15 million shares at NOK21 each and has a 2.25 million-share underwriters' overallotment open, which if...
Jul 01, 2019
IS - BP relaunches Shearwater sale effort after Shell talks end - July 2019
BP has relaunched its search for a buyer of its non-operated 27.5% WI in the UK North Sea's Shearwater oil field after negotiations with partner Shell were cancelled, unnamed sources told Reuters. They added that a disagreement over the value of BP's stake was the key reason why a potential deal fell through. Industry sources told Reuters in April that the stake was valued at $250 million. Shell operates Shearwater with 28% WI, while ExxonMobil holds the remaining 44.5%. Shell plans to...
Jul 01, 2019
IS - West Newton looking like biggest UK onshore find in 46 years - July 2019
Early tests on the West Newton A-2 well in the PEDL 183 license onshore UK show a gas discovery that could contain as much as 189 Bcf, according to Reabold Resources, controlling shareholder of license operator Rathlin Energy. Reabold plans to conduct a production test of the well in Q3 to determine the well's potential. If confirmed, the discovery is the largest onshore discovery in the UK since Wytch Farm in 1973. The well was drilled to a depth of 2,061 meters and found a net...
Jul 01, 2019
IS - Cluff's equity raise transforms, funds new North Sea work - July 2019
In a June 6 equity raise that CEO Graham Swindells called "transformative," North Sea-focused Cluff Natural Resources Plc, sold more than 857 million new ordinary shares to existing and new institutional investors, and insiders, at £1.75 each to raise £15 million. The shares sold in the placement represent 61% of the company's now outstanding shares."Our company is now entering an exciting operational phase of its growth with line of sight over the drilling of at least two wells in the...
Jul 01, 2019
Get more news for International Scout