International Scout
Serving the global E&P market with news, analysis and business opportunities.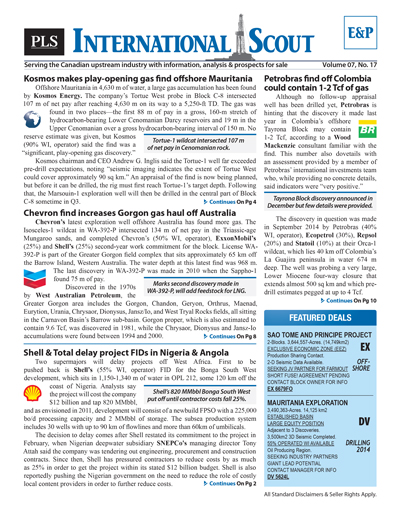 PLS publishes news and analysis on the international exploration and production (E&P) sector through its International Scout. Published every 3 weeks, the blue banner report covers new well discoveries, drilling activities, acreage sales, industry statistics (drilling results, activity permits & intents to drill) and technological updates.
Covering exploration & production
Single copy pricing; Incl hard copy & email version
Increase market insight & deal flow
Every 3 weeks
Latest in exploration, discoveries, resource plans, land grabs, volumes, development projects & trends
Access to International Scout archives
Phone request for prospects and lands listed for sale
Includes discounts for other PLS products & events
Search PLS' News Archive for complete oil & gas news for International Scout .
See what it is about before you buy. View a sample issue of International Scout.
Need more information? Click the button to recieve more details about the International Scout
Opportunity is a reflection of information.
Call 713-650-1212 For More Information
Search International Scout:

Headline
Publication
News Date
IS - Equinor and Shell buy out SLB's Vaca Muerta stake for $355MM - February 2020
Equinor and Shell jointly acquired 49% WI in an unconventional development project onshore Argentina from oilfield services giant Schlumberger for $355 million. Each company paid $177.5 million for 24.5% WI in the YPF-operated Bandurria Sur block targeting the Vaca Muerta shale in Neuquén province. The Norwegian company and Anglo-Dutch supermajor also signed a preliminary agreement to jointly acquire 11% WI from YPF for an undisclosed amount, which would give them 30% apiece and leave the...
Feb 11, 2020
IS - Pemex offers $5B double-tranche bonds, oversubscribed by 5.2x - February 2020
Pemex sold $5 billion in bonds across two tranches of $2.5 billion each: one paying 5.95% p.a. through 2031 and one with a 6.95% coupon that matures in 2060. Both tranches were sold at 100. It is the first time in its history that Mexico's national oil company has issued a 40-year bond, and Pemex said book orders hit $26 billion, or 5.2x the principal amount sold. The company will use proceeds from the sales to refinance existing debt. The new notes bring Pemex's total debt...
Feb 11, 2020
IS - ADNOC to develop 80 Tcf shallow find on Abu Dhabi-Dubai border - February 2020
ADNOC and the Dubai Supply Authority have signed an agreement to develop the newly discovered Jebel Ali shallow gas reservoir, which is estimated to contain 80 Tcf. Jebel Ali is located onshore the UAE on the border of Abu Dhabi and Dubai. It is the largest gas discovery since Turkmenistan's Galkynysh in 2005, according to Wood Mackenzie. The reservoir is shallower than some of Abu Dhabi's sour gas reservoirs, which should lead to lower development costs. The Dubai Media Office said the...
Feb 11, 2020
IS - Not too hot, not too cold: JPM says Aramco's $2T value just right - February 2020
JP Morgan analysts assigned Saudi Aramco a $2 trillion valuation, making it the first Western bank to accept the number Saudi Crown Prince Mohammed bin Salman has clung to since 2016. The bank said Aramco's growth outlook, cheap drilling costs (breakeven under $10/bbl) and its $75 billion annual dividend justify the valuation. Aramco is trading at 18.3x average price-to-earnings ratio compared with the 15.9x average for 2021 earnings expectations for major oil companies, the bank said. Aramco...
Feb 11, 2020
IS - SDX's 12-well campaign in Morocco continues to find more gas - February 2020
SDX Energy has finished drilling eight wells in its 12-well campaign onshore Morocco, resulting in several commercial discoveries. The latest well, OYF-2, encountered an estimated 1.3-1.9 Bcf of recoverable resources in the Upper and Lower Guebbas formations, exceeding pre-drill estimates. OYF-2 will be tested in February and cost $2 million net to SDX to tie into existing infrastructure. A week before announcing the OYF-2 results, SDX said it had made five discoveries that added an estimated...
Feb 11, 2020
IS - Latin America & Middle East finds highlight early Q1 E&P - February 2020
The international oil and gas sector saw several significant discoveries made or tested over the last few weeks, with Latin America and the Middle East leading the way in these accomplishments. Off Guyana, ExxonMobil made a 16th discovery at Stabroek and increased the block's recoverable resources estimate to over 8 Bboe (PG.1). Tullow Oil's adjacent Orinduik block also got a boost from a new competent person's report (PG.16). In Trinidad, Touchstone Exploration tested its Cascadura discovery...
Feb 11, 2020
IS - Eni reports 50 MMcf/d test at gas discovery onshore Sharjah - February 2020
The Sharjah National Oil Co. made a gas and condensate discovery in the Mahani-1 exploration well onshore the UAE in Area B, partner Eni reported. Mahani-1 reached a depth of 14,597 ft and encountered a gas-bearing limestone reservoir in the Thamama formation. Eni said the well was tested and achieved rates up to 50 MMcf/d. In January 2019, Eni picked up a non-operated 50% interest in Area B, which has been explored in the past. The partners' exploration activities are focused on...
Feb 11, 2020
IS - Kuwait Energy's ASH-2 well producing over 3,000 bo/d in Egypt - February 2020
Kuwait Energy has completed, tested and brought onstream the ASH-2 well onshore Egypt in the Abu Sennan concession, United Oil & Gas reported. United is in the process of acquiring Rockhopper Exploration's 22% interest in the concession. ASH2 was separately tested from the Upper and Lower Alem El Buieb formations and achieved maximum gross rates of 7,027 bo/d and 3,851 bo/d, respectively. Kuwait Energy brought the well onstream Jan. 2, and it has since produced over 3,000 bo/d gross on a...
Feb 11, 2020
IS - Tullow Oil cuts capex, dividends & staff, maintains guidance - February 2020
Tullow Oil, the largest independent E&P company operating in Africa, is decreasing capex in 2020 to $350 million and will spend another $100 million on decommissioning activities this year. It is also cancelling its plans to pay $100 million in dividends. The company expects to generate at least $150 million of free cash flow from 75,000 bo/d using a $60/bbl assumption. The company ended 2019 with about $2.8 billion of debt and no CEO, as Paul McDade resigned in December and Tullow has...
Feb 11, 2020
IS - Prime stake pays off for Africa Oil with $62.5MM dividend - February 2020
Flush with $62.5 million in fresh cash from its first dividend from 50:50 JV Prime Oil & Gas BV, Africa Oil Corp. said it will pay off some of its $250 million in debt incurred to help buy the JV stake. Prime, which was formerly known as Petrobras Oil & Gas BV and holds stakes in deepwater Nigerian fields, distributed a $125 million total dividend payment to its two owners, Africa Oil and Brazilian bank BGT Pactual. Africa Oil CEO Keith Hill said the dividend came less than a...
Feb 11, 2020
Get more news for International Scout