International Scout
Serving the global E&P market with news, analysis and business opportunities.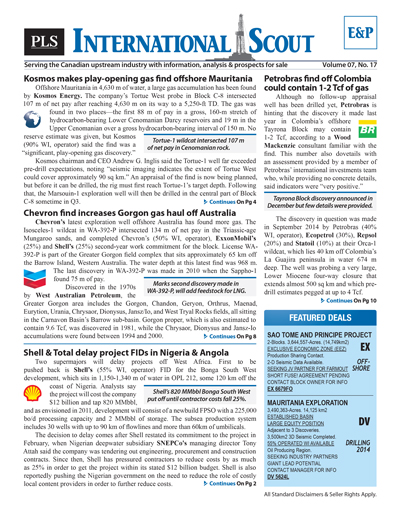 PLS publishes news and analysis on the international exploration and production (E&P) sector through its International Scout. Published every 3 weeks, the blue banner report covers new well discoveries, drilling activities, acreage sales, industry statistics (drilling results, activity permits & intents to drill) and technological updates.
Covering exploration & production
Single copy pricing; Incl hard copy & email version
Increase market insight & deal flow
Every 3 weeks
Latest in exploration, discoveries, resource plans, land grabs, volumes, development projects & trends
Access to International Scout archives
Phone request for prospects and lands listed for sale
Includes discounts for other PLS products & events
Search PLS' News Archive for complete oil & gas news for International Scout .
See what it is about before you buy. View a sample issue of International Scout.
Need more information? Click the button to recieve more details about the International Scout
Opportunity is a reflection of information.
Call 713-650-1212 For More Information
Search International Scout:

Headline
Publication
News Date
IS - Total secures Mozambique LNG funds; remaining Oxy deals fail - May 2020
Total is set to wrap up a $14.4 billion financing deal with a consortium of 20 banks for its Mozambique LNG project, Reuters reported May 20. The company has not commented on the deal, but reports indicate that it is expected to close sometime in June or in Q3. A source told Bloomberg that some of the participating banks include Rand Merchant Bank, Standard Bank and Societe Generale, which is acting as the financial advisor. Japan Bank for International Cooperation is also expected to provide...
May 29, 2020
IS - Equinor & partners take FID on Northern Lights CCS project - May 2020
Equinor and its partners, Shell and Total, have taken a final investment decision on the Northern Lights project, which would be the world's first commercial carbon capture and storage network. Initial investments are expected to total NOK 6.9 billion ($695 million), with 57% going to Norwegian contractors. The project is subject to sanctioning by Norwegian authorities and approval from the European Free Trade Association Surveillance Authority. Phase 1 is expected to be operational in...
May 29, 2020
IS - Production at Eni's Zohr field fell by as much as 1 Bcf/d in Q1 - May 2020
Rosneft said that the Eni-operated Zohr field off Egypt, where the Russian company owns 30% WI, produced 1.98 Bcf/d during Q1. In early March, Atef Hassan, chairman of the Petro Shorouk JV consisting of Eni, its Zohr partners and state-run Egyptian Natural Gas Holding Co., said that the field was expected to reach 3 Bcf/d once the 15th production well came online later that month. Eni did not directly address Zohr output in its Q1 earnings report or conference call in late April. However, the...
May 29, 2020
IS - Saudi Aramco increases June cuts by 1 MMbo/d to 4.8 MMbo/d - May 2020
Saudi Arabia has directed Saudi Aramco to cut production by another 1 MMbo/d beginning in June. Including cuts from the recent OPEC+ agreement to curtail production, the company will be reducing its output by a total of 4.8 MMbo/d. June production is expected to be less than 7.5 MMbo/d. Saudi Aramco missed analyst expectations for Q1 net earnings of $18.0 billion by more than 7%, bringing in $16.7 billion, down by nearly 25% from $22.2 billion in 1Q19. Free cash flow fell from $17.4...
May 29, 2020
IS - Valeura on the hunt for a new JV partner after Equinor's exit - May 2020
Canada-based Valeura Energy is looking for a new JV partner for its operated unconventional deep gas play in Turkey's Thrace Basin following Equinor's exit in in early April. The company will soon begin working with an advisor to secure the right candidate. "The idea is to bring in someone who has the financial capability but also, importantly, the correct technical background and experience in these unconventional plays," president and CEO W. Sean Guest said during a May 12 conference...
May 29, 2020
IS - Troubled markets highlight industry haves and have-nots - May 2020
International oil and gas companies are moving forward on a variety of projects, even as the broader industry continues to be squeezed by the impacts of low commodity prices and the coronavirus pandemic. Equinor and its partners took an FID on the Northern Lights project, which will be the world's first commercial carbon capture and storage development (PG.1). Total is also reportedly close to finalizing a $14.4 billion financing deal for its Mozambique LNG project (PG.1). An independent review...
May 29, 2020
IS - Mubadala & Tap begin three-well drilling program at Manora - May 2020
Mubadala Petroleum and partner Tap Oil approved three new development wells on Manora field off Thailand, Tap Oil reported. The drilling campaign began in mid-May using the Valaris 115 jackup rig. The three wells are expected to add 3,600 bo/d to Manora's total current production of 5,000 bo/d. Tap said that the rig will also be used to replace the electric submersible pump on MNA-15 and for a workover of MNA-07 to convert it to a water disposal well. The MNA-25 well will target the 600...
May 29, 2020
IS - ONGC awards 49 of 64 fields from its first marginal round - May 2020
India's state-run ONGC said that it awarded 49 marginal oil and gas fields to seven companies across 13 contract areas. The onshore fields are located in the states of Gujarat, Tamil Nadu, Andhra Pradesh and Assam. The company initially sought to award up to 64 fields in its inaugural marginal field round, and it received 28 bids from 13 companies covering stakes in 50 fields. ONGC did not announce which companies were successful. According to India's Business Standard daily newspaper,...
May 29, 2020
IS - Petronas suffers 68% YOY decline in Q1 profit after tax - May 2020
Petronas' Q1 profit after tax was MYR 4.5 billion ($1.2 billion) on revenue of RM 59.6 billion ($15.2 billion), compared to a PAT of MYR 14.2 billion ($3.6 billion) on revenue of MYR 62.0 billion ($15.8 billion) in 1Q19. The company said the 68% drop in PAT was primarily attributable to net impairment on its assets and lower revenue, which was impacted by lower average realized prices. Excluding impairments, Q1 PAT was MYR 9.2 billion ($2.3 billion), which was still a 35% decrease YOY. Cash...
May 29, 2020
IS - Asian companies reportedly eye Exxon's Caspian Sea assets - May 2020
ExxonMobil has reportedly relaunched the effort to sell its stake in the BP-operated Azeri-Chirag-Gunashli field in the Caspian Sea offshore Azerbaijan, with the sales process led by Bank of America Merrill Lynch. Asian oil and gas companies, including CNOOC, ONGC and Indonesia's Pertamina, have expressed interest, banking and industry sources told Reuters for a May 19 report.Exxon first attempted to divest its 6.8% WI in the field in 2018, when Chevron launched the sale of its 9.87% WI...
May 29, 2020
Get more news for International Scout