International Scout
Serving the global E&P market with news, analysis and business opportunities.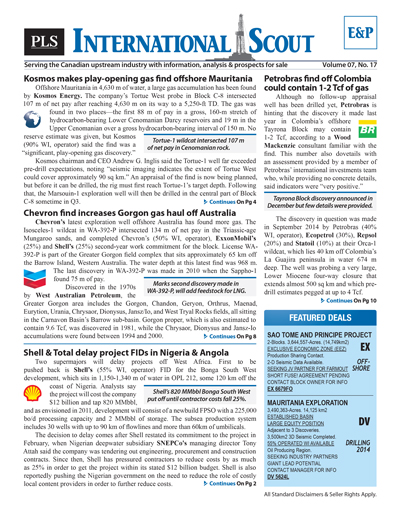 PLS publishes news and analysis on the international exploration and production (E&P) sector through its International Scout. Published every 3 weeks, the blue banner report covers new well discoveries, drilling activities, acreage sales, industry statistics (drilling results, activity permits & intents to drill) and technological updates.
Covering exploration & production
Single copy pricing; Incl hard copy & email version
Increase market insight & deal flow
Every 3 weeks
Latest in exploration, discoveries, resource plans, land grabs, volumes, development projects & trends
Access to International Scout archives
Phone request for prospects and lands listed for sale
Includes discounts for other PLS products & events
Search PLS' News Archive for complete oil & gas news for International Scout .
See what it is about before you buy. View a sample issue of International Scout.
Need more information? Click the button to recieve more details about the International Scout
Opportunity is a reflection of information.
Call 713-650-1212 For More Information
Search International Scout:

Headline
Publication
News Date
IS - Exxon's Christmas comes early with Liza first oil & Mako find - December 2019
ExxonMobil delivered first oil from Liza field on the Stabroek block off Guyana in late December, which was ahead of schedule and less than five years after the first discovery on the block. Phase 1 production is expected to reach the 120,000 bo/d capacity of the Liza Destiny FPSO in several months, and the first cargo is set to be sold within weeks. Liza Destiny, moored 190 km offshore, was converted from the very large crude carrier Tina and is currently producing from eight wells. Phase 1...
Dec 31, 2019
IS - Total targets new Angola development hub in $400MM deal - December 2019
Total acquired stakes in two Kwanza Basin blocks off Angola from state-controlled Sonangol for $400 million. The French supermajor picked up an operated 50% WI in Block 20/11 in the central part of the basin and 80% WI in Block 21/09 in the southcentral area, paying $400 million at closing with an additional $100 million due at the time of a final investment decision on a development hub for the two blocks, which have yielded four discoveries to date: Golfinho in 20/11 and Cameia, Mavinga and...
Dec 31, 2019
IS - Saudi Aramco nips at $2T valuation in Tadawul trading - December 2019
Saudi Aramco priced its Tadawul-listed initial public offering of 3 billion shares at SAR32 ($8.53) each, selling a 1.5% stake in the company on Dec. 10 for about $25.6 billion in proceeds. The shares ran up 10% almost immediately to SAR35.2 and have since hovered in the SAR36-38 range, bringing Aramco's valuation near—and at least once past—the $2 trillion mark that Saudi Crown Prince Mohammad bin Salman has insisted the company is worth since announcing the plan to go public four years ago....
Dec 31, 2019
IS - Touchstone onshore find may be Trinidad's biggest since 2001 - December 2019
Calgary-based Touchstone Energy said it discovered 1,037 ft of net prospective oil pay in its Cascadura-1ST1 well at the Ortoire exploration block onshore southeast Trinidad. Cascadura-1 was spudded Oct. 4, but after encountering mechanical issues with the rig, it was sidetracked beneath the surface casing. It reached a measured depth of 6,350 ft on Dec. 9, well short of the originally planned target depth of 8,150 ft. Touchstone said it decided to suspend drilling and case the well to preserve...
Dec 31, 2019
IS - Springfield finds 1.5 Bbo and 700 Bcf at Afina discovery - December 2019
Springfield Exploration & Production announced its Afina-1 discovery off Ghana on West Cape Three Points Block 2 contains an estimated 1.5 Bbo and 700 Bcf in place, of which it expects 30-35% to be recoverable. It has also identified 3 Bboe of undiscovered potential in multiple leads and prospects within several proven reservoir units. Afina-1 was drilled in 1,030 meters of water and reached a 4,085-meter TD. It encountered 50 meters of net light oil pay in good-quality Cenomanian...
Dec 31, 2019
IS - BP deepens Orca-1 discovery well and finds more gas - December 2019
BP said it discovered additional gas at Orca-1 in Block C-8 off Mauritania after it deepened the well in November. When the discovery was announced in October, partner Kosmos Energy said the well encountered 36 meters of net gas pay in an untested Albian play and 11 meters of net gas pay in the Cenomanian play, and had identified a deeper Albian prospect that went untested. BP did not indicate how much additional pay was found in the untested play when Orca-1 was deepened. The...
Dec 31, 2019
IS - Seplat completes $512MM acquisition of Eland Oil & Gas - December 2019
Seplat Petroleum completed the acquisition of fellow Niger Delta producer Eland Oil & Gas for $512 million in cash and assumed debt on Dec. 16. Seplat said the deal advances its goal of becoming Nigeria's largest independent producer, boosting its pro forma 2019 working interest production 23% at midpoint to an estimated 64,000 boe/d, although both companies have subsequently reduced their production guidance because of operational issues. The deal was announced Oct. 15. Seplat is paying...
Dec 31, 2019
IS - Several discoveries & historic IPO end 2019 with a bang - December 2019
As 2019 comes to an end, two recurring stories throughout the year made headlines again in December, ExxonMobil's Stabroek block off Guyana and Saudi Aramco's IPO. Exxon was back in the news with first oil from the Liza Phase 1 development at Stabroek. That news was followed by Exxon's 15th discovery on the block at Mako-1 (PG.1). A third story was set to make headlines on New Year's Eve, with the planned startup of Noble Energy's Leviathan field off Israel after a previous Dec. 24 start...
Dec 31, 2019
IS - Vaalco's 9H well off Gabon exceeds production expectations - December 2019
VAALCO Energy successfully completed a well at its Etame oil field (31% WI) off Gabon, drilling the Etame 9H to a depth of 8,900 ft with a 1,000-ft lateral. The well has been brought onstream at a stabilized rate of 5,500 bo/d gross, exceeding the pre-drill estimate of 2,500-3,500 bo/d gross. Vaalco increased its total 2019 net exit production forecast to 4,500-4,700 bo/d, up 16% from 3,800-4,100 bo/d. The company also expects 6.2 MMbo of undeveloped 2P reserves to be recategorized as developed...
Dec 31, 2019
IS - FAR fetching $620MM to develop Sangomar to 2023 first oil - December 2019
FAR Ltd. is amassing funds to go full-throttle into the Sangomar project off Senegal, raising money from both equity offerings and two credit facilities to develop 485 MMbo and 9.6 Bcfe through multiple phases. FAR has a 13.67% stake in Sangomar, formerly called SNE, and is expected to pay about $492 million of development costs through first oil in 2023. FAR held a conditional placement of more than 3.4 billion ordinary shares at A$0.0425 each to raise A$146 million ($100 million) on...
Dec 31, 2019
Get more news for International Scout