International Scout
Serving the global E&P market with news, analysis and business opportunities.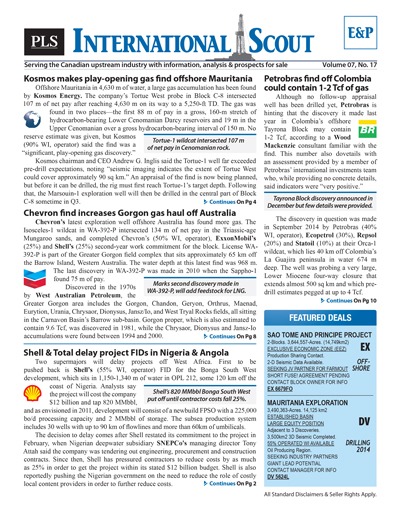 PLS publishes news and analysis on the international exploration and production (E&P) sector through its International Scout. Published every 3 weeks, the blue banner report covers new well discoveries, drilling activities, acreage sales, industry statistics (drilling results, activity permits & intents to drill) and technological updates.
Covering exploration & production
Single copy pricing; Incl hard copy & email version
Increase market insight & deal flow
Every 3 weeks
Latest in exploration, discoveries, resource plans, land grabs, volumes, development projects & trends
Access to International Scout archives
Phone request for prospects and lands listed for sale
Includes discounts for other PLS products & events
Search PLS' News Archive for complete oil & gas news for International Scout .
See what it is about before you buy. View a sample issue of International Scout.
Need more information? Click the button to recieve more details about the International Scout
Opportunity is a reflection of information.
Call 713-650-1212 For More Information
Search International Scout:

Headline
Publication
News Date
Vår Energi concludes Goliat West appraisal well
Var Energi has plugged and abandoned the 7122/7-7S Goliat West appraisal well in the Barents Sea after estimating recoverable resources at 4.4-13.8 MMboe. The company spudded the well Nov. 28 in...
Jan 10, 2019
India's ONGC postpones deadline for FPSO tender
India's ONGC has delayed the deadline for submitting bids to supply the FPSO serving the KG-DWN-98/2 deepwater project by two months. Bids for the vessel, which will operate off the country's east...
Jan 10, 2019
Russia notes record output in 2018, up 1.6% YOY
Russia's oil production rose to a record of 11.16 MMbbl/d (555.838 mtpa) in 2018, up from 10.98 MMbbl/d (547 mtpa) in 2017, the country's energy ministry reported. The increase comes as all of the...
Jan 10, 2019
Get more news for International Scout