International Scout
Serving the global E&P market with news, analysis and business opportunities.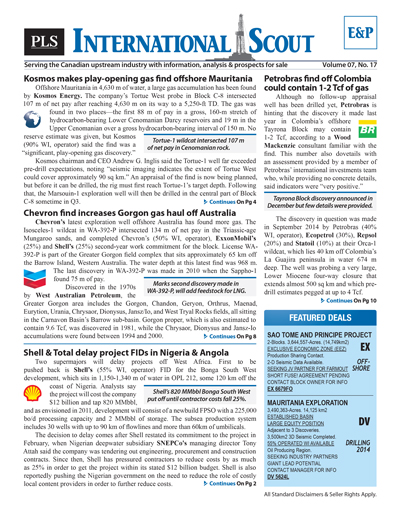 PLS publishes news and analysis on the international exploration and production (E&P) sector through its International Scout. Published every 3 weeks, the blue banner report covers new well discoveries, drilling activities, acreage sales, industry statistics (drilling results, activity permits & intents to drill) and technological updates.
Covering exploration & production
Single copy pricing; Incl hard copy & email version
Increase market insight & deal flow
Every 3 weeks
Latest in exploration, discoveries, resource plans, land grabs, volumes, development projects & trends
Access to International Scout archives
Phone request for prospects and lands listed for sale
Includes discounts for other PLS products & events
Search PLS' News Archive for complete oil & gas news for International Scout .
See what it is about before you buy. View a sample issue of International Scout.
Need more information? Click the button to recieve more details about the International Scout
Opportunity is a reflection of information.
Call 713-650-1212 For More Information
Search International Scout:

Headline
Publication
News Date
IS - Senex brings Surat gas to plateau with 80 wells instead of 110 - June 2020
Less than two years after sanctioning its 100%-owned Surat Basin gas development onshore Queensland, Senex Energy has completed the A$400 million ($280 million) project, which it says establishes the Brisbane-based company as an important domestic gas supplier in Australia. As a result of production outperformance, the Project Atlas and Roma North areas reached plateau output of 48 terajoules/day (45 MMcf/d) after drilling just 80 wells instead of the 110 planned when Senex made its FID in...
Jun 22, 2020
IS - BP anticipating massive Q2 impairment after pricing review - June 2020
BP is anticipating estimated aggregate post-tax impairment charges and writeoffs of $13-17.5 billion in Q2. Non-cash, pre-tax impairment charges against property, plants and equipment are expected to range $8-11 billion and write-offs of intangible explorations assets are expected to range $8-10 billion. The warning came after BP reviewed its portfolio and capital development plans in light of the coronavirus pandemic. As part of its long-term planning, the British supermajor is also...
Jun 22, 2020
IS - Canada loosens regulations for exploration off Newfoundland - June 2020
Canada's Ministry of Environment and Climate Change released a new regulation on June 4 to improve process efficiency for exploratory drilling off Newfoundland and Labrador. The Oprhan, Flemish Pass and Jeanne d'Arc basins and other nearby areas will be excluded from a requirement to undergo a project-specific federal impact assessment. Instead, exploration projects will only be subject to regulatory review overseen by the Canada-Newfoundland and Labrador Offshore Petroleum Board. Development...
Jun 22, 2020
IS - Gazprom advances two gas developments in Yamal-Nenets - June 2020
Gazprom started development drilling at the Kharasaveyskoye gas field and took an FID on the Semakovskoye gas field, both in Russia's YamalNenets autonomous district. The first of 16 Kharasaveyskoye wells planned for this year will be drilled to a depth of 2,540 meters and will be part of an 11-well cluster. The stateowned company plans to drill up to 167 wells on Kharasaveyskoye before first gas in 2023, and it is expected to reach a plateau production rate of 3.1 Bcf/d in 2026 or 2027....
Jun 22, 2020
IS - Vår Energi begins Balder redevelopment with Jotun FPSO work - June 2020
Vår Energi kicked off its life extension project for the Balder area in the North Sea. The company brought the Jotun FPSO back to Stavanger, Norway, for upgrades that will help extend its life to 2045. Work on the 21-year-old vessel will consist of overhauling the turret, pipes, process equipment, hulls, living quarters and other systems. After the upgrades are installed, Vår will redeploy the FPSO in 2022 to the PL 001 license between the Balder FPSO and Ringhorne platform. The company...
Jun 22, 2020
IS - Equinor and Aker BP sign agreement for NOAKA development - June 2020
Equinor and Aker BP signed an agreement on commercial terms for a joint development of the companies' resources between the Alvheim and Oseberg fields in the Norwegian North Sea, which Aker BP calls North of Alvheim and Krafla-Askja (NOAKA). The area hosts numerous discoveries estimated to contain 500 MMboe of recoverable resources. NOAKA also holds Aker BP's 2019 Liatårnet discovery, which is estimated to contain an additional 80-200 MMboe. The two companies first rolled out a proposed...
Jun 22, 2020
IS - Projects advance, assets hit the market amid volatility - June 2020
Although the oil and gas industry is still nowhere near where it was at the beginning of the year, there are signs that companies are starting to take cautious steps forward as pandemic restrictions ease and oil prices begin to recover. Senex Energy announced it completed its $280 million Surat gas project with 30 fewer wells than it originally thought it would need (PG.1). Canada loosened restrictions on exploratory drilling off Newfoundland (PG.1), where Equinor reportedly made a discovery in...
Jun 22, 2020
IS - Eni restructuring as part of 2050 energy transition plan - June 2020
Eni unveiled a new business structure on June 4 to build on its 2050 strategic plan, which involves reducing Scope 1, 2 and 3 emissions by 80% and emissions intensity by 55% compared to 2018. The company will now be split into two groups. Natural Resources will focus on developing the upstream portfolio sustainably, promoting energy efficiency and carbon capture. The Energy Evolution group will focus on supporting the evolution of Eni's power generation, product transformation and marketing...
Jun 22, 2020
IS - Shell reportedly puts Norwegian North Sea assets on the market - June 2020
Shell has reportedly launched a sale process for its stakes in two Equinor-operated oil fields in the Norwegian North Sea. According to a sales document cited by Reuters in a June 11 report, the Anglo-Dutch supermajor is marketing its non-operated 6.45% WI in the Kvitebjorn gas and condensate field and pipeline and 3.225% WI in the Valemon gas field and rich gas pipeline (Enverus Deal ID: 12556). A sale could fetch between $50 million and $100 million, sources said. According to the...
Jun 22, 2020
IS - North Sea & Western Europe Briefs - June 22, 2020
Spirit Energy spudded a wildcat well targeting the Sandia prospect on the PL719 block in the Barents Sea. Transocean's Leiv Eiriksson semisubmersible is drilling the well in 465 meters of water and operations are expected to take 60 days, including a contingent appraisal sidetrack if a discovery is made. The wildcat's primary target is the Middle to Late Triassic Stø formation at a depth of 1,533 meters. After Sandia, the rig will move to drill a well at Spirit's Sorvesten prospect in the North...
Jun 22, 2020
Get more news for International Scout