International Scout
Serving the global E&P market with news, analysis and business opportunities.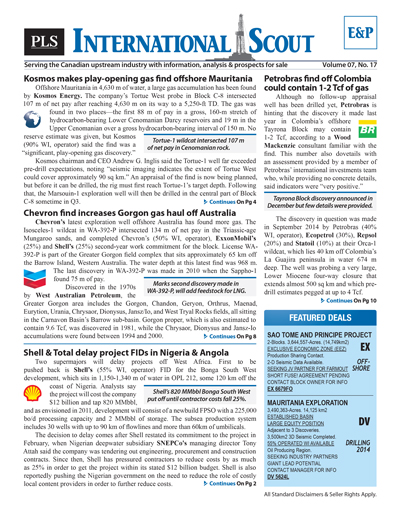 PLS publishes news and analysis on the international exploration and production (E&P) sector through its International Scout. Published every 3 weeks, the blue banner report covers new well discoveries, drilling activities, acreage sales, industry statistics (drilling results, activity permits & intents to drill) and technological updates.
Covering exploration & production
Single copy pricing; Incl hard copy & email version
Increase market insight & deal flow
Every 3 weeks
Latest in exploration, discoveries, resource plans, land grabs, volumes, development projects & trends
Access to International Scout archives
Phone request for prospects and lands listed for sale
Includes discounts for other PLS products & events
Search PLS' News Archive for complete oil & gas news for International Scout .
See what it is about before you buy. View a sample issue of International Scout.
Need more information? Click the button to recieve more details about the International Scout
Opportunity is a reflection of information.
Call 713-650-1212 For More Information
Search International Scout:

Headline
Publication
News Date
IS - People & Companies - March 14, 2019
Angus Energy announced the appointments of Patrick Clanwilliam as non-executive chairman, Carlos Fernandes as finance director and Andrew Hollis as technical director. Clanwilliam was chair of Eurasia Drilling Co. Fernandes has been with Angus since 2013 and has seen the company's transition from private to public. Hollis has more than 40 years of technical experience in exploration and production. In addition, the company accepted the resignation of non-executive director Chris de Goey....
Mar 14, 2019
IS - Australia's Strike Energy targets oil in Perth Basin - March 2019
ASX-listed Strike Energy plans to drill the West Erregulla-2 well in EP469 license in the Perth Basin of Western Australia in May. Strike has contracted the Easternwell 106 rig to drill the well, which will attempt to prove the presence of liquid and gas hydrocarbons across three separate geological sequences. Plans for the well come after the company completed all geological and geophysical work from the reprocessed West Erregulla 3D seismic data.West Erregulla-2 will pass through a...
Mar 14, 2019
IS - African nations prepare for licensing bid round bonanza - March 2019
Four African countries have licensing rounds underway with many more on the way. Simultaneously, many majors and supermajors are scouting or acquiring new frontier acreage across the continent, including in previously unexplored deepwater areas. Independents are expected to follow this trend. However, with the large volume of acreage available, some good opportunities are overlooked; even some of the supermajors have commented that they lack capacity to fully evaluate all available...
Mar 14, 2019
IS - Aker Energy strikes oil at Pecan South offshore Ghana - March 2019
Aker Energy found oil in the Pecan South-1A well offshore Ghana, which was drilled south of the main Pecan field in the DWT/CTP block. It is analyzing well results and will start further drilling to verify its estimates, which will be added to the gross contingent resources of the existing discoveries in the area."The drilling result is another confirmation of the geological model for the area," Aker Energy CEO Jan Arve Haugan said. The discovered resources from the well will further...
Mar 14, 2019
IS - Azinam to drill two wells offshore South Africa - March 2019
Seacrest Capital-backed AziNam Ltd. plans to drill two wildcat wells in Block 3B/4B offshore South Africa in the weeks after Total announced a major discovery at the Brulpadda prospect. Azinam's plans to spud the first well in H2, targeting estimated resources of 1.2 Bbo in the Wolf prospect. It will also drill a well in the Marula prospect in the same block targeting 810 MMbbo in 1H21.Block 3B/4B is 120-250 km offshore western South Africa covering 17,581 sq km in water depths ranging...
Mar 14, 2019
IS - Eni exploration streak continues with Angola & Egypt finds - March 2019
ENI announced a deepwater light oil find off Angola with an estimated 450-650 MMbo in place and further upside, then a day later said it struck gas in the Eastern Mediterranean offshore Egypt. The Angola well, the Agogo-1 NFW, lies in Eni's operated Block 15/06 (37% WI) ~180 km off the coast and 20 km west of its N'Goma FPSO on the same block. Drilled to a 4,450-meter TD by the Ocean Rig Poseidon drillship in 1,636-meter water depth, the well proved a single 203-meter oil column with...
Mar 14, 2019
IS - Seplat to boost 2019 capex with increased drilling plan - March 2019
London and Lagos-listed Seplat Petroleum Development said its 2019 capex guidance is set at $200 million, up 127% from ~$88 million in 2018. In the western Niger Delta, the company plans to drill up to seven new oil production wells, one new gas well, one rig-based re-entry of an existing oil well and one appraisal well. Facilities and engineering projects will focus on delivery of an upgraded integrated gas processing facility at Sapele and additional upgrades to the liquids treatment facility...
Mar 14, 2019
IS - BP selects Baker Hughes, McDermott for Tortue work - March 2019
BP hired Baker Hughes and McDermott International to construct subsea umbilicals, risers and flowlines (SURF) and subsea production system (SPS) equipment for the Greater Tortue Ahmeyim natural gas project offshore Mauritania and Senegal. The two companies were chosen two months after BP and partners made a final investment decision for Phase 1 of the project. Baker Hughes will provide five large-bore deepwater horizontal trees, a six-slot dual-bore manifold, a pipeline end manifold and...
Mar 14, 2019
IS - Woodside gets OK for SNE development offshore Senegal - March 2019
Woodside Petroleum has received approval for its development and exploitation plan of the SNE development offshore Senegal, its partner Cairn Energy reported. The JV plans to make a final investment decision in mid-2019. Peek production from the field is expected to reach 100,000 bo/d, with first oil expected in 2022. The SNE development concept is a stand-alone FPSO vessel with a capacity of ~100,000 bo/d, with 23 subsea wells and supporting subsea infrastructure. It will be designed...
Mar 14, 2019
IS - News Briefs - March 14, 2019
Total drilled the Nasua-1 exploration well offshore French Guiana without finding any hydrocarbons. It will demobilize the Ensco DS-9 drillship without performing any well tests and will return the license. The drillship spudded the well late in 2018 in the central portion of a 24,000-sq-km permit area. The primary targets for Nasua-1 were Campanian and Santonian sands, with a secondary Maastrichtian target. Cairn Energy plans to drill two wells on Block 9 offshore Mexico in 2019. The...
Mar 14, 2019
Get more news for International Scout