MidstreamIntelligence
Serving the downstream sector with news, analysis and business opportunities.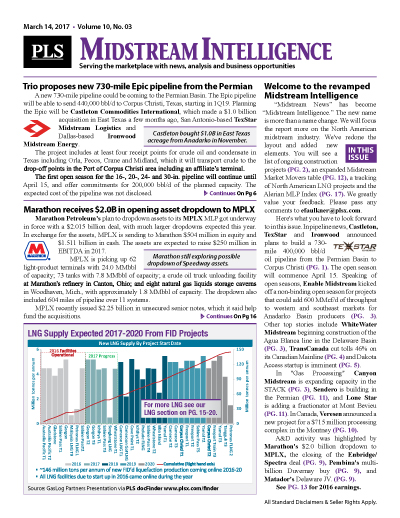 The PLS MidstreamIntelligence Module covers news and analysis on the midstream sector. The purple banner report includes market information, news and analysis on gas gathering, marketing, pipelines, storage, midstream mergers, acquisitions, capital and corporate performance.
Your access to midstream & downstream markets
Single copy pricing; Incl hard copy & email version
Increase market insight & deal flow
Published every 3 weeks; 17+ issues per year
Covers gathering, rail, processing, pipelines, refining and LNG
Phone request for multiple listings for sale
Includes discounts for other PLS products & events
Search PLS' News Archive for complete oil & gas news for MidstreamIntelligence .
See what it is about before you buy. View a sample issue of MidstreamIntelligence.
Need more information? Click the button to recieve more details about the MidstreamIntelligence
Opportunity is a reflection of information.
Call 713-650-1212 For More Information
Search MidstreamIntelligence:

Headline
Publication
News Date
MI - Blackstone willing to take Tallgrass Energy private in $5B deal - September 2019
Blackstone Infrastructure Partners is looking to take Tallgrass Energy private, offering $3.03 billion cash to acquire the remaining 156 million Class A shares it doesn't own. Blackstone will assume $1.92 billion in long-term debt and $73 million of working capital deficit, bringing the transaction to $5.025 billion. Excluding corporate simplification transactions, the deal is the largest in the midstream space since Pembina Pipeline acquired Veresen for $7.1 billion in 2017, according...
Sep 06, 2019
MI - Pembina buys Kinder Morgan Canada, US Cochin line for $3.3B - September 2019
Less than four months after Kinder Morgan Canada Ltd. concluded a strategic review with a decision to remain independent, the Toronto-listed Kinder Morgan Inc. affiliate agreed to an all-stock buyout offer from Pembina Pipeline Corp. valued at $1.741 billion (C$2.307 billion). Pembina will also acquire the US portion of the 110,000 bbl/d Cochin condensate pipeline from KMI for $1.546 billion cash. KMI owns a 70% voting interest in KML. In addition to the Canadian portion of Cochin, the KML...
Sep 06, 2019
MI - BP to hand Hilcorp control of Trans Alaska Pipeline System - September 2019
As part of a $5.6 billion sale of its assets in Alaska, BP will transfer its leading stake in the iconic Trans Alaska Pipeline System to Harvest Alaska, a midstream subsidiary of privately held E&P company Hilcorp. Harvest will acquire BP's 49% stake in Alyeska Pipeline Service Co., which owns and operates the 800-mile pipeline. Besides BP, Alyeska is owned by ConocoPhillips (~29%), ExxonMobil (~21%) and Chevron subsidiary Unocal Pipeline Co. (~1%). TAPS is one of the world's largest...
Sep 06, 2019
MI - Constitution pipeline project revived by FERC ruling - September 2019
Williams' Constitution pipeline project is back in motion after the Federal Energy Regulatory Commission ruled the project can proceed. FERC said the New York State Department of Environmental Conservation lost its right to rule on a required waterquality permit after it took a prohibitive amount of time to deny the permit to Williams. The state agency was required to rule on the permit within a year. New York is expected to appeal the decision, as are environmental groups. Constitution...
Sep 06, 2019
MI - NuStar Energy starts up three export projects in 24 hours - September 2019
NuStar Energy had a big day, completing three new pipeline projects that will expand its capacity to move Permian crude to Corpus Christi for export and to move refined products into northern Mexico. The three projects went online just two weeks after NuStar received its first volumes from Plains All American's Cactus II crude pipeline out of the Permian via its existing 16-inch pipeline to South Texas. San Antonio-based NuStar completed a new 8-mile, 30-inch pipeline to transport crude...
Sep 06, 2019
MI - Enterprise launches open season for 50 kbbl/d ATEX expansion - September 2019
Enterprise Products Partners launched an open season for expanded capacity on its Appalachia-to-Texas ethane pipeline. The company is looking to add 50,000 bbl/d of incremental capacity through a combination of pipeline looping, hydraulic improvements and modifications to existing infrastructure. The expansion would be in service by 2022. The open season runs from Aug. 26 through Sept. 25. The 1,200-mile ATEX originates in Washington County, Pennsylvania, and is connected to four...
Sep 06, 2019
MI - Saddlehorn to increase capacity to 290 kbbl/d as NBLX buys in - September 2019
The Saddlehorn crude and condensate pipeline will increase its capacity by 100,000 bbl/d to 290,000 bbl/d after a successful open season. In conjunction with the increased volume commitments, a Noble Midstream Partners-Greenfield Midstream JV is joining Magellan Midstream Partners, Plains All American Pipeline and Western Midstream Partners in the Saddlehorn JV. The higher capacity is expected to be available in late 2020 following the addition of incremental pumping and storage...
Sep 06, 2019
MI - Canadian part of Enbridge's new Line 3 to start this year - September 2019
Enbridge will put the Canadian portion of the Line 3 replacement into service by YE19, having reached a commercial agreement with shippers. The US portion remains up in the air with completion of the full 1,031-mile pipeline from Hardisty, Alberta, to Superior, Wisconsin, coming no earlier than late 2020. The company intends to file a tariff with the Canada Energy Regulator, which replaced the National Energy Board in late August, for a temporary surcharge with a proposed effective date...
Sep 06, 2019
MI - Crestwood starts North Dakota processing plant and pipelines - September 2019
Crestwood Equity Partners began commercial operations at the new 120 MMcf/d Bear Den II processing plant in Watford City, North Dakota. The Houston-based master limited partnership also expanded the Bear Den West and Bear Den Loop pipelines, 36 miles of 20-inch, high-pressure lines that connect the Bear Den processing complex to the Arrow gathering system, and brought online the 27,500-hp Station 8 compression facility. Bear Den II is currently processing 65 MMcf/d with the expectation...
Sep 06, 2019
MI - KMI plans over $170MM of upgrades at Houston Ship Channel - September 2019
Kinder Morgan Inc. will invest more than $170 million in its Houston Ship Channel facilities. About $125 million will go to enhancements at its Pasadena terminal and Jefferson Street truck rack. That $125 million includes funds for projects that will increase flow rates on inbound pipeline connections and outbound dock lines, expand the current methyl tert-butyl ether storage and blending platform and add a new, dedicated natural gasoline inbound connection. The Pasadena terminal...
Sep 06, 2019
Get more news for MidstreamIntelligence