MidstreamIntelligence
Serving the downstream sector with news, analysis and business opportunities.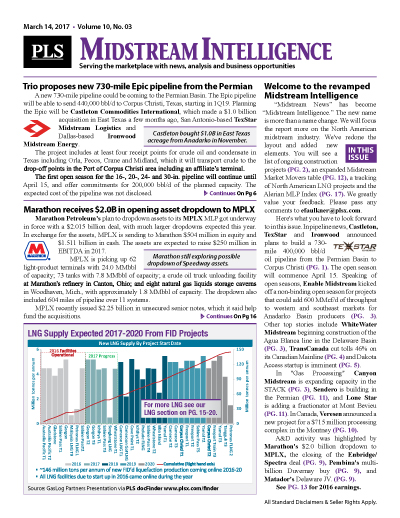 The PLS MidstreamIntelligence Module covers news and analysis on the midstream sector. The purple banner report includes market information, news and analysis on gas gathering, marketing, pipelines, storage, midstream mergers, acquisitions, capital and corporate performance.
Your access to midstream & downstream markets
Single copy pricing; Incl hard copy & email version
Increase market insight & deal flow
Published every 3 weeks; 17+ issues per year
Covers gathering, rail, processing, pipelines, refining and LNG
Phone request for multiple listings for sale
Includes discounts for other PLS products & events
Search PLS' News Archive for complete oil & gas news for MidstreamIntelligence .
See what it is about before you buy. View a sample issue of MidstreamIntelligence.
Need more information? Click the button to recieve more details about the MidstreamIntelligence
Opportunity is a reflection of information.
Call 713-650-1212 For More Information
Search MidstreamIntelligence:

Headline
Publication
News Date
MI - Enbridge looks to diversify with more gas, some wind & sun - June 2020
North America's largest midstream company, Enbridge, Inc., plans to gradually transition its asset mix toward more natural gas and renewables, investing larger portions of its capital in those areas. The company currently earns 55% of its income from liquids pipelines and about 40% from gas and storage, with 4% from renewables. "If you look at the energy supply/demand balance globally, we as a company kind of mirror that," CEO Al Monaco told Canada's Financial Post. Enbridge has just...
Jun 17, 2020
MI - Oneok's $832MM common sale is sector's biggest in 2.5 years - June 2020
In what's become a rare event in the midstream sector—a public common stock offering—Oneok, Inc. sold 26 million shares at $32 each to gross $832 million on June 11. Oneok also granted underwriters a 30-day option for 3.9 million additional common shares, which if exercised in full will deliver $124.8 million in additional gross proceeds. The offering is the midstream sector's largest public common equity sale since January 2018 when, coincidentally, Oneok sold 19 million shares for $55.02 each...
Jun 17, 2020
MI - Williams is putting its NYC-area gas pipeline plans on hold - June 2020
Williams Cos. announced it would not refile applications "at this time" for a proposed 23-mile, 26-inch underwater gas pipeline across Raritan Bay and New York Harbor after state agencies in New York and New Jersey denied clean water permits for the third time. The $1 billion pipeline, in dispute for three years, was to bring gas into New York City and Long Island. The New York State Department of Environmental Conservation said it denied the permit because Williams subsidiary Transco...
Jun 17, 2020
MI - Moody's downgrades sector for first time on expected EBITDA - June 2020
E&P shut-ins, demand and supply shocks and erosion of customer credit quality have all contributed to conditions under which 2020 aggregate EBITDA for midstream companies is expected to drop more than 5%, according to ratings agency Moody's Investor Services. Accordingly, Moody's downgraded the sector for the first time ever to negative from stable. VP and senior credit officer Andrew Brooks said the decision "reflects the rapid pace and magnitude of production declines that have now spilled...
Jun 17, 2020
MI - Taproot gains dedicated DJ acreage from Mallard Exploration - June 2020
Taproot Energy Partners will provide gathering and transportation for Mallard Exploration in the northeast extension of the DJ Basin, the partnership announced June 1. The agreement centers around a long-term dedication of about 60,000 acres for crude oil and produced water gathering and transport, bringing Taproot's total dedicated acreage to over 200,000 gross acres. Mallard's acreage position is located near existing Bison Oil & Gas, Verdad Resources and Bonanza Creek dedicated...
Jun 17, 2020
MI - SPOT review schedule on hold as EPP gathers more information - June 2020
Enterprise Products Partners LP and Enbridge Inc. told the US Coast Guard and Maritime Administration that they needed more time to provide information about their joint project in Freeport, Texas—Sea Port Oil Terminal. SPOT is being built to load supertankers, specifically VLCCs that can take up to 85,000 bo per hour, or 2 MMbo/d. The application review schedule for the project was suspended after SPOT Terminal Services LLC asked for more time to gather information requested by the...
Jun 17, 2020
MI - Midstream working through compression; keeps flowing - June 2020
Oneok, Inc. came to the equity market last week to sell 26 million common shares for $832 million. It's the largest sale by a midstream issuer since, well, Oneok's January 2018 sale. Proceeds from the surprise sale could exceed $950 million upon full exercise of the 3.9 millionshare overallotment option, bringing the company closer to its $1.04 billion haul two and a half years ago (PG.1). Analysts see Oneok's decision as a way to help bring reliance on debt down during these precarious times,...
Jun 17, 2020
MI - Enbridge's Line 5 spill plans measure up, federal court says - June 2020
A federal appeals court is sticking by Enbridge Inc. and its plans to manage potential spills from a 4-mile oil pipeline segment crossing the Straits of Mackinac in Michigan. The 6th US Circuit Court of Appeals overruled a Detroit-based district judge who sided with the National Wildlife Foundation, which had sued the Pipeline and Hazardous Materials Safety Administration. The agency had twice approved Enbridge's spill response plans over the past five years as the company sought to...
Jun 17, 2020
MI - Mountain Valley now looking at early 2021 startup date - June 2020
Mountain Valley Pipeline, LLC expects to be fully in-service in early 2021, according to EQM Midstream Partners president and COO Diana Charletta. Work on the 303-mile project is 92% complete, "despite the unprecedented regulatory and development challenges." While additional legal and regulatory reviews have held up the schedule and increased costs, she said the company looks forward to MVP's safe and successful startup. The remaining buildout activity will resume when MVP receives its...
Jun 17, 2020
MI - Pipelines & Projects Briefs - June 17, 2020
A segment of Magellan Midstream Partners' 12-inch pipeline originating near Magellan's west Tulsa terminal was inadvertently struck by mechanized equipment working to install a new replacement section of pipeline, releasing diesel fuel in the immediate area on June 8. This segment of Magellan's pipeline system, inactive at the time of the incident, transports gasoline, diesel and jet fuel from Tulsa to destinations in Kansas and other Midwestern locations. No injuries or residential evacuations...
Jun 17, 2020
Get more news for MidstreamIntelligence